Gemstones / Mix
A Chakra Bracelet to Keep the Positive Energy Flowin'!
It's thought that opening your chakras help you reach your highest potential. When the chakras are balanced, there is harmony in the mind, body, and spirit. A chakra bracelet helps channel the energy of the crystals in the bracelets to reach your chakras!
There are seven main chakras, but there are thousands of minor ones in the human energy field.  All of them are responsible for various parts of the body. Each has a lot associated with it, but keeping it simple, our focus will be on their colors, locations and what they do.
The root chakra is at the base of the tailbone and represents your foundation and feeling of being grounded. The color for this chakra is red.
Between the pubis and the navel is the sacral chakra. The sacral chakra is associated with the color orange and is responsible for new people, new experiences and sex.
Chakra number three is the solar plexus. It controls both confidence and control in our lives. The color is yellow and it is located between the navel and the heart.
The heart chakra represents our ability to love and is located at the heart. The color is green.
The color for the throat chakra is blue and it is, as it states, at the throat. The throat chakra represents our ability to communicate.
The sixth chakra is called the third eye chakra and is located between the eyebrows, at the center of the forehead. The color for this chakra is purple and it is responsible for the future, decision making, creativity, imagination, and innovation.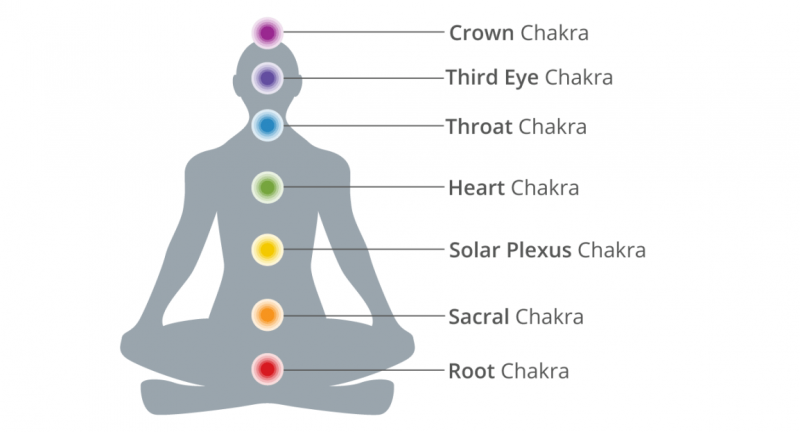 Many stones and healing crystals have also been tied to help the chakras. And, they may be able to aid healing in powerful ways. Each chakra is associated with a set of crystals that balance and heal it.
Essential oils can also be used to help the chakras. The oils are combined in a roller bottle. You can use combinations of the oils to aid various chakras in healing. Some roller bottles, especially used for chakra healing, have rollers made of the specific stone that will benefit the chakra.
Whether you conform to the chakra movement or not, we know you will enjoy our list of top 10 chakra bracelets. Essential oils are always fun, whether used for healing or as a substitute for perfume.
Some of the bracelets are only chakra stones and others are the stones combined with lava stones. They are all colorful and fun!
10 Gorgeous Chakra Bracelet Picks!
1. Subherban Lava Rock Anxiety Bracelet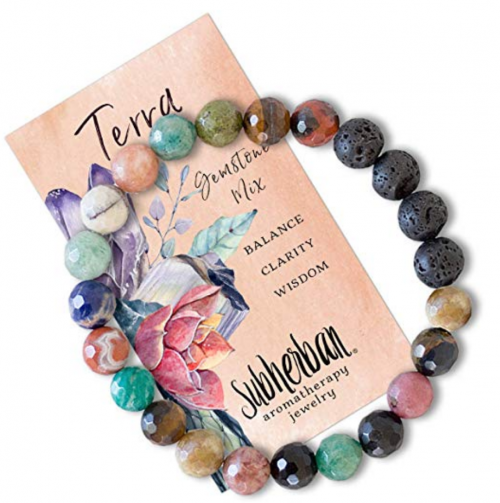 Price: $$
This gorgeous chakra bracelet doesn't have only the chakra stones, but also includes four lava stones as well! There are a wide variety of chakra stones on an elastic strand.
The stones are a medley of several unique gemstones. No two bracelets are alike, making this a unique to you piece!
The gemstones are faceted for more shine and detail. Lava stones are included in this medley as well.
The lava stones can be used for essential oil aromatherapy, making the chakra bracelet even more versatile. It's the perfect gift for any occasion and perfect for soothing your chakras.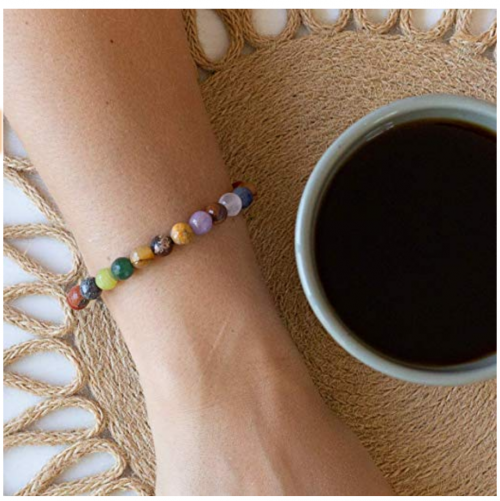 The look of this piece will make you grin and price of this piece will make you happy as well. It is pretty affordable, giving you a reason to add this to your collection.
This bracelet fits wrists to 7.25 inches. The stones are 8 mm, or 0.31 inches.
2. Hamoery Unisex Braided Rope Bracelet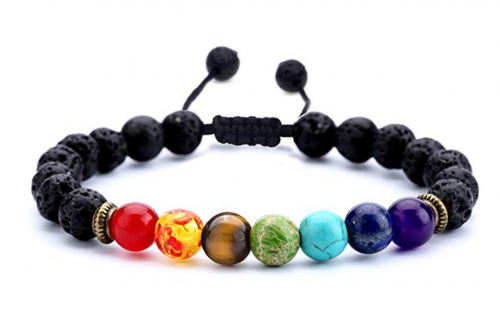 Price: $
The chakra bracelet has an urban vibe and contains more lava stones than it does gemstones. We think that's perfect. It's all the better for aromatherapy.
There are 14 lava stones and each is able to hold essential oils. There are seven lava stones on each side. Then, there is a gold bead separating the lava stones from the gemstones. There are seven gemstones of various types – a stone for each chakra.
All stones are natural and round cut. The urban look of this piece makes it something that can be worn by guys as well.
The beads are on an adjustable braided rope and the clasp is a sliding knot clasp. This makes it a piece a guy would love to wear!
The price of this piece is super cheap. When we say super, we mean super. Guys, you may have this much change on your dresser. Ladies, check your change purse!
The minimum wrist this piece will fit is 6.5 inches. The maximum it will go is 9.4 inches. This makes it very versatile, fitting both smaller and larger wrists.
3. Top Plaza 7 Chakra Reiki Healing Crystals & Bracelet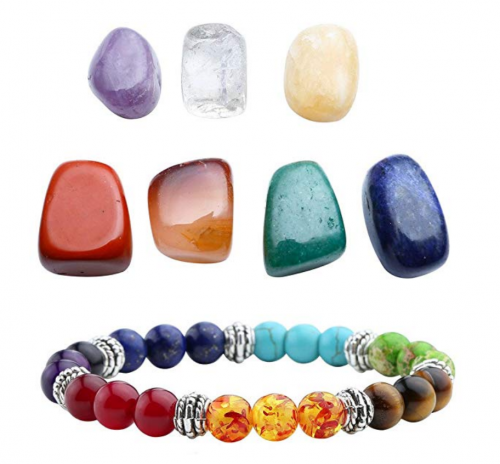 Price: $
This is a very pretty chakra bracelet. There are 21 stones on an elastic string. Each chakra has a stone color. There are three stones for each chakra.
The stones you'll get on your bracelet are Amethyst, Clear Crystal, Lapis Lazuli, Green Aventurine, Yellow Jade, Carnelian and Red Jasper. There are also pretty silver "Boho" beads that separate the sections of three colored stones.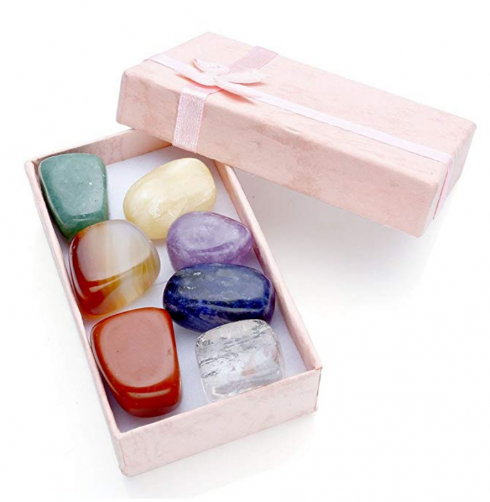 A super cool gift you'll get when buying this particular bracelet is a set of 7 chakra meditation stones. Yes, for free!
This piece is sure to coordinate with many of the outfits, or clothing in your closet. This piece is a great gift and even an awesome stocking stuffer!
This particular option is very affordable. It's not going to break anyone's bank. Not by a long shot.
The bracelet stone diameter is 0.59 to 0.98 of an inch. The bead size is 8 mm in diameter or 0.31 inches. That's slightly over ¼ of an inch in diameter.
4. Jstyle 7 Chakra Gemstone Bracelet + Pendant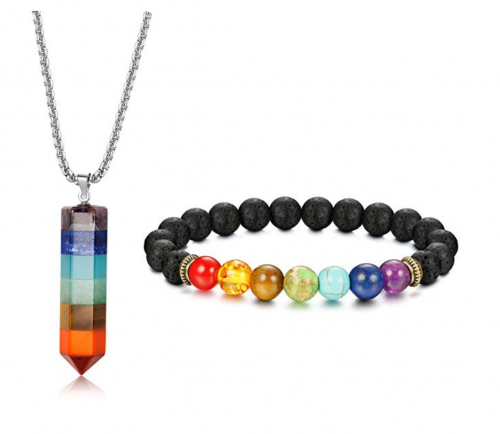 Price: $
This pick can also be referred to as a diffuser bracelet. There are about 16 or 17 lava stones on this piece. With the bracelet, you also get a gorgeous 7 stone chakra pendant necklace!
This means you have plenty of lava stone on which to put your essential oils for fantastic healing benefits. With that many stones the fragrance is sure to last a long while.
There are also seven chakra gems on this piece. Each gems corresponds to a certain chakra. Separating the lava stones on each side is a gold-tone alloy bead.
The coloring is beautiful. The beads, stones, and gems are strung by elastic, giving this piece some sizing flex-ability. Showing its versatility, this chakra bracelet can be worn by both men as well.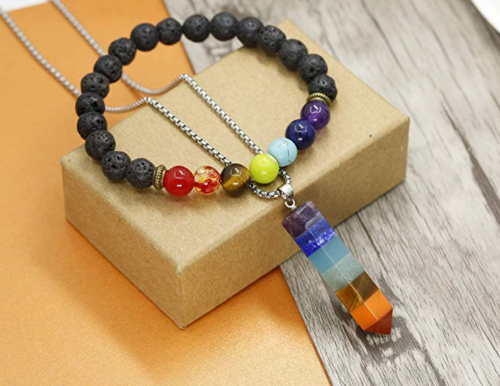 The bracelet will run you about the cost of a dinner for one at your favorite upscale fast food joint.
There is absolutely no reason this piece shouldn't be in your collection. If you need something for a gift, this also makes a great present.
It fits wrists that are seven inches around. It does, however, stretch to 8.5 inches.
5. Addmluck Jewelry Turquoise Healing Bracelet/Necklace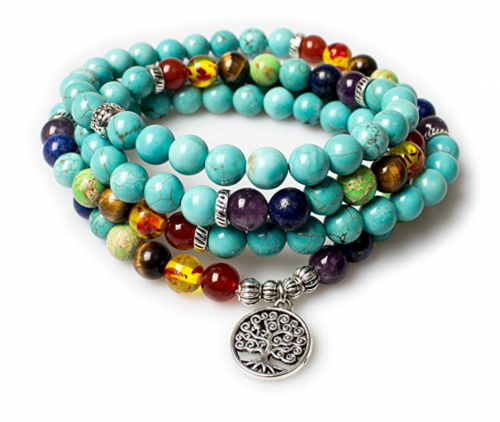 Price: $$
This may just be our favorite pick from the list. Not only does it have the chakra stones, but it has alloyed silver beads as well.
It also has a tree of life pendant placed in the middle of four silver "Boho" looking beads. There are 108 mala beads on this bracelet, making it great for meditation.
The stones are the corresponding stone to the seven chakras. Each natural stone is on an elastic string and you will primarily see the turquoise color stones. The combination of all the colors is absolutely stunning.
Strewn throughout the bracelet are the silver beads giving it that Boho look.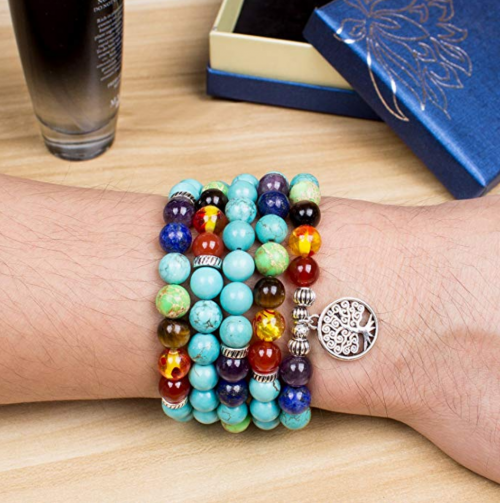 We especially like this piece because it can also be worn as a necklace. The clasp is a toggle clasp, which makes it easy to wear that way.
Because it's so long, you can wrap this around your wrist up to four times for an awesome layered look. The toggle clasp makes it easy to put on, yourself.
The piece comes at a reasonable price. We might expect to pay more, but you can get it for less than dinner for two!
This chakra bracelet is 34 inches long. The stones are about 1/3 of an inch in diameter. We would definitely consider this to be resizable.
6. Plumiss Stretch Bracelet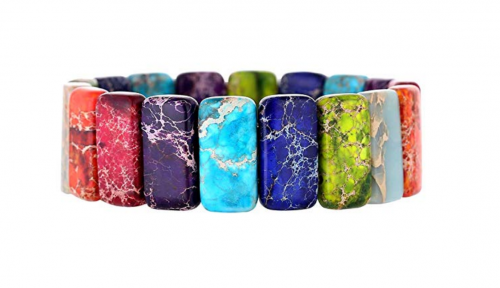 Price: $$
This one has stones that are rectangular in shape. They have rounded corners. Many of the stones have three of each color representing all the seven chakras.
There are 18 stones for the women's bracelet and 20 stones on the men's bracelet. The repetition of the stone colors makes this piece dazzling.
All of the stones are handpicked and attached with elastic cord. There is elastic running through both the top and the bottom of the stones.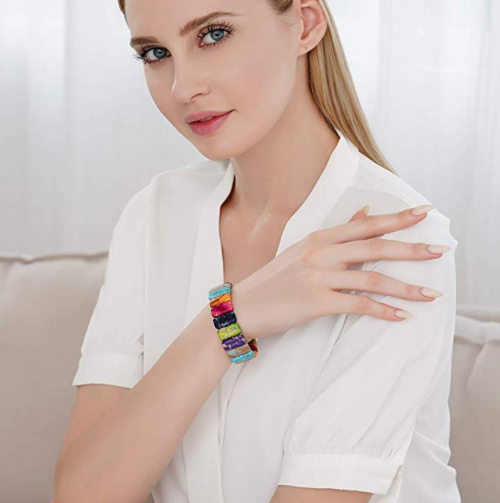 There is no metal at all making it hypoallergenic so everyone can wear it. This piece would make a great gift because of the color variations of the stones. Everyone can wear it and are sure to have an outfit to pair with the chakra bracelet.
The stone sizes are about 2.05 cm, or 1 inch by 0.8 cm, or 0.4 inches on this chakra bracelet.  The women's length is about 18 cm or 7 inches and the men's length is approximately 20 cm, or 7.8 inches.
7. Zoyen Bead bracelet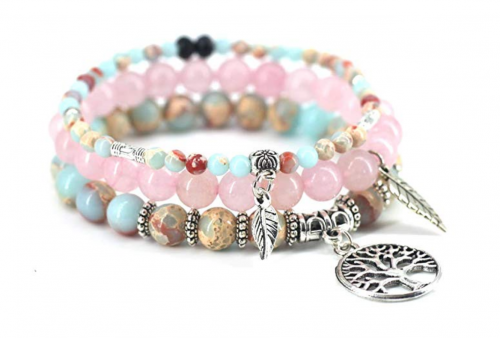 Get it here
Price: $
This pretty elastic bangle is all that's trending right now. First of all, it's a set of three bracelets in one. Secondly, it has a trendy Boho / Native American style. Lastly, it's a chakra bracelet!
The colors are gorgeous and the mix of stones with metals is stunning. There are three bracelets in this set. The largest of the three is made of Blue Sea Sediment Jasper and the colors are turquoise, beiges, and browns.
There is also a tree of life charm in the center of two metal decorative pieces. On each side of those, there is a Boho looking bead. Then there is Sediment Jasper and another bead. It goes in this pattern for four beads. After that, the Sediment Jasper stones fill the rest of the elastic thread.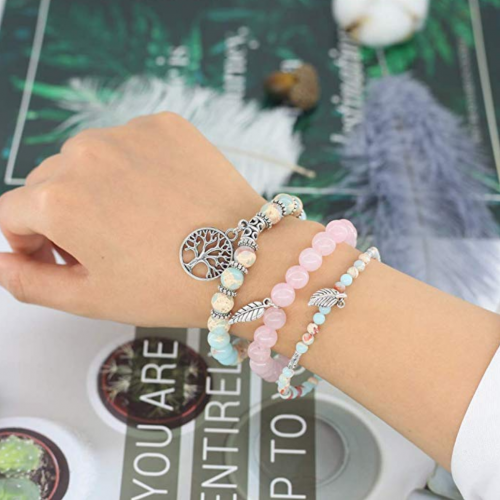 The second bracelet is made entirely of pink crystal. There is one feather charm on the pink bracelet. While the next one has the same diameter as the first and the stones are of the same material, the stones are much smaller. You can wear one, all three, or pair any, or all of them with other bracelets.
The price of this piece was another factor for it being in the running for one of our favorite pieces. It is super affordable. And, when you get three for this price, you just can't go wrong.
It is 8 inches in perimeter. It weighs 50 grams, or 1.76 ounces.
8. Pearl & Club Beaded Chakra Bangle Bracelet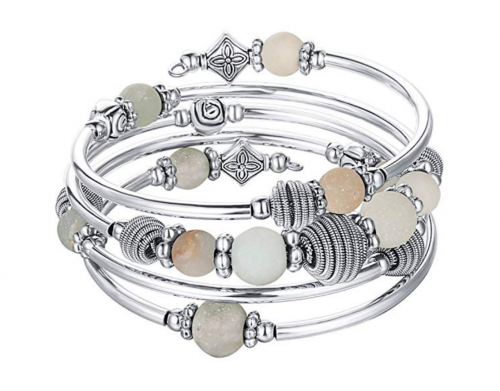 Get it here
Price: $$
We absolutely love this chakra bracelet! We wish we could have more than one favorite. In fact, we are going to break the rules and have two favorites.
This piece is made of natural mala stone, spring beads, copper tube and an alloy that is environmentally friendly. It is plated in silver and the band snakes around for four layers. There are mala stones beads and springs strewn throughout the piece.
The 11 stones are off white, beige and brownish colors. There is always a bead or spring against the stone so they are not rubbing against one another. The beads and springs do not slide on the bracelet.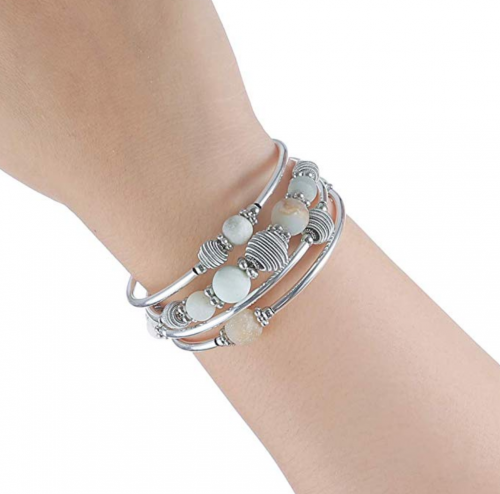 This piece is nickel, lead and cadmium free, making it hypoallergenic. We think this piece could be worn for any occasion, from a t-shirt to a formal!
Another reason this piece is a favorite, is the price. It's very affordable.
The diameter of this piece is 2.4 inches and it weighs 1.2 ounces.
9. Earth Therapy Buddha Root Chakra Bracelet Set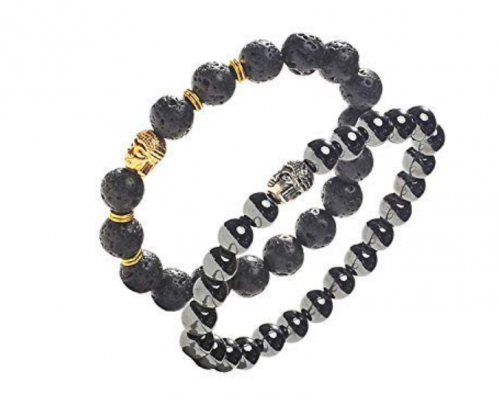 Price: $$$
Hello, black! This is actually a set of two chakra bracelets both made in the USA. Both, however, have a Buddha head on them. The stones on one bracelet are lava stones and they are on a string of elastic.
You can put essential oils on these stones for aromatherapy. The lava stone piece has gold beads between each stone as well.
The second piece is has stones of hematite. The Buddha head on this one is silver. This one has a high polish making them look like shiny black pearls. These stones are on an elastic string as well.
You can wear these together, separately, or with other mixed metals. And, if you are a fan of a team whose colors are black and gold, you have just found the perfect accessory for game day.
The price is slighlty higher but considering you're getting two fantastic pieces in one set, it's so worth it!
This set will fit a wrist up to 8 inches.
10. CHIMAERA Bead Bracelet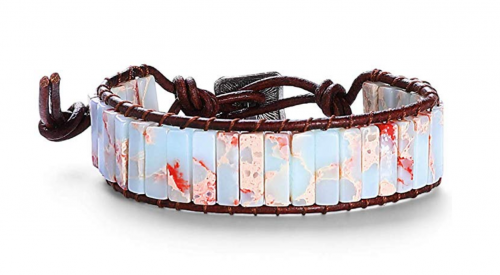 Price: $
This fantastic pick is made of natural Jasper stone and genuine leather. It's the perfect melt of urban, boho and Asian styles.
There is a round leather piece above and below the stones. A thin strand of leather wraps around the round piece and down through each stone. In this way, all the stones are held in place.
The stones are a rectangular "cube" with the corners ever so slightly rounded. The closure is a loop that fastens itself over a very pretty button that has a Celtic feel.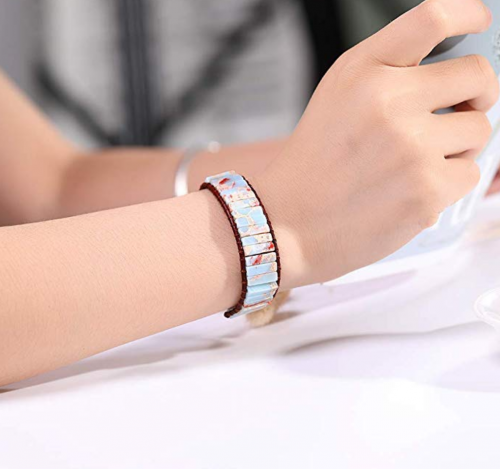 You can wear this piece with a t-shirt, casual wear, to the office and with certain dressy outfits. It's just so  beautiful and what an amazing price!
The size is 6.4 – 7.5 inches, making it adjustable.
Style Tips
How do we like to wear our chakra bracelets? The answer is pretty simple. Any way we want to! In fact, if it's adjustable, you could even wear your chakra bracelet on your ankle. We think this look would be especially cute with a pair of heeled espadrilles.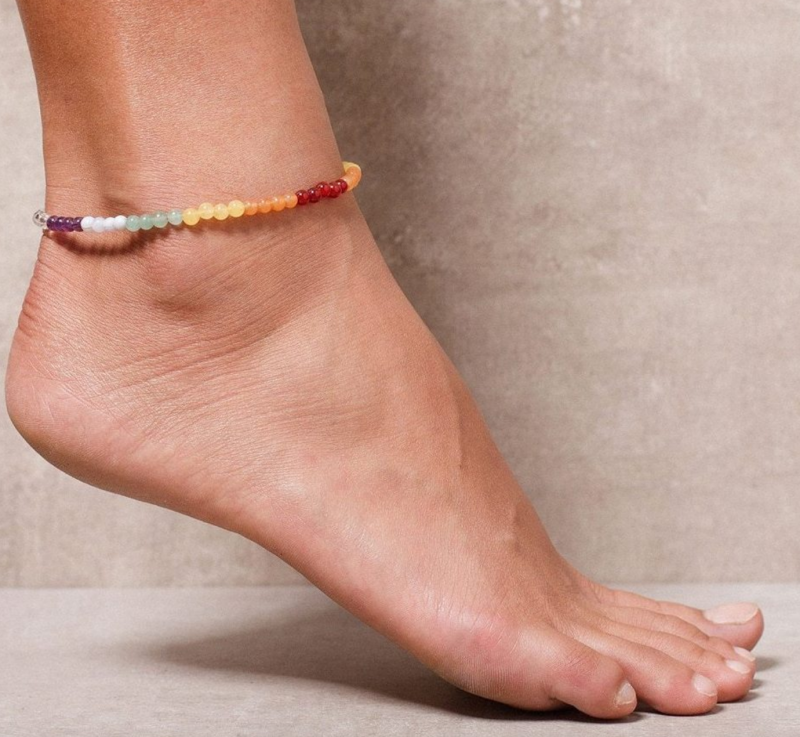 Another idea would be to wear it with some coordinating barefoot sandals. You can wear these anywhere that doesn't require shoes. There are very nice ones that can be worn for beach weddings. How cute!
Please, don't forget about layering! How many? That is totally up to you. You can layer a bunch if you like or wear your chakra bracelet solo. You can also wear your chakra bracelet with metal expandables, cuffs, or charm bracelets.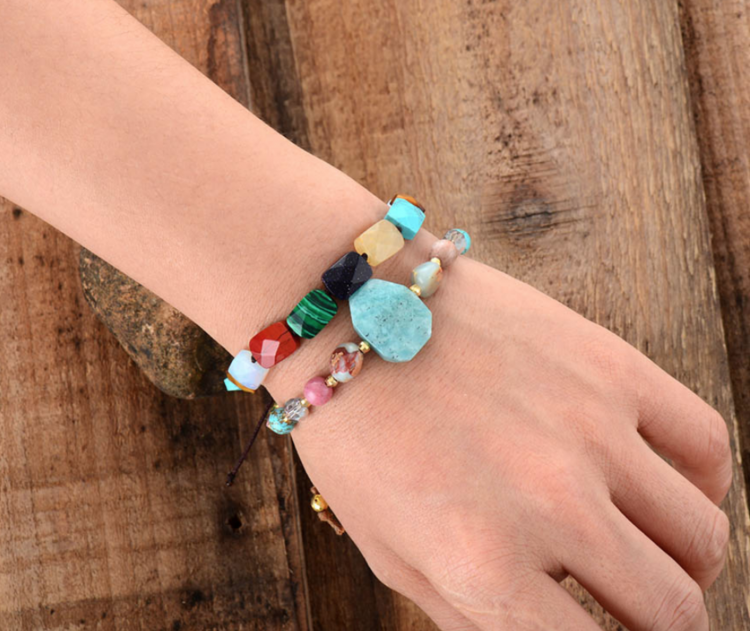 The sky is the limit and as long as you're confident with your choices, you are going to look spectacular. Also, remember to try some of our picks as necklaces. The versatility will surprise you.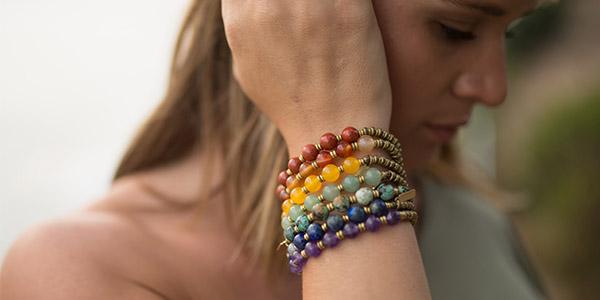 The very cool thing about these pieces is the variety in color. There are so many colors they can be worn with almost anything in your closet. Some of our picks even transition to evening- wear!
Criteria for Evaluation
What is a piece of jewelry is it's not stylish, trendy, durable and comfortable. We also, however, we're pleased that many of our picks also had sizing options and could be worn in different ways.
We brought you style and trend. Unless you want heirloom, you need your pieces to be hip and trendy. Chakra bracelets are that. You'll be "styling" when wearing your bracelet.
Another criterion was durability. If it falls apart the first time you wear it, that's bad. It's a waste of your time and money.
Versatility can present itself in a variety of ways. With our picks, we focused on two ways. Many of these bracelets could be worn by both men and women and not only that, they could be worn on various parts of the body. Not just the wrist.
Some of these pieces were multi-style. They could be worn as anklets and necklaces. You can't ask for much more than that. Also, all of the chakra bracelets can be worn with many colors. You are sure to have multiple outfits, tops, and slacks that coordinate with these bracelets.
It doesn't matter how pretty it is if it's not comfortable. If it doesn't feel good, it's going to sit in whatever you store it.
Feel good about what you're wearing and how much you've spent!
FAQs
1. Q. What is a chakra?
A. Chakra is a Sanskrit word that means wheel or disk. It is thought to be the spiritual center of the body. There are seven chakras along the spine, neck, and crown of your head.
2. Q. What are the seven chakras?
A. The seven chakras are points of energy connected to various organs and glands in the body. They are located at the crown of the head, between the eyebrows, the throat, the heart, the navel, the root of the sexual organs, and the base of the spine.
3. Q. What is a roller bottle?
A. Roller bottles come in a variety of shapes and colors. They are used to deliver an essential oil or blend of oils to the body via a carrier oil such as fractionated coconut oil.
4. Q. What does fractionated oil mean?
A. Fractionated oil is divide and broken up through a fractional process. Basically, it means that the oil is broken down,so it will stay liquid and not solidify.
5. Q. What is aromatherapy?
A. Aromatherapy is a therapeutic use of essential oils. They are either inhaled or applied to the body in some way. They are often used in massage.
6. Q. What are lava stones?
A. Lava stones are just that. They are stones made from lava. They are porous and have small craters all over them. They absorb essential oils and are used in jewelry of all types for aromatherapy.
7. Q. What is a chakra wand?
A. A chakra wand is an energy healing tool. It is a wand shape with the seven crystals for the seven chakras. They are in the correct order on the wand.
Conclusion
We have spotted plenty of celebrities wearing chakra bracelets. These bracelets aren't being worn by only women either.
Plenty of popular men have been sighted wearing them as well. Stars wearing chakra bracelets include Cheryl Cole, Cara Delevingne, Princess Beatrice, Sienna Miller, 50 Cent, Kanye West, Katy Perry, Adele, Miranda Kerr, Patrick Swayze, Lucy Hale, Victoria Beckham, and Robert Downey, just to name, well, a bunch.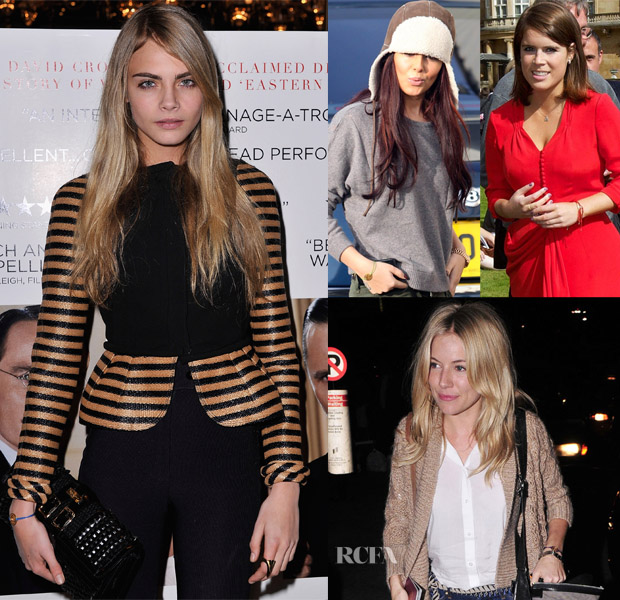 However, you don't have to be a movie star or any other kind of celebrity to wear one of these bracelets. You are a star and you can keep your pieces looking star quality for a very long time. Just follow a few simple guidelines. Most of them are standard for taking care of any type of jewelry.
✓ Keep your piece dry and not wearing it while bathing or swimming. If you do wear it swimming or bathing, it will likely fade and the polish will wear off, leaving you with an unattractive and dull piece.
✓ Try not to touch your bracelets a lot. The grease and/or sweat on your hands may cause discoloration.
✓ To clean your piece use a soft, dry cloth, a magic eraser, or a soft cloth soaked in warm water, mixed with detergent free soap.
✓  Lastly, always store your piece in a soft lined container or pouch. You can also hang them on a jewelry mount. This will avoid chipping and scratching.
The most important thing is to enjoy the awesome color and function of your bracelet!