Mix / Other
The Most Beautiful Feather Earrings | 2023 Edition
Birds of a feather flock together; no, that's not it. It's light as a feather; no, that's not it either. A feather in your hat; oh, we're getting closer…at least we are talking about accessorizing. Oh, yes, feather earrings are back!
To the American Indians, feathers were sacred and held cultural and spiritual value. We, however, like them for feather earrings. The feathers on a bird gives it characteristics that distinguish it from other birds.
You can distinguish yourself from other people when you wear any of the gorgeous picks on our list as these will help you communicate an awesomely unique sense of style.
10 Feather Earrings -2019 Edition
1. SEXY SPARKLES Zebra Black & White Feather Earrings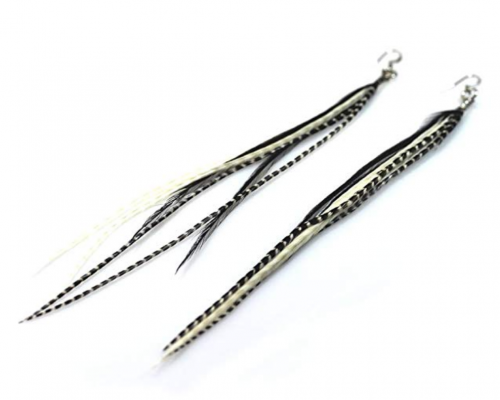 Just because the feathers of a rooster were used to create these feathered earrings, it doesn't mean they can't be stunning. And stunning is what these are!
Right off the bat, this set is our favorite pick on the list. These feathers are either the genuine hackle feathers or the genuine saddle feathers of a grizzly rooster. Each individual earring will get five feathers. That's 10 per se!
The feathers are bound together and attached to a jump ring. They are an exotic zebra print making the dominant colors black and white, with a bit of a cream color.
Because not all feathers are the same and there is a variation in color, your earrings may look different than the ones pictured. But that's OK, you are unique and it makes your pair a unique set as well.
They are gorgeous and delicate. Feathers are extremely light and because of that, these earrings are lightweight as well.
You can wear them for any occasion and they can be worn day or night (ps. We heard these earrings have seen some runway modeling action!).
The dazzling earrings have an amazingly affordable price. For as beautiful as they are, we would expect to pay more. That's good news for you!
Each earring feather is from 4 inches to 6 inches long. Again, the length varies according to the feather length.
While we aren't sure of the weight, we can't help but to think that this set isn't heavy at all. One size fits all. No adjustments necessary.
2. Pandora Spiritual Feathers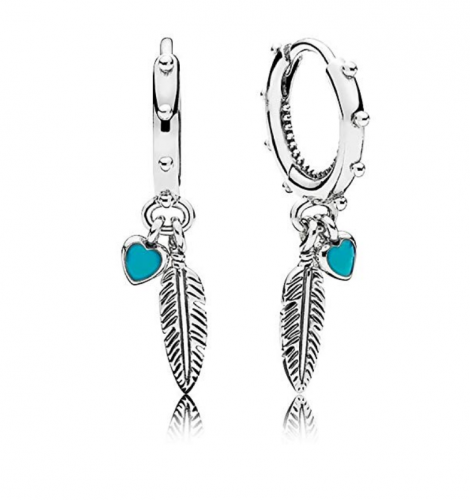 This set,created by Pandora gives a nod to their bracelet creations. On each earring, there are two charms. And, because there are two charms, you get two colors!
The feather charm is silver and the smaller heart charm is turquoise stone. The feather is made of 925 silver and the heart is a hand-painted turquoise enamel. They are attached to a bangle.
The bangle has studs going around the perimeter, on the outside, and smaller studs going around the interior on the inside.
This set looks as though it was inspired by the Native American Indian culture and would look adorable for everyday wear.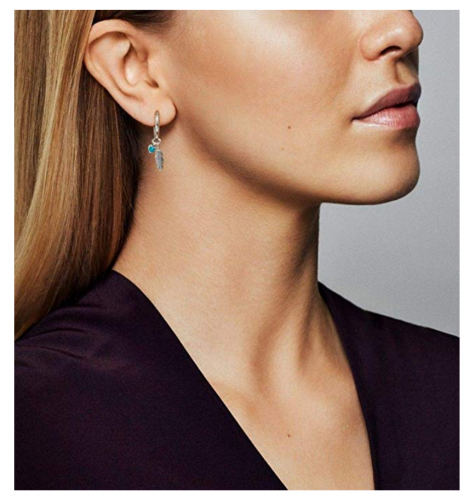 The earrings are a bit pricey. However, we think these are definitely worth every penny and would make for a perfect gift for someone special.
These earrings are 1.7 centimeters long, or 0.66 inches. They weigh 1 gram or 0.03 ounces.
They are super lightweight. One size fits all. No adjustments are necessary.
3. Long Feather Tassel Earrings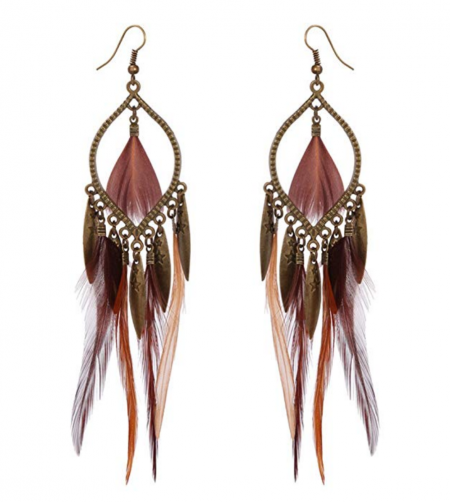 These pretty feather earrings have a bronze, copper and maroon cast to them. There are five feathers on each earring. There are also four charms on each piece.
The charms and feathers hang from a teardrop that is elongated on both ends. From the left, the charm comes first, then the feather and then they alternate. Each charm has two stars, at the top.
The last feather hangs from the top of the elongated teardrop. The entire thing is attached to a fishhook back.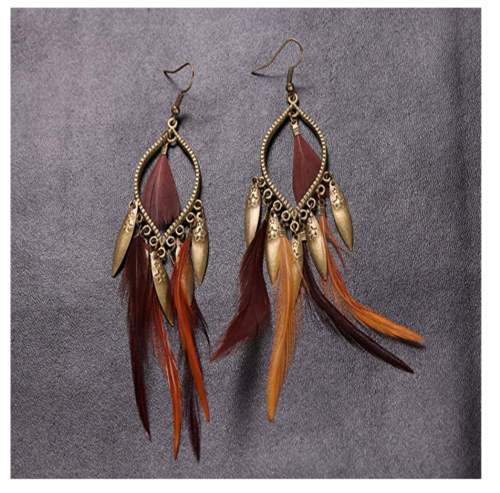 We would call this set affordable and perfect for anyone who loves a boho-chic style!
This set is 12.5 centimeters, or almost 5 inches long and 2.5 centimeters or almost an inch wide. These will definitely make a statement!
One size fits all. No adjustments are necessary.
4. Badu Women Bohemian Earrings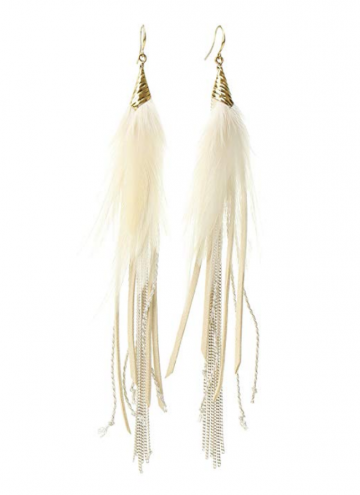 If you are in a Native American inspired wedding, as either an attendant or as the bride, then this set is for you! These long tassel earrings are elegant and gorgeous.
We like them because they are a mix of materials. You get feathers, some delicate chains, thin polyurethane strips, and some delicate knotted cord.
We also like them because the crimp tube (where the feathers, strips, ropes and chains come together at the top) is totally different. It is a cone shape as opposed to a bead, or a cylinder that's used by most designers.
The feathers are the shortest item in the group and the chains are the longest. The strips of "pleather" (they are polyurethane) and the ropes are about the same length.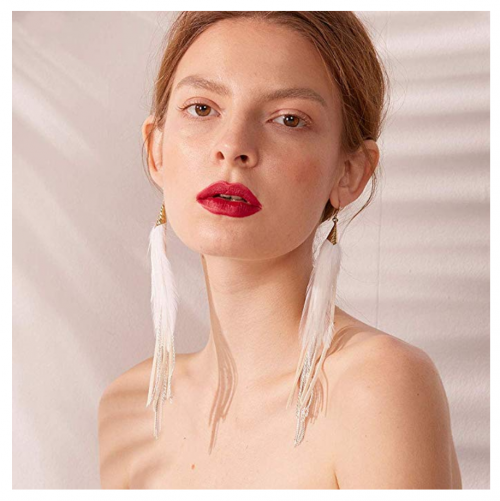 The color is white or off white/cream, making it perfect for the bride or her bridesmaids. These have a Boho vibe to them as well.
Another reason we like these earrings is for the price. If you have a wedding budget, this is the set for you. They are very affordable.
The feathers are real and will not all be the same size. The length of this set is 12 – 13 centimeters, or 4.75 – 5.11 inches. The hook length is 1.2 centimeters or almost ½ an inch.
They are definitely a statement piece! One size fits all. No adjustments are necessary.
5. SUNYIK Stone Bohemia Drop Earrings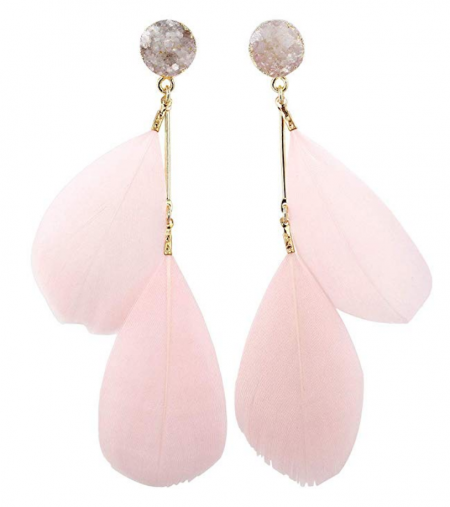 If you're going out on the town or wearing something heavier (think boots and a sweater, or scarf) that can support these earrings, then they are for you.
This unique pair is handmade making each set different. The earring starts out with the crystal geode quartz stud. It's about 12 millimeters wide, or ½ an inch.
Attached to the stud is a feather with a crimp tube. There is also another feather attached to a straight dangle. A crimp tube also attaches this feather to the dangle.
The set is very inexpensive. And when we say very, we mean very.
They would make a great addition to almost any outfit at almost any age.
This set is 3.5 – 4 inches in total length. It is definitely large enough to make a statement. One size fits all!
6. Gift of Freedom Feather Earrings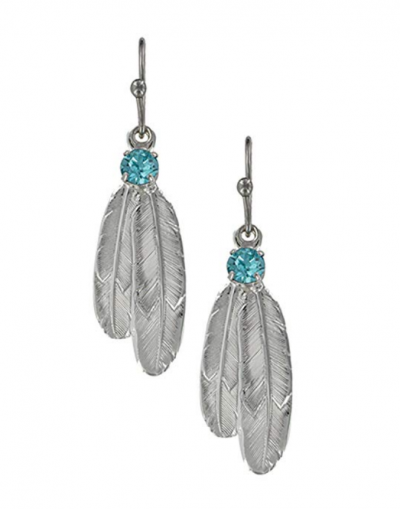 Simple and very pretty describes this set by Montana Silversmiths. The feather earrings aren't really feathers,at all, but instead they are made of 99.9% fine silver plating over a brass base. It has a finish of Montana Aromor to help protect the earrings from tarnishing.
The mold of the silver gives the illusion of two feathers on each earring. There is actually only one piece that looks like two feathers. The feathers are etched to give them a feathered appearance.
Settling over the top of the feathers is an aquamarine colored Swarovski crystal. They are in a four-prong setting.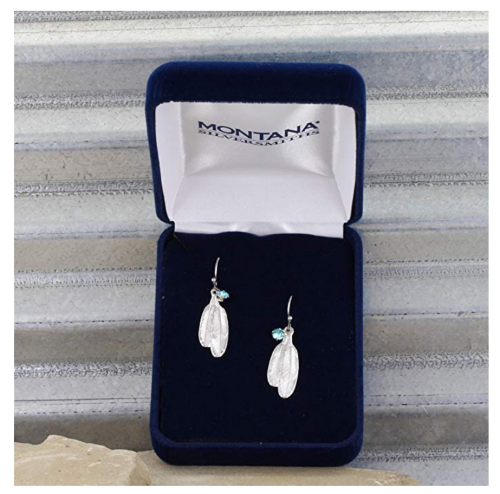 It's all attached to a rather unique fish hook post. We say unique because at the end closest to the earring there is a ball to keep the charms from sliding off the hook. The French hook is made of hypoallergenic stainless steel.
We consider this set to be upper affordable. You are getting Swarovski srystals and we like that.
Each earring in this set is about ½ an inch wide and 1.06 inches tall.
7. Eves Addiction Sterling Silver Feather Earrings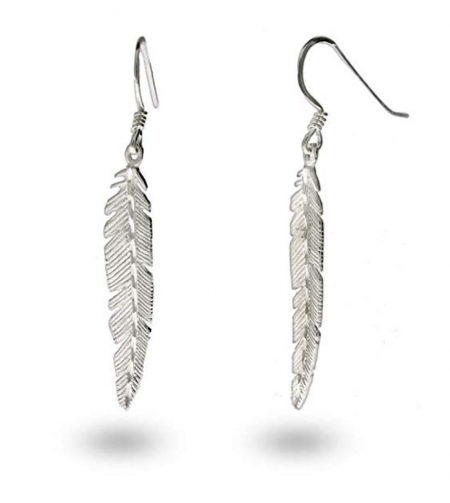 These pretty feather earringscomee in .925 sterling silver that's been molded to look like a feather. The set could be considered minimalist and we love this type of beautiful dainty, minimalism!
The silver feathers have a loop molded at the top. The loop attaches to the fishhook back making them easy to wear. There are no push or screw backs to fiddle with.
The earrings are a bit pricey but honestly, considering the quality metal and the beautiful, delicate design, these are worth every penny!
We think they'd make a great graduation gift or a special gift for that special someone in your life.
Each earring in this set is ¼ in wide and 1.5 inches long. They weigh 3.11 grams, or very close to 0.11 ounces. One size fits all.
8. Navajo Sterling Silver & Turquoise Feather Dangle Earrings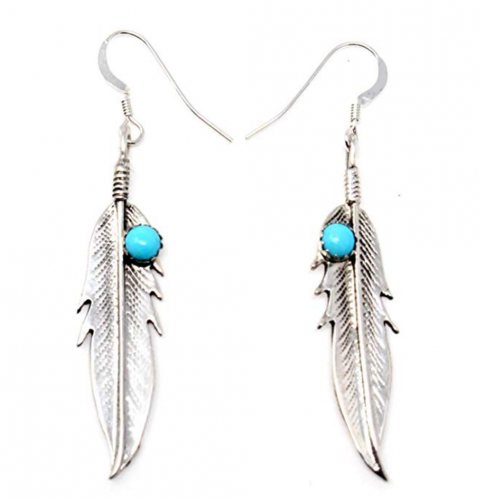 We like these earrings for a few reasons. First, part of the proceeds go to help Native American Artists. Second, we like the way the turquoise ball sits on the feather and third, we love the fishhook back. You can wear these for any occasion…literally.
The turquoise ball in this piece is natural which will give some variation to the stone. That's OK, though, because it makes them as unique as you are.
The stone is in a bezel setting, giving it a raised look on the feather. The stone is also coated giving it extra protection. The feathers are made from sterling silver. The fishhook back is very unique. Coming from the feather, the metal has been hammered, or flattened.
That is another unique quality about this set. It almost looks kind of like a scythe. The fishhook is extra long as well giving this set stability in your lobes.
We also love the way they can be dressed up or down depending on the color scheme of your outfit.
The price for this set is well worth the money you will pay. We consider it to be right in the sweet spot.
The feather on these earrings is 1.5 inches long and 3/8 of an inch wide. The total hanging length of the earring is 2 inches long. We think that's pretty sweet, too; it's just the right size.
9. Nature Feather Handmade Goose Feather Earrings
These earrings are made of natural pheasant, peacock and goose feathers, giving them their vibrant colors.
They are very light which make them super easy to wear and very comfortable. The earrings are also handmade making them as unique as you are. Feathers aren't the only things in this set though!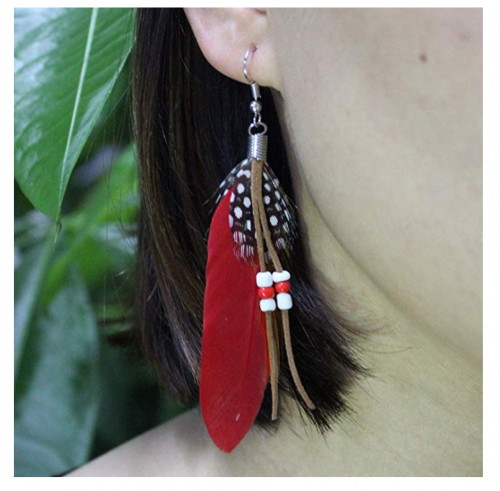 You also get a strand of leather divided about half way down. On each of the divisions are three beads. They are white and brown and their colors alternate. The feathers are attached with a crimp and then, attached to fishhook backs.
The price of these is also simple and pretty. The earrings  are very feminine and girly and that's why we think they'd look great on your preteens, teens and up!
One size fits all. No adjustments necessary.
10. Sienna Sky Artisan Multi Colored Earrings
This set of feather earrings is pretty and vibrant. The feathers are multi-colored giving them the versatility to pair with many outfits. They have a bit of whimsy and a lot of fun!
You'll see red, orange, green, blue, light blue teal and black. All these colors make this set quite fun to wear.
Not only do you get a manufactured feather, but there is a pretty, little cut bead that's on the drop above the feather as well.
The whole thing has a fishhook back. This set can be worn for both casual and any occasion you won't to make sure you'll stand out from the crowd!
The price of this set is attractive, just like the earrings. You won't have any trouble justifying the cost, we promise!
These earrings are 1 inch for the feather and have a total drop of 1.5 inches. One size fits all.
Style Tips
We can't get enough of feather earrings and why not…they are so versatile and can be used in combination with so many styles. Try them for a Boho chic, casual, or Native style.
The styles we like the most? Definitely boho chic!
Now when looking for the best ways to style feather earrings, it's always a safe bet to rely on A-listers for some inspiration; we love the way Mary-Kate Olsen, Sienna Miller, Vanessa Hudgens, Jessica Biel, Hilary Duff style their feather earrings.
And take a look at Gwyneth Paltrow; not that is the right way to style feathers with a super dressy outfit!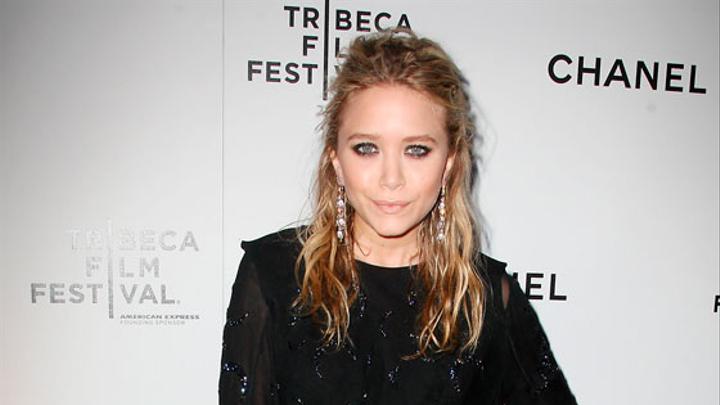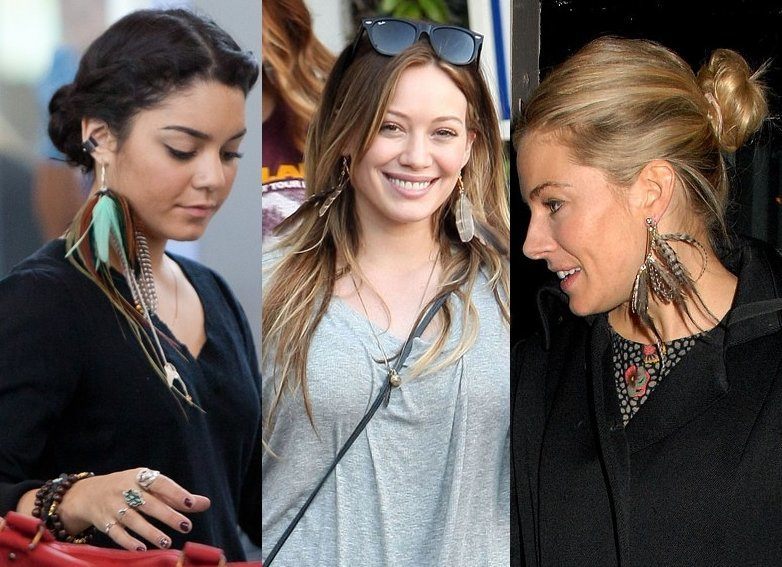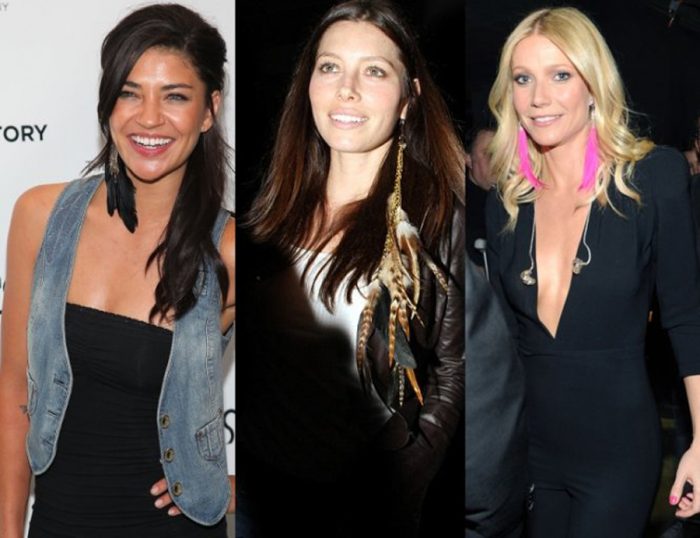 However you decide to wear them, as long as you're confident, you'll be able to "rock" these earrings in a style that's all your own.
Criteria for Evaluation
A few of the main criteria we used in bringing you our picks were style, beauty and comfort. We wanted to show you pieces that were gorgeous. Let's face it, if it's not pretty and doesn't match anything you wear, you won't wear it.
If it doesn't match your style or the style that's trending, you are not going to wear it. And what good is jewelry that just sits (or in this case hangs) there. It's a waste of your money. That's the last thing we want.
One other aspect was durability. We wanted to bring you pieces that were sturdy (as sturdy as feathers can be) and, with the proper care, bring you years of joy. We do feel that the feather earring trend is timeless, so we wanted pieces that will last you a long time.
Nothing brings more satisfaction than getting a good deal. These sets will give you great value, for the money you will spend. The last criterion was ease of wear.
We didn't show you anything too heavy and in fact, most were the total opposite. You may not even realize you have them on. The bottom line is that we want you to be comfortable all the way around, with our picks.
These picks will flatter you, wear well, and last a long time when cared for properly.
FAQs
1. Q. Are feathers all the same?
A. NO. Depending upon where they appear on the body, they are different.
2. Q. What gives a feather its color?
A. A feather gets its color from pigment, just like humans do.
3. Q. Why are the feathers of a male bird more colorful than the females?
A. The female bird often has duller feathers to blend into the environment for nesting purposes. It acts as camouflage from predators.
Males have brighter colors because the females are more attracted to the brighter colors. The males show off their plumage to attract a mate.
4. Q. Can you dye feathers?
A. Certainly! You can use fabric dye, food coloring and even powdered drink mix!
5. Q. When were feathers first used to accessorize?
A. Archeologists have discovered that Neanderthal man and women used feathers for some type of decoration.
6. Q. How do/did humans use feathers for other than accessorizing?
A. Feathers are and have been used by people as part of hunting devices, filling for high-class bedding, quill pens, filling for clothing and in for various religious purposes in varying people cultures.
7. Q. Do feather earrings require special care?
A. You bet! You can read below for special care instructions.
In a nutshell, clean as infrequently as possible and never get them wet, if they are synthetic. Real are fine to clean with a bit of shampoo, but you must be extremely careful.
Conclusion
Get on the feather earring bandwagon! Everyone, famous and nonalike, is wearing them.
If you want to strut your pieces for a very long time, there are several guidelines to follow. And while the typical instructions apply for some of these jewelry pieces, feather earrings require care of their own.
We are going to strongly recommend and highly suggest that you do not wear feather earrings in water. Water will ruin the feathers on some of these pieces.
✓ Keep your piece dry; don't wear it while bathing or swimming.
✓ Consider the weather when planning to wear your earrings. Feather earrings can act like small kites and wearing them, on a windy day, maybe a bit challenging.
✓ Avoid sprays, like perfumes and hair spray, and lotions.
✓ We know it's kind of irresistible, but try not to touch them a lot. The grease and/or sweat on your hands may cause either discoloration or grease build up on the feathers.
✓ Certain types of feathers are washable. Some, however, are not. If they can get wet, you can hang them in the bathroom while you shower to steam them. Then, let them cool. They will be ready to go.
However remember, synthetic, very fluffy, or dyed feathers should never get wet.
✓ Lastly, always store your earrings by either hanging them or laying them flat.
If your earrings are metal follow regular jewelry cleaning guidelines. Storing these pieces in a pouch is acceptable. Cleaning is hard on feathers and we highly recommend you limit cleaning to once a month,or every other month.