Rings / Women
Beautiful Raw Crystal Rings with Healing Properties
We all know crystals have the right amount of dazzle to always keep you in the limelight. Their glimmer is awe-striking, and they can make you the cynosure of any dinner, red carpet or formal occasion you attend. And since we are all about bringing out the best in you, we have some very unusual pieces of crystal rings for you.
Raw crystal rings are fantastic in all shades of the world and they are in their pure form with no treatment carried out on any of them. You would be charmed by their elegance, especially if you are all about purity and originality. Read through the rest of the article and find out some fantastic things about raw crystal rings.
Why You Should Get One to Adorn Your Fingers
There are several crystals in the world today, and each comes with its uniqueness. You can count on the ruby to bring out the sparking fire in your outfit, choose quartz for its great dimension and beautiful reflecting power, and countless others from the endless list available for crystals. If you are still doubting getting a raw crystal, here are a few things you should know about them.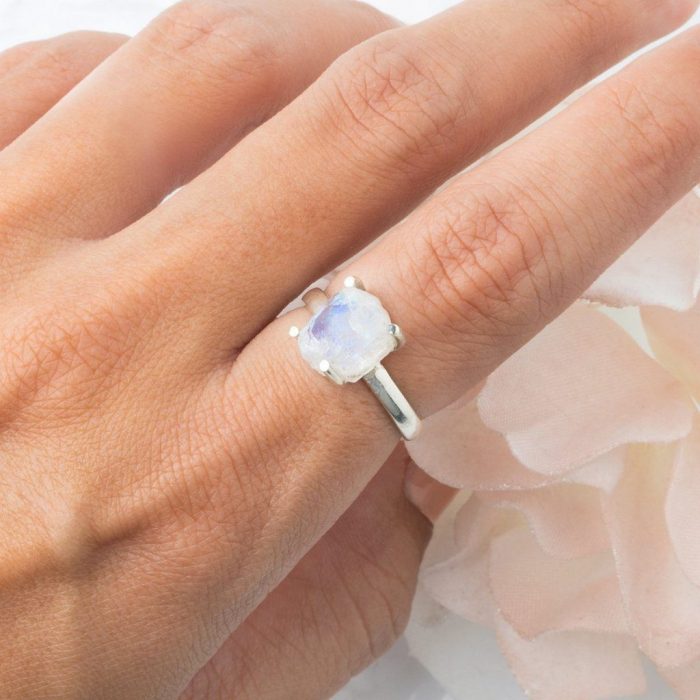 Crystals have been in existence right alongside the origin of humanity. They were used for amulets as long as 30,000 years ago, but only came to be known about 10,000 years ago. Almost all crystals have meaning, and in ancient times they were revered dramatically for their unique qualities. Topaz and Peridot were used as protection against night terrors and evil spirit. Another is amethyst, which is worn to prevent one from having hangovers or getting drunken.
All this timeline goes way back, but this article still finds relevance at the top of the line for several fashion brands. They are part of the trend and would help you add the desired effect to your fashion collection this season. You don't need to look too close to see their natural beauty and pure allure.
Celebrities Seen Wearing Crystal Rings
'Crystals are unique,' and this is an indisputable fact. This is why a lot of stars don't mind having them on their fingers for several occasions and outing. Victoria Beckham for one can't travel without having her crystals in her bag and on her fingers, while Spencer Pratt attested to having spent over $500,000 on them in just one year.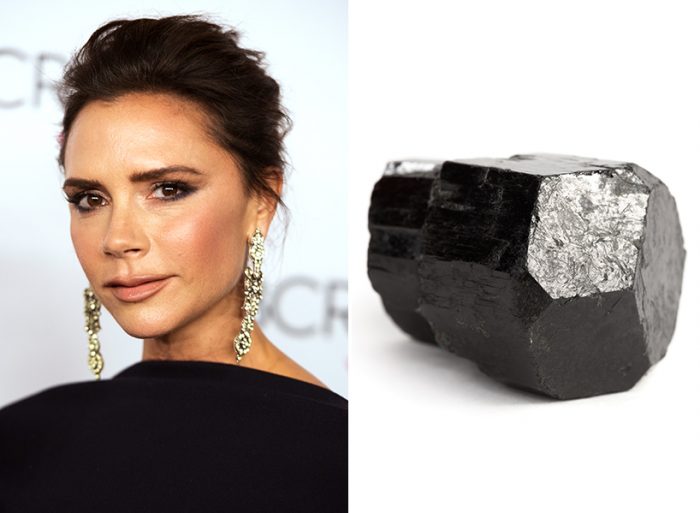 Other celebrities include Naomi Campbell, Anne Hathaway, Adele and a lot of different TV personalities love crystals, so you won't need to search for so many pictures before you find one on their fingers.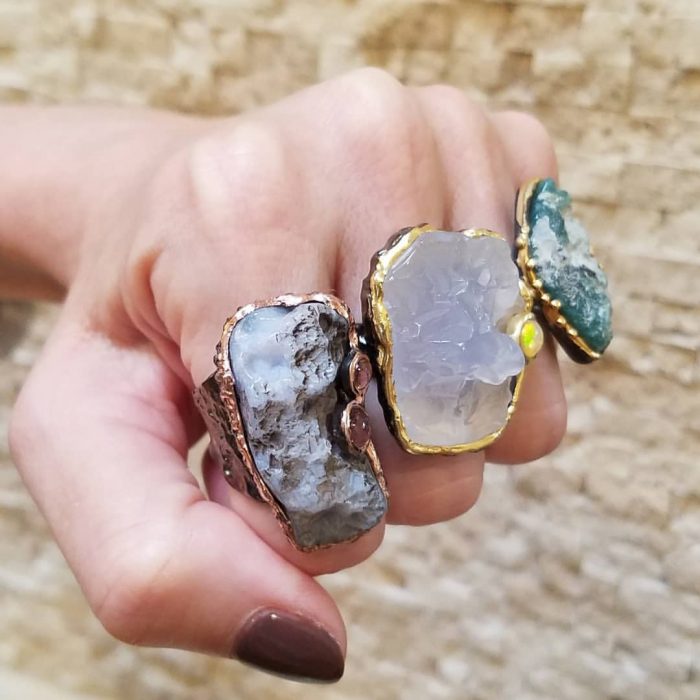 Crystal rings are also diverse, so you have a plethora of gems to select from. All you need to do is scan through the selection that we have for you in this article.
Our 10 Favorite Picks of Crystal Rings!
1. Moonstone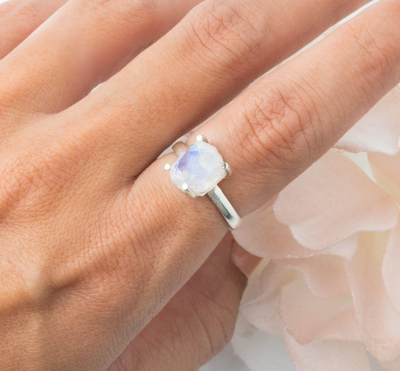 The products we bring you in any article you find here are usually top of the line. We are careful enough to make sure that quality and aesthetic are well blended to not only give you great value for your money, but you can also flaunt your accessory anywhere. This product from Moon Magic contains one of the best crystals you can find. It is as pure as they come!
The most prominent item in crystal pieces of jewelry is the crystal that decorates their band. This one has a genuine natural moonstone that has been left untreated. The unique look is significant to June born people and anyone who appreciates the beauty in its purest form.
To complement the quality, a nickel-free 925 sterling silver was used to craft the band. You would enjoy the blue and purple radiance with which it sparkles when hit by sunlight.
Additionally, the ring is very affordable.
Other info: The dimension of the stone is 0.47″ x 0.59," and it comes with different band sizes.
2. Aquamarine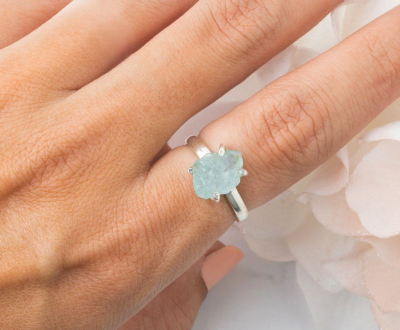 Hypoallergenic, the use of genuine materials and an elegant design are three features that would make any jewelry unique. That is why we chose this ring; it is perfectly crafted with the finest of materials and has a raw cut crystal to complete the excellent look. Every aspect of this piece of jewelry is delicately handmade.
For the crystal used to decorate this piece, Moon Magic chose aquamarine. This crystal is appealing and doesn't come behind in charm. You can trust the quality of the stone since no laboratory treatment was applied to it. To make an exquisite band and still retain hypoallergenic features, 925 sterling silver was used. Everything used for the ring is ethically sourced so you can be sure that you are getting nothing but a well-combined package.
For birthdays, anniversaries and special events, you can choose this March birthstone to gift the ones you love.
Other info: The ring has band size 5 -10.
3. Amethyst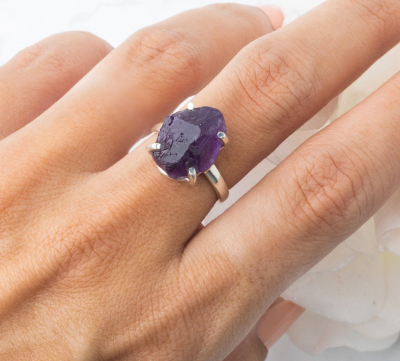 Amethyst is one of our favorite gemstones and it's not too difficult to guess why. The gem is an embodiment of beauty; it has this purple radiance that can be awe-striking when hit by light.
The band is made with hypoallergenic 925 sterling silver; the raw cut amethyst stone is placed in a prong setting at the center of the ring. You can wear it for any occasion, whether it's formal or casual.
This is a February birthstone therefore perfect for anyone born in February. If you are thinking about what to gift your loved one, friends, or better half for their upcoming birthday, this is an easy fix to your problem.
It comes in a beautiful gift pack and the price is not on the high side so that you can get one without any hassle.
Other info: The ring has a stone of dimension 0.47″ x 0.59″ and different band size.
4. Peridot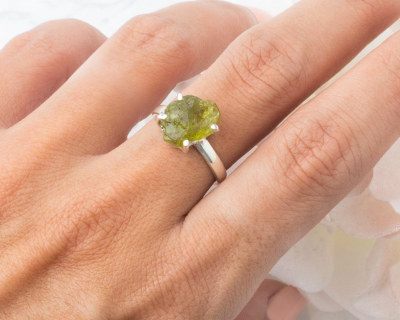 Peridot is a magnificent green crystal that was the favorite of Cleopatra in ancient Egypt. The touch of awesomeness this crystal adds to the ring is undeniable. Infused with a quality build, the skillfulness of the craftsmen at Moon Magic reflects boldly on the jewelry piece. There is so much to recommend about this one!
It features a Peridot crystal that is set into 925 sterling silver. The band has a prong setting that keeps the stone secured to the band to prevent it from falling off. You would enjoy the way the ring radiates the typical and intense green shade without having to go through all the treatment process in the laboratory. Every component of the ring was handcrafted to perfection so to make it the best you can get.
This is an August birthstone and is unique for its beautiful look and genuine feeling. It is also rumored to have the ability to ward off evil and open your perception to learning. There is also a money back guarantee that comes with this package. It's affordable so you can get one for yourself and your loved ones!
Other info: Comes in a beautiful package.
5. Tourmaline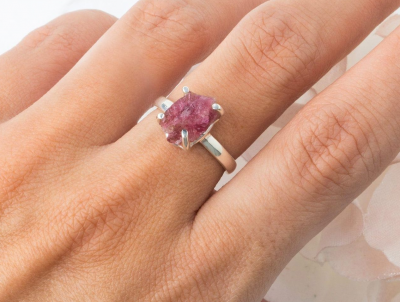 Here is something for October born people and those who love a deep shade of pink. This piece is well crafted with the raw cut tourmaline in the center. The arrangement makes the build top-notch.
This ring has the stone held in a prong setting at the center of its band that comes in nickel free sterling silver that also lacks tarnish or lead.
Affordable and excellent quality are two things you might not often find together, but they are both the main feature of this option. It is important to note that tourmaline properties include the ability to increase emotional stability, physical and intellectual vitality.
Other info: Each ring is unique, and two of the same type wouldn't look alike since they feature an imperfect raw cut.
6. Turquoise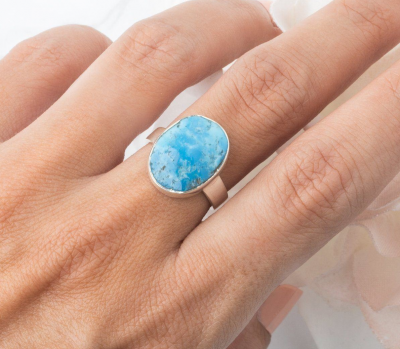 We believe crystals are magical and turquoise belongs to the category. They are called December birthstones and it is rumored that this particular gemstone is the oldest one known to human history.
To make this ring aesthetically appealing, the turquoise was set into the band right at the front. The stone features an oval shape while the band was made from 925 sterling silver. The stone is irregularly shaped and has not been passed through any treatment process.
If you are looking for a simple option that still reflects your love for raw crystals, then you definitely want to consider this choice. It was handcrafted by experts that make sure the build and appeal is nothing short of fantastic.
A turquoise is the stone known for its protective properties as well as its ability to heal both the mind and body. Its unique shade of blue, sometimes blue-green, is the symbol of all things tranquility.

You can give it out as a  gift for a very special occasion or you can simply keep it for yourself since let's be honest, who doesn't want this magnificent piece on their fingers?!
Other info: All materials used for the ring is genuine, and it comes in different band sizes.
How to Take Care of Your Raw Crystals
✓ Avoid exposing your rings to harsh chemicals like cleaning solution, hair sprays, or anything with solvent
✓ Clean your crystals by using a soft cloth to wipe it gently. You can add a little water or a few drops of window cleaner to remove tougher stains, then lay it on a cotton cloth to dry
✓ When your crystal is not in use, wrap it with the jeweler's cloth or keep it in a velvet lined pouch and separate it from other jewelry
✓ Don't keep your jewelry in nylon or metal material
✓ If you need intensive cleaning, then look for a jeweler to help you with it