Earrings / Mix / Necklaces
Hey Cat Ladies: Check Our Cat Jewelry Selection!
OK, ladies. You do not need a Batman to be a cat woman. Heck, you don't even need a cat! All you need to have is some of the pieces from our top 10 picks for cat jewelry.
Why cat jewelry? We did a little digging, and it appears that cats down through the ages have been pretty popular. There has been plenty of mystery and superstition surrounding them.
People have written poems about them, written book series based on them and even written songs about them. But more importantly, for us, they have created cat jewelry collections because of cats.
Pangur Bán' is an old Irish poem based on the cat of a monk from Austria. Emily Dickenson, Edward Thomas, Thomas Grey, T.S. Elliot, Anna Seward, Christopher Smart, Charles Baudelaire, Stevie Smith, and Edward Lear are only a few famous poets who have written cat poems.
It has been discovered, "The Owl and the Pussycat," written by Edward Lear in 1868, was a very forward-thinking poem. The cat was found to be a female, and in the poem, the cat proposes marriage; something unheard of in that generation.
Some famous cat book series include The Cat Who… Mysteries, Warriors, Pete the Cat and Space Cat (children's series), Cat Telling Tales and an innumerable number of other books based on the cat.
Television shows, featuring cat episodes, are too many to mention but Batman and Cat Woman were a hit! Two of our favorite Broadway shows are CATS and The Lion King. While we know Simba is only a relative to the cat, we take the liberty to claim him like a cat.
Let's not forget about the cat songs. Some include Cats in the Cradle, Year of the Cat, What's New Pussycat, and Cat Scratch Fever, to name a few. Disney even got into the act with The Siamese Cat Song and Everybody Wants to Be a Cat.
Cats have even made their way into our holidays. At Halloween, the spooky and mysterious black cat arrives with all the superstition it entails (pun intended).
There's nothing spooky or superstitious about our picks for cat jewelry, however. We make it fun and easy for you to pick a little something from our list and sport some awesome cat-themed accessories!
Our Fave Cat Jewelry!
1. Jewever S925 Sterling Silver Cat Ring
Price: $
This is a very comfortable and sleek ring. The edges are smooth, adding to the comfort. On the front of the ring, are the cat's ears. Etched, on the inside of each ear is a line. They resemble eyebrows. It looks as though you are getting part of the cat's face on the ring.
On the back of the ring, the cuteness continues. The back is open and at each end, there is a little cat paw. On the inside, you can see the pads of the feet.
The cat ring is hypoallergenic because it's made from solid 925 sterling silver. It is nickel, lead, and cadmium free.
This pick is an adorable piece of jewelry. It's somewhat versatile too. We think you could wear the paw / open part on the top of your finger for a slightly different look.
What a deal! It is super affordable, and you will be very pleased with the price.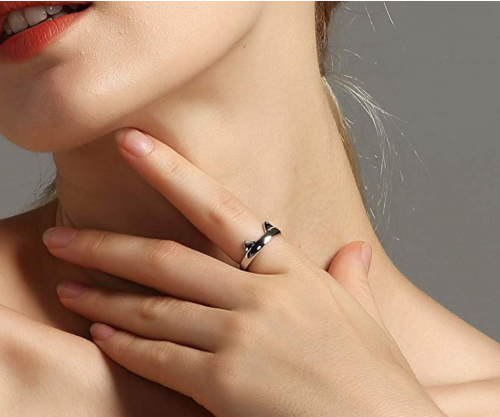 It comes in various sizes. They range from 4 to 10.
It weighs 3.1 grams or 0.11 ounces. It is 6.9 mm wide, or about ¼ inch wide. It is slightly adjustable.
2. Lux Black Ion-Plated Stainless Steel Cat Ring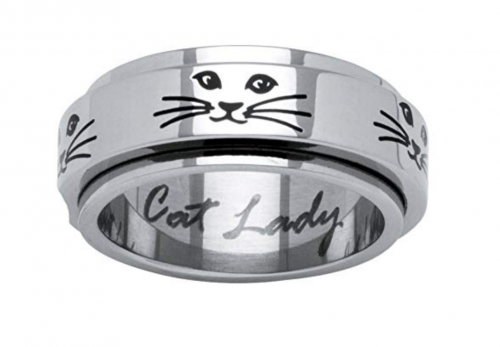 Price: $$
How fun and functional is this cat ring? It is a take-off of the fidget spinner, meaning it spins!
Itis made of sterling silver and is black ion-plated. There are two layers of the ring. On the inside of the bottom shank, the words Cat Lady are written. On the spinner, are several kitty faces, complete with whiskers. The shank/band is a flat shank.
The spinner is also a flat shank to compliment the bottom band. The shank width of both the spinner and the baseband are the same, which gives this piece cohesiveness and consistency.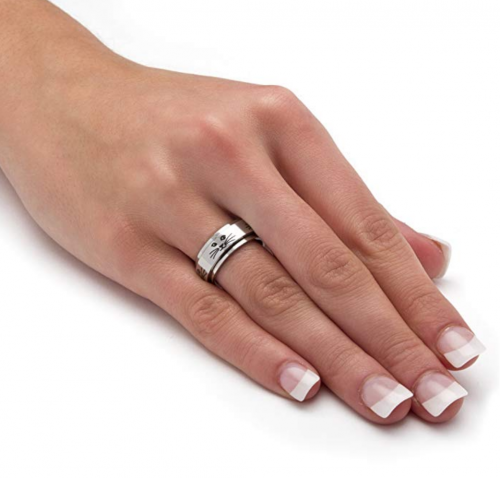 This spinner ring comes at an affordable price. It's not cheap, but it's not hugely expensive either.
It is 8mm, or 0.31 inches wide. It is 2.5 mm, or 0.098 inches high. The shank width is also 8 mm / 0.31 inches high.
This ring comes in sizes 6-10. It is not adjustable.
3. Ice Carats Cat Band Ring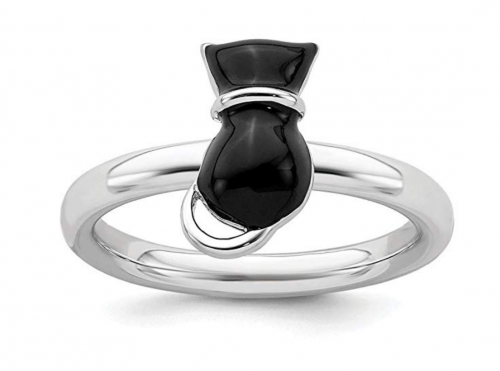 Price: $$
This enameled black cat ring is so cute you almost expect the tail to wag! It's hypoallergenic and is nickel-free. The shank/band profile is a comfort fit shape.
The band is made of solid 925 sterling silver and is rhodium plated. The piece is stamped for authenticity. The shank is closed all the way around and at the top is perched an adorable black enameled cat.
The cat has a silver tail and a silver collar. The polished enamel is attached to a faceplate on the ring. You can see enough of the faceplate so the cat looks as though it has a silver outline.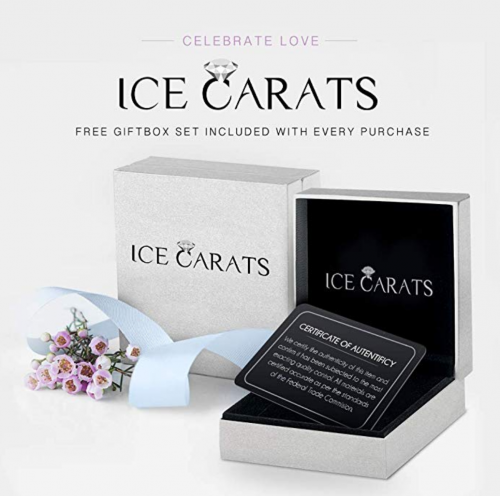 This piece has a little heftier price tag. However, we don't mind for the quality you get from it, and it comes with a gift box set as well.
The enameled cat ring comes in sizes 5-10.
It is 2.25 mm wide and weighs 2.47 grams or 0.087 ounces. It is not adjustable.
4. FANCIME Sterling Silver Cat Necklace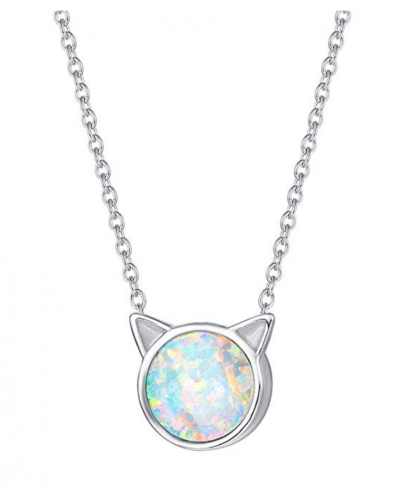 Price: $
Show your style and cat-loving fashion with this sterling silver cat necklace that is stylish and pretty. The pendant represents a cats face, but instead of the facial features, you get a good cut, round, created opal. The opal is in a bezel setting.
The opal pendant glistens and shines and guaranteed to attract attention. Attached to both of the ears is a type of jump ring that affixes itself to the chain. The chain is a cable chain.
The pendant lies nicely between your collarbone and your breastbone. Wear it with matching opal earrings, or use one of the many colors of the opal to pair with this pretty necklace.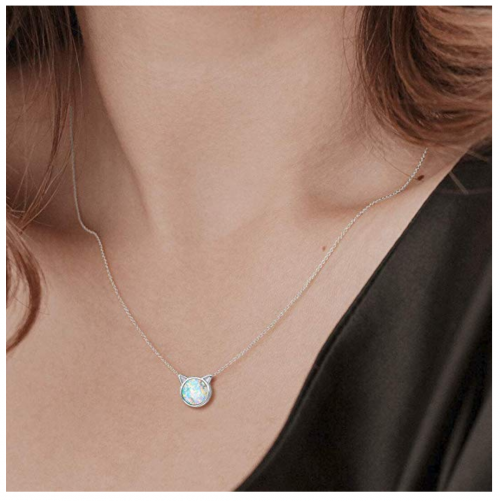 The opal cat ear pendant necklace is at an attractive price. You should be able to afford this piece without any problem.
The chain length is 16 inches but has a two-inch extender chain. This makes it adjustable up to 18 inches.
The weight of this piece is 0.80 grams or 0.02 ounces.
5. Betsey Johnson Multi-Stone Pave Cat Necklace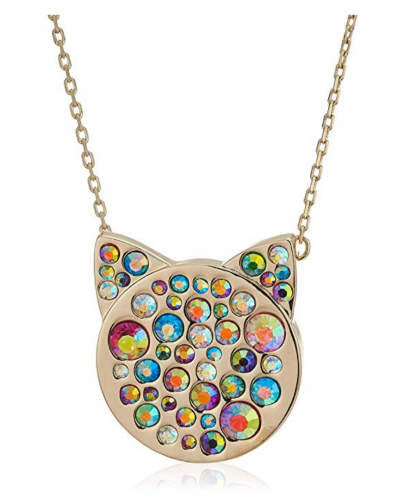 Price: $$
This pretty gold-tone cat necklace is a true fashion piece. It can be dressed up or down though!
The pendant is a cat-shaped face, and instead of the facial features, there are numerous inlaid stones. Each ear has about five stones. The rocks are all different sizes, colors, and shapes.
The pendant is attached at the ears to jump rings which attach to a cable chain. The chain has a lobster claw clasp. This design is simple and complicated; all rolled together…mysterious, almost like a cat itself.
The price of this pretty necklace is in the upper affordable range. It would make a great gift for a special occasion or to anyone who loves cat-themed accessories!
The chain is at least 16.5 inches with an adjuster of about 3.5 inches. This gives length flexibility up to 20 inches.
6. Betsey Johnson Pink Stone Open Cat Necklace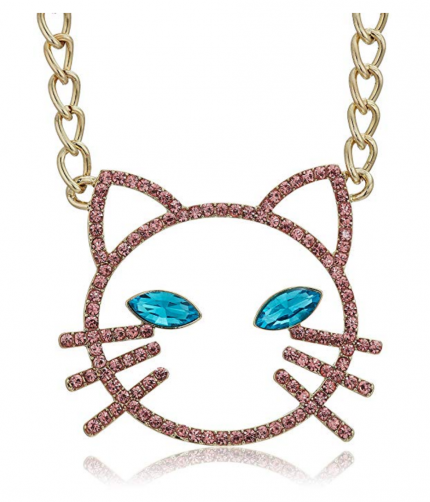 Price: $$
If you love a Pavé setting, this cat necklace is for you!
The goldtone pendant is the face of a cat minus the mouth and nose. The outline of the face, including the whiskers, is pink pavé stones.
The eyes, which are rather seductive, are blue oval faceted stones. We think the color looks like a deep aquamarine blue. They are attached to the whiskers. The ears have an attached jump ring, and the chain is a link type.
The closure is a lobster claw clasp, making the wearing of this pendant necklace very easy.
This pendant necklace has a slightly higher price tag, making it upper affordable.
This pendant necklace is one size fits all.
7. Dogeared Women's Meow, Cat Head Necklace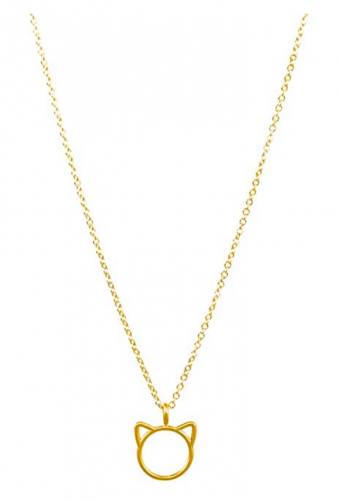 Price: $$
This is fashion jewelry at its finest and if you want something plain and simple, this is the piece for you. The delicate gold chain of this cat head necklace features a gold wire cat pendant.
The entire face of the cat is hollow, making you the backdrop and accent of the necklace. The pendant attaches to the chain by a bail.
The necklace is 14 karat gold plated sterling silver. The chain is a rolo chain.
If you want a piece that will make the jump from day time to evening wear, this may be it. It is understated and simple. This piece is so light you won't even know you have it on!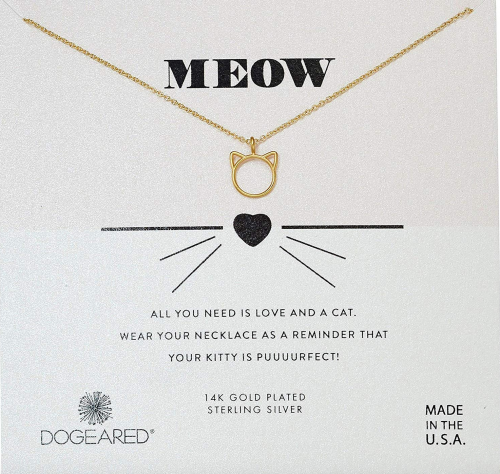 The pendant necklace has a pretty price to match the pretty pendant necklace. It is above affordable for many, but that doesn't place it out of reach by any means. This would make a great, serious gift for the cat lover in your life.
The cat head pendant necklace has a 16-inch chain with a 2-inch extender. That makes the total adjustable length to 18 inches.
8. Gem Stone King Cat Stud Earrings
Price: $$
This set of Gemstone cat stud earrings are just adorable, yet beautiful and elegant at the same time. They are made of 925 sterling silver and have the stamp of authenticity to back it up. The backs are posts with a friction back.
The body is made of black cubic zirconia and the tail and the collar is white cubic zirconia. The black stones make the body look as though it has fur and the white stones make the collar and tail look very rich and elegant. You almost expect the tail to move back and forth!
Both the collar and tail are Pavé settings and very little metal is visible. There are 68 stones in these little cat earrings!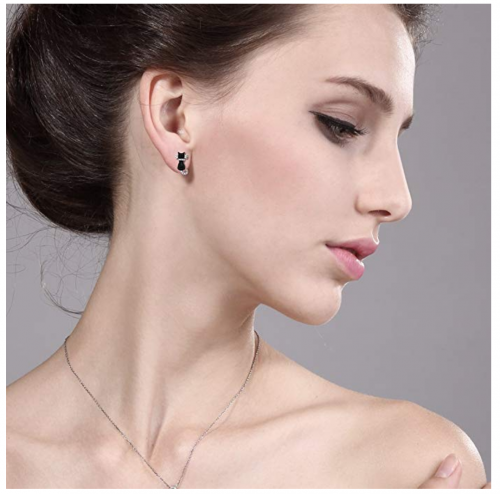 Each stone is 1 mm in length. The stones are attached to a sterling silver faceplate, which includes the whiskers. You can wear this set day or night and with your hair up or down. This is a very versatile pair of earrings.
There is no elegant price when it comes to these elegant earrings. While they aren't cheap or inexpensive, they are as affordable as they are easy to wear.
The gem weight is 0.54 carats, and the width is 7 mm, or a bit over ¼ of an inch. The length is 15 mm, or over ½ an inch.
9. Beaux Bijoux Blue or White Opal Cat Earrings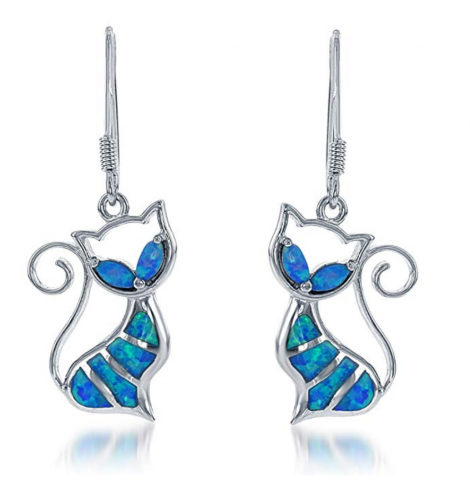 Price: $$
This set of blue opal cat earrings is our favorite pick on the list. The color is gorgeous and the design is elegant and stylish.
The pair is made of sterling silver with a high polished finish. The cat's body is inlaid opal in four sections. Each section of the cat is divided by a sterling silver line.
The cat's eyes are the same opal stone, and they are oval-shaped in a bezel setting. They are set at an angle to look into the cat's eyes. One of the prongs is placed in the middle, at the bottom and has the appearance of the cat's nose.
The forehead and ears are empty space. The cat's tail curls up from the bottom to the top of the ear and winds around in a loop. The fish hook with a spring clasp secures this set nicely in your ears.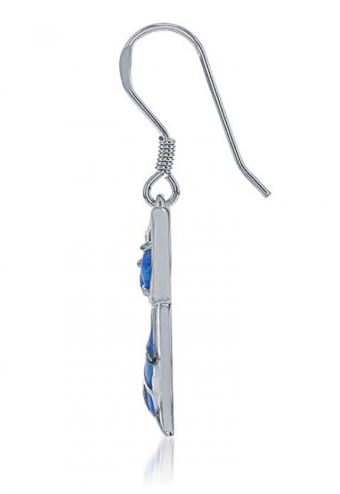 The price for this set is no cause for alarm. While it isn't cheap, it isn't outrageously high either.
Each stone is 2mm in length, height, and width. The cat is about an inch tall.
10. JEWME 925 Sterling Silver Cat Cuff Bracelet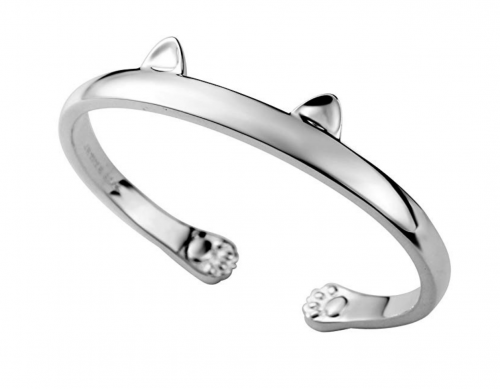 Price: $$
The cat-themed cuff is a very comfortable and sleek bracelet. It matches the ring that we presented as our first pick!
The edges are smooth, adding to the comfort. On the front of the bracelet are the cat's ears. On the back, the cuteness continues. The back is open; at each end, there is a little cat paw. The paws are very detailed.
On the inside, you can see the pads of the feet. On the outside, you can see the top of the feet, which are very detailed as well. The piece is hypoallergenic and made from solid 925 sterling silver.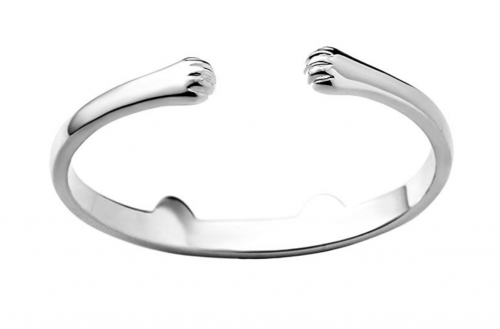 This is an adorable and quality bangle. It's somewhat versatile, too. Just like we suggested for the cat ring or the first pick on this list, we think you could wear the paw / open part on the top of your wrist for a slightly different look.
The price is mid high. It would be great to give for a special occasion.
The neat bracelet is 58 mm, or 2.28 inches wide, and it is 3 mm or 0.12 inches thick. The circumference is 14-16 cm or 5.51-6.3 inches.
Style Tips
Gone are the days when cat jewelry was only for a Halloween costume. And, depending on the style of your pieces, you can wear cat jewelry with just about anything and at any time. In our day and age, anything goes.
We have even seen celebrities wearing cat ear headbands for photoshoots and television appearances. There are no cat headbands on our list of picks, but there is plenty of cuteness and style. Just like the headband, many of our pieces can be worn day or night.
If you have a cat ring, wear it with more cat rings. Then, grab a necklace and earrings that play off the colors of the rings. If you have a necklace and like matching, wear a ring that matches.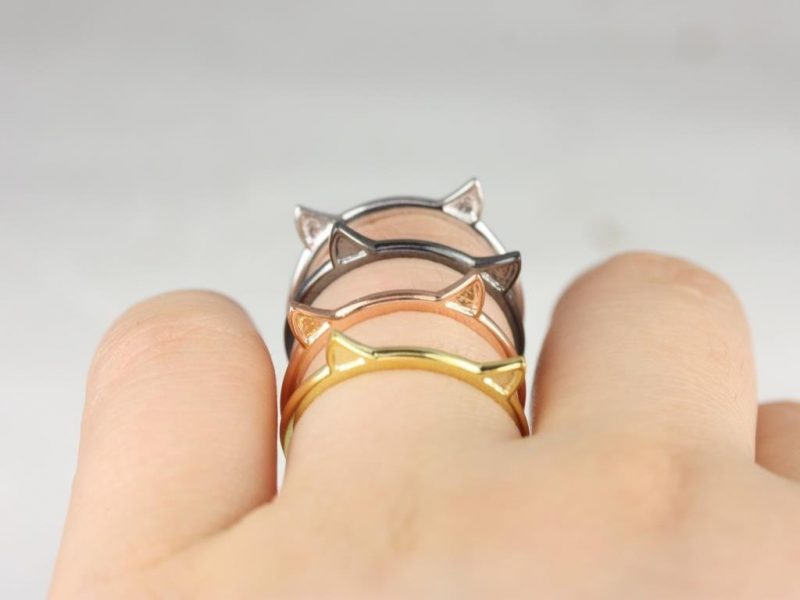 If you don't care for matchy, matchy, then choose rings and earrings in the color of the necklace metal. When wearing cat earrings, choose a necklace and rings that compliment the earrings. They can match but don't have to.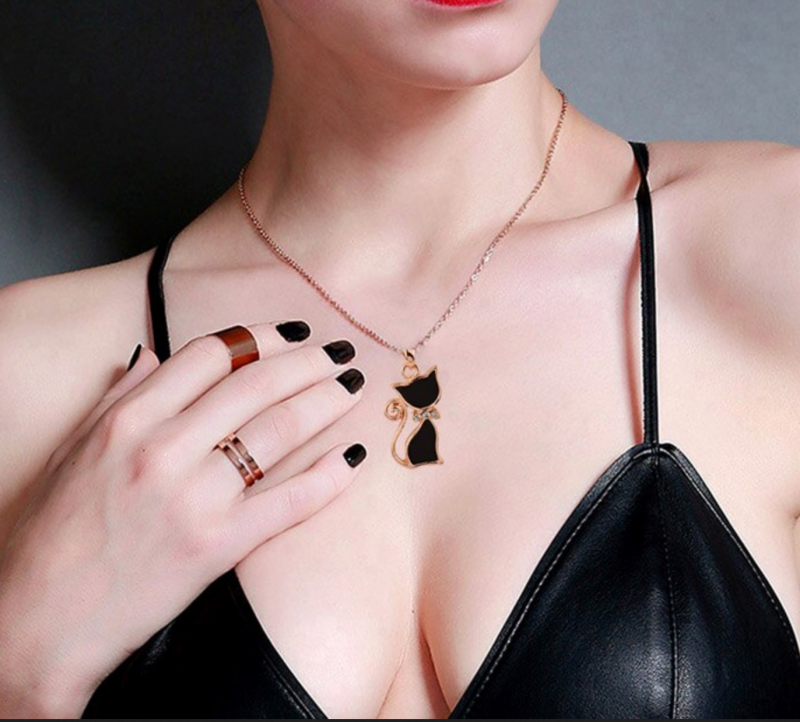 Brooches are re-entering the fashion realm and what better piece is there than a cat brooch. Wear one alone on a lapel, or mix it up and wear your cat brooch with 10, or 12 other brooches all over your jean jacket (Note: this apparel item will be heavy).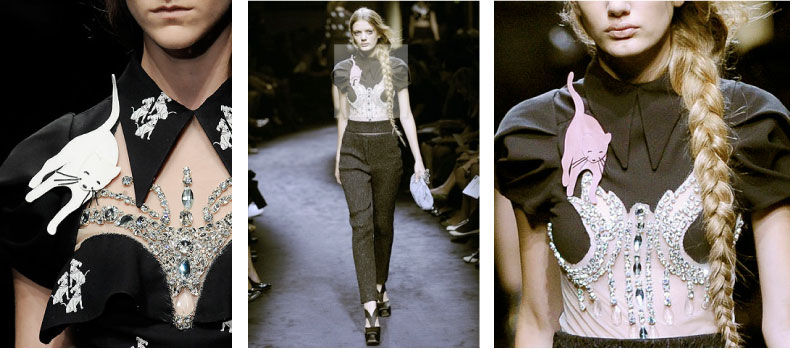 The bottom line is to do what makes your heart happy!
Criteria for Evaluation
We used a few criteria to bring you our picks. We relied on style, durability, quality, and comfort.
We wanted to show you pieces that were pretty and attractive. Let's face it; if your cat jewelry doesn't look awesome, and doesn't match anything you wear, you won't use it. If it doesn't coincide with your style or the style that's trending, you are not going to wear it.
We want your cat jewelry to be something you look forward to wearing, or it's a waste of your money. That's the last thing we want!
Our first and main criterion was the ease of wear. We didn't show you anything too heavy, and in fact, all were the total opposite. The bottom line is, with our picks, we want you to be comfortable all the way around.
One other aspect was durability. We wanted to bring you sets and items that were sturdy and, with the proper care, bring you years of love and great wear. We do feel that the cat jewelry trend will never go away, so we wanted pieces that will last you a long time.
Nothing brings more satisfaction than getting a good deal. These items will give you great value for the money you will spend. When cared for properly, these picks will flatter you, wear well, and last a long time.
FAQs & Interesting Facts
1. Q. Do cats see better in the dark?
A. Yes, cats do see better than humans, in the dark. They need only 1/6 the light that we do to see. They also have better senses of smell and hearing than we do.
They can even hear higher-pitched sounds than dogs. When it comes to smell, they have double the olfactory sense than humans!
2. Q. Cats can see, hear and smell better than humans, but what about their sense of taste?
A. Cats have few taste buds and cannot taste anything sweet. They can taste proteins and bitter tastes. They prefer their food at approximately 100°.
Not to be morbid, but this is the temperature of roadkill; perhaps that's why they are such good hunters?!
3. Q. What is pavé?
A. Pavé is from the French for pavement. It means that the stones are placed so close together that there is no, or very little, metal showing.
4. Q. What are the shank and the shank profile of a ring?
A. The shank is the band of the ring. The profile is the shape of the band. Shapes can be flat, rounded, half-round, scooped, etc.
5. Q. Are cats mentioned in history and mythology?
A. Yes, they are. In ancient Egypt, they were considered sacred. Several cultures and ancient religions believed cats were symbols of good fortune, amongst many, many, other beliefs. They range from the lovely to the positively morbid.
6. Q. Is there a cat's eye gemstone?
A. Yes, there is a one. It's a stone that's been polished but uncut. It exhibits a line of light that goes across the middle.
The effect is known as chatoyancy, or cat's eye effect.
7. Q. Are there benefits to wearing cat's eye?
A. Some think the wearer has an increase in Ketu (a mystical planet) vibration. It may enhance wisdom, intellect, and bring stability. It may also guard against accidents and mishaps.
8. Q. What is diameter?
A. Diameter is the measurement of a circle, when a line is placed, through the center. So, when a piece of jewelry states the diameter, they are referring to the "width" of the circle through its center.
9. Q. What is a pendant?
A. A pendant is a piece of jewelry, on a chain, that goes around your neck.
10. Q. What's the difference between a necklace and a pendant?
A. A necklace is a plain chain. A pendant is a necklace with a type of char that hangs from it.
Conclusion
The most famous piece of cat jewelry collections is, perhaps, the Panthére de Cartier, by the director of jewelry, Jeanne Toussaint.
Taylor Swift likes her cat earrings, Scarlett Johansson knows how to rock a pair of cat-eye sunglasses and Ariana Grande can get away with cat ear headbands, but you, you are going to look stellar in your cat themed jewelry!
It's thought that cats have nine lives. Some cultures believe they have seven, and others think six. Regardless of how many lives a cat has, your cat jewelry only has one. If you want to keep your pieces for a very long time, there are several guidelines to follow.
These guidelines are standard for taking care of any type of jewelry.
✓ Things like keeping your piece dry and not wearing it while bathing or swimming.
✓ Avoid sprays, like perfumes and hair spray, and lotions.
✓ Try not to touch your pieces a lot. The grease and/or sweat on your hands may cause discoloration.
The best way to avoid damaged or discolored jewelry is to take care of it properly in the first place. Your jewelry should be the last thing you put on and the first thing you take off, in the morning and at night.
✓ Clean your piece with a soft, dry cloth, or a magic eraser. Lastly, if your pieces are studs, always store them in a soft lined container or pouch.
✓ If your earrings dangle or have a drop, the best way to store them is to lay them flat or hang them on some type of jewelry mount.
✓ Always hang bracelets, as well, and hang necklaces too. This avoids tangling and extra handling, trying to undo knots.