Garnet Engagement Rings – Perfect for Girls Born in January!
last updated:
Aug 12, 2021
The alluring beauty of garnet engagement rings makes them a popular alternative to traditional diamonds. If you're searching for an intricately designed jewel-tone piece to showcase your undying love, these deep red stones are ideal.
There are various brilliant garnet engagement rings to choose from, offering a multifaceted charm you won't find elsewhere.
Let's dive into some of the most unique and ornate engagement rings featuring garnet.
Our Top 7 Picks!
1

. Macy's Garnet Halo Heart Ring
14k yellow gold band
1/10 diamond carat weight
5-carat garnet
1/3" width
Heart-shaped engagement rings have always been a smart option for a unique twist. This immaculately designed garnet engagement ring has a whimsical design that your partner will love. The Macy's garnet and diamond halo heart ring is sassy, cute, and feminine, making it the perfect wear-anywhere piece.
Read more
The ornate heart-shaped garnet is the focal point, capturing the attention of any on-lookers.
As a perfect level of contrast, there are also immaculately-placed diamonds circling the brilliant heart. Added luxury can be found around the ring's circumference, as it also boasts individually set diamonds.
If you're looking for a high-class upgrade to traditional engagement rings, we highly recommend this piece.
You'll find the ring glimmers effortlessly and is easy to maintain with the help of a jewelry polishing cloth.
As an added benefit, the solid 10k yellow gold band withstands plenty of wear and tear over the years. Regarding quality, you'll be glad to know that both the garnet and diamonds are of a higher caliber.
The Macy's garnet heart ring features a 5-carat garnet and 1/10 carat diamonds. Its width is more delicate than expected, measuring at 1/3 of an inch.
You will also love the thinness of the band, which doesn't take away from the spectacular gemstone.
2

. Wouters & Hendrix La Fete des Betes Ring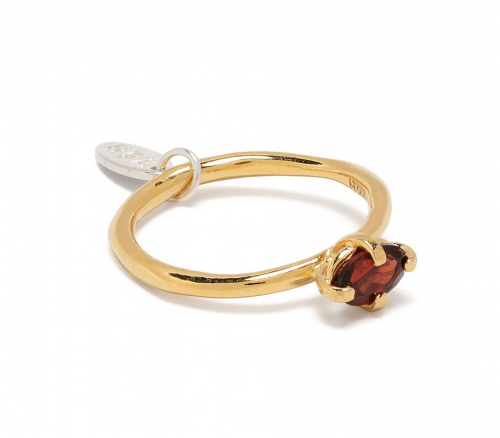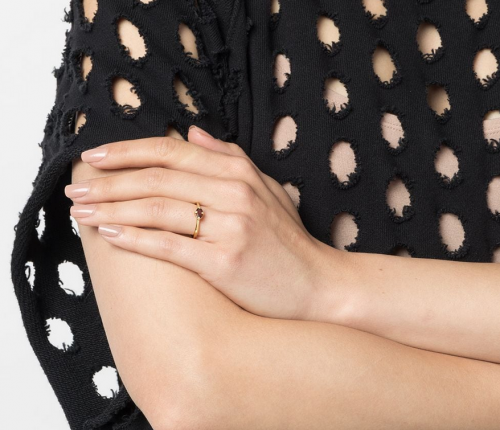 Gold plated
Sterling silver
Oval-shaped garnet
Removable logo charm
The simplicity of this engagement ring is what makes it one of our favorite options. It has contemporary minimalism paired with vintage accents, such as yellow gold and an oval garnet. If you want a period piece that's sure to complement the loveliest features of your partner, this piece is ideal.
Read more
The Wouters & Hendrix La Fete des Betes garnet ring has a more casual style than other engagement rings. Its dainty design makes it perfect for wearers with small hands or those who prefer smaller stone options.
You'll also find it boasts plenty of premium-grade features, making it an iconic selection for an engagement. The delicate oval-shaped garnet is placed perfectly in the center of the gold-plated band.
The majority of the ring is crafted from high-quality sterling silver, speaking to its timeless beauty and longevity. With the help of the gold plating, it has added resilience and looks equal to the more luxurious garnet rings available.
One of the things we love the most about this piece is the band's thinness. Compared to standard engagement rings, the Wouters & Hendrix garnet ring is much thinner.
You'll find it's effortless to pair with a wedding band and anniversary band without being too over-the-top.
This ring is by far our top selection for a more conservative couple looking for an affordable forever ring.
3

. Effy January Garnet & Diamond Ring
14k yellow gold band
.04 tcw diamonds
I1-I2 clarity
H-I color
This piece is exceptional if you're on the hunt for a detailed garnet engagement ring with a larger stone. The Effy garnet ring showcases your personal style with ease. With the beautifully sized jewel-toned garnet, we guarantee this piece is sure to be a conversation starter.
Read more
There's a supreme elegance that exudes from this ring, capturing everything an engagement ring deserves.
The first element you're bound to notice is the large garnet set amongst two rows of hand-selected diamonds. We especially love the contrast of the diamonds against the brilliant red stone, setting the stage for a distinctive look.
This piece surely isn't for the faint of heart, as it's bound to be the focal point of your entire aesthetic.
You'll fall in love with the .04 tcw worth of diamonds that gently encase the garnet on either side of the band. Also, the high-quality prong setting helps to keep the gemstone in place for all-day wear without worry.
The recessed nature of the diamonds allows them to add a little glimmer without stealing all the attention.
There's no doubt this ring is the perfect everyday option for any man or woman, especially the most affluent. You'll love how expensive it looks, with a sleek and shimmering appeal that's impossible to match.
The quality of the garnet is another notable factor to consider, as it's graded between H-I for color. You'll also love the coloring of the yellow gold band, which adds the perfect contrast and depth.
4

. Sonatina Garnet, Topaz, Diamond Ring
.05 tcw diamonds
14k solid yellow gold band
Prong-set garnet
I1-I3 diamond clarity
Your partner deserves an engagement ring that they'll fall in love with at first sight. The Sonatina 14k yellow gold garnet, white topaz, and diamond ring are phenomenal with genuine gemstones and diamonds. At first glance, you can tell how finely detailed this piece is, making it far more memorable than you could have imagined.
Read more
This is the type of piece to give to your forever person. The striking design of the ring is what sets it apart, offering a timeless glam that will transcend through the ages.
The first feature to note is the beautifully designed oval-shaped, prong-set garnet in the ring center. It's delicately encompassed by a halo of white topaz and pave-set diamonds for an extra flair.
You will find 14 white topaz and 10 pave-set diamonds to elevate the class and luxury of the piece.
The intricate stone placement is another notable feature that makes this ring absolutely gorgeous. It's a trendsetting piece that takes some inspiration from more vintage engagement rings.
We especially love how the garnet is streamlined and supported by the reliable prong setting.
To add to the luxury of the piece, the band is crafted from 14k yellow gold, which is solid-filled. Instead of having a plated ring, we guarantee this piece will withstand far more wear and tear.
Near the oval-shaped garnet, you'll find the band has a delicate swirling pattern, adding some dimension. It's one of the more artistic pieces you'll find to show your neverending adoration.
5

. Macy's Rhodolite Garnet & Diamond Ring
14k white gold band
1/4 carats of diamonds
4 1/3 carat garnet
Smooth finishing
Classic engagement ring styles will always be the favorite of many men and women. If your partner is a fan of vintage pieces, this gorgeous ring is bound to be an impressive gift. It has a timeless design with professional styling, making it an iconic detailed ring with cutting-edge features.
Read more
The Macy's rhodolite garnet & diamond ring in 14k white gold has a more open-worked aesthetic than other engagement rings.
The large garnet is beautifully set within a surrounding band of diamonds, helping the entire piece glisten effortlessly.
The coordinating colors make it perfect for fans of white gold rather than yellow gold.
There's something distinctive about pairing garnet with white gold, as the two colors work together perfectly.
With the added benefit of dramatic diamonds, it creates a brilliant display that everyone will appreciate. You will find 1/4 carats worth of diamonds encircling the rhodolite garnet.
Another feature that sets this piece apart from the rest is the size and shape of the garnet. You will fall in love with the crimson sparkle that emanates from the teardrop-shaped gemstone.
It's also perfectly sized for any wearer, measuring in just above four carats.
6

. Modern Contemporary Precious Ring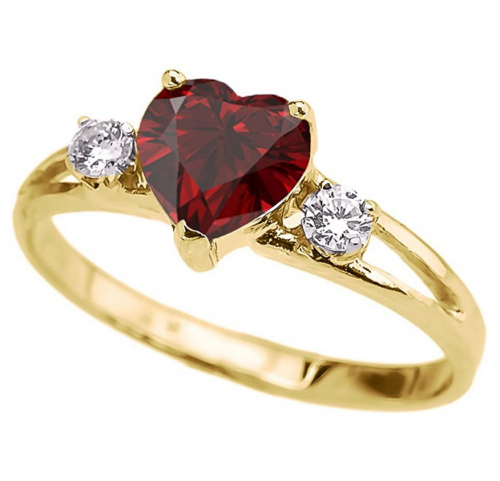 Genuine garnet
14 karat yellow gold
2 white topaz stones
This heart ring from Modern Contemporary Rings is a sweet choice. It has a thin solid 14k yellow-gold band that stays a consistent width all the way around the finger. At the top of the band, before the space where the stones are set, the band opens up in the center to create a slit where you can see through the ring.
Read more
At the very center of the slit, a lovely heart-cut garnet stone features a perfect multi-faceted design that shines with elegance. Three yellow gold prongs that come up from the band of the ring hold this stone securely at the center.
On each side of the garnet heart, there are two lovely white topaz accent stones. They are completely natural and look nearly identical to white diamonds.
They are also mounted with small yellow gold prongs that create simple but elegant details for this very pretty piece of jewelry. It is mid-priced and still very affordable.
The yellow gold of the ring features a high polish finish that goes amazingly well with the shine of the stones at the center of the ring.
It is made with careful attention to quality in the USA. It comes with a special gift box and can be purchased in a huge range of sizes from size 4 to 12 including all half and quarter sizes as well. This helps guarantee a perfect fit for every woman!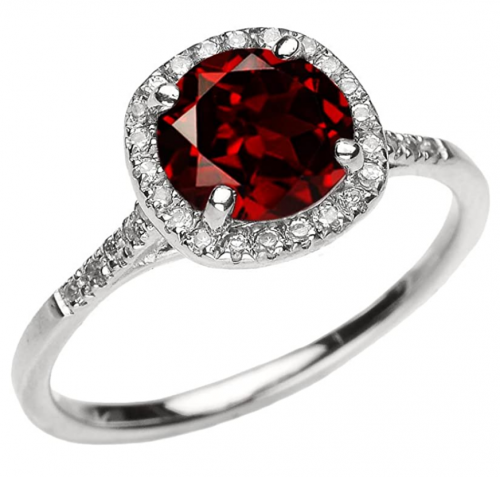 Genuine garnet
32 diamonds
Made in the US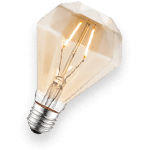 Garnet Colors
Did you know that all garnets aren't red? There are actually several different colors garnets can be ranging from, green to orange. However, the red garnets that we all know and love are by far the most popular and well-recognized type of garnets. These stones have always been a popular gemstone throughout human history. The oldest record of humans using garnets as jewelry dates back to 3000 B.C.
Garnet Meaning
The stones actually were once used as healing stones that could supposedly do everything from driving out depression to cure liver disease. While they aren't typically used for medicinal purposes nowadays, they do still hold some cool meanings that have held up over the years. One popular belief is that garnet can help to hold relationships together even over longer distances.
Frequently Asked Questions
q:

What does garnet symbolize?

a:

Interestingly enough, garnet is one of the few gemstones that symbolize love. Their deep-red crimson coloring expresses the inner fire and desires you have for your partner.

They are also often referred to as life force stones, as they can symbolize the inner passions of the heart.
q:

What does a garnet engagement ring mean?

a:

When you gift a garnet engagement ring to your partner, you're professing your eternal love. The deep reds of the stone accentuate the fiery passion you hold for each other.

It's one of the more preferred gemstones for engagement jewelry because of its desirable coloring.
q:

Is garnet expensive?

a:

Compared to other types of stones, such as diamonds, garnets aren't the most expensive option. With that said, there are instances where naturally sourced garnets can cost thousands of dollars at auctions.

When shopping for garnet jewelry, you'll often find the rings are less expensive than their diamond counterparts.
q:

How do you tell if a garnet is real?

a:

If you're concerned about the validity of your garnet, it's recommended you talk to a trusted jewelry appraiser. Otherwise, you can do a close inspection to determine if you have a fake stone.

By holding the garnet up to a light source, you should see a rainbow reflection through its axis, signifying it's real.
Garnet Engagement Rings Care Tips
There are no special instructions for caring for garnet specifically, but as with all of your jewelry, you do want to be careful in how you care for it.
Taking care of your jewelry – garnet and otherwise – is important to help make sure your jewelry stays in good condition and lasts as long as possible. Here are a few tips that can help you care for your garnet ring.
✓ Wash Gently
To keep it clean and sparkly, you'll want to wash it regularly. Take care when washing your garnet as to not cause excessive wear and tear. Use warm water and a mild soap or specialized jewelry cleaner.
Clean your piece of jewelry with a soft cloth such as microfiber to prevent scratching and to effectively clean the surface. Do not run water directly onto the ring as this can cause unnecessary abrasion.
✓ Store Carefully
In addition to gentle washing, you'll want to be very considerate of how you store your jewelry piece. Poor storage practices can cause unwanted damage and decrease the lifespan of your ring. Avoid putting it anywhere that it's going to get bumped around and rubbed a lot. This means that you shouldn't put it in your pocket.
Anytime that you need to store your ring, make sure you put it in a container separate from other jewelry such as a ring box or a soft pouch. The container should then be stored somewhere safe and preferably stationary.