Mix / Necklaces / Women
If you Love Moonstone you Must Check Out the 10 Moonstone Necklaces we Just Found Online!
Marianne 09 Mar 2020
2560
Moonstone can be described as the stuff of dreams, with a name from the moon god, the gemstone brings a perfect touch of beauty to anything that it touches. We found this gemstone while looking for the best jewelry for you and we knew you just must have it. Moonstone necklaces are pretty amazing; they allow you to have that dreamy feel close to your heart. And with their resplendence glimmering in an all-out glory, your day will only get better.
Getting a jewelry piece can be hectic sometimes, and we didn't want you to go through all that stress. So we have compiled all you need to know about moonstone necklaces in the article. Just scroll down and take in as much information as you can on this gorgeous ornament that fits just about anyone perfectly.
Why You Should Choose Moonstone Necklaces
Moonstone necklaces have a lot to offer, from their rich background to the aduaralescent property of the stone. They are definitely one gemstone that has everything you might desire. They are also described as June birthstone and said to represent deep feminine energy that brings one back to wholeness. Apart from their fantastic symbolism, moonstones are very cute with the way they can reflect different colors when you peak at them from several angles.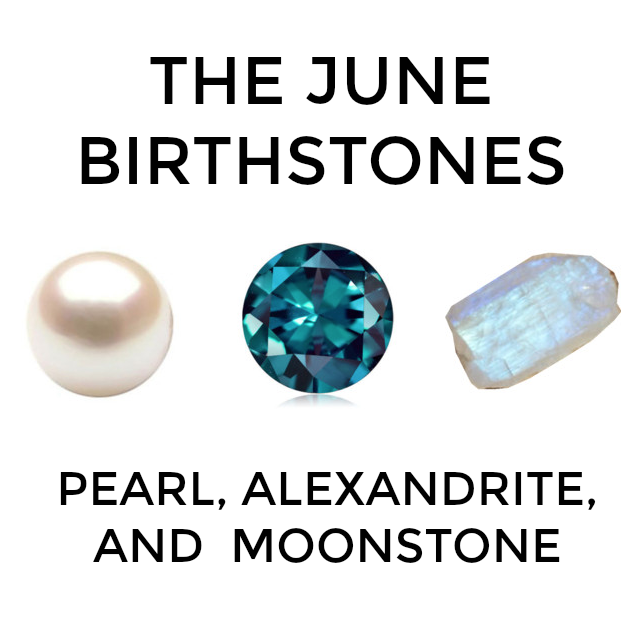 Necklaces have always been accented with different beautiful stones. From gold to silver, citrine, and ruby, there are probably hundreds of stones used in the fashion world. Some naturally occurring pearls are even used to make sure that the aesthetic of a necklace is better than just a string or cord. However, Moonstone started to be used for jewelry design around the 1960s. It was said to provide its wearers with an ethereal look.
The beautiful name of the stone is gotten from its resemblance to solidified moonbeams. You can't resist the charm and the only way to really appreciate it is by getting one for yourself. It works well with any other accessory that you want to put on.
Celebrities Seen Wearing Moonstone Jewelry
Just like we always do, we've seen some moonstone necklace on celebs and wanted you to know how the lovely June birthstone looks with the spotlight on Hollywood stars. First, we found it on the neck of Caroline, Candice Rene King, from vampire diaries, dazzling in the gemstone right there in the ninth episode of season 8.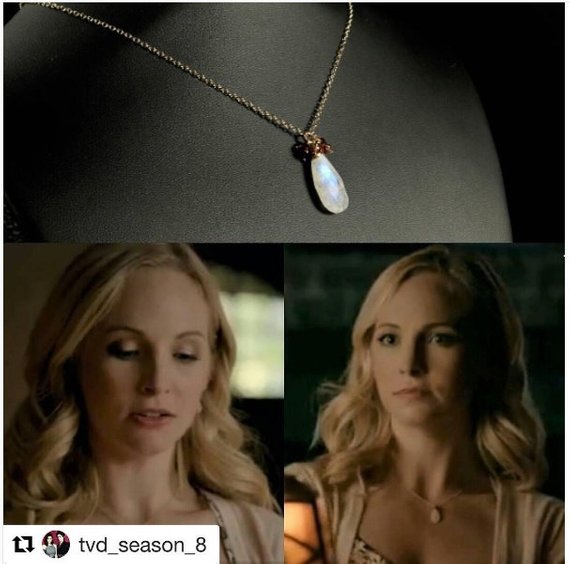 Alessandra Ambrosio also has several crystals, and one of them is the accented with moonstone. She said it helps her with clarity and balances her. There are also other celebrities who own a moonstone necklace, and they are proudly rocking it to dinners, award shows and even on set while acting.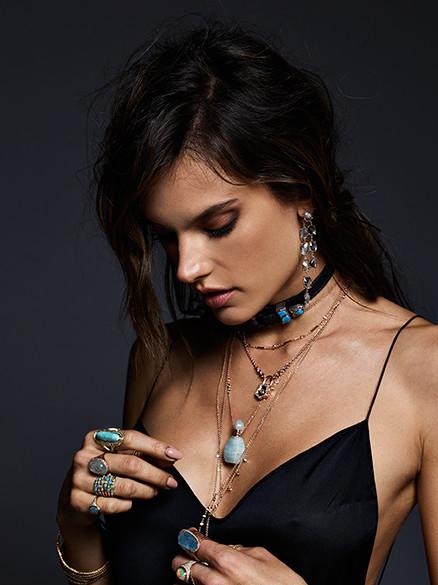 There is all the push that you need for getting your necklace, and we have compiled a very enchanting list of 10 fantastic moonstone necklace. You shouldn't have any troubles picking one or more for yourself.
Our 10 Favorite Picks!
1. Crescent Moon Necklace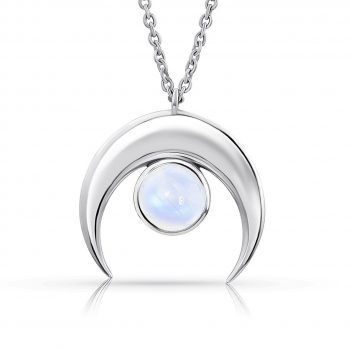 For the first piece in our collection, we took something from the top shelf of Moon Magic. It's a nicely crafted piece that comes with a smooth build and exquisite look. The pendant is made with our precious moonstone, and it exudes more power than any other gem you know. You can wear this necklace knowing you have a beautiful talisman around your neck.
The first thing you notice on this necklace is the genuine and iridescent rainbow moonstone used for the pendant. There is also a moon-shaped 925 sterling silver attached to the moonstone to make it represent a crescent moon. Combining these creative pieces makes up a fantastic pendant that is healthy enough to tuck into your shirt if you want to. For the best fit, there is a chain attached to the pendant, and it is also made of 925 sterling silver.
Myth and legends have it that the crescent moon was a symbol that monks and mediators used to guide their spiritual paths. So, moon magic made sure the necklace has the best polish for the perfect finish. If you really want to be awe-stricken, take your necklace out in the sun and see as it reflects a hundred beautiful beam of light scattered resplendently. You can get it for yourself or gift someone dear to you.
Other info: the necklace chain is 16 inches with a 2-inch extender. The stone size is 10 millimeters.
2. 14kt Rose Gold Vermeil Moonstone – Arc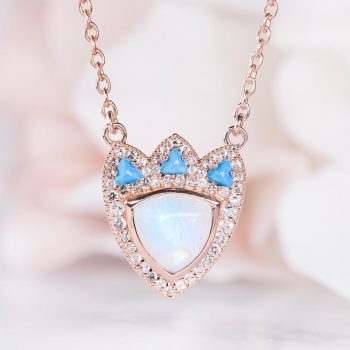 The beauty of moonstone cannot be denied, and when it is used in combination with another dazzling gem, it just makes it breath-taking. What we have here is a moonstone necklace that is as gorgeous as your imagination can take. It comes with a bold statement and will give you something to add that perfect touch to your outfit for any occasion.
Featuring a moonstone pendant, the necklace carries a sense of power and success. What actually adds the all-around sparkle you see in its picture is the iced white topaz added round the pendant. And as if that isn't amazing enough, moon magic added three turquoise stone to the top, crowning what is a fantastic piece with even more charm. You won't be able to resist this one, and you might not want to take it off very soon. The chain that comes with it is made of 925 sterling silver metal base and plated with 14 kt rose gold vermeil.
With top-notch quality and a remarkable sense of creativity, this necklace has been fashioned with extreme attention to details. You should also know that the triangular shape of the pendant represents continuity that takes the past link it up to the present and future. It isn't too expensive too, and you can definitely get one without breaking the bank.
Other info: the chain is 16 inches in length and comes with a 2-inch extender.
3. Moonstone Multilayer Necklace – Old Soul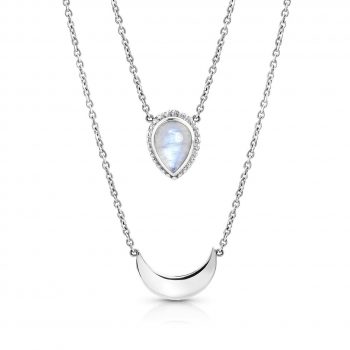 One of the remarkable things about moonstone necklace is that they can be made into different types of necklaces and still not look there spectacular look. To keep things alive we added this boho styled, layered necklace to our collection and it's all shade of cute. It is hypoallergenic, great for anyone without triggering inflammation or adverse skin reaction.
Since this is a layered necklace, it comes with two pendants and two different sizes of chain. The longer chain is made with 925 sterling silver and has a chic looking pendant made to look like a crescent moon. The second one is the carrier of our signature moonstone, looking ravishing in all its splendor. With the astounding twinkling touches added to the edges of the moonstone pendant, the beauty of the jewelry is undeniable.
The setting is a show of the quality put into crafting it, and there is a 30-day money-back guarantee in case you are not satisfied. Additionally, you can use it as a gift idea for your loved one's birthday, wedding anniversary or prom.
Other info: the necklace has a chain length of 16 inches for the long-chain and 15 inches for the short-chain.
4. Moonstone Choker Necklace – To the Moon & back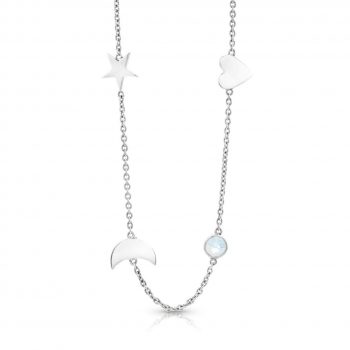 If you are all about necklaces, but you prefer something that will stay around your neck without the pendant dangling too low, then this is for you. This necklace is a cute choker that features round cut gem for balance aesthetics. The sun-kissed effect is terrific and can be adjusted to fit any neck size.
This piece is designed as a choker, and instead of having one pendant, it was accented with different pieces of symbols. There is a heart, a moon, a star and a round cut moonstone to top it all off. All the pieces are strung together with a chain made from 925 sterling silver. So, if you have any special occasion to attend and you need that jewelry that will make you stand out, then this choker is what you want.
For the best fit, the chain measures 12 inches and comes with a 2-inch extender. There is also a firm clasp at the end of one of the chain to allow you to dance, play or move freely without worrying about your choker coming off. Every bit of expertise was put into making sure that the necklace is nothing short of the standard quality. For prom, dinner dates, club, red carpet events or even the celebration of nuptial ties, you can trust this choker to get you right on the best spot.
Other info: the moonstone is 0.79 cm round, and you can exchange it for a refund in case you are not satisfied with the quality.
5. 14kt Rose Gold Vermeil – Spirit Keeper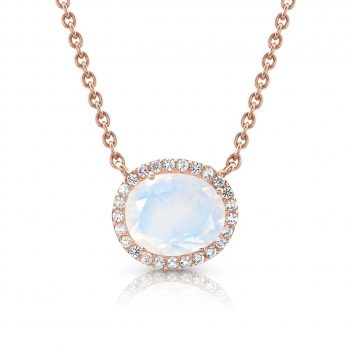 Imagine the looks of light rays from the moon scattered through billowy clouds as they float through at night. Now combine that imagery with dancing stars forming at the edge of the rays and giving it even more beautiful and making the scenery a slice of paradise. Well, open your eyes, look at the spirit keeper necklace, and you will see that your imagination can come through. With a perfect and precise arrangement of moonstone and topaz, this is one necklace that combines creativity with finesse.
This necklace features an iridescent rainbow moonstone at the heart of its pendant and with its pearly brilliance, lights up the whole accessory. To make the moonstone look even better, the pendant has sparkling white topaz embellished round it. It's a new face of love, and the rugged design just creates a mysterious power round the classy design. The best metal that takes the whole set is made with 925 sterling silver, and the hypoallergenic material is perfect for your day-to-day wear. There is also a 14 kt rose gold coating on the metal to increase the appeal.
Hiding behind a classic design, the necklace is a talisman that symbolizes secret love, new and unconditional love. Take time to look at the picture one more time, and you will find yourself with your finger on the order button. It is not pricey, so get yours now.
Other info: the chain is 16 inches and has a 2-inch extender to make resizing possible.
6. 14kt Gold Vermeil Moonstone – Iconic Delta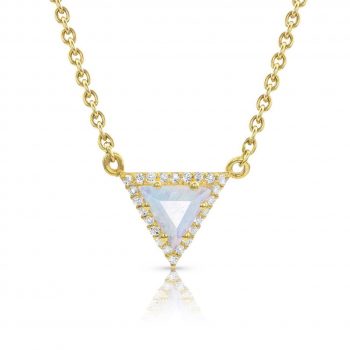 If you love jewelry items that are not only bold but don't have traditional shapes, then you might just want to take a look at this piece form Moon Magic. The necklace comes with a delta-shaped pendant that symbolizes feminine energy at its peak. It is one compelling piece, and you can wear it anyhow you choose.
For hypoallergenic properties, jewelers have always employed 925 sterling silver to craft an exquisite piece that is still affordable. And this is the metal that was used in crafting this necklace. It has a pendant made of premium rainbow moonstone and set into a triangular metal, the edge of the triangle is covered in white topaz for the radiance that compels the eye to have more than one look.
For even more value, there is a chain in the package, but you can change it if you would like to use another chain. There is more to the iconic delta moonstone necklace than meets the eyes. For Christmas, Hanukkah, New Year and even Thanksgiving, you can use this piece as a token of love to those you truly care about.
Other info: the chain is also 16 inches like other and has a 2-inch extender to make it the perfect fit.
7. Moonstone Multilayer Necklace – Drops of Infinity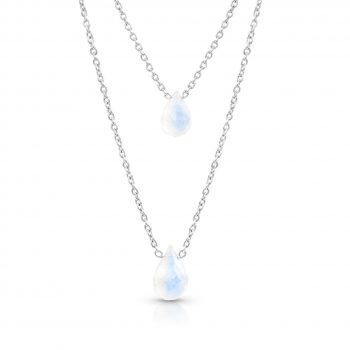 'Drops of Infinity' is really a befitting name for this fantastic necklace. With the layered design and double drops of moonstone, it is suitable for making a fashionable yet classy statement. If you love moonstone, then get ready to get a double dose of your favorite with this necklace.
Moonstone is known for looking radiant and is carried around as gem for guidance, healing, and protection. This is the same stone that was used in crafting the two pendants in our layered necklace. With the rainbow featured, you have two gems reflecting several colors at the same time. The base of the metal used to make the chain is 925 sterling silver, and there is no compromise in quality with the absence of lead or tarnish.
Beautifully clear-cut, nice finish and multilayer design, there isn't so much more you could ask for in a necklace. And one great thing about it is that you can wear in on your gown, or sundress for a day out at the beach. The price is friendly so you can get it without much hassle.
Other info: the more massive stone is 1.11 x 0.79 cm, while the smaller stone is 0.95 x 0.63 cm. The layers are connected by a chain of 15 and 16-inch chain respectively.
8. Moon Wisdom Moonstone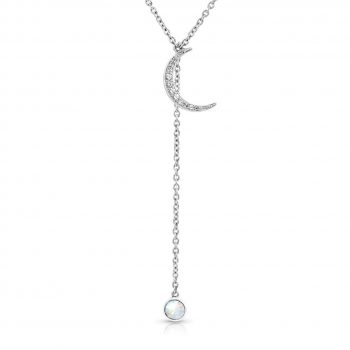 You can't go wrong when you choose one of the moonstone necklaces we have compiled for you so far, and this is another one that we have no doubt you will love. Made with a combination of two exquisite gemstones, the product is a masterpiece that can be compared to a great symphony. The materials are well blended to make sure that you get an awe-striking necklace at the end.
The build of the necklace is pretty unique. It has a moonstone pendant that drops down way below the point where the two chains meet. You can see a moon at the pendant position, and that moon is littered with white topaz to make sure that you light up the party anywhere you go. The 925 sterling silver necklace has these two separate pendants to symbolize the individuality of things.
This jewelry is useful in adorning any color and style of clothing. So, you can be as versatile as you want and even try different styles and use the necklace to compliment it. What more, you also get the necklace at an affordable price, which means you can get one for yourself and the other for your loved one.
Other info: the moon pendant drops 7.95 cm, while the chain is about 16 inches long with 2-inch extender.
9. Light Raiser Piece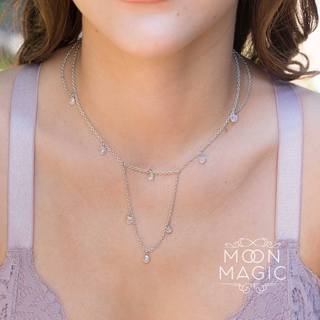 Here is another multilayered moonstone necklace that has a modern, but classy look. The gem is said to possess mystical power and houses wisdom that is illuminated by the moon. An original mix of symbols and artistic parlance, this is one necklace that has it all in a great balance. Your eyes won't be able to prepare enough for radiant beauty from the very best of Moon Magic.
From the pendant to the chain of the necklace the metal used for crafting the entire necklace is 925 sterling silver. The product is sturdy and highly durable. The pendant has a rainbow moonstone to up its aesthetic appeal. There are also other little gem-cut materials used to decorate the layered necklace so that it can bring a colorful sparkle to your neck. You would especially love the necklace on a beach day, with the sun in its full strength. It reflects the rainbow color quite beautifully when the sun hits it at any of the spots.
All these fantastic components come well package for the best storage and gifting purposes. It also has a round spring clasp to help you secure it to your neck. For the best price for the best quality, choose the light raiser moonstone necklace from moon magic.
Other info: has a 14.5 inches chain and 1-inch extender clasp to make it adjustable.
10. Moonstone Choker – Rhombus Revelation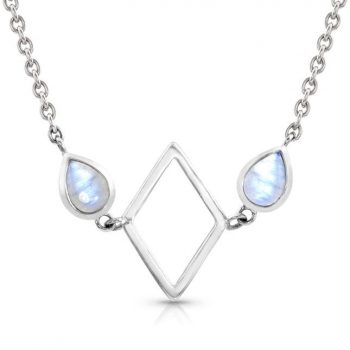 Our bank of excellent accessories is inexhaustible, but this is the last one we would be recommended for this collection. With a design that comes with no compromise in quality, this necklace is indeed an epitome of beauty. It is complete with exquisite carvings and clean-cut corners to make it fit for royals.
A rhombus made with 925 sterling silver is placed at the center of the necklace, and it has two moonstones flanking it to move the appeal up. The rainbow moonstone looks like rays of light shining through flowing clouds on a beautiful and clear night. It is a choker style necklace so you can feel it close to your neck and be assured that a perfect balance for your style is right there. You won't be able to resist the feeling of happiness you get as you sashay through the day or move to the rhythms of the night.
Moon Magic has made famous for its stunning necklace that features different gemstones, but they pay particular attention to moonstone and make only the best. You can get this piece with a beautiful chain that is also made of 925 sterling silver and won't hurt a cell on your skin. It is a perfect gift this season and won't make a single dent in your wallet if you decide to get one.
Other info: buying jewelry form moon magic helps purchase help for charities. Also, the chain size is 12 inch with a 2-inch extender.
Frequently Asked Questions about Moonstone Necklaces
We have given you the complete information you need to have about moonstone necklace, and we trust that by now you already want one of this fantastic piece for yourself or as a gift. But we know you might have some question, so we took the liberty of looking for some common questions about the products listed above and answered them here.
What are the best materials to choose when buying moonstone necklaces?
Yes, there are several materials used for creating moonstone necklaces and some of them might not be good for your skin. But all the materials recommended in this article are of top quality and no matter your allergies, you can trust that they won't cause you harm. 925 sterling silver has passed through a series of test, and it is confirmed to be surgical grade steel that doesn't react on contact with the skin.
How can I take care of my moonstone?
Moonstone is best kept amid positive energies, so don't put it in a dark, damp corner. Also, make sure that you don't allow any harsh chemicals to get near them.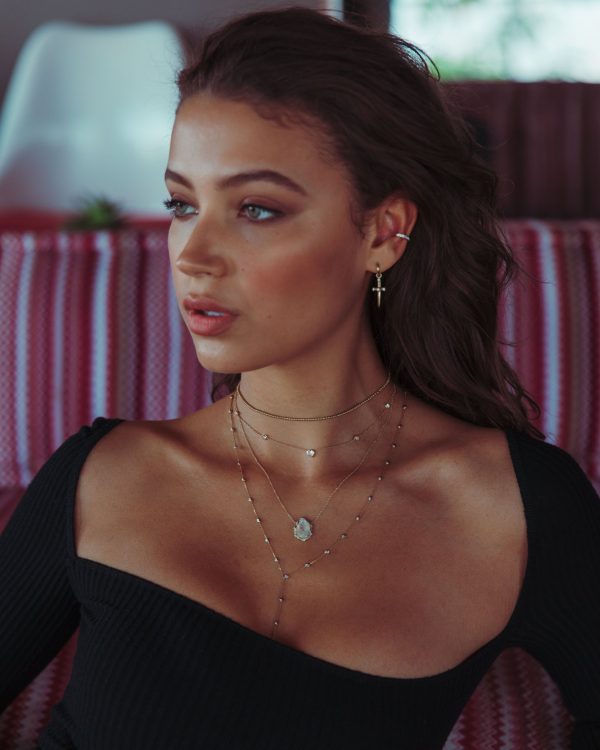 And if you want to do any heavy lifting or tedious job, leave the necklace out of it. You can clean it with a soft cloth, water, and soap, but nothing more.
What are the other accessories that can be used to complement my necklace?
You can use a plain bracelet and any style of ring to complement your moonstone necklace. You can also get moonstone, bracelet, ring, and an earring of you want to. But you can spice things up by using bright colors with your moonstone necklace, and since they reflect the different color at different angles, they are compatible with just about any color.