Necklaces / Other / Women
Gift a Little Magic with Unicorn Necklaces | We Selected Ten We Loved at First Sight!
Have you ever been in love with those magical creatures straight from your favorite Barbie cartoon? Well, there is no reason not to adore them, they are usually cute with beautiful fur and look all comforting. But there is one that is special among them, and that is the unicorn. Unicorns have been the legend of folklore for ages; they are usually said to be beautiful, mystical and elusive. In this article, we have something that will bring the unicorn closer to your heart, and that is unicorn necklaces.
These necklaces are made with top-quality materials with a pendant that has an element which represents a unicorn. Whether it is the unicorn head and horn or the full shape, you will love the delight that this magical creature adds to your outfit. So from myths and fairytales, we bring you unicorn necklaces that will win your love at the very first sight.
Why We Love these Magical Unicorn Necklaces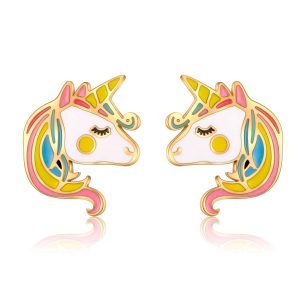 You might be wondering you should go for the unicorn necklace when there a lot of other types that you can choose from. One thing about unicorn necklaces is that they look adorable, they can help you achieve a great look without taking too much effort.
You can also wear unicorn necklace for whatever outing you want to go for; just the right piece will set your whole dressing on a remarkable tone, creating warmth around you and live you glowing through the day or night. Before we go on, let's tell you a beautiful tale about the origin of unicorn necklaces
Background of Unicorn Necklaces
Different people in various culture have in tales mentioned the unicorn. It is believed to be much more than an animal and always associated with beautiful dwellings, princesses, and a force of good. In ancient times unicorn horns were worn around the neck as religious relics. Predominantly talked about in Greek mythology, writers like Aristotle and even Pliny the elder, recognized this magical creature in some of their writings.
However, the main feature that made unicorns so famous is not their hoofs or the beautiful places they are rumored to dwell; it is the magical power they are rumored to possess. In Hollywood movies like Harry Potter, J.K Rowling's described the powerful wand as being made out of unicorn hair. Some unicorns were also said to have the ability to fly.
For children, Barbie series marks the most significant existence of the creature to them and how it comes to rescue her in some of the series is the landmark of their sweet dreams and heavenly fantasies.
Let's bring it back to modern times, and we have unicorn shape, cut using all sort of gemstones, with rose-gold, yellow-gold, silver and many other colors of the rainbow. You can choose any one that suits you from the many choices available.
If you still think that unicorn necklaces are only for young ones, then you should check out the collection we have put together for you. There are exquisite pieces that you will adore right from when you see the pictures to when they get to your doorsteps.
Our 10 Favorite Picks for Best Unicorn Necklaces!

1. ACJNA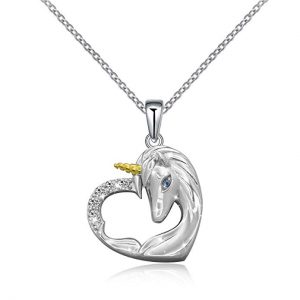 This beautiful unicorn necklace is such a glamorous piece that you wouldn't have any trouble liking it. It looks fantastic with the simple designed use to craft it. There is also that charm hovering all around it. ACJNA made this to suit all your outing needs, and anyone, not just children can wear it.
In ancient times, a unicorn horn was made from the most robust materials found, and that is why one of the most durable material in Our time typically make up these necklaces. The pendant is made from 925 sterling to form a design with emphasis on the unicorn theme. The little tinge of yellow for the bold and blue eyes adds a beautiful tone to the whole setting. There is also an 18-inch chain with a 2-inch extender to make it resizable for the perfect fit.
Hypoallergenic, durable and affordable, the necklace has all it takes to make it into your jewelry bag. It comes in a beautiful gift box that is adorable. The manufacturer uses some of the best materials available, and it's for the jewelry's longevity. And it is also a perfect idea for a gift. Just get one for yourself and the next for someone special to you.
2. Silver Light Jewelry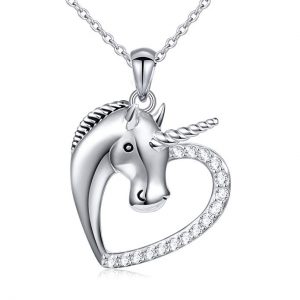 The Unicorn is a Symbol of Peace, Hope, and Purity. It is considered to bring good luck and love for life to whoever wears it. This is why we recommend this necklace for you. Apart from all the symbols it represents, it is an excellent accessory for ladies. Just look at the dazzling combination of colors and materials that makes it amazing.
Who doesn't like a piece of jewelry that's both skin-safe and gorgeous at the same time? This implying combo is what describes the components of this jewelry; it was crafted using 925 sterling silver. It also comes with a Rolo chain measuring 18 inches in length. The pendant was made in a heart shape and has an engraving at one side. You can choose from three different design, and each of them has a different engraving about life.
A picture talks more than a thousand words, so look at the picture closely, and you will be able to admire the level of creativity adopted for the necklace. Now you can celebrate every exciting moment with a piece of jewelry, whether its date night, prom night or birthday, this is the ideal gift item, it's also affordable and wouldn't cause a dent in your wallet.
3. Sigmo Creations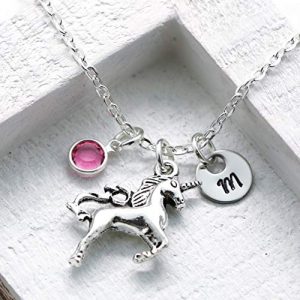 We saw this personalized necklace online, and your name was written all over it. Personalized pieces of jewelry are pretty high, you can get them and write your name on the metal or the name of the person you are getting it for. With the good luck that unicorn brings and your initials together in one accessory, you will love the necklace.
Made by sigma creations, this necklace was crafted using 925 sterling silver. There are no harmful components like nickel, lead or cadmium so you can be sure that it is safe for your skin. To bring out the sparkle in the jewelry, Swarovski crystal is the primary material. It has the full shape of the unicorn in the middle, the crystal at one side and a disc that has the initials at the other side. Additionally, there is a lobster claw at one end of the chain to keep it on your neck at all times.
You also get a silver chain when you order for yours, and all of these exceptional pieces come packaged in a lovely box. You can get one as your one personalized piece or use it to celebrate your family and friends. Whichever one it is you decide on, you will get it fast and not too pricey too.
4. MONBO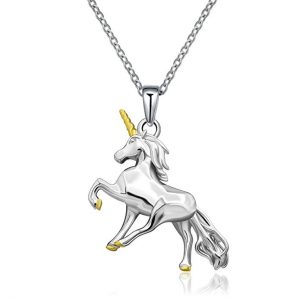 This is another gorgeous and perfectly designed unicorn necklace, crafted by MONBO. The chain was made with solid 925 sterling silver and is perfectly safe for the health of your skin. There is no compromise on quality either, so you can be sure you are getting nothing but the best when you buy this necklace.
The pendant of this necklace was made to look like a sterling unicorn in all its glory. One remarkable thing you will love about the chain is the array of choices you have in the collection. If you click on the link, you will find different options to pick from. There is a big unicorn, a small one, and a rainbow-infused model. They are all made of sterling silver and comes with an 18-inch chain with 2-inch extender.
Getting the design of jewelry item right is the function of craftsmen and the exquisite craftsmanship that comes with each model of this necklace give an extra edge of professionalism. There are also cubic zirconias set into the whole mix to provide it with more radiance. You can use this jewelry on any shirt, sundress or blouse. There is a velvet cleaning cloth and pouch to help you keep the necklace safe and clean at all times.
For holidays like Thanksgiving, Hanukah, Christmas and the New Year, any item you pick from the set will make a perfect gift for family members or friends.
5. Vinjewelry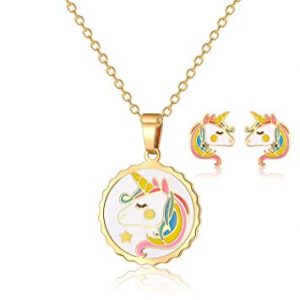 Unicorns have always had a special place in the hearts of young ones. They symbolize a calm, beautiful, yet mystical creature to them and they would be delighted to have this necklace. If you have your niece's birthday coming along and you haven't found something to get her yet, try this fantastic piece from Vinjewlery.
The jewelry is made from stainless steel and has the whole face of a unicorn for a pendant. The colorful design is quite cute and will make a perfect combination with her dress. If you are thinking about your child safety, the alloy doesn't come with nickel or lead. Additionally, this one has a 15.6 inches chain and a 2-inch extender to make it well fitting for your child's neck. Since you are going to be giving it to a kid, the chain was made using box chain; this means that it literally can't knot.
Vinjewelry is a brand that focuses on creating cute pieces for children, and from what we see here, they considered your kid's dream before creating this piece. Be it a love party, birthday or Christmas; you can give her this pleasant surprise. The necklace comes in a branded box that is beautiful, ready for gifting and keeping the jewelry safe.
6. OnairMall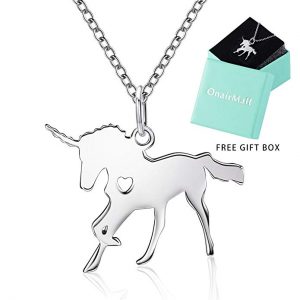 If you haven't thought of getting a unicorn necklace for yourself before, this product will make you have a rethink. The pendant was made to look like a unicorn strutting along with good luck all around it. You can see the peace and purity the original unicorn stands for in this adorable piece, and it will look nice on your neck.
Made with 925 sterling silver, this is one necklace that you can trust. It wouldn't cause any rash after wearing it for a while, and it's durable. To add the symbol of love to the admirable unicorn, there is a small heart shape carved into the neck of the horse. The pendant measures 0.79*0.59inch and is attached to a chain of 18 inches which stays secure to your neck with a lobster claw clasp. Both the chain and the pendant are well packaged, and they come in a pretty little jewelry box.
The product comes with a 30-day risk-free money back to assure you that you will not be finding any complaints with this one. To provide you with the best choice, the necklace is available in both a big size for adults and a smaller size for younger ones. But whichever one you choose, it is perfect for celebrating love or any other special occasion this season.
7. MOCAL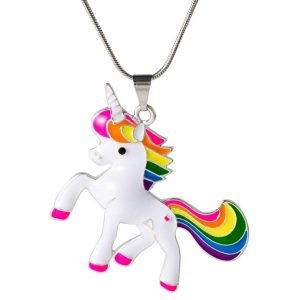 Colorful necklaces are always a delight to have. And this one has a lot of them, all the colors of the rainbow are complete in this pendant. Just like the other unicorn necklaces in this collection, it will bring you good luck and complement any outfit you wish to put on.
Perfect for girls, this necklace is made with a metal alloy, and is safe for you. There is no lead or nickel in the mix and the color used to create the dazzling effect you see are top quality. Likewise, the enameling craft used for the colors adds more texture to the pendant. You can even ask the brand questions you have about the product, and they have the guarantee to support it. To attach it to your chain is a 16.5 inch plus an extender that measures about 2 inches.
The necklace comes in a velvet bag which is perfect for safekeeping and even gifting. MOCAL might not be popular, but they make products that are quality and have all the features that you will find charming. It is fit for children and would make a lovely complement to whatever accessories or dress they wish to put on.
8. Haoer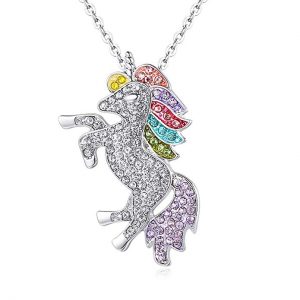 If you are looking for a unicorn necklace that comes with so much glitz, then this rhinestone rainbow necklace may be just what you are looking for. This stunning necklace was created using super shiny material that is truly eye-catching. Haoer put their best to work for this one so that you can have the highest quality possible.
The first thing you should know is that this is a girl's necklace; it comes made from colorful rhinestone and has a silver finish. Most of the color follows the rainbow color spectrum, and it has the full unicorn shape, complete with the horns. If you are looking for something that looks fun without being too immature, then you want to opt for this product. There is also a chain attached to the pendant to give you extra value for such an affordable price.
When it comes to the packaging, you will find the product in a pretty box, designed to impress you and give you a feel of what you are about to open. It is excellent for fun occasions and makes a perfect gift for those looking for something not pricey but is still beautiful enough to cut as a good gift.
9. LINLIN FINE JEWELRY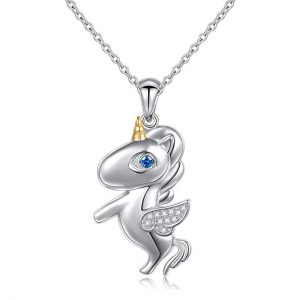 Unicorns are said to represent a lot of things, and one of those things is love. Well, Lin Lin created this ornament with that in mind. This unicorn has wings and is as cute as they come. For all unicorn and horse lovers, you will be entirely pleased to get this fantastic necklace. Lovely, attractive and durable are all embedded into this excellent little piece.
The features of the necklace are amazing. It's a 925 sterling silver chain that's perfect for you no matter how you want to wear it. The eyes of the unicorn are beautiful blue crystals which fit the gorgeous profile of the flying unicorn. Its wings are made with a shiny finish. All the right pieces are mounted right to create something that truly matches the beauty of a fairytale dream. A single Rolo chain of 18 inches comes with the set. You also get a cleaning cloth, to help you keep the necklace clean.
For cool hangouts and traditional parties, you don't want to miss out on the chance to shine. The pendant and the chain are both lightweight and won't put down any strain on your neck. So if you want something that is simple, yet elegant enough to blend in with all your accessories, then you want this necklace.
10. EleShow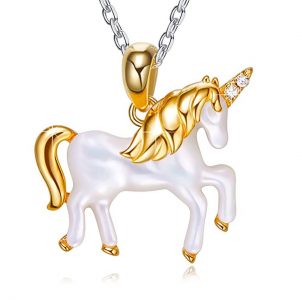 We all need that magic in our lives, and wouldn't you love to have an item that brings you just that every single day. From Eleshow, this is a unicorn pendant that is full of love for life, peace, and hope. It was designed to be eco-friendly, so there is nothing harmful about the entire necklace.
Crafted with metal alloy and infused with Swarovski crystals, the whole pendant looks magical. The gorgeous mane of the unicorn with its tool and hoof is plated gold while the rest of the body is a pure white. The entire pendant hangs on a 40-centimeter chain, and there is no cadmium, nickel or lead in the product. You can also adjust it anyhow you like with the 5-centimeter extender that comes with it.
You can be sure that you are picking a necklace that will satisfy you, with the money back guarantee that comes with each product. For a chic and decent gift that will keep you in the memory of your partner, spouse, family or friend, you certainly want to choose this necklace.
Frequently Asked Questions about Unicorn Necklaces

Unicorn necklaces are gorgeous, and they have so much about them that makes you want to get one and wear it around your neck forever. Well, we have talked all about why they should be part of your accessories. And we gave you ten products that are made by top brands. This section is added to help you get answers to questions that might have come up while you were reading through the article.
When choosing unicorn necklaces what material is the best?
There are different materials used to make the unicorn pendant and its chain. But the best materials are those that wouldn't cause any harm to your health. You should make sure that you properly check the necklace you are buying if they don't contain components like nickel, lead, tarnish, cadmium or any other related substances.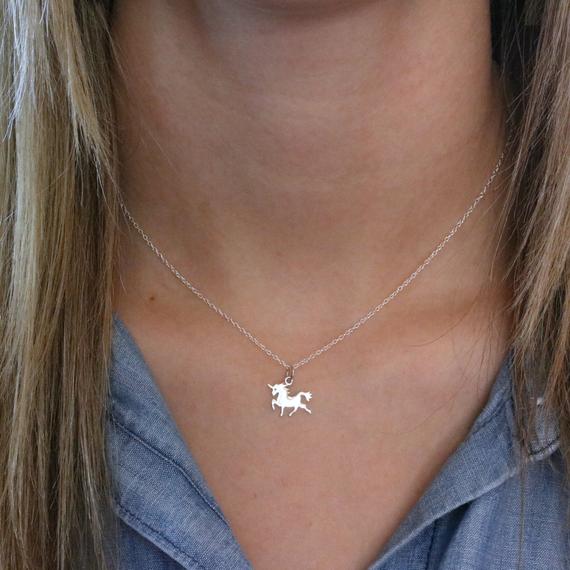 Also, if you have a history of allergy to specific materials, be careful not to go for necklaces made with them. Copper, aluminum and stainless steel are also part of many of these necklaces. Additionally, if you are allergic to metals, you can choose a necklace that has a leather cord instead of a chain
Aren't unicorn necklaces only for children?
Well, unicorns are very popular among children, especially girls. But you can also wear unicorn pendants as a grown up. There are several pieces in our collection that have the desired mature look and will fit well with your dinner outfit or your sundress for the summer. So whether old or young, you can rock a unicorn necklace. Check out of the one that suits you and has the right chain size for your neck.
How do I care for unicorn necklaces?
It is critical to know how to take care of your necklace. You might want to check out the material that makes the chain first. For stainless steel, keep it out of the water and don't use harsh chemicals when cleaning. On the other hand, sterling silver is more durable, but you can still make it last longer by keeping it in a soft pouch and washing it only with soft clothes.