Rings / Women
A Ring For Every Day and Digit: Our Favorite Knuckle Rings, Midi Rings & Ring Sets
If you want to get technical about it, any ring can fit into a group of knuckle rings if your size is small enough. Midi-rings and boho-inspired ring sets have been all over fashion news and celebrities recently. Rihanna is credited with reviving a centuries-old look back in 2008 and since then stars like Beyonce, Angelina Jolie, Selena Gomez, Heidi Klum, and Taylor Swift (TAY-TAY!) have rocked the look in various ways.  Everything from gauntlet rings, to multiple finger rings, to delicate rings fitted up and down the length of the finger has seen time on the red carpet and paparazzi candid shots.
We love the look and have found a selection of our favorites currently available on Amazon. Everything from whole dramatic sets to simple bands, our suggestions are sure to keep you on-trend.
A Brief History of the Knuckle Ring
Alternatively known as the knuckle ring, midi ring, or toe ring in popular culture today, knuckle rings date back at least to the Renaissance period.  
Archaeological digs of ancient Roman sites have unearthed incredibly petite rings dating back to the 5th or 6th century. Made of precious stones and gold, it is unlikely for a lady's fingers to be so small or for rings of such materials to have been used for a child. It is assumed this was worn higher on the digit. But from that Roman find the trend seems to have lain dormant for centuries not seen again in art or archaeological record for nearly two millennia.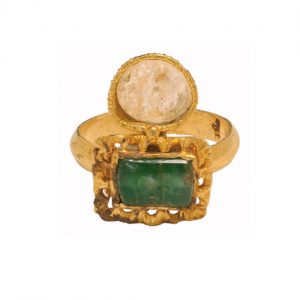 Jewelry historians often reference the painting Portrait of a Woman by Bernhard Strigel as the start of the second wave of knuckle ring fancy.  It was likely painted sometime between 1500 and 1525 and features a wealthy woman sporting a knuckle ring above the first knuckle. A few other portraits from slightly later in the period exist featuring ladies (no gentleman, however) wearing knuckle rings.
Anthropologists believe this trend, as was much of the jewelry of the time, was limited to the wealthiest classes. Knuckle rings, even today, can make some jobs a little tougher. If you had to work in the fields or in a trade, knuckle rings, or really any sort of ring, would likely get in the way if not present an outright danger. Even if a peasant or working-class family had the means to purchase or create such a thing, the wearing of it would be wildly impractical.
Families with enough money to own knuckle rings likely also had household staff and servants that did work that would have been otherwise encumbered by such frivolity. Thusly it was not a burden to wear knuckle rings. The whole cycle feels very cyclical.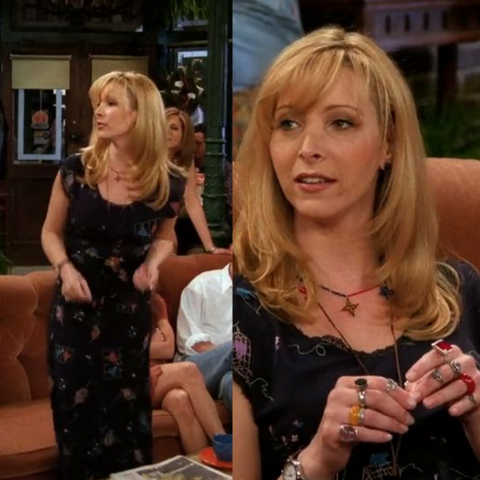 And then once more the trend of knuckle rings took a big, long nap, this time only for four hundred or so years.  The nineties saw the ring sets and knuckle rings try to make a comeback in pop culture. Phoebe Buffay, a character on the 90s hit sitcom, Friends, played by Lisa Kudrow, was often seen sporting knuckle rings and ring sets.
Varieties and Uses of Knuckle Rings
Memory Ring
Knuckle rings were sometimes used as a memory trick. When an important mental note had to be made, one might move a ring to a larger finger so it sits above the knuckle. Doing this while repeating the information that needed to be remembered, would hopefully trigger your memory into retaining the knowledge, recalling it every time you felt the ring in the wrong spot or caught sight of it through the course of your day.
It was a common trick for men who preferred to wear signet rings or pinky rings, especially in the late nineteenth and twentieth century.
Toe Rings
Most rings wearable on the knuckle is also wearable on the toe. Toe rings stretch even further back in history than knuckle rings.  An Egyptian tomb from 3500 BCE was uncovered, finding its occupants sporting toe rings. Whether they were for decoration or ceremonial purposes is unclear, but still, their little mummy piggies were rocking some bling.
Bichiya
In India, particularly for those of the Hindu religion, toe rings have a great cultural significance. As a part of a traditional wedding ceremony, the bride's feet are adorned with a matching set of toe rings called bichiya. These are placed on the "middle" toes or the toes next to the big toe. Once added to the feet, they are regarded similarly to the wedding bands of western culture and rarely, if ever, removed.
For most folks though, toe rings are just a bit of bonus shine during sandal season.  Several of our recommendations include rings that will also work as a toe ring.
Our 10 Favorite Picks!
1. ALEXTINA 6 Pieces Stainless Steel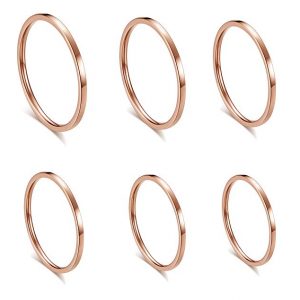 First on our list is the simplest of all our selections but is an absolute must-have for fans of the midi-ring look. This set of simple straight bands by Alextina takes any of your daily wear rings and adds the ring set look. The rings range in size from 9 all the way down to four so it will fit across various locations on most hands, depending on ring size.
Available in the four base colors of any jewelry collection, black, silver, yellow gold, and rose gold select the color most closely aligned with your ring collection for a fantastic starter set. Honestly, for the price, we are all about ordering all four colors so no ring is left unaccompanied nor digit unadorned if you are feeling the look.
If you do not currently wear knuckle rings on the regular, we recommend this as a great starting point. The additional rings at "non-traditional" locations on your fingers can take just a bit of getting used to. Jumping straight into the bulkier, more detailed pieces may feel awkward at first. Kicking the look off with plain, thin bands is the way to go. Additionally, since the sizes vary in the set you can use these as "sizers" to figure out what sizes feel most comfortable on which fingers.
If you are already rocking the multi-ring look, these are still staples in the collection. Plain, unadorned bands can add a classy feel to even the most outrageous of ring collections. It can add textural contrast, as well as these Alextina pieces, are polished to glistening. If your metal selection is flatter or more of a matte finish, the high shine of the plain bands adds a bit of visual interest.
2. LANE WOODS Multiple Rings Set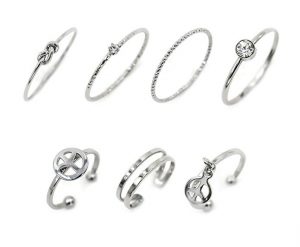 Our next recommendation does not get a whole lot more complicated than our previous mention. It does add tiny details to otherwise simple bands and, to us, is absolutely perfect. Available in silver, yellow gold, and rose gold, order the set in your favorite gold tone.
Lane Woods set of seven rings comes in different sizes for different arrangements on the fingers. Four of the rings come in a larger 17-18mm size. This is around a ring size 7, the standard ring production size. These can be spread out on different fingers or stacked, leaving space between them. The remaining three rings are sized 14-15mm with an open back. This makes them lightly adjustable to fit where you need them as well as perfect for toes.
Of the four larger bands, a twisty band adds texture to the look. Two of the bands feature dainty crystals for a bit of sparkle, one a solitaire setting and the other, slightly larger round cut in a cabochon setting.  The fourth is a darling infinity knot. None of these are large or cumbersome designs. They almost feel like painting your fingers in delicate filigree.
The three midi-rings in the set include an illusion double band, a static peace sign, and a peace sign charm. That third one is perfect as it takes the simple elegance and adds a playful whimsy with the movement of the charm.
3. JEWME 925 Sterling Silver Jewelry Kitty Cat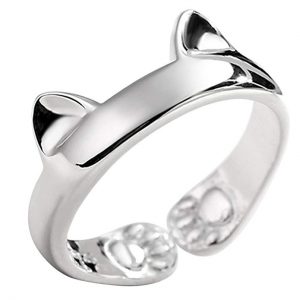 This adorable creation from JEWME is too much cute to include more than the single piece. The 925 sterling silver band adds the most amazing set of cat ears to your ring set. This is not even our favorite part.  Since beauty is most often in the details, this single ring available in your choice of sizes includes tiny paws on the reverse complete with the most aww-inducing toe beans and paw pads on the underside of the ring. We know you will be taking this ring off all day to show off the purrfectness. (Sorry, we could not help ourselves.)
This ring, with the fantastic paw details, is wearable in any direction. Point the ears toward your palm or fingertips to your preference, or wear the paws on the top side of your hand above your first knuckle. You will have kitty ears on the palm side and from the top of your hand, tiny paws giving your finger a little hug.
By design, this ring works as a toe ring as well if ordered small enough but we do not recommend it. The paw detail will be lost as the ears will not be wearable under the toe for comfort reasons. Wear what you love how you love it but we do not want an ounce of this piece to go to waste trapped against the sole of your even the most amazing pair of sandals.
Even if you are not really wanting a ring set, this ring is perfect for cat lovers, animal lovers, fans of the Lolita look, Japanese Kawaii and people who generally adore the "cute" effect.
4. RINHOO 3Pcs Stack Rings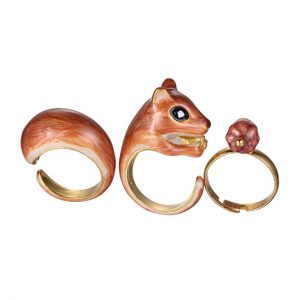 Staying with the animal rings for another round, if you thought the kitty ring above was too much, this one may send you over the top.  This set of three rings work together to create a creature wrapped around your fingers. Offered by Rinhoo a squirrel, moose, deer, eagle, dog, cat, rabbit, and sloth are available but the squirrel is our top pick.
Each ring portion is adjustable and features a different "section" of your new finger-worn friend. The tail, the head, and body, and the object of its heart's desire, an acorn come together in various arrangements. Each ring starts with 18k gold plated steel and adds hand-painted enamel to create the body segments of your squirrel.  
Wear these across the first, middle and ring finger to create a scene of a squirrel chasing its acorn across your hand.  Alternatively, you can stack the squirrels tail and head together, leaving a bit of space between to appear as if it is darting around your finger. Add the acorn on your pinky to complete the theme.
As mentioned before, these rings are slightly adjustable. The squirrel comes at a base size of 7, but with the open design, they can be gently stretched and widened to accommodate different finger sizes. Or use them as knuckle rings to wear your squirrel a little higher on the fingers.
Normally open design rings can simply be pulled gently to resize but with the enamel work, it is best to add a little bit of heat before resizing.  Use your hair dryer to carefully apply heat or dip these in a glass of hot but not boiling water. It will soften the materials so you can lightly resize to the needed circumference. Use caution with these methods, however, to avoid both burns and damaging your piece. These rings should not be asked to fit a ring size 11. The enamel simply may not handle being stretched that far and may crack.  
5. Prizemall Vintage Adjustable Octopus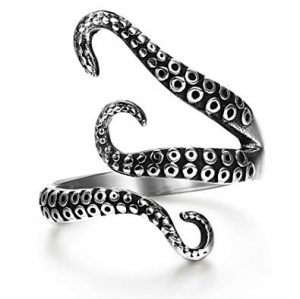 Capping off our tour of the animal kingdom in ring form, we offer this more daring piece. Tentacles reach around this ring by Prizemall and coil around your finger.
Whether you see the suction-cup covered arms of an octopus or cuttlefish, a Kraken or Cthulhu Himself, this knuckle to knuckle wrap ring is both whimsical and just a little dark. The open design means it is resizable to fit most finger sizes.
Made of surgical grade stainless steel, a perfect metal for those with metal allergies or sensitivities, the detail is astounding. Three tentacles reach around your digit with the more recognizable suction cups turned outwards. While this might be an unorthodox way for a tentacle to face if an octopus were legitimately attempting to seize you, it works here. The details make the difference once more and the little suckers carved in relief take it from could be a tentacle to definitely a tentacle.
We love this as a statement piece for a homegrown ring set. Add a few of the simple bands from above (black if we can choose the color) as well as other nautical-inspired midi rings. Think anchor, shell, pirate skull & crossbones, evil eye, shark or shark tooth, and simple wave designs. If you want a bit of sparkle to your finger bound treasure, use lapis lazuli, sapphire, topaz or aquamarine gem accents, with white cubic zirconia and perhaps just a pop of ruby.
6. lauhonmin 3pcs S925 Sterling Silver Open Rings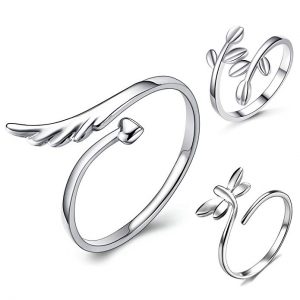 A set of three midi rings offered by lauhonmin, these designs are sweet and simple. Perfect for adding a touch of whimsy and natural appeal to a look, the rings are crafted out of 925 Sterling silver plated over alloy.
Typically the ring set includes several different rings all over several, if not all, fingers of the hands. The look works well and is a sharp statement design decision. However this set is so utterly charming in its styling, we recommend wearing these three alone or with your promise, engagement, or wedding band only.
The first ring in the set features a sweeping feather wrapping around your finger. The second allows a budding vine to just begin to bloom around your knuckle. The third and final piece is a sweet little dragonfly in flight. The three rings are open in design so they are adjustable to fit most finger sizes or locations.
Play with locations but don't be afraid to spread them out and let each really shine. They work well together and add just enough visual interest to your digits that, even in their simplicity, your gracefully elegant ring set will be a talking point.
Any time you see the phrase plated over alloy or alloy metal it is an indicator that this piece may not be suitable for those with metal allergies or metal sensitivities.
7. Hanpabum 18Pcs Vintage Creat Opal &Turquoise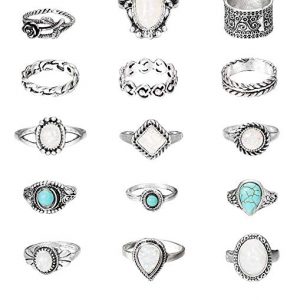 Next on our list is a more complex and stone-studded collection of vintage-inspired rings. These stackable rings feature highly detailed carvings for texture and style.
Eight of the rings feature fiery white opal.  The lab-created stone is known for it streaks of iridescent color. When paired with the patinated silver finish, the contrast of light and dark, shadow and color achieves a stunning effect. One of the opal pieces is a cocktail style ring that will reach knuckle to knuckle. Others feature cabochon set stones in various shapes, featuring varying levels of detailed carved surrounds.
Three of the remaining pieces feature turquoise styled stones. The warm, soothing blue flecked with veins of dark chocolate is an iconic look in the bohemian and natural style aesthetics.  It also plays well with the vintage design of this ring set. The remainder of the set is simple bands, some featuring sculpted roses, others are shaped into twists and textured patterns.
The ring all come in one size, an approximate ring size 7. If your fingers are a larger ring size, they will make an ideal set of midi rings. These may require sizing bands to achieve the desired look. Lacking sizing bands, you can size the rings with a miniature rubber band. Eighteen rings may be a lot to wear all at once but you might be the kind who can pull it off.
8. FIBO STEEL 42-63 Pcs Vintage Knuckle Rings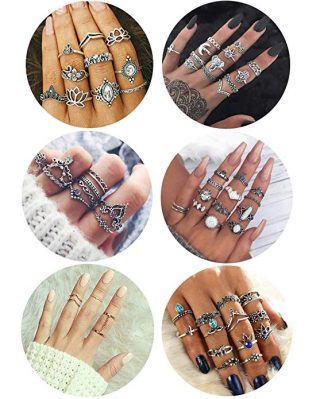 Sixty-three distinct rings form this all-purpose set by FIBO Steel. A little bit of everything is covered among the sixty-three rings. Altogether the overall look reminds us strongly of henna. With the clever use of shapes, flowers, dots, and ring design, this broad jewelry palette can create your own Mehndi-inspired look every day.
Sometimes called henna Mehndi is a form of body decoration that makes use of henna ink to draw intricate patterns. Henna ink is derived from a specific type of tree common to North Africa. Known for the deep chocolate color, henna ink is used to add semi-permanent designs to hands and feet.  Once dry the ink stains remain for several days, depending on the pigmentation of the ink and the wearer's skin tone.
Mehndi art is traditionally used in Muslim and Hindu weddings as decoration for both brides and grooms. In Western culture, the mandala based art is becoming more and more trendy. These rings allow you to create a Mehndi look without the hours of application by a skilled artist. The art itself takes years to master. These rings will slip on and off, allowing you to create and recreate looks as you please.
With sixty-three different options in stainless steel, the hypoallergenic rings are great for adding variety to your ring collection. Even if you are not looking for a multi-ring look, several of these rings are great as solo pieces. Since the price for that much jewelry cannot be beaten, this is quite a find in our book!
9. Andyle Bohemian Vintage Silver Punk Crystal Set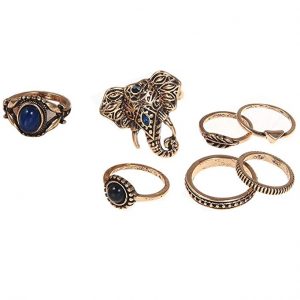 Staying with the Indian and Asian inspiration, this set combines detailed statement pieces with trendy, simplistic designs to achieve a complete look. The complex paired with the simple is a wonderful design concept.
This set, cast in a deep yellow gold tone over stainless steel includes a chocolate patina that gives it that aged look. The two statement rings included in the set both feature stones styled after the brilliant blue lapis lazuli. The royal blue stones stand out gorgeously against the warm gold tone.
The first statement piece is sculpted into the head of an elephant. As the cornerstone of this collection, it is best worn on a middle finger. The second statement ring is a godfather style ring that will look perfect on the pinky of the opposite hand.  
The elephant is known in Indian culture as a good luck totem. We know that we had the best luck when stumbling upon this ring set by Andyle. As a set, this ring set works together perfectly and has just enough pieces to spread out across both hands.
Pair this with a vintage style mandala pendant necklace hung at navel level. Add a series of wire bangles to complete the look. If you really want to commit to the aesthetic, pair it with a sari.  If you do not own a sari, sub in a loosely tied pashmina scarf.
10. YACQ Double Full Finger Armor Ring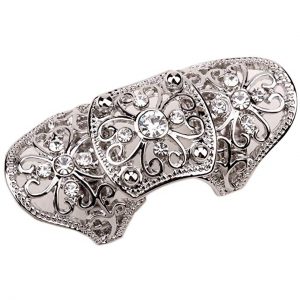 Our final selection is a bit different and much bolder than our previous offerings. This double knuckle gauntlet style ring armors your hand with elegance and fine jewelry design.
The gauntlet style full finger ring draws inspiration from medieval armor. With two hinges, the upper plate of the ring will rest directly above the knuckle. This will sheath your entire finger in filigree work and crystal accents.  
Wrought in polished sterling silver, this piece exudes both strength and style.  It is a bolder choice and best-worn solo on one hand. Even the opposing hand would best be styled with just a few simple bands. We recommend the first set on our list quite honestly. The simple bands will work beautifully with the complex gauntlet ring.
This piece is not a daily wear piece. We recommend it as a statement piece with a party dress. The glint and glitter of the stones will rock the night away right along with your look.
A Note on Sizing Knuckle, Midi & Toe Rings
As mentioned above, any ring can be worn as a knuckle ring if small enough. However, it is important to only place knuckle and midi rings to the point at which they fit.
Mid-finger rings should never have to force past a knuckle joint. A bit of light wiggling is ok but it should slide easily on and off its location on your finger. Your fingers will naturally swell and shrink throughout the day. Wearing rings of any sort will affect this cycle. Wearing rings that are too tight may impede this perfectly normal process and your fingers will remain slightly swollen.  his may result in a ring becoming uncomfortable or getting stuck.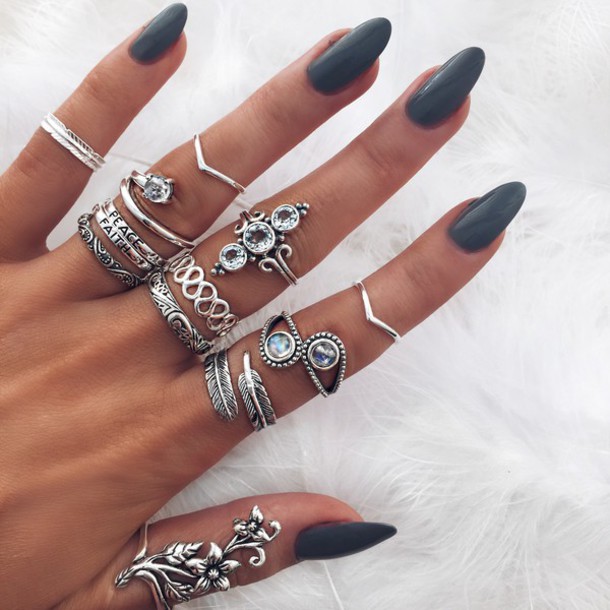 When wearing knuckle or midi rings you should not have a red crease or deep indent after removing them. A thin line may be acceptable but it should not hurt or tingle. If your rings are leaving a red line or deep crease on your after removing the rings, consider moving them.  Select a higher position or different finger to resolve this.
For toe rings, select only those rings with an open back, sometimes called an adjustable ring. Feet and toes naturally swell throughout the day and selecting full circle rings may be affected by this. What you can get on in the morning may be difficult to remove in the evening. You should be able to wiggle your toes easily while wearing the toe ring. No amount of cute is risk injuring your feet by cutting off or constricting circulation.