Something Super Unique? Browse Our List of Killer Full Finger Rings!
last updated
Jul 25, 2019
Buying a ring for a little bling may be a confusing fashion choice. But, we are here to help. Browse through our top picks for full finger rings and be confident while making your selections.
Accessorizing may never be easier and your jewelry box will be glad you did! Make a fashion splash with our picks; they will guarantee you an effortless and chic look.
Whichever ring you choose, to keep it looking lovely longer, avoid wearing it while bathing and swimming, avoid heavy sweat and chemicals, and store it in the original box, or carrying pouch.
Our fave Full Finger Rings!
1

. Hiddleston Full Finger Ring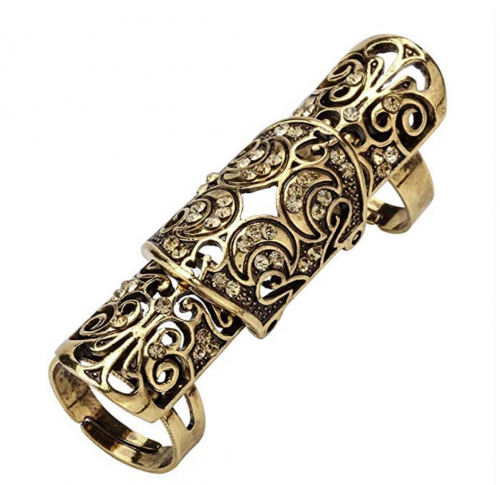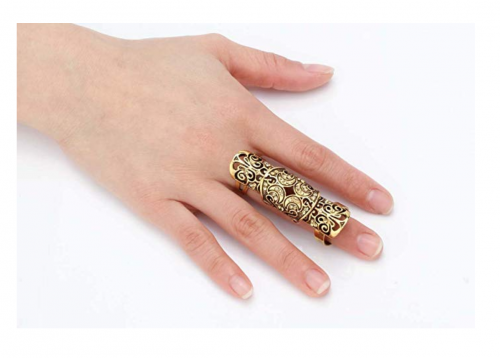 The Hiddleston ring is a hinged piece that offers you more comfort when wearing it. It is hinged or jointed allowing you to bend your finger when wearing it.
Read more
Because it covers from the base of your finger to the base of your nail bed, this piece has two bands, which give it more stability. We think it has an Avant Garde, or Boho look, to it. You might also think it's reminiscent of the Celtic, Victorian, or Gothic Mid Century looks.
Wear this piece for a more casual, or heavy look. With the moon decorations, it has a "wizardly" appearance and you could even use this piece as part of a Halloween Costume. Guess what? Even a guy can wear this one, when used as part of a costume.
This is a lower priced ring, which makes it very affordable. No need to worry about your budget in order to purchase this ring. It is very inexpensive and price pleasing.
It is approximately 2.5 inches long and light weight; very comfortable to wear.
One size fits all for this bold looking ring. It is adjustable from a size 8.
2

. Beaux Bijoux Sterling Silver Channel Set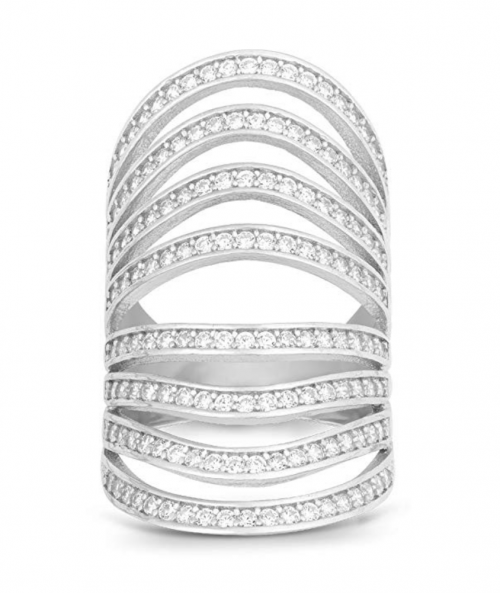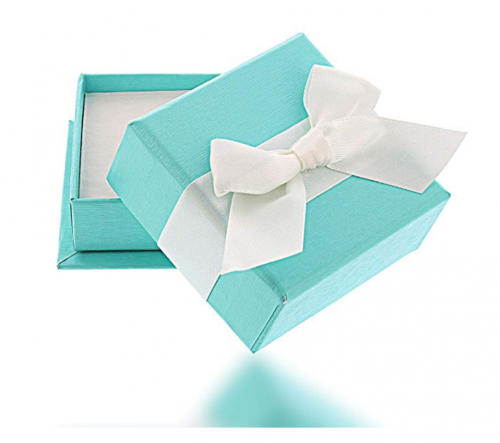 The Beaux Bijoux piece is an edgy and stylish piece and is reminiscent of the Vanderpump ring. It gives the appearance you are just wearing a lot of rings on one finger.
Read more
The middle ring is round and each of the rings above and below it have a more arched shape. It is made from .925 Sterling Silver.
This silver is combined with an alloy to give this piece strength. The Cubic Zirconia studs are of a good cut and are inlaid in the silver. The stone shape is round.
This ring is so simple you can wear it to a football game, but so versatile it is definitely a piece you could include with your evening wear.
With it, you get what you pay for. Spending a bit more money, gives you a higher quality ring and you'll be glad you did made this choice.
The fit is from the base of your middle finger to the first knuckle. The Cubic Zirconia stones are 1.25 long, 1.25 mm high and 1.25 mm wide.
This piece comes in sizes 7 through 10. It is not adjustable.
3

. U7 Jewelry Clear 18K Gold Plated Leaf Long Ring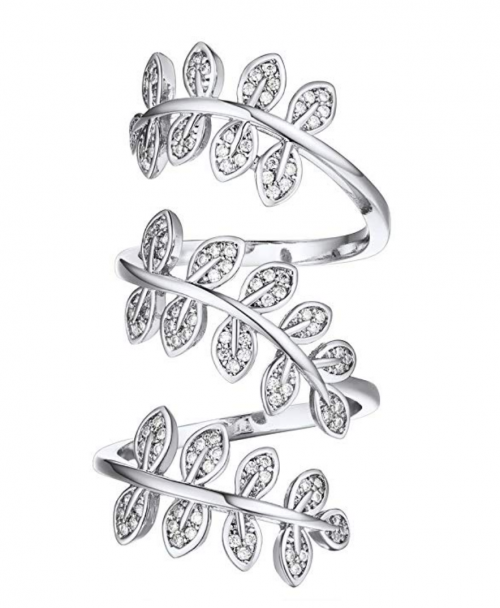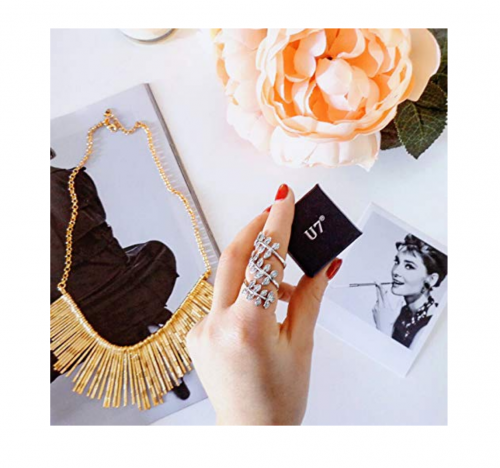 This is a cute, leaf shape, wrap finger ring. This piece has a more dainty look and is suitable for the bride, bridesmaids and more. You can purchase it in either real 18K gold plated, or platinum plated.
Read more
The inlaid stones are AAA Cubic Zirconia and of a good cut. They are a clear white color. It is made with a German import polishing and electroplating technique. This full finger ring is hypoallergenic and nickel free.
It can be worn on the pointer, middle and ring fingers. It begins at the base of the finger and extends to the first knuckle, but it is adjustable so it can be made shorter.
This is a one size fits all and fully adjustable. As such, it can be worn on any finger of you hand.
4

. Goldia Sterling Silver Vines Ring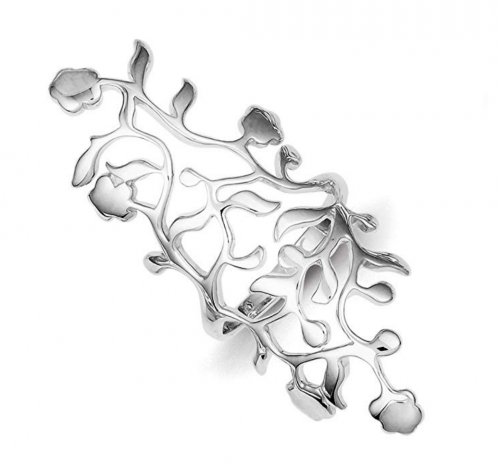 The Goldia pick comes from Thailand and is a solid, casted, polished sterling silver. We think it has kind of an elvish, or celtic flare. This piece has a slightly higher price point. It's not totally out of reach, but you may have to dig a little deeper for this one.
Read more
The vine design is delicate and intricate and it's perfect for the more petite hand. Extending from the vine, there are very pretty, simple flowers, buds and leaves.
You will fall in love with this ring! We like it for anytime, but it is so elegant a bride could wear it with her gown. We like it for bridesmaids and special occasions as well.
The width of the Vines ring is 2mm or ¾ inches. The weight is 8.65 grams so isn't heavy either; it only weighs .3 of an ounce. You won't feel as though you have a weight on your finger.
This piece is about 1.5 inches long, fitting nicely on the middle finger. Of course, if you have long fingers, you may wear it on another finger as well.
We wish this one had more sizing variety, but it is only available in a size 6.
5

. Bling Jewelry Deco Antique Style Armor Full Finger Ring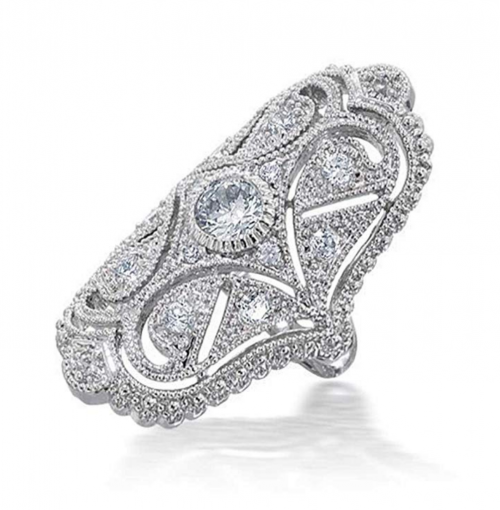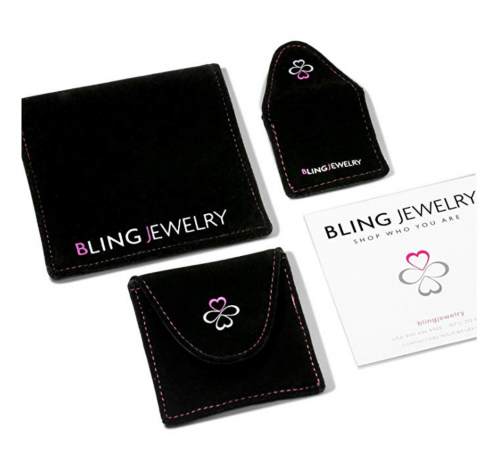 This ring from Bling Jewelry, lives up to the name of the designer. This filigree ring is romantic, bold and dramatic. It's a sensational vintage style ring you'll be glad to wear anytime. It is full of cubic zirconia stones and the biggest one is right in the middle.
Read more
There is also some scrollwork or filigree surrounding the middle stone of approximately ¼ inches, or 7mm. There are stones of other various sizes on it as well.
This piece has an Art Deco look so if you are trying to achieve a special vintage look, this is the ring for you. You will look as though you just stepped out of Edwardian England and the Baroque Period.
It's made of rhodium plated brass and inlaid with round, clear cubic zirconia stones.
The stones in this lovely ring, alone, are 1.25 carats and 0.03 carats. The entire ring weighs 12.5 grams, or .44 ounces. It feels substantial while you're wearing it.
You can purchase in sizes 5 though 10. Take into consideration that sizing may run larger than normal.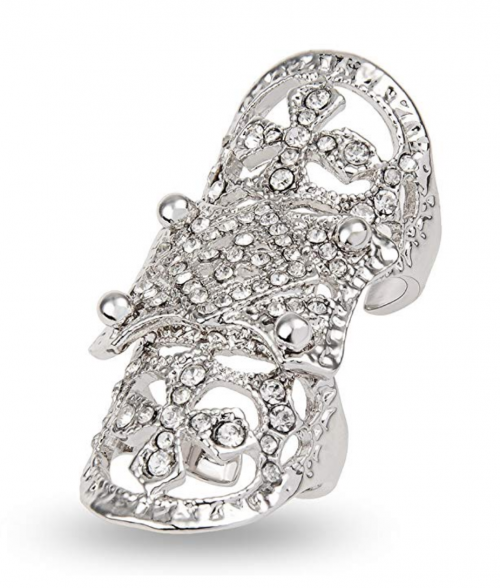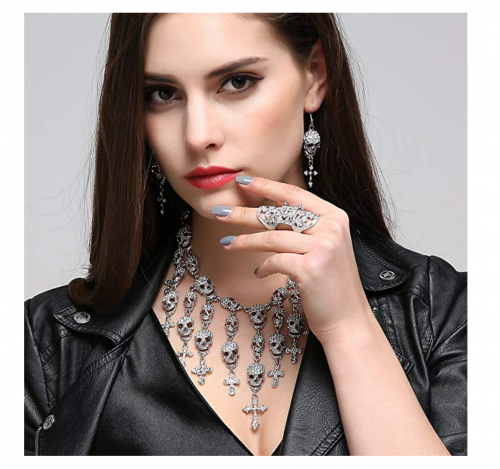 The EVBEA statement ring is a white, gold plated, (you can get it in gold as well) piece. It is inlaid with lots of cubic zirconia crystals. In the middle there is a beautiful cross design.
Read more
On both the top and the bottom there are crosses. In addition, there are stones scattered throughout. It has an upper and lower band for a secure fit.
The lower band is placed below the first knuckle and the other band, above it. It is considered to be costume jewelry and this ring has a Gothic or an Egyptian look.
It's great for a costume party or if you just like the Goth/Egyptian look, in general. If you enjoy skulls pair it up with a necklace, or earrings featuring a skull design.
This ring is extremely inexpensive. We bet you have enough change laying around so you can buy it; that's how affordable it is!
This ring is a "default" size 8, but, it can be adjusted to fit above and below an 8.
7

. Bling Jewelry Vintage Amethyst Ring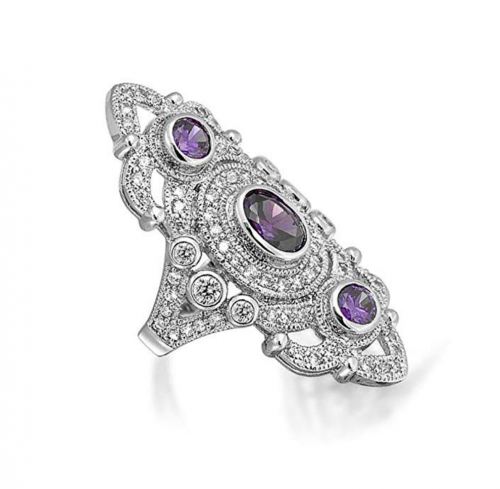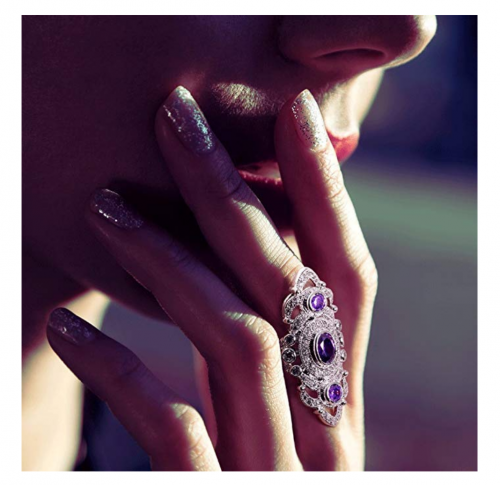 Bling Jewelry is one of our favorite full finger rings designers. The largest simulated amethyst in this ring is colored cubic zirconia and it's situated between two round stones of the same color. It's surrounded by an array of pave (pa-vay) and bezel set clear czs.
Read more
If you think of a road being paved, you're on the right track and the bevel is the part that holds the stone in place.
The amethyst is, typically, the birthstone for February, but don't let that stop you from wearing this piece and becoming a bolder version of you.
It has a single band and fits from the base of either your ring, middle, or pointer finger, to the first knuckle. It is made of rhodium plating, brass and cubic zirconia.
It varies in price. The smaller sizes are less expensive and the larger sizes are more expensive.
The ring weighs 10.5 grams, or .37 ounces and is 3mm, or .12 inches wide. It contains stones of 1.5 carats, .50 carats and 0.02 carats.
You can purchase it in sizes 5 through 9. It is not resizable.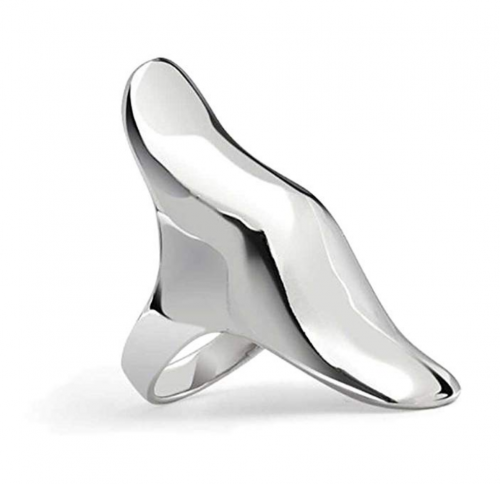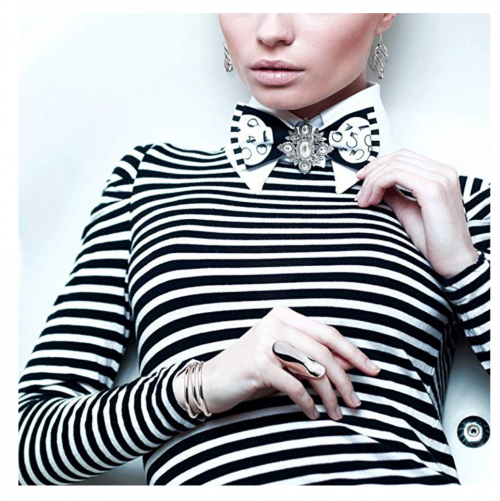 Hey, ladies, get ready to exhibit a little bit of the rebel in you by wearing this ring. Guys don't tell, but you can wear it too as well! Shhh…it's a secret. And yes, full finger rings can be worn by men, word!
Read more
This is a piece made of .925 Sterling Silver, with an alloy mix, to give it extra strength.
It has a high polish and will be a fashion staple in your wardrobe, especially if you like a little "darker" look.
It has a modern style and appeals to you sense of high fashion. It is an oblong shape on your finger with an indentation in the center for your knuckle.
This pick exudes fashion and boldness. The shine is stunning and the style is modern. It is lightweight, which makes it very comfortable to wear. Give it as a gift, or keep it for your own, unique style.
It comes at a moderate price point. You will probably wear it for special occasions and, if giving it as a gift, you'll make sure the recipient is someone you really care about.
The band width of this piece measures 3mm, or .11 inches and the weight is 8.6 grams, or .30 ounces.
It can be worn by finger sizes 6 through 9. It is not resizable.
9

. Angelitos de Mexico Adjustable Ring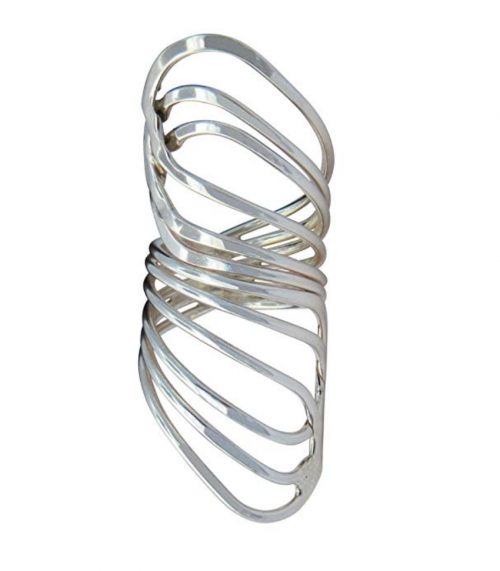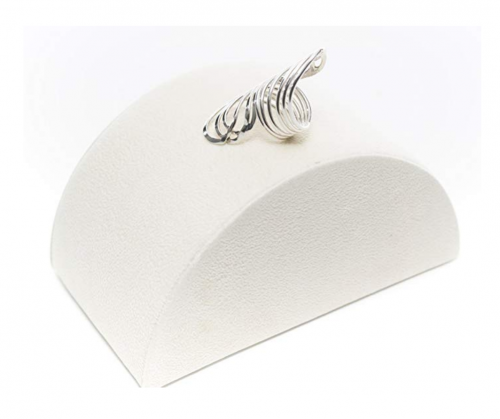 When we say "killer", we mean killer! This Angelitos sterling silver ring is just that. Its handmade design makes it, oh, so unique. This piece is made by local artisans, using century-old techniques, to fashion a high-quality ring you will absolutely love.
Read more
Many generations of craftsmanship have gone into the construction of this piece. And, it's all for you!
This piece looks as though the designers have joined several oval shapes into one ring. It is secured in the back, so as not to come apart.
It is made from .925 silver and 7.5 percent copper alloy for strength. It has a quality stamp to prove it.
We like the price as it's only mildly expensive and we think it's worth every penny.
This piece is almost 2 inches long and .10 cm, or almost an inch wide.
Sized to fit a 5, 6, or 7. We do not recommend adjusting as it will misshape it and taint the look.
10

. Szxc Double Full Finger Ring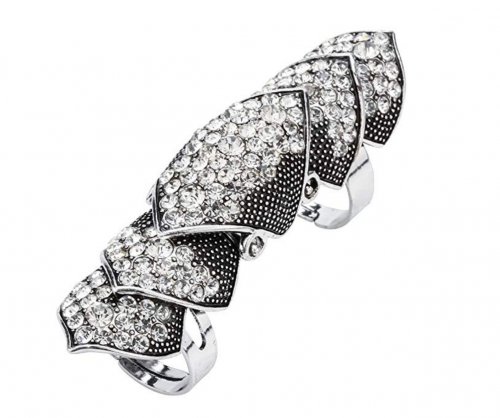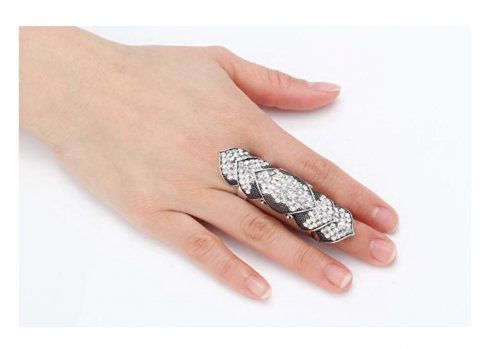 Szxc brings you this amazing last pick on our full finger rings list. Five shield shapes are combined and overlapped to create a piece that is jointed so you can bend your finger. The middle shield is the largest.
Read more
The two above and below it are slightly smaller and the two at the top and bottom, are smaller than that.
There are two bands, one at the base and the other above the knuckle so it feels secure on your finger.
It is an alloy composition and comes in antique gold, black, or silver. It is lead and nickel free, which makes it hypoallergenic. The gems on it are cubic zirconia crystals.
This would be a great ring for a costume party since it comes in a renaissance style; it's also great for anyone into Goth jewelry.
The ring has a base size of 7.5. However, it is adjustable for a range of 7 through 9.
Criteria Used for Evaluation
Wear Comfort
We want the ring you purchase to be super comfy, so we give you accurate sizing and let you know if the piece is adjustable, or not.
The rings should be easy to wear and not uncomfortable. Some rings are adjustable and some rings are made to fit only certain finger sizes. The perfect full finger rings should stand the test of time and give you years of happiness.
Jewelry Metal & Gemstone Quality
When we bring you rings for selection, we try to show you those made with quality metals. Of course, the price of the piece may reflect the quality of the metal from which it is made.
We also look at the gems in the rings and what they are made from. We want you to shine just like they do. Again, there is a direct relation between the quality of the stones and the price of the ring!
Frequently Asked Questions
q:

What are armor rings?

a:

These are full finger rings that look as though they could be on a suit of armor; armor rings are characterized by with a few pieces that are jointed and they flow with your own finger and hand movements.
q:

Can you bend your finger while wearing full finger rings?

a:

Yes, you can; however, sometimes it depends on the construction of the ring. If the ring is jointed, then yes.

If it is not jointed, then no.
q:

What does Filigree mean?

a:

Without getting too complicated, if you think of scrollwork, you have a good picture of what filigree is.

It is usually described as ornamental metal work suggesting a lacey pattern.

It is popular in Indian and Asian design, but it has also been seen in French, Portuguese, and Italian metal work in the past centuries.
q:

Are cubic zirconia stones worth anything?

a:

Sometimes.

To give you an idea, a one carat hand cut and polished cubic zirconia will retail for about $20.00. A one carat diamond with a "just alright" cut, color, and grade will retail for approximately $1,500.00.
q:

Are there various ways to adjust a ring?

a:

For more expensive rings, the answer is to take them to the jeweler and have it professionally resized.

For costume jewelry, however, the ring may adjust when you push or pull the band together or apart (respectively), to open or close it.

If this action is repeated too many times, it may compromise the strength of the piece of jewelry.
q:

Does wearing a ring on a certain finger have a special meaning?

a:

Without getting too complicated, it does.

If you wear your ring on your pinky finger, it can indicate marital status. It can also signify Mafia connections (oh-ho!).

Iif it's a signet ring, it is indicative of family ties.

A ring on the left ring finger, symbolizes marital status, betrothal, romantic promise, or chastity.

The left middle finger, the left index finger, or the left thumb, really don't mean anything but are great for wearing statement pieces.

In some cultures such as the Jewish one, the wedding ring is placed on the right index finger. The right middle, index, and pinky really have no meaning as well.

The right ring finger, in some cultures and countries, is reserved for wedding and engagement purposes.