Mix / Other Accessories / Women
Our Favorite Skull Jewelry Pieces You Need To Get This Year!
Marianne 20 Mar 2020
4334
Fashion has always been a powerful channel for self-expression. Colors, patterns, cuts, and motifs – you get to handcraft the image you'd like to portray, one which does not disappear in a sea of clones and is as true as can be. Adding jewelry to the look, be it a diamond choker that is impossible to miss or a beaded bracelet which shouts individuality, takes self-expression to a whole another level and does so with a beautiful sparkle. Today, standing out is more important than ever; everybody wants to be one of a kind. In most cases, a choice of jewelry is what sets you apart from the flock.
Skull jewelry, a style statement different from any other, has been worn since ancient times. In Aztec cultures, skull imagery has always been celebrated as a depiction of life and death. These days though, they have a universal appeal, equal parts dark and captivating.  From occult rites and underworld subcultures back then to gothic fashion and runway styles now, skull jewelry has been accepted into the mainstream while still being a unique take on fashion accessories.
Pulling off skulls and bones as fashion needs a special kind of individual, effortlessly edgy with chilling confidence. With that said, we also believe the right accessories can bring out a side in you which you never thought existed. Here are our 19 favorite skull jewelry pieces to unleash the rock star in you.
Our Favorite Skull Jewelry Pieces
1. Karseer Romance Forever Skull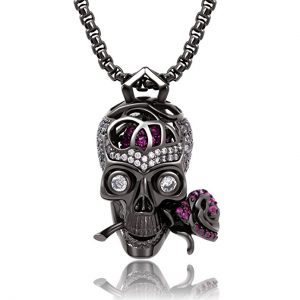 Dancing with the devil and doing it in style? We've got just the right accessory for your twisted self. This Skull & Rose Pendant Necklace by Karseer is dark and edgy, sparkly and romantic. This is a deadly union of everything we love about skull jewelry.
Karseer has a great many awesome skull accessories. Yet this unisex necklace is our favorite. Made from brass and plated with ruthenium, carved with immaculate filigree and embellished with shimmering fuchsia and colorless zirconia stones, this is pure art encased in a skull with a rose between its jaws. If that wasn't enough, there is also a brain inside the swirls of the skull, presented in fuchsia zirconia. Even the eyes are set with two large stones. With 60 cm of box chain, the necklace is made from the highest quality material. Besides, the crystalline skull design has an intoxicating charm which we can't resist.
2. FANSING Jewelry 
Flower Skull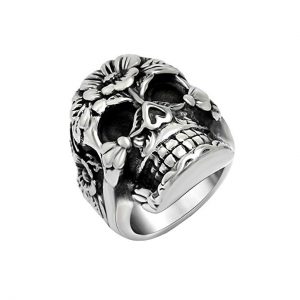 Secretly or not, all of us aspire for Terminator-style coolness. However, emulating the alpha of all time, Arnold Schwarzenegger, is no easy feat. But owning the Flower Skull Ring for men by FANSING takes you a step closer.
FANSING, an online jewelry retailer, has a diverse collection, from fun and flirty trinkets to dark and gothic rocks. This ring is made from stainless steel of the highest grade, so it doesn't stain, with a polished inner surface for comfortable wear. The skull itself is shaped to perfection. Carved flowers on the top and black sunken pits for eyes are exceptional details for a finger-ring.
Available in sizes 7 to 12, there is no reason why a woman shouldn't be to pull off this gorgeous ring if the size fits. It comes in a beautiful black velvet drawstring, aligned to the overall aesthetic. Solid and sturdy, this skull piece is every goth biker's dream come true.
3. EVBEA Gothic Jewelry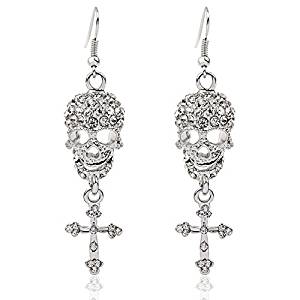 Who said skull jewelry can't be glamorous? Encrusted with the most sparkling crystals and a dash of religious imagery, the EVBEA Skull Cross Drop earrings are a scandalizing taunt of fashion rules. Skull glam is now a trend of its own.
The perfect length for dangling earrings at 16.5 cm and with fish hooks for easy slip ins and outs, this stylish pair is as comfortable as can be. The entire set is white gold plated and studded with gorgeous CZ crystals which can even fool you for diamonds. As for the layout, at the very top is the skull which tapers down to the Christian cross, joined by a small hoop. This design is available in yellow too but we are enamored with the white, the color a beautiful backdrop for the mysterious elements present.
Stunning in its own right, this is exactly the sort of jewelry you might find on Dita Von Teese, with a beautiful burlesque dress. The drop earrings also add a nice contrast to an all-black ensemble.
4. JOVIVI Punk Pu Leather Skull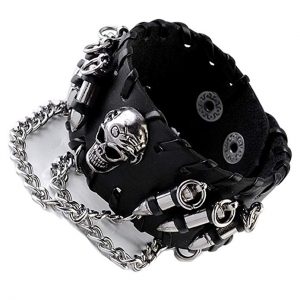 If you're young and wild, why not wear it like a badge of honor? We are talking about the Pu Leather Skull bracelet by JOVIVI. A red-blooded teenager or a full-time rock star, anybody with a strong personality can rock this bracelet.
JOVIVI is an indie jewelry brand with some of the most unique accessories at an affordable price. Skulls and leather are a recurring theme in many of their products but this particular piece is everything you could want. The leather, made from polyurethane, is a sturdy black which does not damage easy. The skulls and bullets are clamped to the bracelet while two hoops of chain dangle at the bottom. The length of the bracelet is approximately 8 inches.
This is a strong statement bracelet for the man or woman who is unafraid to take charge. Skulls and bullets and even chains, this bracelet goes the whole 9 yards.
5. Gothic Lolita Skull Masonic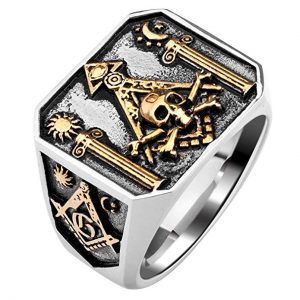 So you say you take your commitment to the darkness of the night seriously? Well then, dig deep in your pockets because you are about to splurge on the Gothic Lolita Masonic Skull ring. With skulls, masonic and Illuminati imagery, this ring is as ominous as it sounds.
The name, Gothic Lolita, is self-explanatory. The brand is as gothic as it gets and stylish too. If you fancy flirting with the occult, this ring has it all. Made from stainless steel and shaped like a signet ring, it has double-sided totems with the sun, moon, and stars while in the middle lies the Freemason emblem, Square and Compasses with a skull in the middle of the two and lastly, the Illuminati Eye of Providence. It is duo-toned, bronze against silver, and the edges and inner ring are polished for high shine.
This ring is not for the fainthearted. With everything that represents the gothic movement, the Masonic Skull ring is an arresting piece of skull jewelry.
6. Gnex 8mm Infinity Black Tungsten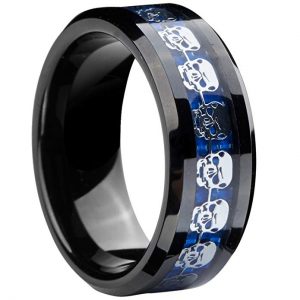 Tungsten and skulls? Count us in! Nobody needs to tell about the amazing metal that tungsten is. We are fans of its Vulcan strength. And with skulls on them, we have officially every reason to fall in love with the Skull Black Tungsten ring by Gnex.
Tungsten bands with a twist are Gnex's forte. And they do it again with this one. This is gorgeous black tungsten with a high gloss finish. The blue carbon fiber inlay in the middle sets up nicely for the alternating black and white skulls all around the band. With sizes from 5 to 13, both men and women can find their one.
The colors, shine, quality and of course, the skulls- everything about the ring is sheer perfection. If you are required to do a lot of heavy work, this ring is your chance to keep your beloved skulls on you. This could also be an outstanding pick for matching wedding bands for couples who share a love for everything skulls.
7. Bamos Jewelry Womens Lab Purple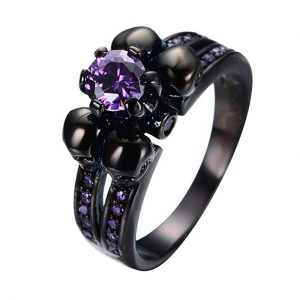 Think this is just another stunning ring on the finger of a woman? Look again in case you missed the spooky skulls peering up at you. The Purple and Black ring by Bamos Jewelry is for those ladies who can do it all- stun in a demure ball gown or ride Harleys into the night.
An international brand centered in the Asia Pacific, Bamos Jewelry prides itself on its eclectic collection. This ring is another gem on their crown. Made from black gold plated copper, the ring consists of a sparkling purple lab-made amethyst, held by 6 prongs, as a centerpiece and 4 little skulls supporting it. The band of the ring is divided into two and filled with smaller amethysts. Two colors are available for the gift box, a rose gold and a peachy blush.
Although marketed as engagement and wedding rings, it can serve absolutely any purpose. A stylish birthstone ring for the gothic February girl or as a stealthy way of sneaking in skulls at a formal event, it can do it all.
8. Dazzle Flash Rose Gold Plated 
Watch us crush myths about skull jewelry as we go down the list. Who said skull accessories can't be fun and cute? They clearly haven't seen the Rose Gold Plated Skulls necklace by Dazzle Flash.
Dazzle Flash is all about cute accessories, shaped like cats, butterflies, and even skulls. Rose gold plated, the chain of this necklace is light and thin and has 3 skull charms dangling on it. One of them is in rose gold, the other white gold and the one in the middle is encrusted with rhinestones. The length is a long 31.5 inches. This necklace comes in a beautiful baby blue box.
The Rose Gold Plated Skulls necklace by Dazzle Flash is perfect for teens, a playful addition for their back to school wardrobe. Preteens can wear it too for, say, accessorizing their adorable pirate outfit for Halloween. Young ones aside, this necklace will look amazing on any woman.
9. U7 14G Body Piercing Jewelry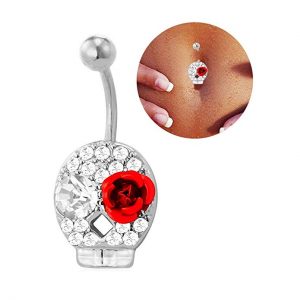 Body piercings may not be everyone's cup of tea. But if it is yours, you have found yourself the prettiest belly ring, embellished with our favorite design element, a skull. Believe us when we say, the Jewelry Flower Head Navel Belly ring by U7 has a magnetism about it which just draws you in.
U7, the company says stands for "Love You 7 Days A Week". This explains the common motif in all their work- an essence of love and beauty. This belly ring, shaped like a skull studded with rhinestones and hanging on by a stem, is undeniably a fun and sweet accessory for summertime. The skull, interestingly enough, has a large rhinestone as one eye and pearl-centered red flower with swirling petals for the other. The ring is made from gold plated copper and available in two colors, white and yellow.
This summer, you can make a splash with your gorgeous new belly ring. Pair it with a light crop top for maximum effect.
10. MAIKEDIAO Men's Vintage Gothic
We are not going to lie. This ring is a little eerie. But if horror has always given you thrills, we say go for the Men's Vintage Gothic Skull ring by Maikediao and thank us later.
Maikediao is an online retailer, selling everything from insulated water bottles to cocktail earrings. This intense Gothic ring is just another piece from their diverse collection, except that this one is seriously cool. This ring is a lesson in jewelry crafting, with carvings all throughout. It features a grinning clown in the middle and a skull on the side. Both sides have a red rhinestone, bringing the black stainless steel structure of the ring to life. The ring comes in a dusty blue box, with the brand's name on a nice holographic print.
Like we said, this vintage skull ring is for those with a spine of steel, those who don't spook easy. Those of us with coulrophobia or fear of clowns, maybe skip this one.
11. Eternity J. Black Lace Skull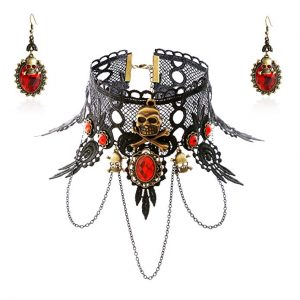 Eternity J. takes skull jewelry further with their Skull Gothic set – complete with a pendant choker and a pair of earrings. Beware though, these accessories are not subtle. If anything, they are the very definition of the millennial term "extra".
The brand is a master of vintage chokers and jewelry. This set, in particular, shows off their skills to the fullest. Starting with the choker, it is a stunning black lace, with 3 bronzed skulls and crossed bones pendants. There are also 3 red stones embellishing the choker, with the largest at the center. The 3 chain loops on the choker drape the neck exquisitely. As for the earrings, these are drop-style with a red stone and skull and daggers on each. Despite all the elements and their layering, they merge quite well for a lightweight jewelry set.
While we don't see how the set can be worn on an everyday basis, it is a goth's perfect companion for costume parties and of course, Halloween.
12. Elosee Turquoise Stone Dangling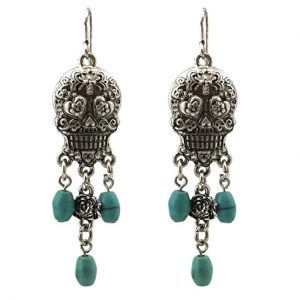 If you think these are chandelier earrings, look closer. Kudos to Elosee for sneaking in humongous skulls on a wholesome pair of earrings.
Nobody does costume jewelry better than Elosee and this pair testifies. Fun and girly, the covert skulls are part of its charm. The skulls are rich in intricate artistry and designed like chandeliers. Hearts for eyes and nose, cross between the eyes and the swirls all over are the details which make us fall in love with these earrings. The skulls drop down to three rows of large turquoise shells and a carved rose.
Available in two colors, antiquated silver, and patina, the silver is our favorite, with its vintage charm. Although these are rather large for everyday use, these earrings could be the skull lover's go-to for parties.
13. Body Candy Stainless Steel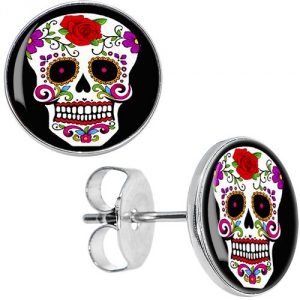 If you are into body piercings, you may have already heard of Body Candy and their wide assortment of all sorts of body jewelry. They never fail with colorful accessories which make you look twice. The White Sugar Skull stud earrings of theirs are bright and fun but also deadly.
These earrings can spruce up even the dullest of looks. It is made from stainless steel and the front is sealed with a glossy urethane. This brings the sugar skull design to life, the colors shimmering through the thick coating. In case you're wondering, sugar skulls are basically decorative skulls, with floral and mandala patterns.
Reds, purples, magentas, and greens against a solid black- this piece is an explosion of colors we love. Especially great for carnivals, we believe you can rock these earrings any time you want.
14. Alex and Ani Color Infusion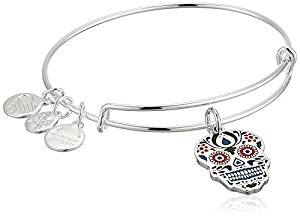 Once you see the sugar skull, you can't have enough of it and this leads us to this piece by Alex and Ani. Alex and Ani, an American brand, are defined by their quirky style, inspired by symbolism and global cultures. The fact that they are dead-set on making a positive impact on the world makes us love them even more.
The Calavera Bangle Bracelet of the brand is a skull accessory that every young girl should own. Available in colors rose gold, yellow and silver, this bracelet consists of three discs and one skull sugar or Calavera charm. It has an adjustable sliding clasp which expands the bracelet from 2 inches to 3.5 inches.
Simple and sweet, this is just the kind of skull jewelry you can wear on a fine spring day, paired with a floral dress.
15. ClorisAccessory Raven Skull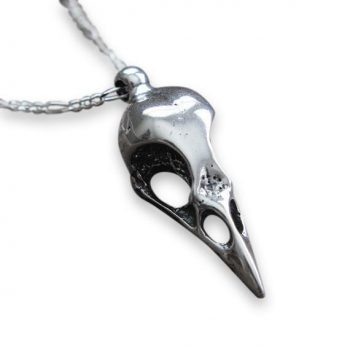 Skull jewelry does not always have to be a big human skull. Raven skulls have fast been trending the charts as fierce fashion. And this Raven Skull Black Necklace by Cloris Accessory is as menacing as can be.
Made from stainless steel of the finest quality and with a lobster claw clasp at the back, it is durable as well as convenient. The raven skull pendant itself has a black-silver polish and is well-rounded so it doesn't snag onto anything. At 18 inches, it is a fairly long chain while the dimensions of the pendant are 1.2 inches by 0.5 inches.
This skull necklace walks a fine line between vintage and modern. Throw it on top of a denim jacket for a ruggedly handsome look.
16. Lureme Vintage Jewelry Guns N' Roses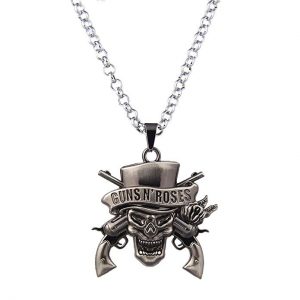 Rejoice, hard rock fans! You just found yourself the perfect skull accessory which celebrates your love for the iconic band, Guns n Roses. Lureme makes vintage jewelry with a bohemian theme and this time, they have outdone themselves with the fan-favorite, Guns n Roses Rock Band Pendant Necklace.
In antiquated bronze color with a silver chain, the pendant is shaped with two crossed gun with a rose between them and a skull with a hat. The name of the band is written in fanciful strokes on the hat's lapel. It is made from quality zinc alloy and its length is about 25.6 inches.
For a true metalhead, wearing this necklace to a Guns n' Roses concert can mean the world. Besides, it is also suitable for regular wear, so you can proclaim your love for the band all day every day.
17. FIBO STEEL Stainless Steel 
Skull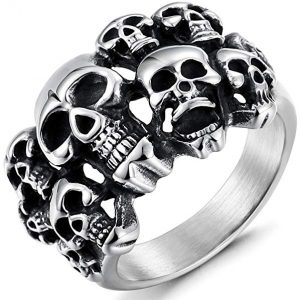 FIBO STEEL carves intricate designs onto steel, often with a skull theme. In the Multi Skull Head ring, the brand pushes the limits with punk style and the art of jewelry.
Made from quality stainless steel polished to fine silver and a brushed matte inner surface, the ring is covered with multiple skulls merged together. The sunken pits and the menacing sneers add a spookiness to this piece. It is available from sizes 8 to 14 and anybody, man or woman can wear it as long as they have the style for it.
Big, bulky and shrouded with skulls, the wearer of this ring is not to be messed with. For the one who is the most intimidating person in any room, the Multi Skull Head ring is for you.
18. EVER FAITH Women's Austrian Crystal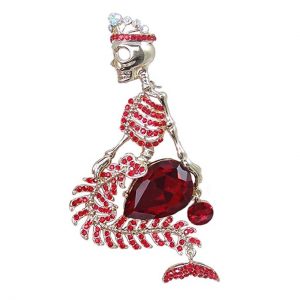 For a Halloween costume or to add a jolt to your cocktail dress, this brooch does it all beautifully. EVER FAITH proves that fashion really has no boundaries and you will always find something that appeals to your personal style.
Shaped like a skeletal mermaid studded with red stones, perched on a beautiful red teardrop stone, this brooch is gorgeous jewelry with a skull as its centerpiece. To top things off, the skull even has a beautiful bridal-like tiara, making it a complete water princess. The golden backdrop against the shimmering red crystals is, of course, a stunning combination.
If Ariel speaks to your soul, this brooch is for you. Glamorous, feminine and adorned with a skull- the Mermaid Skull Crown Brooch looks like a dream.
19. CoolSteelAndBeyond Men's Gothic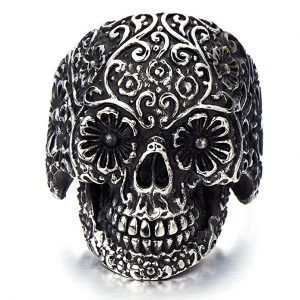 The name of the brand, COOLSTEELANDBEYOND, says it all. The Gothic Biker Sugar Skull ring is made from stainless steel and above all, it is infinitely cool.
The charm of this ring lies in its vintage appeal, brought out by the charred black color. Although it has an ornate sugar skull pattern, it leaves out the carnival colors, replacing it with a grungy hardness. However, it is a highly decorative piece, adorned with skilled artistry. At 13.6 grams, the metal and it's baroque makes it a weighty ring.
When you think skull jewelry that is not too gothic nor too frilly, this ring instantly comes to mind. Dark, unique and heavily patterned, this is for the uber-cool man who knows the ropes of style.
Styling Tips for Skull Jewelry
If you think skulls are only meant for cults, well, times have changed. Taking a page from fashion, anybody can rock the look.
For someone only starting with skull jewelry, maybe start light. Small stud earrings or a charm bracelet are perfect for a newbie's foray into the statement style. Body Candy White Sugar Skull Stud Earrings and Alex and Ani Calavera EWB Bangle Bracelet are two cute accessories you can wear any day at any time of the year.
It's time we dispel the myth that skull jewelry only goes with black outfits. For skull jewelry that complements bright patterns, try rose gold and silver colors. Dazzle flash Skulls Necklace, for instance, can be worn with any color you have in mind.
Who says gothic skull accessories aren't for women? There are plenty of unisex designs out there that any woman can pull off if she wishes so. Karseer Romance Forever Skull & Rose Charm Pendant Necklace has an appeal across all genders. FIBO STEEL Multi Skull Head Rings is another unisex accessory, built for the strong-willed person.