Mix / Rings / Women
Alexandrite Rings Are So Unique: Pick Yours Before We Do!
If you've ever seen an alexandrite gemstone you'll already know that it's something quite special. What's unique about the stone is that it changes color in different types of light which is why it's often referred to as a magical gemstone.
Alexandrite, stones come from the gem variety of the chrysoberyl and are 8.5 on the Mohs scale for hardness. This means that they are only just softer than a sapphire so they are fairly hard and robust and a great option if you're looking for a beautiful gemstone ring!
These gemstones can range in color including deep purple, green, blue, yellow, pink and red. Interestingly, the color of the stone is dependent on the quality of the light source. For example, the average person's eyes are more sensitive to green light so they are more likely to see the green/yellow colors within the stone when viewed in daylight.
However, when the stone is viewed in incandescent light, this will cause the gem to appear more reddish. An alexandrite gemstone would make a fantastic stone to feature in an engagement ring because of its color changing quality. This stone is truly something extra special!
The stone is considered to be one of the most expensive and rarest gemstones in the world. The gem was first discovered in Russia by Tsar Alexandra II, which is where the stone first got its name from. The majority of these gems are now sourced in Sri Lanka, Brazil, and Russia. Tanzania is also known for producing some lovely alexandrite gems.
Alexandrite gems are known as the birthstone for June and the birthstone for the zodiac sign of Gemini.
Our 10 Favorite Picks!
1. Elizabeth Jewelry Purple Alexandrite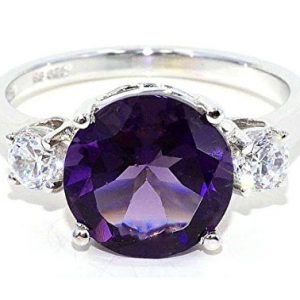 To begin the list of our top ten favorite pieces we chose this stunning purple alexandrite ring!
This ring features a beautiful purple colored alexandrite gemstone that has been positioned securely in a prong setting. The size of the stone is approximately 10mm in diameter. As well as this lovely gemstone, the piece also features two cubic zirconia stones that have been positioned either side of the gemstone which give the ring a breathtaking sparkle.
These are clear stones which are approximately 3.5mm in diameter. The combination of the purple colored alexandrite and the clear cubic zirconia works really well together.
When it comes to the structure , this piece of jewelry has been crafted using a sterling silver metal that has a rhodium plated finish. What's great about this piece is that the sterling silver gives the ring a beautiful smooth finish and shiny surface making it look utterly gorgeous. The rhodium plated finish makes this piece very strong and durable.
This special piece of jewelry will comes in a cute jewelry box which will ensure it arrives safely. This also gives you somewhere to store your ring when you're not wearing it. This ring is being sold by Elizabeth Jewelry for a low price, making it a fantastic buy!
If you take a look at the jeweler's website you'll see that they offer an extensive collection of beautiful pieces including from earrings, rings and bracelet. The jeweler also features a variety of different gemstones in their jewelry, giving you plenty of choices.
2.Silvershake Engagement Ring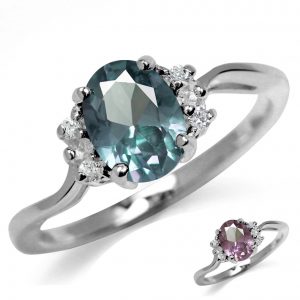 If you're looking for a traditional style ring, this piece is a fantastic option to consider, especially if you want to surprise the special lady in your life with an engagement ring!
This gorgeous piece features an oval shaped gemstone in the center of the band. This synthetic stone will change from light green to a deep blue and purple color, so if you like the sound of these colors, you'll love this engagement ring!
This stunning ring has been securely positioned in a four prong setting which is surrounded by four clear crystals which adds a lovely shimmer.
Although the bright, clear crystals are much smaller than the large oval stone, they complement the gemstone really well and help to make the gemstone's color even more noticeable. These smaller gems are also held in place by a prong setting which further adds to the overall design.
The main structure is sterling silver which has a rhodium plated finish to it. The sterling silver gives this piece a stunning shine and smooth finish. The rhodium plated finish also gives this ring durability which means it will last for years and years to come.
It also has a really nice backdrop to the alexandrite gemstone and the simple band makes this a really elegant ring. The band further adds to the overall feel of the ring by having a small link next to the head of the ring. This draws your eye to the large gemstone and is a really nice unique feature.
This stunning piece will arrive in either a pretty fabric pouch or cute jewelry box.It is being sold for a low price, making this piece of jewelry a fantastic buy!
3. GemStar Oval Crown Ring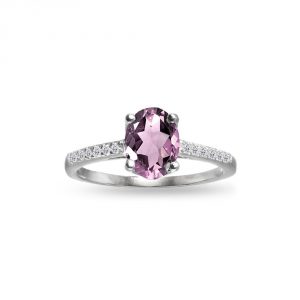 If you love the color pink just as much as we do then you'll simply adore this sparkling piece. It's extremely girly and shimmers in the light – you won't be able to take your eyes off it!
This beautiful piece features an oval shaped simulated stone in the center of the ring. The gemstone colored in pink has been cut into an oval shape and is approximately 8mm by 6mm in size. This exquisite stone is positioned securely along the band alongside dozens of white topaz gemstones.
You'll notice when wearing it, the band will give a dazzling glow which will catch your eye and everyone else in the room.
This ring has been crafted out of sterling silver and is tarnish and nickel free. It is available in a variety of sizes including 5, 6, 7, 8, 9 and 10. If you're not 100% satisfied with this ring the jeweler offers a 30-day money back guarantee if you're not happy with your ring, however, we doubt this will be the case with this gorgeous piece!
It will arrive in a cute velvet pouch which will keep your ring safe and protected from any scratches. It is being sold by GemStar USA for a low price. If you take a look at their collection you'll notice they offer a variety of pieces including, earrings, necklaces, bracelets, and rings.
4. Jewels For Me Trillion Twist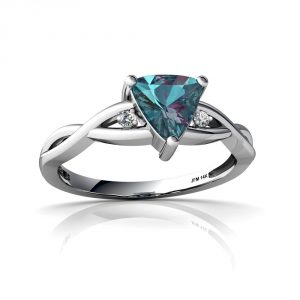 Every now and again there's a reason to buy something rather special and this ring is certainly special! If you've got a higher budget and you're looking for a piece of jewelry that will stand out, this ring is one not to miss.
At the center you'll find a stunning trillion cut alexandrite gemstone. This is a synthetic gemstone which is very attractive coming in at 0.77 carats. The gemstone is simply stunning and is finished really well using an elegant three-prong setting.
The ring that we've reviewed includes a 14ct white gold band which we think works really well with the deep color of the alexandrite gem. It's worth noting however that it is also available in rose-gold and yellow-gold if you'd prefer, so you've got lots of options to suit your taste.
Sitting comfortably either side of the gemstone are two smaller round cut diamonds which add further sparkle to this ring. The bright shine of these diamonds certainly add extra elegance to this ring and it's sure to sparkle effortlessly.
One of our favorite features of this ring has to be the shape of the band which has been designed to weave around the finger and cleverly holds the smaller diamonds in place. If you look carefully you'll notice that the small diamonds are actually set within a simple three prong setting, but from a distance, it looks as though they are held in place between the weave of the ring.
This is a very clever design that adds to the overall design. The intertwining design of the band has an almost Celtic feel and is a nice contrast to the much larger and triangular cut of the gemstone.
It's available from Jewels For Me and a quick search on their products page shows the wide range of quality items that they offer.
5. Peora Marquise Ring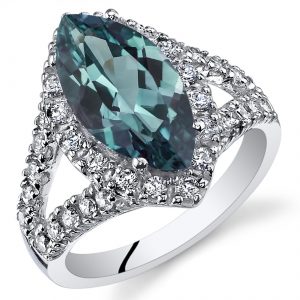 Sometimes when you look at a ring you can't help but say 'wow'! It stands out for all the right reasons and you'll notice straight away that it looks very different depending on the angle that you're viewing the ring.
At the center there is a 3.5 carat (yes, 3.5 carats!) marquise cut alexandrite gemstone. The gemstone is very large! It's also very attractive and this simulated gem is effortlessly held in place by a simple four prong setting.
This is another piece that has been designed in a very clever way and as a result, you may not even notice the prongs which hold the gem in its firm setting.
Surrounding the large gemstone are 36 smaller crystals which add a noticeable amount of sparkle. These crystals help to frame the gemstone really well and add an extra level of bling!
Another stand out feature is the wide band which helps to make this a very comfortable ring to wear. At the bottom of your finger, the band is much thinner which means that it's fairly easy to put on and off your finger.
It is, however, worth noting that due to the size and depth of this ring, it is potentially more likely to snag on clothes. This is, however, a small price to pay for an otherwise very sparkly piece!
The band is made from rhodium flashed silver which helps to make this ring very durable and very shiny, which again adds to the bright and sparkly design. For the price tag, we think this ring is a real bargain!
6. Silvershake Simulated Color Change Ring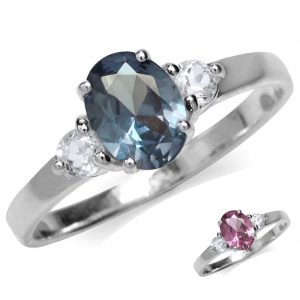 One of the most mesmerizing features of the alexandrite gemstone is the way that it changes color in different lighting, and how better to show this off by letting the gem do all the talking? This ring has a very minimalistic design which is 1.81 carats.
Secured in place by a simple four prong setting, the design is very simplistic and clutter free which helps to draw all attention to the large gemstone.
Sitting either side of the gemstone are two smaller crystals which add further elegance to this ring. The clear, bright crystals complement the stone really well and no matter what shade the gemstone is emanating, the trio of gems look wonderful together.
From the side, you'll see that this is a well-made piece and the gems are held in place securely. The rhodium plated silver band is simple yet elegant and further adds to the overall feel.
We'd recommend wearing it either on its own or with a simple wedding band. It has a really classy feel and for such a reasonable price tag it's a great option if you're looking for a low-cost item of jewelry to wear for any occasion.
7. Jewel Zone US Fashion Ring in 14k Gold

If blue is your color take a look at this stunning piece!
In the center there is a beautiful oval simulated alexandrite which has been positioned in place by a four prong setting. The gemstone weighs approximately 3 carats. What's really eye-catching about this ring is the band.
As you'll see the band is covered in white cub zirconia diamonds that give the ring a beautiful shimmer. This quality definitely adds a standout addition. You simply can't miss the sparkle that comes off this ring!
The ring's band has been crafted using a white gold plated silver. As you'll see from the image the band is extremely shiny and smooth, particularly the inner surface, making it very comfortable to wear. It is also available in rose-gold plated silver and yellow-gold plated silver, giving you plenty of options.
We definitely think this option would make a beautiful engagement ring to give to someone special. It is available in sizes 4, 5, 6, 7, 8 and 9. It is being sold for a low price by Jewel Zone US. If you take a look at their site the jeweler loves their diamonds.
8. Jewels For Me Pear Gothic
This dainty style piece is really something classy.
The blue alexandrite stone has been cut into a pear shape that is approximately 7mm by 5mm in size. We think the pear shape gem is similar to that of a heart shape. Either side of the gem, the ring features a small circular white cubic zirconia stone which adds a touch of sparkle to the ring.
The stone has been positioned in a four prong setting along a 14kt white gold band. The band has been beautifully crafted with curving lines and cutouts, giving it a unique design.  If you don't like white gold this ring is also available in yellow gold and gold rose.
This gorgeous piece comes in a pretty jewelry box and lovely gift bag so if you're giving it as a gift to someone special there's no need to wrap the ring because the jeweler has already done it for you!
This classy option would make a perfect engagement ring. Sold for a high price by Jewels For Me, this ring is a very elegant piece which is definitely worth the dollars. Their site features a variety of pieces including earrings, pendants, and rings.
9. ICE CARATS Birthstone Band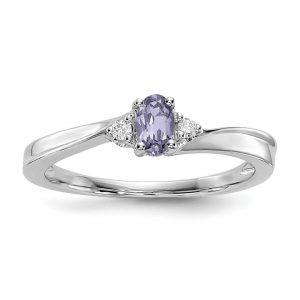 Beauty can come in small packages and this option by Ice Carats is no exception!
The design of this ring oozes elegance! The piece of jewelry features a small oval purple gemstone that has been placed in a four prong setting. Either side of the stone, the piece includes a cluster of Swarovski crystals that add some shimmer and sparkle to this ring. The ring weighs approximately 0.35 carats in weight.
The band has been crafted using a solid sterling silver metal. This high-quality premium material is extremely smooth and shiny. What's great about this silver is that its nickel free and hypoallergenic, making it suitable for people to wear who have sensitive skin. The jeweler also offers a 100% satisfaction money back guarantee.
Your beautiful piece will arrive in a sophisticated white Ice Carats jewelry box with a black ribbon bow on the gift box. Just wait until you put this ring on your finger, you'll be very pleased with the piece. It would make a fantastic gift to yourself or even a birthday present for the lady in your life.
This elegant ring is being sold by ICE CARATS for a medium price and would make a fantastic addition to your jewelry collection. Browsing their website ICE CARATS are truly one of a kind! The jeweler offers an endless selection of unique pieces.
10. White Gold Diamond Ring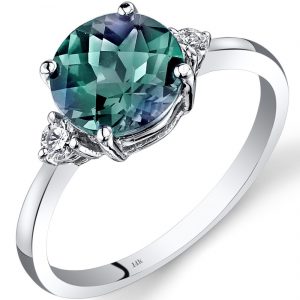 To finish off our top ten list we've chosen this stunning alexandrite diamond ring because we love it!
This classy piece is a little pricey coming with a higher price tag however we think it's well worth the money. The round cut stone is positioned in place by a four prong setting. You'll notice the color of this gem will change between green and blue, giving you a gorgeous shade!
The size of the gemstone on this ring is approximately 8mm by 8mm which means that it will stand out and really catch people's attention, with the large gemstone weighing 2.25 carats. The round cut of this gemstone is very pretty and it gives this piece of jewelry a classic feel that you can easily match to any outfit. This means that this ring is a great choice if you're looking for something to wear on a daily basis.
Even though we think the stone on its own is enough to give this ring a stunning sparkle, the designer of this piece has added something extra by adding two clear diamonds on either side of the gem. The two smaller circular shaped diamonds give this ring a wonderful sparkle which you won't be able to take your eyes off! As with some of the other options that we've reviewed, matching the large gemstone with bright crystals or diamonds is a fantastic design and the three gems on this ring work really well together.
One way that this ring achieves such a classy and elegant look is in its simplicity and this is something that is continued in the design of the band. Made from 14k white gold, the band of this ring is simply stunning.
Meaning & Value of an Alexandrite
This gemstone is known for aiding creativity and can inspire the wearer's imagination. They are also supposed to strengthen the wearer's intuition in critical situations.
The closer the gemstone is to red or green and the more distinctive the color change is, the higher the stone's value. An alexandrite can vary in the amount that it changes color. This can range from 5% to 100%. As with many gemstones, as well as color, the clarity of the stone is another factor that will affect the price that you will pay for your gemstone.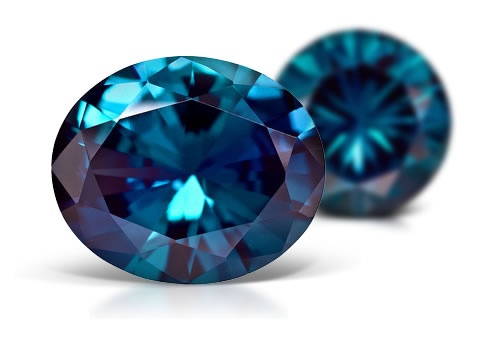 For example, if you had two stones, one which had 100% color change and the other 40% color change, the 100% color change stone would have a higher value. Natural gemstones also have a higher value in comparison to a synthetic gem which is likely to be much cheaper.
However, don't worry if you've got a smaller budget as synthetic gemstones can often be just as beautiful and as robust as natural gemstones and there are a range of synthetic gemstone rings which are simply stunning (some of which are included in our top ten list!)
Gemstone Care
Alexandrite is a very durable and tough stone. Unlike other stones, this gemstone is resistant against the effects of heat in normal weather conditions and light. To ensure that this gem is kept in the best condition it should be stored in a jewelry box or soft pouch when not worn. This will help in preventing scratches to itself and other pieces of jewelry.
It is also suggested that you avoid wearing your gemstone when in contact with liquid cleaners or soap because these can cause your stone to dull in color. Cleaning detergents like bleach or chlorine can also cause the stone to erode so it's best to stay away from these when wearing your piece of jewelry.
The best way to clean an alexandrite is to rinse it in water and then dry the piece of jewelry with a soft jewelry cloth.