Earrings / Necklaces / Other
Beautiful Shell Jewelry We Fell in Love With This Summer!
Marianne 12 Mar 2020
2250
The summer season is the perfect time to go hang out at the beach! It's a great way to beat the heat and humidity than to take a dip in the cool, refreshing water. What better way to accessorize than to adorn yourself with one of the most iconic objects from the beach – shells! There are so many kinds of shells in the ocean, and there are speculated to be at least 50,000 and up to 200,000 species of mollusks currently alive that they could come from.
Mollusks are animals such as snails and mussels, but also include octopus and slugs. Pretty crazy that octopus and snails are in the same family, isn't it? Most of the shells we see washed up on the beach come from sea snails – 80% of all known mollusk species are snails and slugs!  Even so, the variety of shells is incredible. You can have spiky shells, smooth shells, shells with a small spiral, or a long tail! They come in so many different colors and patterns, it's almost impossible to classify them all.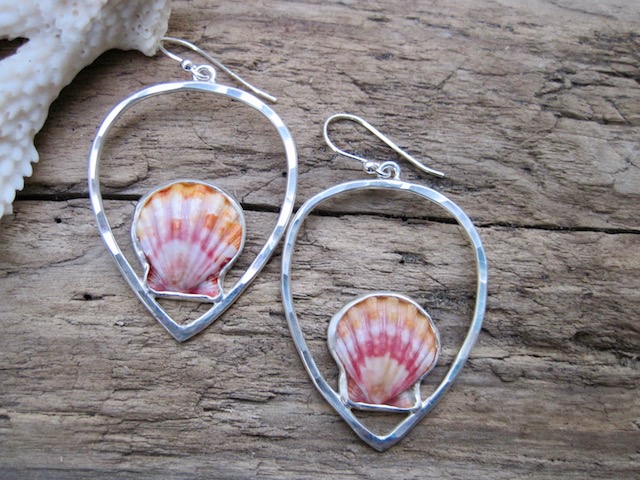 Seashells have been a mainstay in jewelry for thousands of years, with some of the first jewelry created by early humans using shells. They're an extremely versatile crafting reagent and can be turned into beads or simply used on their own. Some shells, such as abalone, can be used as an inlaid material, meaning they are polished and set into whatever metal the jewel crafter is using for their project. But shells haven't only been used in jewelry; one of the pieces of jewelry we've picked out for you is even made from a shell which used to be considered currency in a large portion of the world! The cowrie shell may have been replaced by coins in the modern era but make no mistake – it was still important as a currency merely 150 ago.
The great thing about shells is they have a variety of styles you can attach them to. There are so many ways you can wear shells, and it's not just limited to the traditional surfer or beach babe look. Perhaps you're more of a boater and are looking for something a bit more nautically themed. Shell motifs made of more traditional metals will allow that style to shine!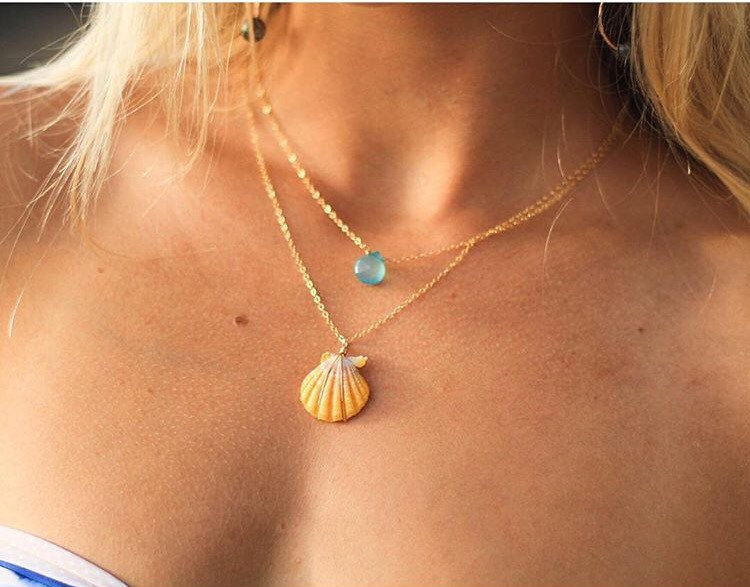 But if you are a beach babe, don't worry – we picked out a few things for you in this list, too! Wearing shells shows the world that you're the type of person who is carefree and spirited. Your fun personality will shine through with these shell-inspired pieces.
Become an ocean goddess with these ten pieces of shell jewelry we fell in love with this summer. We're sure you'll love at least one of these ten pieces of jewelry we've picked out!
1.Alilang Women's Ocean Seashell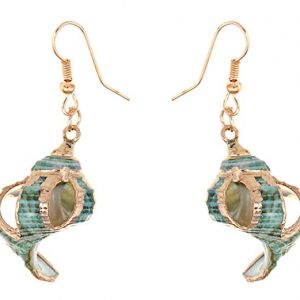 What better way to channel the aesthetic of the ocean than to have real seashells as jewelry? We found these beautiful and lightweight shell earrings from Alilang. You could pair these with several different types of outfits. They would go great with a sundress or other type of flowy garment – perfect for hanging out on the beach. If you're landlocked and stuck in your usual jeans and t-shirt, you can channel a nautical vibe by adding these to your ensemble. They're sharp enough to be a statement but subtle enough that you can pare them down for the office if needed. No matter how you choose to wear them, these adorable earrings have just enough kitsch to add that unique flair to your outfit, no matter the occasion!
The best part about these earrings is that you have five different styles to choose from. If you're interested in statement pieces, you could choose the beautiful teal helmet shell with gold gilding. If you're looking for something more striking, there's a peach murex shell with silver gilding. Both of those would let you stand out in a crowd!
If you're more interested in subtle jewelry, you have a choice between a rust-colored cereth shell or a white and brown sea snail shell. Both colors come with gold gilding along their edges. If you're looking to have a completely natural looking shell, you can choose the white and brown cantharus shell earrings. Personally, our favorite is the green and gold shells – the shape of the helmet shell is exquisite, with a wide body and narrow tip and tail. Plus, the gold gilding contrasts with the color of the shell so well, creating a striking combination of color. You don't want to pass up on these!
2. Bienvenu 2pcs Pearl Ankles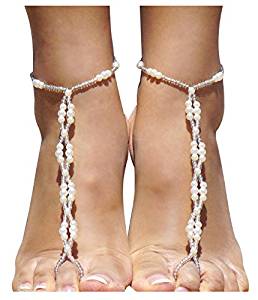 Have you heard of a barefoot sandal before? It's a piece of jewelry that looks like you're wearing a thong sandal but allows you to be nearly barefoot. It's really a great invention, as anyone who's walked on the beach in shoes will tell you, doing it with flip flops or other sandals is difficult – I can't tell you how many times I've gotten my own shoes stuck trying to walk on the beach. These barefoot sandals are a great compromise to shoes – they're the best way to look cute while still being able to dig your toes in the sand, which is arguably the best part about being on the beach! With ten different varieties to choose from, you can mix and match these barefoot sandals to any outfit you've got. They're affordable as well so you can grab a variety of them to spruce up your outfits while you're out being the sun goddess that you are!
We personally loved the cowrie shell and pearl design (White Style 2) and the starfish and shell design (White Shell) but if those aren't your style, Bienvenu has eight other styles for you to pick from. You can choose from pearls, beads, or even a tiered metal design if that is more of your style. These would be perfect for wearing while walking along the beach, while you're on vacation at a resort, or at a beach-themed wedding. You could even use these as a budget-friendly piece of flair for your wedding party if you've got your own coming up. No matter what the occasion, if you want to add a bit of ocean pizazz to your feet, this is the jewelry to you need!
3. SANCAN 2018 Ocean Jewelry Sets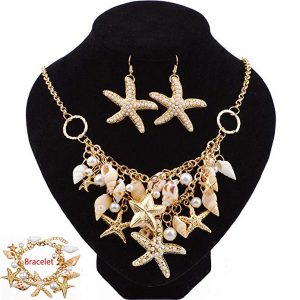 This statement jewelry set from Sancan is the epitome of boho beach babe! It's huge, it's unconventional, and it's totally something you'd see on a shell-hunting, sun-soaking beach goddess. Even better, not only do you get this fantastically adorned shell necklace, but also a matching bracelet and earrings to go with it – what a steal! The gold colored starfish charms match the necklace chain, and there are several shiny pearls embellishing both the bracelet and necklace. Add on the shells adorned across the necklace, and you've got a fun and funky collection of jewelry made for someone who wants to stand out on the beach. It's easy to imagine having fun and hanging out with friends in a cute sundress and sandals with this jewelry on! We're a fan of over-the-top necklaces this summer, and this set screams "look at me!"
Since these shells are so daring, you have a variety of ways you could wear them. This set is perfect for beachwear or walking around town in the afternoon. Pair it with seafoam green or ocean blue in your outfit for a nice, bright contrast with the natural tone of the shells. It would also go perfectly with any type of mermaid-themed outfit, whether it be a swimsuit, dress, or even shorts and a cute shirt. If you're more into darker colors, you could pair this three-piece set with an off-the-shoulder dress in an earthy tone such as olive to really make the gold color pop. There are so many different ideas for outfits you could wear! This set really does capture the essence of the beach. Show off how fun and flirty you are with this gorgeous ocean jewelry set!
4. Floral Vine Ornate Earrings
If you love shells but prefer your jewelry to have a bit more color, these abalone shell earrings would be perfect for you! Abalone is classified as tiny mollusks and belong to the same family as clams and oysters. Their shells have been used for centuries by humans and are important to a lot of native cultures around the world. Also known as "mother of pearl," abalone shells are used in a variety of applications such as decorative bowls, guitar frets, and jewelry like you see here. You may even be familiar with abalone as a paua shell, which is a common term in New Zealand for this type of mollusk shell. No matter what you call them, they're renowned for their beauty worldwide and are a must in any shell-lovers jewelry collection.
With Aeravida, every piece of their jewelry is crafted by local artisans. This piece is handcrafted by artisan Goong, whose goal was to use her native materials such as silver and semi-precious stones to create wearable art. Goong delivers with a delicate, yet intricate filigree holding the abalone shells in the earrings, with a leaf motif in the center. They truly are a work of art, made with genuine .925 sterling silver and green-toned abalone shells. They're also incredibly light, weighing in at only 4 grams. You could pair them with pearl jewelry, or any other abalone and silver-based piece as well. These earrings are the "fish hook" style, meaning they dangle on your ears and do not require a back clasp to stay on. A nice benefit of this style is you can also wear them if you've had your ears gauged out for plug or tapers, so you don't have to be stuck with only necklaces, rings, and bracelets in your ocean-themed outfit! Don't let these earrings slip by – they're one of our favorites.
5. Abalone Leaf Shell .925 Sterling Silver Ring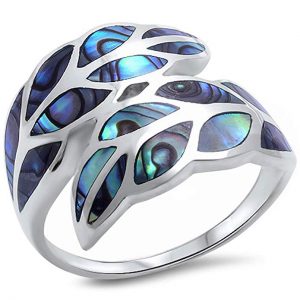 If you enjoyed the abalone earrings above, but rings are more your thing, check out this beautiful sterling silver and abalone ring from the Oxford Diamond Company. They've been in business for over thirty-five years and are located within the Jewelry District of downtown Los Angeles, California. This district has a rich history dating all the way back to the early part of the twentieth century. It boasts a staggering $3 billion annually in revenue and has nearly 5,000 shops in total within it. It's not easy making it for so long in the Jewelry District, and Oxford Diamond Company continues the tradition of well-crafted and modern jewelry with a West Coast flair.
The abalone shells are inlaid into a leaf motif that wraps around your finger, connecting at the center-top of the ring. It's a lightweight, but strong silver ring weighing in at only 6 grams. An excellent statement piece, this is well suited to wear on your thumb, index finger, or middle finger. This unique piece shines glamorously in the sun, with a subtle flash of color and shine indoors. The inside of the ring is smooth as well, so you'll be comfortable wearing it for long periods of time. It's also durable to the elements and can withstand getting wet – perfect if you're out on the beach hunting for shells! If you liked the earrings above and can't decide between the two, don't fret! Think about pairing the two together – this gorgeous ring is a natural companion to them.
6. Scallop Shell Bracelet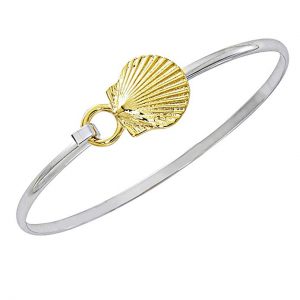 This is an authentic Cape Cod Jewelry piece – if you love shell jewelry, you may be familiar with this company already! This company specializes in what they call "relaxed elegance," focusing on nautically themed jewelry for over thirty years. The best part about Cape Cod Jewelers is that everything is locally made in Hyannis, Massachusetts, so you know you're getting a quality piece of jewelry that's had a lot of love and dedication put into it. In fact, each piece that you order from them is individually crafted so you can be guaranteed that your piece of jewelry is unique and just for you.
This two-tone cuff bracelet features a bright silver wrist, with a 24k gold-plated scallop shell on the clasp. The wrist portion of this bracelet is cast in pewter and finished with rhodium to protect the metal and provide a beautiful, high-polish shine. The shell portion of this bracelet is cast in pewter and then plated with pure 24k gold. You can choose between two sizes when purchasing this bracelet: either 7″ or 8″ wide, depending on how you'd like it to sit on your wrist. The hook latch clasp on this bracelet allows for ease of wear and removal. With this elegant design, you can wear this bracelet for a multitude of occasions, from grabbing drinks with a friend to hanging out at a seaside club dancing the night away! It would go perfectly with a nautical-themed boatneck shirt and short jean shorts – think navy and white. Add a captain's cap, and you'll look like you're ready to sail your own schooner!
7. Ritastephens Sterling Silver Pendant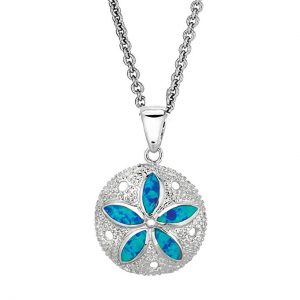 If you've spent a lot of time on the beach, you may have come across a sand dollar before. Also known as sea biscuits and pansy shells, sand dollars are sought after by many shell hunters. Many shell hunters consider them to be the crown jewel of their collection due to how delicate they are once cured properly. They're a pretty rare find on their own, as they typically live deep within the sand, as they are a burrowing type of sea urchin. Some people will go hunting for these while they're still alive by digging feet into the sand on the shore or going scuba diving and digging in the sea floor. The white coins you see on the beaches are their sun-bleached skeletons, or tests, that have been washed up from the ocean current.
But since these beautiful shells are far too brittle to be worn as a piece of jewelry on their own, we looked for silver jewelry instead! We've found this gorgeous necklace from Ritastephens that has a bright blue lab-created opal inlay on a .925 sterling silver pendant in the shape of a sand dollar. The pendant itself 20mm in diameter, which is slightly larger than a penny, and it comes with a matching 20″ sterling silver chain. With the opal making the iconic sand dollar flower motif, this necklace brings a fresh take on this beautiful shell. A subtler piece of jewelry, this would go well with everyday wear. You could play up the blue hue by matching it with a blue belt in the same hue, or other subtle accents in your outfit. You don't want to detract from the blue opal by drowning it out with too much of the same color, so remember – basic is better with more delicate pieces like this!
8. POTESSA Natural Shell Beads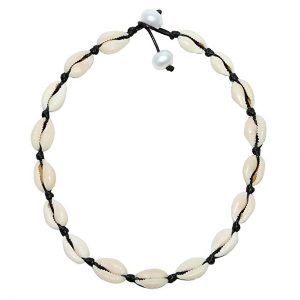 You've undoubtedly seen this type of necklace before – this style is a classic with surfers, beach babes, and beach bums alike. These little shells go back way further than surfers, though. They were used as currency for nearly a thousand years in many parts of the world, in addition to being used for jewelry, rituals, and other decorative purposes. The cowrie shell's influence is so great in human history that the classic Chinese character for money, 貝, is a stylized drawing of a cowrie shell! Even though they're not used as currency today, they're still beautiful and lend themselves well to that island and beachy vibe.
These little shells have such a cool history, and they're super stylish in beachy fashion – you really can't go wrong with this classic cowrie shell choker! The cowrie shells are handpicked so each shell and necklace will be as unique as you are! There are several sizes and styles to pick from. You can choose between either a black or brown wax cord. The available sizes include 14″, which is the size most women would wear, a 16″ if you have a slightly larger neck or an adjustable size which would fit the range of sizes while allowing it to go even smaller if you'd like. You could even pair this choker with the barefoot sandal (#2) made of the same type of shell. Show off your beach babe vibe with this cute and versatile choker!
9. Sterling Silver Natural Larimar Seashell Pendant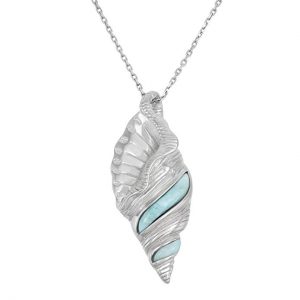 If you're looking for something to remind you of that beautiful blue-green hue of the ocean in the summer, this necklace from Beaux Bijoux would be a great addition to your jewelry collection. Designed by European designers who follow the latest fashion trends, this necklace has a genuine .925 sterling silver seashell pendant which is coated with rhodium for high shine and protection. The seashell is also inlaid with Larimar. If you're not familiar with larimar, that's okay – it's quite a rare stone! Larimar, or Stefilia's Stone, is unique in that it's is only found in the Caribbean within the Dominican Republic. It really is a unique and trendy piece of jewelry!
The seashell pendant is about one inch long and comes with an 18″ chain. It's flat in the back, so the necklace will always rest flat on your chest when wearing it – a nice feature to always display that beautiful blue hue of the larimar! You'll want to take care of your larimar stone by avoiding too much sun – the blue color within the stone is sensitive to light and can fade if exposed to extreme heat and light over time. You can still wear it outdoors, but it may be better suited for indoor activities if you'd like to keep this piece as bright of blue as it was when you received it. There's nothing wrong with having a piece of jewelry for indoor date nights!
10. Bottled Up Designs Recycled Vintage Mason Jar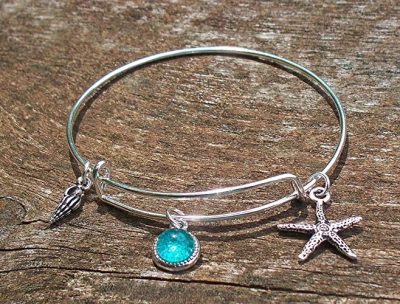 If you want to mix a bit of country flair with beachy vibes, then this bangle bracelet is perfect for you! A handmade piece from Bottled Up Designs, they combine aquamarine gems made from vintage mason jars and broken bottles in the woods, reclaiming them into various glass gems. The seashell and starfish charms are made with pewter. If you're a fan of having more charms on a bracelet, you can easily add them to this bangle bracelet as well. Fill it up with as many cute seashell charms as you'd like! With its minimalist design, this bracelet makes a nice accompaniment to a simple outfit – think a cute flannel shirt with blue jean shorts, or a white or pastel colored sundress. Pastel pink, orange, or yellow would be a great contrast with the aquamarine gems on the bangle!
Plus, if you're a fan of wearable history, Bottled Up Designs includes a "History of the Glass" with each piece of jewelry they make so you know exactly where your jewelry is from, and what it's made of. The company prides themselves on making wearable art that reclaims glass from old bottle dumps, wooded habitats, and rural farmlands in Pennsylvania's Amish Country. Not only is this bracelet a great way to contribute reclamation efforts of old glass bottles, it's a great conversation starter and one that you can be sure to appreciate and share no matter the occasion.
No matter if you're going to the beach to soak up some sun, about to grab lunch at the local crab shack, or go to the fish market, be sure to accessorize with shells! They're such a fun and creative way to express your beachy style. Even if you're just wishing that you could lounge in a resort somewhere far away from your normal life, you can bring that ocean vibe closer to you with shell-inspired jewelry.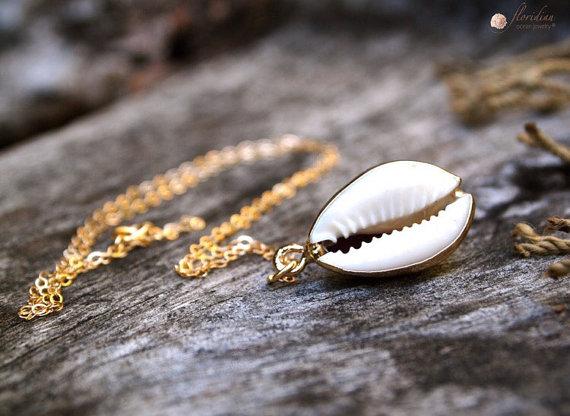 If you're thinking about relaxing on the beach while getting a deep tan, be sure to consider jewelry that won't give you funky tan lines. You would be best suited to wear earrings such as those beautiful abalone teardrops (#5) or one that cute bangle bracelet (#10) made of mason jar glass! If you're more into a trendy lunch date, go with the bold, yet sophisticated green and gold shell earrings (#1) or that gorgeous bright blue opal sand dollar pendant. There are so many possibilities to mix and match from here, you'll be sure to find a way to compliment your personal style. We hope you enjoyed reading this list as much as we enjoyed making it for you. Which did you like the most out of the list? Comment below and let us know!