Mix / Women
What is a Cape Cod Bracelet + Why You Need One Now!
Cape Cod bracelets are about as simple as they come. Functionally they are nothing more than a simple, silver band and an equally simple gold ball pinned between each end. To wear the bracelet, the wearer simply unscrews the ball, slides the bracelet on the wrist and then screws it back together to keep it in place. That's it. Nothing terribly complicated and yet it is an iconic part of any classic fashion.
Where the Cape Cod bracelet really gets a reputation is the unique shape and gravity-defying fit. Ideally, the bracelet fits comfortably on the wrist sliding up and down easily. However, it is not so loose the gold ball falls to the underside of the wrist, keeping the visual interest on the top.
The marriage of the silver and the gold is highlighted without being uncomfortable or awkward because of the design of the bracelet itself. Again, the concept is wildly simply and yet achieving a stunning effect.
Jewelry historians have traced the origins of the bracelet, but the various names remain a mystery as far as how they have come about. While it was created in Dennis, Massachusetts there is nothing particularly nautical about the bracelets.
A few more modern interpretations of the classic design may include a charm, but that charm can feature anything. It does not necessarily have to be nautical or ocean-life themed.
Additionally, while Cape Cod certainly has some quintessential style elements, none of them are readily apparent in the design or application of the bracelet itself. Alternative names for the Cape Cod piece is the Beach Ball Bracelet, the Screwball Bracelet, the Ball Cuff, and the Dennis Bracelet.
Our 10 Favorite Picks of Cape Cod Bracelets!
1. The Classic Cape Cod

A smooth band of 925 Sterling Silver joins at the classic screwball in 14k yellow gold. It may not be the authentic bracelet from Dennis, but it is just as good as. Plus, the price point is very, very reasonable. It is an instant classic that will really make your outfit complete!
Of course, there are more variations on the original nowadays and we will get to those in just a moment, but no list of Cape Cod bracelets would be complete without a nod to the original. We love this option if you just cannot make it into Eden Arts for a taste of the first.
2. Double Ball

Up next we double our love for this iconic style. And the bracelet doubles the orbs. This bracelet is the classic Cape Cod but available with two balls as a part of the screwball mechanism. Available from Unique Royal Jewelry it is 925 Sterling Silver with 14k yellow gold for the double ball.
The look is just as refined although the closure is a little bulkier. We think it adds a little texture to the overall feel without adding a significant amount of weight. It is still as refined as the original but maybe a little rarer as far as other collections go.
Since everyone wants to have a one of a kind experience while still paying homage to the classic, this double ball version is the way to go.
3. Beachball Bracelet

This monotone creation is straight from the Cape Cod area. Available from Michael's Jewelers in Provincetown, MA this is a stunning monotone version of the classic. Both the ball and cuff are created out of highly polished 925 Sterling Silver.
Various sizes are available; from six inches suitable for a child's wrist all the way up to eight inches. This size will fit most wrists.
The single color is a departure from the original creation, but it is a great option for those are just cannot get behind the dual tone. Some folks are not partial to the yellow gold tone. So, this is a great way to have a Cape Cod bracelet without the strictures of the classic design.
4. Twisted Rope

Once again, we reach into the jewelry cases of Massachusetts's own Michael's Jewelers to find this treasure. It is everything that is the classic cape cod but with a twist, literally. Instead of having a smooth, polished band this version of the Cape Cod adds a rope-inspired twist to the cuff portion.
It is still closed by a 14k yellow gold screwball. The cuff is still 925 Sterling Silver.
We love the texture and visual interest something as subtle as a twist adds to the piece. It gives it a slightly more rustic feel that we are really digging on. Or if rustic is a little off putting you could consider it slightly boho. No matter what you want to call it, we are crazy for this twisted version of the Cape Cod.
5. Rose Gold Cape Cod

This next one is right on trend. It takes the lovely styling of the Cape Cod and embraces it wholly. There's just one little tweak. The yellow gold screwball has gone a little rosy. The 14k Rose gold screwball closure definitely adds a touch of modern and a touch of vintage in one swoop. We are living for this combination right now. If you are too this version of the Cape Cod is perfect for you.
Offered by Lighthouse Creations, it still features 925 Sterling Silver along with the 14k rose gold. The bracelet measures 7.5 inches which should fit most wrists.
6. Twisted Ball

If we thought the twisted rope cuff portion was fantastic, we were delighted to find we loved this twisted ball version just as much. We revisit Light Creations for this stunning alternate. The cuff is a smooth and shining 925 Sterling Silver and the screwball is still a wonderful sunny 14k yellow gold like the classic version.
But Lighthouse Creations mixes it up a little by adding twisting and turning striations to the screwball closure. It is fantastic and we cannot get enough of it!
Available in six-inch to eight-inch circumferences, there is a size that is right for you in this version!
7. Cape Cod Inspired Wrap

This one is a little less Cape Cod and more Cape Cod inspired but we really love this whole look and could not help but include it. This one features a wrap of 925 Sterling Silver that wraps around your wrist coil style.
One end is capped by a Cape Cod-esque Rose Gold ball. You get the feel of the piece without fully committing to the icon. And we are all about inspired pieces here at Jewelry Jealousy.
This one is lightly sizeable by simply applying a small amount of pressure to the bracelet as you slide it on to your wrist.
8. Double Ball & Classic Set

Can't decide if you like the double ball or the classic version? Us either. So, we had to include your escape plan. Just buy both in a set and you are all set. Both the double ball and the classic are constructed of 925 Sterling Silver and 14k yellow gold.
Available from Unique Royal, you can select your size. However, both bracelets will come in the single size you select.
Keep one and gift one or keep both and layer. The choice is yours!
9. Triple Ball

Unique Royal really has us smitten with their Cape Cod options. This triple ball version adds just the right amount of heft to the bracelet. Due to the weight of the triple ball detail, the closure is shifted to the bottom side of the bracelet. It may not be true to the original but we love it anyway!
As with the others 925 Sterling Silver and 14k yellow gold make this bracelet a wonderful homage to the classic. We love it three times as much!
10. Cape Cod Fish Bracelet

Finally, we include another iconic Cape Cod bracelet style, the cod. The fishy little cuff wraps around your wrist. Detailed 925 Sterling silver forms the body while the cute little eye is constructed of a dainty little 14k yellow gold bead.
This was another piece inspired by the original creator of the Cape Cod style bracelet. This is a great piece for wearing in conjunction with any of the above bracelets!
This bracelet will fit wrists that wear 7.5 – 8.5 inches and is a lightly adjustable cuff style bracelet. Another piece by Unique Royal that is really a must have for the Cape Cod bracelet lover!
A History of Its Creation
The dual tone bracelets were originally designed by John Carey almost 50 years ago at his shop, Eden Hand Arts. He and his wife began marketing the simple balled cuff as a Dennis Bracelet, in homage to the town they lived in. They also tried calling them Dennis Screwball Bracelets in some instances.
They sold quite well to local and tourist early on. For the greater part of the three decades following their invention they went on, a quiet regional staple available in a small store in their home state.
However, and luckily for the rest of us, the Cape Cod bracelet became super popular in the early 1990s. We know that the red carpet, runway, television, and movies can make or break a jewelry look.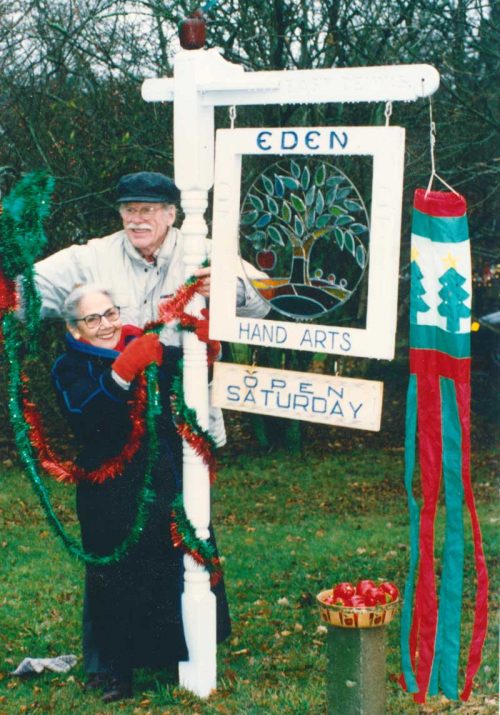 So, when Amy Jo Johnson wore one on the tv show "Felicity," it was a complete game changer for the simplistic bracelet.
Not too long after its national debut, it gained a national stage once more on the hit show The Bachelor. While taking his potential love interest on a tour of The Cape, Bachelor Chris Lambton gifted it to one of his potential love interests, Ali Fedotowsky.
Lambton was born and raised in Dennis, so he brought with him insider knowledge of the now iconic bracelet. He wanted to give Ali a little piece of his history and selected the Dennis Screwball Bracelet. The popularity of the simple band and ball combo was off the charts.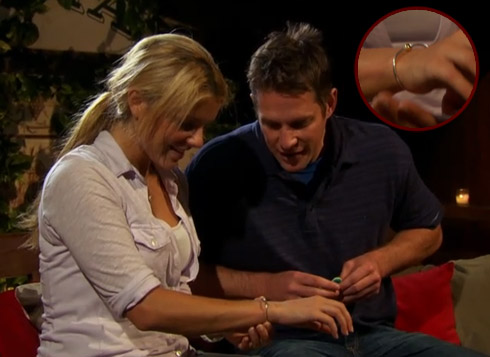 Eden Hand Arts is still in operation to this day and still prodigiously produces the original Cape Cod Bracelet. However, many other jewelry creators have co-opted the styling and increased both their design options and availability. If you want a true original for the sake of provenance, you'll have to head to Massachusetts. However, the internet offers a few options to get the look.
Now the simple ball and band have opened the door to a whole Cape Cod style of jewelry. Earrings, necklaces, collars, and rings now exist from a host of jewelry creators are now available. They feature the dual tone finish of the gold ball and silver which can create a unified matching look when worn in conjunction with other Cape Cod influenced pieces.
The simplicity of the design of the Cape Cod bracelets also began to expand as demand increased. Versions featuring two and three balls arrived as well as varieties of the bracelet that featured more than just the yellow gold and silver combo.
Rose gold, brass, copper, antique silver, and bronze entered the fray as well. Bracelets similar to the Cape Cod style bracelet featuring pave set stones such as diamonds arrived on the jewelry scene post-1990s fame as well. Additionally, the bracelets added a bit more visual detail featuring a twisted type of cuff instead of the simple version. Chain link bands attached to gold screwball closures are also available.
The manufacturers that have since picked up the various versions of the Cape Cod bracelet have brought endless variety to the market. However, in spite of this, they have remained true to the Massachusetts roots of the creations. Their impact has spread the world over.
Five decades after their original conception and creation of a now iconic bracelet, Eden Hand Arts is the place to visit to get authentic Cape Cod jewelry. The originator of the bracelet kept making these by hand until a few years ago. He passed away 6 years ago but his family picked up the mantle of creation and marketing. The Cape Cod bracelet in its original form is now created and sold by Carey's son in law and daughter. They have expanded their line in his wake, still housed and working out of his original shop.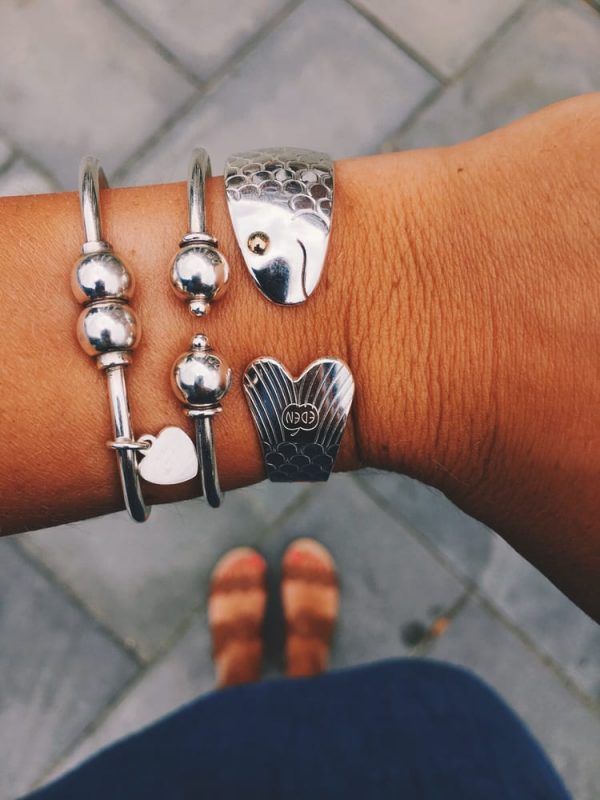 The tiny store in Dennis is unassuming and full of all the charm of the Cape and its people. Keeping the feel down to earth, the store only accepts cash and check, forsaking the more modern uptick of small businesses adopting credit cards and other digital forms of payment.
Unfortunately for the casual visitor the area, you cannot just walk in. The appointment must be made but this ensures a one on one, very personal experience. When purchasing an authentic Cape Cod bracelet, the staff members patiently wait on you, custom fitting your creation to your wrist.
The store employees just three people but the experience is so refreshing. It harkens back to the personalized service of the era of its creation, the 60s. I
The store does not allow photography, but they are aware their designs have gone global. It can be rather difficult to get your hands on the authentic creation. Admission to the store is incredibly limited and the process is rather lengthy working with the customer service agents.
If you are unable to make it to Dennis and the Cape Cod area, we have located a few options to quell your craving for a beautiful piece of classic jewelry. Here are our ten favorites!
Styling Your Cape Cod Bracelets
For regular readers of the blog, you know that we typically offer suggestions for styling your jewelry on a case by case basis. We will do things just a little bit differently today as the bracelet enjoy only subtle differences. No matter what gold tone or ball combination you select for your Cape Cod bracelet, our styling tips remain relatively the same.
The bracelet, in and of itself, is not what we would call chunky, but it does have a bit of a heavy presence on the wrist. The unique fit and wearability of the piece mean that it carries with it a fairly consistent style aesthetic. This bracelet can be worn as part of a layered look. You can add other bracelets to the mix but we recommend caution and self-editing on this front.
As a matter of definition, the Cape Cod bracelet rather defies categorization. It is not truly a cuff, nor is it a bangle. Really it is a class of bracelet unto its own. However, to create the layered look, treat it like a bangle.
Try pairing a small collection of other metal and wire Cape Cod bracelets. Your Cape Cod will be the anchor point and the weight behind the look. We think a couple of wire bangles would work well. Combine the two metal colors shown in your Cape Cod for the greatest effect.

We also think the classic Alex and Ani bracelet would pair well with a Cape Cod style bracelet.
Again, we advise the utmost of caution with the multi-bracelet effect. Too many and it will start to take on a rather juvenile look. Too few and it looks unintentional. The number of Cape Cod bracelets you elect really comes down to the outfit you are wearing and your personal style choices.
One layering idea that really works for us is pairing the Cape Cod bracelet with your watch or smartwatch. We love the look of adding just that bit of metal underneath your watch. Since the bracelet is fitted it is rather easy to stack it below a watch band of almost any style. We love the pairing so much!

To really celebrate the Cape Cod bracelet, we heartily recommend solo wear. This is a wonderful bracelet to add to a professional ensemble. It is classic, ageless and classy. It adds shine without being over the top and glamour without going full diva.
Just a peak of yellow and white gold from underneath the sleeve of your perfectly tailored blazer. It is a power bracelet to match your power suit. It would also work perfectly a blouse and pencil skirt ensemble. Because the bracelet is so very simple, it manages to speak volumes about how to put together you are.
Caring for Your Cape Cod
Bracelets
All your jewelry needs special care and cleaning to maintain its integrity over the course of its lifetime. The Cape Cod bracelet is no exception. Wipe off your bracelet after every wear with a clean, dry cloth. This removes the perfectly normal oils from your skin and any dirt or grime accumulated during the day.
This is the best practice for pretty much any piece of jewelry. It is most important, however, for metals and golds. Gold that is 14k or higher is a softer metal and prone to scratching. Even the small amount of dirt from daily wear can create tiny, little micro scratches if not removed carefully and regularly. Over time this can create tarnish and a lack of luster.
Moisture is also potentially damaging to gold and metal pieces. It can tarnish your piece over repeated exposure. Avoid wearing your piece in the shower or while swimming. It is not advisable to wear these in times or areas where you might sweat such as the gym, the spa, or getting your nails done. When possible, remove your bracelet when washing your hands as well.
The Cape Cod Bracelet also adds an additional element to the regular care routine. The screwball closure will need a wipe down along the threads as well. Use a cotton swab to remove the oils and dirt from both the ball and rod threads.
We do not typically recommend using any sort of jewelry cleaner on your jewelry. These types of polishes often contain small amounts of a gritty aggregate that is more likely to damage your piece over time. If heavy cleaning is needed you can use warm water with a mild detergent, preferably unscented.
Wash it gently and rub with your thumbs. No scrubbing or special tool is needed. Dry your bracelet thoroughly with a dry, clean cloth and be sure you get all of the water away from the surface of the metal. Again, metal is not wonderful with regards to moisture or humidity.
Following a regular care routine will preserve your piece and keep it looking absolutely perfect for the next time you want to wear it.