10 Fab Meteorite Ring Picks for Men & Women!
last updated:
Oct 16, 2019
In recent years, the meteorite ring has become a popular accessory, particular for men, when it comes to wedding bands.
Our review of 10 of the best meteorite rings will show you just a fraction of what's available to purchase for yourself or a loved one.
A meteorite is a solid piece of debris that originates from outer space. This piece of debris comes from an object like an asteroid, comet, or meteoroid which has survived its journey through the Earth's atmosphere without completely deteriorating.
Owning a meteorite ring is like wearing a tiny piece of space on your finger and this is why we like our selection of rings so much!
Our Top 10 Picks!
1

. King Will Meteor Men Wedding Ring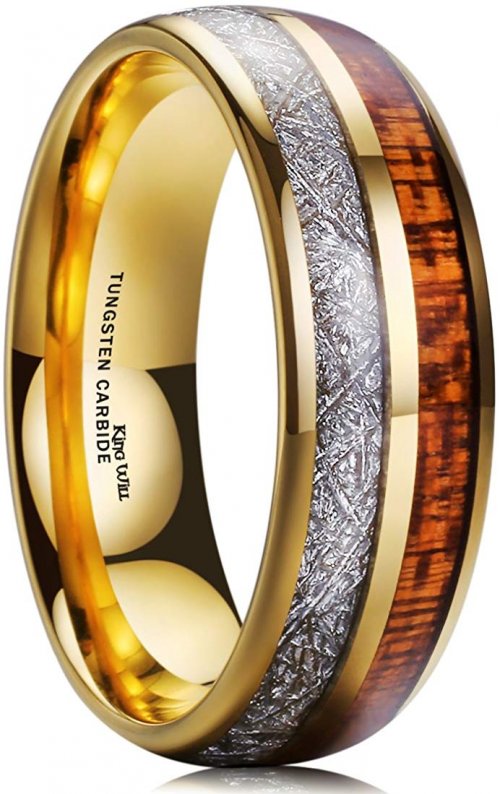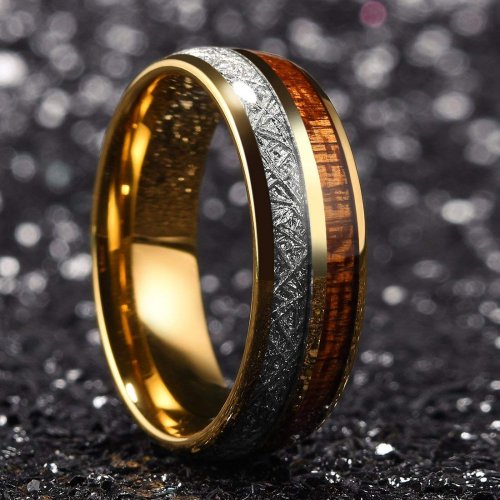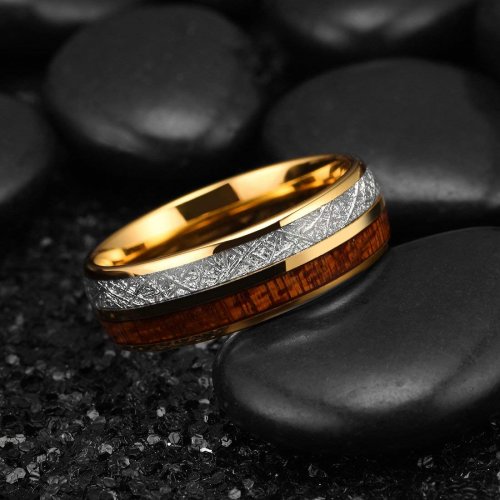 One of the things we just love about meteorite rings is how many styles and designs you can fit into one ring.
Read more
This men's meteorite ring has been designed with two separate sections, one made of meteorite and the second with a koa wood inlay. The meteorite strip represents a solid, shard-like design.
What's interesting about this section is that the designer has allowed you to see the texture of the meteor.
The shards of meteorite create an edgy pointy section varying in shades of grey. The second section consists of a shiny koa wood lay band.
This band is made up of an orange-brown colored wood that has a section of dark brown and black, giving the wood a much-loved texture and depth.
In between these two materials, yellow gold-plated tungsten complements the light silvery grey and earthy wood.
As the name of the ring suggests, this has been designed with comfort in mind, and the domed design of the room helps to not only to make this a very attractive ring but also one that feels very comfortable on the finger.
It's a tungsten ring, which means that the piece is very strong. Wearing this ring daily as a wedding band will certainly keep its shine.
The fact that this ring is made from tungsten also adds to the meaning because tungsten itself is a rare metal that has the highest melting point of every element found to date, even being used on parts of some spacecraft.
This piece has been designed and crafted with an 8mm thickness, adding to the aesthetic design and providing again a comfortable fit.
The width of the wedding band makes this ring very mainly. The materials used to create this piece make it a very sturdy and solid piece.
This is a classic, quality ring which is scratch resistant and will have your hubby's co-workers admiring his piece of jewelry.
It is, however, important to point out that the ring is quite weighty to wear so if you don't mind this you'll love the ring.
The classic band will arrive in a black stylish jewelry box that has a black velvet interior.
2

. 100S Jewelry Men's & Women's Meteorite Inlay Band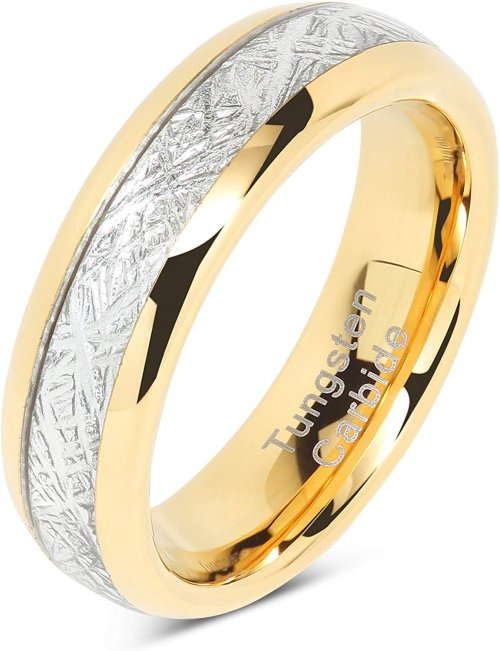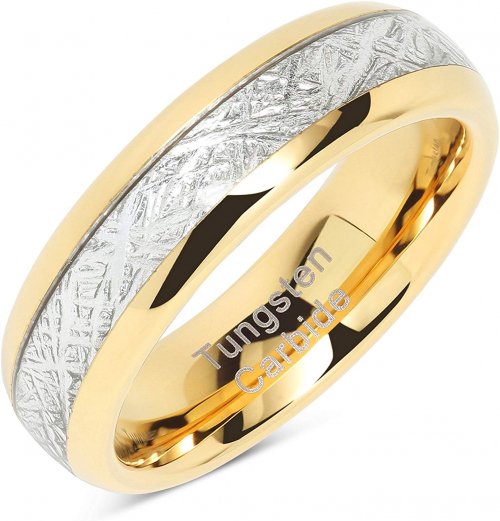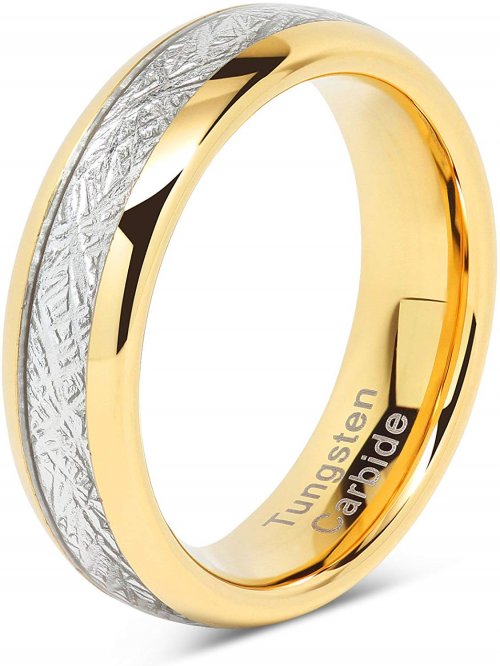 The focus of this ring is all about the meteorite. The light and darker shards of meteorite have been framed by a yellow gold-coated metal, which enhances the inner strip.
Read more
As with several of our other rings, the body of this ring is made from tungsten, which is extremely durable as well as being scratch-resistant and long-lasting.
So no matter what you do for a job or when you wear this ring, you can rest assured that it is tough enough to resist any hazards.
The wedding band offers a classic feel and is very heavy duty. The yellow gold color also gives the piece an expensive, upmarket feel.
This piece is suitable for both men and women to wear, making it extremely versatile.
It is available in a variety of sizes varying from size 4 to a large size 13 or half sizes in between.
It has been created with a 6mm width band. The mix of supreme quality materials and exceptional cut make this ring an extremely comfortable fit. The wideband also adds to the extra comfort that the ring provides.
It has a distinguished look and feels to it with the predominant silver strip in the middle of the ring.
The dazzling craftsmanship and exceptional detail that has gone into this ring are quite remarkable that you won't want to take it off.
The beautiful piece by 100s Jewelry is being sold for a low price. The band will arrive in a stylish grey jewelry box with eye-catching branding on the lid.
If you take a look at their extensive collection, you'll notice the jeweler's particular love of yellow gold bands. Take a look at their collection today!
3

. Fashion Month Men Meteorite Ring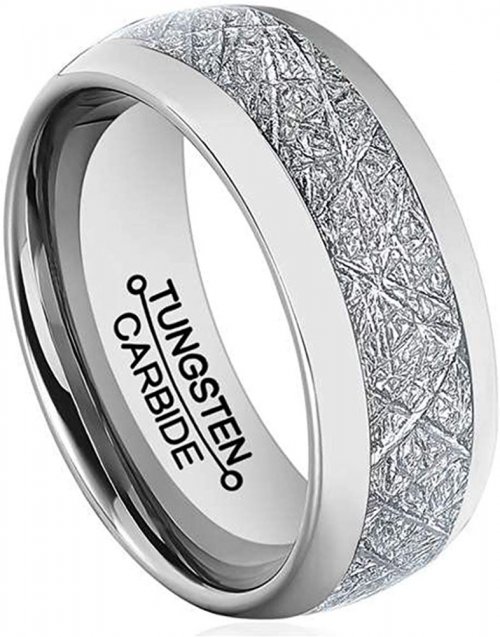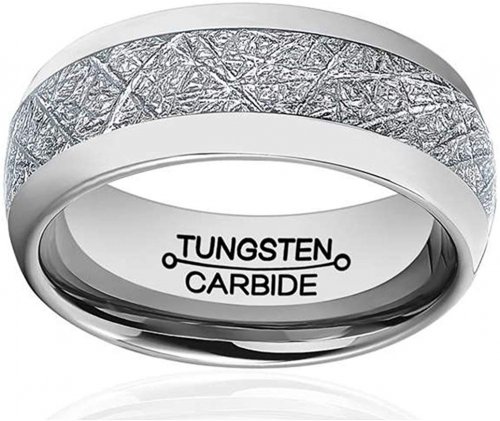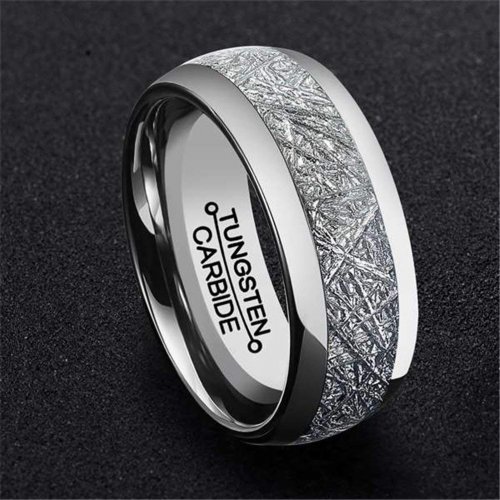 If you love your silver jewelry, then take a look at this stylish piece! The designer here has chosen to go for a more minimalistic feel with this ring. This fashionable piece features the signature strip of the meteor along the center.
Read more
You'll be able to see how the strip features the iconic shards of a meteor, ranging in shades of grey.
These edgy shards create an interesting pattern that will make the ring stand out and grab your attention.
A shiny silver metal then frames the eye-catching strip. The contrasting smooth shiny metal with the patterned strip complement one another well!
As with some of the other options we've reviewed so far, the main structure has been crafted from tungsten carbide.
This metal is very strong and dense; it makes a fantastic material to use as it is very durable and long-lasting.
To prove how hard the tungsten carbide is, it ranks between 8.5 and 9.5 on the Mohs scale of hardness (diamonds come in at number 10, so this material is pretty hard).
What's great about tungsten carbide is that it's scratch-resistant, hypoallergenic, and fade resistant.
This particular ring has a very high polished finish and a smooth surface, making it extremely comfortable to wear.
The band, which is approximately 8mm wide, also adds to the comfy fit as well as the domed inner surface.
Tungsten carbide makes the perfect substitute for platinum and white gold; this is because it's super durable, so it can be worn daily without risk of getting damaged.
This is another reason why they make the perfect wedding band for men!
The ring is being sold by Fashion Month for a low price.
4

. Tigrade Turquoise Imitated Meteorite Ring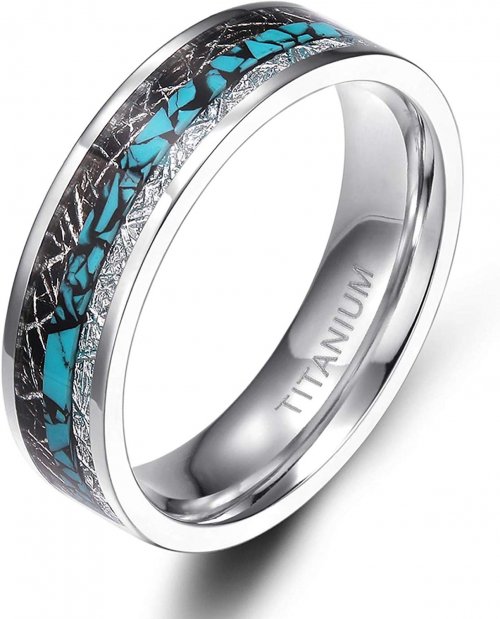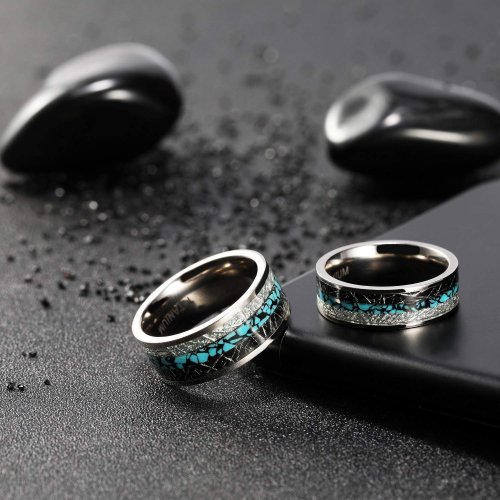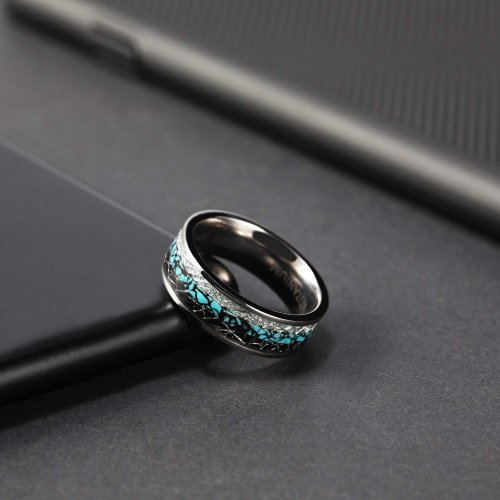 If you're looking for something a little different, the titanium turquoise meteorite ring is definitely that!
Read more
It has been designed with three separate strips in the center of the ring consisting of a black strip, turquoise, and thirdly a silver meteorite strip.
The turquoise strip positioned in the center of this ring looks similar to a mosaic pattern. The grey meteorite strip gives it a sparkling silver quality.
The main structure is made from a titanium material, which makes for a high polished finish and guarantees durability.
The turquoise works well in giving a ring some much-needed warmth, whereas the meteorite gives it a lovely sparkle when the light hits the ring.
We love that it is aesthetically pleasing and is a comfortable fit. This is down to the smooth, shiny titanium that forms the ring but also the 8mm width of the band.
This piece is also available as a 6mm width ring. The titanium band can be purchased in a range of sizes, including 6, 7, 8, 9, 10, 11, and 12.
The stylish piece will arrive in a clean white jewelry box. Sold by TIGRADE, you can purchase it for a low price, which makes it a fantastic buy!
5

. Three Keys Jewelry Ring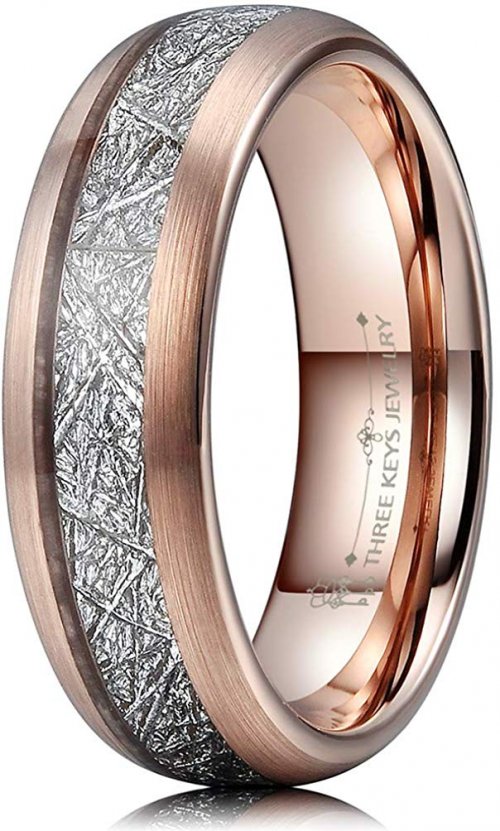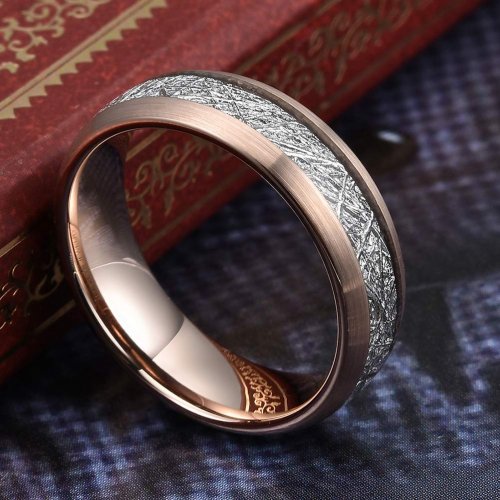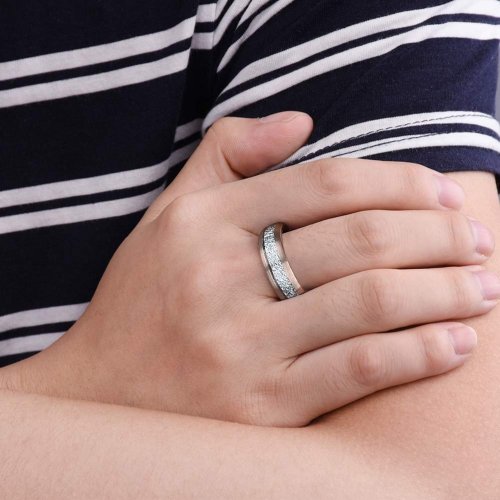 The rose gold meteorite ring would make a lovely jewelry option, particular for a lady. With a brush rose gold border and an inner strip of imitated meteorite, the ring shows off why meteorite rings are something special.
Read more
It features an inlay of meteorite, which shimmers beautifully and catches the eye.
The brushed look which is featured along the center strip of the ring has been inlaid between rose gold tungsten.
Not only does this look great, but it also means that the ring is very tough and due to the domed shape, it is also very comfortable.
The main structure has been crafted using genuine tungsten carbide material. The piece has been designed with an 8mm thickness, adding to a comfortable fit.
Tungsten carbide jewelry is not only one of the hardest materials, but it also retains its polished finish.
To give you an idea of how strong the material is it's actually 10 times harder than 18k gold. It's also scratch-proof making it a perfect ring to wear.
The ring is sold by THREE KEYS JEWELRY, for a super affordable price. It will arrive in a dark brown jewelry box with logo branding on the lid.
6

. Tiitc Unisex Tungsten Ring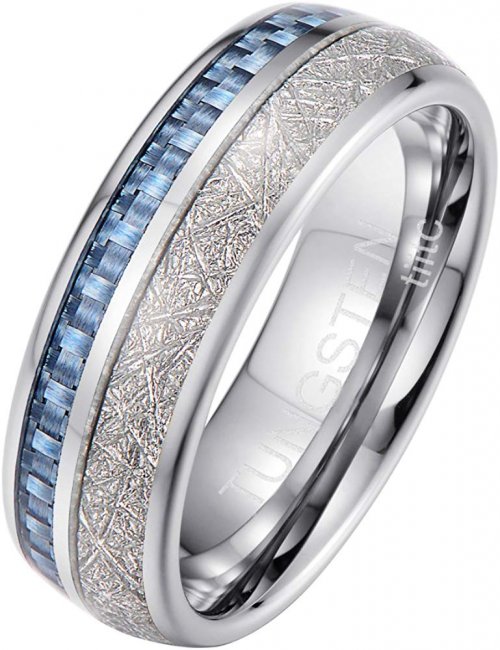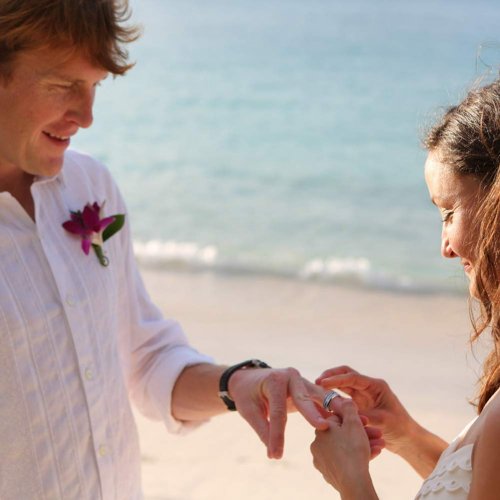 The next item in our shortlist is something quite special! Meteorite rings often look similar to ice crystals when viewed up close, with lots of inter-crossed lines.
Read more
This brushed look is instantly recognizable in this pick and shows off meteorites very well.
In contrast to some of the other options that we've reviewed, this item of jewelry has a silver hue, a result of being made from polished tungsten, which is very strong.
The ring really is a tale of two halves, and whilst one side includes meteorite, the other includes a strip of blue carbon fiber.
It's extraordinary how well this carbon fiber works with the silvery meteorite; the two come together with the light color of the tungsten to give a really fresh and bright feel to it.
It's also very durable due to featuring some very strong materials (tungsten and carbon fiber are both known to be robust materials!). If you're looking for a ring that will last, this is a great option!
This is another option that has been made with comfort in mind, and due to the polished and rounded design of the ring, it will feel extremely comfortable on your finger.
It looks great, too, and we particularly like the checkerboard design that comes from the deep blue carbon fiber.
It's certainly a distinctive ring and a perfect pick for everyday wear. It's also a great choice if you're other half is a fan of racing, as carbon fiber is a well-known material used in the design of sports cars.
Your ring will come in its jewelry box, and we can't help but be astonished by the quality of this piece of jewelry for such a reasonable price tag!
7

. King Will Nature Wood Meteorite Ring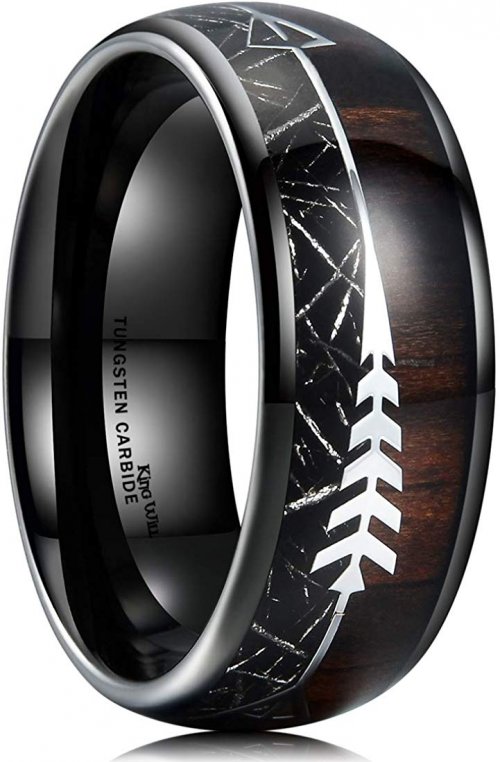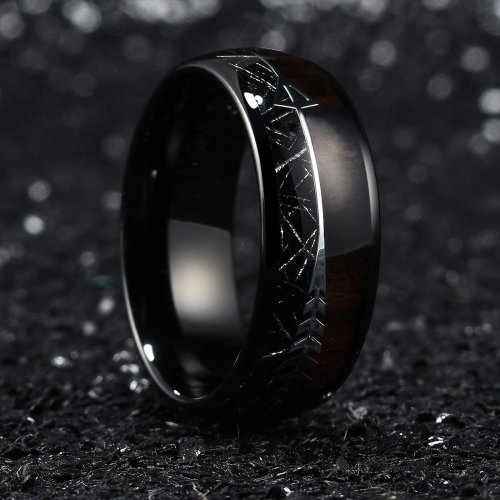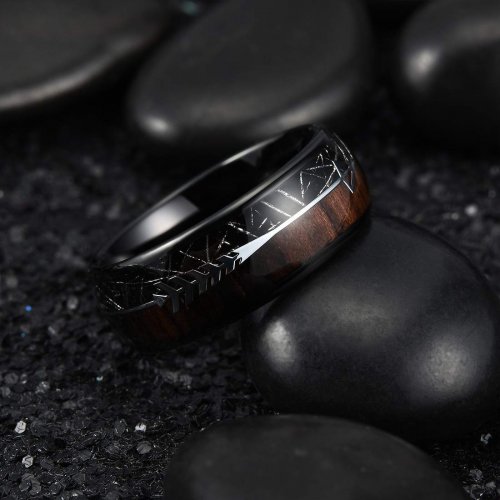 Our next ring is quite unique! It almost feels like its part of nature due to it featuring real wood which has been worked into the band.
Read more
The deep, dark wood sets the tone of this ring and gives it a very sleek feel.
Perhaps the most striking element has to be the silver arrow, which runs the length of the band.
This works really well with the wood inlay and we think that it represents a bow (in silver) and arrow (in the wood).
Many of our previous options have featured meteorite, which is silver in appearance; however, this ring includes a black colored meteorite.
This works really well with the dark wood. It is important to note that this is quite a dark piece.
It is available from King Will, who offers a wide range of distinctive and attractive rings.
You'll also receive it in its very own box to keep it safe, meaning this is ready to go if you're planning to give it as a birthday present or anniversary gift.
8

. PCH Jewelers Thin Strip High Polish Band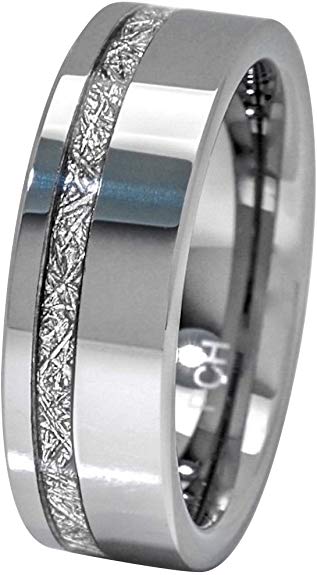 Sometimes less is more, and that's certainly the case with this ring! The first thing you'll notice is that it has been polished to a high sheen.
Read more
It has quite an industrial feel to the overall design, something which probably comes from the flat edge of the band.
Although the edge has been polished to a shine, it almost feels like the ring has been cut from a piece of metal piping. It's a striking design that works extremely well!
The meteorite used is also very attractive. While the thin band of an imitated meteorite is noticeably minimalistic; it's sure to catch the attention of others; the brushed meteorite is very shimmery.
If you're on the hunt for a piece to celebrate a special occasion with your partner, this ring also comes in a couples 'his and hers' set.
While the modern and stylish design looks quite angular on the outside, the inside had been designed with a 'comfort' fit, and the polished underside of the ring will make it comfortable to wear.
The designers, PCH Jewelers, note that this piece has been polished with a diamond compound, which means that the ring will keep its shine. You'll also receive it in its very own gift box to keep it safe.
9

. Metal Masters CO Blue Ring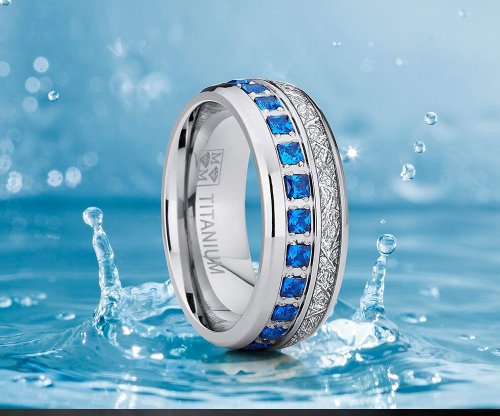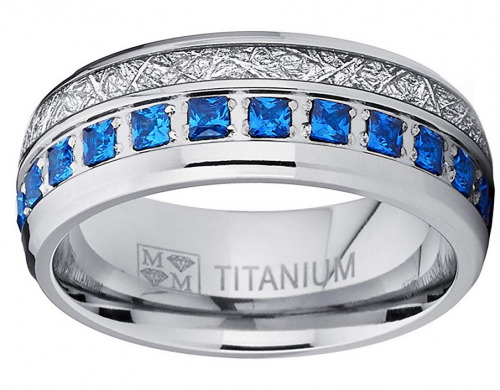 If you're looking for a piece that stands out then we've found the one for you! Made from solid titanium, this pick is an absolute bargain for such a strong metal.
Read more
The band has been polished to a shine and this certainly adds to the overall design.
This offers the perfect backdrop to the imitation meteorite and gives a ring a bright and shiny feel.
It's also 100% hypoallergenic, which means it's a great option if you suffer from metal allergies.
When you first see it, your eyes will most likely be instantly drawn to the bright deep blue crystals along the band.
These are actually cubic zirconia's which have been shaped into a princess cut to add an extra sparkle to this ring.
The deep blue color works really well with the light silver of the titanium band.
The cubic zirconia jewels and the meteorite are completely different in material, texture, and color but work well in complementing one another by standing out.
The ring has been crafted with a wider band that is approximately 8mm. The piece also has a dome finish on the inner surface, which adds to the comfort of wearing it.
It would definitely make a lovely wedding band which has a touch of glitz and glamour.
What's great about it is that the jeweler offers a 30-day money-back replacement guarantee if you're not completely happy with the piece. However, we don't think this will be the case with this ring.
The standout piece is being sold for a low price by Metal Masters Co who really loves making jewelry. 
They are extremely skilled in crafting a variety of jewelry pieces, including rings, necklaces, pendants, and bracelets for both men and women.
10

. Silver Meteorite Inlay Blue Ring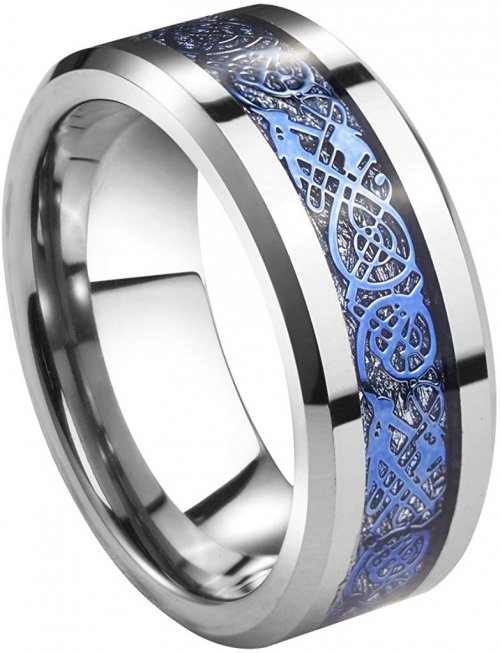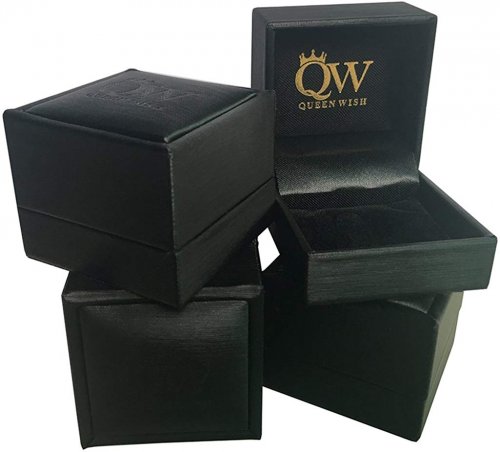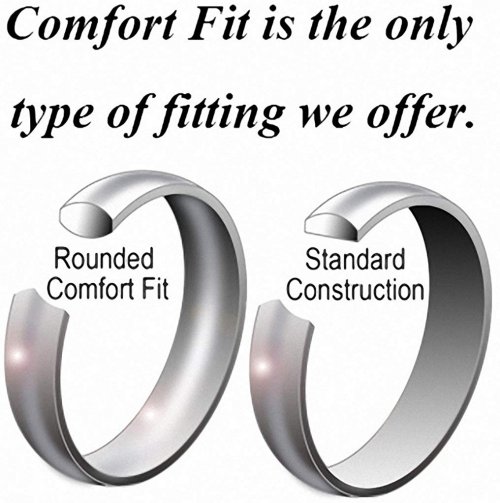 To finish off our list, we felt this ring definitely had to feature in the line-up;  it really is an original piece with bundles of character!
Read more
The first element that catches your eye is the surface design that looks similar to that of a semi crotchet (in other words, a continuous strip of musical notes).
The designer has chosen to include these in a vibrant metallic blue color; the color contrasts against the stone silver meteorite backing behind it.
The main structure comes in a tungsten carbide material. The band has been designed with a curved inner surface that makes it a lovely comfortable fit. You won't even realize you're wearing it, it's that smooth and comfy!
The designer also sells this ring in a variety of sizes ranging from 6, 7, 8, 9, 10, 11, 12 and 13 so you can ensure that you buy the perfect sized ring to fit your finger!
If you're purchasing this as a gift, then you'll be pleased to hear it arrives in a classic jewelry box.
Colored in a burgundy red color, the box will make a stylish container to store your ring in.
This meteorite ring is being sold by Queenwish for a low price. The seller really knows how to design rings because this piece of jewelry is definitely one of a kind!
Finally....
And finally there you have it; our selection for the best meteorite rings which won't cost you a mint!
Each meteorite ring on our list is beautiful, made of quality materials and comfortable to wear.
Even though these rings don't come in silver, gold or platinum, the metals used in their design are very durable and they will last you in time.
A meteorite ring works well as both an engagement or wedding ring and if you think about the meaning behind meteorites, such a ring truly is like wearing a piece from out of space!