Mix / Watches
Men's Luxury Watches? Our 10 Favorite Picks!
Marianne 20 Mar 2020
2835
Are you looking for luxury watches for men? There are so many options out there, it can seem daunting and difficult to narrow it down. When it comes to luxury jewelry, we are looking for something extravagant. We want something that is classy, bold and is the kind of jewelry that you never want to take off. Are you looking for a watch that is comfortable to wear? Jewelry shouldn't feel like a heavy burden when you put it on, but rather a delightful accessory. That's what you will find with these watches. We've picked 10 of our absolute favorite men's watches that are extravagant to look at as well as incredibly comfortable.
A watch can seem like a simple thing, but it can really have a story behind it. Time is a special thing and we never seem to have enough of it. We live in a very busy world and you may have a day that feels full of appointments, meetings, pickups, and reservations. How can we possibly keep track of it all and actually be on time? Yes, you may have an assistant, a hand full of alarms, and a schedule on your phone and computer. But how many times a day do you find that you keep yourself on track by looking at your watch? Sometimes a watch can become one of those things that we don't know how good it is until it's gone, right?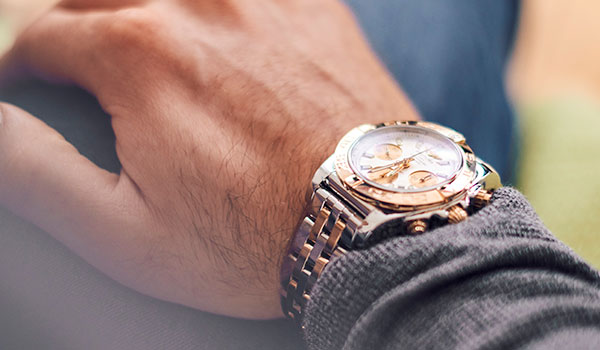 A watch makes life flow so much easier and helps us to be accountable to ourselves and to others. When looking for a watch, there are a handful of priorities that one may have in selecting the watch that is right for them. Some of these priority factors might include color, size, the material it is made out of, cost, and overall look of the watch. As we said, we've picked 10 luxurious watches that we think you will be just as obsessed with as we are!
Each of them is full of incredible qualities and are absolutely stunning. So think about what your priorities are when it comes to watch shopping, and let's take a look. You may just be surprised at what you are attracted to most! No matter what you can't go wrong with these. They are all stunning to look at, full of functionality, comfortable to wear, and great quality pieces.
Our 10 picks for Men's Luxury watches
Breitling Men's M7836522-L521 Chronospace Black Stainless Steel Quartz

First up, we have this handsome Breitling Men's watch. Breitling is a very reputable watch brand that makes luxurious and high-quality watches. In fact, they are recognized as the 15th most popular Swiss watch brand in the world. So whether you have heard about this brand or not, trust us when we say that the world certainly has! This is a brand you can trust and get excited about because they know their stuff when it comes to creating the perfect wristwatch!
This watch, in particular, is made of stainless steel and has a 48-millimeter case with a sapphire dial window that is anti-reflective. It features a Swiss quartz movement as well as a digital display. The band on this watch is also made of stainless steel and has a deployment-buckle closure. We love that it is all stainless steel, as it is a great option for jewelry, especially an everyday watch. It is heavy duty and durable.
It will not change colors or tarnish, and you never have to worry about it tainting your wrist green when you wear it. We also love that stainless steel is hypoallergenic, making it a great option for sensitive skin. This is the kind of watch you may find yourself never wanting to take off. If that's the case, we've got some good news for you. It is water-resistant. Yes, you read that right. It can be worn in water up to 165 feet. We wouldn't suggest wearing it if you are going on an exotic adventure like snorkeling or diving, but if you are simply hanging out in the pool, you don't need to worry about your watch. Stay classy and on top of the time all day with this stunning piece.
This is a classic piece that you will want to add to your watch collection or a great place to start if you are looking for your first one. It's a great watch for business as it is very easy to navigate through a variety of different time zones. This is one that you will be able to rely on to last you while also looking sharp and crisp. The only warning we have on this special piece is to watch out for regular compliments when you wear it. Yes, it's that good.
Breitling Superocean II 42 A17365D1/C915-161A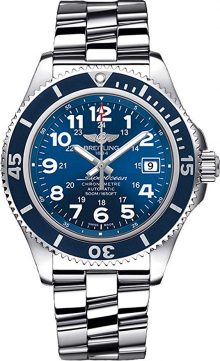 Next, on our list, we have this stunning mariner blue and silver-colored stainless steel watch by Breitling as well. We love the way that the blue in this watch will go with anything and everything while being different from the typical brown or black watch that you may be used to seeing. The gorgeous blue sapphire crystal center will catch eyes and make a statement everywhere you go. The center dial displays the date as well as the analog time display. This watch is waterproof up to 1,650 feet, so if you are on or in the water often, this is a fantastic option for you.
The case of the watch is just over an inch and a half and 13.3 millimeters thick. The watch includes a 7-inch adjustable bracelet. They also offer free bracelet sizing which makes it simple to make this watch fit you exactly how you want it to. The sapphire crystal is scratch-resistant and glare-proof, ensuring that this watch is functional and durable for years to come. This is the kind of watch that you will love to wear every day. Not only that, but you will be able to pass it down for generations to come because of its luxurious look and functionality, as well as phenomenal quality.
Fossil Coachman Quartz Stainless Steel and Leather Chronograph Watch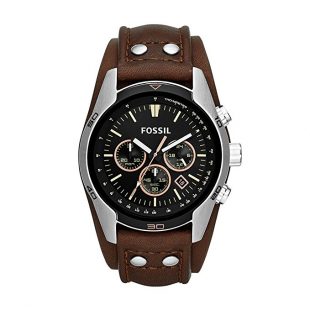 Fossil is a fantastic brand of watches. They are luxurious, well-reviewed, yet come at a price that may be more reasonable for some of you out there. This stunning watch is one that will go with almost everything in your wardrobe, as it ties together brown, silver, and black. The case is 45 millimeters and the band is 22 millimeters. On the face, you will find a 3-hand analog display as well as 3 subdials to adjust multiple functions on the watch. The face is made of durable mineral crystal. Next, we have the leather cuff-style band.
This band features simple silver-tone studs that add great detail and contrast to the dark brown color. If you find yourself loving this watch, but unsure of wanting to wear the brown band every day, we've got a solution for you. You can switch out the band with any other Fossil 22-millimeter band so that you can get the look that you want for different days or occasions.
This watch has everything you are looking for in a luxurious watch. It is made of quality leather that is strong. However, it still feels pleasingly lightweight and soft on your wrist. The watch face is durable and reviews say that it is nearly scratch resistant and will hold up to a lot of wear and tear. It is comfortable, stunning to look at, functional and sturdy. What more could you want?
Vincero Chrono S Wrist – Japanese Quartz Movement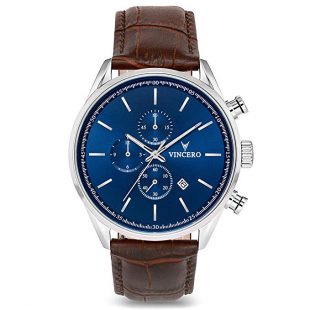 Next up we have this sleek Vincero Luxury watch. This is the Men's Chrono S Wristwatch and it comes in a handful of colors to match your style perfectly. These color options include: black and silver, black and olive, black and rose gold, blue and black, blue and brown, matte black, rose gold, rose gold and white, silver and rose gold, as well as silver and tan. Each of these combinations of colors comes together perfectly and elegantly. Regardless of the colors that you choose, you can be sure that you are getting a great quality watch.
The band is made of top-grain Italian leather that is masculine and sleek. The casing is made of stainless steel. This metal is one that will absolutely not tarnish and you shouldn't have to worry about any issues with allergies or the metal making your skin change colors. The face of the watch is made of sapphire coated mineral crystal glass. This product is scratch and water-resistant, so you don't have to worry about taking it off when you go throughout your daily tasks and hobbies. The watch has three sundials that function as timers.
The clock is functional and you can count on it to stay accurate as you wear it over time. Lastly, the date is also displayed on the watch face, ensuring that your watch is there to do exactly what you need while still looking luxuriously stylish. This watch is priced fair, and may even seem like a steal for how high quality it is! This is one you will want to add to your collection and maybe in even more than one color.
Rolex Men's Submariner Automatic Blue Dial Oyster 18k Solid Gold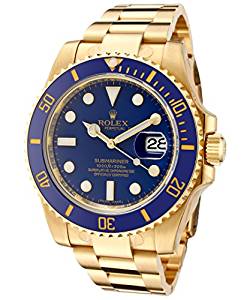 When you think luxurious watch, a brand that might come to mind is Rolex. Rolex has a superb reputation for luxurious, quality, stylish watches. In fact, a few years ago there was a study with thousands of interviews to ask people what companies were the most reputable, out of 15 of the top companies in the world. Rolex was among the top four out of those 15. Why is that? You may wonder what is so good about Rolex? Well, first of all, it's a whole lot more than the product itself.
Rolex is a valued company because they deliver quality products. Yes, it comes at a price. But throughout the buying and owning process, you will find that this is a company that you can trust. They are upfront about their products, they make real and genuine material that will last you a lifetime, and they back their products completely. You are not going to invest this kind of money into a product that breaks or is easily damaged. Nobody wants to toss their money at something that they hope works, but aren't sure. You don't have to worry about that kind of stuff when it comes to Rolex watches. This company is largely respected in the business world because their customers know that they are getting top of the line watches and once you wear one, you just might long for another!
So let's take a look at a Rolex watch. This one comes with a price tag, but we're happy to tell you that you get what you pay for. And in this case, that is a very very good thing. This Rolex men's 18k solid gold watch is one that will last you and future generations many decades. The band is made of Oyster 18k solid gold. Already sounding pretty fantastic, right? We're just getting started. Furthermore, the band is 20 millimeters, making it the perfect width to flatter any man's wrist. As much as we are obsessed with the classy and quality gold band and features of this watch, we cannot get enough of the dial window, which is an absolutely gorgeous sapphire blue. It is sure to catch eyes as people walk by and make you proud every day to put it on and show it off.
We are in love with the way that the bright blue and gorgeous gold contrast each other so perfectly! The face showcases a submariner automatic dial. From a product like this, you can expect that it will hold accurate time even as you continue to wear it day after day. Additionally, the watch is water-resistant up to 300 meters. So this is one that you can work hard and play hard in! And what more could you ask for? Whether this is a gift from another generation or a watch that you have worked hard to be able to earn, it is one that will not let you down. It is gorgeous to look at and fully functional, not to mention it comes from a trusted and well-known brand that you can be sure you'll be satisfied with.
Rolex Submariner Black Dial Automatic Watch 114060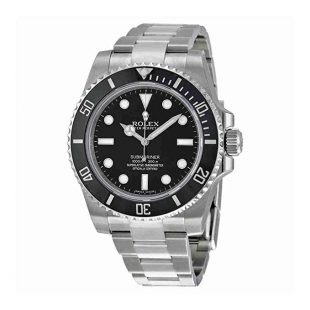 We couldn't create an entire list of men's luxurious watches without giving you the best of the best at least a couple of times. That's right, we've got another Rolex watch for you. Rolex is has been rated number one for years and years amongst the Swiss watchmaking industry. They know how to create pieces that will draw in the eye while upholding outstanding quality and customer satisfaction. You simply can't go wrong with a Rolex watch. They are at the top of the line when thinking about luxurious watches. Whether you have one that is very significant and special to you or 10 that you rotate between, these are truly treasures that will last you a lifetime and beyond as you pass it down from one generation to another.
This piece is on the lower half of what you might expect to pay for a Rolex. It is a gorgeous stainless steel piece with a self-winding automatic movement. Of course, we all want a watch that is flattering and attractive, but we want it to work well and be accurate as well. This is one that you can be sure will fit the bill. There is a deployment buckle making it secure, yet easy to remove when you want to. It is water-resistant up to 1000 feet, so you can swim or play at the lake without worrying about removing this stunning piece from your wrist.
The face is scratch-resistant sapphire crystal and promises the durability that you are looking for. This is a real, in every way shape and form, authentic Rolex watch. The authenticity is guaranteed and the watch comes with a certificate as well. If you've been looking for a luxurious watch to add to your collection, this sleek black and stainless steel silver watch is one you won't want to let go!
Nixon 51-30 Chrono. 100m Water Resistant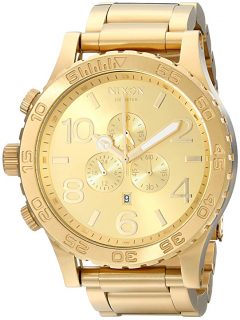 This piece is truly incredible. It has style, quality, and luxury written all over it. Not literally, of course. But it may as well with how handsome of a piece it is. We are completely obsessed with the all-over gold-tone option, but if gold is not your thing, don't worry. There are tons of other options of colors that you can find this watch in. You can find it in black, gold and blue, gunmetal, blue sunray, matte black with gold details, matte black with matte gunmetal, silver-tone/gunmetal, matte black/industrial green, and more!
As jaw-dropping as the solid colored ones are, be that black, silver, or gold, we are just as smitten by the ones that have two colors. The way that the face pops when it is a different color than the rest of the watch, or the details like the numbers and buttons stand out when they are a different color, is so unique! It is absolutely stunning no matter what color or color combination you choose.
People are raving about this piece and for good reason. Nixon is a fabulous brand that is reliable and offers top of the line products. This watch is simple and easy to read, but still luxurious in every way. You won't feel like your spending a fortune on this item, rather a surprisingly low price for such an extravagant piece of jewelry. The watch features an analog clock face as well as the date. It also has three subdials that display 6-hand Chrono, 24 hours, and seconds subdials. This watch launched the oversized trend and it's a look that won't be going out of style!
JBW Luxury Men's G4 0.16 Carat Diamond Wrist Watch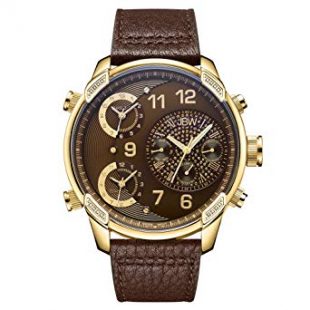 We're all about a simple and neutral-colored watch that you can wear with anything. Which this style of JBW does offer a plethora of colors, in case you are worried about that. But there is something about this gold and brown that is just absolutely stunning and draws us in for another look. The brown color on the face and the band are so vibrant and unique.
The oversized case is accented with 16 real diamonds, four diamonds in four different sections throughout the circle. There are three subdials that display the day, date, and military time. It is waterproof up to 165 feet and fits comfortably on the wrist. The leather is genuine and the band measures 25 millimeters long with a classic buckle clasp.
This handsome piece is a special one and a watch that will stand out in your jewelry collection. For those of you who aren't as in love with the blue on blue as we are, take a look at the other colors. Some of them include brown with a different colored accent, silver, or even rose gold. There are great options for this watch and we think you will be pleased with the luxurious look, feel, and functionality of this watch.
Davosa Professional Watch, Quality Swiss Made Quartz
Hello unique and handsome! Yes, we are talking about this watch. It is so different from others we have seen on the market in a lot of ways, and we are smitten. This watch is a Davosa men's watch made of quality Swiss Quartz. It is made of stainless steel. We love stainless steel for jewelry because of its durability and its longevity. This isn't a watch that will rash your skin or turn it a nasty color. It is quality metal that can hold up against scratches and regular wear and tear.
There are a few color options. They include black, blue, black/red, or black/blue/red. The last option, black, blue, and red, happens to be our favorite of them all so we will tell you more about that one.
This watch features a fabulous brown leather watch that has a bit of a vintage look to it. It has some color variation and fading within the true leather that makes it truly unique to your watch. As much as we love the band, we can't deny that the face is our favorite. This specific version of the watch has two colors within the metal case and then the third color within the face.
The upper part of the case is a gorgeous royal blue, while the lower half is a vibrant red. The face is a dark black that contrasts incredibly well with the other bright colors surrounding it. The watch displays the time, date, and even has a second time-zone indicator. This is a fabulous luxurious piece for everyday wear, whether that be at work or school. It is also great for play with its versatile colors and classy look. But don't hesitate to wear it while you travel or for special events either. It's one that can be worn with almost any piece in your wardrobe and would look great for any occasion.
Welly Merck Swiss Movement Watch Minimalistic Sapphire Crystal Watch
When we first saw this piece, it was love at first sight. This is the kind of watch that makes simplicity look classier and sleeker than ever. It is simple in color and in design, yet bold in character and appearance. Are you looking for the kind of watch that you can wear with anything? We love any piece of jewelry that can transition between seasons and wardrobe changes with ease. This piece is that to a T.
The watch is silver with black face. It is timeless and perfectly designed to go with anything and everything and for any occasion. It's made of stainless steel and the band is 20 millimeters wide. The large casing, measuring 42 millimeters, is bigger than most we have seen. But because the entirety of the watch is so minimalistic, this large casing gives it just the right amount of boldness. However, if this is a little too much for you, the casing is also available in a smaller 36 millimeters.
One characteristic that we are specifically drawn to about this watch is the band. As we said, it is made of stainless steel and measures 20 millimeters. So what makes this one special? More times than not when we see luxurious, top-rated watches we see the link or leather bands. This one, however, is an exception to that norm. This watch comes on an IP plating mesh strap. The intricate detailing of this band is breathtaking and makes it such a special piece. We're obsessed with everything about it and we think you will be too.
—
Have you found a luxurious watch that is everything that you've been looking for and maybe even more? We certainly hope so. There are so many fantastic options out there, ranging in price and style, but all measuring up to the luxurious watch you are looking for.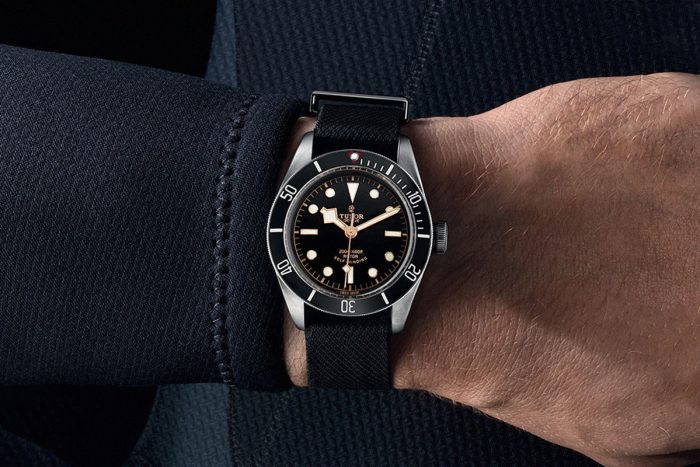 No matter what color, band material, size of face and band, or metal of the bracelet you prefer, there is a stellar option out there for you. This is one of those purchases that you are going to want to show off daily. Your significant other will insist that you wear it for date night and your friends will all be jealous of it and want one of there own. There are so many luxurious watches out there, so find one that is special to you! We hope you've found one of those from our top 10 favorite picks of men's luxury watches.