Mix / Rings / Women
Best Beauty and the Beast Rings: The Most Romantic of Them All!
Marianne 06 Apr 2021
3119
As you know already, we have somewhat of a unique taste in jewelry. But sometimes, we take that uniqueness far. Hence, this is the reason why we bought some Beauty and the Beast rings some while ago. So consider this a sneak peek into what we chose. They're some of the most beautiful rings that contain the meaning of the iconic cartoon. Essentially,
It's all about love!
The film itself focuses on the romance between two people. And that's despite the physical, emotional, and social restrictions both of them experienced in their budding love. So for young love, we can say the ring is a representation of a good future for both you and your partner. Otherwise, it can be a reminder of what you guys have faced together before your relationship could work.
The sweet thing about this is that it doesn't even have to be a gift before you can buy it for yourself and your partner. It carries a meaning that only can you guys can be privy to (if you wish). You know why you bought it and if you tell your partner about it too, he should wear it too since it is actually a good thing. Still, although it represents love, what else? It's a perfectly good addition to your jewelry set. Likewise, it's a replacement for your wedding ring. We're not saying it'll be your new one because frankly speaking, that's impossible since your wedding ring itself stands for a new chapter in your life. But what the Beauty and the Beast ring does is just give you a break. Instead of wearing your wedding ring all the time, you get to try out something different to complement your wardrobe.
As the ring represents love, do not think that you're restricted to only your partner. In fact, nowadays, most jewelry can be applied to any situation. You have a birthday party of one of your friends coming up, advise your friend's partner to get her this. It definitely makes for a stronger bond between the two. Or you could just give her yourself and make it a double entendre—that points to both the relationship between you guys and the relationship between your friend and her partner. That's certainly romantic if you ask us.
2019's Best Beauty and the Beast Rings
1. Kriskate & Co,His Beauty Her Beast Ring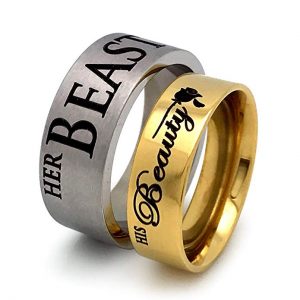 As expected of rings of this type, you get a set. Though, some others on this list might offer you a choice between Her Beast, His Beauty, or both. As we were saying, you get a set of rings. One for you and the other for your partner. What makes this really good is the meaning they both carry. They both mean love in a unique manner that may also seem less manly or too feminine (in love) in the case of us women. This is on a scale that you don't even care what people are going to say about your relationship. You flaunt it at this point instead.
So, both of the rings are made from stainless steel, though they both have different looks to help things along and even set the mood. For example, Her Beast is for your man, and it has a rusty/dusty look which fits the norm. It's also inconspicuous so it should make it far easier for you to get your man to wear it. On the other hand, His Beauty is coated with yellow gold. And from what we've seen and felt so far, it's going to stay that way for some time. The color is more flashy and complements most of our wardrobe. Now, what we really love about the rings is the option from the manufacturer to engrave the inside of the rings. A simple text "Love You Forever, My Darling" can go a long way in staking your claim. Go for something else if you want, though that line can be applied to anyone.
2. Kriskate & Co. His Beauty Her Beast Ring Silver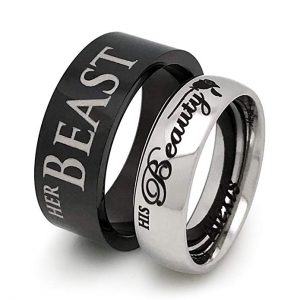 Like the above, there are two rings here. But unlike them, there's a different color scheme going on here. There's one black ring while the other is silver in color. For the former, your man owns that and the writing "Her Beast" says so. The black color is universally loved by most men. And even those that don't want one in black, will love this since it's only a ring. Though, it's one with your name on it—literally! Both "Her Beast" and the sexier and flashier "His Beauty" can be engraved on the inside.
You can literally put anything on the inside, though what we love most about this fact are the different meanings that you can create. Write "You're Always on My Mind" inside the ring, and it's the perfect gift if you're looking for an object that's symbolic of your long-distance relationship. If you're thinking of finding an anniversary gift, this time, just write "Another One!". It'll be a private joke between the both of you and it should make a cute story when you walk down memory lane later on.
Both of them are made from stainless steel, and it'll definitely stick around. We don't think you'll notice any scratches any time soon. So even if your workplace may be a little rough on the ring, at the very least, know that you're still good.
3. Global Jewelry Titanium Set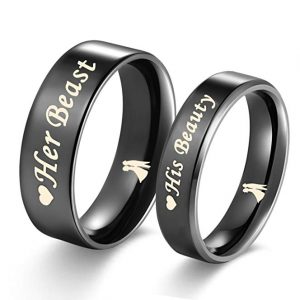 Here, both the rings are black, and this time, we can say most people love the color. If you wear matching rings to an occasion (an example is an anniversary date), it'll make a lovely sight in terms of your aesthetic appeal and the romantic tone that it sets. Think about it—"His Beauty" written on the band you wear and "Her Beast" really visible on his, is definitely a sight to behold anywhere.
Be it to that date we mentioned above, at work (you guys don't need to be available at a spot together for this to work), etc. The romance that's in play here is simply one of the best. It could be a tiny wee childish at times, but it's kind of endearing. After that, you simply look good with any cloth when you wear a black ring. Couple that with a few other accessories and you would have set a solid look.
The rings make use of titanium stainless steel (TSS sounds better though) to build an indestructible band. Or at least as close to that as possible. We're talking resistance to rust, corrosion, and tarnishing. Even the price is indicative of that. And that's including the fact that it sides with your more allergic side. After that, it's painted a deep and unblinking black.
4. AnaZoz His & Hers Real Love Heart Promise Ring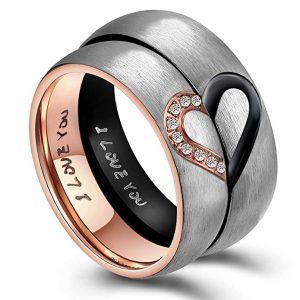 It does have a similar name to the above, doesn't it? Luckily, it doesn't have a similar design in any way or form. Heck, the fact that it comes as a set was even taken into consideration for the design. There's a heart shape design that forms when you connect the edges of the rings together. For a different aesthetic appeal, the half-heart shapes on each ring have a unique look to each of them. They definitely stand out, which is good for some of us that love showing off our man for the sake of it. We're in love and we love that fact. Moving on, there's one other thing we like. That is the meaning behind the design. "We Complete Each other" is essentially what it means and that's a sweet message that you could engrave on the inside.
We particularly recommend it if you and your partner live/work a little far a ways from each other. It's an amazing idea that could form a story one day if you think about it. Just one of those special moments in the throes of love. Going on to the hardware, the rings are made from pure and surgical-grade stainless steel, which comes in various sizes. Although, you might need some help if you're planning to gift it to someone. Their sizes are required after all. Nonetheless, there's the issue of no writing indicating the Beauty and the Beast topic around the ring. No matter, the potential is worth the risk here.
5. LUREME Black and Silver Set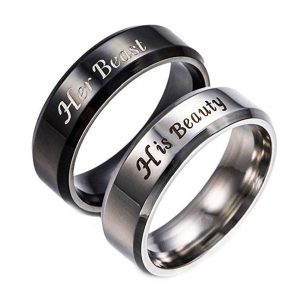 There is one black ring and then there's the dark silver one. Both of them are aesthetically appealing and even fitting according to the gender. For you personally, there is the metallic silver look that gives you a bold and imposing look. Literally, your wrist will be grabbing attention and will not be letting go. It's muted, but the color adds a bit of spice to your entire wardrobe. On the other hand, the men have the black version which has an eye-catching lustre. It's dark, dangerous, attractive, and bold. All in one single roll.
So now imagine the effects of both in one scenario. You'll catch eyes, and the Beast and Beauty idea will catch a few expressions. Now, add that idea to birthday parties coming up, anniversaries, dates, etc. It's all about romance and nothing else. The rings themselves are made from stainless steel. From something similar from the company, we would like to say it is well made and should last for a long time. No need to worry about leaving it behind for any kind of occasion (work or casual) where you may need to get physical. If you need it as a gift, there's a generous box that it comes in. You can just pass that off to your partner or even friend if you want to show them this idea as well.
6. Weiss Why Amazing Titanium Steel Mood Rings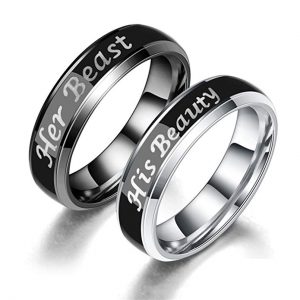 Though the Weiss Why rings are both black in color, it's the inside and edges that set it wide apart. Many people won't notice this difference easily, but both of you will. It's like an accent to the overall look. The design is made that the aforementioned parts are colored differently. And despite what we said about people not noticing it, its effects will still be seen. But the whole design (source), that might not be too visible.
It's actually romantically sound to have secrets like that and luckily, this set of rings pull that off easily. There's the usual "Her Beast" and "His Beauty" printed on the ring. They equally attract attention due to the level of details that was poured into the rings. Also, the meaning behind them means you and your partner are taken.
Whether that be when you're at work and he's at home or when he has traveled for a bit. What happens here is that your ring grabs your attention and then the longing kicks in. On his side, this happens too which is definitely a good thing.
7. KAYI Couple's Her Beast Ring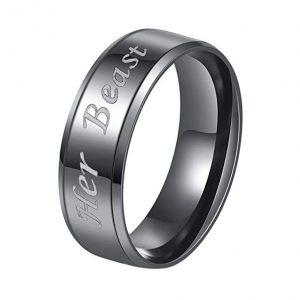 The design takes a really fun turn here. The rings are made in metallic silver and silver each. For we ladies, we take the former hue. For the men, on the other hand, they get the silver color. It's one of the brightest combinations we've seen. And although it's really close to the idea of you two being lovebirds, it's stylish that it clicks in a way with most eyes. The amount of appeal it will add to your outfit is simply too good not to talk about. It makes you different, unique and separated from the crowd a bit. The color fitting most skin hues just adds more flavor to the whole thing.
The metal used is stainless as is the norm. And we really love that fact. You'll create a lot of sweet moments with your partner. That's endearing if we're considering the very least. After that, there are multiple sizes the rings come in. We think because of this you may need to actually come clean to get his actual size. This is for scenarios where he hasn't brought up some confidence and when he doesn't use a ring. If you get a perfect size, it'll help prevent replacements and maybe even spoiling the mood a bit.
8. TheLightandTheDark Beauty and Beast Set
It's another thing entirely where it concerns rings designs. We're obviously talking about this set of rings from TheLightandTheDark. They look dirty in a way. Kind of like there is light grains of sand giving the ring its color. A simple "Beauty" and "Beast" is engraved on the outer circle and it does need some clearer words as to who wears which. You know you definitely can't be wearing a ring bearing "Beast" around, and he won't ever be caught wearing a ring bearing beauty.
Still, there is a plus side to things. The rings are adjustable. So it completely skips the whole problem of a perfect size. Still, we shouldn't push this too much as that adjustability is just to get the perfect size when you're already so close to it. It just expands enough that it's comfortably wrapped around a digit of your hands. This also makes very easy to remove. You don't need to work it too much, to get it off.
Questions You May Have about these Rings
Questions are a definite thing in buying products that you can't physically touch. So we thought why not help out with that a bit. These are some the most common questions and even ones we had too.
What's the whole idea of the ring revolving around the Beauty and the Beast cartoon?
For one, the idea of the whole Beauty and the Beast cartoon is love and the different types of barriers that it easily shatters. Think about it this way, the tag "Beauty" comes first in the title of the cartoon for a good reason. After that, the other tag "Beast" comes in. They want to create a really solid impression on the topic "How really possible is it to date outside of the societal norm?". This is done in an amazing way that sets a solid story.

Many of us have watched the film and it cruises from fear, a huge barrier, to love—which is one of the biggest milestones that has been set for relationships. So, the idea of a ring that implies the same for we in the real world isn't that farfetched. In fact, it's one of the smartest moves to make. And the fact that we've even compiled pieces of jewelry on the topic shows our allegiance to that line of thought.
What do the different colors represent?
To any fashion enthusiast you encounter on the street, they'll easily look at you in a different light. You'll get compliments, no issue about that. That's not only from the enthusiasts as the colors of these rings are simply too eye-catching. So what do these colors represent?
Silver
Silver (of any kind actually), to start with is on another level if you're considering the amount of appeal it has fashion-wise. It represents the high class, luxury, a good and happy life, flawlessness, modern, industrial, and even high-tech. It's simply on another level intellect-wise.
Nonetheless, that intelligence doesn't carry along any notable emotion. It's not dead, but emotions like euphoria or seduction do not suit it. Instead, think pride in one's worth and hard work, slick self-confidence, and other such feelings. That's the vibe that most people will get from you. Fortunately, that can be worn in any scenario that you can think of.
Gold
On the other hand, gold screams sheer riches. It's a favorite of rich people and a lot of people know this fact. If you have occasions (a dinner party amongst friends) where you want your outfit to scream out to people, we would choose this. It represents glamour at its best.
Black
Finally, black is a color that's well-loved. It's certainly a mysterious color which is normal. After all, you don't exactly know what's going in pitch darkness. It also represents danger, since looking at a pitch-black gives you a feeling that you're looking at the unknown. Instead of the unknown to be scary, this times, it's exciting.
Essentially, that's what people will notice with a simple addition of a black ring. They might not acknowledge it immediately, but they will later. It's a good look that goes well with any color.
Ash
As we mentioned, ash is simply known for being dusty. Though this time, it's the good kind of dusty. A "Dusty" after a hard day at work is what they use here. This is the reason why this color is going to be so iconic on your partner. There's no man out there that doesn't like the tag of a hard worker attached to his name. It's something bold which is just their nature.
Where can you wear these rings?
Other than anniversary dinners and birthdays parties with your partner—or the other ones we mentioned. You can wear the rings to work also. In fact, if you don't want to ever remove the ring, that's an option since the use of stainless steel makes them safe skin. The only thing that's wrong with that path is the build-up of dirt. But in terms of their durability, they're good enough to withstand scratches.
So, from work to play is where the rings can be applied. Now, you and your partner are in a small way constantly connected to each other. An unvoiced but willing permanent connection will be built between you two. Even when either of you guys travels, there's still something you share.