Affordable and Sparkly Jewelry? Check These 10 Cubic Zirconia Rings!
last updated:
Mar 02, 2020
Known for their durability and relatively low cost, the cubic zirconia is very similar in appearance to diamonds and has been a popular alternative since they were first used in items of jewelry in the 1970s. Amongst the best pieces of jewelry featuring these stones are cubic zirconia rings.
Cubic zirconia that is used in items of jewelry is nearly always man-made; however, this doesn't take away from them being a beautiful gemstone which is very reasonably priced and definitely worth considering in its own right.
To help you buy your very own cubic zirconia ring, we've chosen some of the best (and most affordable) options available at the moment.
Check out our top ten choices that can work as engagement rings as well as everyday rings and are sure to be a very sparkly addition to your jewelry collection!
Our Top 10 Cubic Zirconia Rings!
1

. JewelryPalace 3ct Cubic Zirconia Engagement Ring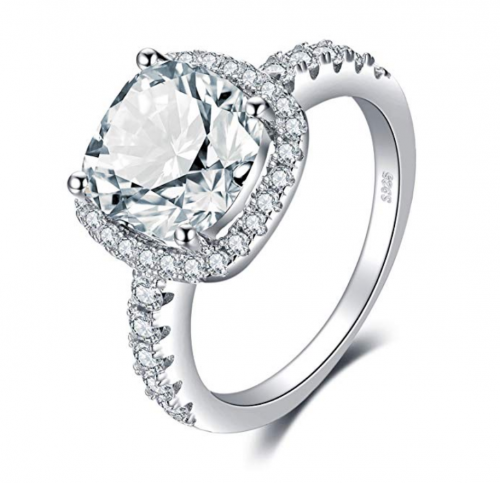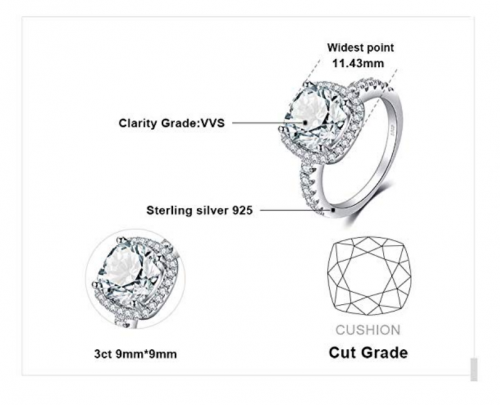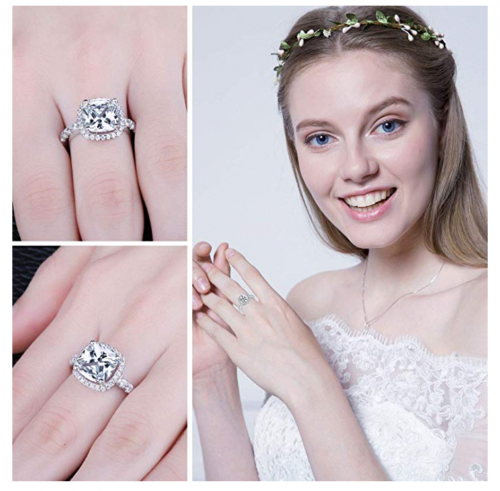 This is a stunning example of a cubic zirconia engagement ring. This gorgeous piece consists of a big square shaped cubic zirconia that is approximately 9mm by 9mm which is held in place by a halo setting.
Read more
Smaller stones are then positioned around the center stone, framing it beautifully. They also continue along with the band creating a sea of sparkling gemstones.
When it comes to the cubic zirconia stones, they are very high quality AAA cubic zirconia.
The stones featured have a gorgeous sparkle to them and could easily be mistaken for a real diamond. We love this and think it looks extremely elegant and classy!
The band has been created using sterling silver that gives it a lovely smooth shiny finish. To make the metal durable, the jeweler has mixed the silver with rhodium plating.
What's great about this combination is that it tarnishes free, lead-free, nickel and cadmium free.
Another thing we really like about it is that as well as being very stylish and utterly beautiful, this ring is very comfortable to wear. The smooth shiny inner surface of the band offers a comfy fit.
It's important to point out that this piece will arrive in a velvet pouch. It is available to purchase in sizes 4 to 11.
The stunning piece is being sold by JewelryPalace for a very low price.
2

. Amazon Essentials Sterling Silver and Cubic Zirconia Band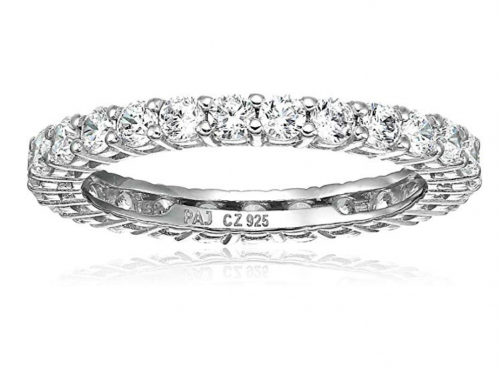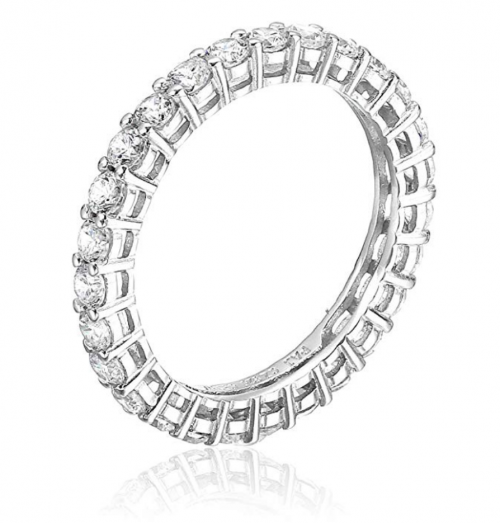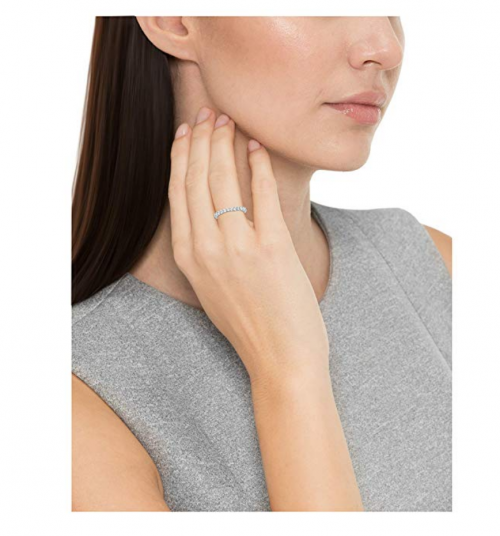 If you're looking for an elegant cubic zirconia ring you may have found it with this stunner! Jewelers at Amazon Essentials have done a fantastic job in creating this sophisticated band full of dazzling gemstones.
Read more
The main structure of this ring has been created using sterling silver material. What's great about this silver is that it's very pretty, shiny and let's not forget smooth to touch.
It has a platinum-plated finish making it strong and giving it a tarnish-free finish. The piece is also very comfy to wear, making it a great everyday ring.
When it comes to the 'wow factor', this gorgeous ring has been created using cubic zirconia stones which could easily be mistaken for real diamonds. These beautiful gemstones have been cut into a circular shape and positioned around the entire band.
This would make a fantastic wedding ring band if you're on a budget. If you don't like a typical engagement ring that has a prominent stone in the center, this would also make a fantastic substitute.
The pretty option is being sold by Amazon Essentials for a great price so this is a fantastic buy!
3

. Samie Collection 3-Stone Cubic Zirconia Ring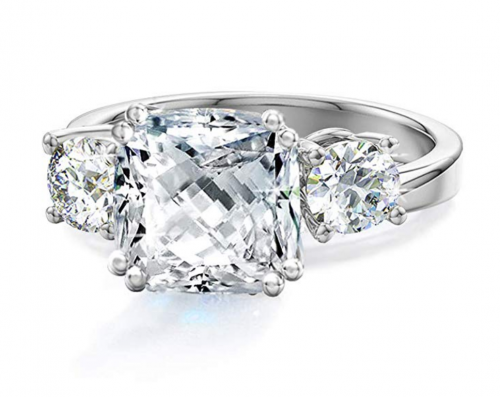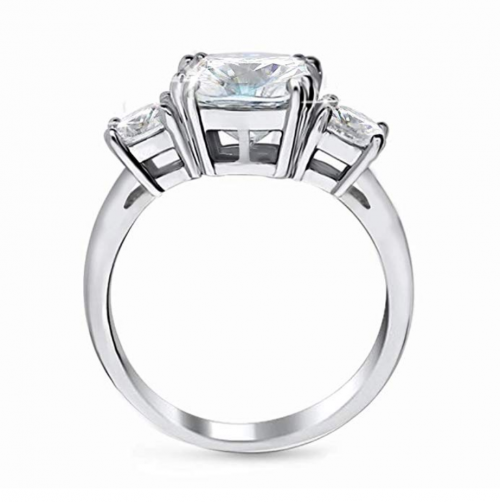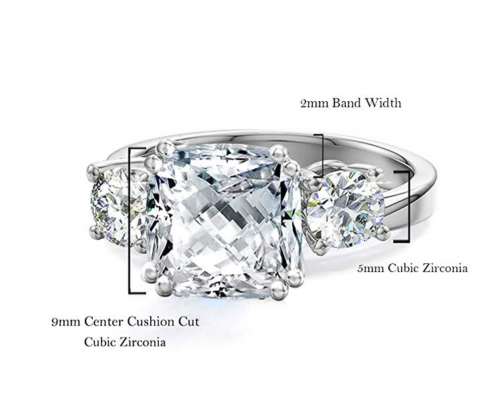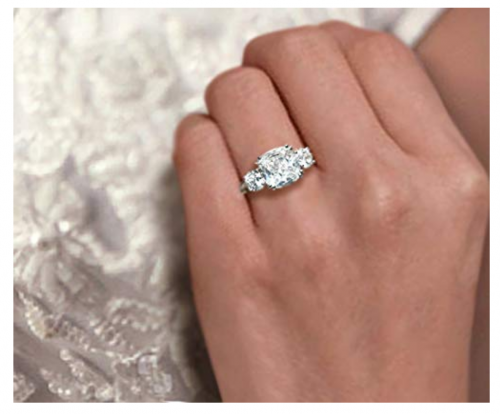 Meghan Markle's iconic engagement ring has to be one of the most photographed pieces of jewelry. As it's one of the most loved rings at the present, jewelers at Samie Collection have decided to replicate it but have created and sold this option for a fraction of the price!
Read more
This gorgeous ring consists of three cubic zirconia stones in a row. The stunning promise ring is an exact replica that features a sparkling checkered cushion cut center stone with round cut side stones set in a silver tone prong setting.
What's lovely about it is that the band gives off a warm golden glow that portrays a grand royal aura.
The foundation has been created using 18k gold with a rhodium plating finish. What we like about the rhodium plating is that it will protect the gold and keep your ring looking just as gorgeous as the day you bought it.
The diamonds featured within this ring are stunning cubic zirconia gemstones. These offer a bright glimmer finish but at a fraction of the price.
This option is available to purchase in sizes 5 to 10 so if you like the idea of owning an engagement ring similar to Meghan Markle's, then don't delay in buying this one!
4

. Espere 2 Carat CZ Solitaire Engagement Ring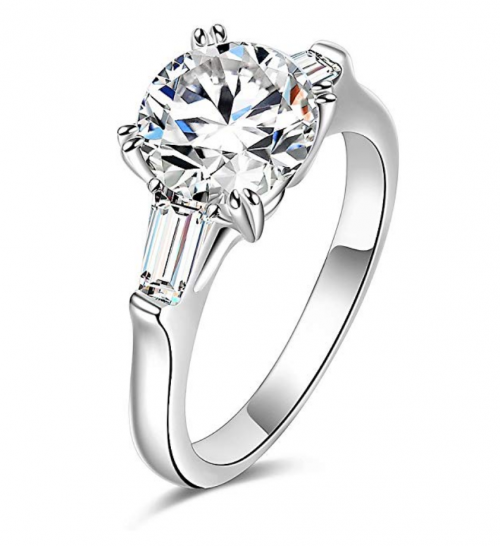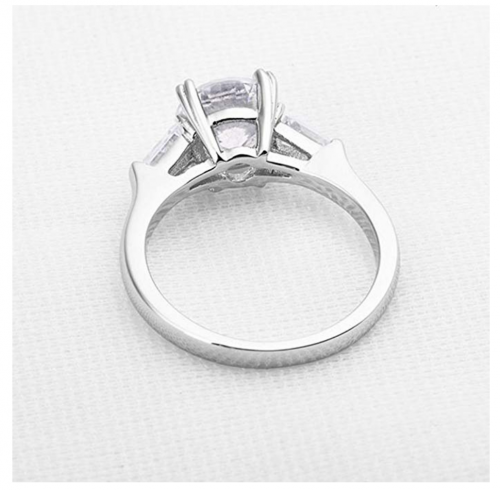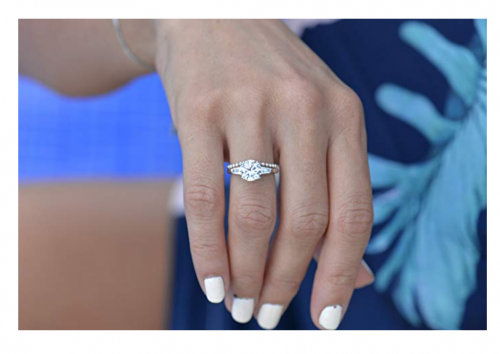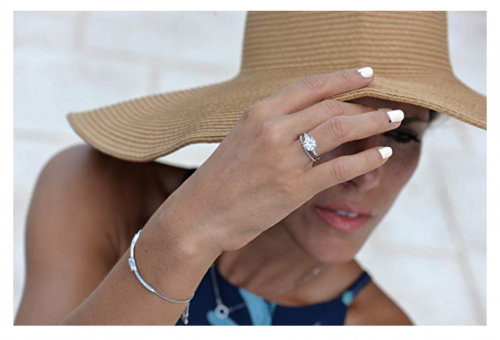 Cubic zirconia gemstones are arguably one of the most attractive gems and the next ring in our shortlist proves it! It features a huge 2 carat round cut gemstone which shines beautifully.
Read more
Held in place with an eight prong setting, this is a large gemstone which sits high on the finger.
We love the smaller detail and the way that the twinned prongs grip the gemstone. This really gives the feeling that this is a well-made ring and that the gemstone is firmly held in place.
One of the most striking features has to be the two baguette cut gemstones that sit on the shoulders of the band. Placed on either side of the large round cubic zirconia at the center, these rectangular stones add something very different and almost give this ring an angular look.
This works very well in adding height to the ring and helps to frame the large central gemstone. More importantly, it also adds even more sparkle!
You'll notice from the side profile that this is a ring of two halves. The lower half of the band is very plain and simple and the polished rhodium plated brass means that it will be hard wearing in addition to being comfortable to wear.
The upper half is somewhat more complicated, but nonetheless very attractive. The shoulders of the band widen below the baguette gemstones and the band splits into a bridge which helps to hold the center stone in place.
The twin prongs help to bring everything together and from the side are an attractive feature which is almost antler-like in appearance.
Available from Espere, it comes in its own jewelry box or pouch and you have peace of mind with a 30-day money back guarantee.
5

. JanKuo Jewelry Rhodium Plated Cocktail Ring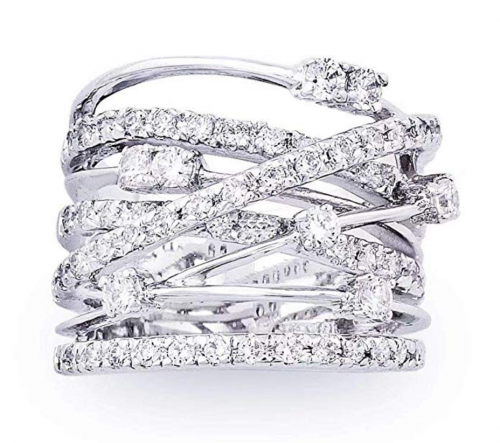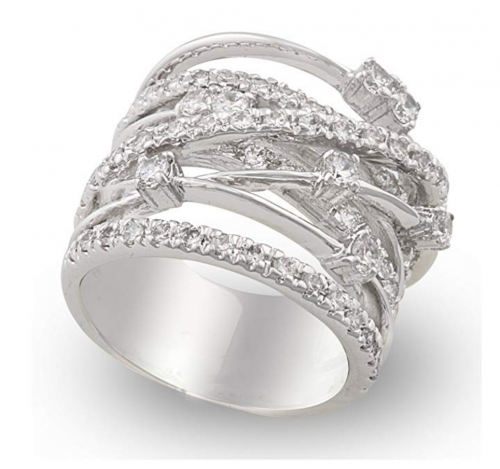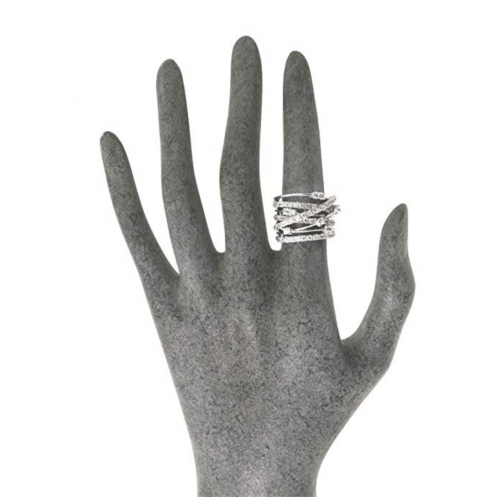 We simply love this highly modern design that includes our gorgeous cubic zirconia stones. The designer has really gone above and beyond in creating a striking piece of jewelry that you won't be able to stop looking at.
Read more
Instead of a classic elegant single band that features a single cubic zirconia stone, this jeweler has opted for a wider thick band. This gorgeous ring really makes a big statement!
This stunning piece is made up of eight bands that cross across each other. The overlapping design of eight single bands makes a lovely spectacle.
Some of the bands feature cubic zirconia gemstones around the entire band; other bands simply feature one or two single gemstones.
When it comes to the cubic zirconias, these have been cut into a small round shape. The small dainty stones are a clear color which has a gorgeous sparkle.
What's great about the choice of cubic zirconia is that when worn, this ring will sparkle with every movement of your finger. You'll simply love wearing it.
It has been created using a rhodium-plated brass; however, it could be mistaken for sterling silver or even white gold. The design concept of the ring also achieves in creating a sophisticated and classy piece of jewelry.
To give you an idea of the size, it is approximately 0.9 inches wide and weighs approximately 12 grams.
As mentioned previously, this would make a fantastic cocktail style ring and a perfect present for an anniversary or birthday.
Alternatively, it could also pass for being an engagement ring if you're looking for something slightly different.
6

. Gem Stone King 10K Rose Gold Pink Cubic Zirconia Ring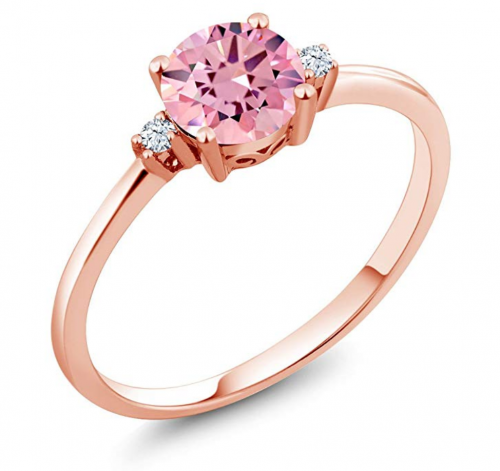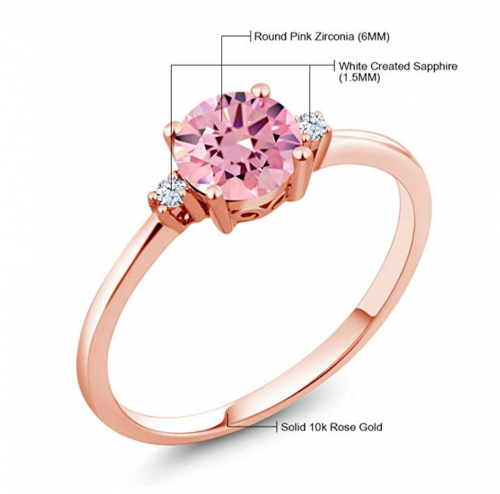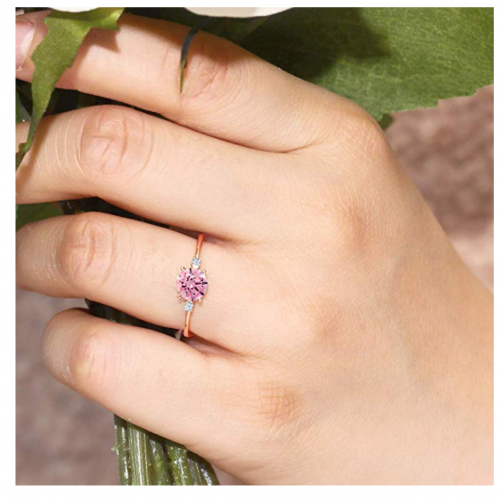 This piece is priced high and is, in fact, one of the most expensive options in our shortlist. At the center is a beautiful 1.5 carat round cut pink cubic zirconia. This gemstone is an ideal cut; it means that it reflects light extremely well, meaning that it is bright and appears as being very white.
Read more
The gemstone is held in place with a six prong setting which holds the ring in place above the band. Along with the latter, you'll notice a selection of small created sapphires that add that extra sparkle.
We really like the design of the band and these smaller crystals have been inlaid into the shoulders of the ring.
There's also a really nice level of detail where the band meets the head of the ring. This helps to streamline the design and draws all the attention to the large cubic zirconia gemstone.
One feature that makes it different from the others is that this band has been plated with 10k rose gold.
This works really well alongside the large gemstone and the smaller sapphires and the deep rose gold balances perfectly with the bright gems.
Rose gold is also a great alternative to more traditional metals and allows you to mix and match with other jewelry which is very on trend!
7

. Bo.Dream Sterling Silver 5 Carat Pear Cubic Zirconia Ring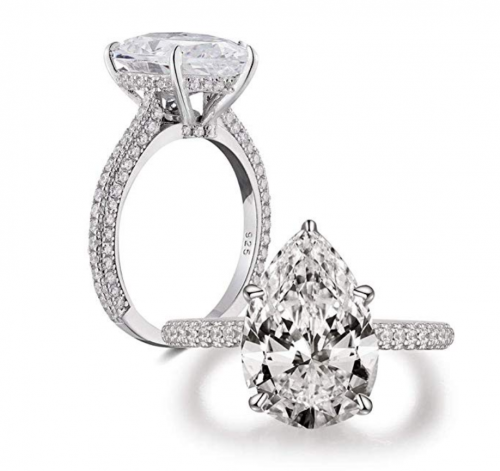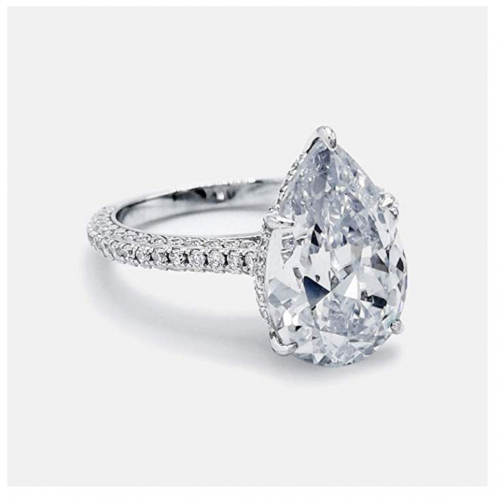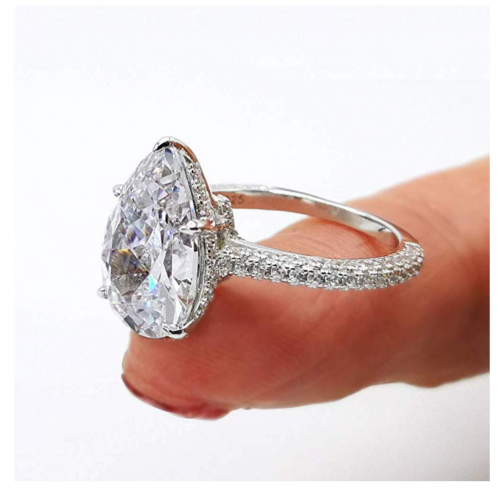 This stunning cubic zirconia engagement ring that features a pear-shaped stone that is sure to catch your eye!
Read more
It features a 5-carat pear shaped zirconia is sure to get heads turning. Positioned in the center of the ring, this large gemstone has been framed with a cluster of smaller single stones that work really well in showing off this center stone.
The thin band also features further stones giving this ring a true elegance.
This stunning ring has been created using a gorgeous sterling silver metal with a rhodium plated finish.
What we love about this choice of material is that the sterling silver has a lovely smooth texture and gorgeous shine.
The material is also nickel free and hypoallergenic which makes it is safe for people who have sensitive skin to wear.
To give you an idea of the size, the band is approximately 2mm wide. We love that this width gives the piece of jewelry an elegant dainty design which looks very glamorous alongside the pear-shaped center stone.
The stunning ring will arrive in a white leather box that has a black velvet interior which will certainly keep your ring safe and protected. The jeweler also offers a 30-day money back guarantee, however, we are sure you won't need to use this.
The lovely piece is available to purchase in a variety of sizes so you have plenty to choose from.
The jewelers at Bo.Dream have done a fantastic job in creating such a pretty piece of jewelry for such as low price!
8

. Mozume Five Stone Round Cut Ring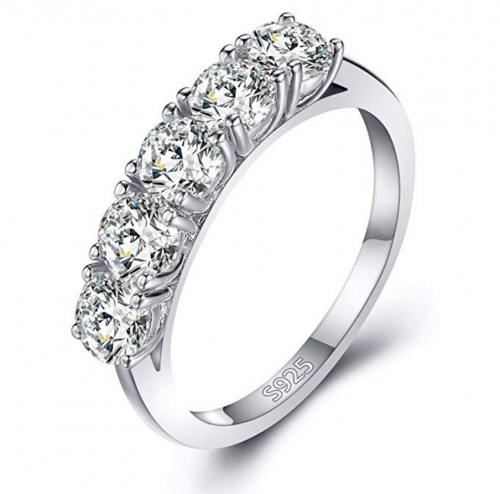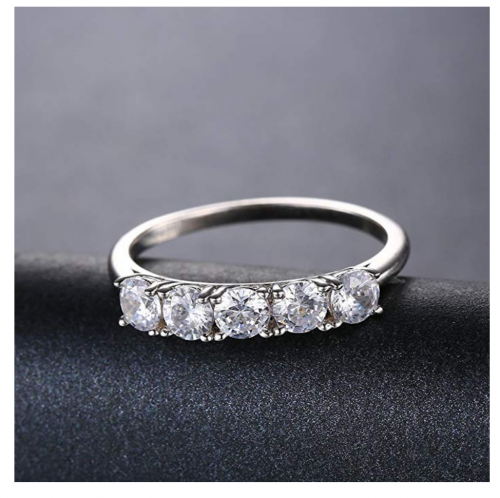 If you're after a classy but minimalistic ring then this is your number 1 choice! This beautiful option consists of a single band containing five separate cubic zirconia stones.
Read more
These clear round cut gemstones have been cut to approximately 4mm by 4mm and have been positioned in a lovely prong setting.
The main structure has been created using a rhodium-plated sterling silver metal. This choice of material not only gives the ring a lovely smooth shiny finish but gives it a great strength.
The inclusion of rhodium also ensures it has a long lasting bright shiny finish that won't change over time.
It's important to point out that the choice of material is suitable for people with sensitive skin which is great news. The inclusion of rhodium will also prevent the band from eroding.
The AAA+ cubic zirconia gemstones really look like real diamonds, you'll forget they aren't the real thing, but still, an excellent diamond alternative.
It gives off a truly special sparkle that you won't want to take your eyes off. What makes the ring even better is that it's very comfortable to wear because of the smooth inner surface of the band.
9

. AINUOSHI 925 Sterling Silver CZ Ring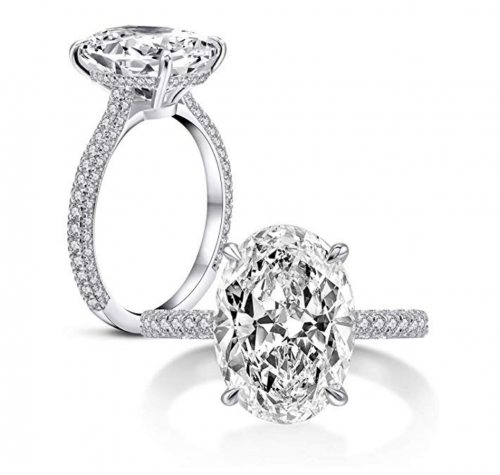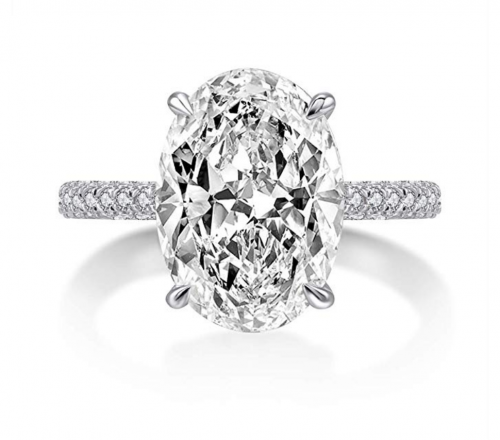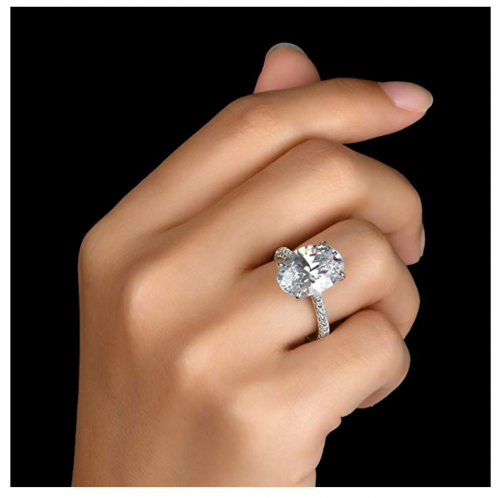 This option is a real eye catcher! If you're looking for a large gemstone, this 5-carat cubic zirconia certainly fits the bill and is sure to sparkle. The first thing you'll notice is that this ring comes in at a very reasonable price.
Read more
The oval cut cubic zirconia is held in place by a simple 4 prong setting; the brilliant cut  helps to raise the profile of the piece so that it sits high above the finger.
The overall look is very classy and elegant; it's worth noting that this option is very pronounced on the finger, it could be easily snagged on items of clothing.
However, this shouldn't put you off as this is a stunning item of jewelry which can be easily matched with many styles.
The band is made from sterling silver so you're getting a hard wearing ring that will keep its shine.
You'll notice along with the band that there are dozens of smaller gemstones; these add further sparkle and we particularly like the fact that you can see these gemstones from both above and the side.
This is a really nice detail which helps to soften the much larger gemstone (and adds an impressive amount of sparkle!).
A particularly attractive feature is the side profile which has been designed to elevate the large cubic zirconia. It almost looks as though the gemstone is held up by a crown and the prong setting effortlessly weaves into the band.
This would make a fantastic alternative to a diamond ring, particularly if you are looking for a cheaper option.
When viewed from different angles you'll notice just how many colors are reflected from the gemstone; you'd be mistaken for thinking that there were lots of smaller gems making up the headstone, when in fact this is one large gem that reflects light really well. The gemstone is very clear and almost looks like it is made from glass.
It comes in a lovely velvet box to keep safe and although it's one of the most expensive rings in our shortlist, it's certainly worth the investment!
10

. Hafeez Center Micropave Halo Ring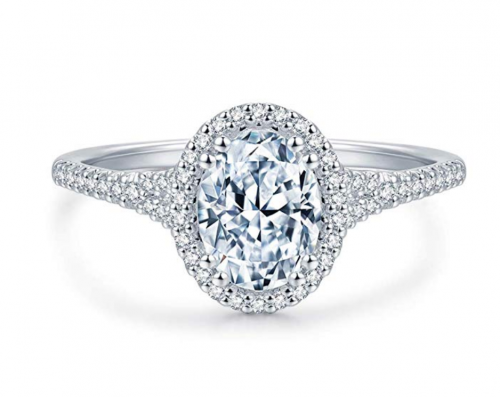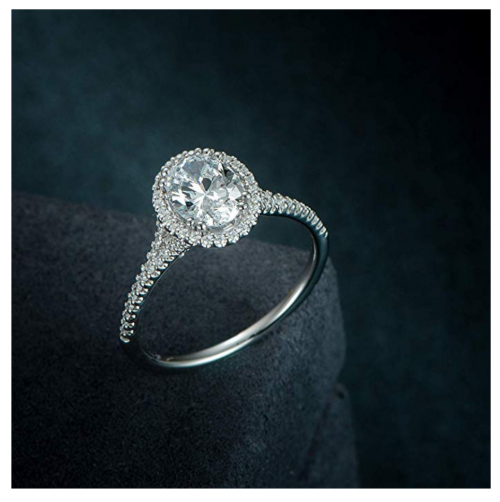 This option offers a modern twist on a classic solitaire ring design! At the heart sits 2.25-carat oval cubic zirconia which is simply stunning.
Read more
The oval shape of the gemstone is very pretty and although it's smaller than some of the other pieces we've reviewed. We think that this is a very well balanced cubic zirconia ring that sits well on the finger.
The gemstone is held in place using a simple eight prong setting; we love the smaller detail which includes twin prongs on each corner.
Perhaps one of the most attractive features is the halo design; in total there are 74 smaller gemstones surrounding the center stone and along with the band (yes, that's 75 gemstones in total).
Made from sterling silver, the band is rhodium-plated; it means that this is strong and durable in addition to maintaining its shine.
The band is also very attractive and the smaller gemstones continue along the shoulder which works really well with the large cubic zirconia.
From the side, you'll notice that this is a well-designed piece of jewelry and the arch that sits below the head of the ring not only adds extra sparkle. It also makes this feel like a very sturdy option which grips your finger nice and comfortable.
This really is among the prettiest cubic zirconia rings; something we think is partly down to the stunning gemstone that sits at the center.
The clarity of this stone is classed as VVS1 – VVS2; this stands for 'very very slightly included' and 'very slightly included', so there are few inclusions which are not likely to be visible with the naked eye.
This means you're getting a beautiful clarity and an extremely attractive ring!
Finally...
There you have it; our selection for super affordable yet gorgeously beautiful cubic zirconia rings!
We made sure to include picks which are made from the highest grade cubic zirconia stones and metals. Most of the options are rhodium-plated as well. This type of plating enhances shine and makes the metal more resistant to scratches and discoloration.
Finally, when it comes to price, we included options with an affordable price tag so even if you're on a tight-budget, you will be able to get something off our list!