Mix / Women
Beautiful Screw Back Earrings for All the Elegant Ladies Out There
Marianne 12 Mar 2020
7221
Ladies, when you buy a new set of expensive earrings, the last thing you want is to have them fall off during a night out. If this happens, you could spend the entire event looking at them…ruining your fun.
To prevent this, you will need screw back earrings. Not only are they more secure than other types of earring backings, but they are also very comfortable. You won't have to sacrifice comfort for secure backing if you buy the right type of screw back earrings.
Reasons why you should use screw back earrings
For those who are still wondering why screw back earrings are recommended, here a few reasons to clear your doubts.
The security of your earrings
Obviously, this is the number one reason why screw back earrings are encouraged. It protects your dear jewelry from getting lost while you go about your daily activities.
It is true that friction-based earrings also keep the earrings safe, but it can fall off when worn for a long time. There are women who do not even remember to take off their earrings for days, for such women, the earrings will get lost as the friction force dies with time and sweat.
The screw-back earrings, on the other hand, have a huge advantage over friction-based earrings. They have threaded posts behind the settings, the nut is carefully rotated along with the post and finally sits firmly against the back of your ear, securing it properly.
You may wonder why we still encourage screw back earrings when the process of fixing the screw takes some time, but that time is nothing compared to the comfort and security you will experience with this unique backing. No more looking around for your earrings or the hook in the middle of a meeting.
They have bigger diamonds
You will notice it once you set eyes on a pair. The diamonds are always bigger than those on the friction-based earrings. This is because there is more security for the pearl, so the manufacturers can comfortably add more to the diamond size when designing screw back earrings.
This means that when you buy yourself a pair, you will enjoy more luxury since the diamond will be bigger and more pronounced. The post is also thicker than that of the friction-based earring, so it is a far better accommodation for larger diamonds.
As you can tell, the friction-based earrings will not last as long as the screw back ones. As far as stud earrings are concerned, screw back is the best when it comes to durability. You can use them for years without having to worry about wear and tear. This is because the metal used for the posts are naturally thicker than other types of earrings backings.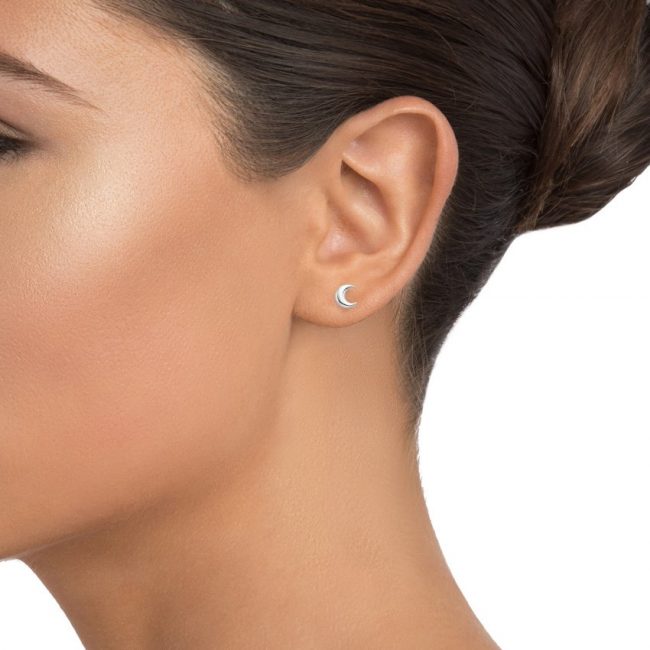 Proper maintenance can have you using it for years without replacement of any part. If, however, there is a need for replacement, you can easily buy the parts of the screw from the makers of the brand you are using. Maintenance practices are discussed at the end of this article.
If you are looking for cartilage earrings, you should check out top picks selected by our editor in chief.
Screw back earrings are the perfect set you want to get for your baby girl. It is safer and more secure since children are naturally overactive during playtime, they can easily lose their earrings you spent so much money to buy for them.
There are so many brands specially made for kids, and you will find so many of them that fit perfectly on your daughter.
Most ladies that are into sports like to take off their jewelry before starting their activities. This is understandable because of the discomfort or fear or losing jewelry during sports.
But when you use a screw-back earring, you won't have to worry about that. Sportswomen can now leave their earrings on them as they carry out their recreational activities.
They are generally safer to use
Here, we are not talking about the already obvious security of your pearls, but the safety of the wearer. You do know you could get injured from earrings right? Such an accident is very unlikely and almost impossible with the screw back type of earrings.
Screw backs are hard to remove, which reduces the risk of choking in children, so your kids are not only saving you money by not losing the earrings, they are also not going to get injured. The jewelry post is concealed by the earring backing, which gives you a hundred percent protection by preventing the post from poking through the back and injuring your neck. So you can look good, enjoy luxury, stand out from the crowd and also be safe at the same time!
The 10 earrings listed below are selected from the best types of screw back earrings. They are beautiful, durable, and will surely save you from any discomfort during that event where you plan to flaunt your elegant jewelry. You will also notice that they are really affordable, making it possible for you to buy multiple earrings at once without breaking the bank.
Our 10 Favorite Screw Back Earrings!
1.White Gold Cubic Zirconia Stud Earrings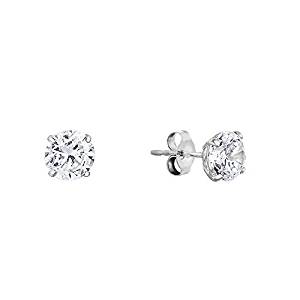 This eye-catching jewelry is moderately affordable and worth every penny you spend on it.  It is made of 14k solid white gold and has a cubic appearance that totally justifies the mad rush for the product.
As an elegant lady, your jewelry box is not complete without this stunning earring set. The high-quality product is adorned with zirconia stones that will make your ears sparkle when you wear them. Measuring up to 3.8 by 3.5 by 1.8 inches, you will experience maximum comfort with luxury at the same time.
Made by Everyday Elegance Jewellery, the 14k metal stamp earring will be one huge addition to your jewelry collection for reasons that range from the classy gem type, the white gold, the 1.5 carats gem weight, the comfortable length of 1 millimeter, to the overall weight of 2.56 ounces.
What you will love most about using this portable piece of jewelry is that it fits almost every occasion. Whether you have a romantic night out with your significant other, a formal event or just some everyday hang out with the girls…the white gold cubic zirconia stud earrings are perfect for you.
2. Gold plated silver diamond CZ stud earrings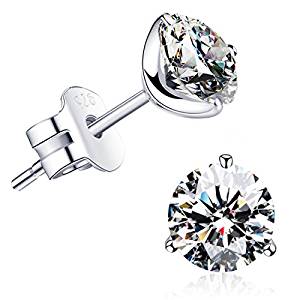 Popularly known as the stunning flame, this 18k gold plated silver princess cut is one of the best jewelry manufactured by chic code. It is so beautiful and attractive that despite being small, you would hardly pass unnoticed while wearing the stunning flame.
Anyone can see it under any type of light because it was made to shine and stand out from the crowd. It is also easy to maintain all the flashy qualities of these high-quality earrings. All you have to do is ensure you lightly clean the earrings with alcohol when you take them off. Don't worry, it will not fade.
Despite being so flashy, the jewelry makers also put the user in mind. This means that all types of ears can wear it and feel the same level of comfort. All sensitive ears will really enjoy the ease of the stunning flame's smoothness.
The lightweight of 1.6 ounces and portable dimensions of 0.6 b y 0.2 by 0.2 inches, coupled with the secure screw back, means you can move and dance freely without worrying about losing your precious diamonds.
Even with length and breadth of 6 millimeters and two stones, the flashy nature of this white-gold-plated silver earring makes it get more attention than bigger earrings out there. It is really affordable and will go well with almost all your clothes, the stunning flame can also be used as a perfect gift for your female friends and family members.
3. 14K Solid Yellow Gold Stud Earrings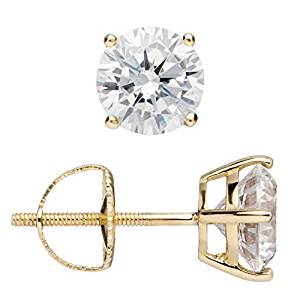 This is another product from Everyday Elegance jewelry, but unlike the first one on our list, it is yellow gold. The beauty of this earring can be seen from a long distance, and that is the result of the use of two colors. The white-yellow part of the earrings is mainly behind, while the white part is mainly in front. The way the round cut cubic zirconia blends with the gold plating is just breath-taking, and it is the first thing that will attract you to the jewelry.
The materials used to make this affordable, yet luxurious earrings are of very high quality. The 14k yellow gold is 100 percent gold and no other materials were added to it during production. As you can already tell, there are two stones constituting this product, and the weight is not more than 0.50 cttw. The dimensions of this yellow gold stud earrings are 3.4 by 2.7 by 1.9 inches, so you don't have to worry about comfort, you can even swim with it.
Weighing just 1.76 ounces with such a firm screw back security protecting you, this is one product your mum, sister, and friends would really appreciate as a gift.
4. Sterling silver cubic zirconia round cluster earrings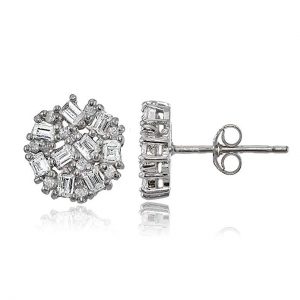 Coming from long time jewelry giants like Decadence jewelry, you already know this product will be classy. The silver sterling is made of high-quality sterling silver (925), with a jaw-dropping design that will leave you speechless for a few minutes after you set your eyes on it.
This earring was made by materials carefully selected by experts, so you can rest assured of the rhodium-plated silver used to make this cute piece of jewelry. No matter the type of light you go under, the beauty of this earring will sparkle and keep your ears and an entire face glowing. No wonder so many women are really going after this product.
If you have a lot of gold in your jewelry wardrobe, this is the perfect product to change your game and give you a new look altogether. If you already have silver, adding this type of unique design to your collection will do you a lot of good, no matter your style of dressing.
To really bring out the beauty of this rare design, wear hairstyles that will effortlessly reveal your ears no matter how you sit or stand. This will make your ears shine and blend with the light you are under. Maintaining this product is not hard at all, just use a soft cloth to clean when you take it off before placing it safely in your jewelry box. With a lightweight of 0.64 ounces and an impressive dimension of 2.9 by 1.7 by 0.4 inches, your comfort is assured.
5. Yellow gold diamond-cut dome studs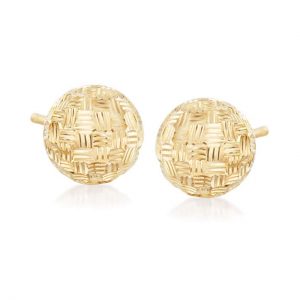 If you are one of those women who love being simple and luxurious, this earring is for you. Your choice of simplicity could be a result of your office appearance or just your personal choice. Whatever the reason, it doesn't matter, you will look stunning and simple wearing this yellow gold dome.
The yellow gold dome earring is made to sparkle from the corner of your ear. It has 18k yellow gold with a diameter of ¼ inches. Made by the famous Ross-Simons, this product is relatively new but is gradually taking the jewelry market by storm, as almost all women, simple or not, find it attractive and secure.
If you like wearing a ponytail, this earring will fit you perfectly. As for those ladies who like to carry bob hairstyles and fringes, it will also look good on you. As a matter of fact, all face shapes and hairstyles will go well with these earrings the same way, even low cut. The glitter does not fail to make the wearer stand out, day or night.
6. Platinum-plated white CZ cube jewelry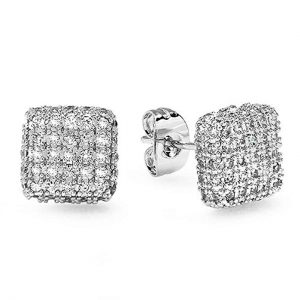 The main difference between this earring and the previously listed is in the size and shape. While almost all the aforementioned earrings have had a relatively small size in common, this one is slightly bigger than them all. It also boasts of prominent dimensions of 3.1 by 2.3 by 1.1 inches.
The cubic zirconia square cube shape also makes the platinum-plated white earrings a sight to behold. With a pocket-friendly price, you can make your ears glitter in white as you rock these beautiful set of jewelry.
This product has been in the market for a long time, but it is still topping the charts as both male and female jewelry lovers can't seem to get enough of it. You can gift it to your young male friends as well as any adult female who likes to enjoy quality.
One feature you will love here is the fact that you can wear these earrings for both formal and informal gatherings. The bold aura will give you a stunning and firm appearance. If you have a round face, this earring will match your face perfectly, as it will add extra boldness to your entire look.
With a micro pave setting and length and breadth of 9 millimeters, you can rest assured that this platinum-plated based metal jewelry will be a top addition to your jewelry wardrobe.
7. 14k rose gold round Morganite and white diamond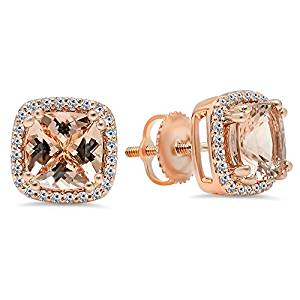 At first glance, the halo style of this earring will impress you. It is the first and most stunning feature of the product, mainly because of how well the design was made. The colorful and shiny stones used to make these earrings are natural and authentic, so you can set your mind at ease when it comes to product quality.
If you are wondering what to gift your female friend or even a significant other, this beautiful earring will be perfect, as it will definitely impress her. The product weighs nothing less than 4.8 ounces, with dimensions of 2.7 by 2.4 by 1.7 inches.
Specially made for women who love glamour and simplicity, the rose gold and halo setting give a cool and shiny appearance. To maintain this jewelry, ensure that you clean it with a soft cloth immediately after you take it off. The 14k rose gold round morganite and white diamond earrings are moderately affordable, you won't have to break the bank.
8. Gold screw back round Akoya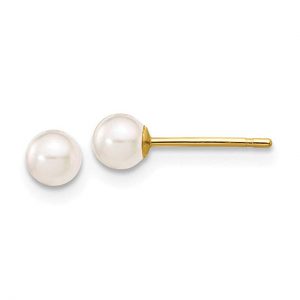 Once again, the mixture of gold and white is here to make you look as stunning as ever. This earring is made by the pearl source and has a round appearance that is white in color. The golden part of the earring sits comfortably at the back, making up the screw part of the jewelry.
It is a common thing for women who are new to Akoya pearls to immediately get addicted to the product, and this is because of the comfort and beauty associated with the jewelry.
Being moderately affordable, you will find that these earrings, which are AAA in quality, are indeed worth every single penny spent to purchase them. The 14k gold posts are so nicely designed into the earrings and do justice to a term which states that little things are awesome.
The product comes with dimensions of 6.1 by 4.4 by 2.4 inches, which is slightly more than the others listed above. Weighing about 3.2 ounces, the pearl store really gave their all into making such a masterpiece. Your ears will be grateful.
9. NANA 14k gold post and sterling silver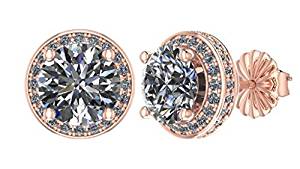 This product of the central diamond center is never fading. As an elegant lady, this is one piece of the sparkling jewelry you really want to have in your box. Is shines so bright and has this high-class appearance unlike any other. The diamond look alone is worth every penny of the cost, which is relatively affordable.
The high-quality metals used to make this stunner includes silver sterling and 14 karat gold, talk about luxury right there on your ears. The brightness from this earring is arguably equal to the world's most perfectly cut diamond. Any woman can rock these earrings at any time of the day, but it has a special effect at night and evening times, the glow will make you the focus of the entire event.
For extra security, this product is double notched, so you are perfectly safe. As for rashes, itching and other forms of discomfort that could come as a result of your sensitive skin, you can rest assured you won't be seeing any of that with this jewelry. They have been made to blend with all skin types.
Measuring 0.6 by 0.3 by 0.6 inches and weighing just 0.8 ounces, this 925 sterling product will be a huge plus to your collection.
10. White Gold Threaded Screw Backs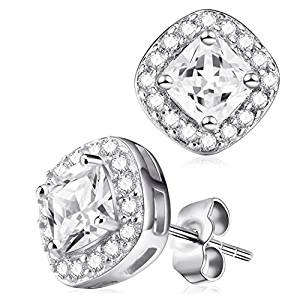 White gold has never looked better than it does on this classy set of earrings. The resizeable earrings with 1.60 carats is a stunner for every occasion. With a stone width of 5 millimeters and 14k metal stamp, you can be sure it is worth being added to your collection.
These earrings were made with maximum expertise and the material used is high-quality moissanite. For such glamour and durability, the moderately affordable price is really justified.
Maintenance practices
It is not enough to buy the high-quality screw back earrings listed above, you also need to know how to maintain them if you really want to get the best from it. Though these sets of earrings were made with high-quality materials which make it hard to wear and tear, you also have some work to do.
With such good products in your possession, routine maintenance should not be hard to carry out. They are easy and are common everyday practices we usually forget to do.
First of all, know how best to store them
As stated earlier, these maintenance practices are easy to do, they are just also easy to overlook. Things as simple as storage play a huge role in the longevity of your earrings, so know how best to store them. Make sure the earrings are always in a clean and dry place where they never get to scratch each other.
Simple practices like making a stud earring holder can help you get more organized with your jewelry as you buy more and more of them. If you are wondering how it is done, just get a ribbon and fix your earrings to it. Make sure the ribbon is thick enough so you won't have to deal with a torn earring holder.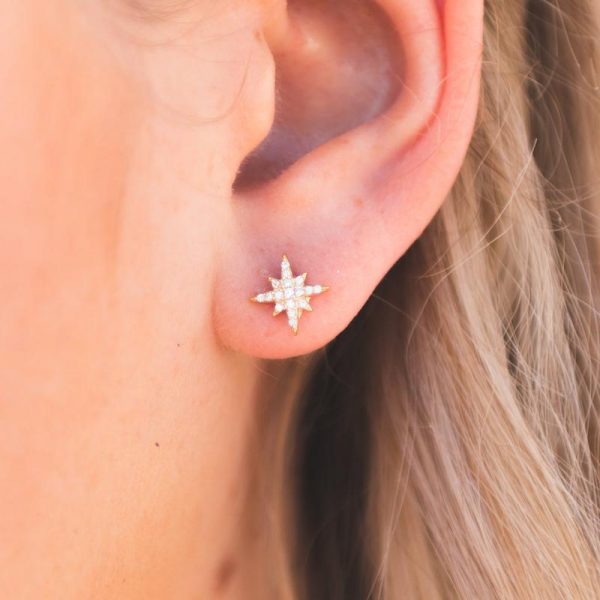 Still, on the issue of earring storage, you can save a lot of space and money if you use your drawer. This works really well with ice trays. Get an ice tray and, clean is very well and organize your precious earrings into each hole. If you don't want to bother yourself with these storage methods, just get an earring book or an earring holder from the market, they are very affordable and are tailored to help your earrings stay safe.
Next is knowing the best way to clean your earrings
You have to clean your earrings before placing them back into the storage box, it is absolutely necessary. Once you get back home from that event where you stole the show with one of the earrings listed above, the next thing to do is to quickly use a soft cloth to wipe the earring, especially the part that passed through your piercing. This is for safety as well as preserving the high quality of your pearl.
Apart from the quick method of cleaning, you should know that after some months, a better form of cleaning is required. Here are the ways you should clean your earrings with respect to the type of material used to make it.
DIAMOND
If your earring is made of diamond, you should clean it by soaking in a small bowl of warm clean water for twenty minutes. This warm distilled water should be mixed with a quarter cup of ammonia before inserting your diamond into the liquid. Now, get a soft toothbrush and gently scrub the diamond to clean it and renew that brightness of day one. Special care should be made not to scrub hard; gentle scrubbing is more than enough to achieve the aim. After scrubbing, rinse with warm water and leave out to air dry completely.
GOLD
Your liquid soap meant for the dishes will really come in handy when it comes to cleaning your gold jewelry. Just add a few drops of the dishwashing liquid to exactly two cups of water and soak in your gold earrings for 15 minutes. After that, get your soft toothbrush and do the usual light scrubbing, you don't want to ruin your precious gold by brushing too hard. Rinse off with warm water just like in the case of diamond and use a clean soft cloth to pat dry.
SILVER
Unlike gold and diamond that can handle light brushing, silver is way too fragile for that. It can easily get scratched so take your toothbrush far away from this one, we won't be needing it. Just warm distilled water and use it to rinse the jewelry, after which you use a clean cloth to pat dry, that's all.
Lastly, be careful with soap
Almost all the earrings listed above can be worn during your time in the shower, but it is advisable you take them off before doing so. The reason is not that it could get lost, but for the sake of preserving the material. Gold doesn't go well with soap and silver is not friends with chlorine, so you should take off your jewelry before taking a pool dive.