7 Best Friend Necklaces for 3: Surprise your Besties With One of These!
last updated:
Jul 01, 2021
Being a best friend is a lot of work, there's no doubt about it, and best friend necklaces for 3 show how much you care.
We spend hours comforting each other, giving stellar advice, and supporting all of our besties towards success.
To show just how much you cherish those closest to you, finding a trio of stunning bracelets is a fantastic gift option.
Let's take a look at some of the most elegant and fun bracelets that all of your friends will love wearing.
Best Friend Necklaces for 3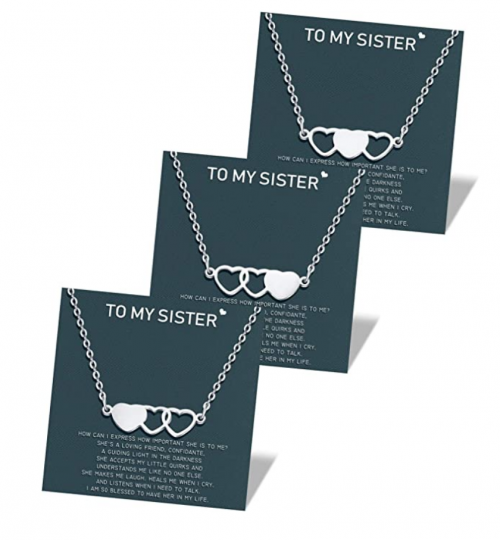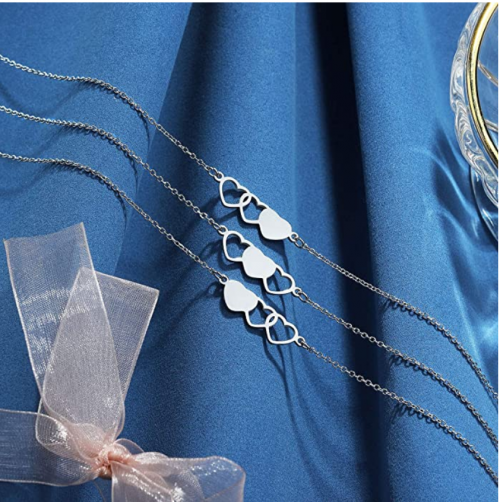 Thin rolo chain
18" chain with 2" extender
316L stainless steel
Unique messaging cards
What makes this trio of accessories one-of-a-kind is they're highly adaptable for any occasion. You can use them as a way to signify friendship or to give to close family members to show them how much you care.
Read more
Each necklace features three interlocking hearts, with the first filled with silver-toned metal.
You will love how the pendant casually sits across your chest, adding to any other accessories you're wearing.
It's one of the more fashion-forward necklace styles we've found for best friends, especially with its stunning brilliant metal.
The necklaces' quality is exceptional, featuring 316L stainless steel. This material is entirely skin-safe as it doesn't contain any lead or nickel, perfect for sensitive skin.
Also, the polishing doesn't fade over time, helping the necklace look brand new for much longer.
2

. Shonyin Sun Moon Star Necklaces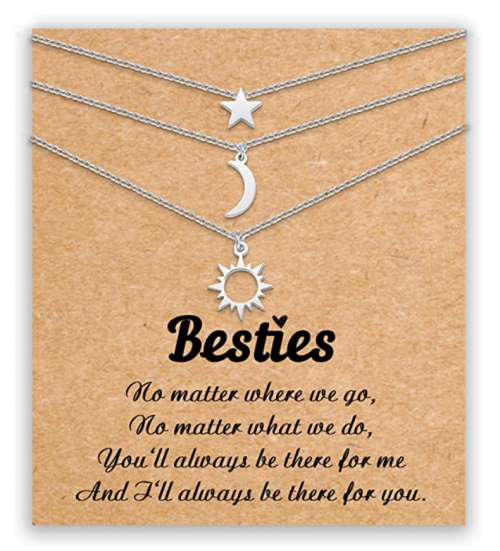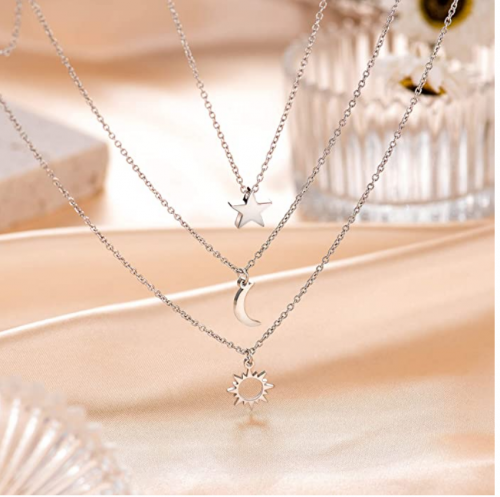 316L stainless steel
.5" pendants
20" maximum chain length
Unique messaging card
The moon doesn't exist without the sun, and the stars cannot exist without the moon. This trio of best friend necklaces is the perfect way to show your undying bond with your besties or close family members.
Read more
As its name suggests, you'll have one necklace with a sun pendant, another with a moon pendant, and the final one is a small star.
Each of the necklaces is dainty, making them the ideal addition to any jewelry lover's collection.
The maximum length is up to 20", as it comes with an 18" chain and a 2" extender. The pendant is only .5", which makes it easy to wear solo or with other pieces.
It's also important to note the quality of materials in these graceful necklaces. Unlike cheap bestie accessories, these are crafted from 316L stainless steel.
Not only is the material skin-safe and great for hypoallergenic purposes, but it also doesn't rust or tarnish.
3

. Pibupibu 3 Pack Best Friend Set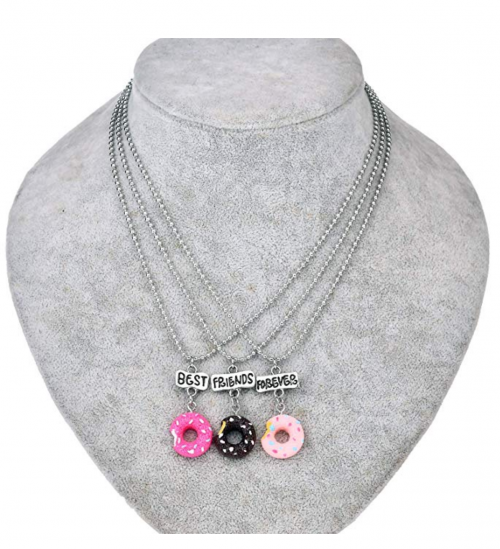 Adjustable chain
Gift box included
Returns available
These absolutely adorable donut friend necklaces are the perfect choice for a more fun and care-free 3 best friend necklace set!
Read more
Each one of the necklaces is on a popcorn chain that makes adjustment incredibly easy. The chain measures 13.5 inches but can be adjusted smaller if that is preferable.
At the bottom center of the chain, each necklace has a small curvy piece of flat metal. This metal charm features one of three different words engraved on it.
Hanging down from the word charm of each of the necklaces, there is a small resin donut charm!
This helps to signify the differences in each one of you and your friends while also showing how perfectly you all go together as one set of amazing friends.
Each donut also has a small bite taken out that just adds to the overall adorableness of the set. 
These tiny little donuts look surprisingly realistic. So, the only downfall is that they might make you hungry!
4

. VLINRAS Best Friends Necklace for 3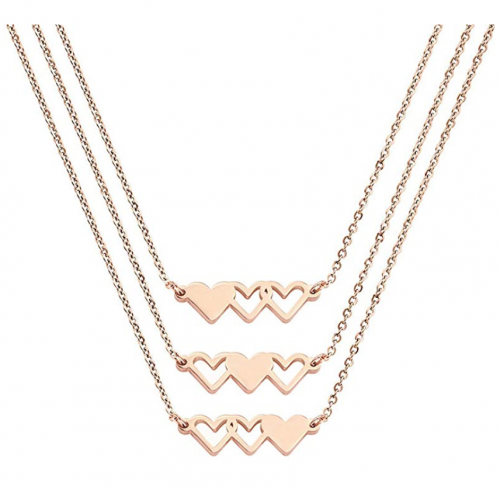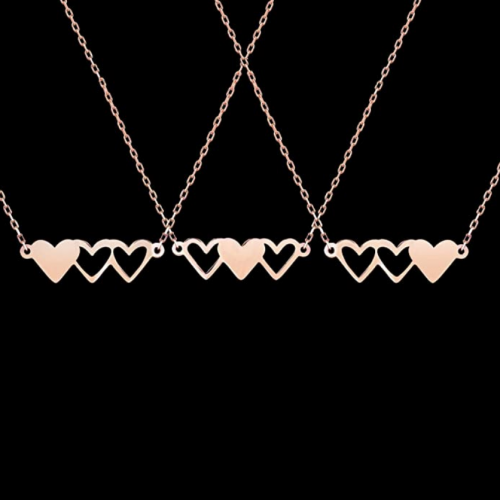 Stainless steel
Modern pendant
Thin chainlink necklace
17.5" with 2" extender
When shopping for best friend necklaces, there's no need to settle for generic and traditional styles.
The VLINRAS set features an elevated appeal that's perfect for modern fashionistas.
Read more
It's far too often that best friends necklaces get a bad reputation because of their over-the-top styling.
These necklaces have a more subtle appeal that makes them designer-friendly and easy to wear for any occasion.
On the pendant, you'll find three conjoined triangles. Each necklace has a different heart filled with high-quality metal, connecting the set together.
Even if you and your besties are separated, your necklaces will always coordinate with one another.
You'll fall in love with the high-class styling of each necklace, making it the ideal option for showcasing your special bond.
One of the more remarkable aspects is its unique messaging cards. When giving the necklace as a gift, each one comes with a unique message printed on its jewelry card.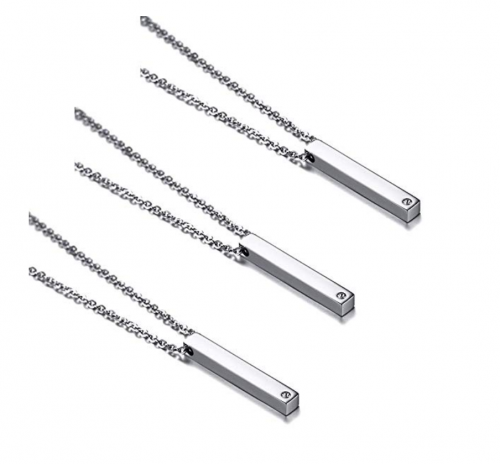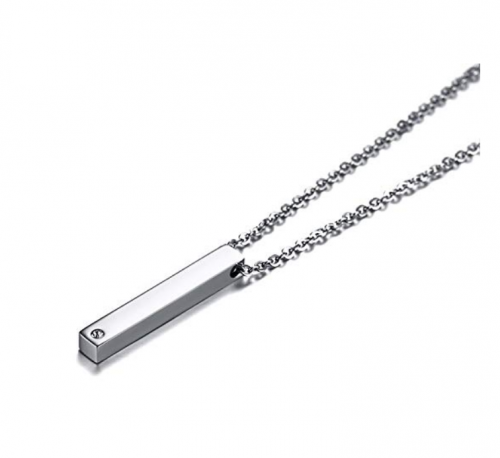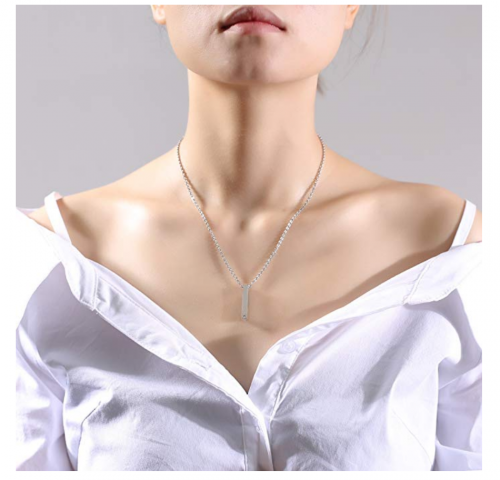 Engravable
Rhinestone included
Gift box included
This set of 3 features necklaces with a 4-sided vertical bar that hangs down from the chain. The bars are made from stainless steel that gives you superior quality and extreme durability.
Read more
The vertical bars are 26mm in length. This is a great size that isn't too distracting but still lets the necklace be easily seen as well as easily read.
The sides of the bars are all engravable. You can choose to engrave a special date, name, or word, and the, max characters allowed is 20.
This is unique because you can get the complete concept of a friendship engraved onto every single bar instead of all of you having to be together for them to really make sense.
Another cool feature is that every bar comes with a tiny dazzling rhinestone encrusted on it!
You'll get the bar necklaces in 3 gorgeous gift boxes, therefore ready to be given to your besties!
6

. Claire's Tie-Dye Shell Necklace
Lobster clasp closure
Cowrie shell pendants
Engraved BFF tag
Thin chain necklace
There's nothing better than adding a little bit of youthful fun into your jewelry collection. This set of necklaces is perfect for teens and young adults who have a passion for bold colors and the seaside.
Read more
These necklaces are beautifully styled to fit any personality, especially as they have a unique cowrie shell pendant.
They have a hand-crafted appeal, similar to friendship necklaces that you would make together on the weekend.
Each of the shells boasts unique watercolor painting, accentuating the personality of each individual wearer.
You will also fall in love with the thin and dainty chainlink necklaces that houses the pendant on the end.
As an added ounce of flair, you'll find a silver-colored tag attached to the shell, which reads "BFF."
There's no doubt these three necklaces are finely detailed, so every person feels like they have a one-of-a-kind necklace.
7

. CHOORO Big Mid Lil Sis Necklace Set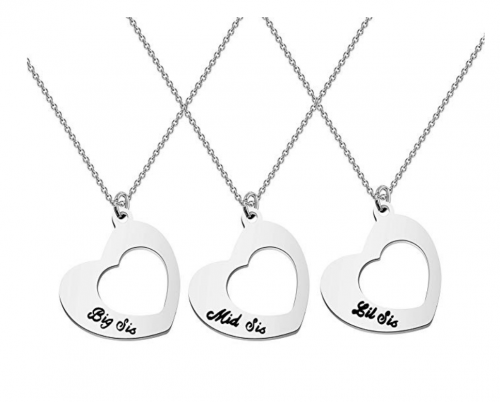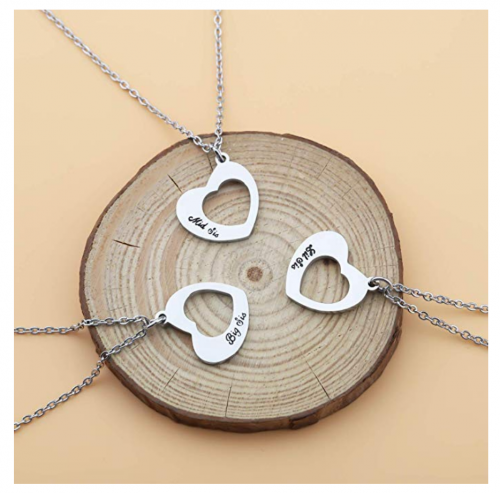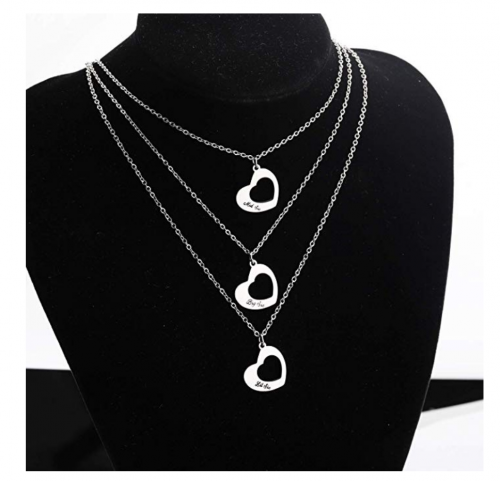 Stainless steel
Polished
Velvet pouch included
This set is a good bit different than our other picks and we think you're going to love it! Each one of these works excellently as a stand-alone necklace as well as a set altogether. Each one features an individual heart pendant shape.
Read more
The heart measures about 0.79". This is the perfect size for eye-catching detail and everyday wear.
Each one of the silvery metal hearts is hollow and cut so that the hollow part comes also in a heart-shape.
The hearts are laser-engraved with a 'bis sis', 'mid sis' and 'lil sis' words, which are perfect for 3 best friends of different ages!
The curve of the banner and the words provide some nice feminine detail as well — each one of the chains of these necklaces measures at a nice 18.5 inches.
They each come with a 2-inch section of chain attached that can be used for adjusting the size to fit just how you like!
Finally...
Our list of 3 best friend necklace picks includes a variety of options and we're sure there's at least one option that's just perfect for you and your besties!
All of the picks are made from quality metals, mostly stainless steel, and come in classic metal colors such as yellow-gold and silver.
A few of the options allow you to engrave a name, special date or inspirational word on each of the necklaces in the set, so if you're looking for something more personalized, we got you covered!
You'll notice that most of our picks are super affordable but bear in mind this doesn't mean you're getting low quality in return.
All of the brands featured on our list are known for providing their customers with jewelry that is super cute and durable!