7 Best Quote Necklaces to Put Your Hands On!
last updated:
Jul 04, 2021
Everyone needs a little bit of inspiration every once in a while, and wearing your favorite quote is a great reminder.
Quote necklaces have to carry a unique meaning to the wearer, reminding you of positive thoughts and vibes.
They're a fantastic accessory that you'll keep close to your heart and work well on their own or with other accessories.
With the hundreds of quote necklaces out there, finding the perfect saying for yourself or a loved one can be tricky.
Let's take a look at some of the most beautifully designed pieces with memorable quotes that will keep you uplifted.
Top 7 Picks
1

. BB Becker Wherever Silver Necklace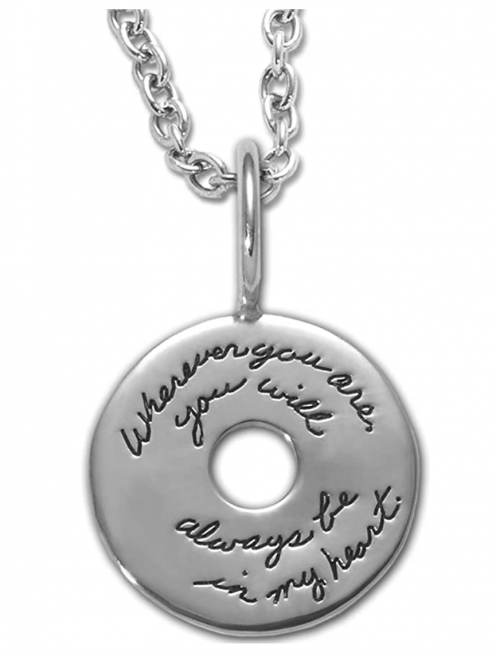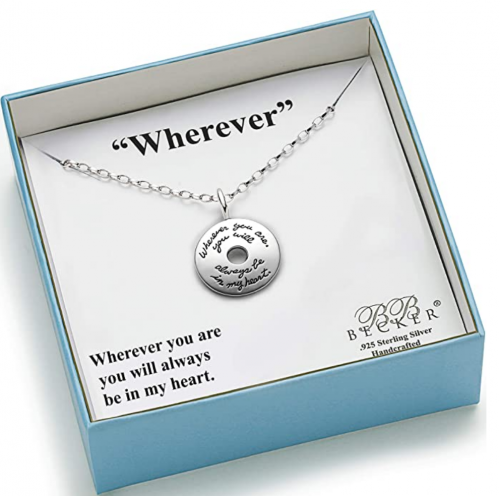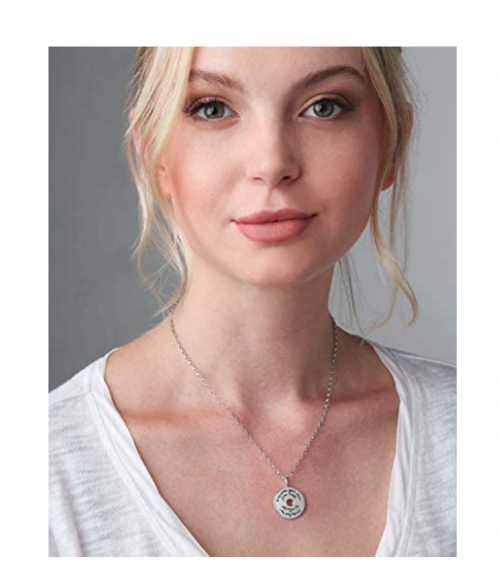 .925 sterling silver
Rhodium-plated rolo chain
Oversized lobster clasp
Engraved .75" pendant
Long-distance relationships can enter our lives in several ways, whether through a lover, a best friend, or a family member. Regardless of the relationship, one thing always rings true - whomever you love will always be close to your heart.
Read more
This necklace not only has a sentimental beauty to it but is also designed with intricate attention to detail.
The piece is crafted from .925 silver, making it tarnish and rust-free. The material is also eco-friendly/eco-conscious, handmade from upcycled silver, so you'll be giving back to the environment.
Putting the necklace on is easier than you'd expect, as it boasts an oversized lobster clasp that's easy to grasp.
The most iconic part of the necklace is the well-known Gandhi quote engraved along the pendant. The quote reads, "Wherever you are, you will always be in my heart."
This passage makes it a fantastic gift for a spiritual loved one and is also iconic for reminding someone you care.
2

. Pori Jewelers Be Brave Quote Necklace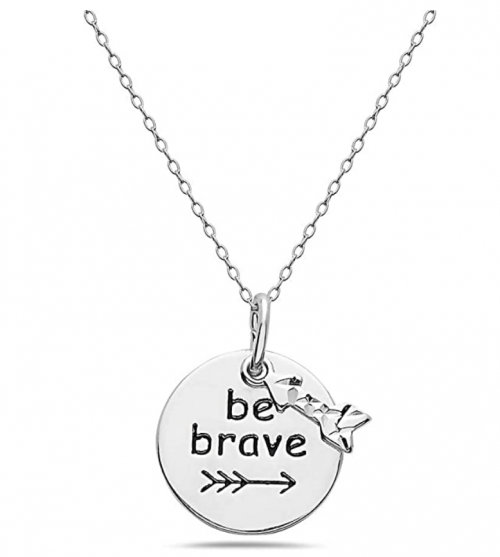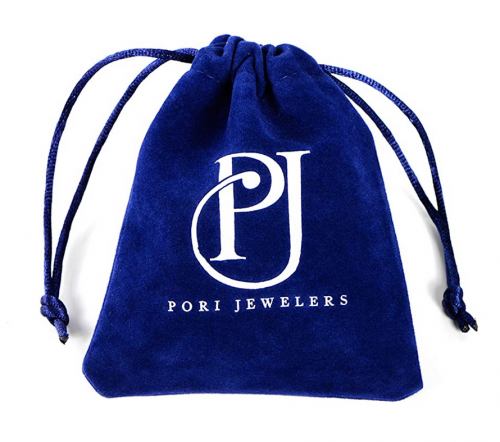 .925 sterling silver
Thin silver chain
Comes with a jewelry pouch
Spring ring closure
Every person in the world has experienced a situation where they've had to stay strong and brave.
Whether you're battling a health condition or vying for a significant promotion at work, you must stand your ground.
Read more
With the Pori Jewelers 925 sterling silver 'be brave' inspirational quote necklace, you'll constantly be reminded of your strength.
It arrives with a unique jewelry gift pouch, so you won't have to worry about buying separate packaging. Also, the pouch is a great way to keep the necklace safe over the years.
The comfortable fit of the piece is perfect for people who prefer lightweight jewelry that sits delicately at the neckline.
The thinness of the chain is remarkable; however, it's also incredibly sturdy and challenging to break.
There's a small arrow charm affixed to the pendant that adds a little bit of dimension as an added feature.
3

. Joycuff Friendship Necklace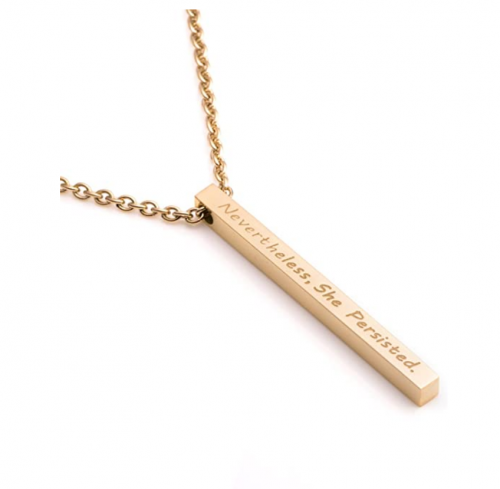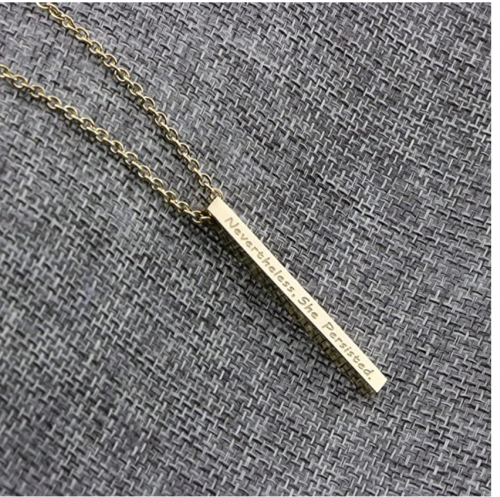 316L stainless steel
18k gold plating
Adjustable length
Next up we have this stunning piece that takes a bar necklace to a whole new dimension. This vertical bar pendant is slimming and flattering. It comes at a low price and is made of 316L stainless steel.
Read more
It is 18K real gold vacuum plated which will make it last years to come without you having to worry about tarnishing or the color changing.
The bar is about 44mm long and 4mm wide and thick as well. It comes on an 18-inch chain with a 2-inch chain extender.
This specific version of the necklace says, "Nevertheless, she persisted." We love the message and the meaning behind it. It can be so personal and different for each individual person.
It is also offered in numerous colors and a plethora of inspirational quotes. For each quote you can find it in gold, rose gold, or silver colored.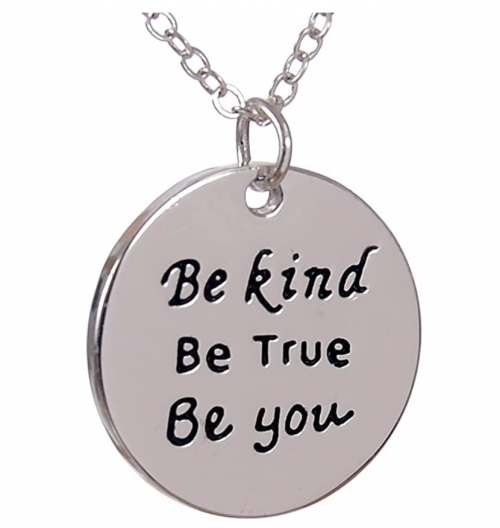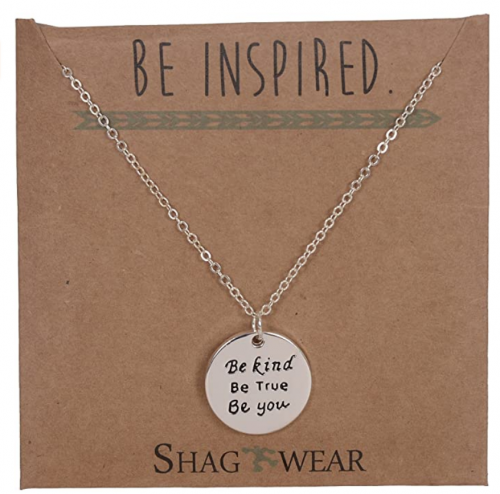 Rhodium-plated pendant
Tarnish-resistant
16" chain with 3" extender
Lobster claw clasp
Kindness comes from within, which is an important lesson for everyone to learn. Much as you treat others how you want to be treated, you must also be kind and genuine to yourself.
Read more
This necklace features a simple yet unique message designed for absolutely anyone in the world.
On the front of the coin-shaped pendant, you'll find the engraving, "Be kind. Be true. Be you."
You must have a daily reminder that you are good enough, you are kind, and you're able to be your best self.
The quality of the necklace far exceeds expectations, featuring nickel-free rhodium plating. Compared to standard silver, rhodium is known to maintain its polished shine much longer.
The thin chain dangles gently around the neck and is customizable to an ideal length. The general chain length is 16", though there's also an included 3" extender to use as needed.
5

. Amazon Collection Necklace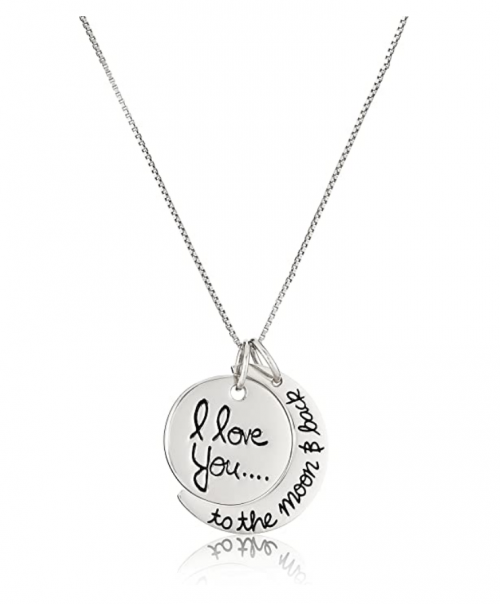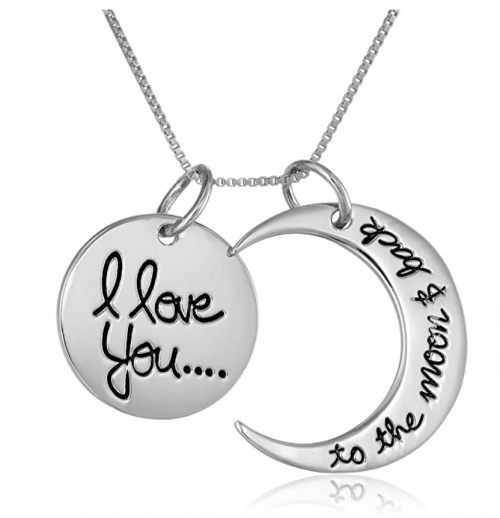 925 sterling silver
18-inch chain
Gift box included
This quote necklace would be a fabulous gift for yourself or a loved one. The quote on the circle says, "I love you…." while the moon charm finishes the phrase by saying, "to the moon & back."
Read more
The necklace is made of true sterling silver and the writing is engraved on each of the two pieces. It comes in numerous colors including silver, gold-tone, rose-tone, and two-tone.
The two-tone version has a silver-colored circle and a gold-toned moon. It is stunning in every single color that it is offered.
The price is shockingly low for the quality and positive and enthusiastic raves that you will find about this piece.
The box chain is 18 inches long and features a spring-ring clasp.
6

. BB Becker Gandhi's World Necklace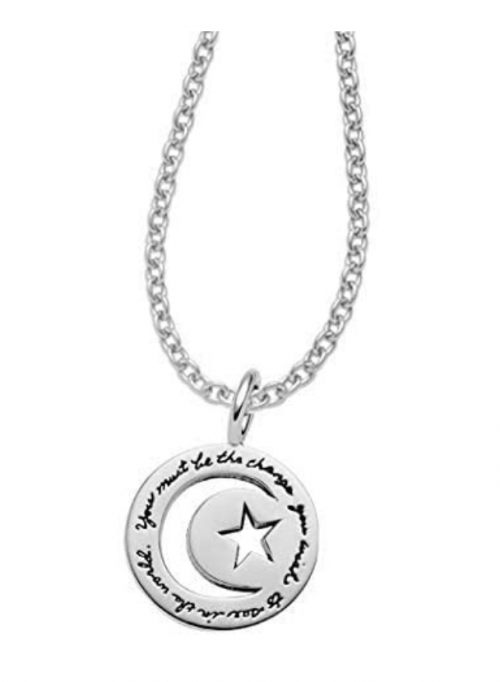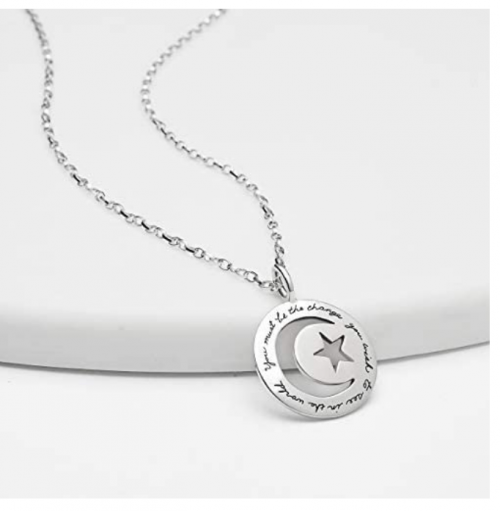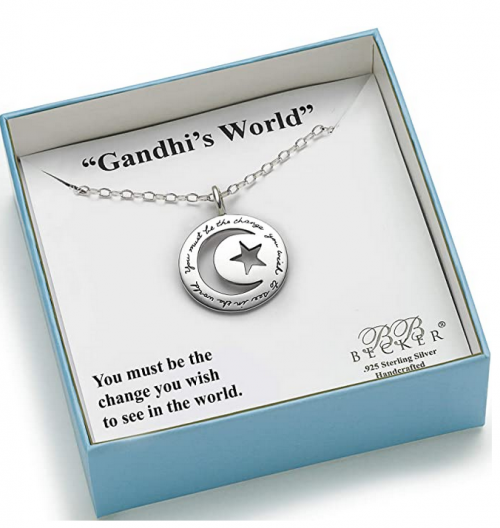 .925 sterling silver
Upcycled, eco-conscious materials
Pear-shaped lobster clasp
Engraved Gandhi quote
Peace and resilience can always be found in the words of Gandhi, which is why we love this new piece from BB Becker. The Gandhi's world sterling silver necklace features everything you'd expect from a spiritual piece.
Read more
This option is made from eco-conscious materials, helping to protect the environment. Uniquely, it's handcrafted from upcycled silver but maintains the shine and quality of higher-quality metals.
Every necklace is also hand-polished, so you'll have a more genuine gift to give to a loved one that never loses its shine.
Paired with the signature pear-shaped lobster clasp, your necklace will sit comfortably and secure while worn.
The focal point of the necklace is undoubtedly the pendant which boasts a beautiful star and moon cutout.
Along the edges, you'll find a scrolling phrase that reads, "You must be the change you wish to see in the world."
This phrase is by far one of Gandhi's most iconic sayings, and it couldn't be any more true.
7

. Quan Jewelry Vintage Camera Necklace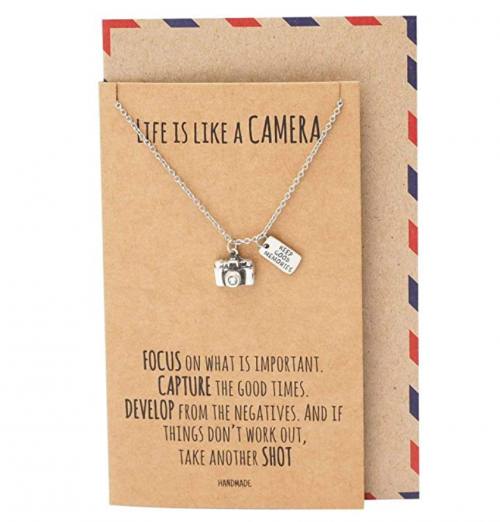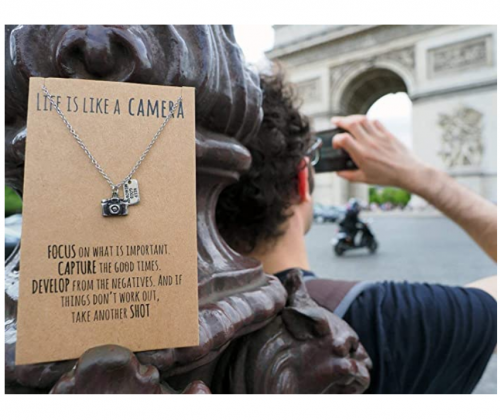 Handmade design
Swarovski crystal
90 day return
US company
This darling necklace comes with two dainty charms. One of which is an adorable vintage camera, while the other is a small rectangle that says, "keep good memories." How cute is that?
Read more
The necklace is made of stainless steel and is 16 inches long. The chain includes a 2-inch extender, giving you the option to wear it a little longer at 18 inches. The charm pendants are each made of high-quality pewter.
When ordering this piece, we love the card it comes on almost as much as we love the necklace. It reads, "Focus on what is important. Capture the good times. Develop from the negatives. And if things don't work out, take another shot."
We hope you all read that with a bit of "Oh" and "Ah" after each sentence because we certainly did!
Between the quote and the necklace, you will be thinking deeply and feeling sentimental, not to mention how adorable you will look wearing this dainty piece. We absolutely love it!
Finally...
We hope you love these quote necklaces and want to put your hands on at least one of them. We know we do!
Whether you consider yourself a quote-loving person or not, you may fall in love with these inspiring necklaces and find that you want one for yourself.
Quotes truly are such a beautiful way to encompass the beauty of life. There is always a phrase out there that can uplift and inspire each of us in some way.
So write it in your journal, post it on a sticky note on your mirror, set it as the background on your phone. Do whatever you've got to do to remind yourself that you are awesome and life is good.
And then get yourself, and your loved ones, a special necklace that you can add to your collection. Wear this necklace close to your heart and let it serve as an anchor, a reminder, and an inspiration to you as you go about your day!