Buying Tips / Jewelry
Does Stainless Steel Tarnish (Bonus: How to Clean Stainless Steel Jewelry)
When you think about jewelry, stainless steel may not be the first type of metal that comes to mind. Stainless steel is what you want when you get a new refrigerator or an oven, not a piece of jewelry – right? Not necessarily! Stainless steel is a fairly common type of metal used in jewelry.
Whether you know about stainless steel jewelry or not, at this point you are probably wondering if it is similar to sterling silver. Does stainless steel tarnish over time? Does it need to be polished? How do you clean stainless steel? And more importantly, is it actually a good metal to consider when buying jewelry?
Let's talk about it! We are going to discuss everything stainless steel today, including if it tarnishes, when it is a good option for jewelry, and as a bonus, how you can easily clean your stainless steel. 
Does Stainless Steel Tarnish?
The main reason why people choose to stay away from sterling silver jewelry is because of the fear of it tarnishing. If you are someone that doesn't want to have to worry about maintenance when it comes to your jewelry, this is certainly something to consider. So, while stainless steel may look similar to sterling silver, does it behave the same way?
The answer is – not exactly. While stainless steel can tarnish, it is much more resistant to tarnishing and overall is a great option for jewelry pieces that you plan to wear all the time.
Stainless steel gives the shiny appearance that most people want from jewelry but tends to be more durable so that you don't have to worry as much about keeping up with cleaning and polishing it.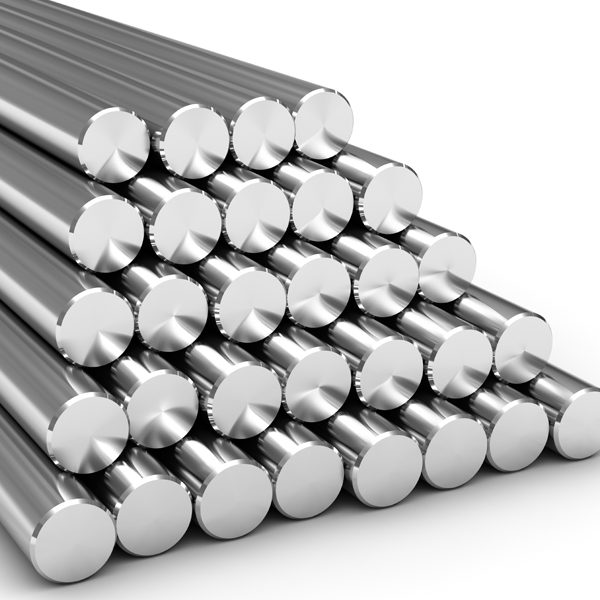 However, do keep in mind that we didn't say it can't or won't tarnish. Like pretty much any jewelry, if you do not care for your jewelry pieces, their appearance will change over time and they won't continue to look brand new.
The same goes for stainless steel. While it is an excellent option and a fairly low maintenance metal, it is still a metal, and with that comes the chance for things like tarnishing and corrosion. 
If you care for your stainless steel jewelry (be sure to keep reading for our tips on cleaning your stainless steel jewelry) you will find that it is likely easier to clean for than other jewelry you own. It is definitely a great option for anyone looking for a low maintenance metal. 
While you will find that many stainless steel jewelry pieces are made for men, that is not always the case! Women can find stainless steel jewelry as well. Man or woman, if you are considering stainless steel, you've got options, and the jewelry is sure to last you for years to come.
Why Stainless Steel is a Good Choice for Jewelry
So, now that you know a little bit about stainless steel, is it actually a good choice for jewelry, or does it just happen to be a good metal that you should maybe save for your car parts or kitchen appliances?
Luckily, it is a great choice for jewelry! One of the best benefits that you will notice right away is how much more affordable it is compared to other metals like gold, silver, or platinum. If you are on a tight budget, we highly recommend looking into stainless steel. It is far cheaper but does not fall short when it comes to appearance. 
Stainless steel has a shiny, silvery appearance just like you get with other white metals like platinum or palladium. It just happens to be far cheaper! In addition to its cost, stainless steel is also a great option because of its durability.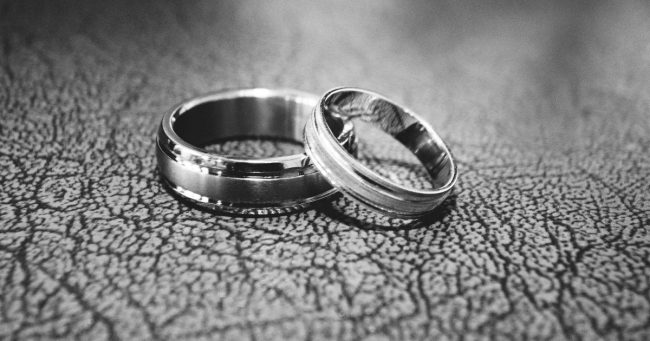 Stainless steel is a very hard metal, ensuring it can withhold typical daily wear. This makes it a great option for engagement rings or wedding bands, as these pieces are usually worn every day. The hardness will help protect it from scratches that you will find so commonly on other types of metals.
What also makes stainless steel so great is that it is very resistant to rusting – something you certainly don't want with your jewelry. For the most part, stainless steel remains rust-free because it is coated in chromium. Chromium is another type of hard metal that helps avoid rusting because it prevents oxidation. 
It is worth noting that stainless steel jewelry is never comprised of 100% stainless steel. Instead, it is an alloy of metals, including chromium, that creates stainless steel that we use for jewelry, as well as other items. 
Pros and Cons of Stainless Steel
To help you further make the right decision, here's a quick breakdown of the main pros and cons of stainless steel:
Pros:
✓ Cost: Stainless steel is incredibly affordable, and is consistently far cheaper than precious metals like gold, silver, and platinum.
✓ Appearance: It resembles the look of other metals like sterling silver or white gold. It has that nice shiny, silvery appearance that many people want in their jewelry. If you are afraid that stainless steel will look 'surgical' you don't have to worry – it very closely resembles other metals typically used in jewelry.
✓ Durability: It's incredibly durable, making it a great option for the jewelry you plan to wear all the time. While it can tarnish, it takes far longer for that process to happen than with other metals. Due to its chromium coating, it is also resistant to oxidation and rusting. It is also very resistant to scratching.
Cons:
X Variation: You don't have a lot of options when it comes to stainless steel in terms of its appearance. If you want a yellow or rosy appearance to your jewelry, you will likely have to go with gold in order to get a different color.
X Resizing: Because stainless steel is so hard, it can be more difficult for jewelers to change the size of fixed pieces of jewelry like rings. The hardness and rigidity can also make it difficult to set gemstones into, however, it is not impossible to do. 
X Allergies: Nickel is oftentimes one of the metals in the alloy that makes stainless steel. While it is usually a small percentage, it is worth nothing if you have very sensitive skin. Nickel is the most common metal that can cause a skin reaction, so you want to keep this in mind if you are in need of a metal that is completely hypoallergenic. 
X Denting: While stainless steel is incredibly durable and resistant to scratching, something you do have to be careful about is denting. However, for most people, typical daily wear will not result in the metal denting.
Depending on your job or how much you use your hands you might run into this as an issue, but it is only a minor concern. 
Shop Stainless Steel Jewelry 
Interested in seeing what stainless steel actually looks like as jewelry? Here you go! Here are some great stainless steel jewelry pieces that you can shop right now: 
Jeulia Frosted Checkered Stainless Steel Men's Band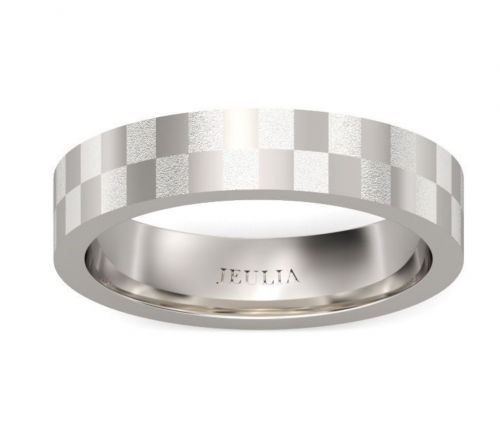 Some of the most popular stainless steel jewelry pieces these days are men's rings. This is a great example of a unique ring that is all stainless steel. Instead of being just a simple band, this has a subtle checkered pattern that features smooth and frosted stainless steel.
We love the addition of the texture with the frosted metal, and the pattern is just enough to be unique without being over the top. This is perfect for any man who wants something unique, but that is still very simple. There are no gemstones or colors or anything like that, just stainless steel. 
Ruby & Oscar Men's Cufflink in Stainless Steel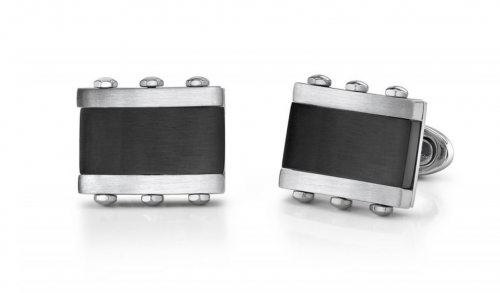 Another great option for stainless steel? Cufflinks! If you are shopping for your husband and want to get him something that will increase his style, but you know he is afraid of wearing any "jewelry", you can't go wrong with cufflinks – and stainless steel cufflinks are a perfect option!
The black and gray coloring ensures these are very manly looking and neutral enough that he could wear them with a wide variety of suits. Because cufflinks tend to get hit a lot on desks and other places, having these in stainless steel is a great option to give them some added durability and to prevent scratches. 
Ruby & Oscar Men's Link Bracelet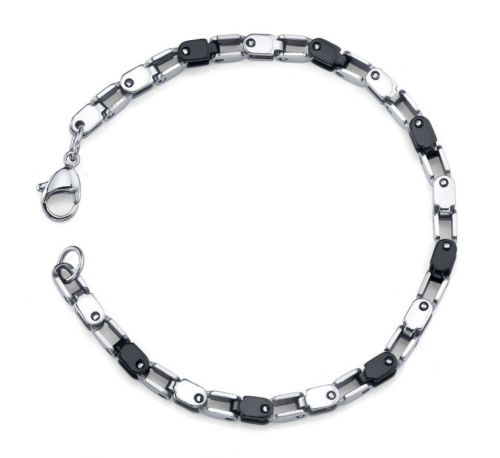 Bracelets are also a great option for some stainless steel, and this link bracelet is a really cool design that is perfect for any guy.
The mix of the darker and lighter links gives it some dimension and the thicker link design itself ensures the bracelet has a masculine appearance, as opposed to a more delicate chain that leans more feminine. 
Black Bow Jewelry & Co. Men's Rope Chain Necklace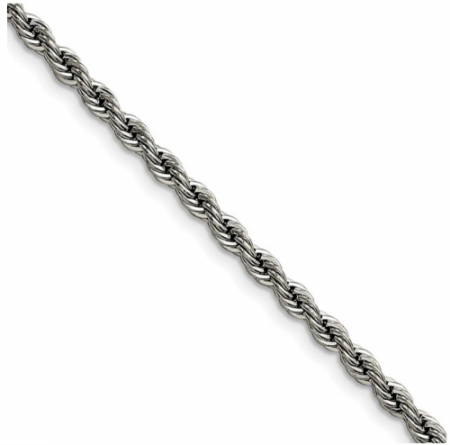 We love a good rope chain – it might be our favorite chain type. This awesome rope chain is made entirely out of stainless steel! This is an eye-catching necklace that doesn't need a pendant to go with it – it is a statement all on its own.
While it is technically listed as a men's chain, we think this is actually a great universal jewelry piece that could easily be worn by a man or a woman. This is sure to be a great, solid, durable jewelry piece that you will be able to wear for years to come.  
Black Bow Jewelry & Co. Stainless Steel & Red Wood Inlay Cuff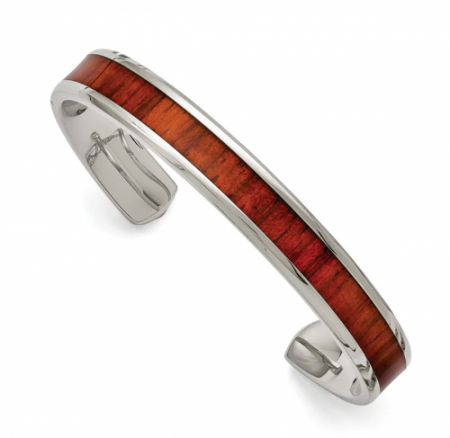 This cuff bracelet features a stainless steel base along with a red wood inlay – a really cool touch that makes this jewelry piece totally unique. This is perfect for any guy who loves to experiment with accessories and wants something different to add to his collection.
While it is certainly a unique design, t's still very minimalist and a great way to try something different without going way over the top. 
Jeulia Engraved Floating Locket Necklace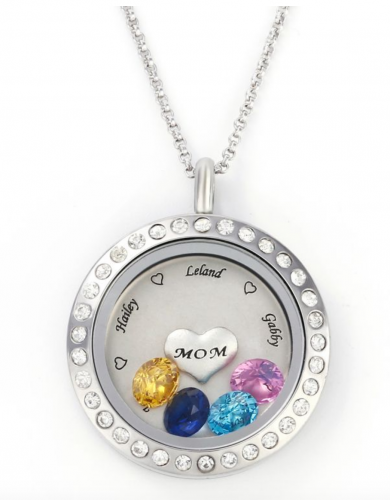 Finally, stainless steel isn't just for men! There are plenty of gorgeous pieces for women as well, especially this awesome 'floating' locket necklace that you can have fully personalized with names and birthstones. This is an absolutely perfect gift for an anniversary, Valentine's Day, or Mother's Day.
The main necklace itself is stainless steel, ensuring it will hold up for years to come. Then, you get to customize the piece with the names and birthstones that you want included!
Because it is stainless steel this helps to keep the piece affordable, but you know that it will hold up for years to come, which you certainly want with a necklace as special as this one.  
Bonus: How to Clean Stainless Steel Jewelry
While stainless steel is a great option for anyone wanting jewelry that is low maintenance, that doesn't mean that you should never clean your stainless steel jewelry. But there is good news! You might be worried that you need a certain special type of cleaner for your stainless steel, but you would be wrong!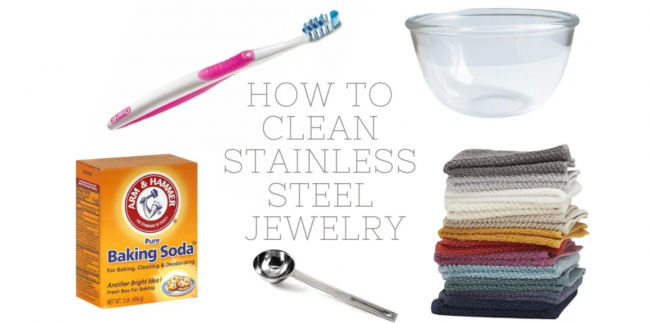 Cleaning stainless steel couldn't be easier, and you probably already have all of the items that you need. All you need? Water, mild dish soap or baking soda, and a lint-free cloth! 
Step 1: Get a small bowl and add some warm (not hot) water and then add a small amount of mild dish soap. You don't want anything too heavy-duty that could be abrasive. A mild soap is all you need.
Step 2: Get your cloth and dip it in the soapy water and then rub the stainless steel jewelry with the cloth. Do this until you feel that the ring has been effectively cleaned.
Step 3: Use a different part of the cloth that doesn't have soap (or grab another cloth entirely) and dip it just in water in order to wipe off any remaining soap from the jewelry. 
Step 4: Rub the jewelry with a dry cloth and then let it sit out to finish air-drying. You want the jewelry to be completely dry before storing it away, so be patient and let it sit out for a while to ensure it is completely dry. 
That's it! It really couldn't be easier to keep your stainless steel jewelry in top condition. If you feel like it is getting dirty, simply mix up this simple solution and clean it. 
As with any jewelry, you always have the option to take it to a jeweler for professional cleaning, but that can be expensive, and in the majority of cases when it comes to stainless steel, you really shouldn't need to do that.
If you happen to have a very old piece of stainless steel jewelry that has not been maintained, a more deep cleaning may be necessary, but changes are soap and water will do the trick. 
Wrapping Up
Stainless steel is an awesome, affordable metal that more and more people are turning to when it comes to jewelry. With a great, shiny appearance, top durability, and a low price, what's not to love? Now that you know all of the pros and cons of stainless steel you can make the decision that is right for you.
Best of all, stainless steel is very resistant to tarnishing and rusting, making it a great low maintenance metal choice. When you do need to clean it? Simply turn to soap and water, that's it!