Herringbone Chain Necklace Selection for Men & Women
last updated:
May 04, 2021
Herringbone necklaces are a smooth and slender option for necklaces with their striking structural design. There's a classic elegance these pieces bring to any wearer, elevating their glamorous side. With that said, they are also a phenomenal option for dressing up casual outfits, especially with their exquisite and high-class designs.
Let's explore some of the most trendsetting pieces with incredible versatility that you'll love wearing every day.
Top 7 Herringbone Chain Necklaces!
1

. Uncommon James Horizon Necklace
Rhodium plate
Sterling silver
Lobster clasp
Uncommon James is home to some of the most beautifully designed jewelry pieces for the everyday woman. Their Horizon necklace is no different, as this wardrobe-friendly piece can be worn for several occasions.
Read more
The Uncommon James Horizon necklace is a hassle-free piece that speaks to your high-class nature. Its classic elegance is something you would expect from a piece of designer jewelry, making it a fantastic contribution to your wardrobe.
It's uniquely styled with a more timeless aesthetic that can work with any wearer's fashion sense. The beautifully ornate herringbone is the focal point of the piece, along with the brilliantly polished metal.
One of our favorite features is that this flawless piece is crafted from sterling silver. It also boasts rhodium plating, speaking to its durability and resilience.
As an added benefit, you have two metal options to choose from. For a more classic and vintage appeal, you can opt for 14k yellow gold.
If you want to take a more modern approach to a classic piece, we highly recommend opting for
silver.
2

. Awe Herringbone Chain Necklace
14k yellow gold vermeil
18" chain length
3.3mm chain width
Available in sterling silver
This 18" necklace is sure to become one of your favorite accessories for everyday occasions. The Awe herringbone chain necklace has everything we'd expect from a classically styled piece.
Read more
One of the most impressive features of the necklace is that it's 18", allowing you to pair it with other pieces. We imagine the chain with a short choker or a longer pendant necklace for an added appeal. Alternatively, it can be worn on its own for a sporty yet sophisticated fashion choice.
When discussing the quality of materials used in this piece, you're sure to be impressed. Every inch of the chain is crafted from ethically sourced materials that are both FLA and DEP certified. This piece is crafted from 14k yellow gold vermeil, which has special care instructions.
Vermeil has a similar appeal to standard gold but is significantly more fragile. You shouldn't expose the piece to water or alcohol-based products, such as perfume. You should also consider investing in a jewelry polishing cloth to ensure the metal retains its luster over time.
Compared to other brands, this necklace comes in remarkable packaging that's ready for gifting. You'll receive the unique "Hello, Goddess" packaging as well as a mirrored gift box and brand booklet.
3

. Brook & York Izzy Herringbone Necklace
14k gold plated brass
Easy maintenance
Lobster clasp
18" length with 2" extender
The Brook & York Izzy herringbone necklace is a fabulous and funky addition to your jewelry collection. Instead of having the standard flattened appeal that most other herringbone pieces have, this piece is rounded.
Read more
When you see the Brook & York Izzy herringbone necklace for the first time, you'll see how flexible it is. There's something uniquely glamorous about this piece, with its beautifully textured rope-line chain.
Also, the effortless beauty of the gold-toned mixed metal makes it an affordable everyday option. Although it's not made from the most luxurious metals, it has plenty of wearability with a timeless finish.
If you've always found it challenging to find the perfect length for your necklaces, this style is ideal. Not only is the chain 18" on its own, but you'll also have a two-inch extender. Whether you want to wear it closer to your collarbone or lower down your neck, the options are endless.
We love the moderate thickness of the chain, coming in at four millimeters, making it easy to wear with other items. The striking vibrance of the 14k gold plated brass shines effortlessly when worn in natural and artificial lighting.
If you prefer jewelry with minimal upkeep, this necklace is a wonderful option. To maintain it, all you have to do is wipe the piece clean with a jewelry polishing cloth.
4

. Black Bow Jewelry Co. Herringbone Chain
Sterling silver
5.25mm width
Herringbone chain
Lobster claw clasp
There's nothing better than having a timeless necklace available for any occasion. The Black Bow Jewelry Co. sterling silver herringbone chain necklace is exactly what you'd expect from a stunning accessory.
Read more
It's a beautiful and flexible necklace that can be worn alone or paired with another necklace for an added flair.
The top-of-the-line materials make it a distinctive contribution with a streamlined and sparkling style for men and women. It's one of the more wear-resistant pieces we've experienced, especially if you want a minimalistic accessory.
One of the most elegant features of this piece is that it's crafted in Italy using remarkable artisan craftsmanship. You'll love the 5.22mm width, making it a wear-anywhere piece that sits comfortably against the skin. Also, it boasts an easy-to-use lobster clasp, so you can quickly put it on without requiring help.
You'll find this material is water-resistant as well as rust and corrosion-resistant. It's the perfect option for a necklace that you'll never have to take off.
5

. Miabella Snake Dome Herringbone Chain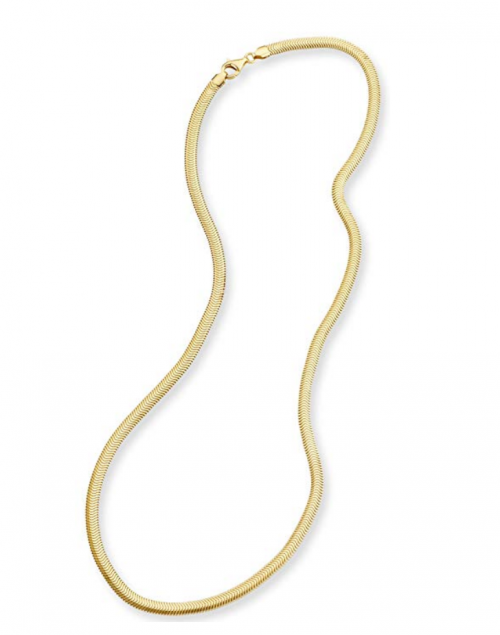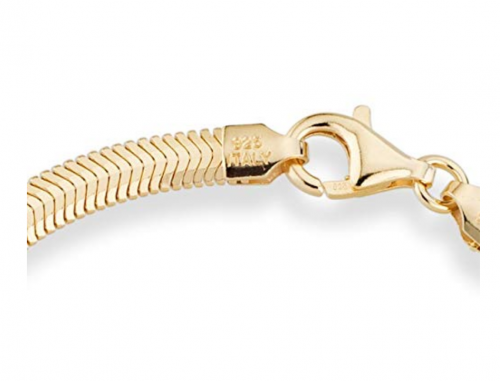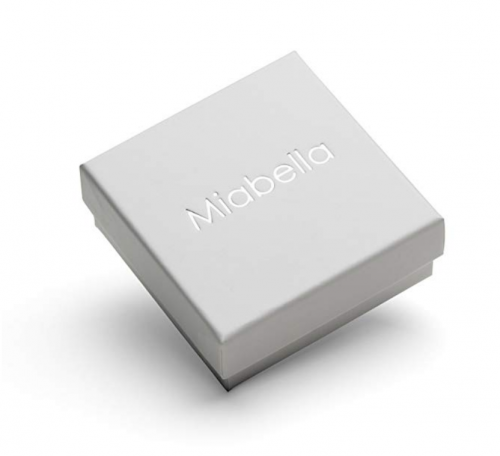 18K gold plated
Sterling silver
Made in Italy
Miabella's take on the herringbone pattern is superb. We have the 20-inch variant under review and despite the budget-friendly price, the necklace is good enough to rival all other options on this list.
Read more
This piece of jewelry is made out of 925 sterling silver electroplated with 18K yellow gold. It uses a low-domed design in the form of the herringbone pattern and finishes with diamond-cutting to make it extra-reflective.
Further, the thickness, this time around is a dainty 4 mm, and it's a size that allows the necklace to buff up any woman's collection.
The herringbone chain features a pear lobster-claw clasp which uses a spring mechanism. The mechanism is an indication of the security that the clasp provides though comfort isn't neglected in the least.
You can get it in sizes 18, 20, and 24 inches.
6

. The Bling Factory Herringbone Chain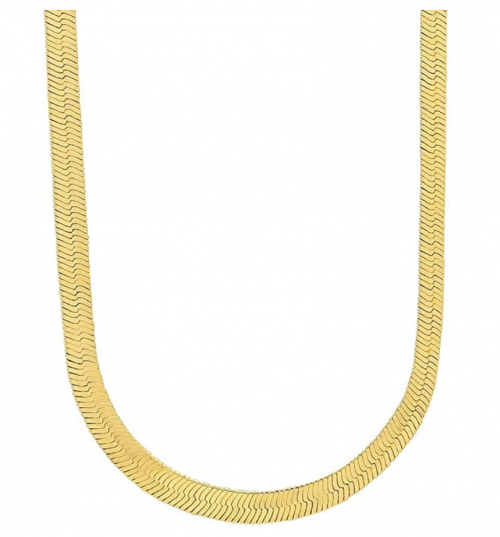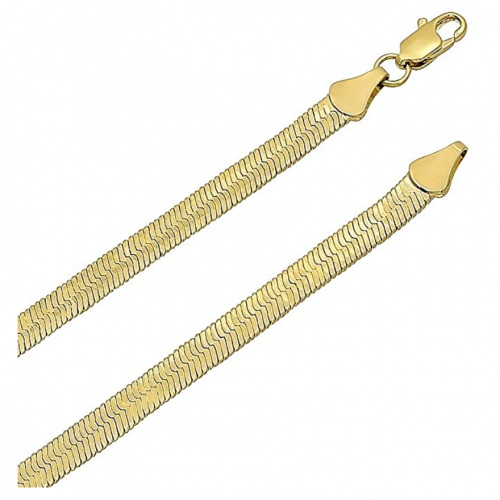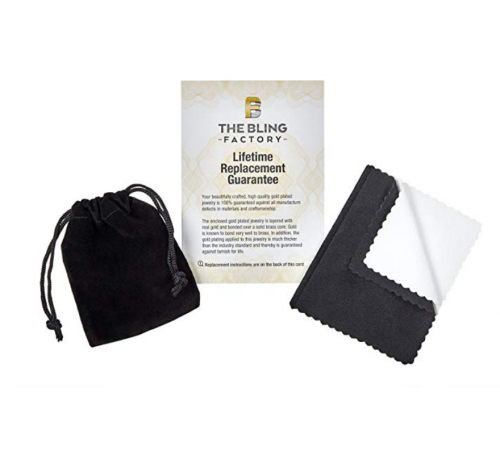 Solid brass
4k yellow gold plated
Lifetime warranty
The Bling Factory chain is one of the best you can find online. It's made out of 14K yellow gold over a brass metal so it carries the usual attributes of this metal mixture.
Read more
This chain is extremely sturdy due to the manufacturing process and since it's made out of brass plated with yellow gold, you get the best out of your investment if you buy this option.
The necklace is available in 5 sizes, 8 (bracelet size), 18, 20, 24, 30 inches, with all of them measuring 4.5 mm in thickness.
When you move down to the end of the chain, the choice is a lobster claw lock. It's a pretty popular clasp variant that's known for its comfort and security.
Having said that, the reason why we love this necklace is obviously because of the herringbone pattern. The pattern's flat and minimalistic design isn't only gorgeous to look at, it's comfortable as well.
What we love even more it's the super affordable price tag that comes with this option!
7

. JewelStop Herringbone Chain Necklace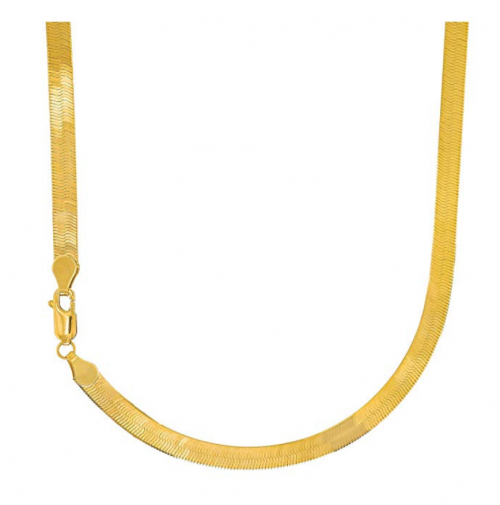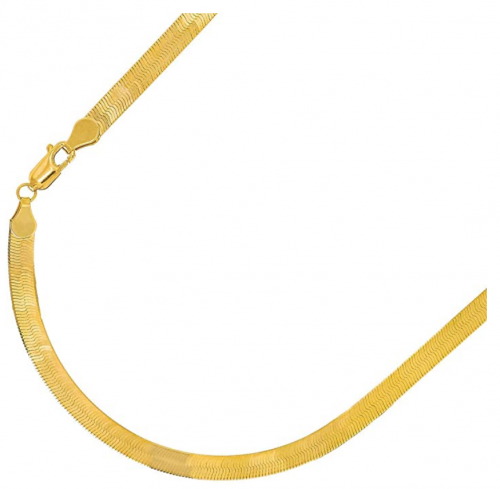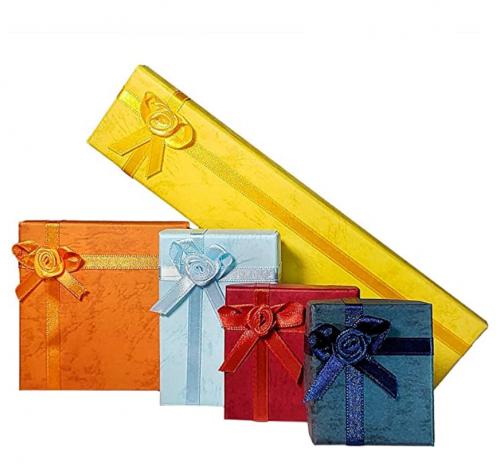 14k gold
Sterling silver
1 year warranty
At 9.20 grams, JewelStop's 20-inch herringbone piece really does feel like imperial silk. While it features the herringbone pattern like any other chain on this list, the surface polish is glossy.
Read more
Add that visual effect to the appeal of 14K yellow gold, and you start to see why it's one of our best-rated picks.
The necklace, like the others above, also has its inside filled up with sterling silver. It's a rather nice choice in precious metal since it combines two things. First is the looks while the second is its high ratings when it comes to sturdiness and price.
This piece of accessory comes in 2 sizes with each one measuring 3 mm in thickness. It's just thick enough to make make a bold statement and add character to pretty much any outfit.
Packed in an elegant jewelry box, the chain has a 1-year warranty as well as a 30 days money back guarantee.
FAQs
q:

What is a herringbone chain necklace?

a:

Herringbone necklaces are a unique accessory choice due to their thin and flat metal segments. These chains are crafted with individually set links with a unique bend in the middle, helping them fit together.

When fully assembled, the chain resembles a herringbone pattern and sits flat against the neck.
q:

Are herringbone chains in style?

a:

Herringbone chains are timelessly elegant, helping them transcend through the ages without losing style. With that said, they can be paired with modern and vintage accessories, so they'll always be popular.
q:

Do herringbone chains break easily?

a:

Herringbone chains are crafted using high-quality metals that are typically sautered together to create a herringbone pattern.

You'll find they have a higher strength level that makes them challenging to break, even with effort. If you want an accessory with high tensile strength, this is one of our top recommendations.
q:

How do you clean a herringbone chain?

a:

The best way to clean a herringbone chain is to use a soft jewelry polishing cloth to wipe it clean. You'll want to ensure that you regularly upkeep the metal after wearing it to prevent staining and rust.

Also, if you have a genuine pure gold piece, you can use special jewelry cleaners.
Finally...
There you have it, our choice of 7 gorgeously beautiful herringbone chain necklaces (most options are unisex!).
When putting together our list we made sure to select herringbone chains made of quality metals such as silver or brass plated in white or yellow gold. We also paid attention to give you length options as well as picks that comes with a super affordable price tag!
If you're looking or a gift for someone special, a lot of the herringbone chain necklaces on our list come in free gift boxes and free return policies.
Finally, the brands we chose to feature in our list are all trusted sellers with rave reviews so if you're worried about getting a low quality product, we can guarantee you it will never happen!