Mix / Necklaces / Women
Herringbone Necklace Selection for Women & Men
To really understand our excitement about Herringbone necklace, you must check out the herringbone pattern. It's pretty popular since it's basically an arrangement pattern for tiles that coincidentally resemble the bones of a herring (hence the name Herringbone).
So herringbone necklaces are just a variant of necklaces that exclusively use the flat pattern. And there's no doubt that the ensuing love for the luxurious uneven look is contagious.
People really love this for the mere fact that it deviates from the stereotypical necklace design. In this post, we'll be reviewing ten of the best herringbone necklaces that you can buy. They're the best in terms of price, design, and material.
Our Herringbone Necklace Selection
1. Verona Jewelers – 14K Solid Gold Snake Magic Necklace

This is a pick made out of solid 14K gold, with the inside filled with sterling silver. In terms of looks, build quality, and safety, this necklace is comprised of an excellent mixture.
One of the reasons why everybody loves gold is because the metal instantly makes any outfit look like a million bucks. At the same time, the metal isn't a pushover when it comes to durability, primarily because in this piece, it's further supported by sterling silver. Lastly, the safety part comes in due to sterling silver being hypoallergenic.
For all of this, the chain is definitely a bit expensive. The advantages of a gold chain exist both as a fashion statement and as an investment. In the former case, this necklace features the famous herringbone pattern, and since it's flat, it feels great to wear!
Cons: It's expensive.
Other info: It features a lobster claw clasp for security and comfort. Also, you may need to buy a gift box since the pouch isn't that flattering.
2. Ritastephens- 14k Yellow Gold Herringbone Necklace

Ritastephens' chain is one of the best you can find online. It's made out of 14K yellow gold and sterling silver so it carries the usual attributes of this metal mixture. This chain is extremely sturdy due to the manufacturing process and since it's made out of gold, you get the best out of your investment if you buy this option.
The necklace is available in sizes 7 (bracelet size), 16, 18, and 20 inches, with all of them measuring 3 mm in thickness. When you move down to the end of the chain, the choice is a lobster claw lock. It's a pretty popular clasp variant that's known for its comfort and security.
Having said that, the reason why we love this necklace (despite its hefty price) is obviously because of the herringbone pattern. The pattern's flat and minimalistic design isn't only gorgeous to look at, it's comfortable as well!
Other info: It comes in a gift box.
3. The Diamond Deal  -14K Yellow Gold Shiny Imperial Chain

Like the previous options, this piece of accessory is also made out of pure 14K yellow gold. You'll find that each section of the herringbone pattern is clean-cut, fitting, and made out of gold.
Aesthetics-wise, the look is top-notch especially as there's an emphasis on the gold and pretty much nothing else. The fact that the thickness measures a chic 3 mm complements that with some extra effect (oomph!).
The necklace is hypoallergenic since it uses sterling silver to fill the hollow space in the chain up. Given that the combo of gold and silver always result in exceptional build quality, you should expect exactly that from this piece of jewelry.
In terms of sizes, you can purchase this chain in 7, 16, 18, and 20 (the smallest size being a bracelet). You'll discover a lobster claw clasp towards the end of the necklace. It's definitely a welcomed feature since it provides security without sacrificing comfortability when the chain is worn.
Heck, it's actually downright perfect since it only accentuates the flat design of the herringbone pattern. Finally, the necklace comes in a signature jewelry/gift box.
Other info: Perfect for gifting since it comes in a gift box.
4. JewelStop – 14k Solid Yellow Gold Flexible Herringbone

At 9.20 grams, JewelStop's 20-inch herringbone piece really does feel like imperial silk. While it features the herringbone pattern like any other chain on this list, the surface polish is glossy. Add that visual effect to the appeal of 14K yellow gold, and you start to see why it's one of our best-rated picks.
The necklace, like the others above, also has its inside filled up with Sterling silver. It's a rather nice choice in precious metal since it combines two things. First is the looks and inconspicuous advantage of white gold, while the second is its high ratings when it comes to sturdiness and price. Together with the 14K gold, the herringbone necklace becomes hypoallergenic.
This piece of accessory comes in six sizes with each one measuring 5 mm in thickness. It's just thick enough to make make a bold statement and add character to pretty much any outfit.
Packed in an elegant jewelry box, the chain has a 1-year warranty as well as a 30 days money back guarantee.
Other info: This chain is also hypoallergenic.
5. US-Shopsmart – Flexible Herringbone Chain

US-Shopsmart has one of the best variations of herringbone necklaces we've seen. With this piece of jewelry, the choice in material is 10K gold while the thickness is 6 mm thick. So when it comes to price, it certainly isn't cheap.
Made from 10K gold, the gold percentage is approximately 41.7%. This means that the necklace is hypoallergenic, has better build quality since it features more additional metals while still retaining the appeal of gold.
It features a lock that is not only secure but also quite comfortable. In addition to that, you can get it in 18, 20, 22, and 24 inches which are a lot of choices.
Finally, this necklace comes with a jewelry box, that also doubles as a gift box.
Cons: None but the hefty price.
6. JOTW – 10k Yellow Gold 2.8mm

Made out of 10K gold, the 24-inch variant that we're reviewing comes in at a solid 9 grams, and it's completely hypoallergenic. It also has the advantage of being considerably cheaper than its 14K & 10K rivals. Though it keeps all the goodies despite the price.
One of them is the lobster claw clasp. The lock provides both comfort and security, which complements the flat design of the necklace.
That said, you should know that the sizes for this necklace are a bit limited. Potential buyers only get to choose between 8 (bracelet size) and 24 inches, with both boasting a thickness of 2.8 mm.
The reduction in thickness is hardly noticeable when compared to previous necklaces, but it does have a positive effect on the pricing.
7. JOSCO – Herringbone Sterling Silver Necklace

Unlike other options, this piece is a bit more inconspicuous since it's entirely made out of 925 sterling silver. Other than the strong resemblance to white gold, the highlight of this chain is that it is 11.5 mm thick.
Compared to the usual average of 3 mm, this is essentially a dress necklace that also boasts excellent build quality. It comes in a jewelry box which can alternatively double as a gift box if that's what you have in mind.
You can get it in six sizes: 16, 18, 20, 22,2 4, and 30 inches (definitely accommodates a wide range of individuals). To summarize, this necklace is functional, aesthetically pleasing, safe, and even budget-friendly.
If you prefer the reserved appeal of silver, then this option is worth checking out.
8. ICE CARATS
 925 Sterling Silver Herringbone

Unlike our previous pick, this one measures 8.75 mm thick. The metal looks a lot like white gold which certainly adds to its appeal. Nevertheless, keep in mind that sterling silver's build quality is exceptional as well (to the extent that taking proper care of the metal makes it last indefinitely).
Moving on, you'll find a lobster claw clasp which is pretty much the standard for this type of necklaces and it does get the job done in terms of security and comfortability.
The necklace weighs 22.32 grams (the 18-inch variant), which is definitely not light. It's something to keep in mind if you'd prefer a smaller-sized necklace instead.
You can get this option in sizes 18 and 24 inches;  the necklace comes hand-wrapped inside a gift box. Other benefits that come with this pick is the inclusion of a lifetime warranty and 30-day return eligibility guaranteed by the brand.
9. MiaBella Gold-Plated Sterling Silver Piece

MiaBella's take on the herringbone pattern is superb. We have the 20-inch variant under review and despite the budget-friendly price, the necklace is good enough to rival all other options on this list.
This piece of jewelry is made out of 925 sterling silver electroplated with 18K yellow gold. It uses a low-domed design in the form of the herringbone pattern and finishes with diamond-cutting to make it extra-reflective. Further, the thickness, this time around is a dainty 4 mm, and it's a size that allows the necklace to buff up any woman's collection.
The necklace features a pear lobster-claw clasp which uses a spring mechanism. The mechanism is an indication of the security that clasp provides though comfort isn't neglected in the least.
You can get it in sizes 18, 20, and 24 inches.
Other info: This 20-inch variant weighs 13.5 grams.
10. MiaBella – 18K Gold Over Sterling Silver Chain

What we love about this particular chain is that it measures 10 mm in thickness. It's not small, but it does look gorgeous with any outfit you combine it with.
The necklace keeps the same formula of electroplating 925 sterling silver with 18K yellow gold (which is 40 micro-inches thick by the way), and as expected, it works exceptionally well. The piece combines the durability of sterling silver with the aesthetic appeal of gold. The result is that you get the best of both worlds.
Sizes for this piece are 17, 18, and 20, and in the case of people looking for a gift, it also comes in a gift/jewelry box.
Lastly, remember that this piece weighs a  hefty 29.5 grams. However,  the necklace is so well manufactured and the weight properly distributed throughout that this is not a biggie.
Other info: Like other options on the list, it comes with a 30-day, 100% money-back guarantee.
Frequently Asked Questions
1. What is a herringbone necklace?
It's just another type of necklace with its own unique design. As we already mentioned, the necklace gets its name from the herringbone pattern.

And to successfully replicate that design, the necklace is made up of thin, flat metal segments. The segments are then bent in the middle and arranged to create the herringbone pattern.
2. What are the cons of this type of material/design?
They are prone to kinks due to their minimalistic design. You apply a bit of pull to one of the flat and thin segments, and you'll easily bend it. This is the one downside to their appealing design.
3. Can they be fixed?
They can be fixed to an extent – this depends on the type of damage you want to repair. For instance, if a segment gets bent, you can have it straightened out and flattened; however, this will definitely create a weak spot and a weak spot is always prone to breaking so you'll have to be more careful.
An alternative to this is to have the segment cut out and then have the chain rejoined at their edges. The one drawback to doing this would be that the necklace won't be as flexible as it originally was, and kinks will also appear faster that way.
4. How to wear one?
This type of jewelry is perfect with literally everything. The only problem is pendants; they soften the aesthetic appeal of the herringbone pattern, and they also have the potential to create kinks over time.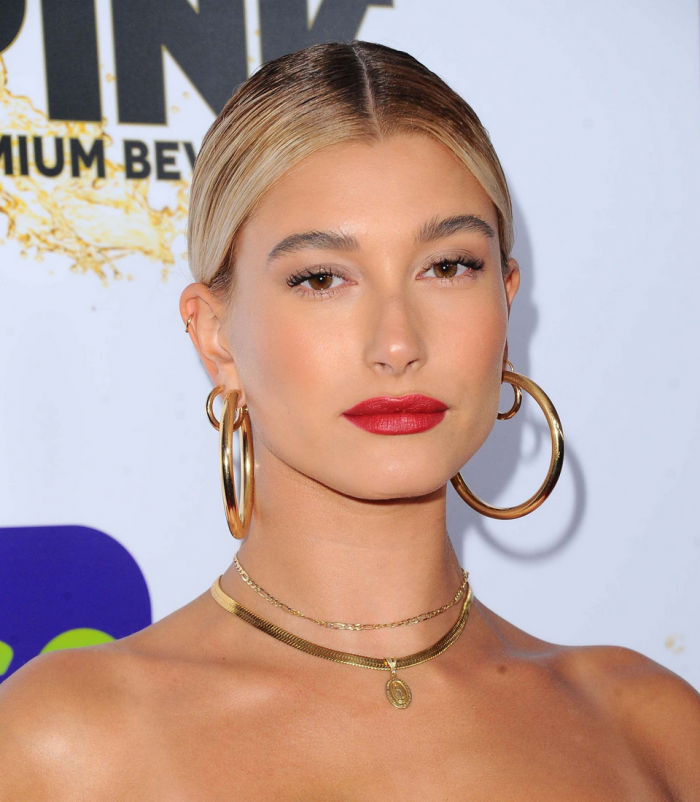 If you still want to layer the herringbone necklace with a pendant, make sure the pendant is smaller in size and that it also has a clasp that fits flat chains.