Initial Instinct - Personalized Jewelry Pieces
With the season's big statement gems and vibrant colorful charms, let's tone things down with something a little more personal. Personalized jewelry is something we hold close to our hearts and after all, we get our initials to fit our personal style. It is a classic trendy piece to treat yourself and others. A little initial on a bracelet or necklace may seem and look so simple in yet become a cherished piece in your accessories collection. Take a look at my favorite styles for a little initial instinct!
Personalized Jewelry Letter Ring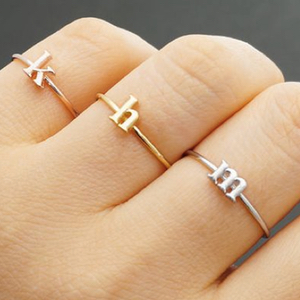 Rings are always great to throw on right before walking out the door. A single band ring with the letter of your first name front and center is a well-loved piece we all should have in our go-to essentials.
Not only do initial rings look great, but they are also easy to gift ideas for that special someone. A small gift goes a long way! You can incorporate an initial in with your other favorite daily ring wears for an eclectic style or wear individually for a chic look- there is never a wrong way to wear this style. A fun way to rock these designs is by stacking different letters on top of one another for your first and last name or even for you and your significant other.
In golds or silvers, there are many finds out there for the perfect letter!
If you are interested in getting a jewelry piece for your feet, check out our list of the best toe rings.
Personalized Jewelry Bar Necklace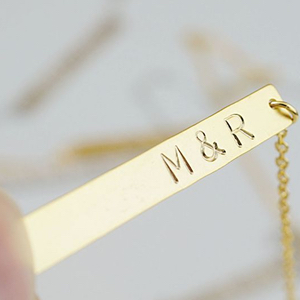 The bar necklace design has been all the hype recently and they are here to stay!
The flat rectangle shape simply with letters makes for a standout piece to wear with everything and anything. You can find places to customize the lettering on your necklace. It is a great way to show off letters that have meaning to you personally. For a creative gift, add these to your bridesmaids presents with their initials on it, guaranteed it'll become anyone's new favorite jewelry design for easy wearing.
Personally, I love the flat gold bar style, it's straightforward yet fashionable. A perk about this particular look is that it will easily fit right in with all your wardrobe staples all year round.
Personalized Jewelry Letter Necklace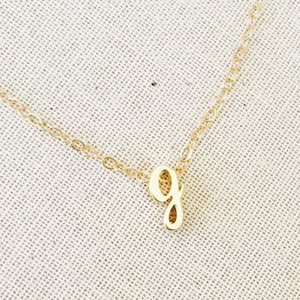 Jumping right back into necklaces remember a little goes a long way!
The simplicity of just a single letter on a necklace is a delight. It is delicate and feminine. Being a chic style, a letter necklace is an effortless way to put a little personalized touch into your look.
With this specific design, I adore the cursive letter in gold. With it being just by itself, it still creates a fashionable approach on accessories that anyone can relate to and wear. Once again, this necklace makes for a great gift for all ages. Little ones can wear a darling letter of their first name and no matter how old you are, you can always wear a cursive letter.
Personalized Jewelry Birthstone Bracelet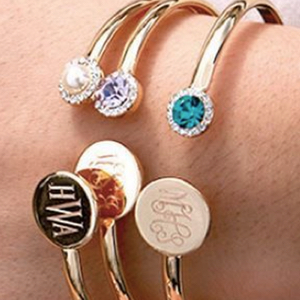 A way you can wear jewelry that resembles who you are is with your birthstone!
Monogram initials engraved along with a jewel tone birthstone color makes for the perfect personalized accessory. Rather than your classic gold and silver, a touch of color is just what your new favorite bracelet needed.
These designs by Carolina Clover are must-haves for a universal jewelry cuff. Slip it on with your floral print sundress or make a fancy approach with a fitted solid color look, either way, your bracelet will be the right choice for some arm candy. With the jewel tones, it gives off an upscale side that will have your wrist shining with gems. The combination between the lettering and the color of the birthstone is the right balance you need for personalized jewelry.
Personalized Jewelry Fruit Necklace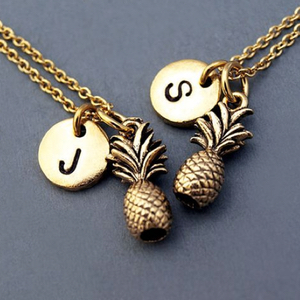 Get a bit more creative with your initial with some sweet fruits!
An all-over gold necklace with a single initial and pineapple is the perfect pairing- any fruit in gold is glamorous! Not to mention, pineapples are popular among jewelry designs, especially for summer. Just like most initial styled accessories, this look is effortless and is just the thing you need for simplicity.
To grasp more fashionable fruit, Just Ripe has a variety of jewelry styles to fall in love with! Who wouldn't love wearing a gold pineapple around their neck?
Initials, monograms, lettering, these all make for a stylish way to wear jewelry. By themselves or with charms, find your initial instinct through fashion-forward accessories!