Our 8 Favorite Pura Vida Bracelets in 2023!
last updated:
Jul 19, 2021
Pura Vida bracelets are the perfect way to tell the world that you love the idea of a relaxed beach-inspired lifestyle.
Their collection of authentic, artisan-quality pieces has taken the casual jewelry industry by storm. With an assortment of stunningly designed accessories from designers worldwide, it captures the true essence of life's little pleasures.
Jewelry lovers on the hunt for the perfect accessory that shows they're interested in living life to the fullest will love these styles.
Let's explore some of the most fabulous Pura Vida bracelets that are designed to impress anyone and everyone.
Top 8 Picks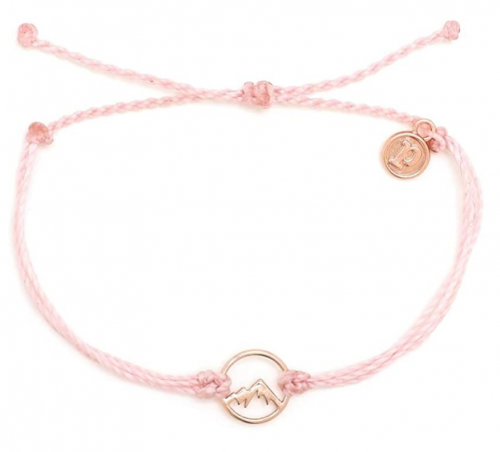 Adjustable
Silver charm
Available in multiple colors
The Pura Vida Sierra bracelets are different from the ones mentioned so far, as there is a pretty mountain charm incorporated into the design.
Read more
The focal point of this particular Pura Vida bracelet is definitely the mountain charm. The charm adds depth and sophistication to the overall look of the wearer.
And like all the other Pura Vida bracelets, this one is also 100% waterproof and wax-coated, so don't shy away from doing whatever you want just because it involves water.
You can basically wear it anywhere as neither water nor sweat can cause damage to this beautiful piece of jewelry.
The charm itself is very well made, and the quality is definitely apparent on the making.
2

. Neon Chain Slider Bracelet
Adjustable slider chain
9" chain length
Rhodium plating
Glass beads
It's time to unlock your inner sea goddess with the Neon Chain Slider Bracelet. The effortless beauty of this piece is perfectly designed for beachgoers and people who love spending time in the water.
Read more
It captures the true beauty of the blueness of the sky and the depth of the ocean with individually-set stones.
With the incorporation of silver as a contrast, these colors pair perfectly together for any occasion.
If you're more of a fan of yellow-toned materials, there's an alternative style to consider. The yellow version of the bracelet captures the essence of the sun's rays, making both pieces perfect when put together.
Slider bracelets are a phenomenal stylistic choice, as they're easy to take on and off.
Instead of using a lobster clasp, you simply slide the closure to tighten or loosen the bracelet as needed.
3

. Satellite Chain Bracelet
Brass and rhodium-plated accents
Brass and rose-gold plated chains
Wax-coated braiding
White bitty braid
The Satellite Chain Bracelet is a delicate and beautifully designed piece to add to your collection. Its intricate style makes it an innovative addition to your everyday outfits.
Read more
The artisan quality of this beautifully assembled bracelet makes it perfect for someone searching for a lightweight accessory.
You will love the texture this bracelet brings to the table, featuring excellent and coordinating materials.
It features a delicate white bitty braid paired with dual chains of rose gold-plated metal on the bracelet's interior.
The addition of the glass stone details captures everything you love the most about light and carefree lifestyles.
It fits comfortably around the wrist and is easily adjusted, making it even comfier for all wrist sizes.
Clear quartz or light blue Druzy
Braided bracelet
Easily adjustable
Gold-colored or silver accents
The Druzy Charm from Pura Vida Bracelets is one of their more luxurious options. It surely has an elevated appeal, making it the perfect item to pair with more high-end pieces.
Read more
Druzy is a remarkable stone that captures the essence of the ocean, especially when polished.
You will love the prismatic beauty that it brings to the subdued piece, helping your bracelet catch the eye of onlookers.
Another unique feature of this piece is that it's available in two finishes, allowing you to customize your accessories.
You can opt for the black bracelet with a gold and white quartz stone or a vanilla bracelet with silver and ocean-blue stone.
Both pieces can also be paired together if you want to create a spectacular accessory combo.
Instead of using metal for the bracelet material, it's crafted from high-quality braiding, ideal for water activities.
Rhodium or rose gold-plated
9" chain with 1" extension
Polished shell charms
Brass base
With the Cove Chain Bracelet, you can collect seashells on your wrist with the spectacular display of individually-set seashell embellishments. This bracelet is an exciting piece for those looking for an exquisite and exotic accessory.
Read more
The striking structural embellishments make it a phenomenal part of your collection, especially with its up-close details.
If you're on the hunt for the perfect piece that will put you in a beachy state of mind, this accessory is ideal.
With the help of the adjustable closure, you can quickly size the bracelet to fit on its own or with other pieces.
The bracelet is crafted primarily using brass, which helps to keep it lightweight throughout the day.
It also boasts a rhodium plating, helping to add resilience, especially when in water, and prevent tarnishing.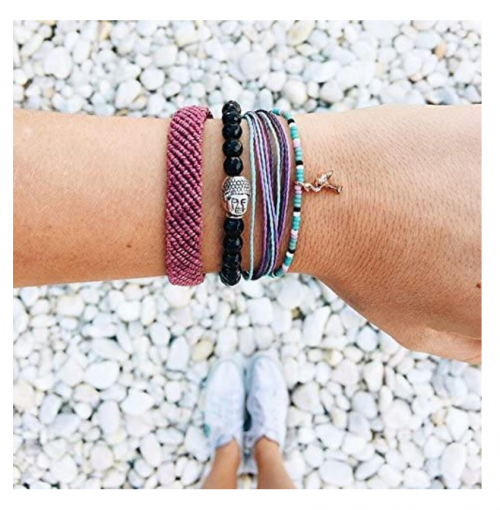 Wax coated
Waterproof
Adjustable Knot
This particular bracelet pack is one of our favorites. The color palette is absolutely amazing. The color theme follows a dark aesthetic which tends to go with my mood, and therefore my outfit most of the time.
Read more
This is a set of 6 bracelets in different styles and colors. The bracelets can be either worn all together to really pack a punch, or individually or even two or three at a time to mix and match with your outfit.
For those of you who like to dress in black mostly, you must give it a try! The earthy tones and dark color palette can really compliment any outfit.
Also, because of the subtleness, it can go with any outdoor as well as indoor setting. And like always, the bracelets are 100% waterproof and wax-coated so don't let fashion stand in the way of your adventurous lifestyle.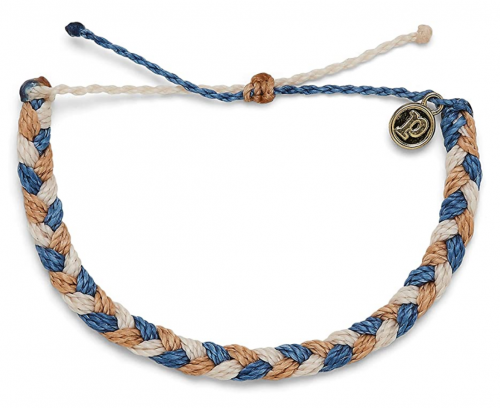 Copper charm
Waterproof
Adjustable tie knot
Like the friendship pack, these braided bracelets come in many colors too. When worn together with other bracelets of similar designs, or even as individual pieces, they really stand out.
Read more
The braided bracelets are available in many colors such as black, candy apple red, grey, blue, purple and others. Some of them also come in multiple tones to make them stand out even more.
Like all other Pura Vida bracelets, these are also handmade; therefore each piece is individual and unique.
We like to wear them out to the beach as well because they are 100% waterproof. They also have the brand's P charm in a gold-coated copper to make you stand out even more.
Since the bracelets are wax coated, you are free to go and do whatever you want wearing these.
White Cord
Adjustable
Affordable
The seed bead bracelets of Pura Vida come in many colors, but the style is similar. It's tied in a string of seed beads in either multiple colors or only in one.
Read more
The seed bead bracelet comes with the signature 'P' charm of the Pura Vida bracelet, but instead of being gold or iron-coated, this one is Black.
The finished product is a matte black P charm to show the authenticity and simplicity of Pura Vida bracelets with this one symbol.
The bracelet, like all others, is made completely by hand, which makes them very unique and charming.
The seed bead bracelets have eye-catching and dazzling colors to catch the attention of passersby. These definitely add as a complement to your day to day outfit.
The seed bead bracelet is 100% waterproof and wax coated, making it ideal for all seasons. Even during the wet monsoon or cold winter, the bracelet will not fade in color.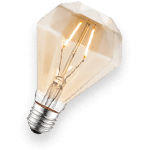 Brand Background
Pura Vida is a California-based handmade company that specializes in making bracelets. The products are mostly made of woven strands with charms in some of them. Pura Vida makes bracelets that are socially responsible.
Some of the profits from sales are spent on doing charitable works as well. The concept of Pura Vida comes from a Spanish word that means 'Pure Life'.
The Story
The bracelets' idea was originally from Costa Rica, which the founders' Griffin Thall and Paul Goodman discovered back in 2010.
These fashion accessories gained popularity when a number of celebrities were seen sporting them. Since then the company has sold over 2 million bracelets.
Frequently Asked Questions
q:

What do the Pura Vida bracelets mean?

a:

Pura Vida bracelets are a brilliant brand with many meanings behind each of their pieces. Their jewelry is designed to capture the true essence of tropical vacations, accentuating the laid-back lifestyle of the islands.

With their pieces, you can bring positive vibes with you everywhere you go, offering pure life and pure happiness.
q:

Why are Pura Vida bracelets so popular?

a:

The popularity of Pura Vida bracelets is likely due to how their pieces are manufactured. Every item has been independently designed by artisans worldwide, offering a vast collection of artistic accessories.

Instead of mass-marketed designs, you'll have a unique piece that's sure to showcase your personal style.

Also, the company works with a wide assortment of charities to help spread love around the world.
When you purchase a bracelet, you'll be contributing to a better planet.
q:

Can you wear Pura Vida bracelets in the water?

a:

The majority of Pura Vida bracelets are specifically designed for water activities. You'll find some of their more delicate materials, such as braided textiles, are covered with a wax coating for water resistance.

It's best to look at the care instructions for your specific piece to know if it's water-safe.
q:

Do Pura Vida bracelets last?

a:

Pura Vida bracelets are designed to last, especially some of their more luxurious options. You can guarantee your favorite accessories can withstand plenty of wear and tear over extended periods.

With some of their more sensitive materials, like polished metal, proper care is essential to prevent tarnishing.
Finally...
Pura Vida is a company that exists to create awareness for different causes. Not only do they provide great pieces with superior value, but also they are giving back to society and the environment.
We think getting a Pura Vida bracelet is always a good investment because of the values they stand by.