Mix / Women
Our 10 Favorite Pura Vida Bracelets in 2021!
Marianne 07 Jan 2021
3116
Pura Vida is a California based handmade company that specializes in making bracelets. The products are mostly made of woven strands with charms in some of them. Pura Vida makes bracelets that are socially responsible. Some of the profits from sales are spent on doing charitable works as well. The concept of Pura Vida comes from a Spanish word which means 'Pure Life'.
The bracelets' idea was originally from Costa Rica, which the founders Griffin Thall and Paul Goodman discovered back in 2010. These fashion accessories gained popularity when a number of celebrities were seen sporting them. Since then the company has sold over 2 million bracelets.
Here are 10 picks of the best Pura Vida bracelets. All of these are handmade!
10 Best Pura Vida Bracelets!
1. Save the Dolphins Pura Vida Bracelet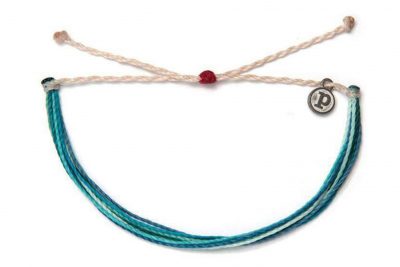 This bracelet is made for the charitable cause of the Oceanic Preservation Society. This charity's mission is to talk about global environmental issues. They do so by posting film, photography, etc. on social media. They also do collaborations such as this particular one here, to make people aware of the importance of preserving the natural wildlife. 10% of the profits get donated from this bracelet.
The bracelet is a simple woven bracelet in the color blue, to imitate the color of the ocean. It comes with a gold-coated 'P' charm to denote the brand, Pura Vida. The bracelet itself is simple and minimal. Stacking them up with other bracelets can be a good style, but of course, you can wear them individually as well.
I like this bracelet because it is minimal with a sleek finish. Anybody can see that the finished product is really well made. And the strands look sturdy enough to last me a long time. Saying from experience as I have had other strand bracelets before, this one definitely stands out as a better quality product. And it is amazing that I am giving back something to the environment while also making a statement!
2.  
Pura Vida Bracelet Pack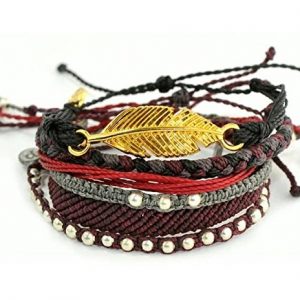 This is a pack of 10 bracelets which were introduced to make sure that more people can afford the Pura Vida bracelets. The bracelets in this pack cost less than they would individually, so it is a great way to get some of the Pura Vida products without breaking your bank.
You can wear them all together or mix and match to go with your outfit of the day. Because they are handmade, each piece is unique and individual, therefore there might be slight changes in color combination.
The 10 bracelets of the pack have individual names. They are: Coral Rreefin, Seafoam sea monster, Hakuna Matata, Berry cute, Wish you were here, Life in color, Changing tides, Abalone obsession, Beach life and Color collage. Each of these bracelets come in various vibrant colors. You can practically create a rainbow on your wrist while wearing them altogether. I think the colors stand out a lot so pairing them with a neutral outfit might be a great idea. And not to mention they make great Instagram posts.
We personally love to go all out, but sometimes we will wear two-three at a time to keep my look minimal and more in the professional category. These bracelets never fail to add a burst of color in your everyday life. You can also gift some of them to your friends! Since this is called a friendship pack, it's bound to gain a lot of appreciation from your loved ones!
3. 
Pura Vida Braided Bracelets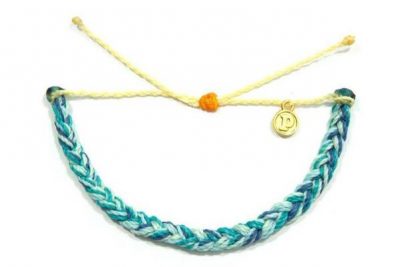 Get It Here
Like the friendship pack, these braided bracelets come in many colors too. When worn together with other bracelets of similar designs, or even as individual pieces, they really stand out. The braided bracelets are available in many colors such as black, candy apple red, grey, blue, purple and others. Some of them also come in multiple tones to make them stand out even more.
Like all other Pura Vida bracelets, these are also handmade; therefore each piece is individual and unique. You will notice that no two pieces are exactly alike, and we think that's the real beauty of handmade products. Isn't it a great feeling when you get to own something that's truly one of a kind? We like to wear them out to the beach as well because they are 100% waterproof.
They also have the brand's P charm in a gold-coated copper to make you stand out even more. Since the bracelets are wax coated, you are free to go and do whatever you want wearing these.
4. Muted Bracelet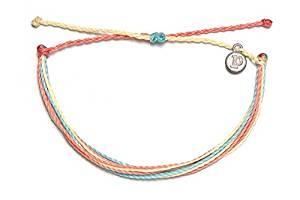 This particular bracelet pack is one of our favorites. The color palette is absolutely amazing. The color theme follows a dark aesthetic which tends to go with my mood, and therefore my outfit most of the time. This is a set of 6 bracelets in different styles and colors. The bracelets can be either worn all together to really pack a punch, or individually or even two or three at a time to mix and match with your outfit.
One of them is a braided bracelet like the ones mentioned earlier, in the color deep brown. There is another one also in brown but with little beads woven into them. One is in the color grey with some little beads woven into them. One is a simple red one with multiple strands as the ones mentioned earlier. Then we have a braided one with multiple colors and this one looks similar to the good old braids we make on our hair. The last one has a big chunky gold leaf charm on it to make it really stand out.
For those of you who like to dress in black mostly, you must give it a try! The earthy tones and dark color palette, it can really compliment any outfit. Also, because of the subtleness, it can go with any outdoor as well as indoor settings. And like always, the bracelets are 100% waterproof and wax-coated so don't let fashion stand in the way of your adventurous lifestyle.
5. Pura Vida Silver Mountain Blush Bracelet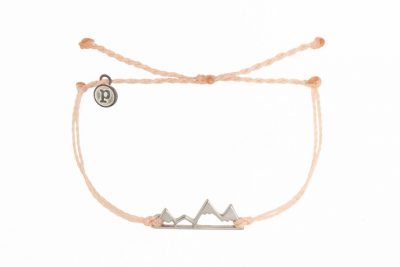 The Pura Vida original mountain bracelets are different from the ones mentioned so far, as there is a pretty mountain charm incorporated into the design. These come in two colors, indigo, as in blue, and silver mountain blush, which is, essentially, a pinkish-orange color. Both of the colors have two strands, which are joined together with a mountain charm in silver. There is also a 'P' charm in gold-coated copper to show the brand logo.
The focal point of this particular Pura Vida bracelet is definitely the mountain charm in silver. The charm adds depth and sophistication to the overall look of the wearer. And like all the other Pura Vida bracelets, this one is also 100% waterproof and wax-coated, so don't shy away from doing whatever you want just because it involves water. You can basically wear it anywhere as neither water nor sweat can cause damage to this beautiful piece of jewelry.
You can wear it to more professional settings such as business meetings as the silver mountain charm really adds another dimension to this particular piece. Rather than just being adventurous, this also adds more depth and sophistication for sure to any outfit. The charm itself is very well made, and the quality is definitely apparent on the making.
6. Suicide Prevention Awareness

This is yet another bracelet where the money you spent goes to help fund a great cause. As you can probably guess from the name itself, the money from the sale goes to a charity called SAVE. The SAVE's mission is to prevent suicide by creating public awareness and education. There is also a stigma against the ones with suicidal thoughts or people who have had suicidal attempts, so SAVE aims to reduce that stigma as well. SAVE tries to serve as a valuable resource for everyone with such tendencies. The Pura Vida brand will donate 8% of the purchase price of this bracelet to SAVE.
The bracelet is a yellow one with multiple strands. There is an iron-coated 'P' charm attached to it. The bracelet looks very elegant and sleek due to its subtle and minimal design. But despite being minimal, it can really catch your attention because of the bright yellow color. The vibrancy of the bracelet makes it versatile as it is sure to catch the attention of anyone. The bracelet also stands out on its own so you can dress up in neutrals to go with the bracelet.
7. Seed Bead Blush Bracelet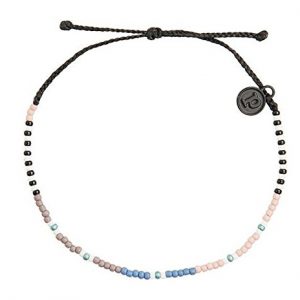 The seed bead bracelets of Pura Vida come in many colors, but the style is similar. It's tied in a string of seed beads in either multiple colors or only in one. There are five styles available, those are – Blueprint, Blush, Ice Cream, Lady Stardust and Magical Mystery. The Blueprint one is as you might have guessed already, made with blue seed beads string in a row. The Blush one has seed beads in the colors pink and orange. The ice cream one is in colors yellow, white, pink and blue. Lady Stardust has seed beads in black, white, yellow, blue and pink in different layers, creating different dimensions altogether because of the setting of the colors. The Magical Mystery seed bead bracelet has seed beads in colors white, pink, blue and pink to make the strings stand out.
The seed bead bracelet comes with the signature 'P' charm of the Pura Vida bracelet, but instead of being gold or iron-coated, this one is Black. The finished product is a matte black P charm to show the authenticity and simplicity of Pura Vida bracelets with this one symbol. The bracelet, like all others, is made completely by hand, which makes them very unique and charming. The seed bead bracelets have eye-catching and dazzling colors to catch the attention of passersby. These definitely add as a complement to your day to day outfit.
The seed bead bracelet is 100% waterproof and wax coated, making it ideal for all seasons. Even during the wet monsoon or cold winter, the bracelet will not fade in color. The strands are sturdy enough to stand through all the seasonal changes. And like always, the Pura Vida seed bead bracelets also come with an adjustable slip knot to expand the string from 2 to 5 inches in diameter to fit different wrist sizes comfortably.
8. Platinum White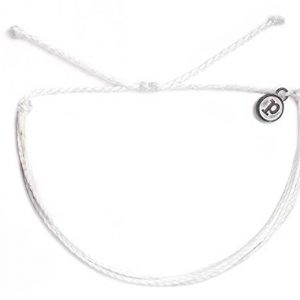 If you are looking to add more punch to your outfit while simultaneously standing behind a good cause, look no further. This particular piece is the very epitome of elegance. This Pura Vida bracelet in white is an absolutely amazing addition to any outfit, especially for special occasions as it is a perfect combination of sleek and elegant. The white bracelet is adorned with various platinum beads to give any outfit the oomph it might be lacking. The platinum bracelets are also available in various color, if white isn't really your thing.
The white platinum bracelet contains 27 silver beads in multiple strands. The closure is also held with two white strands, making all thing white. There is an iron-coated copper 'P' charm, as usual, to add more to the bracelet. It great for any occasion, but due to the added bling effect of the platinum beads.
What's even better is because they are so elegant, they are bound to catch anyone's eyes. And once they ask you about these, you can make them aware of the cause, making sure you are also part of the awareness program.
9. Best Babes Bracelet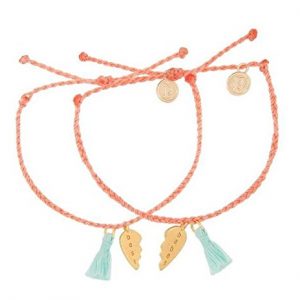 These are made in a way so that they can easily be worn as friendship bands. This particular design comes in a set of two to make sure you and your best friend are connected. These bracelets come in a set of two with a very unique design pattern. There are six styles in total and those are – Mediterranean green, Pink, Salmon, Seafoam/Gold, Seafoam/Silver and White. Each of the designs, regardless of the style, has a tassel and a plated charm that either says 'best' or 'babes', making it a pair of two very unique friendship band bracelets.
All of these bracelets' strands are 100% waterproof and wax-coated to make them last through water and harsh weather conditions. No matter your situation, you don't need to take off your bracelet. And we mean, usually, friendship bracelets are meant to be worn for longer periods anyway.
What we love about these bracelets is how different they are from other friendship bracelets. Most bracelets with such a theme usually say 'best' and 'friends' but this one takes a unique take. And because it's a Pura Vida bracelet, of course, these ones also have the signature 'P' charm to add to it. The best babes bracelets are a great way to stay connected to a best friend even if you live far away from each other.
10. Mandela Charm Bracelet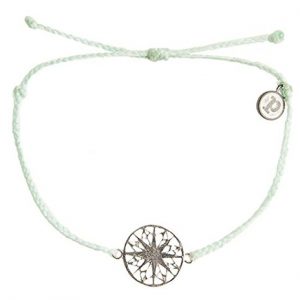 This sophisticated piece of Pura Vida bracelet will add another complementary aspect to your outfit thanks to its whimsicalness. The added bonus of the strand in Seafoam is another thing that adds to its sophistication. The Mandela charm bracelet is versatile in a sense as the color palette really goes well with any outfits. Be it indoor or outdoor, you can pair it up with your favorite piece and you will be ready to go.
The Mandela charm is available in the color silver and joined in the middle with the strands. The charm has a design that is perfect to go for any occasion.
Conclusion
Pura Vida is a company that exists to create awareness for different causes. Not only do they provide great pieces with superior value, but also they are giving back to society and environment. We think getting a Pura Vida bracelet is always a good investment because of the values they stand by.