Our 7 Fave Saint Christopher Necklaces to Gift!
last updated:
Aug 02, 2021
Travel is something that everyone desires, whether it's to an exotic destination for vacation or to see our loved ones.
With a Saint Christopher necklace, you can protect yourself while traveling, making him one of the most popular patron saints.
From a fashionable standpoint, these necklaces offer vintage and authentic appeal that you aren't likely to find elsewhere.
These styles are undoubtedly iconic whether you're shopping for a stunning religious symbol or a necklace to add to your antique collection.
Let's explore some of our favorite Saint Christopher necklaces for men and women.
Top 7 Picks
1

. Macy's St. Christopher Diamond Necklace
Lobster clasp closure
Cast in polished stainless steel
Diamond accents
Approximate 24" chain length
Although the Macy's St. Christopher diamond necklace is designed with men in mind, it's a beautiful unisex accessory. It has similar styling to some of the more feminine pieces on this list, making it adaptable to anyone's collection.
Read more
It's made from high-quality stainless steel, speaking to its resilience. As one of the strongest metals used for jewelry, stainless steel withstands plenty of wear over the years.
The most remarkable feature of this piece is the St. Christopher medallion that drops from the chain's bottom.
Its beautiful suspension sits comfortably at the center of your chest with a low-profile rolo chain. You'll find the approximate chain length is 24" with a slight pendant drop of one inch.
Unlike standard stainless steel accessories, this necklace is cast in polished stainless steel, making it lustrous.
Each of the included diamonds is specially treated to help enhance their beauty and make them glisten effortlessly.
2

. Esquire St. Christopher & Cross Necklace
14k gold plating
Sterling silver base metal
24" chain length
Macy's exclusive
This necklace has a stunning design that would also look fabulous worn by any jewelry lover. Its unique appeal sets it apart from other designs, boasting both a St. Christopher pendant and a cross embellishment.
Read more
The necklace is crafted from sterling silver with a gold plating. The 14k gold plating requires special care to prevent chipping and damage, such as avoiding chlorine and perfumes.
When you see the remarkable St. Christopher pendant for the first time, you'll fall in love with its handcrafted appeal.
The gently engraved protective phrasing and iconography make it a phenomenal addition to your collection.
Adjusting your new necklace to fit perfectly is much simple with the help of the adjustable chain.
Its total length is 24", though it can be shortened as needed.
Also, it comes with a lobster clasp closure, making the piece easy to take off and put on in seconds.
3

. David Yurman St. Christopher Amulet
Pendant only
Sterling silver
Pave black diamonds
26.2mm x 5.2mm pendant
Sophistication and distinction are two words we'd use to describe the David Yurman St. Christopher amulet with pave' black diamonds. It captures everything that you could desire from a St. Christopher necklace without being too over the top.
Read more
The St. Christopher token is surrounded by individually set black pave' diamonds that capture the light and add texture to the piece. You'll also love the antique typography that circles the interior component of the necklace.
Up close, the delicate engraving sets the stage for the entire pendant, depicting the patron saint, St. Christopher. The luxurious finishing of sterling silver adds the perfect level of contrast that every wearer will love.
Compared to other amulets with a similar style, this is one of the most luxurious options with an elevated appeal.
As shown, the pendant is paired with a box chain which elevates its more masculine features.
4

. Miansai Saint Christopher Surf Necklace
Sterling silver
White enamel
Emerald green background
24" chain
Your wanderlust isn't specific to road and air travel, as exploring the oceans can also be an exciting venture. The Miansai Saint Christopher surf necklace is a timeless accessory you'll love to have while surfing or boating.
Read more
The elegant styling of sterling silver paired with a green background for the talisman adds stunning contrast. As an extra fashionable piece, you'll have a nautical star to help protect you on the open seas.
This necklace speaks to the historical use of St. Christopher as a protective token in surfing communities dating back to the 60s. It's the ideal gift for someone who loves spending most of their time at the beach.
The stunning Polaris star embellishment sits delicately against the larger-sized St. Christopher protective token.
It comes with a moderately adjustable 24" chain that you can customize to the perfect length for all-day wear.
5

. JOTW "Protect Us" Round Pendant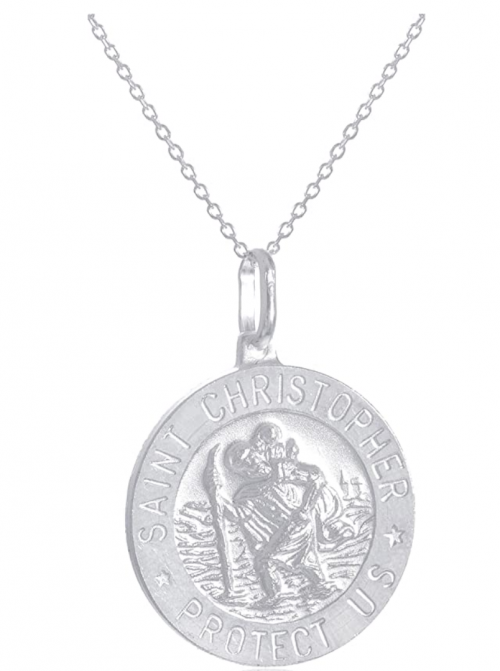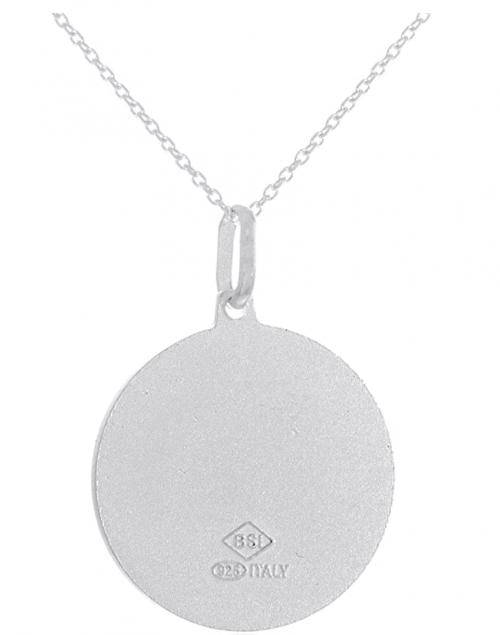 Sterling silver
18 inch chain
Lightweight
This option is not only made with quality materials but there is also a level of dexterity added to carving it that makes the build nothing short of excellent.
Read more
925 sterling silver is the base metal used to craft this wonderful piece. The metal is hypoallergenic and safe for anyone, no matter your allergies. You will be comfortable with the fact that the pendant comes in three different sizes.
There is also the inscription along the circumference of the pendant that reads 'Saint Christopher protects us,' which is the main selling essence of the necklace.
Finally, the clasp of the ring is made using the spring ring design, to enable it to stay firmly on your neck and reduce the chances of losing it.
6

. Catholic Patron Saint Pendants Necklace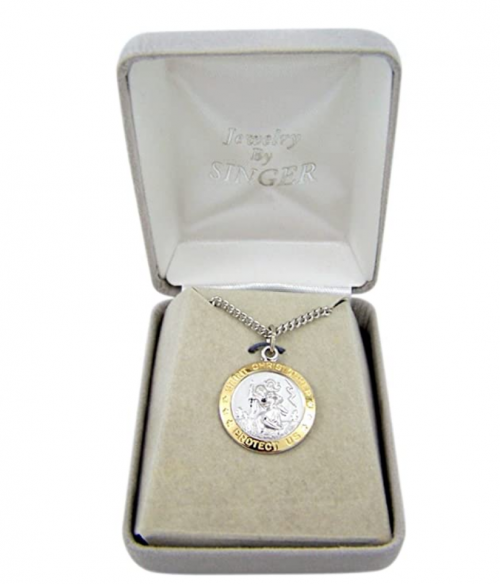 14K gold plate over sterling silver
Lobster claw clasp
Gift box included
With a dimension of 7/8 inch, the pendant for this necklace is quite simple but stunning nevertheless. It is crafted using sterling silver and has its rim plated with a 14K gold stamp.
Read more
The inside has a silvery beauty that is nice to look at. There is a rhodium finish to make the materials inert and inactive when it comes in contact with the skin. The chain that is attached to the piece is 24 inch with a lobster claw clasp.
Another thing that you will enjoy about the necklace is that you can remove the chain and wear the pendant with any chain length at any time.
The item is a gift box when being delivered, so if you are planning a surprise party and need an impromptu gift, this is just what you need.
There is also a money-back guarantee which you definitely won't need.
7

. Wet Products St. Christopher Surf Necklace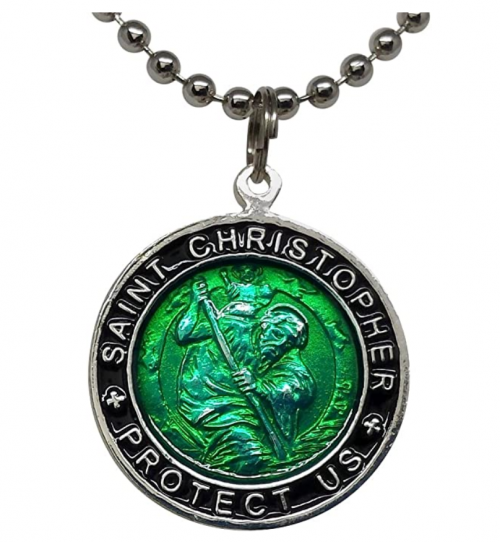 Silver colored metal
23 inch ball chain
Image of surfer on the back
The necklace comes in colors that make it stand out clearly. You can see the picture of the Saint clearly and be sure of the protection it has for you.
Read more
Crafted with black plated silver alloy, this necklace is one of the most affordable pieces of Saint Christopher necklace we could find.
The edge of the necklace is coated black, while the part that houses the Saint's picture is green — contrasting well enough to magnify the patron's significance.
You also get a 23-inch chain that is made with the same base metal and carries a ball chained style for better functionality.
The pendant measure 1 inch in diameter.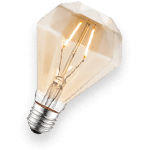 Who was St. Christopher?
Saint Christopher is a Saint who lived in the 3rd century. The story of his existence has always been in doubt, but one thing that has stood the test of time in the story is how he rescued a child in the dangerous waves of a river.
Believed to be Christ, the baby was carried by him across the mighty river. Eventually, he was martyred under the Roman emperor.
Today, his image is used as a patron for travelers. From car keys to necklaces and protection charms, the image is crafted in different shades of metal for aesthetic appeal.
What does it symbolize?
In case you think Saint Christopher being a patron widely celebrated by Catholics is only meant for them, well, you are undoubtedly wrong.
The symbol stands for a Saint that protects and ward off any danger that is around while traveling. In his story, we mentioned how he rescued the sweet baby Jesus from the river and carried him across the dangerous waves.
That is exactly how he sees travelers off to their destination and back.
Frequently Asked Questions
q:

Who is St. Christopher patron saint of?

a:

St. Christopher is the patron saint of travelers, which has made him one of the most popular saints that people look to for guidance.

You'll find it's one of the most used icons in cars, and the token is worn by travelers throughout the world.

Interestingly, he's the patron saint of all travel types, whether by land, air, or sea.
q:

What does the Saint Christopher necklace mean?

a:

The primary meaning behind Saint Christopher is that it offers luck, which then translates to protection. As a traveler, you'd adorn this token to bring luck to you on your travels, keeping you safe while exploring new destinations. This luck helps to ensure that you don't encounter any negative experiences while exploring the world.

This symbolism comes from the legend that he was seen assisting a child cross a river. He helped the child cross, even though he was extraordinarily heavy. Little did St. Christopher know that the child was Christ carrying the world's weight.
q:

Who wears a St. Christopher necklace?

a:

Anyone who feels like they need luck and protection while traveling can wear a St. Christopher necklace.
However, it has also turned into a famous fashion symbol due to the uniqueness of the token itself. It's a fantastic piece that you can wear for its symbolic benefits or its antique styling.
q:

Is St. Christopher good luck?

a:

There's no doubt that St. Christopher is good luck, especially if you're someone who loves traveling.

This token has also proven to be quite popular with surfers and motorists outside of its religious meaning.