Emerald Necklace Options Not to Miss Out On!
last updated:
Oct 14, 2021
Emerald is one of the most luxurious and exquisite gemstones to wear. With an iconic green coloring, there aren't many other gemstones that match the brilliance of emeralds.
Not only do they look fabulous in modern and vintage pieces, but they also have a rich history that speaks to their opulence.
With some of the world's most notable royalty adorning their own emerald jewelry, there's no doubt you deserve to treat yourself as well.
Let's take a look at some of the most intricately designed pieces bound to take your breath away.
Top 7 Picks!
1

. Blue Nile Petite Emerald and Diamond Necklace
The Blue Nile emerald and diamond necklace is simple and classy, everything that we love in a low-profile necklace. It has a unique elegance that pairs well with other pieces and sets the stage on its own.
Read more
The minimalism of this necklace is what sets it apart from the rest, showcasing the perfect amount of shine.
With six individually set emeralds paired with eight stunning diamonds, it's the ideal combination of jewels. The stones aren't too large and overbearing, which only speaks to the delicate nature of the necklace.
You'll fall in love with the 36" chain, which can hang well below your breastbone but can also be wrapped to turn into a choker.
With such versatility, you'll be able to wear this piece with an assortment of items in your closet. It also allows you to stack the necklace with other pieces for a beautiful display.
Every inch of this necklace is crafted using premium materials, speaking to its lavish cost. You'll love the 14k white gold chain, which sits comfortably against your neck. Also, it features a lobster claw clasp, making the necklace easy to put on.
2

. Kay Jewelers Emerald Hamsa Necklace
The Kay Jewelers emerald hamsa necklace takes a more traditional approach to emerald jewelry. With a unique backstory, this is a piece that's sure to be the topic of discussion at any event.
Read more
There is a multitude of artisan-quality details added to this necklace which speaks to its uniqueness.
You'll fall in love with the bedazzled hamsa pendant, which boasts diamonds paired with an iconic emerald in the center. Each of the individually set stones glistens effortlessly in the light, creating a spectacular sight.
Each of the stones speaks its own story, especially the brilliant round-cut diamonds. The opulence of the marquise-cut emerald is what sets this piece apart. You'll have a stunning contrast of the white diamonds and green emerald paired with a sterling silver cable chain.
It's important to note that it will require special care as this piece is made from sterling silver. Over time, the material is prone to tarnishing, so it's best to maintain the metal with a soft polishing cloth.
Also, you'll want to keep it away from chemicals, such as astringents and perfumes.
3

. Effy Brasilica Emerald and Diamond Pendant
The Effy Brasilica pendant speaks to our inner royalty with its spectacular styling. It has an elevated design that will make you feel like a queen when wearing it to a special occasion. For as many details as it boasts, you'll be surprised at how lightweight this dramatic necklace is.
Read more
The Effy Brasilica pendant boasts a more vintage appeal compared to other modern pieces. It also feels exotic, adding a little bit of excitement to your everyday outfits. There are plenty of fashionable elements that play off each other on this necklace that are sure to impress.
First, you have a luxurious .81 carat emerald nestled in the center of the pendant, surrounded by .07 carats of white diamonds. Another feature that we fell head over heels for is the authentic yellow 14K gold chain.
The combination of yellow, green, and gold is reminiscent of Ancient Egypt and Latin America. You'll find it's the perfect contrast that's sure to capture the attention of everyone in the room. Also, as the stones are round cut, they add structural depth to the pendant.
4

. Ross Simons Emerald Bead Necklace
If you're a huge fan of emerald, the Ross Simons emerald bead necklace is a perfect choice. Instead of combining different types of stones together, this piece is crafted purely of emeralds.
Read more
The Ross Simons necklace is a sleek and slender necklace that works well on its own and with other pieces. We can imagine this paired with a choker or a small pendant necklace centered on your chest. With the 50 carats of emeralds used to create the beads on this piece, it's a full emerald piece.
The individually crafted beads are unique, each with its own color variations, adding dimension to the piece.
You'll also find the base metal for the chain is luxurious, featuring 14k yellow gold. Every ounce of this necklace is striking and glamorous, making it iconic for any occasion.
The smooth rondelle faceted beads are sure to impress, adding to the subtle style the necklace offers. Also, it boasts a lobster clasp, which ensures the necklace stays secure for all-day wear.
5

. Gem Stone King Simulated Emerald Necklace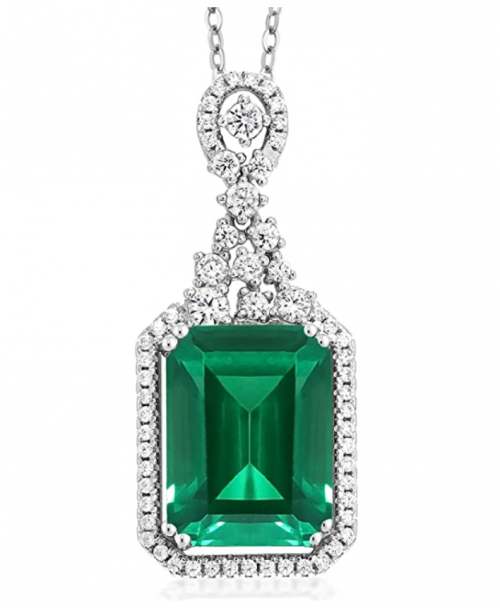 This is another of our favorite square-shaped emeralds that have been decorated with shimmering diamonds that complement the emerald beautifully.
Read more
This necklace has been designed with a 7.10 carat cut green emerald. The stone is a simulated emerald that has been cut into a square shape that is approximately 10mm wide by 14mm in length. The stone is held securely in place by a 4 prong setting.
This necklace has been made from a beautiful sterling silver metal that has an 18-inch silver chain and has a spring-ring clasp which allows the necklace to be put on and removed easily.
What we love about this necklace are the cubic zirconia diamonds that complement the green emerald and make this piece contain plenty of sparkly.
The diamonds are round, white, simulated and look breathtaking when worn. They're small but perfectly formed and are approximately 1.25mm in length by 1.25mm in width.
This is definitely a quality piece of jewelry. As soon as you buy the necklace you simply won't want to take it off! The design is extremely elegant and has a classy feel to it.
6

. Peora 14 Karat Gold Simulated Pendant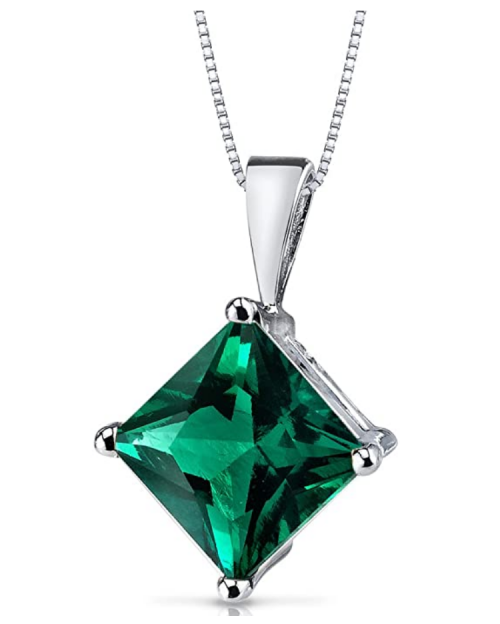 If you're looking for a daintier necklace then this princess cut emerald pendant may be just what you've been looking for.
Read more
This stunning princess cut gemstone has been positioned in diamond-style shape. The size of this emerald stone is approximately 8mm in length by 8mm wide and is 2.2 carats in weight.
When it comes to the type of emerald this gemstone is classed as a rich forest green hue color that has a brilliant sparkle.
This emerald has been positioned in a solitaire setting which has been made from 14-carat white gold metal. The gemstone has also been attached to an 18inch sterling silver rhodium finish box style chain.
This necklace comes in a signature gift box that will keep your precious necklace safe from any damage.
7

. Finecraft Round-Cut Solitaire Necklace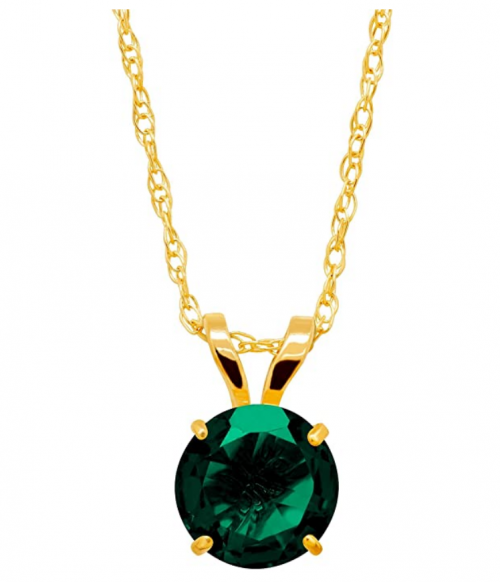 If you like yellow gold jewelry then this emerald necklace may be a great addition to your jewelry collection!
Read more
This necklace has been created using a dark green emerald that has been cut into a circular shape. The gemstone has been securely held in place by a 4 prong setting and then attached to a yellow gold link.
A yellow gold chain is then used to finish off the necklace. This piece of jewelry is a dainty necklace that you'll love.
The green emerald is a ¾ carat cut created emerald that has been crafted in a 10k gold setting. The emerald has been cut into a round shape and is approximately 6mm in length by 6mm wide.
This pendant also comes with a 10k gold 18-inch rope style chain with a spring-ring clasp, making it very easy to put on and take off.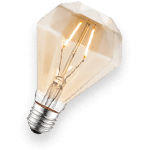 The Meaning of an Emerald
Historically, emeralds are known for possessing many inner meanings. They hold a lot of power, like improving the wearer's intelligence and memory, allowing them to think clearly about the past, present, and future. The stone is also known to protect lovers from unfaithfulness.
The Meaning of an Emerald
An emeralds color also carries a lot of meaning. The green emerald symbolizes new life and represents the start of spring. The gemstone represents the birthstone for May. It also marks a couple's 29th and 35th wedding anniversary. The emerald is one of the most popular gemstones alongside diamonds, rubies, and sapphires.
Frequently Asked Questions
q:

Where do emeralds come from?

a:

Did you know that emeralds are one of the few stones that are less common than diamonds? These brilliant green-hued gemstones are typically found in Zambia, Brazil, and Colombia, with Colombia having the most distinctive stones available. Historically, emeralds have been dated back to 30 BC.

What makes these stones so unique is how they're formed, either in hydrothermal veins or in pegmatite deposits. When magma escapes from the Earth's crust, a combination of elements is left behind and cooled when emeralds are formed. There's no doubt their development is equally as unique as their rich history.
q:

What is a lab created emerald?

a:

When browsing through jewelry, you might come across "lab-created" emeralds. This term can be confusing, but it's important to note these stones are genuine emeralds, just not natural emeralds.

Emeralds can be one of the most expensive lab-created gems as they require expensive equipment to be made.

However, there's nothing that beats the luxury of a natural emerald in both appearance and cost. Although both stones generally have the same chemical, optical, and physical properties, natural emeralds hold a special allure.
q:

What is a natural emerald?

a:

The distinct nature of emeralds is what makes them one of the most precious stones you can purchase. The natural stones are made of beryllium, and they get their green coloring from a combination of chromium and vanadium.

When finely cut, emeralds have a spectacular polished finish and a hardness of approximately 7.5 on Mohs's scale.
q:

How can I tell if my emerald is real?

a:

The best way to tell if your emerald is genuine is to reach for the nearest light source. Emeralds, like other gemstones, won't sparkle and instead will have a slight shine. If you notice rainbow flashes coming from your stone, it means it could likely be a fake emerald.

An alternative way to check the legitimacy of your stone is to use a jeweler's loupe. Again, hold the stone to a light source and look for a sparkling effect. Most professionals agree that emeralds don't have a "fire" to them when exposed to light.