We All Need a Pair of Huggie Earrings, and These are the Ones We are Wearing These Days!
last updated:
Aug 12, 2021
The best huggie earrings gently hang on your lobes while remaining close to your skin for all-day comfort. They're some of the most delicate earrings you can opt for, especially if you prefer a subdued, feminine style. From jewel-encrusted tiny hoops to polished metal, you can find an assortment of styles that fit your personal aesthetic.
Let's explore some of the most intricate and classic huggie earrings that you can pair with any outfit.
Top 8 Picks!
1

. Blue Nile Mini Huggie Hoop Earrings
14k white gold
Rhodium plating
Hinged snapback
1/2" width
The Blue Nile huggie earrings are an effortlessly elegant pair of earrings that you can wear daily. They have a polished finish and are crafted from corrosion-resistant materials, keeping them comfortable and skin-safe. With their classic elegance, you'll find they can easily be paired with any outfit.
Read more
There's plenty to unpack with these seamlessly designed earrings, especially if you prefer delicate and distinctive accessories. When worn, they sit close to your ear with comfortable rounded edges that sit gently against the skin. The wide-domed design of the band is what sets them apart from other styles, as they're slightly chunkier.
If you're in the market for a durable set of earrings, this option is ideal. They're crafted from 14k white gold, perfect for wearers with metal allergies and sensitive skin. Their half-inch diameter is the ideal size without feeling too bulky or heavy.
As an added benefit, they feature a hinged snapback, making them easy to put on and take off. To enhance the quality of the pieces even further, they boast a rhodium plating for a luxurious finish.
You'll find these earrings will become one of the few pairs you own that you can wear absolutely anywhere.
10k yellow gold
Cubic zirconia
Zigzag accent
Hinged backs
If you love the concept of huggie earrings but are looking for a more fashionable design, these are remarkable. The Pagoda cubic zirconia zig-zag huggies have everything you'd expect from an exciting and exotic piece of jewelry. They have a sassy style that's sure to impress even the pickiest jewelry fans.
Read more
There's a whimsical air to these earrings that make them the ideal partner for formal and casual outfits. You'll love the brilliant polishing of the 10k gold as well as the glitzy cubic zirconia stones surrounding the earrings. They have a handcrafted appeal that makes them a versatile and unique set to pair with other earrings or wear alone.
The effortless elegance of accented zigzag design elevates the piece, adding a gorgeous element to the cubic zirconia. Each of the individually set zones captures the light, setting off a glistening show for anyone to appreciate. We also love the contrast of the clear stones against the gorgeous 10k gold, creating a modern appeal.
You'll fall in love with the thickness of the huggies, making them the ideal option as a focal piece. Another advantage of these earrings is how easy they are to wear during any activity.
As they're huggies, they sit close to the lobe and are comfortable, thanks to the rounded and soft interior material.
3

. Zoe Lev 14k Gold Huggie Earrings
14k solid gold
Polished metal
10mm diameter
Lightweight
When you think of huggies, you likely think of a streamlined and modern pair of polished earrings without embellishments. The Zoe Lev 14k gold huggie earrings are ideal for a straightforward, classic, and modern pair of accessories. They are easy to pair with any other pieces, thanks to their flattering and minimalistic design for everyday wear.
Read more
Sophistication is the first word that comes to mind when we see this option. They're finely detailed and finished with a beautiful polished metal, making them a showstopper for any occasion.
There's no doubt that they look expensive, with a simple and slender exterior that's suitable for any ear size. Also, as they're crafted from 14k gold, they're comfortable for all-day wear, even if you have sensitive skin.
The outer diameter of the earrings is just under 10 millimeters, with an inner diameter of 7 millimeters. You'll find they sit gently against your lobe but also feel supportive, making them great for sports and swimming. Fortunately, they're also lightweight, weighing one gram for the complete pair.
If you're interested in gifting the Zoe Lev huggie earrings, they ship in a high-quality box. Every order receives a custom jewelry box that can be gifted without the need for wrapping.
4

. Dazzlingrock Collection Diamond Huggies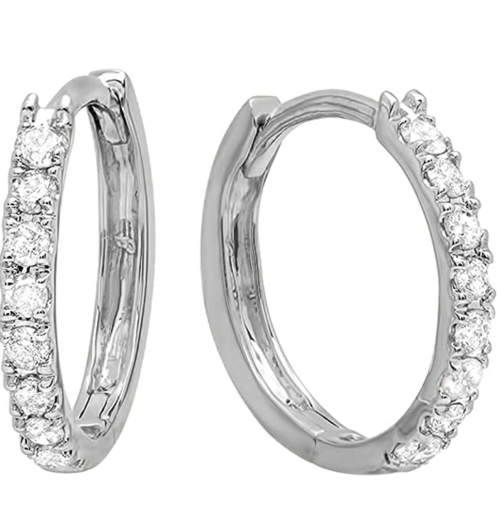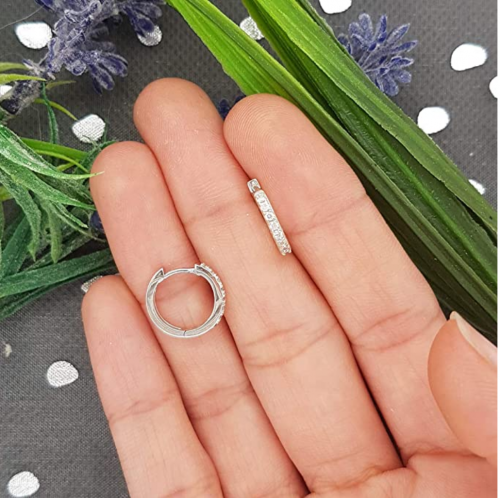 Certified diamonds
10K white gold
Dazzlingrock 90 day warranty
This particular option comes with exquisite design and glamorous crafting. The classic beauty makes it suitable for just about any outfit, and with an IGI certificate, quality is certainly guaranteed.
Read more
One thing that makes jewelry safe to wear is the material with which they were made. These beautiful and gorgeous huggie earrings were crafted with 10K plated metal stamp, this is one of the highest quality you will find in the market.
However, the first thing that captures the light in the product is the 8 stone naturally cut round diamond accent that twinkles on each hoop. It's quite remarkable what gemstones can do to a product, and the 0.25-carat diamond simply does wonders to this one.
You can be sure that you won't lose your charming jewelry at any party, whether at the pool or that dinner you are going for. This is because of the hinge and notched post that is used to hold it in place on your earlobe.
Take one look at the image above, and it speaks what a million-word can't. Those diamonds are truly clear, and they will certainly spark up your face with their glimmer.
5

. PAVOI 14K Gold Plated Huggie Stud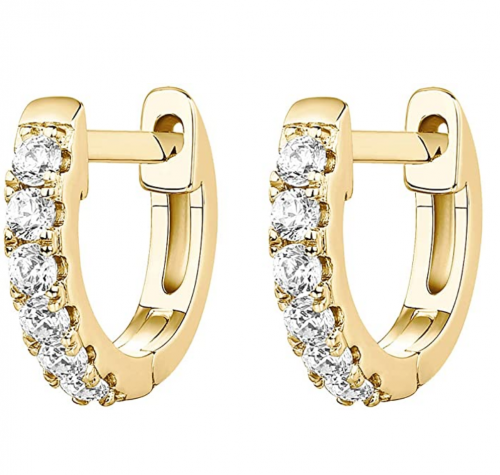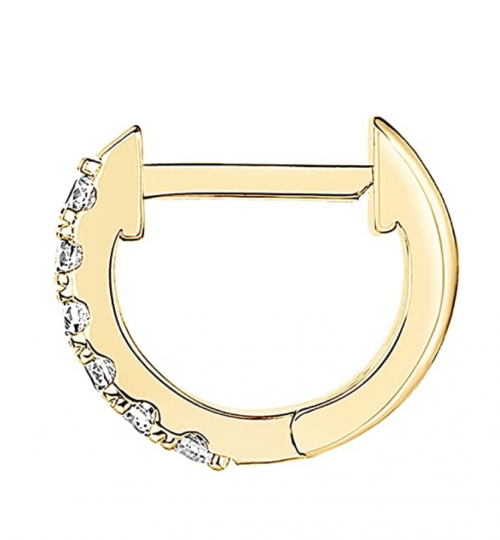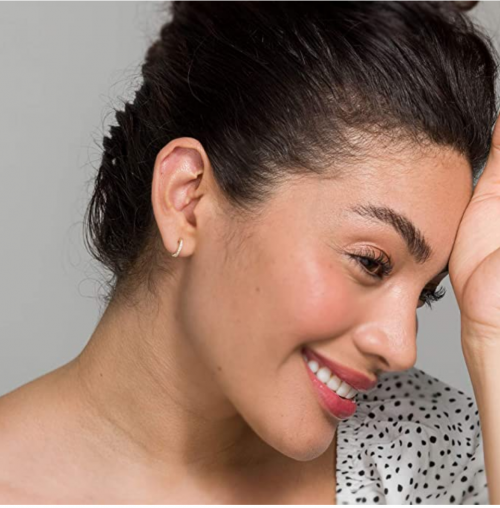 Stainless steel
14K gold plated
Cubic zirconia stones
Here is one jewelry piece that will soon become your favorite. With a pave' setting that is not only perfect for you but also beautiful, you can wear it in whichever piercing you have in your ear. This huggie earring also combines the great feature of a stud for a better experience.
Read more
Pavoi is one of the leading brands of jewelry in the market. From earrings to necklaces and bracelets, they make quality products by employing the services of experts.
This 14K gold plated huggie earring is made with stainless steel and measures just about ½ inches in diameter. With cubic zirconia lining up all the surface of the earrings, the aesthetic appeal is pretty cool. You won't need to worry about any allergies since the material is free of nickel or lead.
You would love these earrings with all the fantastic features that surround it. There is the setting, long-lasting finish, the elegance, and the affordability.
6

. Maria Black Penso Huggie Earring
Brass
Silver-tone polishing
Hinge-pin fastener
Lightweight
The Maria Black earring is more of a piece of art than a standard jewelry option. It transforms the idea of regular huggies by offering a more unique appeal with rounded edges and an artistic flair. If you're looking for an organically designed accessory with subtle details, these earrings are ideal.
Read more
Although it's not made from solid gold, it's an affordable and easy-to-wear option with other pieces. The beautifully polished metal is easy to upkeep with the help of a polishing cloth to maintain its luster.
This earring is crafted from silver-toned brass, which is essential to note if you have skin allergies. You'll also want to ensure that you avoid exposing it to alcohol-based products, such as perfume, as well as water. It's a fantastic daytime piece to add to your collection that can contribute depth to your outfit.
It's also important to note that this option comes with a single piece rather than two. Each earring features a hinge-pin fastener, which ensures it's adequately secured when worn. You'll also love how malleable the metal is, allowing you to find the perfect fit.
7

. Gemstar Citrine Huggies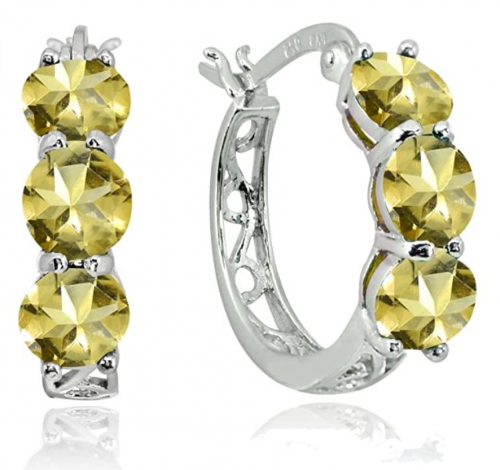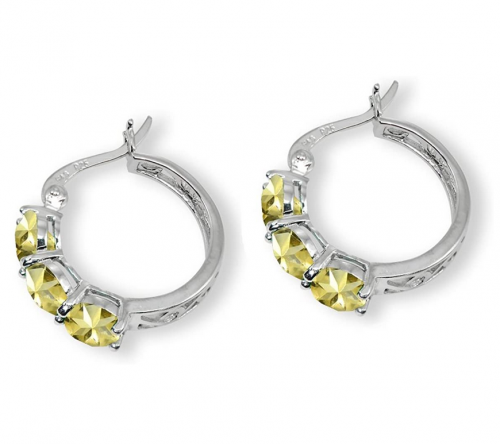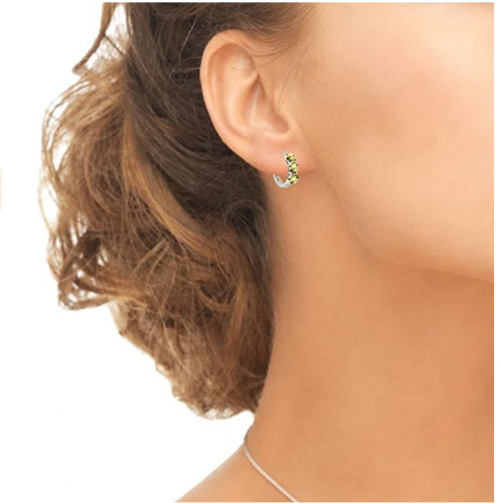 Sterling silver
Yellow CZ
Affordable
November gemstones are quite unique, with their yellow glimmer and dazzling beauty, it is quite hard to resist their charm. And this is the gemstone, Gemstar USA used to create a gorgeous huggie earring. From one of the best brands in the market, these earrings have superb quality and are a mix of beautiful materials to make a perfectly awe-striking product.
Read more
These huggies were created with fine sterling silver, which is one of the highest quality metals used for jewelry. It doesn't peel and is hypoallergenic to your skin.
With the infusion of three citrine stones, there a harmony of beauty that just seems right. Each of the stones is 5 millimeters in diameter to enable them to fit perfectly into the whole setting. So with this touch-up of classiness, you can get your accessory collection to have that life it's been missing.
Gemstar didn't stop at just making the earring with November gemstones; they also recreated the awesomeness in a series of other earrings feature in this collection. So you have a vast array to choose from like simulated opal, blue topaz, cubic zirconia, created ruby, peridot, just to name a few.
8

. Silvershake Blue Topaz Huggie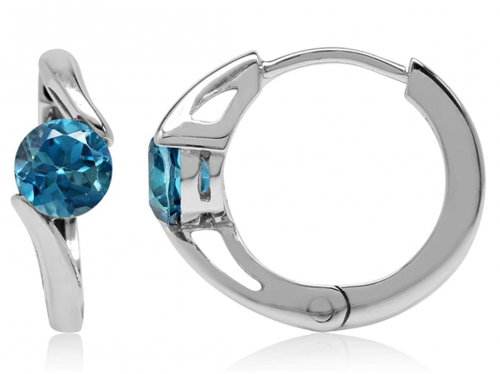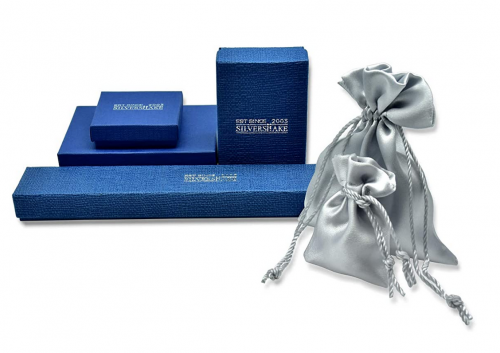 Sterling silver
White gold plated
1.24ct. genuine London blue topaz
This is one huggie earrings from Silvershake that is worth having. With the topaz gemstone that was added to it, it has the sort of effect that captures the spotlight.
Read more
The metal on the earrings is 925 sterling with silver rhodium plating. The topaz weighs 1.24-carat in total and features a natural cut. There is no form of radiation in creating it, and the cut was done with absolute precision for great curve and excellent edges.
You can rely on the hidden-snap-post to help you secure it right in place at your earlobes. And you can wear it all day without worrying about damage from moisture or environmental chemicals.
There is the stylish awesomeness that goes around with you all day and night with the use of these. You can count on the white gold plating to help maintain its durability, and it's even affordable too.
9

. MIA SARINE Cubic Zirconia Pave' Huggies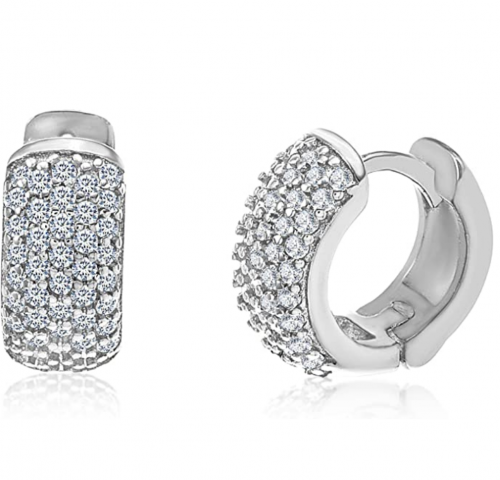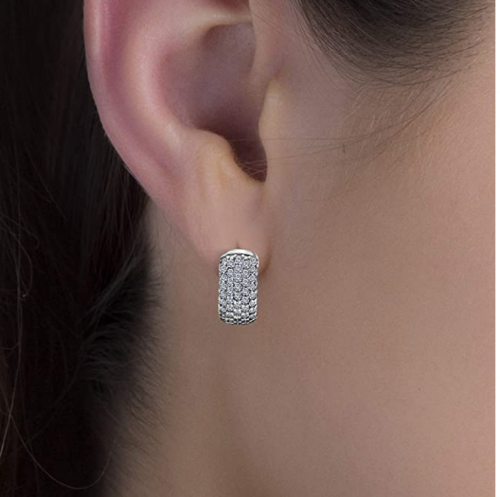 Sterling silver
Rhodium plated
Cubic zirconia stones
Several jewelers use cubic zirconia to add a touch of beauty to fashion accessories while making sure that you can afford them. There's this excellent shine about them that causes a sparkle just like the gemstone they are used to imitate. They are very versatile and can be colored for various aesthetic pleasure. MIA SARINE certainly got it right this stunning piece of huggie earrings.
Read more
Crafted with sterling silver, the earrings are hypoallergenic and great for your skin. There are cubic zirconias used all over the round hoop in a pave setting that is quite charming. You can create a spark of life for your wardrobe with this timeless jewelry. It also has a click back to keep it from falling off at any time.
You don't need to worry about budget cuts when you want to get the earrings, the price is pretty moderate. There is also the soft but beautiful pouch that was used in packaging the product, which is good for storage anytime you wish to take it off.
Be it prom day, Christmas, mother's day, birthday, wedding anniversary or any other special event, these huggie earrings are lovely with their beauty, elegance, and stunning quality.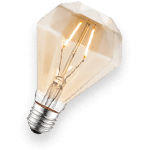 What's So Special about Huggie Earrings
You might be wondering if the tone of excitement used to introduce huggie earrings isn't over-reaching. Well, it's not, for a product that can spark up your ear and complete your fashion statement with such aplomb. It really brings out the beauty in your outfit, and you can even use it in combination with other jewelry in a perfect accord of wonder.
Huggie earrings got their name from the fact that they hug the ear piercings, they are just like your regular hoop earrings, except they are the 'slim fitted' version. They also have a post that fits between the two halves of the hoop. So you can take them off and put them back on without worrying about comfort.
Huggie earrings were pretty popular throughout history, but the place they started can't actually be pinpointed. The only thing we can say is that ear piercings and earrings were pretty popular in ancient Egypt. And pirates also wore them quite well.
Why you would love them are because of the diversity, it does not come in only just one material. One brand can fashion theirs with gold and use diamond accents, while others can choose to use sterling silver and create a subtle shimmer using topaz or any other gemstone.
There is so much creativity that can be infused into these earrings that it is like a mural for brands to create wonders from.
Celebrities Seen Wearing Huggie Earrings
The first person that we found wearing a beautiful piece of huggie earring is the Duchess of Sussex, Megan Markle. She was sighted at a recent public appearance with a pair of beautiful Vanessa Tugendhat 'Parisienne' diamond huggies.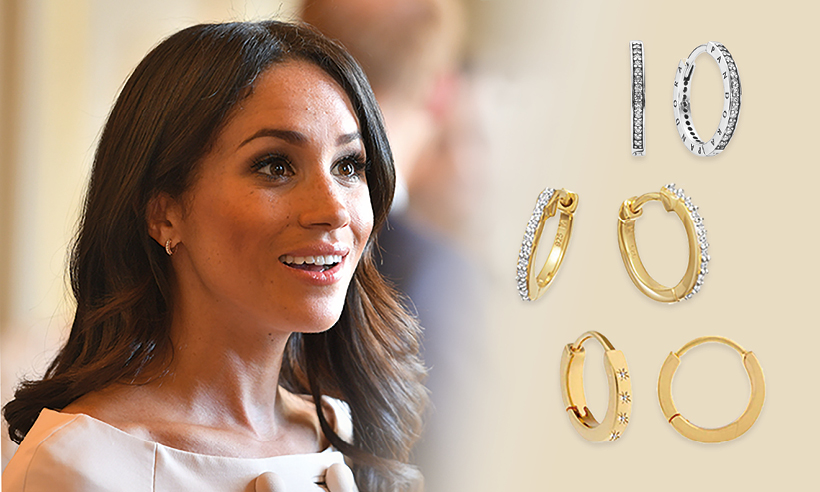 Dana Rebecca was also spotted at a red carpet event with her awesome smile right where it should be and a pair of diamond Huggies, twinkling on her ears. Angelina Jolie is not also left out of this trend, and even the Kardashians use them to decorate their ears from time to time.
Frequently Asked Questions
q:

What is the difference between huggie earrings and hoop earrings?

a:

They sure look like hoop earrings, and in fact, they come in circular shapes which is precisely like hoop/cartilage earrings. The key to their difference is however in size.

While hoop earring tends to be big and dangle well beyond the ear size, huggies just stay right at the edges of your earlobe.

They are a perfect fit and they can also be decorated with beautiful scent for alluring features. Also, they range in sizes, so check the dimension before you get one for yourself.
q:

Are huggies unisex?

a:

Yes, they definitely are unisex. If you are a man, you can use this awesome jewelry as long as you have a piercing. It doesn't matter the size of the piercing, you can certainly find one that suits you perfectly.

It's also available for women with a different design for everyone. You can also check the third section in this article to see some of the male celebrities that have rocked the earring at several events.
q:

Can you sleep in huggie earrings?

a:

Huggie earrings are highly recommended for sleep because of their subtle style. You won't have an uncomfortable post poking into the skin behind your ear, which is why they're so popular.

Once you've secured the earrings in your piercing, they're unlikely to move until you take them out.
q:

What size are huggie earrings?

a:

Huggie earrings are typically much smaller than standard earrings, making them ideal for minimalistic styles. With that said, they can vary in size from as small as seven millimeters to as large as twelve millimeters.

Always confirm the sizing before purchasing to ensure you're choosing a low-profile set.