Men's Pinky Rings: 7 Options We'd Like to See on Our Man's Pinky Finger!
last updated:
Aug 12, 2021
Men's pinky rings are the ideal addition to your collection to show off your personal style and confidence. As an edgy and alluring accessory, they're an iconic staple that more men are starting to appreciate for everyday wear.
If you're on the hunt for a cutting-edge way to enhance your style, we highly recommend these distinctive designs.
Top 7 Picks
1

. Northskull Atticus Skull Signet Pinky Ring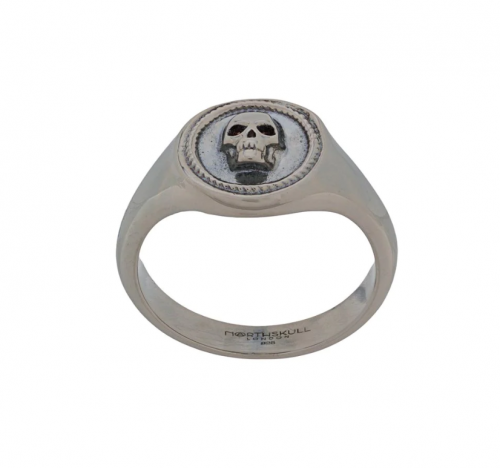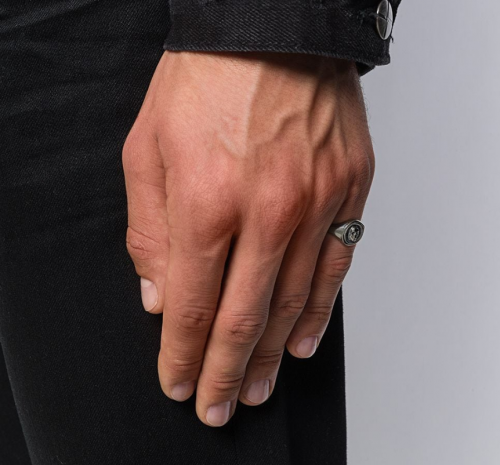 Italian-made
Sterling silver
Engraved skull
Delicate braided details
Signet pinky rings are a dramatic way to showcase your personal style with a rocker-style influence. They're a durable option and comfortable for all-day wear without being too over-the-top.
Read more
There's no doubt that when you see the Northskull Atticus Skull pinky ring for the first time, it piques your curiosity.
It features an etched signet emblem with a highly detailed skull embellished in the center.
You will love how effortlessly sexy it looks, with its rust-resistant design for any man that loves working with his hands.
The burnished sterling silver rests comfortably against the skin, especially with the ring's softened edges.
Along with the apparent focal point of the piece, the burnished skull, there's also delicate braiding surrounding the engraved skull.
You will find plenty of details that look handcrafted, adding to the uniqueness and quality of this piece. Also, it boasts a uniqueness that is customary for most Italian-made jewelry.
We love the idea of pairing this piece with a formal suit for an edgy punk-rock take or with a casual pair of jeans and a band tee.
2

. Wolf & Badger Maya Ring In Silver
Integrated time-wheel
Handstamped accents
Stainless steel
Techwear styling
Techwear is booming in popularity worldwide, as are tech-inspired jewelry pieces. With a remarkably modern and utilitarian style, this pinky ring is one of the most impressive styles we've seen.
Read more
One of the most gorgeous elements of this piece is its unique unisex design fit for men and women. It also features high-performance components that elevate the quality of the piece beyond your expectations.
The striking modern edges and hand-wrapped craftsmanship make it perfect for alternative and contemporary jewelry collections.
Apart from being a structurally significant piece, it also functions as a watch, allowing you to mark an hour with a rotating piece.
It's crafted from high-quality stainless steel, speaking to the rigidity and durability of the ring for long-term wear.
Up close, you'll notice an impressive number of details that add to the complexity of the ring. For example, you'll find the Mayan numeral system is hand-stamped into the stainless steel for a utilitarian appeal.
The matte time-wheel accent is the most fascinating part of the piece, as it adds versatility and functionality. You'll be able to turn it a full 360-degrees, with the time-wheel settling securely on the hour you've chosen.
Also, you can find multiple ring sizes to find the perfect fit for your pinky.
3

. David Yurman Petrvs Lion Ring
15mm wide
Sterling silver
Antique aesthetic
Dulled metal
The David Yurman Petrvs Lion pinky ring has spectacular styling that's likely to take your breath away. Instead of offering a conventional signet ring, this design elevates your style to the next level with historical influences.
Read more
This is the perfect option for men searching for an eye-catching piece. The fine details within the signet pinky ring add to its structural beauty while also exuding confidence and sophistication. If you're a fan of historical jewelry, this is one of our top recommendations to consider.
The ring is designed with flawless and striking elements that make it perfect to wear on its own or with other rings.
You will fall in love with the antique approach to the lion head motif resembling ancient Roman coins. With its unique symbolism, you'll be able to showcase your strength and dependability with any outfit.
Fortunately, the ring is also crafted with flexibility and comfort in mind. Sterling silver is the primary material, which is inherently rugged and resilient to extended wear.
You won't have to worry about rusting or extensive damage, even if the ring is exposed to water. Also, maintenance is effortless with the help of a jewelry polishing cloth.
Unlike other signet rings, the finishing on this piece is duller, perfect for a subtle accent. With a 15mm width, it's the ideal size for small, medium, and large pinkies alike.
4

. Frost NYC Diamond Pinky Ring
Real gold band
.19 carat diamonds
Multiple size options
6.77 grams
The Frost NYC diamond pinky ring is a breath of fresh air for stylish individuals looking for glistening glam. With the beautiful display of individually set diamonds in yellow gold, it's the perfect luxury option for a pinky ring.
Read more
This ring isn't designed exclusively for pinkies, as it's available in numerous sizes. You will be able to find the ideal size for any finger, allowing you to capitalize on the luxurious design that it offers.
The glittering diamonds are .19 carats in total, accentuating the beautifully polished yellow gold band.
We also love the piece's depth, with several embedded engravings that help add plenty of texture. Gold-toned jewelry is remarkably easy to pair with an assortment of accessories, so you'll love its versatility.
The most notable feature is its durability. This ring is made from solid gold, meaning it's meant for all-day wear over several years.
Also, maintaining the metal is simple with the help of a jewelry polishing cloth to return its original shine.
There's no doubt that this is one of the most stylish options for confident and daring men.
5

. Metal Masters Co. Titanium Pinky Ring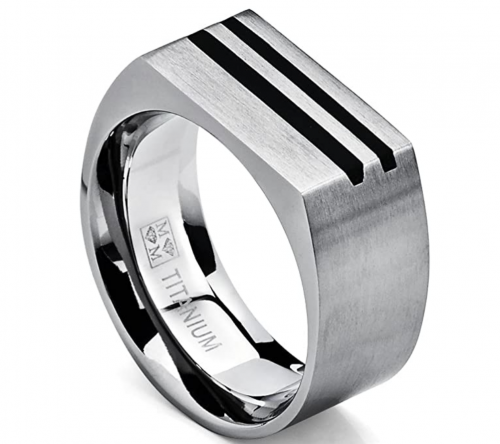 Solid titanium
Resin inlay
Affordable
30-day money back guarantee
Smooth, stylish and sleek – these words would best describe this modern take on the classic man's pinky ring! The ring has been designed with a modern vibe to it. Instead of having the classic flat oval head, this designer has opted for a flat rectangle-shaped head.
Read more
The flat top surface also features a stylish detail consisting of two black lines indented into the top surface. This detail definitely gives the ring an edgy look and feel which we love.
It has been created using a black plated titanium material which has a brushed and resin inlay finish to it. The choice of titanium makes it very strong and extremely durable – great for wearing every day.
The inner surface of the ring also has a smooth and shiny surface giving this ring a lovely comfortable fit. It is approximately 10mm wide which also helps to make this piece of jewelry extremely comfy to wear.
It is hypoallergenic making it suitable to wear if you have sensitive. It also comes in a cute ring box and the jeweler offers a 100% money-back guarantee if you're not completely pleased with your buy, however, we don't think this will happen!
When it comes to the price of this item it is being sold for a low price by Metal Masters Co. which we think is a fantastic buy.
6

. Van Unico Stainless Steel Ring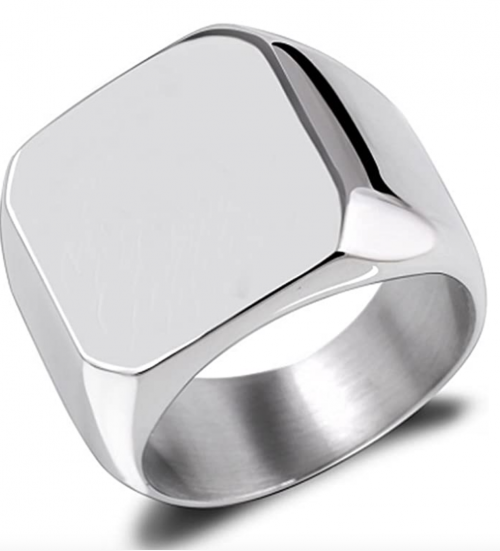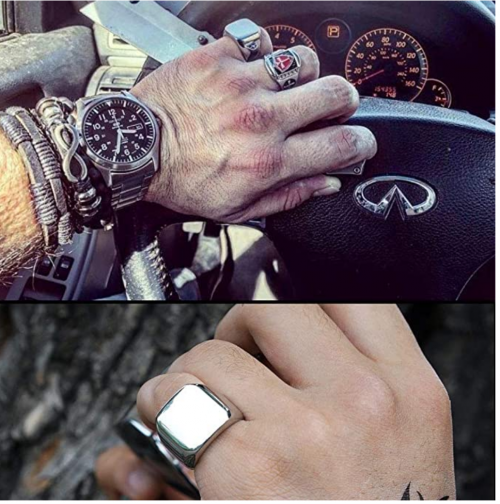 Stainless steel
Comfortable fit
30-day money back guarantee
If you're looking for a slightly chunkier option, then this modern man's pinky ring may be exactly what you've been looking for!
Read more
This option consists of a smooth, flat and shiny square-shaped ring face that joins onto a thicker band.
When it comes to the structure of this piece, the designer has chosen to feature an effortless join from the face to the ring band which makes it almost look like a seamless loop.
These design choices aid in giving it a very modern feel to it. Continuing the new modern feel, it has a high polished finish with a shiny and attractive surface.
Touching the surface you'll really notice just how smooth the outer surface of the ring actually is. The inner surface of the band has also been designed with a smooth high polished finish making this a very comfy fit!
This piece has been crafted using high-quality stainless steel material. What's great about this material is that it's very durable and looks great at the same time!
The designers of this gorgeous ring are Van Unico who is selling this piece of jewelry for a very low price.
This stylish piece will also arrive in a velvet bag and comes with a 30-day money-back guarantee. What more could you ask for?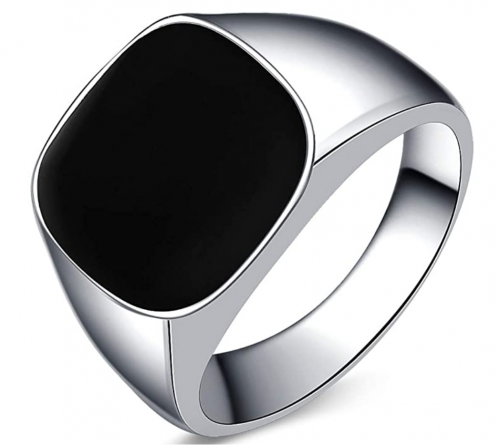 316L stainless steel
Comfortable fit
Hypoallergenic
Taking you back to more classic and iconic men's pinky rings, we've decided to feature this men's option in the line-up! The best way to describe it would be simple, stylish and elegant.
Read more
Well, this piece of jewelry may have an old-style to it but it's certainly not out of date. This vintage-style signet ring is definitely in style and bangs on trend. There's no doubt about that.
This classy option has been designed using stainless steel for the foundation of the onyx ring.
This silver steel has a lovely polished finish to it and has an extremely smooth surface. The iconic part is the black onyx circular face which is the prominent element of this ring.
This piece of jewelry has been created with a very minimalistic design, so if you like the sound of that you'll love this piece.
When it comes to size, this piece is approximately 1.5cm high by around 2.1cm wide. The inner surface is extremely smooth making it very comfy.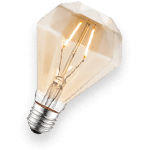 Pinky ring meaning
Men's pinky rings have been historically known to convey different meanings. In the Victorian era when men wanted to indicate that they were uninterested in pursuing marriage, a man would wear a ring on the pinky finger of his left hand.
Rings and heritage
Traditionally there has also been a massive connection between a man's pinky ring and his family/ heritage. The ring has been used to represent the man's family crest or coats of arms.
Finally...
A pinky ring has been associated with being worn by members of the royal family; in particular, Prince Charles who is known for wearing a signet ring on his left hand which is stacked on top of his wedding ring.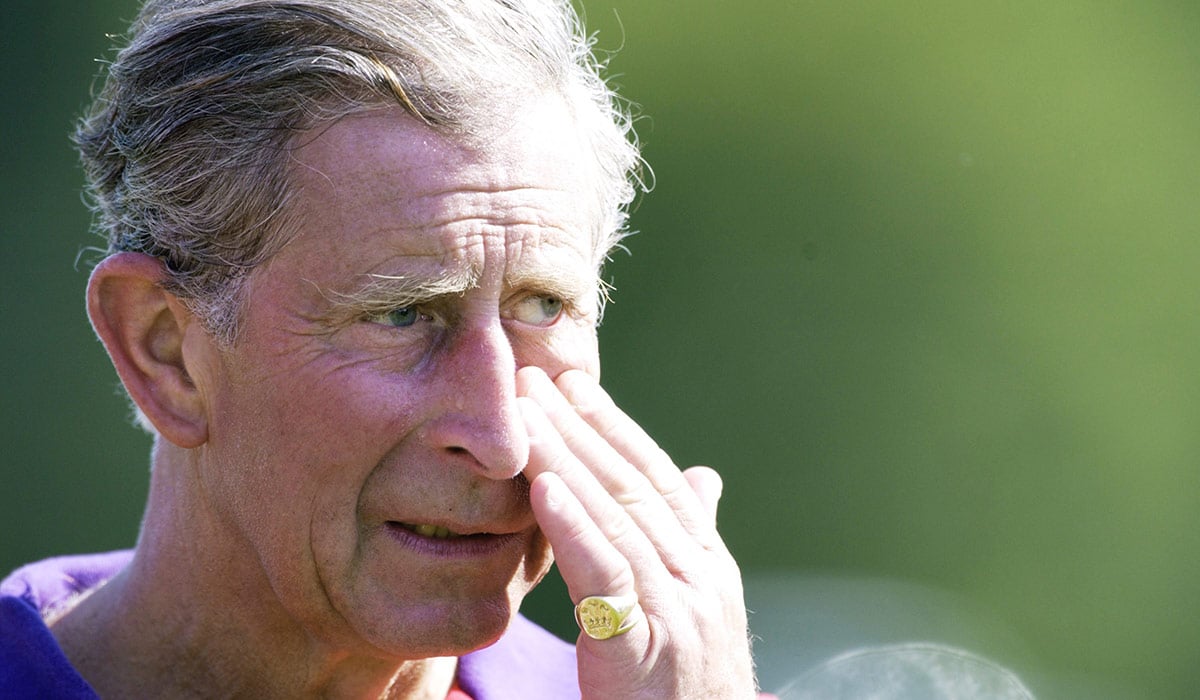 The pinky ring, therefore, plays a big part in communicating style, statue, affiliation, and spirituality. The piece of jewelry has historically been worn by a variety of different types of men and still is today.
Members of the royal family, wealthy society, rock stars, spiritualist and men who don't believe in marriage – the list is endless. This is what makes the pinky ring so great because it's extremely versatile and continues to develop in design over time!