7 Best Nose Studs we Are Loving in 2023!
last updated:
Apr 18, 2021
Nose studs are a fashionable choice for anyone searching for a colorful and comfortable decorative element. The perfect studs set a delicate glimmer to your face, enhancing its structure and adding a bejeweled touch of glamour.
Let's explore some of the most brilliant and delicate nose rings you can find for everyday wear.
Top 10 Picks
1

. Massete 14k Gold Nose Ring Stud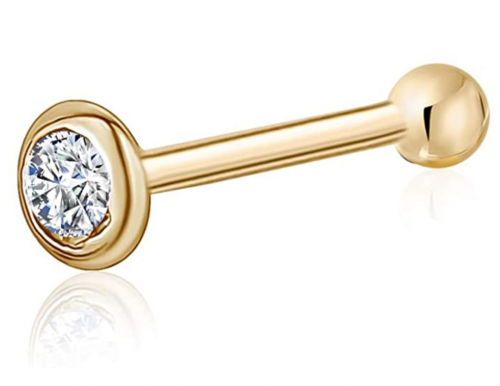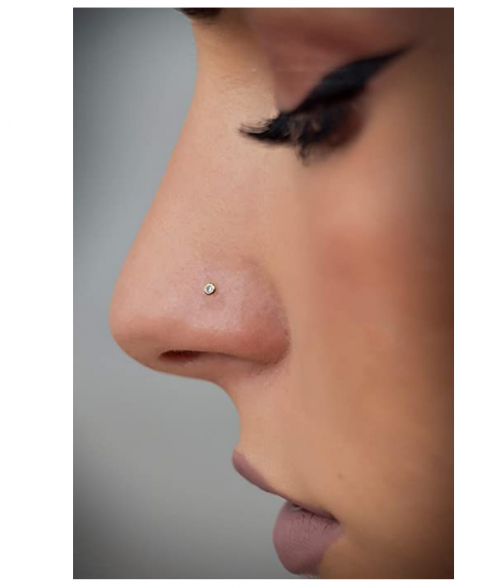 14k yellow gold
Nose pin bone stud
Cubic zirconia gemstone
Nickel and tarnish-free
Adding elegance to your piercings is easy when you have the perfect jewelry, like the Massete 14k gold nose ring stud.
This effortlessly glamorous stud sits flat against the skin, offering a simple yet prismatic addition to your face. It's one of our favorite fashion-forward pieces that you'll love wearing every day.
Read more
There's plenty to love with this delicate and detailed piece, especially with its reflective polishing. You'll fall head over heels for the cubic zirconia gem embedded at the end of the piercing. The perfectly polished 14k yellow gold also sets the stage for an ornate open-worked nose ring.
If you've been searching for a delicate nose stud, you'll be glad to know this style is often referred to as a "micro piercing". It's significantly smaller in size than pictured, making it ideal for small noses and new piercings. However, just because it's dainty doesn't mean that it's any less radiant than other nose studs.
The multi-faceted cubic zirconia is of the highest quality, capturing the light from any angle. You'll also find that polishing the piece is simple with a jewelry cloth, restoring its original beauty. Fortunately, the post is made from high-quality genuine gold, eliminating the worry of rust and deterioration.
Also, you can guarantee the piercing is nickel-free, perfect for people with skin allergies. When you receive the stud, you'll also have a certificate of authenticity speaking to its quality.
2

. Playboy Bunny Top Nose Bone Stud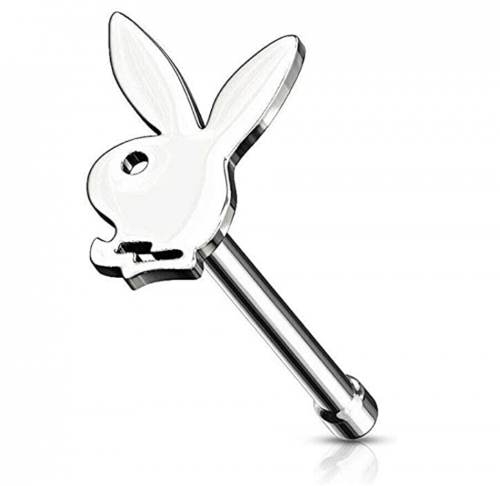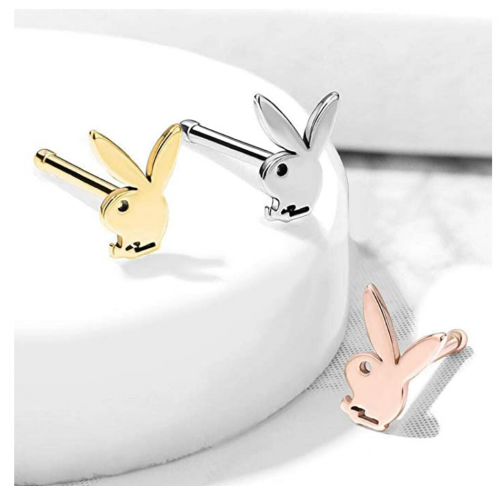 316L surgical steel
PVD plating
20g thickness
Bone stud post
Fans of the Playboy empire are sure to appreciate the delicate styling of this nose stud. With the iconic trademark of Playboy, you can adorn the adorable bunny in the contour of your nose with ease. It's a delicate and seamless design without too much glamour to take away from your other accessories.
Read more
The Playboy Bunny nose stud is the perfect sassy accessory to have on hand that pairs well with anything. You can easily dress the piercing up, although it would look best with a casual and flirty outfit. The beautifully shined metal looks exquisite against the skin with its silver-tone finish.
The stud is crafted from 316L surgical steel for your comfort and safety, which is typically what piercing studios provide.
You'll also find it has PVD plating, helping to prevent rust and corrosion with exposure to water. If you're on the hunt for a sleek and personal touch to your accessory collection, this nose ring is ideal.
It's smaller than expected and quite expensive-looking, especially with its glistening metal. You'll find it's easy to insert, thanks to its nose bone stud design. All you have to do is insert the jewelry into your piercing, and it will sit comfortably and secure.
There's no doubt the Playboy Bunnystud is an exotic and unique piece. It's a conversation starter that's sure to capture the attention of passers-by.
3

. BodyJewellery Nose Screw Studs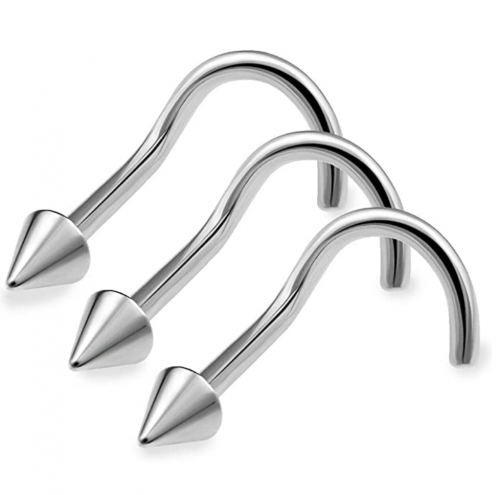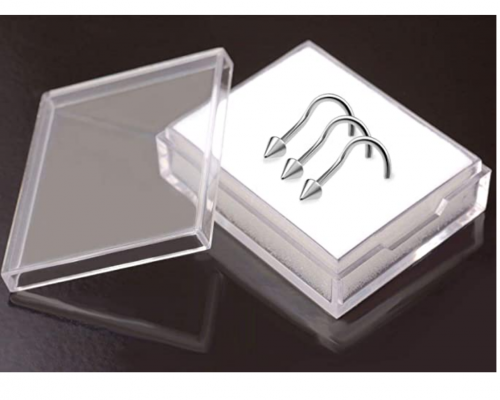 316L surgical steel
Three studs included
20g thickness
2mm length
Nose jewelry can be the perfect way to show off your edgy side, especially with punk-inspired pieces. These nose studs are an iconic introduction to anyone's alternative style. In your order, you'll receive three individual studs, making it easy to wear the same design for an extended period.
Read more
Cone stud nose rings have been popular throughout the years, speaking to their versatility and trendiness. These have the perfect punk flair without being too over-the-top for everyday wear. We could quickly pair these studs with a classic pair of skinny jeans and a band tee for the perfect outfit.
One of the most remarkable features of these studs is that they're made from 316L surgical steel. This quality is the same that you would receive from a piercing studio, and they sit comfortably in the ear. The surgical steel is bio-compatible and has incredibly corrosion resistance, eliminating the likelihood of rusting.
You'll finally have access to a premium-grade nose stud that you don't have to take out while swimming or showering. Also, these studs are fantastic for high-impact activities with their impressive security. Once you insert the stud, the screw backing twists on the inside of your nose, keeping it in place.
One thing to note is that these studs are 20g, which means you'll need to confirm your piercing size beforehand. We love the idea of gifting the BodyJewellery nose screw studs, primarily as they ship with high-quality packaging.
4

. Body Candy 14k Rose Gold Stud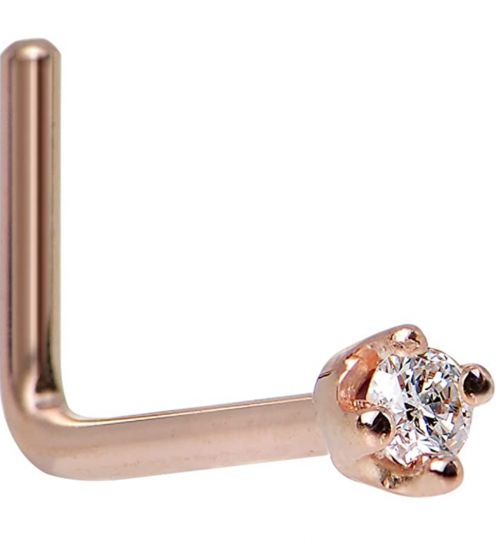 14k rose gold stud
.015 ct diamond
L-shaped bar
1/4" length
The Body Candy 14k rose gold nose sing is precisely what you'd expect from a premium-grade stud. It has a glistening gem at the helm with a lightweight and comfortable post that quickly slides into your piercing. It's also one of the most prismatic pieces we've set our sights on.
Read more
When you see the stud for the first time, you'll notice there's plenty to appreciate. It boasts a premium-grade design with a radiant .015 ct diamond at the tip of the stud. The embedded stone sits delicately amongst the rest of the post without being too intrusive.
If you're looking for a dependable, subdued, and professional nose ring, this is one of our top picks. You'll find the perfectly sized diamond fits perfectly on small and large noses alike. Another notable component of this piercing is that it's perfectly detailed for all-day wear.
When you put your nose stud in, you'll want body jewelry that feels weightless. The L-shape of the post ensures the piercing slides in easily and is secured against your nose. You won't even notice that it's there, even when participating in sports and other activities.
The pink hue of rose gold adds a feminine flair while also contributing to the stud's quality. Instead of using faux metals, the entire piece is crafted from premium 14k gold, which is excellent for skin allergies. The entire length of the stud is 1/4", so it will fit perfectly without sticking out on either end.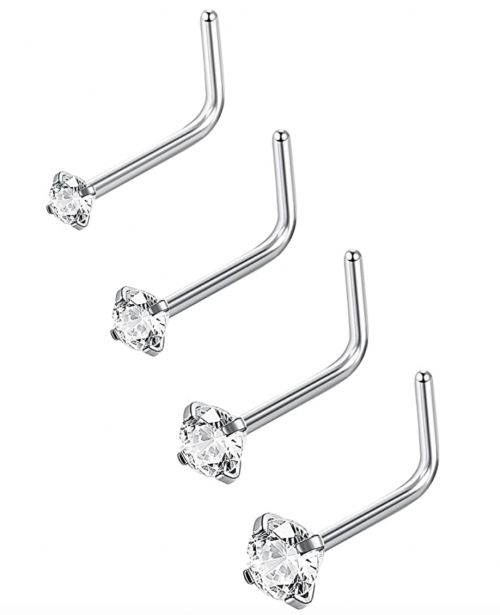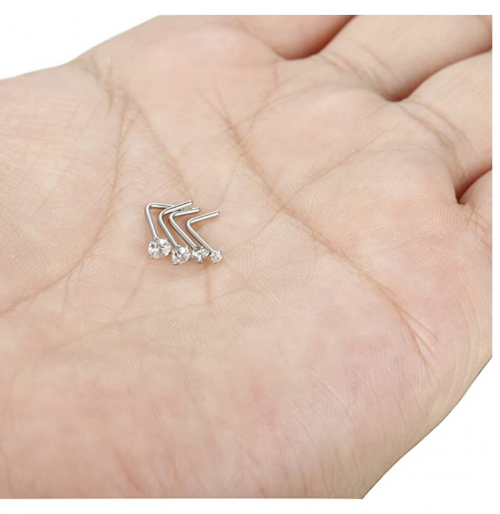 Stainless steel
Cubic zirconia
90 day money back guarantee
This option on our list isn't just one stud, it is a full stud set, which we love (and you will find plenty on this list!). For a very reasonable price, you aren't just getting 1 stud, you are getting 4.
Read more
This is a classic design and we knew we wanted to include one simple stud set for all the people out there who love the classic, timeless look of a diamond stud.
You really can't go wrong with this look, and it isn't overly trendy, so you don't have to worry about it going out of style. This is a great set to have on hand whenever you aren't sure what to wear. These studs are 20 gauge and are 9 millimeters in length and feature a comfortable L-shaped design.
The studs are round cubic zirconia, ranging in size from 1.5mm-3mm. The smallest one is perfect to make a small statement, and the largest one is big enough to really notice without it being ridiculously large. This set is made of stainless steel, and can also be purchased in gold or rose gold.
6

. Rbenxia Rhinestone Nose Studs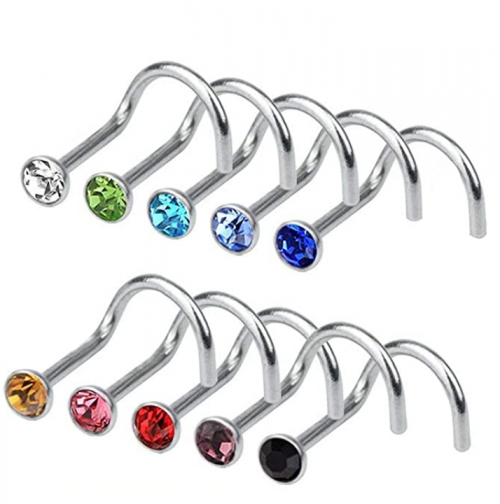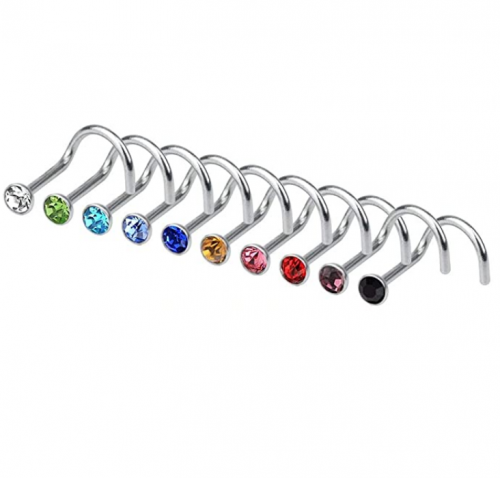 Stainless steel
0.8mm
10 color options
Want to add some color to your nose rings? We don't blame you! We love this set of 10 nose studs - they give you such variety! While there is, of course, the classic diamond stone, there are also 9 colored stones – green, shades of blue, amber, pinks, reds, and a black stone as well.
Read more
No matter your mood (or your outfit of the day), you can find a stud to match! These are also 20 gauge studs that are 8 millimeters in length, with the studs being 2 millimeters big.
We like the unique L-curved shape that these rings have, ensuring they fit comfortably and securely in your nose piercing. Made of stainless steel, these are also comfortable and safe rings to wear daily.
You also can't beat this value – for a small price you are getting 10 quality nose studs! If you want a simple stud, but are still looking to add a pop of color, these are the studs for you.
There are plenty of more neutral shades to wear during the day, but also plenty of fun more vibrant shades for wearing to parties or at night (or any time!!)
7

. Tornito Piercing Jewelry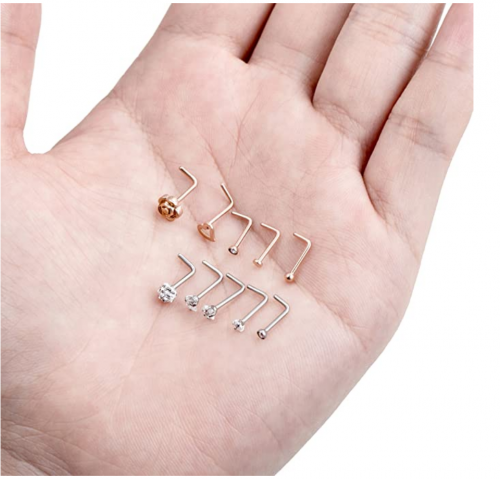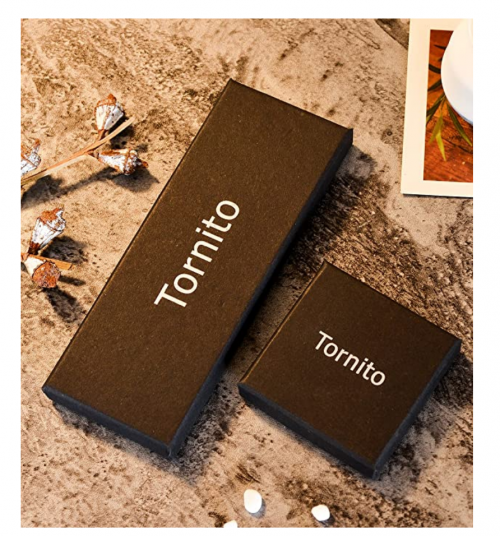 Stainless steel
Cubic zirconia
10 piece set
Rose gold is so popular these days, and we just fell in love with this gorgeous 8 piece set. The rose gold has a beautiful matte finish, while the studs are made of stainless steel, a safe and comfortable option for your nose studs.
Read more
What we really love with this set is that you have 4 options that have a rhinestone and 4 that do not. This is a perfect mixed set that gives you a little bit of everything.
There are simple studs and balls and more unique designs as well including a heart-shaped stone and a heart and rose-shaped design for the stoneless studs.
The rings are 20 gauge and 9 millimeters in length and feature a comfortable L-shaped design. If you aren't a fan of the rose gold (or are afraid it will go out of style) you can get this set in silver as well, or get a mixed set that has both metal colors.
This set is full of versatility and that is why we love it so much, we had to include it on our list.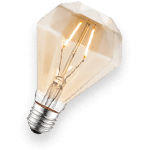 Does A Nose Piercing Hurt?
Are you thinking of getting your nose pierced? If so, before you can really enjoy picking out your studs, the question on your mind is probably: Will it hurt? A logical question to ask!
If you want an honest answer, yes, there is some pain involved. But think about it, you are piercing your skin – of course, there is going to be some pain involved! If you made it through getting your ears pierced then you can get through getting your nose pierced as well.
While the pain isn't the same necessarily as when getting your ears pierced, the thing to keep in mind is - it is quick! If you really want your nose pierced (and if you don't want it, you shouldn't get it) then the quick pain is worth it for the end result.
Most people say it hurts slightly more than getting your ears pierced, but is quick enough that it isn't a big issue.
How do you keep a nose piercing clean?
Keeping your nose piercing clean is essential during the healing process. After you get your nose pierced, more than likely the artist who did the piercing will provide you with aftercare instructions.
For the first couple weeks after getting the piercing you should apply a saline (or saltwater) solution to the piercing two times a day. Soak a cotton pad with the solution and apply it to the piercing area (do not remove the piercing!).
You can also clean the inside area of the piercing by using a cotton swab, just be sure to be careful and do not stick it too far into your nose. You don't want to cause any damage. The saline solution should be comprised of sterile water and sea salt – never table salt as that contains iodine.
At night, you can also wash the piercing with a mild soap that is not fragranced. Make sure to also listen to any specific instructions that your piercing artist gives you. They may want you to refrain from eating or drinking certain things or avoid going to the pool or out in the sun for a certain amount of Ttime to really allow the piercing to heal properly.
Other Factors to Consider
Jewelry Metal & Gemstone Quality
There are several metal types that are best for nose piercings. As with any piercing, you always want to be safe and choose something that won't cause irritation or any sort of reaction. There are a few metal types to keep in mind that tend to be the safest for most people:
Surgical Stainless Steel: keyword - surgical! This is a high-quality metal that is also the most common type that you will find with nose piercings. It tends to be cheaper than some other metal types but it also safe for a majority of people to use. If you have very sensitive skin you may experience an issue, but for most people, this will work just fine and is very safe.
Titanium: technically, titanium is the safest metal type to use with your nose piercing. However, the downside to being the safest is that it is also the most expensive. However, if you are in search of just one nice nose stud, or if you suffer from very sensitive skin, this will be your best option metal-wise. Titanium is very safe and will not cause any irritation or rash.
Gold: gold is a tricky metal. Yes, it is safe, but the downside is that it does cause a lot of people irritation. You won't really know how your body will react to the metal until you use it, so it is not really your best option. This is particularly true for the first stud you will wear when your nose piercing is fresh.
We recommend choosing surgical stainless steel or titanium for that first piercing, and then incorporating gold once it has fully healed if that is what you want. If you have an old piercing you are wanting to use again, gold would probably be fine for you (unless you have had a reaction in the past).
As with anything, be sure to monitor the piercing to make sure everything is okay. If you experience any type of reaction or pain, remove the piercing.
FAQs
q:

What type of nose stud is best?

a:

Deciding which type of nose stud is best depends on personal preference. The most important thing to consider is the type of post you'd like, which influences how easy it is to remove. Also, you'll want to make sure the piercing sits comfortably in your nose.

Most wearers prefer bone studs, which have a small ball at the end of the post to hold the piercing in position. However, corkscrew or standard screw piercings can also be ideal for the highest level of security. If you're looking for a piercing that won't shift or fall out, always opt for a screw.

On the other hand, if you want an easy-to-remove piercing, we recommend a bone stud.
q:

Which side of your nose should you pierce?

a:

Nose piercings can look fantastic on either side of your nose. Our recommendation is to take a fake piece of jewelry or a jewelry sticker to determine what placement you'd prefer.
q:

How does a nose stud stay in?

a:

Nose studs stay in based on the way the post is designed. Typically, the base of the post rests inside your nose to prevent the stud from falling out.
q:

Is it better to get a nose ring or stud?

a:

When you first get your nose pierced, expect to wear a stud for an extended period before switching your jewelry. If you're looking for an edgier flair to your accessories, a ring can often be preferred.

However, you'll have more style variations with studs as they have different embellishments.
Finally...
There you have it! Those are the 7 nose studs and stud sets that we are really loving this year. Whether you want something more simple, or something that really makes a statement, there is something for you on this list.
Gone are the days of having no variety with your jewelry, now you have the chance to get exactly what you want!
From different stone types and colors to designs and various metal types, there is a lot to choose from, and this list gives you a great idea of the best stud designs out there today. Which ones will you choose?