Other Accessories / Piercings / Women
The 10 Cutest Nose Rings That Are Totally Safe To Wear!
A little sparkle is all you need in life. And when it comes to effortless sparkling, there is no better fashion accessory than a nose ring. Right at the center of your face, it is the framing you want to make your facial features pop while pulling off a stylish look. Besides, nose rings are the ultimate definition of coolness. Body piercings have always been a hit with the cool dudes and dudettes of the world but nose rings especially rule the roost. Think you are ready to jump in on the coolest trend ever? Be careful though: you might just become the talk of the town.
Mystique and History
Nose rings have a hell of a backstory. Long before they became the style signature of punksters and rockstars, nose rings were a cultural statement, bold and strong.
Get on a time machine and turn back the wheel to 6,000 years ago: nose rings are a raging trend, the royalty among body jewelry. Even religious scriptures such as the Bible and the Veda contain references to this ancient adornment. It seems they originated in the Middle East, where it was a common practice to gift an expensive nose ring to a future wife; its cultural significance as a marital gift says it all. Nose rings as jewelry trickled to India and this is where it exploded. Indians are, to this day, known for their extravagant jewelry, ornate designs and embellished gold. Nose rings are a staple among Indian women and a favorite one at that.
India redefined nose rings from the simple hoop they used to be. The land spawned a whopping variety of designs, regal and intricate. Take the Jodha Nath, for instance. An upgrade from the ordinary nose ring, the Jodha Nath is one enormous hoop, held in position with a chain that drapes across the face, pinning it to the hair. These Naths are no ordinary accessories; completely bejeweled, it is impossible to tear your eyes away from them.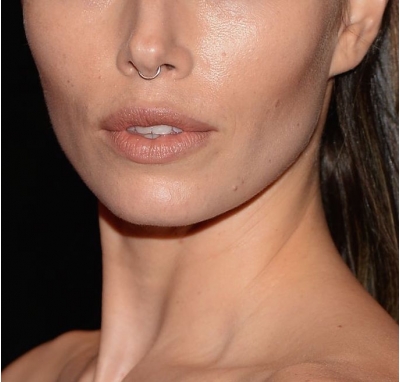 Back in the day, this was reserved for the royalty, queens, princesses and royal consort. And no, it wasn't part for any occasion, ceremony or festival. This daddy of all nose rings was just their regular wear as they cascaded in their finery around the palace. For the modern Indian women, the idea may not be as feasible but the fascination remains. It is still worn by Indian brides on their big day, a rite of passage and her time to shine.
Nose rings, in ancient times, were not just a fashion statement, although they were spectacular as that too. Especially in Hindu culture, these enjoy a spiritual status above any other type of jewelry. Getting a nose piercing is seen as a tribute to Parvati, the Hindu goddess of love, fertility, and devotion. In Ayurvedic medicine, wearing a nose ring can ease menstrual cramps while wearing one on the left side can reduce the pain during childbirth.
When American hippies visited India, they fell in love with the jewelry. They were particularly spellbound by the nose rings and its many variations, steeped in individuality yet bound to the roots. It is no wonder they wanted to take this beautiful fashion statement back to their homelands, introducing Western civilization to mainstream body jewelry, for the first time ever. While the world has wholeheartedly embraced this accessory today, initially, this trend caught on with subcultures in the 70s and 80s. Especially biker, goth, and punk subculture made it a part of their archetypical look.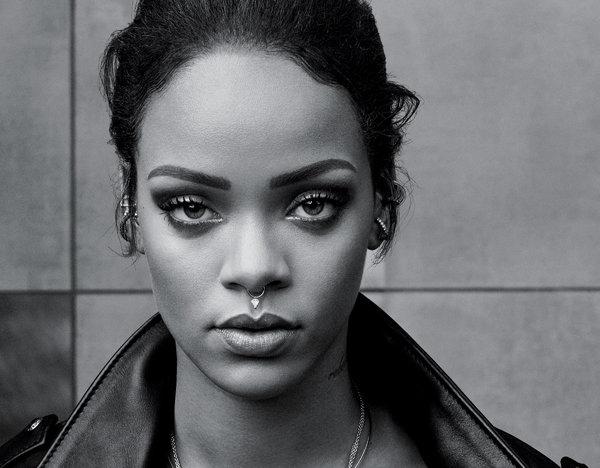 Although it still holds its appeal with the rebels of the world- body jewelry is, after all, their favorite channel of expression-nose rings are gradually gnawing their way to acceptance into the mainstream. Hollywood and the fashion industry are largely to thank for this subtle transition. When A-listers such as Katy Perry, Rihanna, and Cara Delevingne rock their nose rings, anybody would want to take a page from their fashion playbook. Aspiring fashionistas and cultural enthusiasts are definitely following their trail.
Nose Rings for Sensitive Skin
When you have sensitive skin, body piercings and jewelry are just a tad more difficult. But don't let biology get into your way of looking fabulous. With some research, you too can adorn yourself with the trendiest jewelry and look like the superstar of your dreams. Read on to learn everything you need to know before walking into the world of nose rings.
Alright, so you have sensitive skin. The one thing you need to remember is that you cannot purchase just about any jewelry you see. Unless it's made of quality metal, your skin is going to be a hot mess you don't want to deal with. We are talking about rashes, scabs, itching, redness and a whole lot of other piercing infections. With a nose ring, it's going to be right in the middle of your face and that certainly is not going to be a pleasant sight. Does this mean we are going to turn down the fiercest trend of them all? Of course not.
As someone with sensitive skin, you should do a fair bit of research before purchasing any jewelry. The material it is made from is of utmost importance. For more affordable pieces, go for accessories made from surgical stainless steel, also known as 316 and 316L stainless steel. As the name suggests, these steel alloys are used in surgical instruments, so the chances of an allergic reaction are lower.
You obviously need to dish out a bit more for quality jewelry and that's a given. For instance, platinum may come with a heftier price tag but you will be doing yourself a favor. Besides, being a gorgeous and durable metal, it is a safer option for your body. Titanium is a great option too but steers clear from anodized titanium as it may still contain other metals. Also, avoid gold plated jewelry; after all, the harmful metals underneath still pierce through the skin despite the plating. Pure gold is acceptable although you should always choose 14k gold or a higher grade. However, do wait for your piercing to heal before you wear a gold nose ring. As for silver, not any will do. Except for sterling silver or 925 silver, it is recommended you just avoid silver. Besides, you can always opt for bioplast jewelry. Basically, plastic made from organic biomass, it will not trigger any of your allergies nor react with the skin.
Many people have a nickel allergy and you may too. Cheap trinkets often sneak in nickel content as they are shiny and cheaper to produce. But it just spells bad news for your skin. The metal reacts with water and erodes throughout the skin, harshly rubbing against it. And when the accessory is tightly bound to an area with delicate flesh, such as the nose, the part will be highly susceptible to bacterial breeding and infection.
The keywords to look for when you are buying jewelry is "nickel free". You don't want any of that metal in contact with your skin. Also, look for the word, "hypoallergenic". Jewelry with the label contains none or relatively little of allergenic metals such as nickel or brass.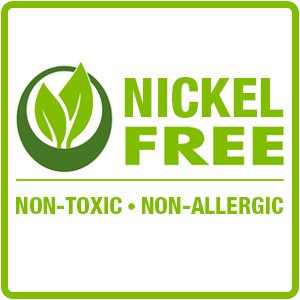 Finally, do not underestimate the basics of wearing jewelry. We are talking about storage and cleaning your jewelry. Although everyone has known the fundamentals since time immemorial, few follow them. Keep your trinkets safely in a jewelry box, in a dry and clean area. And as much tedious as it is, makes time to clean all your accessories regularly to bacterial growth and dust accumulation; not only does your jewelry last longer, it will save your skin from a painful plight.
Our Favorite Nose Rings for 2020!
So, finding a quality nose ring for sensitive skin may not be as easy as you would like it to be. But compromising is definitely not an option. Remember, in the long run, you will be doing yourself a favor. In case you forgot, your skin is a treasure and needs to be treated as such. Go the extra mile to find nose rings that are not just stylish but are made especially for your skin; you will be surprised by the dazzling array of jewelry that effortlessly combines fashion with quality.
Can't find the perfect nose ring for your nose ring? Fret not, we've got your back. Check out our reviews of the 10 nose rings which are more than just trendy accessories; these beauties are made for your skin.
FreshTrends Nose Ring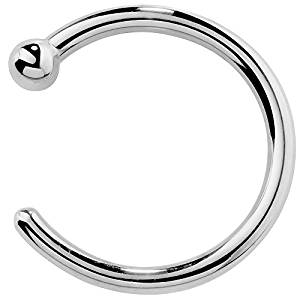 Nose rings are just one of those wonders which don't need to be large flamboyant pieces to catch the eye. Even the simplest hoop is an chic statement. It's amazing how such a little ornament can set you apart, loud and clear, from everyone else in a crowd. If coolness imbued in subtlety is your thing, the Nose Ring Hoops by FreshTrends is going to be your new best friend.
FreshTrends is a giant among body jewelry brands. The company, founded by a couple in Florida, has been in business for the past 15 years and they've got their work down to the T. They have an enormous collection of the trendiest designs to have hit the market; anything you want, FreshTrends has got it all. But they didn't get to where they are simply by pandering to the latest hits. Quality has always been the number 1 priority of the top brand.
Although just a hoop, FreshTrends offers a mindboggling variety within just this one design. There is the 14k rose gold, 14k yellow gold, 14k white gold and a 950 platinum too. 950 platinum is 95% pure platinum with 5% of alloy metals. The other options are high quality and solid gold, curated carefully by the expert jewelry specialists at FreshTrends. The 14k white gold nose ring even has a rhodium plating for a reflective, high shine finish.
The other nose rings are also very shiny and polished, with a rounded finish so it slides easily into the piercing. None of the hoops contain nickel and are, therefore, great for sensitive skin. Owing to the quality and the materials used, these nose rings are understandably a bit more expensive than the average, especially the platinum one, being a rarer metal. However, one thing needs to be said: the FreshTrend Nose Ring Hoops are far from average.
Smooth and round, this nose ring is a classic hoop. There is a little ball on one end to place the nose ring with a secure fit. The diameter of the ring is around 3/8th of an inch, the perfect size to cling onto the nose while enhancing your facial beauty. The thickness of the metal is 20 gauge or 0.81 mm, standard for a nose ring. Besides, it can be worn on either side of the nose.
For sensitive skin, you need to be doubly careful when picking accessories. But with this one which is made from the best materials, you've got plenty of options to pick from and all of them safe. The design too is a raging hit with its casual edginess, the very definition of nose rings. The Nose Rings Hoops, in our book, are a total winner.
Alagia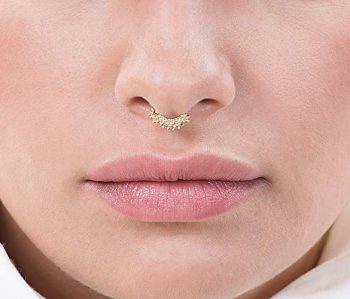 When it comes to nose rings, nobody does it better than Indians. Intricate designs carved into perfection, these accessories are meant to steal the show. So, why not follow the lead of the ancient trendsetters with the Indian Tribal Gypsy Style Nose Ring by Alagia? Those with sensitive skin can happily grab this regal piece.
Alagia is an online jewelry retailer with a collection that proudly boasts of all sorts of designs, classic and trendy, with elegant simplicity. Many of their creations are inspired by Indian motifs- beads, mirrors, and sequins. Besides, if you crave authenticity in your jewelry and a more personal flavor to your picks, Alagia is your go-to store. All of their products are handmade, individually crafted by talented artisans, only for you.
The design will be known to anyone who has ventured into the streets of India. Every other woman there, clad in a gorgeous saree and adorned with glinting ornaments, dons one such nose ring which completely steals the show. And now, you too can own this show-stopping nose ring. Made from 14k solid gold of the finest quality, it is a simple oval curb with a beaded design lined on top. The nose ring is entirely pure gold and is free from allergenic metals such as nickel and brass. If you have sensitive skin, you don't need to worry about this beautiful piece irritating your skin.
The diameter of the nose ring is about 9 mm while the thickness is the standard 20 gauge or 0.8 mm. It comes in an elegant jewelry box that you can safely store the ring in.
This is for the belle of the ball, the ultimate Indian beauty. For a bohemian princess look, from the mythical legends of India, the Indian Tribal Gypsy nose ring is the statement accessory you have been looking for.
MoBody 3-Pack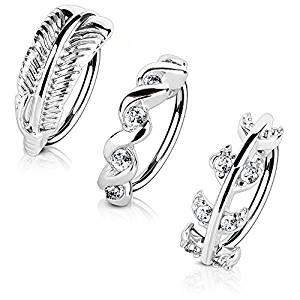 Nose rings are awesome as it is. But when the ones with multipurpose uses are on a whole another level. Besides, for someone with sensitive skin, finding the right accessory can be a bit of a chore with a lot of background checks needed. The 3 pack nose ring is about to relieve you from the stress of jewelry shopping while allowing you to recreate as many different looks as you like.
MoBody has body jewelry locked down. Lip rings, tongue rings, belly button rings and of course, nose rings- when you want to deck yourself in some edgy pieces, this is the store to hit. This online store also has an especially impressive catalog of surgical steel accessories, indeed very stylish designs but hypoallergenic too, for the benefit of our skin.
As is mentioned in the name, this is a set of 3 of nose rings which are more than just that. These beautiful trinkets double as tragus earrings, helix earrings or just regular earrings. All 3 of the rings are made from surgical stainless steel or 316L stainless steel with absolutely no nickel or lead; these are perfectly safe for sensitive skin. The set is available in 3 color options- gold-toned, silver-toned or a mixed set with one of each color, gold, silver and rose gold-toned.
Moving onto the design, the set may be all the nose rings you need for years of gorgeous looks. One of the rings is a feathered crawler, deeply veined and thickly carved. The second ring is a twisted metallic, with clear cubic zirconia (CZ) stones entwined in the nodes. The third one in the set features side vines with thick carvings and a clear CZ stone on either side of every vine.
The diameter of the hoops is about 8 mm while the thickness of each of these is at 18 gauge or 1 mm, just a bit thinner than the standard.
If you've got a party on your mind, these nose rings are just the sparkle you need for a night long of fun. So, brush aside all your worries about skin issues and wear these dazzling little trinkets to steal away everyone's breath.
ORAZIO 6PCS
When it comes to dialing up the edge factor with nose rings, septum clickers are all the rage. This one fashion accessory screams "badass" and every person wants a piece of it. If you think you have the attitude to pull it off, check out the 6 pack set of Septum Nose Hoop by Orazio.
Orazio believes brightening up your life with a bit of sparkle is always a good choice. And their jewelry certainly does it. Even the grungiest accessories of the online retailer have a dash of dazzle to instantly lift your mood. We've reviewed the rings that might have a similar effect, even your friends will want to try it out – see the best mood ring list we've curated for you.
These nose rings sets are our favorite. With a number of styles and designs to choose from, you can mix and match for a long, long time. This Septum Nose Ring Set, with 6 pieces, is available in 3 colors- silver, rose gold, and gold. Each nose ring is a revelation.
Here's what to expect-a closed hoop with a ball in the middle, an open hoop with balls on both ends, another open hoop with a large cubic zirconia (CZ) stones on each end, a closed hoop with a uniform panel of bevelled CZ stones, a closed hoop with a laced design which leads to a large opalescent stone in the middle with a smaller CZ stone underneath it and lastly, a closed hoop with a longer panel of CZ stones with a larger CZ stone in the middle.
Although the set is filed under the septum rings section, these are definitely multipurpose and can be worn on the nose, lip, eyebrow, tragus, helix- in other words, anywhere you want it to be.
These nose rings are made from 316L stainless steel and it is completely safe for those with sensitive skin. 316L is just another grade of surgical steel and as we know, surgical steel is a great choice to keep your skin from acting up. Besides, all the accessories by Orazio undergo a 3 level quality checking and control procedure.
Ready to look like a rockstar in full battle gear? This set is definitely going to drop all jaws to the floor.
Pierced Owl 100% Surgical Steel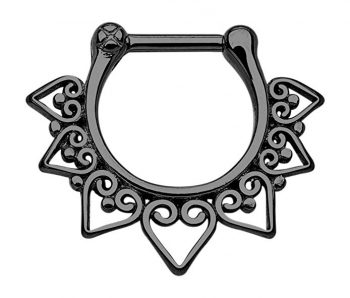 A septum clicker ring with a touch of tribal? This nose ring is all kinds of coolness rolled into one! For those who like their style to be unlike anyone else's but are not going to settle for anything less than top-notch quality, well, in this Tribal Fan Septum Clicker by Pierced Owl, you've found your match.
Body jewelry enthusiasts swear by Pierced Owl. The parent company of the brand, Artisan Owl, has made a name for themselves owing to their unique designs and Pierced Owl hasn't strayed far either. Exceptional nose rings, earrings, navel rings, barbells and more-all of these in fantastic designs and made from the best metals.
The Tribal Fan Septum Clicker is available in 3 colors- gold-tone, steel tone which is basically reflective color and black tone. We absolutely love the black-toned clicker although it is more a shiny gunmetal shade. As for the design, the thin horseshoe frame is trimmed with heart-shaped carvings which fan out all over it. It is simple, yes, but the tribal flavor is bold and strong.
Although it is categorized as a septum ring, there is no reason why you can't wear it on the sides of your nose. The thickness of the ring is 16 gauges, which is slightly lower than the usual thickness for a nose ring. The internal diameter is 9.8 mm. Like all accessories by Pierced Owl, this too is made from 316L surgical steel and is recommended for those with sensitive skin or any allergies.
A bull nose ring, even the plainest, is a style statement in itself but when there's a layer or two to it, everyone knows where you stand. Besides, there's no denying how amazing it looks. So, if you've got warrior blood in you, the Tribal Fan Septum Clicker needs to become a part of your nose ring collection.
BYB Jewelry Rainbow Titanium Barbells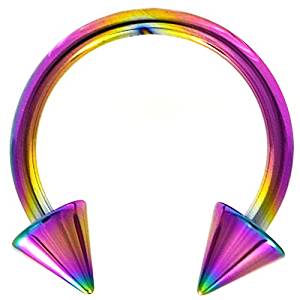 Who says body jewelry has got to be monochromes? If there ever was such a rule, we are about to run it to the ground with the Rainbow Titanium nose ring by BYB jewelry, our latest obsession.
Take a look at BYB Jewelry's collection and the realization hits instantly: this online brand does not just push the limits of body jewelry, it sets new ones all the time. Be it with dangler earrings in the shape of marijuana leaves or holographic nose hoops which can be seen from outer space, BYB does a fabulous job of showing everyone how it's done.
The nose ring is impossible to miss. Although it is just a simple horseshoe design, open-ended with two little spikes on both ends, the coloring of the nose ring makes it a class above others. A bright splash of a rainbow, sleek and shiny- who's seen a nose ring like this one over here? Yes, you may find solid colors besides the standard black and silver but a rainbow is a rare treasure.
The thickness of the nose ring is 14 gauge. It is available in two width sizes- 1/2 inches and 3/8 inches. The spikes are 5 mm on the 1/2 inches ring and 4 mm on the 3/8 inches one. The nose ring is plated with titanium and has a surgical steel core. This is great news for those with sensitive skin; finding unique accessories made from quality metals that don't flare up the skin is always a struggle.
A little funk in a whole lot of edge, the nose ring is a burst of sunlight in the edgy world of septum rings. With this ring, your Coachella look is about to be a hit.
Umbrella Laboratory 316L Septum Clicker 5pcs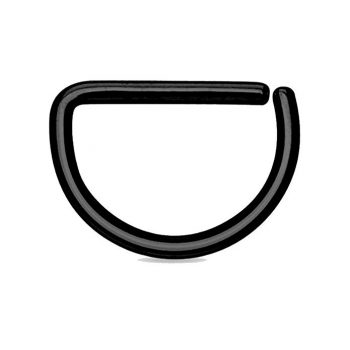 A burst of color makes everything better. But when we are talking about nose rings, subtlety is key. Too many elements would, after all, take away from the biker chic charm of a nose ring. However, the Septum Nose Ring Clicker by Umbrella Laboratory gets this difficult formula correct and we can't wait to add this to our collection.
Umbrella Laboratory is anything but conventional. Handcrafted jewelry, little novelties from the garage sale or antique shops- their products are always one of a kind. And they aren't just about kooky jewelry. Steampunk toy guns, goggles, zombie party supplies- looking at their products is like looking into a portal to a strange, new world. As the brand proudly proclaims, they love anything with a bit of weird. Now, that's something we can get behind!
Made from 316L surgical steel, the Septum Nose Ring Clicker is shining silver, polished and smoothly rounded for a comfortable fit. The horseshoe shape of the ring leads to five beautiful opals, heavily iridescent and bezel set into the steel groove. The thickness of the metal is about 16 gauge. The nose ring comes in a free gift box, so in case you were thinking of the perfect gift for a fan of body jewelry who has sensitive skin, the Septum Nose Ring by Umbrella Laboratory is one for the win.
The Septum ring is true to its edgy core but the opal splash gives it a touch of color which we are definitely in love with it. Who knew nose rings could be this adorable?
Body Candy Nose Hoops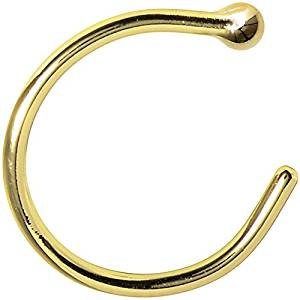 A simple nose hoop, shiny and polished with absolutely no frills, is a beautiful wonder. It makes a statement without even trying. To flaunt your nose ring every day without putting your skin through any messy ordeal, the 18K nose hoop by Body Candy is everything you can want in a nose hoop and more.
Body Candy is just one of those brands which make it to the top ten lists for absolutely any accessory. When it comes to variety in body jewelry, Body Candy is unbeatable. And the quality, well, all we can say is that they didn't get to where they are without always putting quality first.
The nose hoop is made entirely from 18k gold and is a beautiful yellow gold color, shiny and polished. It is simply a hoop with a balled end and that is it. For an easy fit, insert the smoothened end from the inside of the nostril and the ball at the other end, pressed against the flesh of the nostril, will keep it from sliding out. To adjust how it fits against the nose, you can just lightly pinch this open-ended nose hoop.
The thickness of the 18K Gold Nose Hoop is about 20 gauge. The width is 5/16th of an inch or 8 mm. Since it's made from 18k gold, there is little to worry about in regards to skin sensitivity.
When you are looking for a nose ring for everyday wear, it is important that the ring is of a sturdy build and doesn't irritate the skin. This nose ring definitely checks out as a regular accessory of choice.
WildKlass Jewelry Double Lined Clicker Rings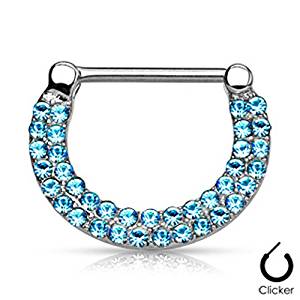 Jewelry is meant to dazzle. And this double-lined nose ring does it. Combine your love for the sparkles with the trendiest body accessory of all time and rest assured, all eyes at the party will be on you.
WildKlass Jewelry does not shy away from playing with all kinds of body jewelry. From skull candy themes to glow in the dark pieces, their collection has got something from everyone. To top it off, they always make a point of using hypoallergenic materials in their accessories. Rocking in-trend pieces have never been easier for those with sensitive skin.
This is one of those multifunctional nose hoops which can do it all, suitable for the septum, ears and of course, the nose. The thickness of the hoop is 16 gauge and the diameter is 5/16 inches or 8 mm. Made from 316L surgical steel, it leads into two lines of cubic zirconia (CZ) stones, beautifully perched on the metal and fanning outwards. You can choose your pick of color for the CZ stones from clear, aqua, pink and tanzanite, all of these options in a silver backdrop or clear and gold, these two being in a gold-colored backdrop. One thing is for sure: they are all equally stunning.
This is not one of the nose rings you wear as you are out and about on a busy day, not unless you want to bring the traffic to a speeding halt. Save it up for a glam night out or a truly special occasion where looking your best is a must.
Body Candy Gold L Shaped Nose Ring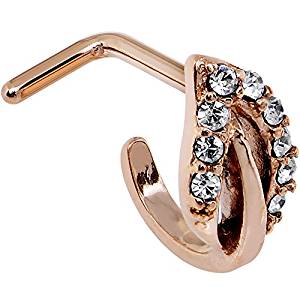 An L shaped nose ring with the stunning look of a hoop, this nose ring by Body Candy has got the best of both worlds. For a feminine accessory with a punch of edge, this nose ring is the perfect pick.
Like we've said before, Body Candy will invariably make it into any list of the bests. After all, their product selections can give anyone a run for their money. With the Daisy Chain Nose Ring, this brand, once again, wins over our hearts.
The design of a ring is the standard L shaped barbell which goes on to form a hoop, a thick band of daisies strung together. The ring is made from 316L stainless steel with gold PVD for a regal golden coloring. The steel daisies are deeply carved into it with gorgeous detailing, a complete delight to look at. This piece, Body Candy says, has been inspired by nature and with one look at the Daisy Chain Nose Ring, we certainly agree.
The diameter of the hoop is 5/16th of an inch or 8 mm while the thickness is 18 gauge. As we know, 316L stainless steel used in the nose ring is a type of surgical steel which is great for sensitive skin. Besides, the gold PVD is a hypoallergenic layer used to create a gold-like appearance without using any actual gold.
Florals never go out of style. And when the classic daisy motif meets the trendy nose ring, you know great things are about to happen. This piece is a beautiful accessory that will surely draw many compliments your way.
News Flash for Those with Sensitive Skin: Find Your Nose Ring
So, you see, no matter how your skin is, you won't need to let any style craze pass you by. Find your perfect nose ring, a design that speaks to you, and see for yourself what badass feels like. Just make sure it is made from hypoallergenic materials of the best quality and never forget the importance of proper maintenance of your jewelry. With a few tricks up your sleeve, you are now ready to go wild.