9 Red String Bracelets to Bring You Good Luck
last updated:
Jun 09, 2021
Red string bracelets are a unique accessory as they have a significant historical and religious significance.
With their emergence in Judaism, red string bracelets symbolize protection and luck. They have quickly become a favorite accessory among individuals searching for protection from harmful intentions and spirits.
Along with their protective symbolism, they can also make a beautiful accessory for everyday wear.
Let's take a look at some of the most intricately designed red string bracelets for all jewelry lovers.
Our Top 9 Picks!
1

. Nialaya Jewelry Evil Eye Bracelet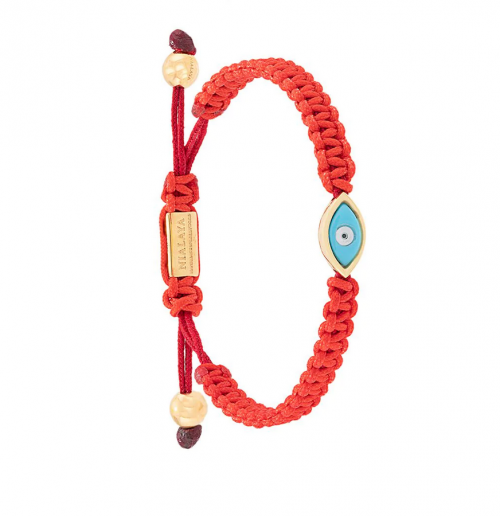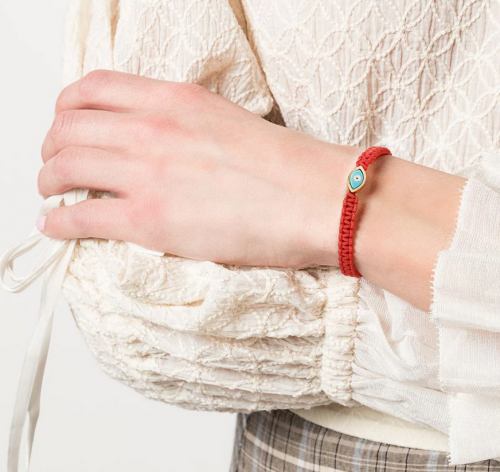 Nylon and enamel bracelet
Semi-previous stones
18k gold-plated silver
Ethically-sourced materials
The Nialaya Jewelry evil eye string bracelet is an attractive option with a stylish and funky design. It combines all of the elements required for protection from harmful intentions, including red string and an evil eye pendant.
Read more
The delicate woven design of this bracelet elevates its appeal, helping to look more handcrafted.
It also features plenty of complementary colors, adding striking contrast throughout the entire piece.
Along with the gold-plated silver, you will find a single evil eye pendant in the center, clearly the focal point of the piece.
It's perfectly supported with the help of the woven thread, keeping the pendant in place throughout the day.
At the ends of the bracelets, you'll also find two gold-plated silver knobs to add an extra elegant touch.
Within the evil eye, you'll find semi-precious stones, adding to its stunning aesthetic.
One of our favorite features of this piece is how easy it is to adjust. All you have to do is pull on the cord to either loosen or tighten the bracelet for any wearer.
2

. Wind Passion Inspiration String Bracelet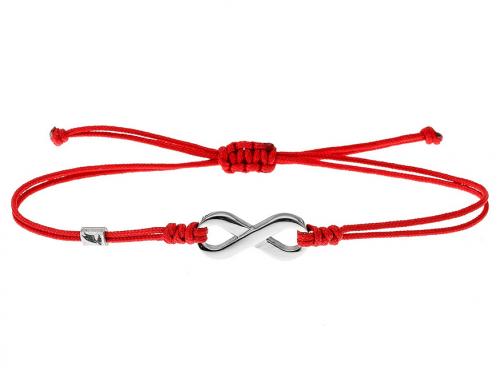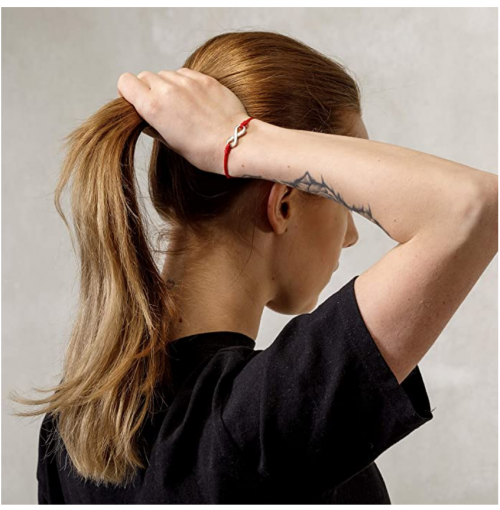 Yachting rope bracelet
Stainless steel pendant
Infinity symbol design
One-size-fits-all
The Wind Passion bracelet is a bold accessory with trendy elements. Teens and young adults will especially love its styling, as it features an iconic infinity symbol. It's a relatively simple piece but speaks volumes when paired with other accessories.
Read more
The effortless beauty of this bracelet is what makes it a popular choice for many wearers.
You'll have the benefit of a strikingly bold red string bracelet paired with polished metal embellishments.
In the center of the piece, there's a laser-cut infinity symbol with beautifully soft edges.
You will also find a single silver bead as an added element on the right side of the piece.
There's something uniquely charming about this bracelet, especially if you need an easy-to-wear bracelet.
The infinity symbol is crafted from stainless steel, which is one of the best rust-resistant materials.
You will also find the quality of the red string is remarkable, as it doesn't bleed when exposed to water.
3

. Willbond Summer String Bracelet Set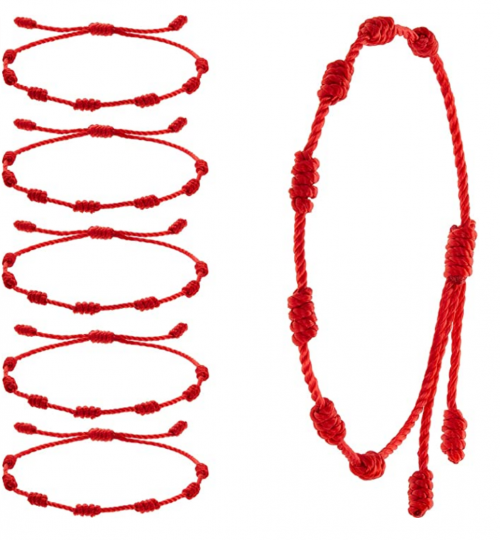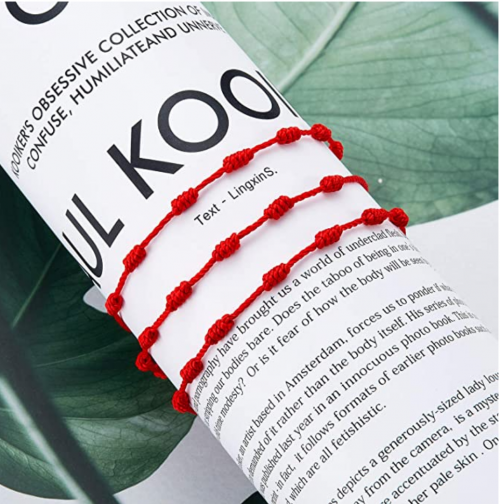 6-inch length
Durable string
Six-piece set
Expels bad luck
If you love the history behind red string bracelets and their protection, why not extend the benefits to your loved ones? There are plenty of fabulous features that this set of bracelets offers, especially for groups of friends.
Read more
With the Willbond 6 pieces summer string bracelets, you'll receive six individual bracelets to give as gifts. Alternatively, you can wear all 6 pieces together to create a bold statement piece.
The unique design of the bracelets makes them easy to pair with any outfit and comfortable to wear for any occasion.
We especially love how there isn't any metal on the bracelets, making them skin-safe for everyone.
You'll also find they're easy to wear while playing sports, swimming, or traveling.
These bracelets have a one-of-a-kind design that's sure to bring plenty of luck and prosperity to the wearer. Each bracelet features seven knots, a number known to symbolize luck.
With the added benefit of adjustable sizing, everyone can find a customized fit tailored to their wrists.
Every piece is approximately six inches in length and using the pull-cord, you can quickly make adjustments.
4

. Seyaa Red String of Fate Bracelets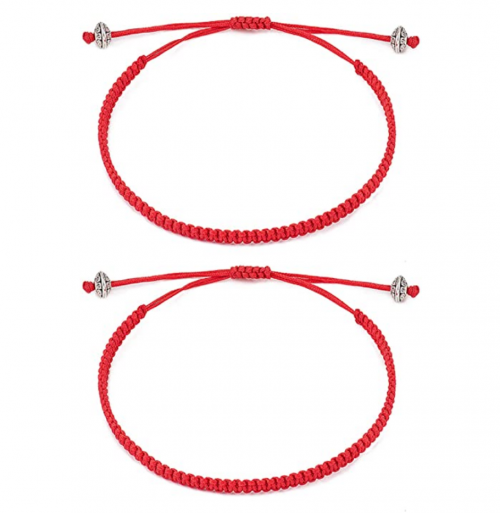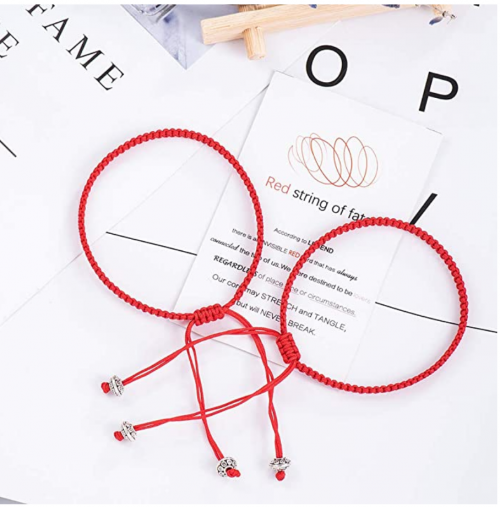 Adjustable design
Up to 10.8" long
Silver-plated oblate beads
Woven bracelet design
The Seyaa red string of fate bracelets has a classic style that everyone can love. Their unisex appeal makes them a beautiful addition to anyone's jewelry collection.
Read more
There's plenty to love with this charming bracelet set, especially as it comes in a pair of two.
You can easily give the second piece as a gift to a friend or family member, offering protection and extra luck.
Alternatively, we love the idea of stacking the bracelets with a thick, chunky silver piece in the center for contrast.
At the ends of each bracelet, you'll find two ornately designed beads, adding a textural element.
Each of the silver-plated oblate beads looks like they were hand-carved, which only adds to the unique craftsmanship.
It's an iconic addition to any jewelry collection, especially if you're a fan of minimalistic pieces. You'll love its one-of-a-kind style, adding to the chic nature of its design.
5

. Redline 18k Gold/Diamond Bracelet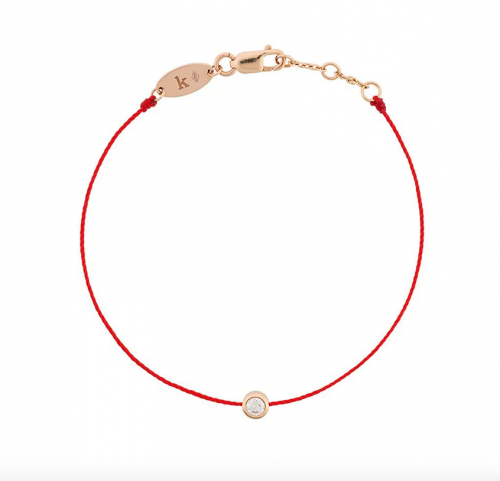 18k rose gold embellishments
Diamond pendant
Red string bracelet
Lobster clasp
Anyone wearing the Redline 18k rose gold and diamond string bracelet will exude confidence and glamour. It's a beautifully designed minimalistic bracelet with very few embellishments but is designed with intricate details.
Read more
You will love the thin red string that creates most of the bracelet, along with the small diamond at the center.
Surrounding the diamond, you'll find beautifully polished rose gold, which adds another striking contrasting element.
The streamlined design has a handmade appeal that sits gracefully on your wrist without being too overbearing.
It also doesn't have over-the-top glitzy features, making it easy to pair with any other accessory.
The clasp is crafted from 18k rose gold as well, complementing the primary pendant as an added benefit.
Also, it comes with a lobster clasp, which makes it exceptionally easy to take off and put on independently.
One of the more luxurious features of the entire bracelet is that it's crafted in France. If you're looking for a whimsical gift, this is one of the best options to consider.
6

. Wistic Red Evil Eye Bracelet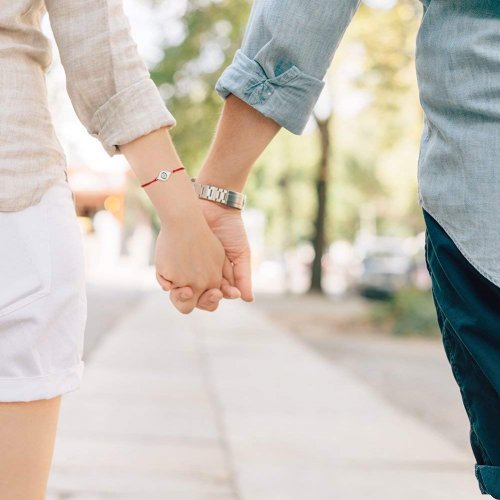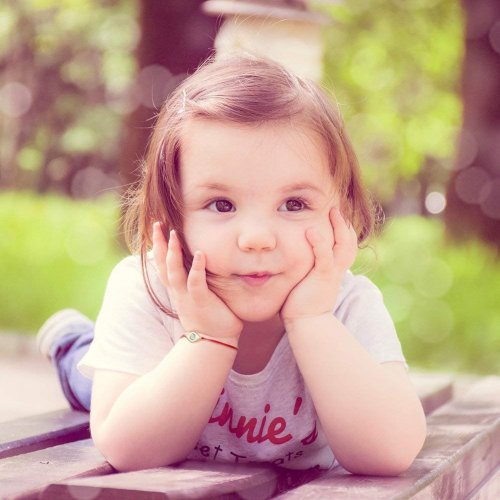 Adjustable
Cubix zirconia
Affordable
This red string bracelet clings to a crystal-encrusted evil eye charm. An evil eye charm is a direct combatant against evil eye curses.
Read more
It is thought, particular in Indian and Near Eastern traditions, that an evil eye curse cannot be cast if the caster is being watched. The evil eye charm stares back into the curse and frightens it away.
Combine with the good luck brought by the color red and the additional protection of the red string bracelet; this could be a powerful bracelet that will make your day just that much better. Secured with a sliding knot, the bracelet is adjustable both for size and fit.
We prefer this particular bracelet worn a bit on the snug side, so the evil eye charm stays on solid display.
Not only do you reap any power the charm may hold, but you keep a gorgeous piece of shine front and center.
White and blue crystals sparkle brilliantly from a pale yellow gold-tone alloy. No need to bury this in a layered look.
This bracelet is charming enough to be on display all by itself.
7

. Huno Tibetan Knotted Red String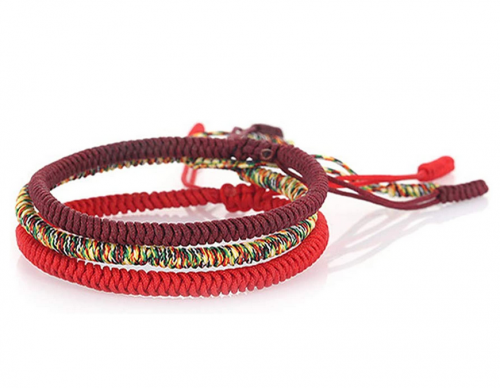 Handmade
3 bracelets in one set
Natural fiber
Affordable
Take a red string bracelet with all its lore and luck, add the calming peacefulness of Tibetan monks, and a couple of layered knot bracelets, and you have our next selection.
Read more
A collection of 3 perfectly curated knotted bracelets with the red string on a prominent display.
In many traditions, knots are an important part of the red string/Kaballah bracelet. This takes that concept straight up to the highest heights.
Handmade by Tibetan monks, these four come in a layered look. Wear all four or just the red string, depending on your mood and outfit.
Each is adjustable and reminds us of those friendship bracelets we used to exchanges as kids.
You can keep all four or treat them as a grownup set of friendship bracelets, passing them out to people you love. It is a touching gesture for care and mutual appreciation.
A lovely taupe, a deep maroon, a prismatic rainbow, and the classic bright red strings are knotted into a wonderfully matched set.
Wear just the four in the set or pair them with other natural fibers and leathers for a very down to earth feel.
We love the two shades of red when combined with the chocolates and siennas of leather cuffs.
8

. Paula Store Hamsa Kaballah Bracelet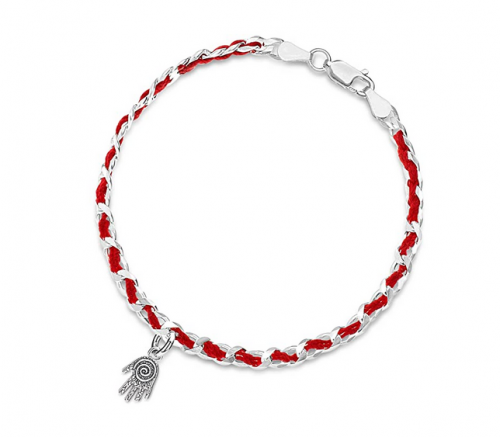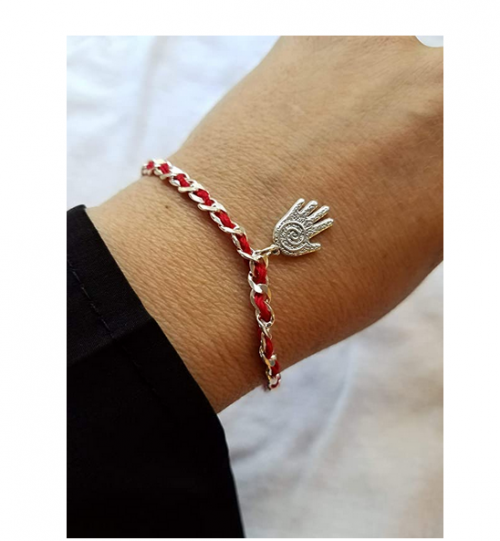 Sterling silver
Lobster claw
Made in the US
We love the hybrid design of this bracelet. A traditional chain bracelet is expertly crossed with a simple Kaballah bracelet in this hand-made creation by California artisans.
Read more
The red string is woven between each of the chain links. This lends a braided effect that is both simple and astonishingly creative.
Add to all that a dainty little hand of hamsa charm, and you are pretty set with a cute and purposeful bracelet.
The hand of hamsa is related to the evil eye. Popular in North Africa and the Middle East, the hand features an eye inset in the palm. This eye watches for the evil eye spirits and wards them off.
Additionally, this purchase supports jewelry artists who trade in handmade goods.
You might just be buying a first release piece of designers who will one day run an empire.
9

. Original Kabbalah Red String Bracelet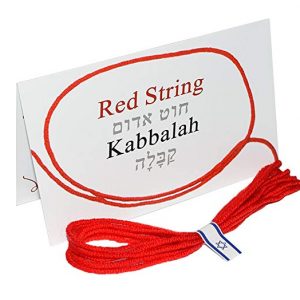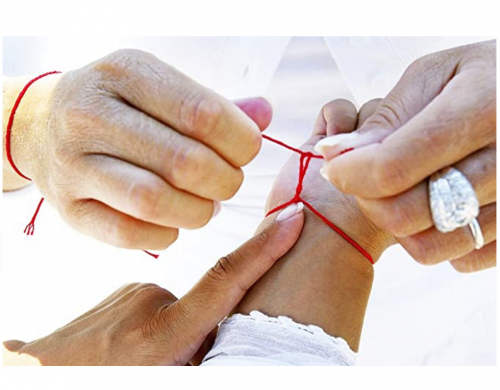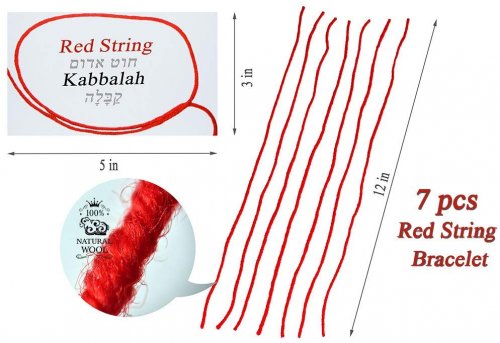 7 pcs red strings
Merino wool
Adjustable size
Our final selection is just the standard red string bracelet.
Read more
Strands of wool, dyed red with traditional techniques and blessed at the tomb of the biblical Rachel, these meet all the standards for Kabbalah use.
You can use these to add a pop of color, and we absolutely love them for the festival season in conjunction with all your concert and event bands.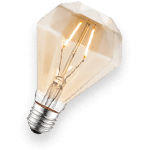 A Note on styling your red string bracelet
By the nature of their symbolism and power, red string bracelets are designed to be worn daily. They are not so much as adornments as most jewelry is, rather talismans and harnesses of ethereal power.
You wear them for the good luck and fortune they bring; or, you wear them to help shield off ill-wishes and misfortune.
Several of our selections go above just a length of knotted red wool. If you want to truly exercise the spiritual aspects of the Kaballah bracelets, our list is a great complement to the traditional red strings but should not be viewed as alternatives.  
In both the Hindu and Kabbala traditions, how they are worn can affect their efficacy.
Because of this, our list is meant to enhance rather than replace it.
Kabbalah roots
First, and most popular at current, is the Kabbalah Jewish tradition of the red string. One single element of this broad, winding mythology is the red string. It comes from Genesis, chapter thirty-eight of the Jewish Torah. (Consequently, this is also the same in the Christian and Muslim scriptures as well.)
It ties to the story of Jacob and Rachel and the birth of their twin boys, eventually named Pharez and Zarah. A red string was tied around one twin's wrist during the birth. Kabbalah interpretations have found significance in this act.
In Kabbalah, for the protection and luck the red string offers, it must be a wool cord. The wear must tie seven knots during a specific prayer.
More modern applications of the red string prescribe that you have a person you love to tie the string around your left wrist, completing seven knots during the process.
Frequently Asked Questions
q:

Can anyone wear a Kabbalah bracelet?

a:

As with any type of jewelry associated with a religion or culture, it's essential to first learn the piece's history.

It's important to note that although Kabbalah bracelets are beautiful, they have a deep and important meaning.

With that said, it's generally accepted for anyone to wear these bracelets, especially as celebrities have adorned them.
q:

What is the meaning of red thread?

a:

The red thread of a red string bracelet has meaning in several cultures and religions. The most commonly discussed significance is that it brings protection, faith, strength, and good luck to the wearer.
q:

Can I make my own red string bracelet?

a:

It is possible to make your own red string bracelet, depending on its significance to you. For example, if you want it blessed, you can typically receive them from religious circles for a small donation.

Alternatively, you can purchase standard designs online.
Finally...
Celebrities and their red strings
Many celebrities have been spotted with everything from simple lengths of cord to more complex designs hiding among their daily looks.
Rihanna regularly wears a simple cord as she goes about her day. Beyonce, Paris Hilton, Ashton Kutcher, Britney Spears, Harry Styles, Zac Effron, and so many, many more have all been snapped with a bright red string wrapped around their wrist.
James Van Der Beek even goes the extra mile and keeps a length of lucky, protective red wrapped around his toddler's, Joshua, wrist.
Even stars who have not exactly jumped on board with the Kabbalah mysticism surrounding the scarlet ropes have been spotted with them on.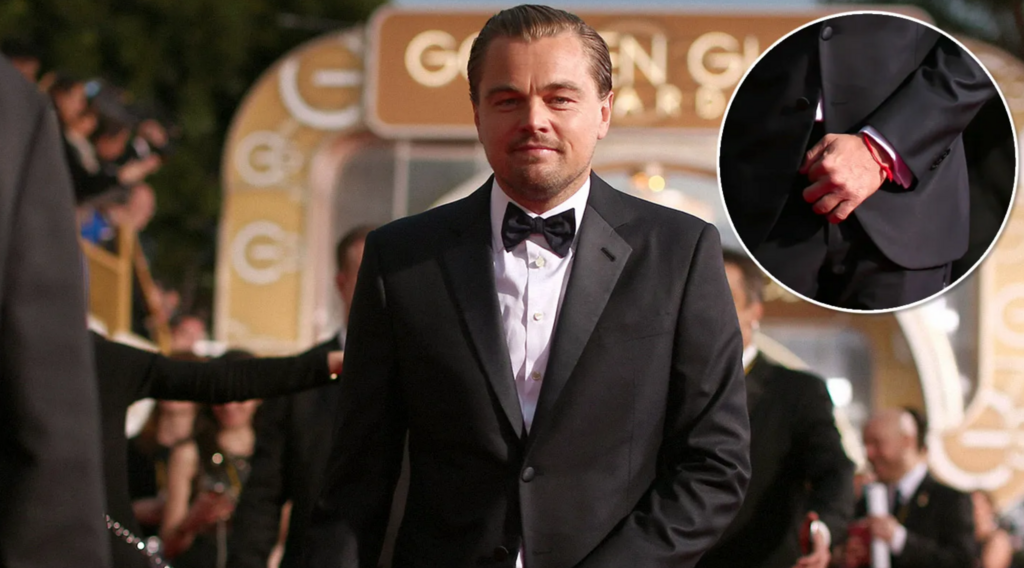 Leonardo DiCaprio is chief among this list. While he is neither Jewish nor particularly religious, his love of the trend even carried onto the red carpet.
Most stars end up forsaking the tradition when it comes to premiere nights and award shows. The red bracelets get left at home in favor of lusher looks. Not Leo, though.
He walked himself onto the red carpet at the 2016 Golden Globes and added just a bit more red to the walkway with his red bracelet peeking out from underneath his immaculate cuff.
Our selection of red string bracelets spans from traditional Kaballah bracelets to more modern versions of the good luck bracelet.
Whether you're into Buddhism and meditation, Kaballah or Chinese symbolism, there's an option on our list for you.
We made sure to pick items in all price ranges and styles, so no matter the type of red string bracelet you're looking for, we got you covered!