Necklaces / Women
Star Necklaces So Cute They Could Have a Place in the Heavens
Stars are complex orbs of burning gasses that burn brightly across the sky.  Our own sun is a star so important to us, it is quite literally responsible for the warmth and wellness of life on Earth. There are more stars in the universe than scientists know how to count.  That does not stop them from trying, though. Not every star can fit on star necklaces, however, you can have your favorite ones on them.
Humans have been awed and inspired by the celestial lights for all of history. As a species, we have used them to navigate, try to predict the future and tell fantastic stories. Entire branches of science are dedicated to cataloging the ones we know about and discovering the ones we do not.
As a symbol, it is one of the first doodles most of us master, the single line five-point star. Almost all of Greek and Roman mythology can be told using pictures we have drawn with stars in the sky. Constellations figure prominently in astrology and other forms of future-prediction.
The earliest explorers of the globe used the stars and their predictable paths across the night sky to discover expanses of Earth previously unknown to them. They marched across the lands with the stars as their guide. They sailed across mighty oceans using the stars to keep from getting hopelessly lost.
Stars in Stars
In jewelry, stars are a beloved symbol. The simple design is easy to make a big splash with.
Zoey Deutch wore a Dior creation at the 2018 Dior Couture show. The star-shaped lock was the capstone piece to a chunky, layered look. Created in bright yellow gold it was stunning over her black flowy top.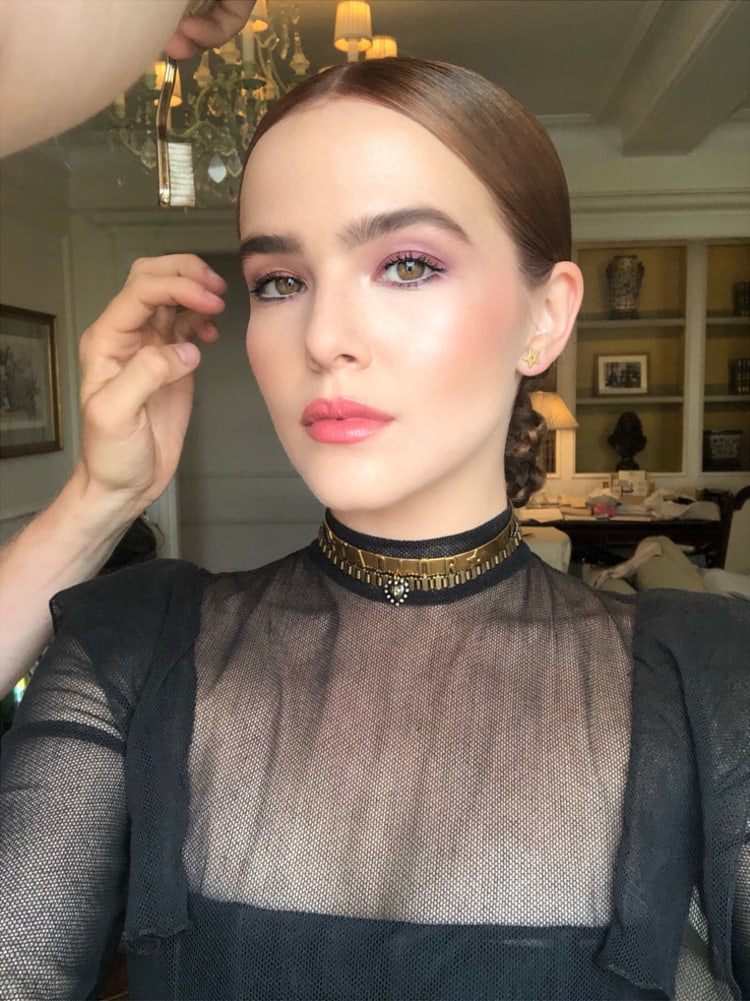 Lucy Hale of Pretty Little Liars fame has been spotted rocking a layered pair of a simple star pendant with a letter medallion necklace and we love it!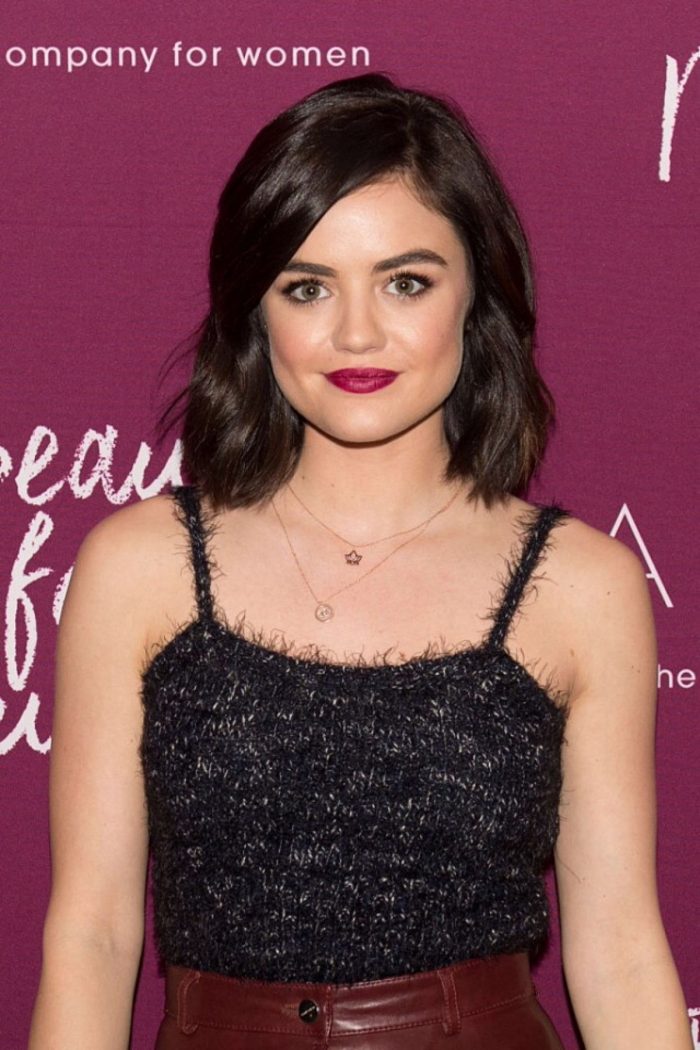 We may not be able to afford the stars of the stars but we have put together a list of star necklaces we absolutely adore that are as cute as they are attainable.
Our 10 Favorite Picks!
1. Sterling Silver Star Assym Necklace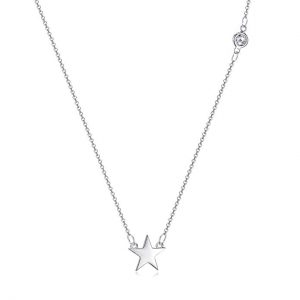 We will start simple and straightforward with this super affordable piece. A 925 sterling silver star is statically mounted to a fifteen-inch chain with a two-inch extender. A darling round-cut cubic zirconia is mounted to the side for a super-trendy asymmetrical accent.
The asymmetrical look has been rising in recent jewelry trends but it is by any means a new look. Off-balanced pieces were all the rage in the age of the flappers. While the art deco movement tended to favor balanced and symmetry, the flapper culture adored flying in the face of convention. It was one of the hallmarks of the style. Necklaces would be weighted to hang off-center. Alternatively, details would be grouped on one side of the piece. Related, it was a fashion plus to wear coordinated but mismatched earrings.
This piece will hit just anywhere from just above the collarbone to right over it for most people depending on where you fasten the clasp.  This does a couple of things for this necklace. First, it makes it perfect for layering with other simple charms. Second, it makes it a wonderful daily wear necklace. It achieves simplicity without being boring.
With just a hint of shine from the dainty charm and subtle sparkle from the gem, it is just perfect to add a splash of fancy to a t-shirt and leggings look. Pair it with your higher necked blouses and a necklace on this short a chain suddenly becomes perfect for a night on the town.
2. Gold Star Choker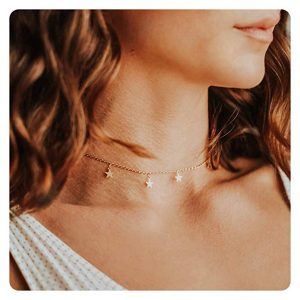 We will keep our next piece both short and stunningly simple. This choker by Fremttly features gold stars all the way around a choker length chain. And that's it. Luckily, that's all it really needs. Anything more to this particular piece and it would start to feel a little childish, we think.
These stars on a cable chain remind us of those gold star stickers we would earn for good behavior in grade school. Plus the choker look is a definite throwback to the nineties. No matter how you look at it, this piece is one tiny star-studded chain full of nostalgia.
While simpler, smaller pieces like this are prime candidates for layering, we kind of love this one as a solo piece as well.  Since it is a choker length, the stars will dangle and move slightly for most people. We love this effect. Anytime a piece can enjoy natural motion just adds to the allure for us.
This will look great with more subdued, understated pieces. Once more, in defiance to our regular recommendations, normally simple pieces can hold up to louder, bolder prints. However, something about this piece wants to be paired with a quieter look.  We do believe however, this is one of those rare pieces that can be paired with a long, low hung, infinity scarf. For the most part, those are hard to wear in conjunction necklace, but this choker is shockingly perfect for that!
3. Tri-Color Star Bead Necklace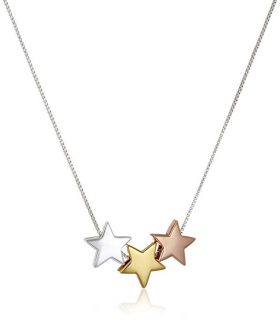 Our next piece accomplished one of our favorite things to do when building out our jewelry looks for the day. It combines all three popular gold colors, white gold (or silver), traditional yellow gold, and trendy rose gold.  Featuring three-star beads of 925 sterling silver, it gets five stars in our book.
Hanging on an eighteen-inch length of box chain, the star-shaped beads seem to float on the chain. Since they are not fixed, the beads lay against each other at slightly different angles. This gives the piece just a bit of uniqueness as opposed to the rigid structure of other tri-bead necklaces. It gives just the smallest hint of chaos to the otherwise organized piece and we cannot get over it.
This is a fantastic centerpiece for a layered look. Select a rose gold chain for the top piece and a coordinated yellow gold piece for below. This necklace will also work wonderfully as stand-alone solo wear. You can still play with combining gold colors by selecting a rainbow of golds in a series of wire bangles and a pair of dramatic rose gold earrings.
Because of the yellow and sunset-like rose gold, this necklace will look best worn with warm colors or over a stark blacktop. Unless you purchase a separate extender, the nature of the beads means you cannot move them to a different chain without destroying the existing chain, so the length is nominally fixed unless you are particularly industrious. Plus, these beads are on the smaller side, which really works for the piece, but lengthening the chain might lose the appeal of the smallish charms. Really, we think this length works pretty well for this arrangement.
4. Alex Woo Moon & Star Necklace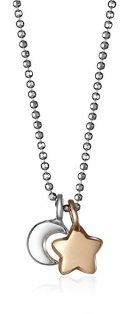 We bridge from the last combo of gold colors into our next offering. This one by famous New York Jewelry designer, Alex Woo, it combines a 14k rose gold star with the other famous celestial body, a 925 sterling silver moon.  
Hung from a sixteen-inch diamond cut ball chain, we love the simplicity of Alex Woo's design concepts. Even the chain has sparkles with the facets added to the otherwise industrial-looking ball chain. It will hang just at the collarbone for a perfectly quaint nod to the night sky.
Alex Woo is best known for her mini-charms, simplistic design, and elegant pendants. Based out of New York City, she is an award-winning jewelry designer. She attended Cornell University and the famous Parsons School of Design. She was mentored by her father, Alexander Woo, a bench jeweler also based in New York.
We are big fans of Alex Woo's work here at Jewelry Jealousy. You really can't go wrong with high-quality classics and simple pieces.
For styling this necklace, we actually recommend wearing it solo.  We are all about the layered life right now but this piece just needs its own stage to really shine. We recommend stud earrings as well. Hints and details can take an outfit to the next level and Alex Woo jewelry, this sun and moon necklace most especially, is the perfect hint and detail.
If you need something with a little more statement, pair it with a really nice, bulky watch or chunky enamel bangles that compliment your color scheme.  
5. Crystal Encrusted Silver North Star Necklace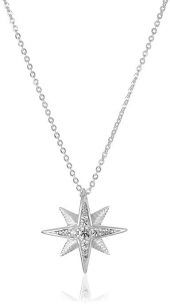 The North Star is easily the most famous and popular star, likely slightly ahead of our own sun. Polaris is currently a polestar, or a star currently aligned with the North Pole. That makes it perfect for navigating as its spot in the sky seems fixed. Polaris hasn't always been the polestar, nor will it always remain so since the Axis, or poles, of the Earth wobble. However, for now, using Polaris to navigate is a reliable way to travel if you understand astral navigation.
This necklace by Chamilia is another surefire direction to pick with your fashion design choices. The eight-point star is made of a forward star encrusted in Swarovski white crystal and a hindward star made of engraved sterling silver. Each of the four arms in the hindward star feature gently carved lines of texture.
This piece arrive on an eighteen-inch chain that we believe puts this North Star celebratory pendant at the perfect height. Wear this as a solo piece with cooler toned tops. The Chamilia creation will guide your clothing choices just like the North Star has guided hundreds of travelers.
We recommend wearing it over solid, darker tones. This is to emulate the night sky in which we see the real North Star. It feels like wearing this particular piece against the skin might not do it justice.
6. Lucky Star Infinity Loop Necklace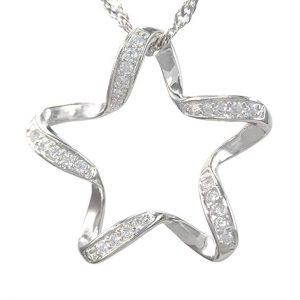 The Make a Wish Lucky Star necklace by Pearl of Dream is perhaps one of our favorite presentations of a star. Rather than just using the standard fill-in shape or the five-line pentagram, the creator of this piece takes one single loop of 925 sterling silver and carefully twists it into a star. The effect is eye-catching!
The forward-facing edges of this star-shaped are dotted with cubic zirconia accents for sparkle and accent. It almost feels like an optical illusion if you look at it long enough. The looping pattern is positively mesmerizing.
Since we know the difference is the details, if the mind-bending, silver-twisting star were not enough attention to detail, this pendant arrives on an eighteen-inch length of Singapore chain. Also known as a twist curb chain, this unique arrangement of links takes sets of three coils and weaves them together beautifully. Not only does it add texture to your jewelry, but it is notoriously strong.
According to Pearl of Dream, the quality of construction and chain style means even babies with their grabby hands can pull on the chain and it will resist breaking. This is wonderful for folks who work with or have children. So many times jewelry must be put to the wayside when working with kids lest it gets broken. The Singapore chains provide at least a partial solution to this.
7. Star Pendant Aromatherapy Diffuser Necklace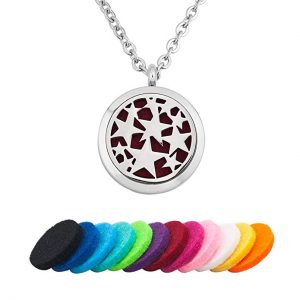 For fans of aromatherapy and essential oils, this is a must-have star necklace for your collection. Even if you aren't a regular user of essential oils, we still love this piece for the occasional use or even as a locket in general.
This locket designed casing comes with twelve felt pads in twelve colors to match either scent or outfit. We heartily recommend selecting a color that feels like it coincides with the scent so you can reuse the pads multiple times and not combines scents or oils in a way that is displeasing to you.
The pendant itself is made from surgical grade stainless steel which means it can handle the oils. Sterling silver and any version of gold will eventually tarnish will repeated exposure to oils. Stainless is by far the best choice for this application. The pads, once infused with two or three drops of the essential oil of your choice, are held in place underneath a laser-carved door and secured by a magnet closure.
The collection stars splashed across the locket face will allow those beneficial vapors to circulate all day and allow for peeks of color from the felt pads. Hung from an eighteen-inch chain, this will hang at the perfect height to be both aesthetically pleasing as effective for the aromatherapy benefits.
Ancient Egyptians are credited with creating the first distilled essences of various scents, oils, and materials for use in aromatherapy. Since then versions of essential oils have been used in healing or sometimes masking, various illnesses. Even if the effect is a placebo only as far as the pathological effect on ailments, some of the scents are very pleasing and, if you enjoy it strongly enough, you may experience a release of calming endorphins from the brain.
8. Star Drop Lariat Necklace in Rose Gold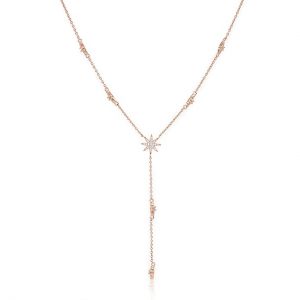 A celestial wonder in rose gold, this lariat style necklace is the most elegant star necklace on our list. Lariat style necklaces are wildly alluring with the chain hanging across down the cleavage line. Add to it the beautiful multi-point stars featured on this piece called Star Drop and you have a heavenly wonder all its own.
The sixteen-inch necklace includes a two-inch extender and joins just below the collarbone at a stunning rose gold multipoint star that is dripping with round-cut crystals. From the bottom point and additional two inches of chain drapes down across the breastbone for a, quite simply put sexy star-studded look. Dotted across both the necklace and the Y chain are rose gold additions that resemble star shine.
It is an elegant homage to those beautiful pinpricks of light that dot the night sky. This piece, without a doubt, is best-worn solo. Pair it with a low cut blouse and your best shapewear for a distinctly feminine and sultry finish to any ensemble.
Because this piece is 14k rose gold with a rather pink undertone as opposed to the ruddier oranges sometimes present in rose gold, we recommend either wearing it with cooler tones such as greens, pale peaches, other varieties of rose, or pale blues.
Opposingly this necklace would look great framed by deep blacks or purples. Stay away from harsher reds or oranges as it might overpower the subtle coloration of the gold.
9. Handmade 3D Geometric Star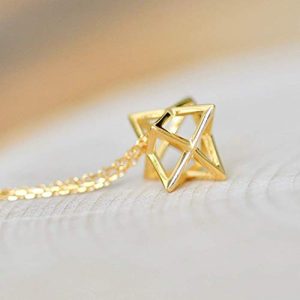 Next to last on our list and one of our favorite finds is a handmade three-dimensional star in yellow gold. The base metal is 925 sterling silver with a killer 22k gold plate. Since 24k is pure, unaltered gold, this high-quality finish is the real deal. The color will be highly predictable and bright, sunshiny yellow. Since this geometric shape represents a sun to some other solar system, we cannot think of a more appropriate use of 22k gold.
The charm hanging from your choice of a sixteen or eighteen-inch chain is completely delightful. A geometric representation of a star, starkly straight bars conjoin at the perfect angles to present a 360 view of a star with all of its little peaks of light and energy.  Fashionably modern and wonderfully creative this one is on its way to us as we speak.
It is a handmade piece by an artist out of California. Jamber Jewels prides themselves on producing minimalist creations for wonderful prices.  We are all about supporting burgeoning artists and still getting fantastic pieces added to our collection. This necklace cannot be walked away from!
10. Astrological Constellation Necklaces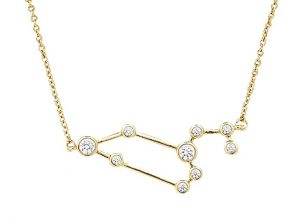 Our final selection is by far our favorite. A slightly customizable piece, you select your astrological sign from the list and a line-drawn rendering of the related constellation is created for you.  
Created by Sterling Forever, this 925 sterling silver charm comes in one of twelve constellation shapes and hangs static from a sixteen-inch chain with a two-inch extender. Static hung refers to the permanent mounting of a charm or focal piece to the two ends of the chain. The piece does not float freely on a chain as would a baled pendant.
The twelve astrological constellations, or zodiac constellations, refer to specific mythological beings painted in the sky using the stars as the canvas. Each of the twelve zodiac signs is based on a constellation. Certain predictions can be made based on their location around the earth and what other celestial bodies are crossing through the constellation shape.  
We love the combination of lore and science in this one. Rather than the traditional artistic renderings of the zodiac signs, for example the two fish of the Pisces, the lion of the Leo, or the bull of the Taurus, this necklace presents the actual arrangement of stars in cubic zirconia, connected by the lines one normally has to imagine when looking up in the sky.
The price for all this zodiac love cannot be beaten either. This is rather more than just a star necklace. More appropriately we should call it a stars necklace but we laud this piece for its originality and quality. Whether you love the constellations of the night sky or are a firm believer in the power of astrology this piece is a must-have!