7 Star Necklaces So Cute They Could Have a Place in the Heavens
last updated:
Aug 08, 2021
Star necklaces are a fabulous way to add glitz and glamour to an everyday outfit. With a sparkling accessory paired with a delicate and dainty design, it showcases your personal style with ease.
Another considerable advantage of star necklaces is that they're easy for anyone to wear, even if you don't typically enjoy jewelry.
There are many star necklaces to choose from, from low-profile and subdued styles to more extrinsic and bold designs.
Let's take a look at some of the most spectacularly styled pieces that we've fallen head over heels for.
Our 7 Favorite Star Necklaces
1

. Missoma Pave Star Charm Necklace
450mm chain length
Sterling silver
White cubic zirconia
6.5mmx6.5mm pave star charm
The Missoma star charm necklace has a high-fashion element that makes this necklace perfect for everyday wear. It's the type of accessory that can be worn solo, or you can pair it with a dainty choker for an added effect.
Read more
This necklace is one of our top choices for jewelry lovers searching for a whimsical accessory that speaks to their soul.
It exudes confidence and youthfulness, making it perfect for young and older wearers alike.
The softened edges of the star pendant set it apart from other styles, which typically have harsh edges.
Another massive benefit of this piece is that it's the perfect size for everyday wear. The minimalist 6.5mmx6.5mm pendant is unforgettable as it sits comfortably against your chest.
The low-profile chain is also remarkable, making it ideal for sleep, outings, or running errands.
2

. Pura Vida Star Necklace
Silver-plated
16" chain
Tiny star charm
Thin and delicate chain
It's time that you treated yourself to an iconic accessory that turns into a timeless treasure. The Pura Vida star necklace is the perfect addition to your collection, as it's a fashion faithful for everyday wear.
Read more
One of the most spectacular features of this piece is that it's one of the easiest to wear with other necklaces. The pendant is petite, which means you can combine it with various other stones and accents.
Depending on the color you choose, the materials used to make the necklace will differ. The silver-colored chain will be made from plated silver, while the gold-colored chain is gold-plated.
In total, the chain length is 16", which should be a good size for a tighter look, making it great to pair with dangling necklaces.
On the ends of the chain, you'll notice three separate O-rings. You can use each of the rings to tighten the necklace as needed, allowing for a tailored appeal.
3

. ChicSilver Star Necklace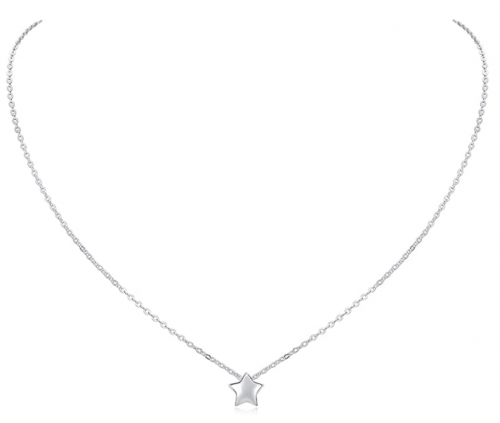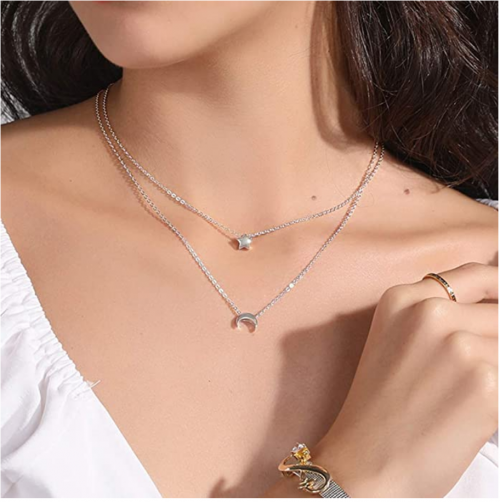 Sterling silver
Lobster claw clasp
60 day money back guarantee
We will start simple and straightforward with this super affordable piece. A 925 sterling silver star is statically mounted to a fifteen-inch chain with a two-inch extender.
Read more
This piece will hit just anywhere from just above the collarbone to right over it for most people depending on where you fasten the clasp. This does a couple of things for this necklace.
First, it makes it perfect for layering with other simple charms. Second, it makes it a wonderful daily wear necklace. It achieves simplicity without being boring.
With just a hint of shine from the dainty charm and subtle sparkle from the gem, it is just a great choice to add a splash of fancy to a t-shirt and leggings look.
Pair it with your higher necked blouses and a necklace on this short chain suddenly becomes perfect for a night on the town.
4

. Kendra Scott Jae Star Necklace
14k rose gold plating
Lobster claw closure
14" chain with 2" extender
Polished metal
This option is a stunning accessory to have in your collection for every occasion. Its multi-strand design makes it the ideal piece to wear on its own or pair with a third chain.
Read more
Along the chain, you'll find small embellishments with an extra flair to bring the entire piece together. What we love the most is that it helps you to master the art of layering necklaces all in one package.
The two delicately designed chains work perfectly together with the brilliant hanging star pendant at the bottom.
When worn, it sits gently against your breastbone, offering a romantic and alluring appeal. It's the type of necklace you can throw on quickly and look perfectly accessorized without extra effort.
It features 14k rose gold plating over brass. To maintain the necklace's quality, it's best to keep it away from perfumes and chlorine.
5

. Blue Nile Mini Sapphire Star Pendant
14k white gold
Cable chain
1/4" width
Rhodium-plated
The Blue Nile sapphire star pendant captures the true essence of star necklaces, making it one of our favorite pieces. It boasts a glittering yet dainty sapphire star pendant that's sure to capture the attention of everyone in the room.
Read more
The deep blue sapphires on this necklace's pendant easily show off your personal flair. It has the ideal amount of pizzazz to help you elevate a casual tee or complement a more formal gown.
Sapphire is one of the most dazzling gemstones, especially as it captures the light and shines effortlessly.
You'll fall in love with the brilliance of the polished 14k white gold that serves as a backdrop for the individually set sapphire stones.
With the help of the spring ring clasp, you can quickly take the necklace off. Also, the thinness of the chain is a fabulous feature to consider, as it adds to the streamlined design of the piece.
6

. Espere Star Drop Lariat Necklace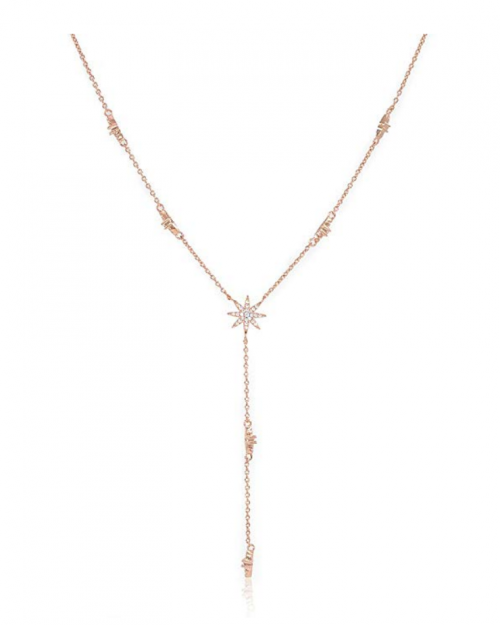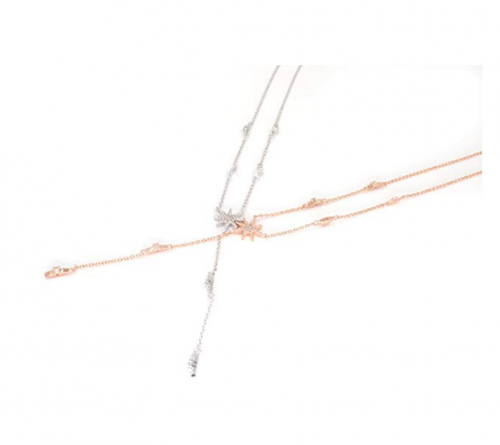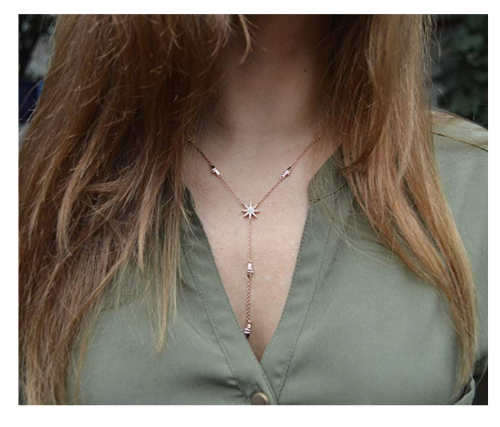 Eco friendly brass
14k rose gold
30 day money back guarantee
A celestial wonder in rose gold, this lariat style necklace is the most elegant star necklace on our list. Lariat style necklaces are wildly alluring with the chain hanging across down the cleavage line.
Read more
The sixteen-inch necklace includes a two-inch extender and joins just below the collarbone at a stunning rose gold multipoint star that is dripping with round-cut crystals.
From the bottom point are added two inches of chain drapes down across the breastbone for a, quite simply put, sexy star-studded look. Dotted across both the necklace and the Y chain are rose gold additions that resemble star shine.
Because this piece is 14k rose gold with a rather pink undertone as opposed to the ruddier oranges sometimes present in rose gold, we recommend either wearing it with cooler tones such as greens, pale peaches, other varieties of rose, or pale blues.
7

. Stella & Dot Pave Star Necklace
Handset pave stones
15" chain with 4" extender
14k gold plating
Lobster clasp closure
There's nothing that says you can't combine sparkle with minimalism, and this necklace proves our point. The Stella & Dot star necklace is a fabulous addition to your jewelry collection with its effortless glamour.
Read more
You'll love each handset pave stones that add a little bit of glitter to the piece. The thinness of the chain is also remarkable, especially as it can easily be paired with an assortment of other pieces.
This necklace is designed to sit higher on your chest, so you can easily wear long or mid-size chains as well.
Alternatively, wear this necklace on its own to let it rest smoothly against your skin for a minimalistic look.
It boasts high-quality 14k gold plating, helping to add to the luxury of the necklace. There's a 4" extender as an added benefit, allowing you to loosen or tighten the piece as needed.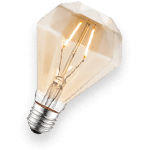 About stars
Stars are complex orbs of burning gasses that burn brightly across the sky.  Our own sun is a star so important to us, it is quite literally responsible for the warmth and wellness of life on Earth. There are more stars in the universe than scientists know how to count.
That does not stop them from trying, though. Not every star can fit on star necklaces, however, you can have your favorite ones on them.
Stars as guiding lights
The earliest explorers of the globe used the stars and their predictable paths across the night sky to discover expanses of Earth previously unknown to them.
They marched across the lands with the stars as their guide. They sailed across mighty oceans using the stars to keep from getting hopelessly lost.