Rings / Women
10 Tiara Rings to Gift the Queen of Your Heart
When we think of crowns we typically imagine European Monarchs perched on velvet thrones with a large, heavily jeweled, gold numbers with arching band crisscrossed at the top and a cross poking off the top of it. For the most part, the image of St. Edward's Crown, the crown used to crown Queen Elizabeth II of England, when we think of crown. Jewelry can also depict crowns, for example, tiara rings.
But the shape, style, and design of crowns are so much deeper than that. From simple diadems perched on top of a hopeful rules head to the elaborate and symbolic creations Europe has produced, this history of crowns and tiaras is rich and lengthy.
The Evolution of Tiaras
In early history, the words diadem and tiaras are often interchangeable. History shows both men and women wearing tiaras in their earliest forms.  They became almost exclusively a women's fashion during the Neoclassical Revival in the nineteenth century.
Tiaras tend to be less dramatic as crowns in a traditional sense, but this is by no means a rule. In today's definition, a tiara is a tiered or pointed creation.  It can feature any number of points, or crests, and often these only extend around the front portion of the circlet, although some examples have smaller, subtler points all the way around. There are also hair adornments fashioned after tiaras that feature the same classic, tiered shape but do not affix to a circlet to be worn around the head. Rather, these include clips, combs or pins to be hidden away in the hair.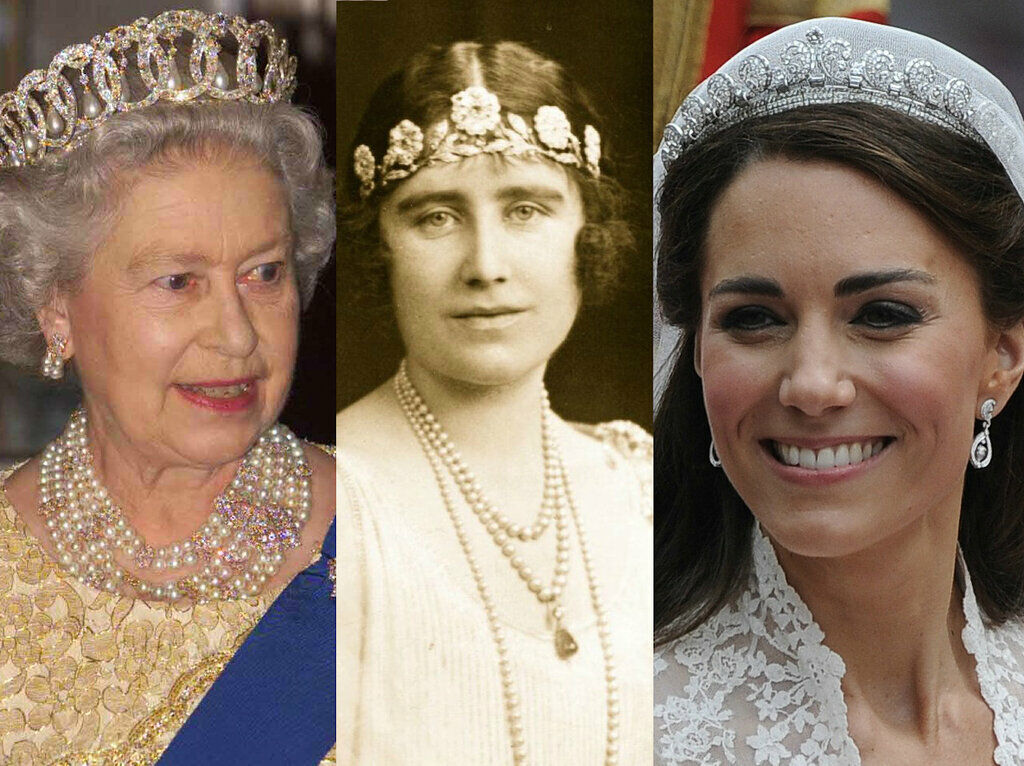 Queen Elizabeth II has one of the largest, most valuable collections of tiaras assembled today. Since the Crown Jewels are reserved for state functions only, the current Queen of England wears her private collection of tiaras for portraits and special events.  Some pieces were handed down to her by her parents, others have been gifted to her while yet others she sought out and purchased for herself. Because even the Queen of England fancies seeking out her own bit of shine.
Tiaras are now popular headgear for prom-goers, brides, quinceanera celebrants, first communion participants and the most elegant of night-outers. Most feature a collection of white-colored jewels from crystal to diamond but they can be in any color or arrangement.  
Celebs in Tiaras and Tiara Rings
Of course with royal weddings galore, tiaras have been dripping of those like the diamonds in the headgear themselves.  But we love the clever use of tiaras with your everyday wear. It adds that extra glitz. Tiara rings are even better for it as you don't have quite the statement of a sparkling crown but you still feel like a queen!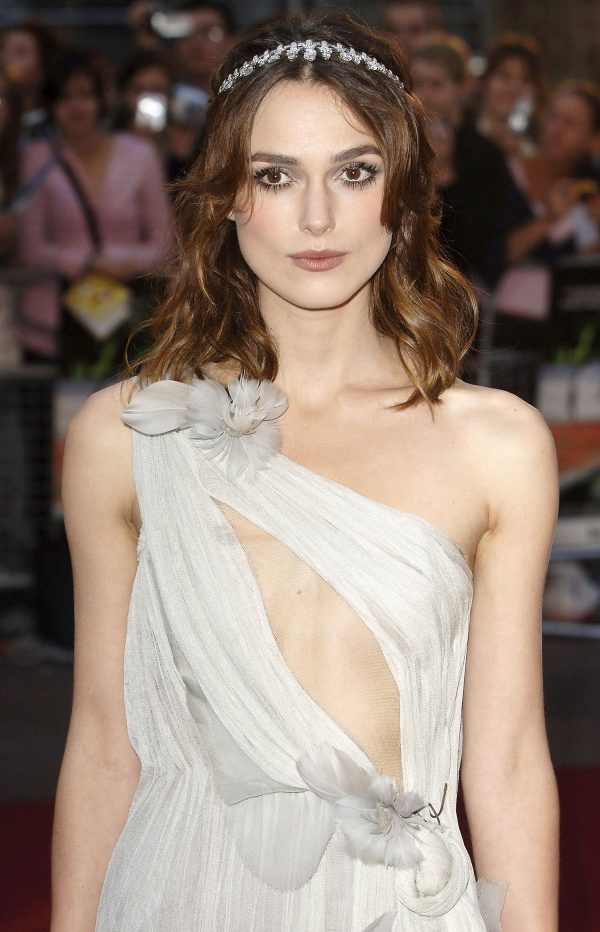 Maisie Williams of Game of Thrones fame pulled off the most clever use of a tiara with a leather ensemble that we cannot get over.  The ever-adorable Kiera Knightley has a deep love of tiaras, telling an interviewer she wished she could wear them all the time. Her stunning tiara from all the way back in 2007 at the Atonement premiere is STILL one of our favorites with its tear-shaped diamonds.
From Head to Fingers
The shape of the classic tiara just begged to be translated elsewhere. An inverted tiara shape was popularized in The Roaring Twenties and shortly after that tiara rings made their appearance. With peaks stretching upward to the knuckle the relationship between headgear and ring is fairly obvious.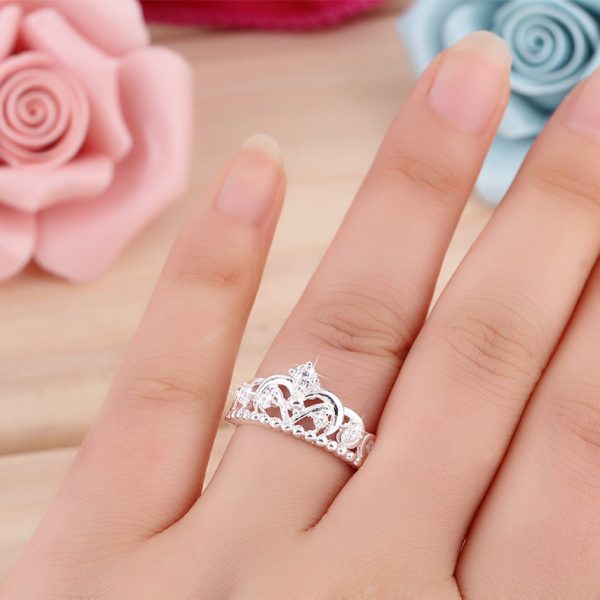 Today, a tiara ring is a wildly popular engagement ring as well as an anniversary gift. Because tiara rings often feature a flat bottom, as a head-worn version would, they can easily be paired with a wedding band by simply sitting on top.
We have found ten of our favorite tiara rings that you should absolutely consider gifting the queen of your heart.
Our 10 Favorite Tiara Rings!
1. Personalized Birthstone Tiara Ring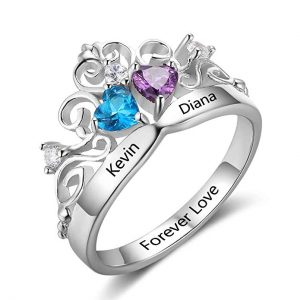 This tiara ring checks off so many of our boxes. Not only is it a stunning example of a tiara ring but it adds featured jewels and an affectionate personalization. Featuring three cubic zirconia framing your selection of birthstones, the tiara is composed of swirls and curlicues that are bout playful and elegant at the same time.
The maker, Diamondido, allows for three areas of personalization. The first two are along the top on either side of the band, the perfect place to put your name and the name of your significant other, just under each other's birthstones. Alternatively, you do not have to choose your loved one's birthstone, but rather their favorite color or gemstone. We do not feel anyone should be beholden to a birthstone they do not love.
The ring is customizable, so customize it to your liking. If emerald is your stone but your birthstone is October's Opal or Rose Quartz, have no fear having that emerald stone added.  
The third engravable zone is the inside band. Select your anniversary, a short quote or just the simple, poignant I love You! This ring is absolutely perfect as an anniversary gift, especially one of higher-order such as your twentieth or thirtieth. After that many years together, we cannot think of a more special way to celebrate your royally epic relationship than with this tiara ring.
2. 18k Rose Gold Plated Tiara Ring with Cubic Zirconia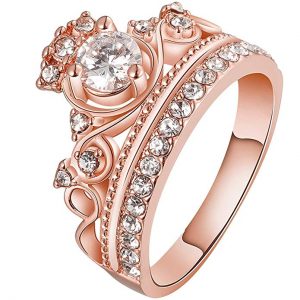 This is a brilliant price for an equally brilliant tiara ring.  The ornate tiara is perched above a row of princess cut cubic zirconia stones so it comes with a built-in band. This makes it ideal for stacking or wearing solo and looking complete all by itself. The complexity of this ring means it will cap off a stack of other rose gold rings with an unprecedented flourish. Worn in conjunction with a handful of rings, this would certainly be the capstone and highlight of the whole hand.
The single crest of this tiara is adorned with yet more cubic zirconia for a glittering shimmer everywhere you look. A sizeable princess cut feature stone is included as well, a rarity among the tiara ring designs. Typical tiara rings are about the equal marriage of metalwork with smaller stones used for accent. This piece manages to combine both feature stone, accent stones and metalwork to great success.
All these stones are set in a super trendy 18k rose gold plate. Gossip Girl alums Blake Lively and Leighton Meester both rock engagement ring that shimmer all pink and sunset in rose gold. We love it. You can have the best of both rose gold and the regal tiara ring design with this piece by LWLH. This ring base is brass so it may not be perfect for those with metal allergies or metal sensitivities. However, for the price, for those who can wear it, it really can't be turned down.
3. Princess Crown Blue Sapphire Ring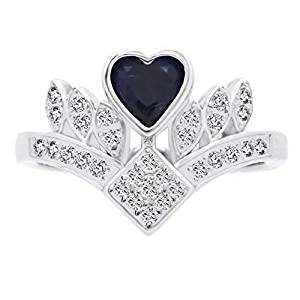 We love this one for so many reasons. This ring by BL Jewelry features both an inverted diadem ring shape as well as crests on the top end.  It is crowned by a heart-shaped sapphire blue cubic zirconia. The stone is so deeply blue it is reminiscent of the mysterious depths of the ocean. The lab-created stone is faceted perfectly for the heart shape and fully wrapped in a cabochon style setting. Six oval-cut white cubic zirconia frame the beautiful blue stone, their paleness the perfect complement to the almost black sapphire colored stone.
The ring is 925 sterling silver plated rhodium meaning it is nickel-free and great for folks with metal sensitivities. The unique cut of the cubic zirconia coated band means this is definitely a solo piece. We do not even recommend wearing it with other rings on the same hand. We feel this is best shown off as the only piece. It is too beautiful to share the stage with any other part of your collection.
This makes an absolutely perfect anniversary gift for the lower order anniversaries. The blue heart just screams to be worn on the right-hand ring finger, opposite the wedding set of your queen. The diadem shape is unique and eye-catching. All those sparkling stones will glint and glimmer wonderfully to make a statement of just how much your love means to you.  
4. Teardrop Cubic Zirconia Tiara Ring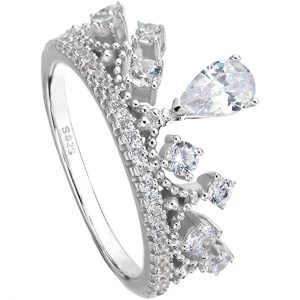 This ring looks like it was designed directly off a tiara of an actual royal. The highlight of the piece is a magnificent teardrop-shaped cubic zirconia, flanked by princess-cut stones of the same. The teardrop stone, sometimes referred to as a pear-cut stone is held in place by a three-prong setting, typical for the cut. The eight cubic zirconia accent stones are also prong set and lift to various heights below the teardrop crest for the most perfect tiara shape.
If those nine stones weren't enough, the band is encrusted with pave set cubic zirconia, all in a beautiful snowy white. Set in 925 sterling silver, this snow-white beauty is perfect to wear in conjunction with a simple wedding band. We feel this is a wonderful engagement ring and that is saying something. Engagement rings are typically high dollar purchases so this very reasonably priced piece has really got to be making a statement for us to recommend it as an engagement ring. And what a royal statement it makes, too.
Traditionally an engagement ring cost is supposed to be 1-2 months salary but we are not fans of this metric. That rule of thumb was purely a marketing technique after the second World War when monthly salaries were in the couple hundred dollar range.  Now as average salaries have increased with inflation and cost of living, two months salary could force you to be looking at anywhere from $1500 to $37,500 dollar rings. And while those are brilliant and probably worth every penny, it might be verging on exorbitant, even for us jewelry junkies.
The average cost of an engagement ring purchase was over $6000. That's a lot of dough and we love us some stunning stones but it might not be necessary to spend quite that much when you have the rest of the wedding to pay for.
Now it is more prudent, and touching even, to choose a ring that fits your beloved's tastes and add bands, accents, and tiaras as your relationship marches down the road of time. This is a wonderful choice for an engagement ring, even with its deceptively low price.
5. Sterling Silver Heart Flourish Ring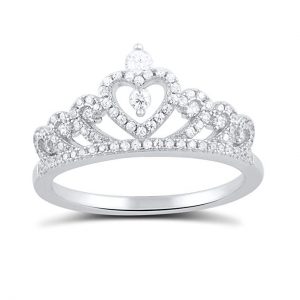 This piece is a classic styling of a tiara ring and we just had to include it on our list. Crafted of 925 sterling silver, pave set cubic zirconia stones to follow the shape of a heart with three waves of swirls curling up to the heart. Two white cubic zirconias cap the top and under the crest of the heart top for a stunning effect.
We love thinking of the two stones on the heart representing you and your cherished queen.  
Since the ring is 925 sterling silver plated, it is hypoallergenic and the lab-created cubic zirconia makes it more than affordable. The ring is so cleverly designed it almost looks as if it is moving while being worn. Both stones are set rigidly and securely but it almost looks as if the lower stone wants to swing like a pendant set in the heart. We love the illusion!
This is a perfect daily wear ring to celebrate an anniversary or just a "for no reason" gift. (Those are our favorite kinds of gifts, by the way.) It can be worn stacked or solo and be perfect either way.
6. Two Tone Ring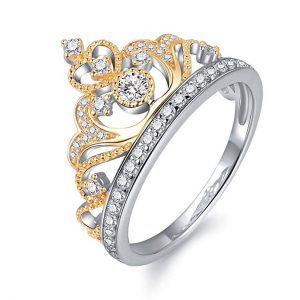 This yellow gold and 925 sterling silver piece is a perfect marriage of yellow and white gold colors. This makes it a perfect celebration of your marriage as well. Offer this tiara ring as an anniversary present and you are sure to get at least a royally brilliant smile from your sweetie.
The ring by Chic Code features a whole truckload of cubic zirconia dotting the entire tiara shape. The band is wrapped in pave set stones. And if that wasn't enough for even the most glitter-loving among us, clever use of sculpting the metals gives the illusion of even more sparkling stones.  Diamond cuts in the sterling and relief cut baubles add more facets and surfaces to reflect the light.
The tall setting of the crests in this tiara ring will give it a great length on the finger. This means that while it will stack, do not stack it too high. We are all for a finger full of fantastic rings but the sharp crest of this ring may snag on clothes or things you are handling if stacked too close to the knuckle. We recommend wearing it with a simple band. For a wonderful feel of closure, wear it with a yellow gold band to really complete the feel of two coming together as one.
7. Black Rhodium Ring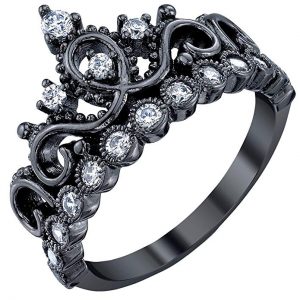 This black beauty is positively perfect. 925 Sterling Silver is rhodium plated to a deep midnight colored finish.  The ring sports four prong set cubic zirconia stones in the tiara portion of the ring, with sweeping fronds of deep black metal creating the most darling tiara shape.  The crown is dotted with fine beads of metal created an almost paisley look that could not be more appropriate.
Perhaps our favorite feature on this ring is the band. Pave set cubic zirconia forgo the traditional flat edged band and allow the metal to take the rolling, waving shape of the stones as they wrap around your finger. This means this ring can stack or it can wear solo.
8. Purple Amethyst Black Rhodium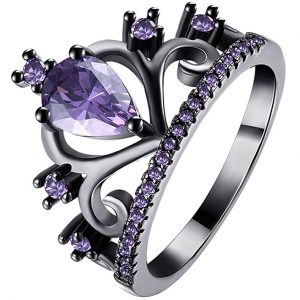 This is, by far, our favorite on the list.  We revisit the black rhodium plating of our previous selection, with the teardrop-shaped stones from earlier on the list and once more find ourselves with a wonderful piece by LWLH. So many repeats could have made this ring feel a little overdone but it is oh so wonderful we might not even wait for our significant others to buy it for us. It is in our cart as we speak.
Black rings are not always popular outside a certain group of style aesthetics but the brilliant contrast of the purple amethyst colored cubic zirconia along with the fine cuts of the stones take this ring from pop-punk to red-carpet ready. Five round-cut amethyst colored cubic zirconia crest around the pear shaped stone that is the centerpiece and feature stone of the ring.  Even more purple beauties wrap around your finger in the pave set band. And if purple is not your jam, the ring is available in emerald and ruby as well. We are so excited and definitely did not buy all three  Nope. It didn't happen. (It totally did.)
This one is absolutely best worn solo. There is so much to take in with this ring, companion pieces would suffer next to it and we would not want that for any of our collection. This will make a perfect gift for the bolder lady in your life, not just for anniversaries but an anytime gift, birthdays, Mother's Day or holidays.
9. Retro Tiara Ring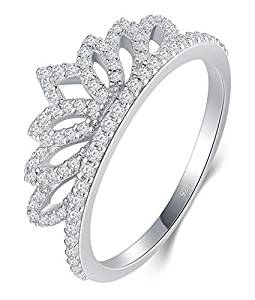 A retro throwback in a modern trend is awfully hard to accomplish. But jewelry maker Boruo has managed it and we aren't quite sure how. This very simple piece manages to feel like it could have belonged on the hand of a socialite heiress of the 1920s or on the finger of the style icon Princess Diana. Such radically different roots mean this ring is a must-have, no matter what your style aesthetic.
One of the simplest designs on our list, this ring is proof that less really can be more. Angular arches of pave set cubic zirconia lift off the flat band for the perfect balance of simplicity with elegance. It absolutely does remind us both of the harsh lines of the art deco movement in the early twentieth century as well as the classic elegance of the late twentieth century British royals.  
Worn well as a solo piece or stacked with another simple band, this ring will make a statement all its own and won't need much help from accompanying pieces. If you want to play up that art deco feel, pair it with a bold, chunky bangle in glass stones, pearls, or shining metals. If the vintage royals vibe is more your aim, a tennis bracelet just above this ring will go a long way to helping that look.
10. Stackable Princess Heart Ring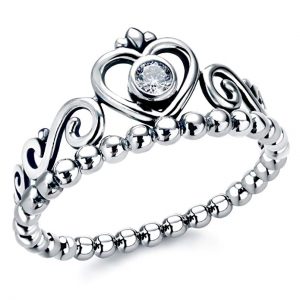 This ring very much harkens to the Claddagh ring, or classic Irish symbol of hands holding a crowned heart. The heart is framed by two curlicues that remind us of the hands. The detailing in the metalwork reminds us of the traditional symbol for love, loyalty, and friendship.  So this piece is great as a gift for girlfriends, wives or besties. With that many applications, it is a shoo-in for a must-have gift this new year.
Stackable by design, the heart in 925 sterling silver holds round-cut cubic zirconia and is crowned with a delicate fleur de lis flourish. The band itself is detailed in dainty dots which will add texture and focal points to your stack of rings. This ring is not overdone by any means, so much so, it almost needs to be worn as a stack. That is not to say we think it is too simple but sometimes you just need more than one ring to really make them all stand out. 
We are normally all about combining the shades of gold but something about this piece just begs to be left with gold in its own color family.  White gold, silver, and burnished greys will look wonderful with this simple tiara ring. Instead, play with different textures and sculpting methods for the rings to add that piqued attention in your set.