6 Tiara Rings to Gift the Queen of Your Heart
last updated:
Dec 17, 2021
A tiara ring is a stunning way to show off your personal style. With a unique aesthetic, unlike other rings, they wear well on their own or paired with other pieces. In fact, many jewelry lovers enjoy having them as an alternative to traditional wedding bands and engagement rings.
Tiara rings come in various shapes and styles, with some boasting a vintage flair and others exuding modernism.
Let's explore some of the most fabulous styles to add to your growing accessory collection.
Our Top 6 Picks!
1

. Anna Sheffield Cosmic Luna Tiara Band
The Anna Sheffield Cosmic Luna Tiara Band is the perfect combination of elegance and simplicity. If you love the idea of tiara rings but are looking for a more subdued style, this design is iconic. It's sleek, stylish, and easy to wear on its own or paired with a stunning solitaire ring.
Read more
The overall design is relatively simple, which makes it so remarkable. Instead of focusing on over-the-top embellishments, it's structurally stunning with the perfect amount of sparkle. You'll love the minimalistic metal band that's available in either 14k gold, rose gold, or white gold.
The unique champagne diamonds also have the added opulence that sets this piece apart. Instead of clear generic diamonds, you can bring an elevated level of class to your jewelry. The champagne coloring works beautifully with the contemporary finish of the polished gold metal.
There are three decently sized diamonds in the center of the ring and two smaller diamonds at either end. Together, they create a stunning display featuring .33 total carats. It's also important to note that this piece is a new addition to Anna Sheffield's Tiara collection, making it even more unique.
2

. Petite Tiara Diamond Wedding Ring
The Petite Tiara Diamond Wedding Ring is precisely what you've been looking for if you're interested in a low-profile yet sparkling piece. The ring's simplicity speaks volumes, and it's highly adaptable to any style as it's available in white and rose gold.
Read more
The Petite Tiara Diamond Wedding Ring starts its impressive nature with a 14k white or rose gold band. If you're sensitive to fake or plated metals, the solid gold design will sit comfortably against your skin. You'll also find the gold lasts remarkably longer than with rings that are plated.
There are rows of delicately selected diamonds within the ring that are inlaid into the band. It creates a regal silhouette that's unforgettable and works well with other rings. You'll fall in love with the effortless beauty of this piece, from the graduating peaked row of diamonds to the highlighted metal.
The perfect polishing truly sets the ring apart. You'll find it glimmers effortlessly in the light. Also, the ring features rhodium plating, preserving the integrity of the solid gold over time.
3

. Macy's Diamond Pear Tiara Ring
The Macy's Diamond Pear Tiara Ring is a luxurious and elevated ring that is sure to capture the attention of anyone in the room. With a jaw-dropping design that will quickly become the focus of your outfit, it's a remarkably designed piece.
Read more
There's no doubt the Macy's Diamond Pear Tiara Ring is designed for those searching for luxury and opulence. The ring features a pear-cut diamond, placed perfectly in the center of the ring.
You'll also find three extra diamonds arranged in a v-shape at the base of the pear-shaped diamond.
Together, all of these stones glisten effortlessly, setting the stage for the remainder of the piece. The gently curved band adds structural significance to the ring, setting it apart. There is also an assortment of inlaid diamonds throughout the front half of the diamond, leaving the back of the ring polished metal.
With the high-quality diamond color rating of I through J, this ring is sure to be the most impressive piece of jewelry you'll own.
Also, it features a clarity rating from SI2 to I1, speaking to the piece's overall quality.
4

. Pandora Princess Tiara Crown Ring
The Pandora Princess Tiara Crown Ring is a fantastic addition to your jewelry collection with its unique design. It works well for formal occasions but can also be worn as a casual staple to your everyday outfits.
Read more
There's plenty to appreciate with the Pandora Princess Tiara Crown Ring. You're bound to fall in love with the soft, supple nature of the plated metal. It fits comfortably around the finger and is polished perfectly, sparkling as you wear it.
With soft, round embellishments paired with royal scrolling around the band, it's undoubtedly a one-of-a-kind piece. Another fabulous addition to the ring is the cubic zirconia stone set in the center, resembling a traditional diamond. One of our favorite features of this ring is that you can choose from rose gold plated metal or sterling silver.
The Pandora Princess Tiara Crown Ring is designed to work with other rings in the royal collection from Pandora. It's the ideal addition to create an iconic fairytale look that you can show off with confidence.
5

. Zales Diamond Tiara Ring in Sterling Silver
If you're on the hunt for a glistening ring that is sure to impress, the Zales Diamond Tiara Ring in Sterling Silver is a top choice. It's elegantly designed with classic finishes that offer a remarkable vintage appeal.
Read more
The Zales Diamond Tiara Ring has a genuine tiara ring design with fabulous royal scrolling and beautifully inlaid diamonds.
You'll find the perfect amount of sparkle throughout the polished sterling silver band. If you're someone that loves structurally unique pieces of jewelry, this design is incredible.
You'll love the simplicity of the bottom half of the band, showcasing a row of specially selected diamonds.
There are also small heart embellishments hidden within the royal scrolling of the crown itself. In total, you'll have 1/5 total carat weight that brings this ring to a whole other level.
It's important to note the ring is custom-made for every wearer. The metal is sterling silver, and it cannot be resized after purchase, so ensure you order the correct size. Also, there are special care instructions to maintain the metal's quality over time.
6

. Silvercloseout Sterling Silver Heart Crown Ring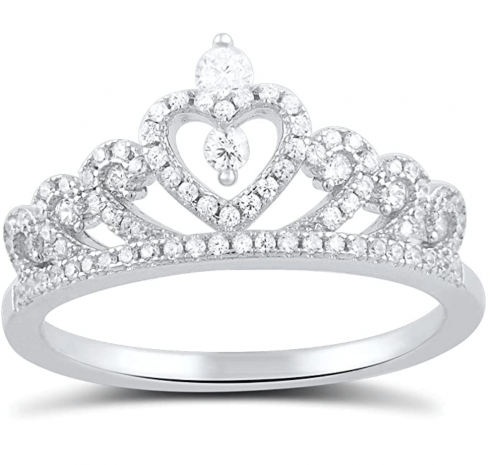 This piece is a classic styling of a tiara ring and we just had to include it on our list. Crafted of 925 sterling silver, pave set cubic zirconia stones to follow the shape of a heart with three waves of swirls curling up to the heart. Two white cubic zirconias cap the top and under the crest of the heart top for a stunning effect.
Read more
We love thinking of the two stones on the heart representing you and your cherished queen.
Since the ring is 925 sterling silver plated, it is hypoallergenic and the lab-created cubic zirconia makes it more than affordable. The ring is so cleverly designed it almost looks as if it is moving while being worn.
Both stones are set rigidly and securely but it almost looks as if the lower stone wants to swing like a pendant set in the heart. We love the illusion!
This is a perfect daily wear ring to celebrate an anniversary or just a "for no reason" gift. (Those are our favorite kinds of gifts, by the way.) It can be worn stacked or solo and be perfect either way.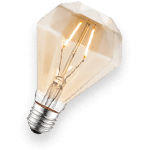 When was the tiara ring invented?
The shape of the classic tiara just begged to be translated elsewhere. An inverted tiara shape was popularized in the Roaring Twenties and shortly after that tiara rings made their appearance.
With peaks stretching upward to the knuckle the relationship between headgear and ring is fairly obvious.
Why a tiara ring?
Today, a tiara ring is a wildly popular engagement ring as well as an anniversary gift. Because tiara rings often feature a flat bottom, as a head-worn version would, they can easily be paired with a wedding band by simply sitting on top.
Frequently Asked Questions
q:

What is a tiara ring?

a:

A tiara ring is much like its name suggests, a symbol of elegance and royalty that anyone can wear. The superior styling of these pieces sets them apart from traditional rings because they sparkle effortlessly and wear well with everything.

There are also plenty of unique meanings behind the ring's design, as we explore in more detail below.

A tiara ring is the ultimate gift you can give to a loved one, friend, or even buy for yourself. It exudes confidence, grace, and class by showing your distinctive style. Not to mention they look great on any jewelry lover, regardless of age.
q:

How do you wear a tiara ring?

a:

Styling a tiara ring is something that anyone can do. You can choose to wear the piece on its own, as most designs are made to be the focal point of your outfit. Alternatively, you can stack the piece together with other bands to add even more glitz and glam to your wardrobe.

Tiara rings are fashion-forward, making them a fantastic solution for a timeless accessory you can wear anywhere. They also have a flirty appeal, making them an iconic statement for romantic evenings out. Many wearers also love the idea of using a tiara ring as a substitute for a standard engagement ring or wedding band.
q:

What is the meaning of a tiara ring?

a:

As mentioned, there are a few unique meanings behind the style of a tiara ring. At first glance, you immediately think of a queen or princess and the confidence that comes with the title. Tiara rings also bring forth courage and power and boldness, beauty, and honesty.

You have the strength and resolve to rule a kingdom paired with compassion and love for human beings like a princess or queen. You love celebrating life and accomplishments, and keep a practical head on your shoulders. It's the perfect symbol to capture the genuine exuberance of your personality.