7 Black Earrings that Go with Any Outfit!
last updated:
Aug 30, 2021
There's no accessory more exquisite than a classic pair of black earrings. You'll love how effortless they are to style, matching perfectly with any other favorite pieces you own.
Not only are they fashion-forward, but black earrings are also an intricate way to showcase your personal style.
Whether you're looking for simple black studs or more exotic and bold hoops, there are many styles to consider.
Let's explore some of our favorite innovative designs that are sure to make you the topic of interest for any occasion.
Our Top 7 Picks!
1

. INC International Concepts Flower Earrings
Gold-tone metal
Clutch closure
2.5" drop
Fabric flower embellishment
There's nothing that screams youthfulness more than accessories with floral embellishments.
The INC International Concepts fabric flower earrings are stunning and highly adaptable to any wardrobe.
Read more
These black earrings are bold and stunning, drawing attention to one of the most attractive areas of your body. The delicate floral embellishment hangs gently from the supportive gold-tone hoops affixed to your piercings.
Above all else, these earrings are remarkably easy to maintain, especially when compared to diamond jewelry.
You'll have two classic midsize hoops that fit comfortably within your piercings. At the end of each hoop, there's a beautiful floral accent crafted from premium fabric.
There's something about these accessories that makes them fun, flirty, and great for everyday wear.
With the comfort of the clutch closure, you'll find they're comfortable throughout the day.
2

. Maria Black Onyx-Accent Heart Charm
Onyx heart-shaped accent
Versatile design
Heart pendant
Gold-plated sterling silver
The Maria Black onyx-accent heart charm is one of the most unique accessories we've seen in years. As a part of an interchangeable set of accessories, it's a multi versatile pendant you'll love using.
These unique embellishments can be turned into earrings, necklaces, and bracelets.
Read more
You can quickly transform the pendant into a luxurious pair of earrings or eye-catching necklaces and bracelets with the base piece.
All you have to do is affix the pendant to the earring, and you'll have a stunning piece to adorn for any occasion.
The handcrafted aesthetic of this pendant makes it a phenomenal contribution to your collection.
It's flawlessly finished but also features a timeless rocker-esque edginess that we love. The black heart accent is by far its most notable feature and the gold-toned hook for added contrast.
Onyx is a brilliant material to use in jewelry, especially as it has a deep spiritual meaning. Often regarded as a protection against evil and negative energy, this stone is ideal for everyday wear.
3

. Kate Spade Heritage Huggie Hoop Earrings
14k yellow gold plating
Polka dot black enamel
.63" diameter
Click latch closure
The Kate Spade heritage spade huggie hoop earrings are perfect for paying homage to mod fashion. These vintage-styled hoops are the perfect option for a shimmering and simple set of black earrings with a low-profile style.
Read more
Every jewelry lover deserves to have a pair of sophisticated earrings at their disposal. The striking design of these low-profile hoops makes them a fabulous addition to your closet.
These earrings are part of Kate Spade's Heritage Collection, easily one of the most popular lines from the brand.
They're also crafted from quality materials, including 14k gold-plated metal and enamel.
With an affordable price tag, they'll surely become one of your most-worn accessories.
One of our favorite features is the fine details on the enamel embellishment and the hoops. With the adorable white polka dots, these earrings are pretty reminiscent of 60s fashion.
4

. Macy's Marcasite & Crystal Earrings
Silver-plated metal
Post backing
1-1/4" drop
Marcasite and crystal accents
We've found the perfect pair of earrings for the most luxurious and daring accessory lovers.
You'll fall absolutely head over heels for the antique styling of these earrings, making them an iconic addition to your collection.
Read more
The delicate beadwork of each earring is the most noticeable feature, apart from the high-quality materials.
Instead of relying on traditional diamonds and other gemstones, this set has marcasite and crystal.
With a combination of black minerals and clear accents, they capture the perfect amount of light.
You'll also love how they fit similarly to a pair of studs, with a post backing that's easy to put on and take off.
These marcasite earrings are a superb option for jewelry lovers with sensitive ears.
Each post is made from premium silver-plated metal, which isn't likely to cause skin irritation.
5

. Kendra Scott Alex Gold Drop Earrings
14k gold-plated brass
Black opaque glass
Hook ear wire
1.5" length
The Kendra Scott Alex Gold drop earrings in black opaque glass is a perfect example of a seamless blend of antique and modern features. With an iconic style that is sure to set you apart from the rest, these radiant earrings are distinctive and dramatic.
Read more
The iconic style of the earrings makes them a fabulous addition to any collection, especially with their uniqueness.
Up close, you will notice finer details as well, such as etchings in the gold border that pulls the whole piece together.
We also fell in love with the claw-like clasps that hold the black glass in place and elevate the earrings' depth.
You'll find the simple hook closures make them exceptionally comfortable to wear for all occasions.
There's no need to worry about tight closures that can often be challenging to take off.
These earrings are the perfect choice for an all-night affair or a quick meeting with friends.
6

. EVERU Druzy Stud Earrings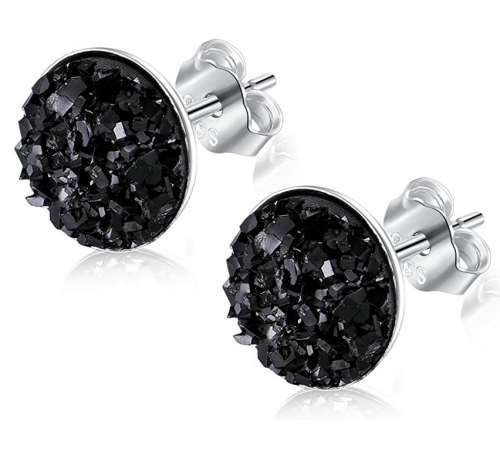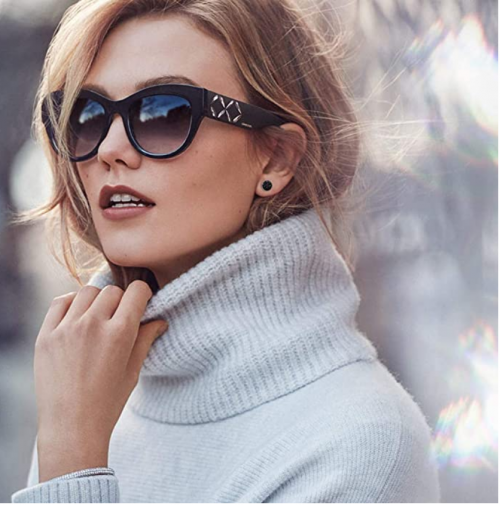 Sterling silver
Quartz stone
60-day money back guarantee
Made of 925 sterling silver, the metal is perfect for anyone, no matter your allergies. But what dazzles the eyes is the round cut quartz set into the flat-top of the metal.
Read more
It has a multicolored facet and reflects light in such a perfect way, much like glittering stardust with natural imperfections. The 8mm faux druzy also comes in other colors, but the black is our pick for this category.
Everu's mantra is "forever with you," and that is why they have a post and nut clasp at the back of this earring to keep it on your earlobes at all times.
The product is unisex, so whether you are getting it as a gift for your friend or just as something to spice up your style at the club later in the week, it is just perfect.
All this beauty comes to you in an elegant jewelry gift box, with a polishing cloth to make maintaining it very easy.
It would be a delight to your wardrobe, and with how affordable it is, you don't want to miss out.
7

. Gem Stone King Black Onyx Earrings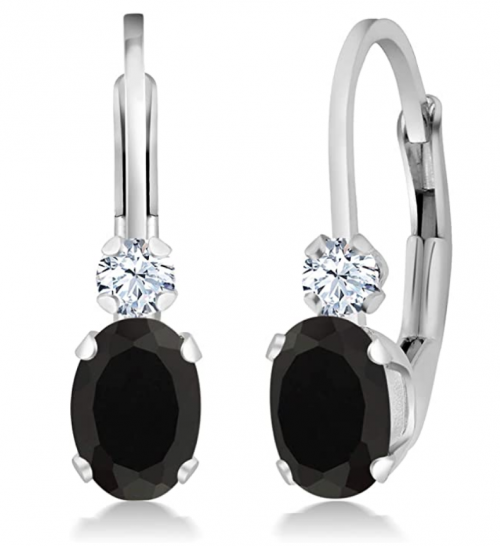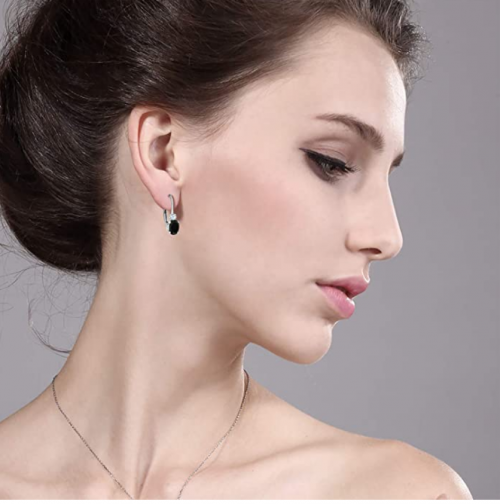 Sterling silver
Black onyx
Created sapphire
With expert crafting, we love this pair of earrings for its chic look and impressive finish. If you fancy a mixture of two beautiful gemstones in a formidable array, then check this out.
Read more
Uniquely designed with 925 sterling silver, you wouldn't need to worry about allergies with this one. The sterling silver was used in making it a lever-back earring, which is fantastic for the arrangement of the stones.
With the onyx stone bigger and sitting below the sapphire, it gives such aesthetic pleasure that can be quite hard to describe. Both of the tones are set into the four prongs setting of the metal using expert craftsmanship.
The sapphire is synthetic and is fascinatingly shaped like a round heart with arrows, while the onyx is oval and weighs 0.39 carats. Black onyx is the birthstone of December, and it inspires happiness and good fortune.
Frequently Asked Questions
q:

Which black earrings are the best for me?

a:

When it comes to jewelry, you definitely have favorites. But you must consider a few things before you order online. For example, some of the black earrings you see online are made with materials that might cause skin irritation.

To avoid that, you have to pick options made of surgical stainless steel, platinum or 925 sterling silver. These don't peel and don't react with the skin.
q:

How do I clean my black earrings?

a:

You need to get yourself some cotton pads and mild sanitizing liquid. Always remember to wash your hands before handling your earrings, especially if you just got your piercings done.

Storage is also pretty important; you can use the pouch the earrings came in or get a box padded with soft lining. This would prevent contamination and extend the life of your earrings.