Mix / Necklaces / Women
The Number 1 Dragon Necklace Selection!
GHoThe dragon, a large serpent-like being, came into existence centuries ago, primarily in the Asian cultures. The earliest dragons were more like giant snakes and may have made their appearance about 4 BC. However, the fire breathing dragons we know and love made their debut in the High Middle Ages or about 1000-1250 AD. So if you want to adorn your neck with a dragon necklace, this is a guide for you.
Some dragons were even thought to breathe ice. Ancient mariners thought dragons were to blame for the storms that blew in on their voyages. Recently, many books and movies have been made based on the dragon.
Different people and cultures had, and still have, their own versions of what a dragon looks like. Some dragons have three, or five, heads and others have only one. The dragon usually has four feet, but sometimes, it may be depicted as having two feet. The dragon always has only two wings.
Dragon jewelry symbolizes good luck for the wearer, give the strength to choose between right and wrong and to help find strength.
Artist renditions of dragons vary from downright scary and ugly, to amazingly beautiful and mythical. Hopefully, you'll find our top ten dragon necklace picks functional and beautiful.
Our Dragon Necklace Selection (for Men & Women)!
1. John Hardy Legends Naga Gold & Silver Dragon Necklace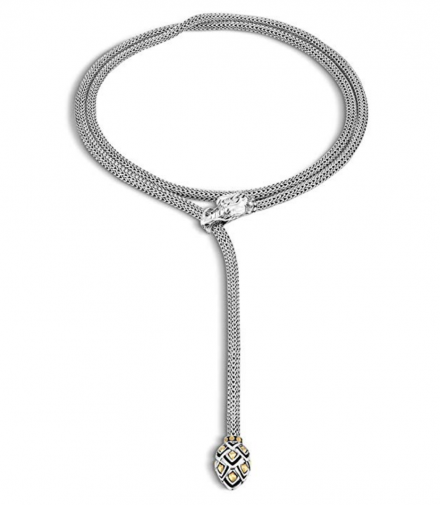 If you want a dragon necklace that doesn't look like a dragon, this stunning piece is for you!
This absolutely gorgeous necklace is 20 inches long and the chain is almost the entire piece. It's a very thick wheat chain, with almost a herringbone pattern. It looks substantial and likes it would be very durable.
The dragon head is at one end and the tail at the other.  This piece is sterling silver and 18 karats gold bonded.  There really is no clasp, but instead, the chain goes through the dragon's mouth.
The mouth, then, acts as the clasp of the necklace. On the tail, which hangs to the breastbone, are the feathers. On each feather, is a dainty piece of gold.  Each piece of gold is shaped like a shield.
This is kind of ironic as many view the dragon as a protector. The designer knew all along that the dragon is a symbol of fierce protection and integrated the shield into the design.
This beautiful (we can't say it enough) necklace would make a serious gift for a special lady. We like this piece with a classy dress or evening wear.
The necklace is completely adjustable. It can transform from a choker to a 20-inch necklace, with just a pull from your finger.
Cost? Yikes! This is the most expensive pick, on the list. However, looking at how beautiful it s and the fact it is 18 karat gold bonded, it's worth every penny!
2. Fusamk Titanium Steel Dragon Necklace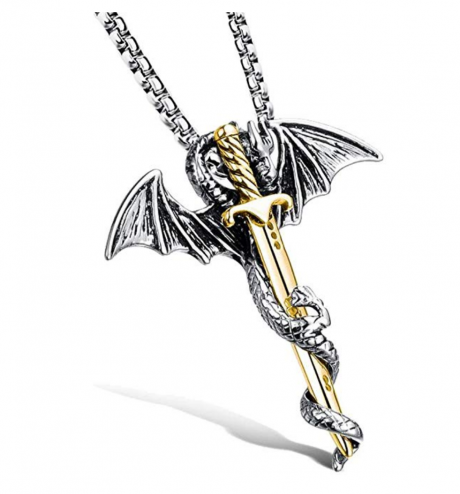 This piece is for the men. It's made of titanium steel and is kind of punk looking. The foot and tail of this silver-colored dragon are wrapped around a beautiful gold sword. He descends from a square box chain that is 600 mm, or 24 inches long and 2.5 mm, or about 1/10 of an inch wide.
The box design gives the chain added strength. The clasp on this piece is a lobster claw. The dragon necklace is made of white gold and the pendant has an attached loop for the chain to go through.
The designer made it to resemble the warrior spirit. If you know a guy with an affinity for dragons, this is the piece for him!
The price of this very nice piece is also very nice as well. You can grab it for what you might expect to pay for your dinner at a local restaurant.
There are no sizing options for this piece; an extension chain is not included.
3. Alchemy of England Dragons Lure Necklace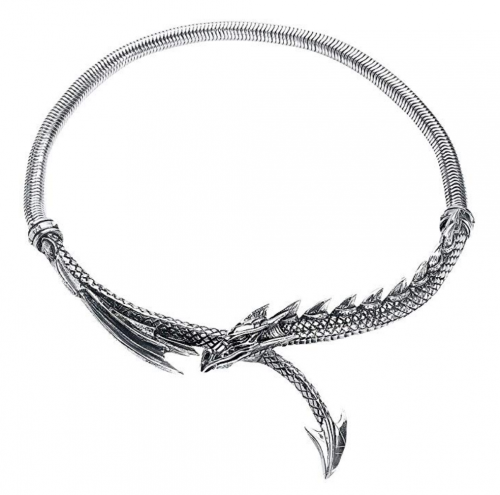 This piece is totally different and stunning to say the least. This dragon necklace starts at the head and ends at the tail, wrapping its way around the wearer's neck. The dragon's body is made of the pewter snake chain.
The neck and head extend from the body on one side and the wings and tail from the other side. The head overlaps the tail to fasten it and that in itself is different. It fastens with a magnet. No clasps to manage.
We think this piece may be unisex, but you make the call. It has a kind of goth, skater, or archaic vibe. This piece is ready to wind its way right around your neck and into your heart.
We would wear this piece with a collared shirt whether you are male, or female. We like the way it looks, under the collar.
The necklace is a bit pricey. We would call it mid-expensive.
This piece is not adjustable.
4. JewelrieShop Dragon Necklace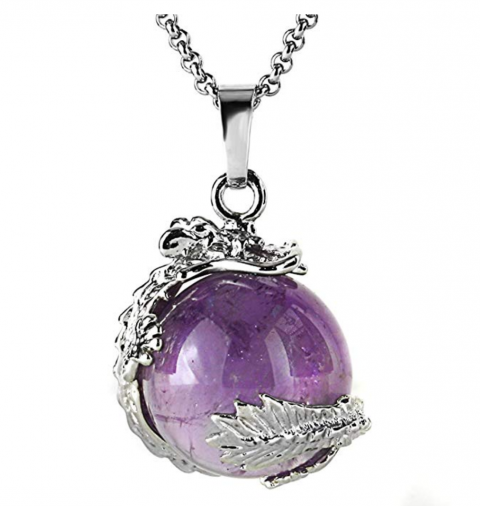 This pretty piece hangs from a 20 inch, stainless steel cable chain. A jump ring is attached to the dragon's head and a bale attaches the dragon pendant to the chain.
The dragon is made of a white gold plated metal and the clasp is a lobster claw. The dragon's head, feet and tail wrap around a gorgeous synthetic amethyst ball.
Amethyst is believed to have the ability to help with both physical and emotional ailments. Physically, it may help with the nervous system and insomnia. Emotionally, it is said to help with nightmares and ward off drunkenness.
The gem in this piece can be spun with your fingertips. It's another way to gain access to the healing properties of amethyst. It also gives you the option if you fidget.
This necklace may enrich your spirit and boost your well being, or it just may be that you're getting so many compliments that you just feel great!
The price for this is so affordable that it's almost scary. It's super cheap.
The amethyst ball is 18 mm in diameter or almost ¾ of an inch. It is about the size of a marble.
5. OS Sterling Silver Dragon Chain – Handmade Vintage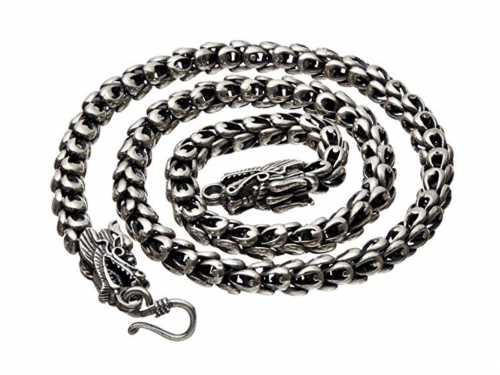 This sterling silver dragon chain is a unisex piece. We think a guy could wear it best, but ladies, if you're feeling a bit grungy, you'll be able to rock this piece.
The scales of the dragon form the chain on this piece. This necklace is unique because it is a two-headed dragon. The heads are at both ends of the chain.
It has a hook and eye closure. Coming from the mouth, at one end, is the hook and out of the mouth at the other end, is the eye.
It is made of 100% real.925 sterling and made with a special vintage process to make the silver look aged and weathered. It has a very thick and old look to it.
The linked chain is 32 inches long is 5.5 mm thick, or almost ¼ of an inch thick. It is nickel-free and hypoallergenic.
This option is the most expensive pick on the list. This is for the most serious jewelry buyer.
The 32 inch chain is 80 grams in weight, or almost three ounces. The great thing is that there are sizing options. It comes in 18, 20, 22, 24, 26, and 32 inches.
How nice!
6. Fusamk Hip Hop Titanium Steel Claw Crystal Ball Pendant Chain Necklace
This dragon claw is unique and very pretty. We do feel it could be worn by a guy or a gal, making it unisex. The pendant is attached to the chain by something as unique as the necklace itself.
In fact, we have never seen anything like it! It's not a jump ring and it's not a bale. It is a hollowed cube of titanium steel and almost resembles a tufted crown, of sorts.
From the cube, is a design that might be part of the lower leg. From there, you have the claw, which is holding the red ball. The chain is 2 mm, or 0.078 inches thick. The chain is a coreana chain.
This piece is extremely affordable. It's the perfect inexpensive gift for a person in your life who likes quirky and unusual jewelry.
The dragon necklace is very lightweight at 30 grams. That's only a little over an ounce. It will be very comfortable.
It is not adjustable and does not come with an extender chain.
7. RainTraders Game of Thrones Necklace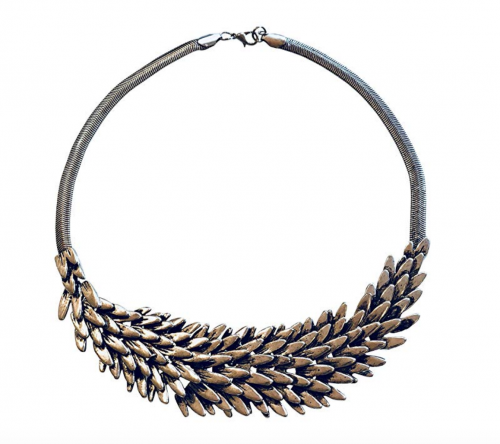 This pick may very well be our favorite pick on the list. It is as unique as it is gorgeous and not at all what you think of when you picture a dragon necklace. All you get on this necklace are the silver scales. We love it!
It is so pretty you can wear it with anything. Wear it with a dressy t-shirt, a collared blouse, or a dress. It can even transition nicely to evening wear.
Wherever you wear it, you'll be sure to make a statement and start some conversation.
From the lobster claw clasp, there extends a snake chain. From each side of the chain the scales begin. Each side starts with two scales and grows to the widest point, of 1.5 inches, at the middle.
The piece really couldn't be any less expensive! We would classify this dragon necklace as super cheap. And although it's classified as costume jewelry, you would never know it; it doesn't look super cheap. It looks as though it's far more expensive.
This dragon scale necklace weighs 2.88 ounces. The chain is 17.5 inches long and the piece is 1.5 inches wide at the middle of the scales.
It is not resizable and does not come with an extension chain.
8. COAI Dragon Phoenix Stone Couples Pendant Necklaces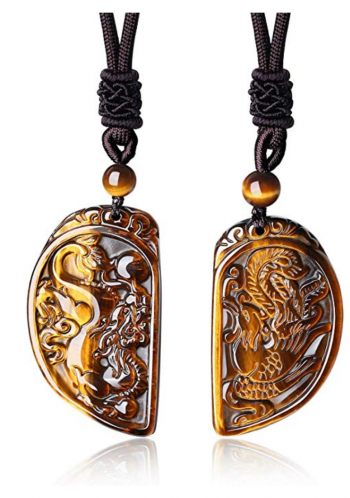 This is our first couple's piece on the list. Half of it is for him and the other half is for her. There is no clasp on this piece, but instead, a nylon cord is run through a bead and then is fastened to a tiger eye stone pendant.
The stone is a gorgeous piece and you'll see many shades of brown. They range from dark brown to yellowish colors. The men's pendant has an ornate dragon on it, while her pendant has a phoenix on it. Both are the same colors.
Legend has it that the dragon and phoenix are metaphors for a happy marriage or a great relationship. It definitely reminds you of each other when you wear them. The tiger eye stone is purported to sharpen the mind bring harmony, and bring mental clarity.
This stone is not lab created and you can wear it with confidence, knowing you are getting a quality piece.
The necklace is upper affordable. However, you get two for the price of one with this set. It's a great price for gift giving and committing to a relationship with that special someone.
This piece is extremely adjustable! You can style it from 17.5 inches to 26 inches and anywhere in between. All you need to do is pull the ends of the two strings.
Both pieces weigh less than 5 ounces.
9. Paw Paw House Dragon Necklace
This option is reminiscent of Native American design. There is a dream catcher in the piece and, perhaps that's what gives it this effect. The silver dragon rolls around the silver dream catcher and at the bottom of the dream catcher, there are three silver feathers attached.
The dream catcher is about the size of a quarter. The metal used for this piece is a zinc alloy. It is sterling silver plated and antiqued. It is nickel-free and leads free, making it hypoallergenic.
The piece has a rolo chain that is about 50 cm long, or about 19.5 inches long. We think this piece could be worn by either men or women, making it unisex.
We also think it would make a great gift for the Native American history buff you know.
The necklace is very affordable. It's about the price you might expect to spend on dinner for one.
It is light weight and the pendant is 3 cm x 5.2 cm, or 2 inches x 1.5 inches.
The dragon necklace is not adjustable and does not come with a chain extender.
10. Enchanted Jewelry Dragon Heart by Anne Stokes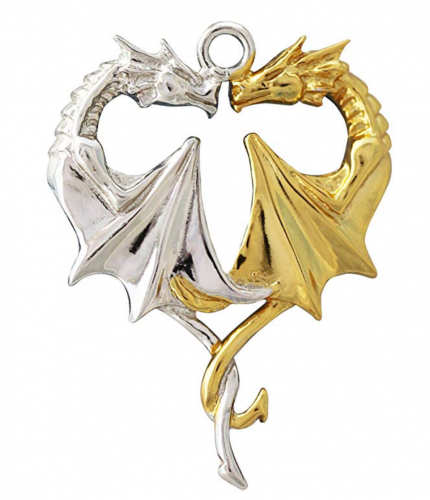 This stunning piece is for giving to the one you love. This is a heart-shaped dragon pendant. The colors of the dragons are white and yellow gold, plated over sterling silver.
The tails entwine and the backs are arched to form the heart-shaped embrace. At the top, the noses meet as if they are kissing. The piece conveys love that is here to stay and promotes the feeling that two are better than one.
On top of the noses is the ring used for the chain. The chain is 18 inches and it's 925 sterling silver.
This is a pricier dragon necklace. We would consider it to be a high mid pride point.
It would make a great gift for the serious guy or woman in your life.
Style Tips
We have seen many women rockin' dragon inspired pieces and among them are Judith Light and Amelia Clark. Priyanka Chopra wears dragon earrings and we have seen several women wearing serpent necklaces. The serpent is the distant cousin to the dragon.
Speaking of Hollywood, if you like a "Lord of the Rings " style, hang a ring on some of these chains that don't have pendants. We think it's a creative and fun adaptation and a great way to combine your pieces.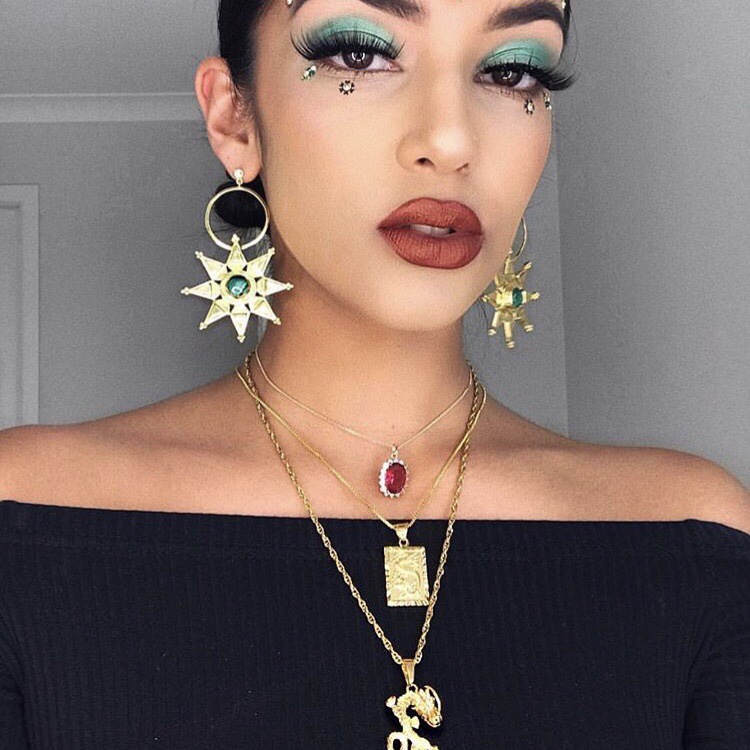 Most of these pieces can be layered with other pieces. They can be other dragon necklaces, or they could be plain silver or gold. If you combine them with other dragon pieces, the largest one will be the star of the show.
If you want to showcase a certain dragon necklace, stick to pairing it with the plain chains in varying lengths and types. That way, your piece will stand out and make a statement.
Some dragon necklaces can be dressed down and others can be dressed up. Just a few years back, barely anyone would have thought to wear a dragon choker with an evening gown or a dress. But with the advent of "Game of Thrones" and other dragon movies, these pieces have gained wide popularity.
We think you can wear long pendants with dressy t-shirts. But, if it's dazzling, wear it with a low cut dress. Wear the choker you have with a collared blouse, or you can take it up a notch and pair it with a dress or some evening wear you love.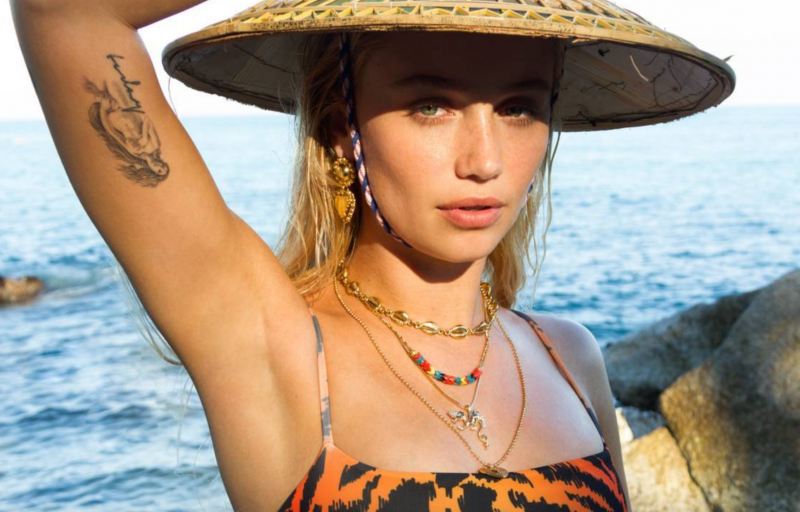 Don't forget your earrings and bracelets! Depending on your personal style, you may want to add some dragon earrings and bracelets with you dragon necklaces.
Style is so individual and it all depends on your fashion taste. Keep it simple and wear plain bangles, or cuffs, and some hoop earrings. Or, get heavier and use dragon rings, bracelets and earring for a darker look.
Criteria for Evaluation
When bringing you dragon necklaces, it was important to present pieces you were going to love and, quite possibly, love them for different reasons. We not only gave you selections that are easy to wear but functional as well.
In this day and age, when there are so many disabilities, it was important for us to give you a piece that would be a solution to a problem. If your piece falls apart and breaks, it's no good and not worth the money you spent.
The construction of these necklaces was a priority. None of these pieces are any good if they don't last. They had to be durable.
Most of the necklaces listed are made of 925 sterling silver. Typically it is quality material and, with proper care, it will last you a very long time.
Other materials in these pieces were chosen for their quality as well.
FAQ
1. What is a dragon?
A. A dragon is a legendary serpent-like creature that has evolved or survived many cultures. They are usually pictured with two wings, four legs, horns, and breathing fire.
2. Where does the word "dragon" come from?
A. It descends from Latin and The Greek. Latin is draconem and the Greek word is drakon, meaning giant sea fish, or serpent.
3. Is a dragon mentioned in the Bible?
A. Yes, in several places, though it's referred to by different names. In the book of Psalms Yahweh slained the sea-dragon.
4. Can a dragon have healing properties?
A. Well, no. But, the Dragon Blood Jasper is said to be good to balance the aura.
5. In Chinese culture, what does the dragon represent?
A. In China, it's thought that if a dragon is lazy, it will bring rain. When there's a drought, the Chinese pray to the dragon and conduct several rainmaking rituals.
6. Why do people wear dragon jewelry?
A. Many think wearing a dragon symbolizes strength and power. Others seem to wear it as a scare tactic as if to say, "Don't mess with me."
9. Is a dragon a mythological creature?
A. Yes, it is. There are so many dragons used in the mythology of varying cultures, there are way too many to mention.
There are dragons for the sea, ocean, and sky. Some dragons used to be goddesses, while some symbolize good and others symbolize evil.
Conclusion
For centuries people have used the dragon to explain things they didn't understand. This mythological creature has been used to explain the eruption of volcanoes and the storms in the seas. In some cultures, it is thought to bring good luck and in others, bad luck.
They are portrayed in a variety of ways…from hideously evil and ugly to mystical, crystal-like and beautiful. Some dragons breathe fire and others breathe ice. Recently dragons have gained popularity on the big screen and in literature alike.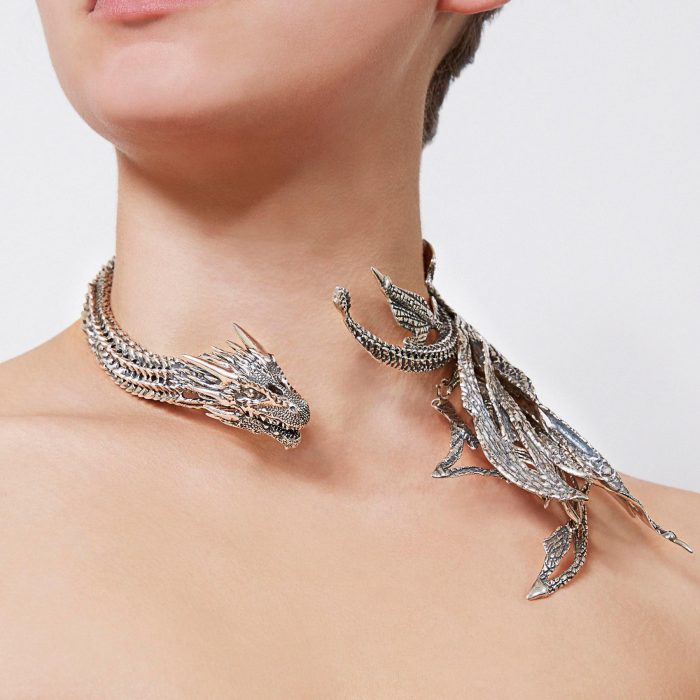 The characters often wear dragon jewelry which has given rise to their fashion acclaim and the demand for design.
If you want to keep your pieces looking awesomely beautiful and, for a very long time, there are several guidelines to follow.
✓ Keep your piece dry; don't wear it while bathing or swimming.
✓ Avoid sprays, like perfumes and hair spray, and lotions.
✓ Try not to touch it a lot. The grease and/or sweat on your hands may cause discoloration.
✓ Clean your piece with a soft, dry, cloth, unless the manufacturer states that you can use chemical solutions to clean it.
✓ Lastly, always store your piece in a soft lined container or pouch.
Be confident wearing your dragon necklace. You will get lots of compliments and, at the very least, it will be a conversation starter.