Mix / Rings / Women
10 Jade Rings We Found on Amazon & We are Getting Our Hands on
Success, wisdom, and wealth—those are the 3 meanings that sum up Jades. So quite literally, the stone is intertwined with creativity and productivity—hence we consider jade rings one of the must-have in any girl's jewelry repertoire. Or better yet, you can consider it the ultimate good luck charm. But that's just us.
So if you're here looking for a gift to give someone really special to you or you want to treat yourself, then we have some rings for you to consider. They, of course, are the best in their price ranges and feature the best use of materials that we've seen.
Our 10 Favorite Picks!
1. Karatgem Jewelry – KARATGEM Mixed Color Jadeite Jade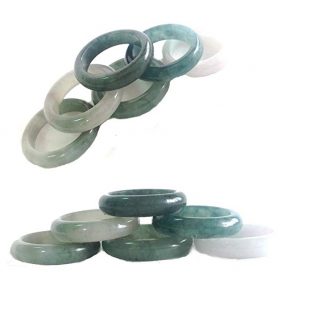 When you look at this jade ring from Karatgem Jewelry, the first thing you should notice is the unique mix of different jade hues (green to be more specific). The fact that it doesn't contain any other material than jade was another thing we noticed. And combining the 2, you start to see just how beautiful the ring is.
Still, looks aside—the ring purely carries the definitions of jade, as it's made entirely out of the stuff. In other words, the ring should be given to any girl you know who's constantly working herself to exhaustion. Alternatively, you can give it to any man that you know of. That can be directly from you or you can use the help of your daughter, in the case that you're giving the ring to her father in the first place.
The meaning here isn't necessarily that you're wishing him or her good luck. Rather, you've been staying up-to-date with their activities, so you notice the amount of work they're putting in. So giving them a gift like this shows that you've got their back and you acknowledge their efforts. In the case of your daughter who just graduated from college, this is one of the best rings that you can ever give.
2. Amazon Collection – Sterling Silver Oval Cut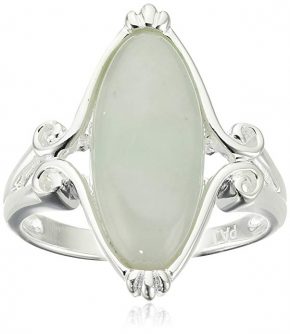 This here is another product from Amazon itself. Though this time—the company focuses on a ring—which frankly, is one of the best looking that we've seen. The ring uses a genuine oval-cut jade set just right in the center of a band made from Sterling silver. What we like about this awesome mix is that the product doesn't sacrifice anyone between looks and the build quality.
Here's what we mean: the use of Sterling silver is indicative of the strong build quality which is perfect if you're giving it to your daughter. At the same time, while Sterling silver is no good, it's still one of the best-looking metals that won't break the bank. The fact that there's an 18 x 8 mm jade at the top is just the literal cherry on top.
Now, having dealt with that part, let's move on to the topic of when you should be giving it to your daughter. We recommend not waiting till her birthday to give it to her. Rather, Christmas and New Year are just right around the corner, and this is a pretty great gift to give to her. Not only because it's beautiful and will easily grow on her. But because of a jade's definition as a precious stone that encourages creativity and success, we think both make up a combo that she'll due to the season.
3. Caprixus – Natural Blue Jade Ring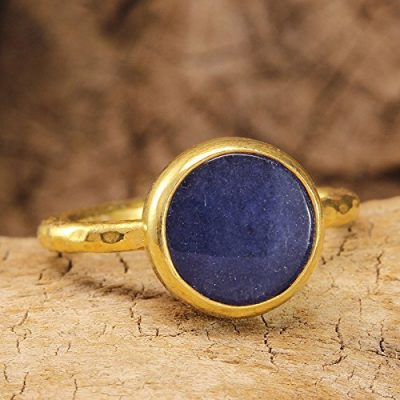 We just had to put the ring on the list due to its choice in materials. Here, the Caprixus ring uses a blue jade instead of the usual green—which is actually the highlight of the ring. You remember when we mentioned a jade meaning creativity and success, a blue jade takes a softer approach. Blue jades mean peace and serenity—which is definitely far different from the earlier definition. Nevertheless, while the meaning is quite different, the application literally remains the same. Blues jades can be given to any girl in your life and in any situation.
The band is actually Sterling silver despite that attractive gold hue. We think this was done to keep the cost budget-friendly—and thus, really inviting. But luckily, the fact that they're using materials that are more or less more than a fit for daily use doesn't mean the aesthetic appeal was completely skipped. Instead, what you see on the surface is 24K gold plating. It adds a layer of trust and then confidence since it's after all gold.
4. Palm Beach Jewelry – Gold Green Jade Greek Key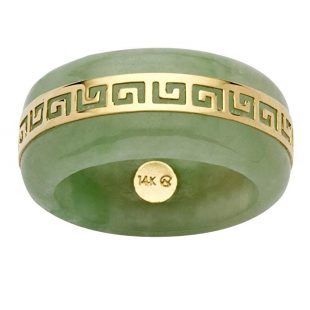 Get It Here
The Palm Beach Jewelry piece is definitely a looker with the 14K gold Greek key design that runs around its surface. Other than that, the ring comes made entirely out of jade (green hue this time around). There are no other materials on the option, which gives it a clean, almost minimal look. If you know any girl who loves designs like this, this is a choice to give to her. Shows you put it in a lot of thought before choosing a gift that you feel she'll fall in love with. The fact that it has a few sweet meanings just complements the whole thing.
That aside, you can give it to that special someone anytime that you want. In other words, you can either wait for an opportunity which may be your reason for being here; or you can just give her the gift out of the blue. An idea we have for the latter specifically is just wrapping the gift up in a box, with her name on it and placing it in her favorite spot in the house. This should catch her attention and even surprise her. If you're 'conveniently' out at the time, it's certainly going to boost the effect, and we hope you can try that out. Otherwise, throw someone the idea or maybe this ring itself to use when he or she is looking for a gift.
5. Lux – Genuine Green Jade Braided Eternity Ring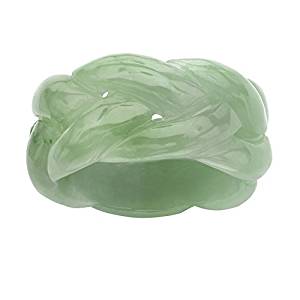 Get It Here
The Lux ring is entirely made out of genuine green jade. But unlike the previous ones with the same kind of build, this Lux ring is braided which changes the game considerably. But other than that, you won't find any other materials on the ring. As expected, we very much prefer this look since the neatness makes the ring an open template for other pieces of jewelry.
For example, the ring is applicable in any scenario; so if you are giving it to your daughter who is absolutely casual due to her job, then it's a great option. At the same time, if she's the type whose work requires her to go formal, it's not going to raise any eyebrow in any of her meetings.
Still, the price is something you just have to accept since it comes in at just below $100. But as it's the meaning that counts a lot, we can't really fault the company since this ring embodies success and creativity more than most.
Tip: Give it a try—albeit get a size one point higher than your own.
6. NYSK Dream – 925 Silver Green Oval Jade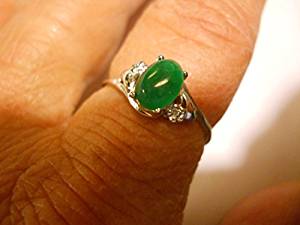 NYSK Dream's ring is a pure combination of jade and Sterling silver and it forms a gorgeous ring with a price tag that's budget-friendly. Mind you also the fact that the ring is no slouch when it comes to build quality. Jade is durable and likewise the metal used in making the ring. The end result of this is that the ring is perfect for day-to-day use on anyone's part.
If that "anyone" is you or someone really close to you is up to you to decide. Still, we advise that whoever you settle on, buy a pair or just select any other ring that catches your fancy on the list. Why? We usually buy some of our products in pairs. One for us—the other for the lucky dudes who made the effort to really know us.
If your anniversary is coming up soon, this is an option and strategy to consider for making one of the biggest impacts over the years. The best thing about this option is that your chosen rings for proposal (or as close to that) can last a long time provided you choose the best ones. This list here is just a shortcut to that. Nonetheless, let's not digress too much from the main point. If you don't have an anniversary coming up anytime soon, use it for anything you have in mind. Though here, we recommend the inclusion of a card with your love in the form of words on it.
7. Seta Jewelry – Green Genuine Jade Bamboo Ring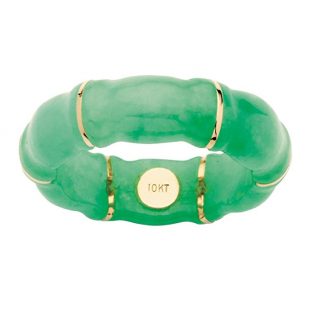 Get It Here
Before we start the review of Seta Jewelry's very beautiful ring, you should know that this list doesn't necessarily say this is the 7th best option. Instead, it's your choice—and as some of our colleagues mentioned, this is their favorite. In their words, "the ring has an exceptional balance when it comes to the highlights simplicity, good looks, and size (which is attractive in this case)".
Put simply, simplicity is a sign of the ring's flexibility when it concerns your wardrobe and the setting you'll be wearing it to. The good looks make sure it complements any item in your wardrobe and also seamlessly transition from one setting to another.
Finally, the size is just for the sake of convenience and style (vogue applies too). All 3 create a ring that you should give to someone who's inconspicuous and also loves to make a really short statement. If you know anyone like that (most of us), give this a try. Though, as expected, the price does need some getting used to if you're operating on a tight budget for now. Still, it does look really good, especially when it's on as it almost sits flush with your finger.
8. Caprixus – Natural Nephrite Green Jade 925 Sterling Silver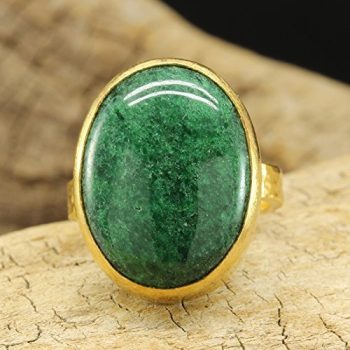 The Caprixus ring is a lot flashy than most rings on the list. It's a handcrafted ring that's made out of 24K gold vermeil, an excellent alternative to gold. Complementing that, the ring has a natural cabochon nephrite green jade sitting at the top. The jade sits flush with the gold itself and it creates one of the most well-built jewelry that we've seen at just under $50.
That said, the ring actually makes use of Sterling silver as the base metal. The 24K gold vermeil that you see on the top is simply present to add a bit of luster to the ring. Still, let's not digress too much. Caprixus is one of the manufactures that we've seen successfully maintain Sterling silver's integrity while the bright look doesn't suffer any.
This makes it the perfect piece for people who attends a lot of parties, dinners, etc. Otherwise, anyone you give it to will have to settle for wearing the ring during what she'll consider special occasions. We think this undermines the potential and thus, the definitions of jades as a whole.
But on the chance that you're looking for a ring to give a woman with a description like this, this is a perfect match. You're giving her a piece of jewelry that fits her element. So rather hold back with something underwhelming, you're showing your support by providing something that she's guaranteed to use. It's always nice to know that you have a man who wants the best for you.
9. Palm Beach Jewelry – 10K Yellow Gold Round Cultured Freshwater Pearl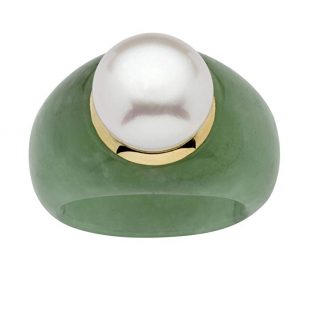 Get It Here
The Palm Beach's ring is pretty straightforward in design. It features the use of genuine jade which makes up the ring itself and 10K gold sitting just below an 11 mm sized pearl at the top. It's definitely feminine, though it does have this vintage vibe to it. This is why we recommend the ring to only specific women in your life.
That is if you want to put a smile on your mom's face, or you want to surprise your partner, this is the piece for the job. Now, here's the thing; depending on who you're giving the ring to, the meaning changes accordingly. If it's going to your mom, the jade ring serves as a show of constant support to her. Really shows that you appreciate her help over the years.
On the other hand, if you're giving the ring to your partner. Well, this just means she has your support when it comes to her performance at work. It's certainly a nice thing to say to any woman, especially since it's coming from her favorite man. Still, we need to tell you that the ring's size is something you have to take into consideration. This ring is a bit on the thick side, and for women who have petite fingers, this might not be the best option. But for anyone with bigger hands (fingers), it's the perfect choice since it's bold and the imposing look will be slimmed down.
10. Ice Gems – Sterling Silver Simulated Green Jade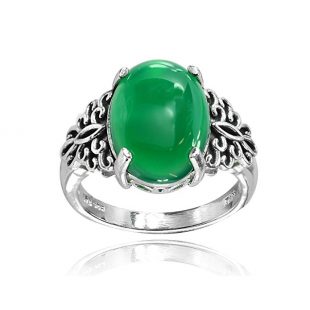 Get It Here
As usual, Ice Gems also uses a green jade to complete the ring's appeal. But underneath is where the magic lies. Carefully and artfully, the base is designed like a tong holding up the oval green jade. And that, like no other ring we have known, creates an odd vibe that feels old. To that, do you know anyone who loves jewelry that looks vintage? Or someone who doesn't necessarily care whether or not the ring is pretty.
This is a great choice for these specific type of people since this ring focuses on functionally rather than aesthetic appeal. Your daughter will most likely reject it if she sees an alternative. But if your partner or maybe even best friend is on the move a lot, this qualifies as a beater watch. The use of 925 Sterling silver makes it more than tough enough to resist most things.
To make the process of gifting it easier, the ring comes in a jewelry pouch. This is good if you're planning on giving her an impromptu gift. But for the upcoming holiday (Christmas and New Year) or maybe your anniversary/her birthday, we think it would be best to purchase a jewelry box to complete the package.
Other Information on Jade Rings
The History Behind These Jade Rings
In ancient times, the nephrite jade was common in China. It was the first of these type of materials to be found and used. Now the deposits are rare and depleted due to overuse. That said, in the past, they were used in the design of ornaments and beads. From there, they gradually became revered and were used to carve out artworks and decorations at ceremonies and on furnishings.
Around 3,000 BC, jades became a favorite in China, where they referred to it as a 'royal gem'. Following that, different virtues were attached to it. The stone's polish was attributed with purity, the hardness represented intelligence, the angles mean justice, and its sound when struck is music. There are numerous other virtues and each one is impressive as these 4.
There is a Chinese proverb to emphasize the importance of jades. It says 'Gold has a price, Jade is priceless.'
Types of Jades

Generally, there are three main types of jades. They include the Jadeite, Nephrite, and the Greenstone. The first two are well known, while the third is common to the people of New Zealand. The most common color that you'll find is of course green, however, there are orange and white jades too.
How to tell if the jade stone is real
Out of all the 3 types of jades we mentioned, only the jadeite and nephrite jades are considered real. If any brand tells you it uses either, this is how you can be sure.
Throw the jade into the air and see if it weighs more than it looks. If it does, it's probably genuine .
Tap the stone against a hard surface and notice the sound it produces. For genuine stones, it makes a clicking sound. But for ones that are fake, it'll probably sound like beads.
Here, you test how the stone feels in your hand. It should be smooth (kind of like soap) and cold to the touch.
The last test is the scratch test, though we understand if you don't want to do something like that. But for the brave, jadeite, for example, is very hard and will scratch glass. But in the case of nephrite, you may have to avoid this test altogether since this type of stones is quite soft.
These are basic tests, so don't expect them to be foolproof. Still, if these tests are done right, you should be able to measure to a certain extent whether or not the jade is real.
Q&As
What does Jade symbolize?
While jade means creativity and productivity, which are 2 necessary highlights of royalty in China at the time, it can still mean beauty and purity. Likewise, the stone represents eternity and love; the ingredients for a wedding.
How much is a piece of jade worth?
The price of the most beautiful jade seems to have increased in about ten folds over the past decades. An ounce of the finest jade could cost $3000, making it more valuable than gold.
Which color of jade is the most valuable?
The most common color you'll find jades in is pale green. However, the most valuable jade currently is the Imperial Jade and it's known for its emerald green hue. The jade is a translucent jadeite which comes from northern Burma.
What is the spiritual meaning of jades?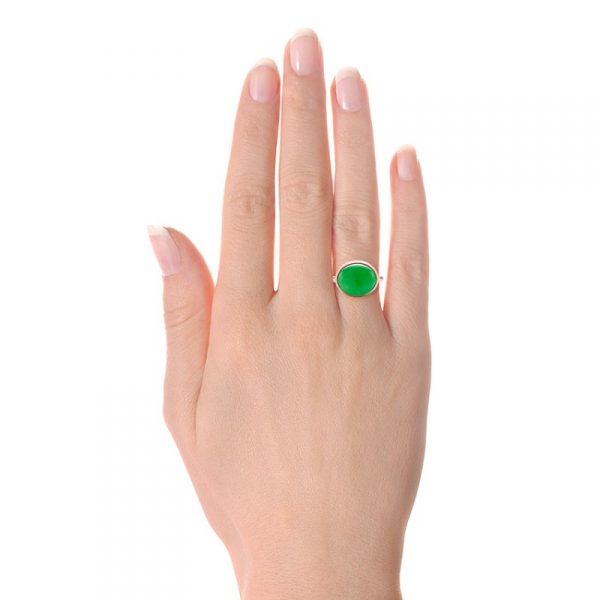 Just as the hue may imply, jades are considered healers when you take a spiritual approach to view them. They are said to connect the body, mind, and soul together in perfect harmony. From there, things such as joy, creativity, positivity, etc bleeds out.
Our Final Thought
Remember that jade is an ornamental mineral and it is used in making jewelry. Symbols are attached to it and it represents eternity and love when work it into the form of a ring. Otherwise, it means success/good luck which is needed either way.