8 Jade Rings We're Getting Our Hands on
last updated:
Sep 28, 2021
Jade is a classic and precious gemstone that looks phenomenal when paired with all metal types. It has a stunning history that makes it one of the most iconic vintage stones to have in your jewelry. Also, jade is incredibly versatile, with many color variations that make it easy to pair with all outfits.
If you're on the hunt for a prismatic and multi-faceted accessory to add to your collection, jade rings are our top pick.
Let's take a look at some of the most fabulously styled pieces you'll need to have.
8 Jade Rings To Put on Your List
1

. Ross Simons Multicolored Jade Ring
18k yellow gold plating
Sterling silver base metal
Engraved Chinese symbol
Multicolored jade cabochons
The Ross Simons Multicolored Jade Chinese Symbol Ring is a fun and flirty element that's decorative and radiant. You'll fall in love with the vibrant styling that will make it one of the more exotic and ornate pieces in your jewelry box.
Read more
First, it features a brilliantly polished 18k gold-plated band with sterling silver as the base metal, safe for skin allergies.
You'll also fall in love with the dual-colored jade gemstones added to the piece, elevating its appeal.
Instead of settling for a generic green jade ring, you'll have both green, lavender, red, and yellow jade cabochons. The polished stone looks premium-grade paired with the effortless finishing of the band.
To take the piece a step further, a stunning Chinese symbol engraved in the center represents wealth and positive blessings.
2

. Kohls 18k Gold Over Silver Jade Halo Ring
Polished jade stone
Sterling silver base metal
18k gold plating
.39" thickness
Jewelry lovers on the hunt for a contemporary yet classic ring will fall in love with the 18k Gold Over Silver Jade & Ring. It has all the elements you'd expect from a luxurious engagement ring but could also be worn as an everyday fashion piece.
Read more
When you see this ring for the first time, you'll fall head over heels for the natural elements in its design.
The most notable feature is the brilliantly styled jade gemstone in the center, surrounded by individually set cubic zirconia.
It has an organic flow to its appeal while also capitalizing on the prismatic nature of the glistening faux diamonds.
The dainty band is crafted from sterling silver and boasts an 18k gold plating, speaking to its resilience.
3

. Palm Beach Jewelry Pearl and Green Jade Ring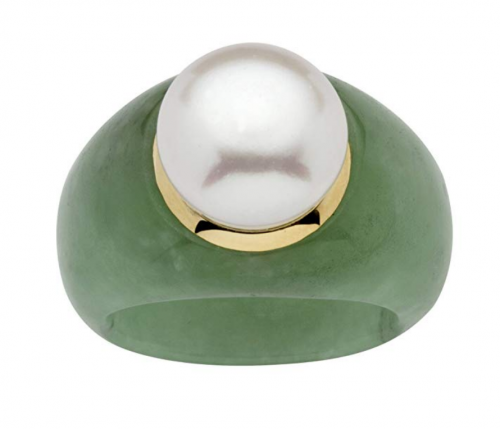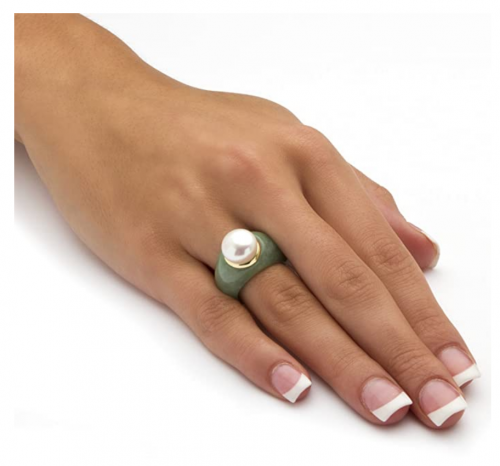 Genuine Jade
Round freshwater-cultured pearl
10k yellow gold
The Palm Beach Jewelry ring is pretty straightforward in design. It features the use of genuine jade which makes up the ring itself and 10K gold sitting just below an 11 mm sized pearl at the top.
Read more
It's definitely feminine, though it does have a vintage jewelry vibe to it.
This ring is a bit on the thick side, and for women who have petite fingers, this might not be the best option. But for anyone loving bold jewelry, it's a perfect choice!
4

. NOVICA Light Green Jade Cocktail Ring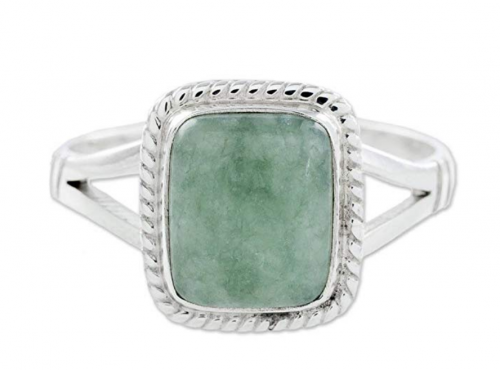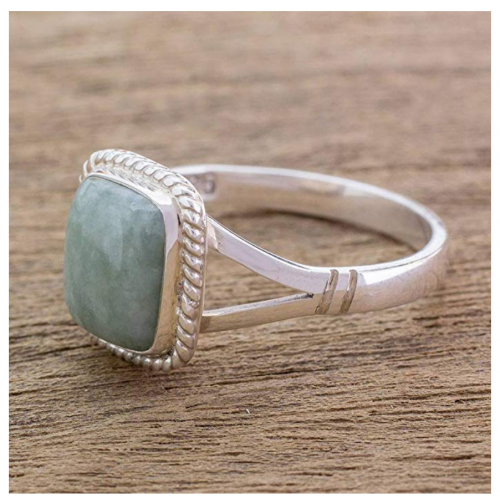 Sterling silver
Jewelry pouch included
Affordable
Carefully and artfully, the base of this ring is designed like a tong holding up the oval green jade. And that creates an odd vibe that feels old.
Read more
To that, do you know anyone who loves jewelry that looks vintage? This is the perfect pick!
The use of 925 sterling silver makes it more than tough enough to resist most things. To make the process of gifting easier, the ring comes in a jewelry pouch.
5

. Jadeite Atelier Eden Ring in Apple Green Jade
Type A Burmese Jadeite
Palladium-plated sterling silver
Champagne gold finish
Arrives with a gifting box
Just because jade is often seen as a vintage material doesn't mean it can't be used in modern pieces. The Jadeite Atelier Eden Ring in Apple Green Jade is a stunning fixture that you'll love wearing on its own or pairing with other components.
Read more
There's no doubt the focal point of this ring is the stunningly sourced jade centerpiece surrounded by polished metal. All in all, it's a relatively simplistic ring which is what makes it one of our favorites.
This piece is unique because it boasts Burmese Jadeite, a variation known for its youthfulness and fresh feeling.
It's one of the best colors for jade if you want an everyday fun and flirty accessory that feels lighthearted.
Also, you'll find the stone's coloring works perfectly with the polished champagne gold coloring of the band.
If you're looking for a more unique piece, this ring is a great option.
6

. Macy's Jade and Mother of Pearl Flower Ring
Jade band
14k gold-plated sterling silver
Multicolor Mother of Pearl
Floral motif
The Macy's Jade and Multicolored Mother of Pearl Flower Ring has everything you'll love in an ornate and vintage accessory. This is the type of piece that has an authentic flair that will stay fashionable through decades of fashion.
Read more
Instead of being sleek and dainty, this piece is more ornate and fancy, with several noticeable embellishments.
Another significantly unique feature is that the entire ring is crafted from high-quality jade.
With the addition of black, yellow, and white Mother of Pearl, it has a shimmering opulence that's sure to draw attention.
You'll find an assortment of floral accents crafted from pearl with stunning 14k gold plated pieces added for dimension.
The intricate features built into this ring elevate it to a whole new level, making it more of an art piece.
Speaking of the stone quality, all of the gemstones in this piece have been specially treated.
7

. Karatgem Jewelry Jade Ring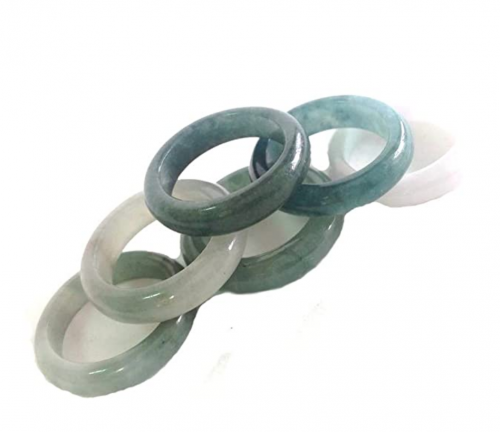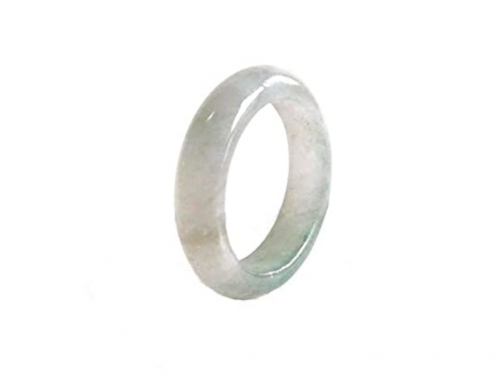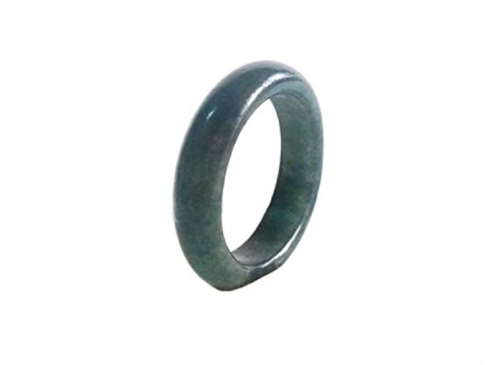 natural Jadeite jade
Gift box included
Affordable
When you look at this jade ring from Karatgem Jewelry, the first thing you should notice is the unique mix of different jade hues (green to be more specific).
Read more
The fact that it doesn't contain any other material than jade was another thing we noticed. And combining the 2, you start to see just how beautiful the ring is.
Still, looks aside—the ring purely carries the definitions of jade, as it's made entirely out of the stuff. In other words, the ring should be given to any girl you know who's constantly working herself to exhaustion.
The meaning here isn't necessarily that you're wishing her good luck. Rather, you've been staying up-to-date with their activities, so you notice the amount of work they're putting in.
So giving them a gift like this shows that you've got their back and you acknowledge their efforts.
8

. Macy's 14k Gold and Sterling Silver Ring
Rectangular jade stone
Barrel-shaped band
14k gold embellishments
Sterling silver setting
Barrel rings are a fabulous addition to any jewelry collection because they're an iconic unisex style. Whether you want a ring for yourself or a loved one, this is one of the most versatile pieces we've come across.
Read more
The unique style of this ring is thanks to its barrel design, featuring softened and rounded edges for comfort.
It also helps to add a more flirty appeal, especially with the combination of gold, sterling silver, and green jade.
All of the highlights work perfectly together, setting the stage for the gemstone, which is the ring's focal point.
The rectangular jade is a breath of fresh air compared to more traditionally styled pieces.
You'll also find the two gold bands on either side of the stone add the perfect amount of contrast.
With the special treating applied to the jade stone, you'll find all of its most beautiful qualities shine through.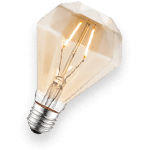 The History Behind These Jade Rings
In ancient times, the nephrite jade was common in China. It was the first of these types of materials to be found and used.
Now the deposits are rare and depleted due to overuse. That said, in the past, they were used in the design of ornaments and beads.
Around 3,000 BC, jades became a favorite gemstone in China,and they referred to it as a 'royal gem'. The stone's polish was attributed with purity, the hardness represented intelligence, the angles mean justice, and its sound when struck is music.
There is a Chinese proverb to emphasize the importance of jades. It says 'Gold has a price, Jade is priceless.'
How to tell if the jade stone is real
Generally, there are three main types of jades. They include the Jadeite, Nephrite, and Greenstone. Only the jadeite and nephrite jades are considered real. If any brand tells you it uses either, this is how you can be sure.
Throw the jade into the air and see if it weighs more than it looks. If it does, it's probably genuine.
Tap the stone against a hard surface and notice the sound it produces. For genuine stones, it makes a clicking sound. But for ones that are fake, it'll probably sound like beads.
The last test is the scratch test. Jadeite, for example, is very hard and will scratch glass. But in the case of nephrite, you may have to avoid this test altogether since this type of stone is quite soft.
Frequently Asked Questions
q:

Is jade good for rings?

a:

Jade is a spectacular stone for rings that captures a vintage and classic appeal that other stones lack.

With its beautiful green hue, it's an iconic staple of high-priced jewelry, adding to the opulence of any ring.

You'll fall in love with how easily green is paired with silver and gold-toned metals, making it iconic for any occasion.
q:

How expensive is real jade?

a:

The most common feature used to determine the value of jade is its color. There are various shades of green, and the stone can also be found in yellow, black, white, orange, etc.

The most expensive variation of jade is known as Imperial Jade, which can cost millions of dollars.

Other variations of the stone, such as Nephrite Jade, are significantly more affordable at approximately $90/pound.

It's important to note that depending on where the stone is sourced can also affect its retail price. Nephrite Jade sourced in Canada can be as little as $90/pound, while stones from Russia can start at $227/pound.
q:

Which color of jade is most valuable?

a:

There's no doubt that Imperial Jade is the most illustrious and expensive color of jade that you're bound to find. It has a stunning translucence that also contains chromium adding to its richness. There have been instances where Imperial Jade has sold for millions of dollars.

The second most valuable color of jade is lavender jade, especially if you find a stone that's uninterrupted and untainted.

The more attractive the coloring is, the more desirable it will be in the eyes of collectors and buyers.
q:

What does a jade ring symbolize?

a:

Jade is a stunning stone that also has a beautiful history associated with many deep meanings. In most circles, you'll find it can symbolize harmony, healing, hope, and love.

It's also a material commonly used to represent eternity, whether in the form of rebirth or commitment.
q:

How do you know if jade is real?

a:

Checking the authenticity of your ring's stone is of the utmost importance to get an idea of its value. Looking for flaws is one of the best ways to tell if you have a genuine stone or not, though it can affect its value.

Genuine jade will have vein-like fibers and other impurities, although bubbles clearly indicate the stone is fake.

Our recommendation is to use a professional appraiser or purchase a jeweler's loupe for higher magnification.

Using this tool, you'll be able to see up to 30x more detail, helping you determine the authenticity of your stone.
q:

What does wearing a jade ring mean?

a:

When you adorn a jade ring, it can have a dozen different meanings. It's often worn as a symbol of healing and harmony, helping to balance your inner thoughts and peacefulness.

It can also be used as a symbol of hope and positivity, which is why it's one of the most popular gemstones.