Be Inspired: The Most Iconic Film Jewelry
Fashion magazines and websites can give some great sartorial inspiration for your wardrobe and jewelry box. But, have you thought about checking the silver screen for your inspiration. After I saw the movie Sucker Punch I wore thigh high socks for months. The big screen is a great place to find some jewelry inspiration. There have been iconic film jewelry looks, almost since the inception of cinema – statement pieces that are just as memorable now, as the first moment they appeared on the screen.
Iconic Film Jewelry – The Best Jewelry Looks
So let's skip the previews and get straight the main feature, and take a look at some of the most stylish and iconic film jewelry.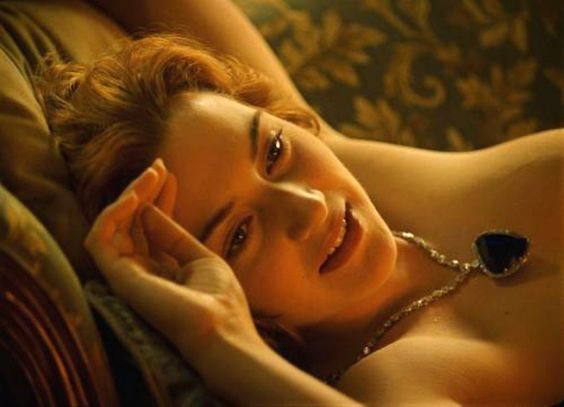 Kate Winslet in Titanic –
James Cameron's 1997 blockbuster featured one of the most iconic pieces of jewelry, ever to feature in a film…The Heart Of The Ocean. The beautiful and huge, sapphire pendant, worn by leading actress Kate Winslet in her leading role as Rose. The stunning pendant was gifted to her by her fiance, but it still wasn't enough to keep her out of Jack's arms – why didn't he climb on the floating door too…it doesn't make any sense.
Anyway, back to the pendant. It isn't actually real stone, it is a prop piece inspired by the infamous Hope Diamond, made by Harry Winston. However, there is a real Heart of the Ocean, which was commissioned after the success of Titanic. It was valued at $4 million, and created from a huge 170-Karat sapphire and 103 (yes 103!) diamonds. Actress Gloria Stuart (older Rose in the film), was lucky enough to wear the piece at the 1997 Oscars.  If you don't have a spare $4 million, there are plenty of lovely replica pieces out there, so you can feel like Rose too.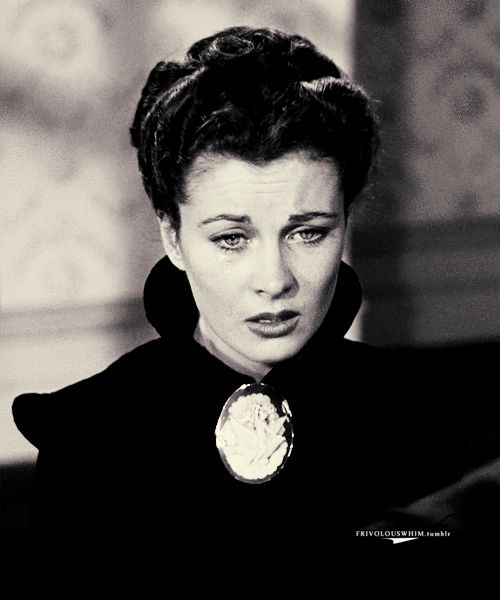 Vivien Leigh in Gone with the Wind – Frankly my dear, I do give a damn about the fabulous oversized cameo brooch worn by Vivien Leigh in Gone with the Wind. The film may have been released in 1938, but Scarlett O'Hara is still one of the most stylish film characters of all time.  She made grief look good, in that fantastic mourning dress, teamed with an amazing cameo brooch.
The brooch actually belonged to the mother of the costume director, which was loaned to Vivien Leigh for her mourning scene. Brooches are actually a big jewelry trend for Summer 2016, so why not take inspiration from Scarlett and team some high collars with oversized brooches.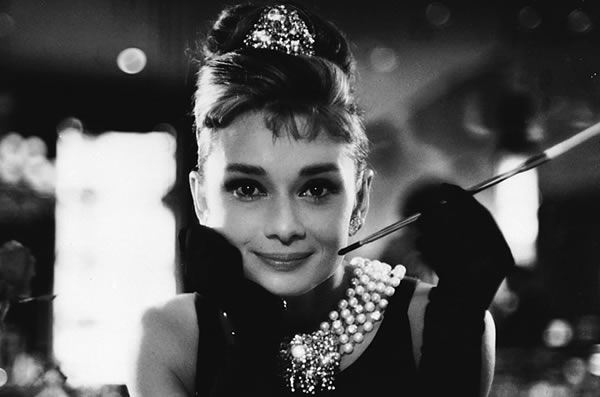 Audrey Hepburn in Breakfast at Tiffany's – It wouldn't be an article about film jewelry, without mentioning Audrey Hepburn in Breakfast at Tiffany's. The 1961 adaptation of Truman Capote's novel featured the ultimate class in character Holly Golightly. Who could forget that absolutely amazing multiple stars and pearl necklace with the diamond centerpiece, teamed with that incredible black Givenchy haute couture gown? Plus that tiara, opera-style gloves, and the long cigarette holder…she is the ultimate in elegance.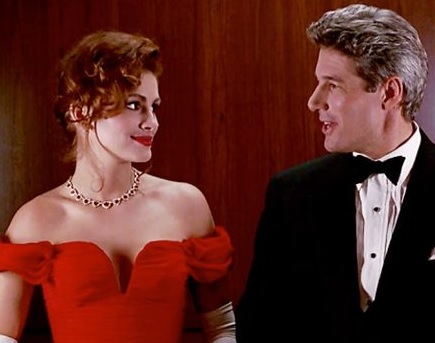 Julia Roberts in Pretty Woman – What girl doesn't love the scene in Pretty Woman, where Julia Roberts' Vivian walked into the fashion boutique with the snooty assistant who wouldn't serve her and utters the words: "Big mistake. Big. Huge." But a close second in the best scenes of the movie is that super cute, an infectious laugh of Vivian's when she reaches to grab that stunning ruby and diamond necklace and Richard Gere, snaps the box shut on her fingers.
Who didn't want to be Vivian in that moment – the stunning red gown, matching red lips and those gorgeous white silk gloves. Then there is the necklace that is the icing on the cake. And what icing it was, with 23 pear-cut rubies, surrounded by diamond hearts, it was worth well over $1 million.
Marilyn Monroe in Gentlemen Prefer Blondes – She was the ultimate blonde bombshell and wears perhaps the most memorable piece of film jewelry ever. As singer Lorelei Lee, Marilyn performed the song 'Diamonds are a Girl's Best Friend' in an amazing hot pink satin gown, matching gloves, and that incredible diamond necklace.
The necklace she wore didn't just draw attention to Marilyn's ample bosom, it also has quite an interesting history. The 24-karat yellow diamond necklace is known as the Moon of Baroda and was in the property of the Maharajah of Baroda, India for 500 years, until the 18th century when it went to Austria and Empress Marie Theresa. It was then stolen and returned to Baroda for 200 years until it was bought by Meyer Rosenbaum. He loaned it to Marilyn Monroe, and it became a film jewelry icon, thanks to its beautiful wearer.
These are certainly all representations of iconic film jewelry, but it is just one opinion. Maybe you're more of a fantasy fan, and think Gollum wore it best with the 'One Ring of Power'. Or perhaps you have regal aspirations and think that Elsa's ice tiara in the best piece of film jewelry. Whatever jewelry look you love from the film, why not take inspiration from it, and give your jewelry box a Hollywood overhaul.