Mix / Necklaces / Pendants
Butterfly Necklaces for Girls & Women!
Let's be honest with each other, it's only the expectations from society itself that takes away all of our childish tendencies. A little bit of "You shouldn't do this at your age" and "show some maturity once in a while" will start getting rid of any childish behavior that you previously had. If that doesn't work, then goals you personally set for yourself slowly takes over. They'll be your destination; what you have to do before a particular time is up. And after a while, there just won't be enough time for you to personally express yourself. Why not express yourself with some beautiful butterfly necklaces.
So then, if you can, remember all the different pieces of jewelry you wore when you were younger. In this case, especially, remember necklaces that you wore. From some depicting the different animals that exist (pink dolphins, birds, and even monkeys) to others that show cartoon characters like Minnie Mouse and Cinderella. We have all had some fun with them, and secretly, beneath all our goals and the expectations set on us, we still want one of them.
So we thought, why not find some type of necklace that's a perfect mixture of chic and childish. We use this to satisfy that little girl that still wants a butterfly necklace after years. Don't worry, people might even give you compliments on how good these necklaces look on you. Not how childish or immature they make you look. Perfect yes?
The Cutest Butterfly Necklaces That Are Also Affordable!
1. Blue Butterfly Necklace with Swarovski Crystals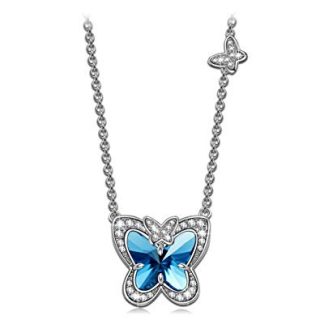 Butterflies are symbols of joy and positive change. Remember the saying about a butterfly flapping its wings and change occurring on the other side of the world? So, when you opt for a butterfly necklace, or you are looking for a symbolic gift that you can give one of your friends, we find this perfect.
It means change is coming, even if you or the person are not expecting it. It's really a physical representation of goodwill, either towards yourself or to others that you know. It's refreshing if you ask us.
It comes in an elegant box which means you won't need to buy a gift box if you're giving it out as a gift. It's of good quality also. So, it'll accommodate the necklace for a long time. This is one more aspect that we love since that durability will help prevent any unsavory embarrassment.
The pendant is 0.63 × 0.63 inch, so it's not really all that big that it'll cause discomfort. After that, we have the chain which measures 18 inches in length, and is made from zinc alloy, that's been plated with white gold. The aesthetic appeal is actually very cool. And the fact that you can use other pendants (butterfly or otherwise) is impressive as well. Still, make sure you ask the person you're giving it to. Not all of us like butterflies after all.
2. S SIVERY with Crystals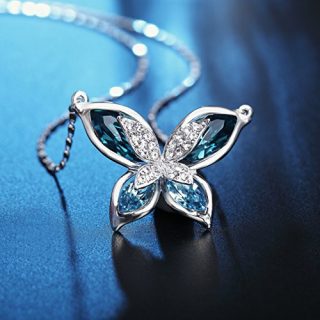 If you have a friend who hasn't very well left her childish tendencies behind (though that's the reason why you love her so much), and you want a gift that she doesn't have already, we would personally give her something like this. It's made from blue and white Swarovski crystals, which are then shaped into the form of a butterfly.
The chain holding the 1.34 × 0.35-inch pendant is 18 inches and it's really durable. We mean it won't fade nor will it break. Though the chances of the latter happening are actually low. A rhodium alloy is used to achieve all of this. It's one of those necklaces that you give out to others with good intentions towards them. It's all about positive vibes and we think it's perfect even for anniversaries, despite the fact that it's budget-friendly. It's after all about the heart and what you pour into the gift (your intention), not the cost.
That's a tip in case you're planning to give an expensive gift together with this. True love doesn't have a cost, but a girl needs to show off too. A gift box is included in the package too. Making it perfect for anything you have in mind.
3. WDSHOW Rose Gold Stainless Necklace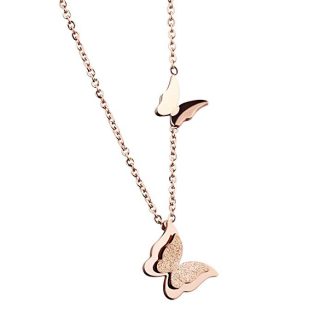 Unlike most of the products on the list, this particular butterfly necklace comes in two options. The first that we obviously found is the necklace. Before anything, we want you to know that it is made from surgical grade steel. To put that in perspective, it's the same kind of steel used for creating tools used in surgery. Meaning it comes with all the safety and durability. It is then further plated with rose gold to give a chic aesthetic appeal that'll simply melt any person's heart. And all at a comfortable weight of only 4g.
The second option after this is perfect if you want to go all out. It's the option of butterfly earrings that are like mini pendants. The earrings are also plated with rose gold, which directly increases the appeal, as both necklace and earrings are matching. It's your choice which option you choose, though know that both options together are budget-friendly.
If you're intending to give this as a gift, go on ahead! It's not going to look too much, and even if the person you're giving it to doesn't like to wear both at the same time, she can just wear one piece at a time. If you have twins, this is a sweet option to consider. Otherwise, it's still going to look good if you can give each of your female colleagues or employees one piece. In this case, the target is increasing the team bond.
4. T400 Jewelers Butterfly Pendant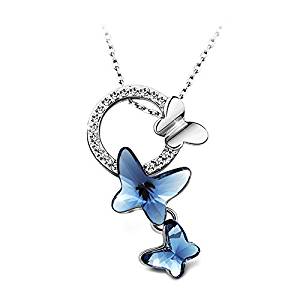 This product is a bit different compared to others as well. It comes in 8 colors, and depending on what you like the most, just choose. In fact, we have a really simple tip for this if you're gifting it to a partner or your friend. Find her daughter's color and hers as well, and purchase butterfly necklaces in those colors for her. If you don't find their favorite colors, find something as close to that as possible.
The butterfly, like others above, is made from Swarovski crystals. They beautifully absorb light to act as eye-candy. Also, they're not going to pop out anytime soon in case you're wondering about that. As a matter of fact, the butterflies are entirely made from a single piece of crystal to ensure they last for a long time. All hanging on a rhodium-plated alloy that can handle daily use for an indefinite amount of time. You don't even need to do any maintenance on the necklace. Though, our stance on that particular matter is clear as day.
There's a box that the necklace comes in. If you want your anniversary to feel almost like you're proposing again, it's absolutely perfect since it just pops out. And you help her wear it like you did with the ring.
5. S SIVERY Butterfly Kiss Necklace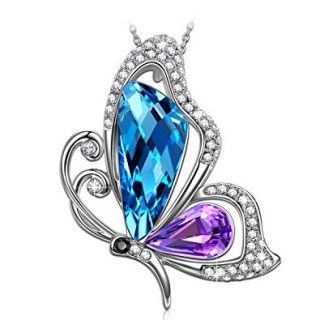 This is another piece from S SIVERY. Though, the color scheme and design are different. We find it perfect if you want to show off a bit. Two Swarovski crystals are used; a light purple piece and a sky blue one. The combination of both colors is definitely a sight to see. Especially with all the single-colored butterfly necklaces we've seen.
The chain holding the pendant is made from an alloy that's coated with rhodium. Hence, you can expect that it doesn't necessarily bleach. It's just that kind of jewelry that does not cost a fortune, whilst still being beautiful enough to impress anyone you give it to. The chain measures an impressive 18 inches in length and the weight is only just 0.5 ounce.
Before we forget, do remember the meaning of butterflies. They represent change, and if you want to propose to your girlfriend, it's actually perfect considering the tone you're hoping to set. Nevertheless, this is only if you're planning on giving the necklace pendant as a gift.
6. White Gold-plated Multi-color Swarovski Crystals Necklace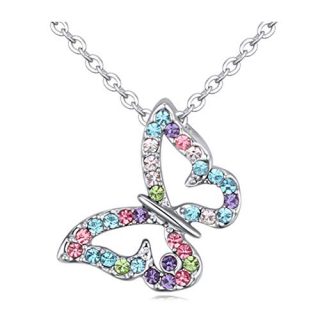 It's exactly like the name implies. Though, it doesn't mean it's strictly for little girls. This piece is one of the most gorgeous we've seen. The butterfly itself isn't cut from a single piece of Swarovski crystal like others. Instead, it takes the form of 4 different colors of both Swarovski crystals and cubic zirconia. Blue, pink, light purple, and white crystals are mixed together to create an impressive design.
It's like a butterfly made from a rainbow of colors, so you need to be careful, as it may be a tad too girlish or pretty for you. This stays even if it's going out as a gift. Her preferences must come first, in which case, more simple looking necklaces may have to be chosen. The butterfly measures 0.63 × 0.63 inch, which is a good size. It won't be too small that people won't notice the pendant, and it won't be too big that it'll be a turnoff. And that's without considering the increase in weight.
The chain measures 18 inches and it's plated with white gold. It's rather inconspicuous as most people will think it's actually silver. Some people love pulling off this kind of effect, and you should actually know someone like that too. Everything comes packaged in a light and beautiful gift box. Rather straightforward if you're giving it to someone.
7. Aurora Tears Amethyst Birthstone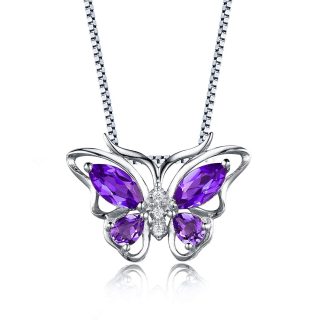 The first thing that came to our mind was how cool this butterfly necklace would look on our grandmothers. The chain used is modern and elegant while the butterfly itself comes in a variety of colors. Though, we personally prefer the rainbow option. You can go for purple, which means power, stability, and luxury (rare). Three meanings we're sure your grandma would appreciate (especially the last part).
The chain is 8.86 inches and it's made from Sterling silver, a metal known for its durability. Combine that with the fact that it's plated using 18K rose gold and you'll especially like how long you can use it without fading. Moving on to the butterfly itself, it's not that big, nor is it small. It just sits in the middle and rests comfortably around your/her neck.
With its simple looks, we doubt there is anyone who wouldn't appreciate it. You can even combine the necklace with other ones that you have if you are aiming for a plain, but still posh vibe. The possibilities are literally endless if you think of the outfits and other accessories that go with the butterfly necklace.
8. AOBOCO Sterling Silver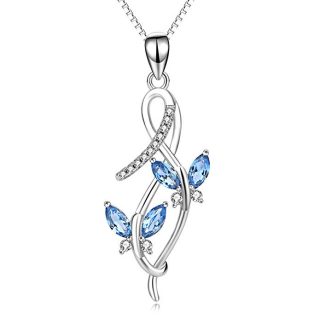 The AOBOCO piece is a combination of a looped metal and Swarovski crystals. Firstly, let's talk about the Sterling silver used in the chain and infinity loop construction. It's super durable and so wouldn't break under a little stress. After that, the silver is plated using 18K white gold. The end result is that you get a perfect balance of functionality and aesthetic appeal. You don't need to choose between either since you can keep both to your yourself.
The same thing occurs in the use of Swarovski crystals. They're there to stay and neither you nor the person you're giving it to is going to experience them popping out anytime soon. Likewise, they shine kind of like diamonds which are very cool. Once more and like we said, you're getting the best of both worlds.
Other than the aesthetic appeal and functionality, there are emotional attachments made here as well. Infinity means forever, and if you're intending this butterfly necklace for your partner, you're in, simpler words, telling her you'll love her forever. Rather tight yes? It's perfect for anniversaries also, and even in some twisted way (pun fully intended), the infinity design makes the necklace ideal for birthdays/baby showers too.
Questions Asked about these Butterfly Necklaces
We've compiled some questions that you'll most likely be thinking about. We did it because instead of you looking for answers elsewhere, it would be much better and more straightforward to include the answers here. We like being organized and we're sure you'll appreciate this fact.
What's the Difference between Swarovski Crystals and Cubic Zirconia?
Ordinarily, you know that crystals are defined as naturally occurring. But then, we know that both Swarovski crystals and cubic zirconia are man-made crystals. So, between the two man-made crystals, what are the differences to know?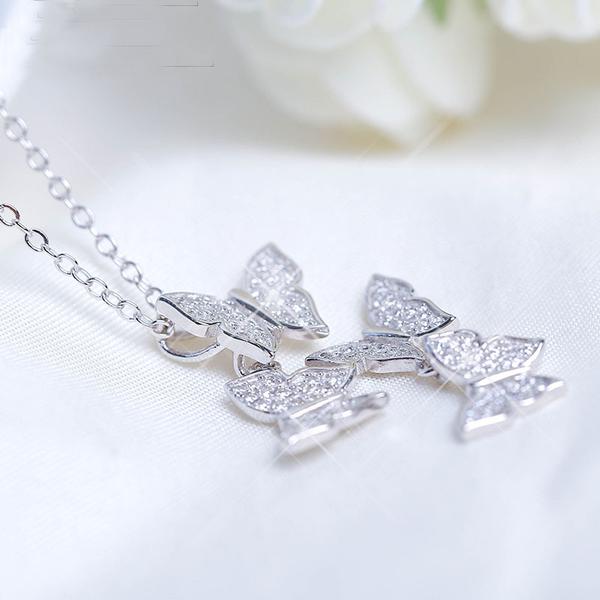 The first thing you have to know is that Swarovski crystals are much cheaper than cubic zirconia. This is because of the processing of CZ (cubic zirconia) which even eats up more materials than Swarovski crystals. As a result of this, CZ is much more durable than Swarovski crystals. They're essentially the closest crystals to diamonds that you can purchase. As a matter of fact, in a hardness test, diamonds score a 10 while CZ scores an impressive 8.5-9. They're not that far off from the result of diamonds, and still, they remain budget-friendly.
What's the Difference between Man-made Crystals and Diamonds?
Man-made crystals used in all of the products above are Swarovski crystals and cubic zirconia. After that, we have naturally occurring stones like diamonds. Now, the real difference between these man-made crystals and naturally occurring ones like diamonds is the cost.
Yes, everybody would look radiant in a jewelry made of diamonds. The attention that it commands, the fact that you too know how much adorn your neck, ears, or any other part of your body, adds a certain grace to your steps. Still, despite the potential and pride, you'll feel when you wear diamonds, there is still the matter of how much it's going to cost you.
Due to that kind of scenario, man-made crystals were made. But then you have to know that both types of crystals are actually modeled after precious stones like diamonds and the others. They are created to have the same kind of shine/sparkle, but not the same cost. So, you get to move gracefully, and with full assurance that you don't need to break the bank.
Why are Butterfly Necklaces Made?
Other than the fact that butterflies represent change, a major reason why people wear them is because of the childish innocence that they seem to bring back. They're nostalgic by nature, and to us, we usually remember babies and their cuteness.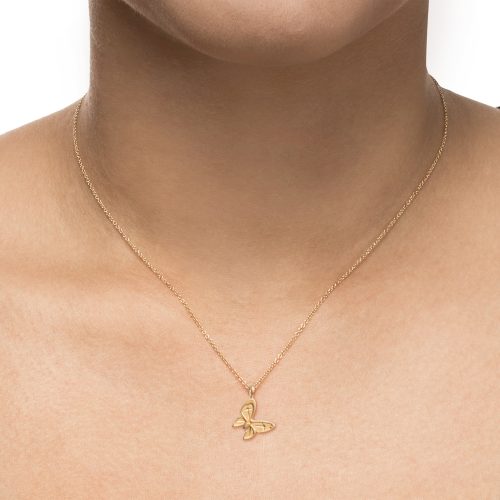 That level of cuteness though isn't meant for us grown-ups again, no matter how much we want it. So, butterfly necklaces have a side of playfulness to them. They make us feel young again and at the same time, gives us a nice change from all the usual necklaces that we wear.
In What Settings is a Butterfly Necklace not Suitable?
We doubt there's any situation where you can't wear a butterfly necklace. At work, the only thing you have to do is cover up the necklace with your shirt, and you directly prevent stares. At home, who's going to stare at you in your own home? Outside? That's even one of the reasons why you bought it. The only places might have to be special occasions where you may need to find something more suiting. In official occasions, you know you need to wear something with a bit more bling and plain. The butterfly just dulls the mood in such cases. So no animal/insect pendants. If it's an official dinner now, you know you can be a bit playful, but you need to be bold as well. Depends on the mood is what we mean.
How to take Care of Your Jewelry Piece?
The first thing you should get is a soft cloth (preferably cotton), and then softly rub it over the necklace. You can use a cotton bud (or a baby's toothbrush too) to reach those tiny spaces that you can't reach with the cloth. Please don't use paper, polyester, or anything coarse to clean the necklace as any of them can easily cause scratches. Maybe it won't be immediately, but over time, you definitely won't like the look.
The same thing applies to both cubic zirconia and Swarovski crystals. The only thing that changes is that you should avoid using circular motions to clean any of them. Also, you may need some warm water and soap if you want to pull this off properly. Steam the necklace to soften any dirt stuck in the tiny spaces found on the necklace too. Nevertheless, there's still a much faster way that you can clean your necklace and even others. Buy an ultrasonic cleaner and use them to clean all your pieces of jewelry. Don't worry about the cost since ultrasonic cleaners are usually inexpensive.
How to Choose a Necklace Length?
We know it's exciting when you're buying a new accessory for yourself. But if you're buying the accessory for someone else, you must be nervous! It's perfectly normal, as in this case with butterfly necklaces, the intention is right, but what if the size isn't? What was supposed to be a smooth integration onto her neck, becomes an affair that isn't so straightforward. You have to go reduce the length before it'll be perfect.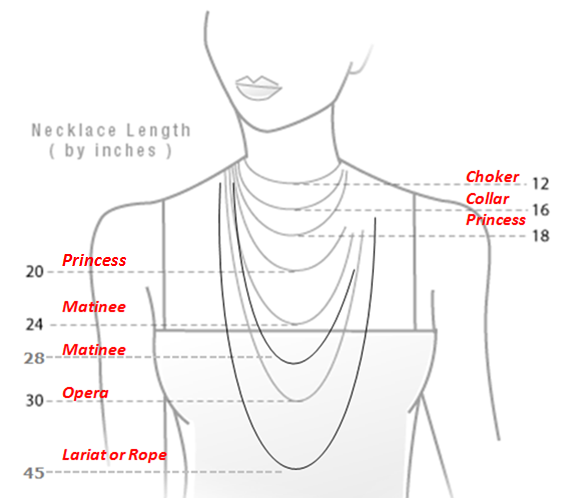 But then, you don't have to worry about that if you can choose the perfect size for yourself/her. To begin with, we have to tell you to consider styles/personal wardrobe. What type of clothes do you wear? How long or short should the chain be to fit those clothes? Is another chain what you need since you're not feeling the pendant? If the necklace is going as a gift, relate all these questions to the person you're giving it to. See what she vibes with the most first.
On to the chain length itself, keep this in mind.
14 inches necklaces will usually fit a girl like a choker. It's rather cute, especially if you have a nose piercing on. Although you might not like that well.
A 16 inches necklace depends on the person's size. If you're petite, it'll sit just around your collarbone. On the other hand, it may very well serve as a choker for plus size women. Anybody in between, and it may rest just below the neck, but above the collarbone.
18 inches is literally everyone's perfect match. It makes anyone look fly, since it isn't too long, nor is it short.
A 20-inch necklace, for most people, will sit just after the collarbone. It's perfect for some outfits, which gives space for the full appearance of the necklace to show.
22 inches necklaces sit just at the top of the bust. We usually combine necklaces of this length with other shorter ones. It's not that hard to do.
Things to Consider when You're Choosing a Size
Neck Size
Before you pick any size, we advise you to measure your own neck first. Just find a tape, wrap it around your neck, and you get an accurate reading to work with. Now, after that, you're obviously trying to pick a good size for a pendant necklace, so just add 4 inches to your neck measurement. That should be a good size to show off the pendant and still rock other outfits.
Factor in Your Height
Have you ever noticed that most short celebrities that you know of, usually have their necks wrapped to the brim with gold chains? This is especially common with the men. They all just understand one simple fact. Small heights don't go well with long chains since it can look overwhelming.
Women taller than 5′ 6″ can wear necklaces of any length. On the other hand, women shorter than that would look their best (a perfect match actually) with short chains.
Your Bust is Another Thing
It's actually very simple when you think about it. As a woman, when you wear a necklace, the eyes of the people that see it will naturally end at the pendant. Depending on where that length is, it's either about your collarbone (perfect spot) or just around your bust. The latter can be between your bust, above it, or past it too. If you find glances as a result of that invasive, make sure the butterfly necklace ends just at your collarbone. No matter, if you have a petite body, you can definitely pull that look off. As the necklace will hang properly without your bust getting in the way.
Face Shape
Your face shape is another thing entirely. Did you know that your face's strongest features are bolded when you use a necklace? If you have a round face, a small necklace naturally makes a round shape on your neck, and it emphasizes on your face's shape too. If your face is oval, you can wear anything you want. But if you have a long or heart shaped face, shorter necklaces should be your thing. They'll help you soften your looks a bit.
So it's essentially like this: round face goes with longer necklaces, long faces go better with shorter necklaces, and oval-shaped faces can literally go wild.