Gift Guides
Gifts For People Who Have Everything: 10 Unusual Items That Won't Break the Bank!
Marianne 25 Feb 2020
1948
We all have that person in our life: Mom, Grandpa, Mother-in-law, cousin, boss, or maybe even our best friend. That person who has it all. Whatever they are in to, they have a plethora of it, plus some! Another holiday quickly approaches and you might feel stuck as to what to get for this person. Do you have someone in your life that fits this description? What do you get for them this year? You may find yourself stressed and ready to stuff a little cash in a card and call it good, despite the lack of meaning, simply because you have no idea what to get them! You may also think that because they have it all, the only solution is to buy them something ridiculously expensive to stand out from, or even just to compete, with their already abundant collection.
If you are stuck in this rut or have someone in mind, keep reading because this is for you! And if not, still keep reading because you can never have too many gift ideas, whether it be for you or for someone else. Let's get real, we don't always know how to answer the question, "What do you want for your birthday this year"? You may have a list of a few dozen things and can't narrow it down, or can't afford what you really want right now. That doesn't mean you have to sacrifice getting something that is still meaningful and beautiful to you. Send your significant other our way to make life a little easier on everyone.
Let's first talk about the men in our lives, shall we? Dad, Grandpa, Brother, Uncle, Husband, Boyfriend, Boss, we've all got someone in mind. There are so many great reasons to celebrate these wonderful men in our lives. Whether it be Father's Day, Wedding Day, his Birthday, your anniversary, Christmas, or a well-wish, or just to let him know that you care, we can always treat them to a little something special. The typical go-to gifts might be a coffee mug, a gift card to a hunting store, or a restaurant.
Your special guy might even like some clothes or a new hat. But let's take it to the next step. Something different, that even though he might seem to have everything, this will be unique and special to him. This will show him that you took the time to think about him, and maybe even customize something specifically for him or the two of you.
Gifts For People Who Have Everything
1. Monogram Initial Cufflinks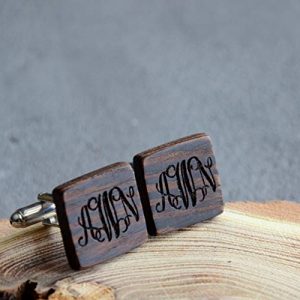 First, we have these awesome & beautifully unique cufflinks. These cufflinks are made from walnut, maple and merbau wood. As classy and timeless as a wood cufflink already is, these specific ones are made from high-quality American furniture. How awesome is that? They already catch your eye with the beautiful texture and color of the wood, but it gets even better. You can customize them pretty much anyway that you want. First of all, you get to choose the shape. Some ideas would be a classic square or circle, a more complex octagon or hexagon, but here you can also find shapes like skulls, or our personal favorite is the puzzle piece.
This idea screams groom and groomsman to us. Think of your wedding day, your groomsman who all may be interested in different things and have different styles, all coming together and usually matching to some extent for the big day. Right? Buy a set of puzzle piece cufflinks for each of them that all connect together with the groom's cuff links. How special would that be? You could even send it to them beforehand with the question if they'd be your groomsman. It would be such a special way to show someone, wedding day or not, that they matter to you and they will always have a place in your heart and your life.
You also can engrave them with something. Do you share a special date with the man you are giving this gift to? You may want to put his birthday on there, your anniversary, or the day that you met. These engravings can fit on most of the shapes, and add so much meaning to this gift. Another idea would be to engrave his initials. That makes these very personal and gives him something unusual to set him and his look apart on the first day at his new job. Are you looking for a graduation gift for your friend, nephew, or neighbor?
These wood cufflinks would look so awesome on the graduation stage, with his graduating year engraved on them, as he lifts his arm to pass the tassel from the right to the left side. The possibilities really seem endless with this great piece of men's jewelry, even if your special man seems to have everything! We're willing to bet he doesn't have a pair of these, especially in the shape and with the engraving that you would choose for him.
2. Wooden Bow Tie – 3D Unique Design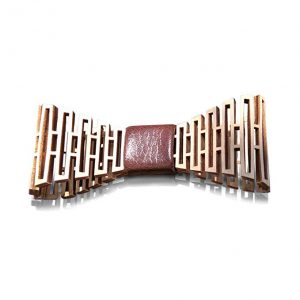 This bowtie is so classic and fun! It is the perfect twist on the classic bowtie that you know who has way too many of. It's a great gift to fit their style, while still being unique. We love that this piece is made from 100% leather and wood. It also comes in the perfect paper gift box that makes it one less step for your gift giving self! This bowtie is perfect for church, a wedding, or even a date night out. He will be looking forward to your next fancy dinner date, knowing he will get to wear his awesome new bowtie. It would look great with a suit or slacks, but pairs perfectly with nice jeans and a white button up as well.
We love the idea of pairing this wood bowtie with some wood cuff links listed above. Both of these are listed at a budget-friendly price that makes putting together a gift set easy and inexpensive. Check out the different colors of this classic wood bow tie as well. They have them in different styles and colors. The first is an eye-catching lattice style that you can get in three colors: beige, brown, or jeans. Then they have an abstract 3D style that comes in light, brown, or thread. And don't forget the love, mustache, Superman, or super hero versions as well. Go and grab one for the stylish man in your life who already has every other color of bowtie in his closet, because he doesn't have this one yet!
3. BABEYOND 1920s Flapper Bracelet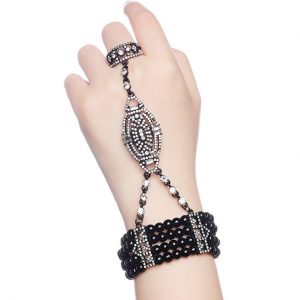 This beautiful bracelet is inspired by the gorgeous Carrie Underwood in her music video, Cry Pretty. Her beautiful chunky version of this unusual bracelet ring set catches your eye repeatedly throughout the video. Which is why we have brought another version of it to you. This jaw-dropping set is a mix of Carrie Underwood's and a 1920's Flapper piece. This is such a unique gift for your girlfriend, wife, mother, or any other special lady in your life. This would make the perfect romantic gift for Valentine's Day, an Anniversary, or even a Birthday. The way it makes a statement around the rest then slims the hand before topping off at the dainty ring, it is flattering on any woman. Carrie is the perfect example of that! It's the right amount of standing out and keeping things simple and classy.
This bracelet ring set comes in black, golden, and silver. It is lined with Austrian crystals, high-quality pears, and eco-friendly white gold plated alloy. It comes in a jewelry box that makes it easy to send as a gift or purchase and then give directly to your love. This is exactly the piece that is missing from her 'has it all' closet and jewelry collection. It is timeless and so easily paired with any outfit for any occasion. She can wear it with jeans, a blouse, and heels. It would also be so flattering on a romantic date in her little black dress. It is a great deal at a very inexpensive price, especially for the look and quality of the product. This is a must give kind of gift, or maybe a must have kind of gift, probably both! If Carrie is wearing it, we all should be, right?
4. Inspirational Jewelry Bracelet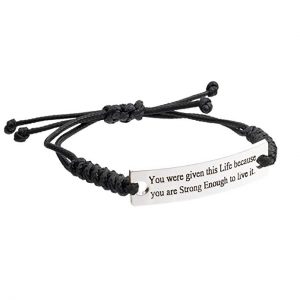 This next piece you may find yourself wanting for the men or the women in your life who matter the most to you. We all are constantly facing some sort of battle. Some days it's constant and heavy and other times it's in the back of our minds. But regardless, we all could use a pick-me-up or inspirational message on a daily basis. That's why we love this bracelet. It is perfect for men and woman, boys and girls. The leather band with the dainty charm makes this piece bold, but dainty at the same time. Can't figure out what to say to someone who is fighting a sickness or overcoming an injury? Maybe you have a friend who is going through a loss or other burdens right now and you just don't know exactly what to do or say to offer support. This simple gift is the answer for you. It's the perfect gift to show that you care and to help someone you love to have a little bit of a better day, every day.
This charm bracelet is made from a nice braided leather band, and string silver engraved charm. The bracelet measure 8 inches. This one comes in several different color options for the leather band including black, brown, burgundy, and pink. You also can find different options for the metal charm. This bracelet is priced low, without having to sacrifice the look and quality of the product. Grab one for you and your friend with a message that means something to your relationship and offers hope to the both of you!
5. sedmart Tree Life Pendant Amethyst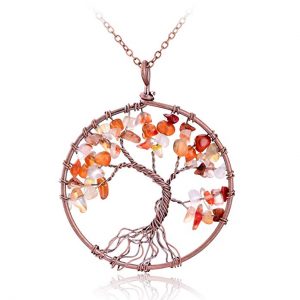 This beautiful necklace brings all the heart eyes. It's the kind of necklace that you simply feel good wearing. It is handmade with the tree of life chakra pendant. Each stone corresponds to a chakra and stimulates energy release. The Tree of Life is a symbol used in science, religious, philosophy, and more for many generations. This makes it inviting and a symbol of comfort to all, regardless of beliefs and age. As you think of beauty, health, good luck, and healing, who comes to your mind? What women have motivated or inspired you to feel those things? This is the perfect way to say thank you and give that gift back to them.
There are plenty of variations to the necklace that are each beautiful and you can choose what your mom, wife, friend, or aunt might like best. These include all different colors of gemstones, from rainbow to solid pink, or beautiful ombre combinations. There are options with the tree standing alone or some with an owl or moon charm added in for detail. You can also get this delightful pendant in different shapes. It comes in circle, heart, and teardrop shape. For this low price, you can grab a few before the next holiday rolls around and give one to each of those special women in your life.
6. S&S Worldwide Sea Glass Bead Assortment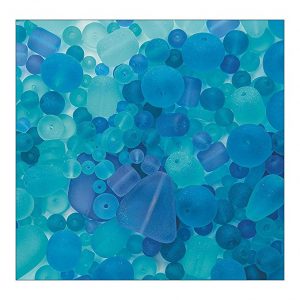 Something Old, Something New, Something Borrowed, Something Blue. A catchy phrase that we are all familiar with. Is your best gal getting married soon and you are stumped on what to give her? This is the perfect gift for your friend who is getting married, but seems to already have it all. You don't need to spend a fortune with this inexpensive bag of five hundred beads. You are able to make her something that she can treasure forever with these beautiful sea glass beads. She will love wearing it on her special day as a bracelet, anklet, or earings. There are so many options with these beads, small for a dainty detail or large for a statement piece that stands out. Customize it to fit her wants and needs, while keeping it simple on your skills and your budget.
Or maybe you have a bit of a DIYer on your gift list? They've made everything you can think of, from their own clothes to a new bed for their son? Or maybe you yourself love to take on projects, big or small. If either of those sounds like your situation, this gift is a great idea for you! These beautiful beads come in a variety of sizes and shades of blue. They are great for making bracelets, anklets, or necklaces. Give them as a gift to that someone who would love to start making their own unique jewelry, is always adding to their collection, or you could make jewelry together.
You also could buy these eye-catching beads and make a few different gifts that would be very unusual and each piece could be uniquely different, as each bag comes with 500 glass beads. Use your imagination and spruce up her jewelry selection with a customized gift from you! The beads have a tumbled matte finish and each one ranges from 4-25 mm. The blue shades are beautiful and look like real sea glass from the beach. This individualized gift is sure to bring the rush of waves crashing, soft sand in your toes, and cool breeze in the warm air feel to your special someone.
7. Glenor Co Earring Organizer Tray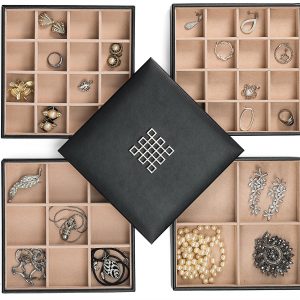 Now I know you might be thinking, "A jewelry box?" What's unusual about a jewelry box?" But give this one a chance! Because even Great Grandma Sue who has a collection beyond your wildest imagination, probably doesn't have a jewelry box like this one! The four shelves stack perfectly for a simple and clean look while offering maximum efficiency! These are not your standard drawers, in fact, they are not even drawers. This unusual jewelry box has four stackable trays that you can lift apart and separate to see everything in your collection easily! Each tray has different sized compartments, which allows for all of your 'has it all' grandma's jewelry to have a spot! The best part about this jewelry storage case is that you don't forget about that pair of diamond earrings in the very back corner or the birthstone ring you gave her last year for her birthday. As you pull the trays apart, you are able to see every piece of jewelry inside this beautiful display. Nothing gets lost and everything has a spot!
The rich black color of the smoother exterior with black stitching detail makes it timeless and pleasing to any style. There are a total of 45 compartments throughout the display. Remember those different sizes which will come in handy for rings, watches, bracelets, long necklaces, and more. One of the best parts about this jewelry box is that it comes with a beautiful gift box and there is a blank card included as well. Gift giving made easy is the way to go. We love this storage case and the low price that it's offered at! This is something that will be well loved, used regularly, and used for years and years to come.
8. Connoisseurs Diamond Dazzle Stik Jewelry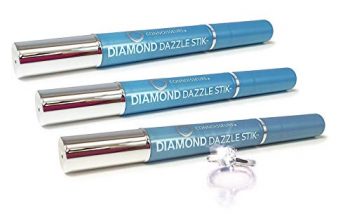 Sure people think of diamonds as often as they think of flowers or chocolate when they think of holiday gift giving. There are so many holidays that those types of things are given: Valentines Day, Birthdays, Easter, Mother's Day, Christmas, and everything in between. And I mean, few women will complain about diamonds, flowers, or chocolate every single holiday and every other month. But switching it up shows that you care and that you put some thought into it instead of just falling back on the same old go-to gift. Plus, we can't buy diamonds for all the special ladies in our life, let alone for every holiday, and your mom probably has a whole collection already right? Afterall, it seems like she has everything! Well here's something unusual that might make yours, and her, life a little more convenient when it comes to gift giving and to that stash of diamonds she's got. Introducing the Diamond Dazzle Stik. A 3-pack of jewelry cleaners that you can give to her, or split it up between a few gifts for your mom, mother-in-law, and grandma!
This stick is easy, quick, and effortless and in just a few clicks and brushes, those diamonds will be sparkling like they are brand new! You twist the pen, brush the diamond, and you've got a dazzling ring. Easy! It also prevents future dirt build up, which is so beneficial for those rings with the tiny spaces in the back behind the diamonds. Mom doesn't have time to go get her diamond collection cleaned at the jeweler on a regular basis, but she does have time for this. This stick can be used on gold as well, making the gift a sure pleaser. These are so convenient for a quick touch up in the morning at home, or especially while traveling! The best kinds of gifts are the ones that they don't already have, and the ones that make their life easier. And that's exactly what this Diamond Dazzle Stik will offer your lucky recipient.
9. Essential Oil Diffuser Pendant Necklace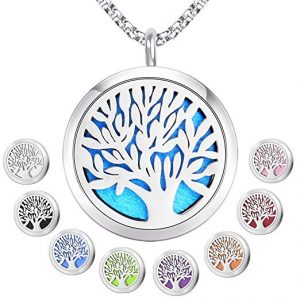 One thing that has come to be more popular in recent years is the use of aromatherapy for healing. There are so many different oils and combinations out there that people use as a form of relief, peace, and healing. Many people have this in their home, maybe even a few different rooms in your home. Or maybe in the car, or in your purse to put the essential oil on when you need it throughout the day. But why not wear it with you all day?
With this beautiful necklace, you can have your favorite essential oil or a combination of them on you at all times, because it is a diffuser magnetic locket! That's right! This stainless steel pendant holds a washable and reusable pad that you can use to feel the healing working with you no matter where your busy life takes you! This awesome gift even comes in a retailed gift box and includes 8 colored reusable pads along with the chain and pendant locket, making it a practical, special, and bang for your buck kind of deal! So don't be that awkward relative that has boxed up a different color or different shaped version of the diffuser for her house that you got her last year and the year before.
You know, the gift that she already knows what it is and has been prepping herself since you brought the box in her front door. Her house is already full of them, and even though she loves them, switch it up this year. Give her something unusual that she can use all day every day! This is the better version of last year's gift, and it's sure to bring her surprised face to a real smile as she discovers this new gadget that is practical and elegant. It's the right gift for that essential oil lover in your life!
10. LADY COLOUR Bracelet "A Little Romance"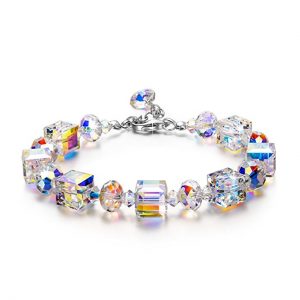 This beautiful bracelet is sure to bring a smile when you give this gift to someone you love! The eye-catching crystals are from Swarovski and they are a classic cube-shape. This bracelet is different than other bracelets she may have in her collections, and it's a piece that will pop with anything she wears.
The direct sunlight makes it sparkle with so many colors, that any woman would be thrilled to show off this pretty piece. The gift box it comes in is classy and makes it so that you don't have to worry about packaging it in something different. So whether it's your girlfriend, wife, grandmother or neighbor that just seems to have it all, grab this piece because you will not be disappointed and neither will she!
We hope these beautiful pieces have got the wheels turning and made your life a little easier as you gift one (or a few) of them to someone in your life. You don't have to break the bank in order to give a special gift, and you certainly don't need to get stuck in a rut of the same gifts under the tree each year! Whether you are looking for the man, woman, friend, relative, or all of the above, there is something unusual and inexpensive for everyone special in your life. These gifts are timeless, classy, and are sure to bring a smile.
Whether you go with the jewelry case to store her 'has everything' collection, or the diamond cleaning stick to keep those diamonds shining and sparkling like they should or one of the wearable pieces, things are looking good for the gift giver! Picture yourself receiving any of them and the joy it would bring to you. Each of these gifts is thrilling as is and most of them come in an easy to give gift box already packaged. However, feel free to add a sweet card and maybe those flowers and chocolates for extra happiness. Happy gift giving!