Fashion Tips
How To Put On Cufflinks: No Fuss Guide!
If you are unsure why you need to be wearing cufflinks, or more importantly, wondering how to put on cufflinks, keep reading our guide for tons of crucial information, including easy to follow guides that will have you putting them on effortlessly in no time at all.
A lot of attention goes towards women's jewelry and accessories (and with good reason!) but there are several options available to men as well that can really help complete their outfit. One such accessory is the cufflink!
Cufflinks are the perfect addition to any suit or even just to a dress shirt. If you are looking for an inbetween outfit that isn't as formal as a suit, but is more formal than a polo shirt, we love the idea of wearing just a dress shirt with a nice pair of cufflinks.
Alternatively, a full suit with cufflinks also makes for the perfect, elegant look that is fitting for a formal occasion like a wedding, business meeting, or formal party.
While cufflinks have been around for a long time, their popularity has waived through the years. For many men, the idea of wearing cufflinks is frustrating. Does that sound like you (or someone you know, maybe your husband, brother, or even a coworker of yours?).
While you might think that cufflinks are just a hard to wear, unnecessary addition to a suit, they actually serve a purpose and give you the chance to add a personal touch to your outfit. Who said women should have all the fun?     
The History of Cufflinks
When we said cufflinks had been around for a while, what did you think we meant by that? A few decades? Try since the 1600s! That's right! Cufflinks first appeared back in the 1600s, though they didn't become popular until the end of the 1700s.
They steadily gained popularity over the next several decades as fashion changed and men's clothing changed from wearing things like ruffles or ribbons to a more simplified look that we think of today.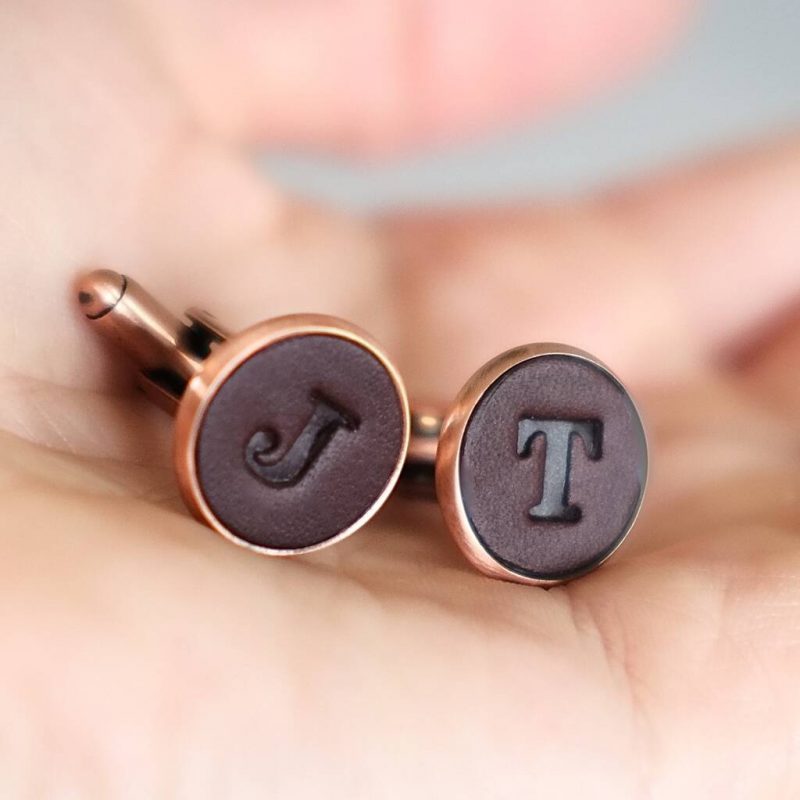 By the 1900s, cufflinks were incredibly popular and worn by many men. By this point there were already numerous variations of cufflinks, including ones made with gemstones, glass, or various types of metal. Their popularity waxed and waned through the next several decades as male fashion trends came and went. 
Today, cufflinks remain fairly popular. Plenty of men choose to wear them for more formal occasions, whether that be a fancy date night, or simply a big business presentation with a new client.
Cufflinks remain an easy way for a man to finish off the look of his suit and add a unique touch without being too flashy.  
The Purpose of Cufflinks
So, you might be wondering, what is the purpose of the cufflink? Are they just like a woman's pair of earrings- they look nice, but don't serve a functional purpose? Wrong! It is important to understand the functionality of the cufflink, especially because they will not work with any male dress shirt.
A cufflink's purpose is to close the cuffs of a shirt. Without them, the cuffs would look unpolished and potentially gap open. This is more likely to be noticeable if a man is wearing a dress shirt without a suit jacket over it.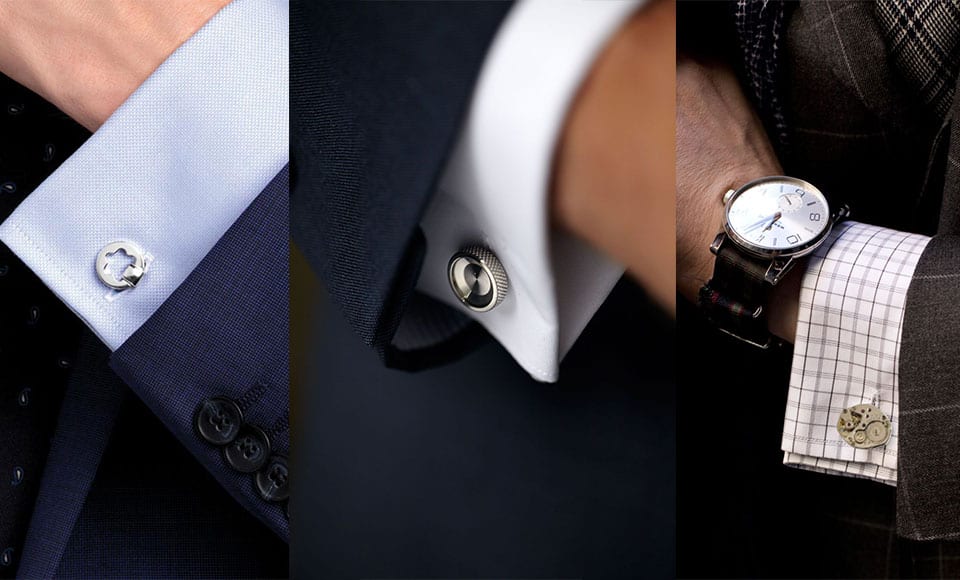 Either way, without a cufflink, the end of the shirt can look unfinished. However, it is important to know that plenty of male dress shirts have buttons at the bottom to close the cuffs. If your shirt has a button, you cannot wear cufflinks with it! 
Now you know, cufflinks don't just look good, they serve a special purpose, as long as you've got the right type of shirt! 
Types of Dress Shirts
Before you can get to learn how to put on cufflinks, you need to understand the different types of shirts that allow cufflinks. As we mentioned earlier, if a shirt has a button, in many cases, you cannot wear cufflinks with that shirt.
Instead, you need to shop for a shirt that has the ability to fasten cufflinks. There are two main types to look for: The French Cuff and the Convertible Cuff.
The French Cuff
A typical male dress shirt that is made for cufflinks is called a french cuff shirt. The end of the sleeves will not have a button. Instead, the shirt is designed with an extra long sleeve that is folded (or cuffed) at the bottom of the sleeve.
The double cuff gives the bottom of the shirt a few layers and in total there are four holes that will need to be secured with the cufflink.
This is the classic dress shirt made for cufflinks. It is very formal and perfect for an evening event, wedding, or other very special occasion. If it sounds incredibly confusing, don't worry. It is way easier to fasten cufflinks on a french cuff shirt than you are thinking.
The Convertible Cuff
If you are already feeling like you don't want to mess with a french cuff, don't worry. There is something called the convertible cuff that allows you to optionally wear cufflinks with a shirt that has a button.
This is a great option to consider when shopping for dress shirts as it gives you a bit more versatility. If you want a more informal look you can simply fasten the cuff with the button. However, if you want to wear cufflinks, you can use the extra hidden button hole and fasten the cufflinks on. 
This style of shirt has become a lot more popular these days, as it gives you the option to keep things more casual, or dress things up, without having to change your shirt!
This is perfect if you have a busy day at the office followed up by a formal evening event. Keep things casual with the button at work, then simply slip on the cufflinks for your evening event. No need to pack an extra shirt or find a place to change. 
How to Put on Cufflinks
Now that you have learned all about cufflinks, it's time to get to work putting them on your own dress shirts! We promise you, it is way easier to put on cufflinks than you are thinking, even if you are dealing with a french cuff shirt. All it takes is a little practice to get the hang of it. 
Most men are used to having someone help them fasten their cufflinks, but it is a good idea to learn how to put them on by yourself in case you don't have someone around to help you.
Are you getting married soon? Congratulations! If you want to wear cufflinks on your special day, you should definitely know how to put the cufflinks on yourself.
Your bride to be won't be able to help you, and everyone else will be busy getting ready as well. Take the time to learn and you'll be good to go! You'll even be able to help your groomsmen. 
Here are two awesome video guides for how to put on cufflinks. We are including a guide for a French cuff shirt as well as for a convertible cuff shirt. No matter what type of shirt you've got, these guides will be able to help you put your cufflinks on in no time at all!
✦ French Cuff Guide
See? Not too bad! All you really have to do is make sure all the holes are lined up and that you have the shirt folded properly. Fastening the cufflink simply involves folding the pin back so that it stays in place. Not difficult at all! 
✦ Convertible Cuff Guide 
It is also not difficult at all with a convertible cuff, you just need to locate the hidden hole in between the two buttons. Then, it's super easy! Slide the cufflink through the open hole and the hidden hole, and fasten by folding the pin. 
Converting a Regular Shirt
Now that you've seen how easy it is to put them on, do you have a dress shirt that is not designed to have cufflinks?
If you really want to have the option to wear them with the shirt, you can take it to a tailor and have them convert the shirt. All this involves is adding an additional button hole for the cufflink to slip through.
We don't recommend you making this a DIY product, as you don't want to ruin the shirt! Instead, a tailor should be able to quickly make the change so that you can use the button or add cufflinks to the shirt. 
Shop Cufflinks
Now that you've learned about cufflinks and learned how easy they are to put on, are you interested in incorporating some into your wardrobe? There is such a wide variety to choose from, we think you will really get into wearing them once you get started!
Here are some top picks you can shop right now! 
1. Dannyshi Stainless Steel Initial Cufflinks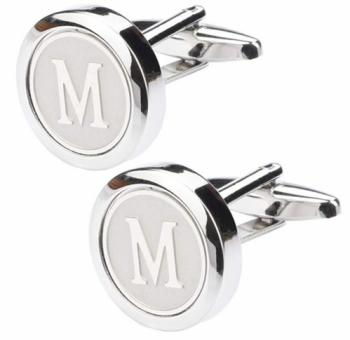 A great, classic style of cufflink is to get ones with initial! This is a great way to add a personal touch to your cufflinks (and your overall style) without being too flashy.
Your cufflinks can be simple and still make a great impact, and that's exactly what these initial cufflinks will do. These are made of stainless steel, ensuring that they are durable and will last you for a long time.
These are also great to give as a gift for a man! Whether you are shopping for yourself, your husband, brother, or friend, these classic cufflinks will work for anyone.
2. COLLAR AND CUFFS LONDON – Premium Cufflinks with Gift Box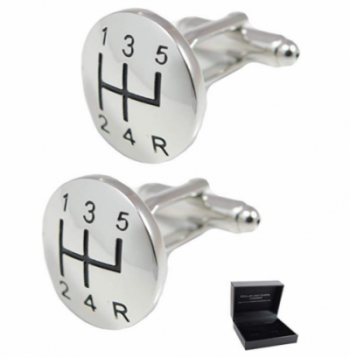 What we love the most about cufflinks is how much fun you can have with them! If you have thought all along that they are a boring accessory, we hope we have changed your mind by now!
For all the car lovers out there, these gear stick picks are absolutely perfect! If this won't get you excited to wear them, we don't know what will.
We personally think that all car enthusiasts should have a pair of these!

3. Ruby and Oscar Silver Bar Cufflinks
If you are looking to add a little sparkle with your cufflinks (and there is nothing wrong with that!) these unique bar shapedones with cubic zirconia stones are perfect.
Because they aren't real diamonds it makes these much more affordable, but they look incredibly expensive!
This is a great way to really amp up your suit and is perfect for a wedding or nighttime formal event. Measuring ¾ of an inch long, these are just big enough without being too big or too in your face. 
4. FIBO STEEL 4-6 Pairs Set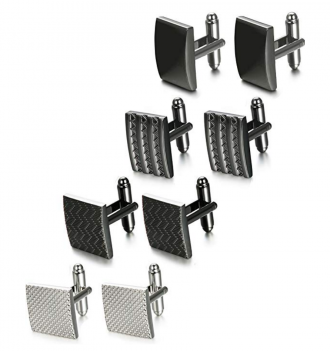 If you aren't really into gemstones but still want a unique pair of cufflinks, consider this set that is complete with either 4 or 6 pairs, all made of steel.
These have a unique metal look with some interesting textures and designs, however they all remain simple enough that you could wear them every day!
None of these have any gemstones, so there is no sparkle, but they are definitely unique enough to give you some style! 
5. THREE KEYS JEWELRY Ebony Koa Cufflinks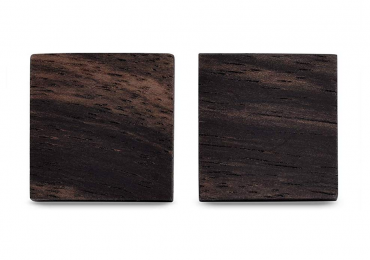 Finally, if you are tired of metal options and want something different, why not go for these unique wood inlay ones? The back pin part of these is still metal, making them just as easy to put on as any other pair.
However, the top is completely made of wood, and we love what a unique look that gives them! If you want something unique and don't want something flashy, this is the perfect set for you.
Wrapping Up
Hopefully we have changed your mind when it comes to cufflinks! They are much easier to put on than people make them out to be.
Whether you go with the more formal French cuff, or the more casual convertible cuff, cufflinks are the (easy!) way to elevate your outfit and give it a more formal appearance.
Use this helpful guide to practice putting on your cufflinks, and you'll be a pro in no time! 
Shopping instead for your husband or partner? Show them this guide and see if they change their mind about cufflinks. With the right pair, and this easy guide, they'll have no reason to complain about wearing them!
If you are working with someone who is really against them, we recommend going with a convertible cuff shirt and a simple pair of cufflinks.