Fashion Tips / Inspiration / Jewelry
The Rules when Jewelry Accessorizing: Tips on Choosing the Right Jewelry pieces
Jewelries have the power to turn a simple outfit into a glamorous one. And if you're not careful, a great outfit into a fashion disaster. It all depends on how well you can accessorize your jewelry. From centuries people have been wearing jewelry to create a fashion statement or at times, to even represent social status.
Although fashion and jewelry styles have changed over the years but few things like 'jewelry etiquette' everyone should know about. Not sure what it means? Jewelry etiquette implies wearing the right jewelry on the right occasion with the right outfit.
Remember accessorizing with the right type of jewelry will always make you the center of attraction for your fashion choices.
But do keep in mind that you get positive attention, wearing a wrong jewelry combination can adversely impact your overall look and style for the day.
Things you should consider before styling
While accessorizing yourself, always try to keep few things in mind while you are selecting the jewelry. That is because you always have hundreds of options for styling but the choice will differ based on various factors such as occasion, outfit, your preferred look to name a few. Let us look at the factors to consider before choosing your preferred style:
The occasion
The occasion matters when you are wearing jewelry. It is quite natural to assume that you wouldn't be wearing something huge and extra fancy in an office meeting or something really demure for a gala event. Therefore, the occasion or event for which you would be wearing the jewelry matters. For instance, when you are going for a formal presentation, you should choose stud earrings instead of dangling or chandelier earrings. When you are going on a night out with friends, wearing a cuffed bracelet or tennis bracelet is more appropriate compared to a pearl or gemstone bracelet. So, think of the occasion first and then choose your jewelry.
The outfit for the day
Your outfit will determine the type of jewelry you should be wearing, but if you are more serious about your jewelry choices, the situation can reverse too. What you need to keep in mind is that your outfit should be relevant to the type of jewelry you are wearing. The easiest way is to contrast the colors. In 2018's trends, we see matching outfits, shoes and jewelries are a strict no.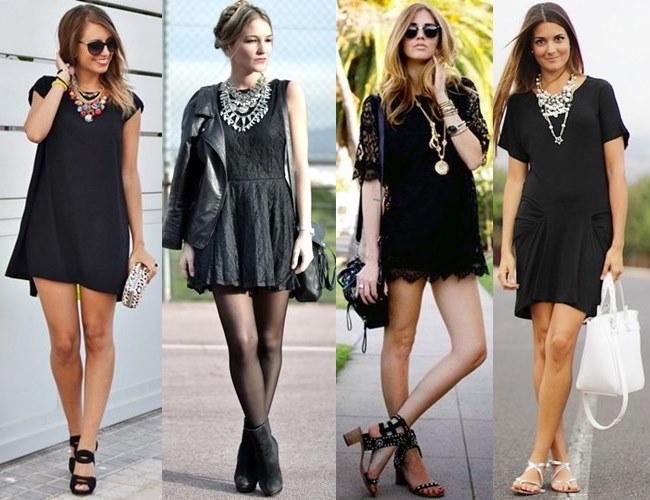 Choose the colors that are in contrast with your outfit. Also, outfit type will also influence your jewelry decision. For instance, if you are wearing a short skirt or short frock, you should wear chandelier earrings or large earrings with those. For jeans, your suitable jewelry could be cuffed bracelets or opera neckpieces.
Your facial structure
Similar jewelry can create a completely different look based on your facial structure. So, if you want to look your best, you might want to choose jewelries based on the facial structure. For instance, if you have a round face, pendant or stud earrings will look marvelous on you. For an oval-shaped face, you can opt for collar or matinee neckpieces.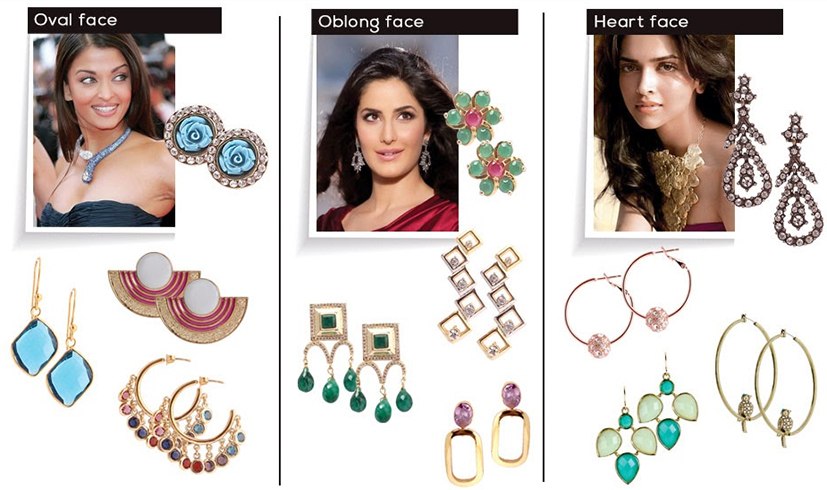 However, we feel that relevance with facial structure is a subjective matter. If you are confident enough, your face can pull off any pattern or style. All you have to do is smile and be confident about your fashion choices.
Your wrist width
While choosing the bracelets or watches, the width of your wrist plays a very important role. If you have skinny wrists, wearing a large dialed watch might not be the right choice for you. You can opt for sleek bangles, multi-strand bracelets or turquoise bracelets. If your wrist width is more, fortunately you have the liberty to choose any of the bracelet options.
Other than bracelets, rings are one of our favorite jewelry pieces. While choosing the rings too, pick rings that have narrow bands because this will give a flatter look to your hands. Here's an interesting rule to follow: the special rings (wedding ring, family heirloom) are usually worn on the left hand whereas the other rings are usually worn on the right hand. Not that it is a hard and fast rule but it is followed in many places.
The neckline
When it comes to choosing your outfit, another important criterion that will impact your jewelry choice is the neckline. All types of neckpieces don't go well with necklines. For instance, for a deep V neck, matinee or opera will look great but for a sweetheart neckline you should probably go for a choker or collar necklace. If you have a dress with short neckline, you should avoid chokers or collar necklace and go with opera. Lariat neckpieces or small pendants and lockets go well with every neckline.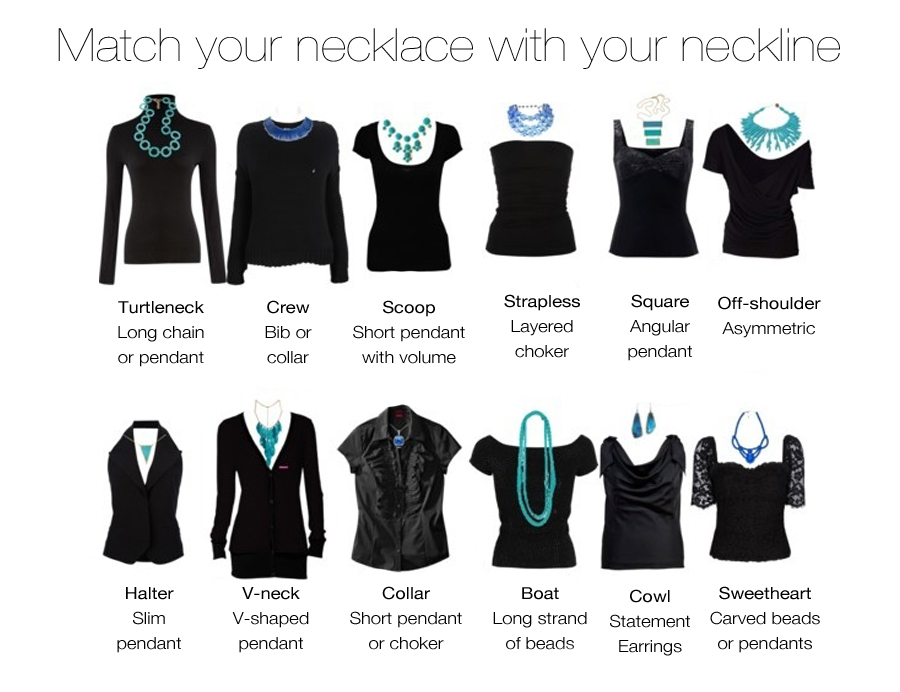 So, if you are confused about your neckline, you can always choose the generic option of pendants.
Moderation is the way to go…
Yes, the jewelry type matters as well. Our recommendation would be to focus on one specific type of jewelry. For instance, if you are wearing too much on your hands, you should wear something light on the neck and ears. Also, the combination of necklace and earrings should be kept in mind. For example, if you are wearing a chandelier earring, you should wear something simple on the neck or preferably no jewelry at all. Wearing too much jewelry everywhere loses the focus of your overall look. Hence focus on one jewelry type only.
How to pick jewelry based on situations
To make things easier for you, we have divided the jewelry types and styles based on your attire and look. You can also make separate jewelry boxes in your closet to make things convenient for you. We understand that in a busy life, making time to get ready for every day wears is difficult, hence an organized approach can help.
Every day wear
For everyday wear, the most common form of jewelry is a watch. If you are a collector you would know how beautiful antique watches look with almost every outfit. Other than watches, you can use studded earrings and pendants for regular wear. If you have a nose piercing, wearing a small nose ring once in a while can help you create a different look. For every day wear, simply two to three jewelry pieces are good enough. Occasionally, you can wear more.
Office wear
With office wear, you have to be a little careful with your jewelry. Some jewelry can hamper your productivity. For instance, if you are wearing large bracelets on hand, it might be difficult for you to work on computers. But during a presentation or formal meeting, we recommend you pay special attention to your bracelets. Therefore, while selecting the jewelry keep in mind about the type of work you are doing.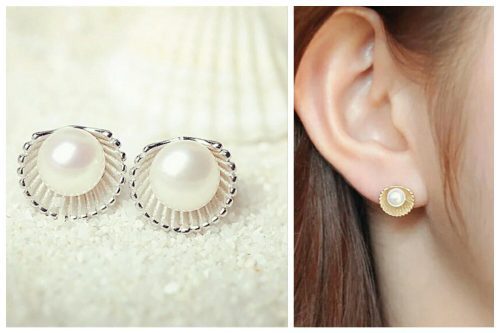 The best form of jewelry for an office is the earrings. Small or earrings with hoops are usually preferred for all office environments. When it comes to office wear, stick to one or two jewelry pieces only on the neck and wrists. Also in an office, try to avoid noisy bangles, anklets or earrings.
College wear
For college wear, you can choose to get a little funky. For instance, you can adorn your hands with at least ten to twelve bangles or tennis bracelets or wristbands. The informal attire helps you to explore with different jewelry options, a mood ring is something you need to try while in college. If wrists are not your focus area, you can accessorize your neck with one collar neckpiece along with two to three small chains. You can also go with one opera neckpiece paired with a choker.
Party wear
For party wears, our personal favorite are the princess necklaces. You can also go extra with your finger rings. Wear one ring with a large gemstone on one hand and four to five smaller rings on the other hand. If you are wearing too much ring, we recommend that you avoid wearing bracelets or watch. Wearing too much jewelry will overshadow the style you are going for.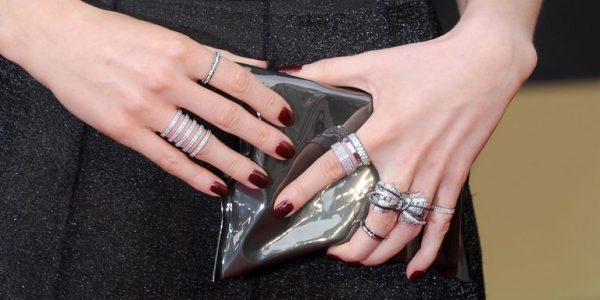 For parties, you can wear a maximum of ten jewelry pieces including the small items.
Formal wear
For formal events, elegant look is the way to go. We recommend that you either go for a flashy earring or a large neckpiece. Wearing them together is a strict no. For instance, with a gown, you should probably go with princess neckpiece or chandelier earrings. For a slit dress, an anklet and a branded watch will look absolutely gorgeous. You can also opt for chain and link bracelets and pair them with few cuffed bracelets. For formal events, in the focus areas wear one to three jewelries depending on the size whereas in other parts sticking to one jewelry or none is the best option.
Semi-formal wear
Semi-formal jewelries can be confusing at times. It is not formal or casual; it's basically something in between. We completely understand that dilemma. For semi-formal wear a cuff bracelet paired with a fancy ring is our personal favorite. However, you can also add hoop earrings with them if you like ear accessories. Another great combination of semi-formal look is to wear matinee neckpiece paired with two turquoise bracelets on two hands.
Some ground rules to follow
Now that you understand, the specific styles and patterns based on mood, occasion and situations, few basic rules can be followed for every style. This is what we term as jewelry etiquette. As we've mentioned earlier, these aren't absolutely mandatory but following them will help you better organize your jewelry combination.
Simplicity is the key
Wearing too much jewelry can destroy your look. We understand your love for jewelry but you really have to be careful about the numbers. The maximum range you can go is ten to fifteen pieces. Anything other than that is going to be fashion disaster. If you have given too much attention to your neck with matinee, operas or princesses, you don't probably need to worry about earrings anymore. If you are wearing dangling or jingly earrings, you should go for small lockets or pendants on the neck.
Give special attention to earrings
The beauty of earrings is the versatility that it provides. There is an earring for every dress type. If you are wearing statement earrings, you don't have to worry about your neckpiece or bracelets at all. Three keywords should always be kept in mind when you choosing the earrings-color, shape and length. Another aspect that should influence your earrings choice is the length and styling of your hair.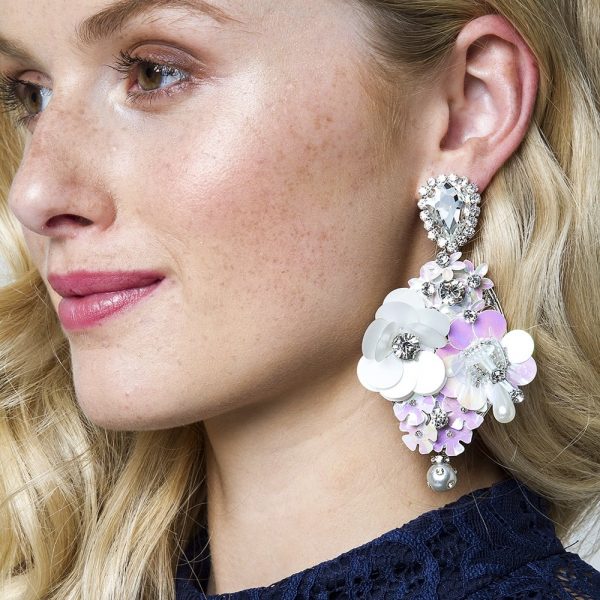 If you have short hair, longer earrings will suit you better. For long or medium-sized hair, round-shaped earrings will look better. Stud earrings go well if your hair is well tied.
Choose the hand jewelry wisely
When you are choosing the hand jewelry, you need to be careful about certain matters. For instance, if you are wearing a large gemstone ring, automatically attention will go to your fingers. Make sure your nails are properly polished or manicured before that especially if you are going to a party. When you are wearing bangles, you have the liberty to overdo with the number but with bracelets, five is the maximum number you should wear per hand.
Keep relevance with the neckpiece and necklines
As mentioned before, neckpieces and necklines should be well-coordinated. If you don't find the right piece with your neckline, it's preferable that you go for generic pendants or lockets. Or the safest option would be wearing an earring or fancy bracelet instead of wearing a neckpiece.
Use a centerpiece for reference
Using a single jewelry as a centerpiece will help you organize your style better. For instance, with a statement or chandelier earrings, you will just need some simple bracelets to match with them. For princess necklaces, studded earrings or simple nose rings are good enough. With a large gemstone finger ring, you can go for small beaded bracelets as complementary jewelries.
Know your jewelry
Finally while accessorizing with jewelry and knowing the right number, you need to know the types of jewelries. Each jewelry has a specific significance and it helps to combine better if you know them. We have divided it into four major jewelry type and we suggest that when you design your combination, you focus on any one of the types and don't overcrowd it will all four types of jewelry.
Earrings are categorized in terms of statement earrings, chandelier earrings and delicate earrings. With statement or chandelier earrings, wearing more than two to three pieces of jewelry should be avoided. However, if you are wearing more on the neck and hands, you should opt for delicate earrings. Girls who face problem in styling for party wears, the rule of thumb for you should be to opt for chandelier earrings with eyes closed. They can never disappoint you when it comes to glamorous look.
Necklaces are also divided into layered, statement and single strand categories. Layered necklaces are our personal favorite for casual wear. Styling it with a watch is the perfect combination if you ask us. For statement necklaces, you should avoid wearing large earrings or large rings for the finger. In terms of length you will find interesting names for necklaces such as princess, collar, choker etc. You need this knowledge when you are matching a neckpiece for your neckline. Another distinctive type of neckpiece is the pearl necklace. This is one of the most elegant type of neckpiece and we would recommend not to add any more jewelry if you are wearing a complete pearl necklace.
Bracelets can also be divided in terms of statement, delicate and specialized categories. Bracelets are something you can also see while you wear. Some refer bracelets as mood lifters too. Pearl or cuffed bracelets are usually used as centerpieces. Probably when we talk about numbers, bracelets are the specific type of jewelry that you can wear more than ten or fifteen pieces at a time. For instance, you can wear around six to seven beaded bracelets per hand at a time. Although for statement bracelets, wearing more than two to three should be avoided.
The best part about rings is that you have separate rings for each body part, for the toes, fingers, nose, belly button and eyebrows. Rings can also be divided into statement, delicate and gemstone category. With finger rings also you can opt for more than five to six jewelry pieces, anything more than might look gaudy. While choosing the type of rings, you should keep in mind about your wrist size and the type of bracelet that you are wearing.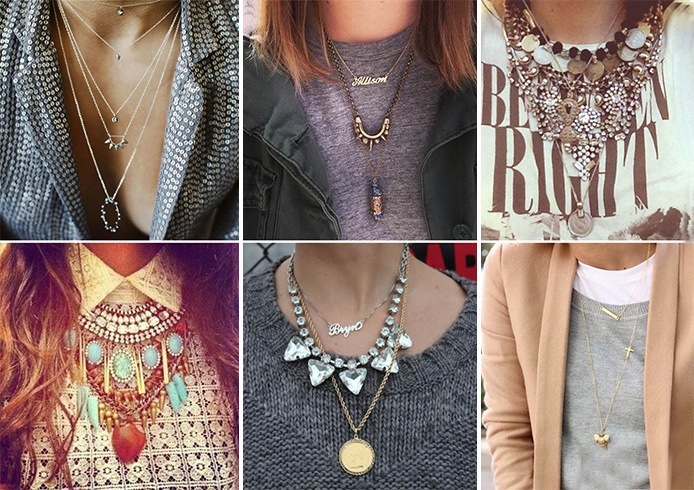 Mixing and matching the right type of jewelry is an art. This art can come in handy when you can't find the right outfit for any occasion. Styling your outfit right with proper number and patterns of jewelry can help you create a stunning look in no time. Therefore, you should always give importance to the jewelry you are wearing as it will reflect your fashion sense.