7 Jade Pendants to Add to Your Favorite Necklaces
last updated:
Oct 14, 2021
Jade is a stunning ornamental stone that adds sophistication and glamour to any outfit.
With its striking natural appeal, it's also one of the world's most expensive stones. Superiorly designed accessories will stand out in your jewelry collection, adding timeless elegance.
There are thousands of jade accessories you can find, many of which showcase genuine stones for special occasions.
In this guide, we've curated an exclusive list of the most spectacular jade accessories you can wear daily.
Whether you're looking for a more high-fashion piece or a subdued, flirty necklace, the options are endless.
Top 7 Picks!
1

. Macy's Dyed Jade Heart Pendant
The jewel tone of the Macy's Dyed Jade Heart Pendant Necklace in Sterling Silver makes it a remarkable staple. You'll love the classic silhouette of a heart-shaped pendant that hangs gracefully below your collar.
Read more
There's a vintage appeal to the piece with the beautifully carved heart-shaped jade symbol. You'll love the soft contrast between the sterling silver link chain and the light jade coloring of the stone.
The artisan-quality craftsmanship of the necklace makes it a fabulous keepsake that you'll wear for many years to come.
Not only is the stone of the highest quality, but the sterling silver box link chain is also dainty and easy to wear. We immediately fell in love with the spectacular polishing of the pendant, adding to its luxury.
What makes this necklace unique compared to other jade pieces is how the stone is treated. You'll find it has a special treatment that enhances its overall beauty.
The exotic marbling throughout the pendant is sure to make an impression on any occasion.
2

. Ross Simons Jade Greek Key Pendant Necklace
At first glance, it's easy to see how the Ross Simons Jade Greek Key Pendant Necklace has a Mediterranean feel. The stunning stylized border is one of our favorite features, making this piece ideal for vintage and modern outfits.
Read more
The most significant component of the necklace is the 12mm round jade located in the center. The deep green hue speaks to its polished and prismatic appeal, making it the perfect addition to your collection.
You'll also love the striking contrast between the green jade and the 14k yellow gold enclosure.
Surrounding the stone, there's a Greek-inspired stylized border that elevates the necklace to the next level. It's undoubtedly a fashion-forward accessory that every jewelry lover needs to get their hands on.
You'll especially love the thinness of the Singapore chain that gently suspends the pendant down your chest.
One of our favorite parts is its versatility. With the fully customizable chain, you can choose to wear it at 22" or adjust it, so it sits as a choker.
The fabulous lobster clasp also makes it exceptionally comfortable to wear throughout the day.
3

. Novica Pointed Jade Statement Necklace
Finding the perfect statement piece can seem impossible, especially if you need something bold and unique. The Novica Pointed Jade Statement Necklace is sure to be a show-stopper with an exotic style we've never seen before. The pointed jade embellishments genuinely make it a one-of-a-kind piece.
Read more
Instead of leaning more towards a delicate necklace, this style has a radiant and distinctive style. We can imagine it paired with a basic black cocktail dress or a power suit for an upcoming meeting. You'll fall head over heels for the pointed design of the jade accents on this necklace.
There's a tribal flair to the piece that makes it resemblant to traditional Mayan Jewelry. Designed by Zandra Lorena Sajbin, it's an authentic classic necklace that you'll cherish for years to come.
The hue of the jade in this piece is another unique feature, as it's pretty dark with darkened marbling.
Also, the stunning 925 silver acts as the perfect break between the three jade pieces. With sterling silver, you'll have an alluring and illustrious necklace suitable for any formal outing.
4

. Zales Jade Happiness, Love and Health Hanzi Pendant
The deep and rich historical nature of jade is primarily derived from Chinese civilizations. With that said, the Zales Jade Happiness, Love and Health Chinese Hanzi Pendant is a fantastic gift to yourself or a loved one.
Read more
The soft jade coloring of the pendant sets it apart from other designs, as it feels opulent and exotic.
Also, it has a sleek appeal that works well for men and women, making it an iconic unisex piece for all jewelry lovers. There's a smokey depth to the jade while also boasting exceptional polishing, speaking to its quality.
Not only does it boast authentic jade, but solid 10k gold as well. The Hanzi script is crafted using genuine gold, as are the two accent bars at the top and bottom of the pendant.
To add to the sparkling style of the piece, you'll have a 10k gold chain with a thin texture, making it comfortable for all-day wear.
All in all, this piece resembles a talisman that can bring about good fortune. You'll find it works well on its own but can also be paired with other jade accessories, such as earrings or a cute bracelet.
5

. Palm Beach Jewelry Genuine Red Jade Pendant


Design-wise, Palm Beach Jewelry has just made one of the best-looking pendants we've come across. Unlike other picks, this piece doesn't come with a chain; however, the pendant is a blend of pure 14K gold (the bale) which holds a beautiful red jade.
Read more
The horse is made out of gold, and it's the Chinese symbol for speed and perseverance, in addition to red stones being known for easing tension.
Additional info includes the stone's measurement (rectangular: 18.5 mm W x 2.5 mm H x 38 mm L) and size of 1.1 grams. The chain has that dainty, Oriental design to it that easily upgrades your outfit's appeal.
The only con that we found in this piece of jewelry is the fact that it's a bit expensive. Other than that, it's beautiful, symbolic, and durable (the red stone is genuine, it shares the same score of 6.5-7 Mohs as all other options on our list!).
6

. Belacqua Natural Jade Buddha Pendant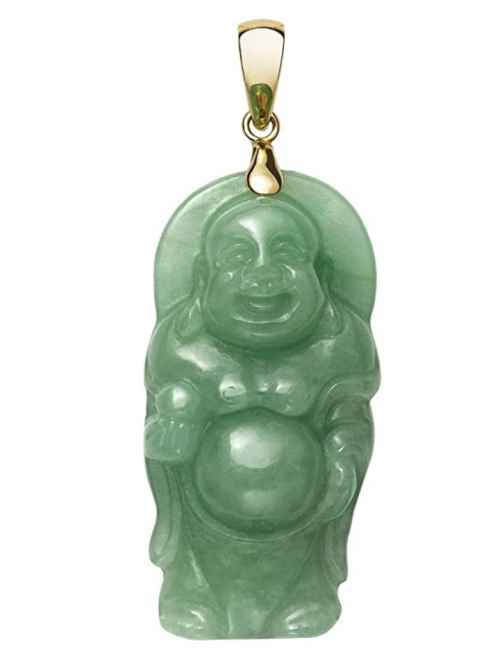 This pendant from Belacqua comes in two options; with and without a chain to hold the pendant up. We recommend you go with the latter since the chain is skinny. This was most likely done to minimize the cost since it's 14K gold we're talking about here after all.
Read more
The stones depict a smiling, chubby Buddha, whose message of love and peace is only heightened by the meaning of jade itself. As for the aesthetics, this jewelry piece goes well with neutral colors like white and black.
Other highlights include the elegant gift box that it arrives in, and the size, which is 0.10 carats. The former will be helpful if you're dropping this as a gift.
Being jadeite, the hardness is a solid 7 on the Mohs scale. So it's tough enough to last indefinitely.
7

. Ross-Simons Bead with Gold
Design-wise, Ross-Simons is definitely not a slouch. With this pendant, the brand went for a minimalistic design by using a single jade bead that measures 16 mm in size. It's more dainty than imposing, so it's an easy and stylish addition to any outfit.
Read more
There's also a bit of 14K yellow gold mixed in. Know that the bead is only compatible with chains up to 2 mm.
If you'd like to put your pendant on a heavier chain, you should check some of the other options on this list.
In terms of packaging, this jewelry piece comes in an elegant box that also includes a pouch.
For people considering using this as a gift, we recommend you throw in a chain or beaded string. Also, there is a 30-day, 100% money-back guarantee.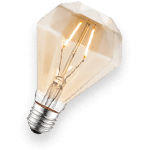 About Jade
Some people love jade rings because of their extensive use in Feng Shui.
The stone, depending on the color, changes the meaning. Red jades moderate tension, the blue ones help with meditation, black prevents negative situations, and green (the most popular), is all about hope, calmness, and romance. Jade Pendant is an extravagant and cool piece of jewelry that can be combined with many other accessories, precisely because jadeite stones vary in color.
While these meanings are significant to us as well, we also particularly love the stone's use as simple accessory pieces since jade looks gorgeous!
Frequently Asked Questions
q:

What is the symbolism of jade?

a:

Jade has a deep and unique history, with its roots being found primarily in Chinese and Neolithic cultures.

It was one of the first materials destined to be suitable for royalty and used by Chinese artisans for years. There are many symbolisms of jade, most of which relate to nobility and wealth.
q:

What is the spiritual meaning of jade?

a:

Aside from its history in ancient Chinese royalty, jade also has a unique spiritual meaning. It's often seen as a material that offers protection both to the living and the dead. It is often referred to as the "Jewel of Heaven," speaking to how it helps people find their way to the afterlife.

Interestingly, jade is also commonly used in feng shui. Like all things in nature, this stone is said to be embedded with qi, the life force flowing through all living things. Depending on the color variations of the stone, it could be referred to as yin or yang.

Light and translucent jade is said to have softer energy which makes it yin, while dark jade has more enormous energy, giving it more yang. Together, they can work to provide the wearer a better life with improved well-being and longevity.
q:

Is jade expensive?

a:

Nestled next to natural color variations of diamonds, jade is seen as one of the most expensive stones in the world. The most expensive variety is jade sourced from Burma. The price of the stone is only set to increase as more middle to upper-class Chinese families are establishing themselves.

Type A jade is known to be the most expensive, as is Imperial Jade. With its impressive coloring and high-quality finishes, it's undoubtedly one of the most prized possessions worldwide.
q:

What are the benefits of jade?

a:

When purchasing jade, you'll be getting your hands on a stone that has plenty of rich history and meaning.

It symbolizes an assortment of benefits, including healing, luck, prosperity, and positive relationships. It is also frequently used in feng shui, which can help boost clarity and focus.