Men / Mix / Pendants
Jade Pendants to Add to Your Favorite Necklaces
Some people love jade rings because of their extensive use in Feng Shui. The stone, depending on the color, changes the meaning. Red jades moderate tension, the blue ones help with meditation, black prevents negative situations, and green (the most popular), is all about hope, calmness, and romance. Jade Pendant is an extravagant and cool piece of jewelry that can be combined with many other accessories, precisely because jadeite stones vary in color.
While these meanings are significant to us as well, we also particularly love the stone's use as simple accessory pieces since jade looks gorgeous!
That is why we selected 10 jade pendants we think are super unique, pretty, and interesting in terms of the symbol and meaning behind the design.
10 Jade Pendants to Spice up Your Collection
1. Dahlia Dragon/Phoenix Grade A Jadeite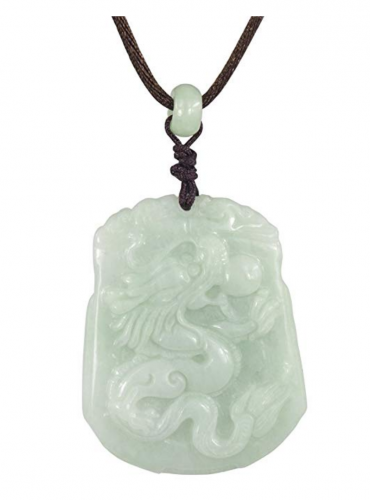 For the first piece on our list, the manufacturer (Dahlia) takes inspiration from the classic design of jade pendants. The piece is comprised of two parts; a string and decorated jadeite. In the case of the string, its strength lies in its composition of strong, thin threads (they are twisted on both ends to create that sturdy build).
That's not the best as the string is obviously not as durable as metal. But at the same time, it does come with its own advantage. It is adjustable from 12 to 24 inches which is a feature that practically makes choosing sizes null.
As for the main highlight, the stone is the more expensive of the two variants of jade. And for good reason since it's the stronger. It scores a whopping 7 on the Mohs scale, which is great when you compare it to steel with a 6.5 and diamonds with a 10.
Perhaps the most significant thing about the stone though is the engraving. For men, the dragon-themed option has the Chinese synonyms of strength, intellect, and toughness.
As for women, yours is a phoenix, symbolizing the five female virtues which are benevolence, wisdom, righteousness, dignity, and sincerity.
2. Belacqua Heart Pendant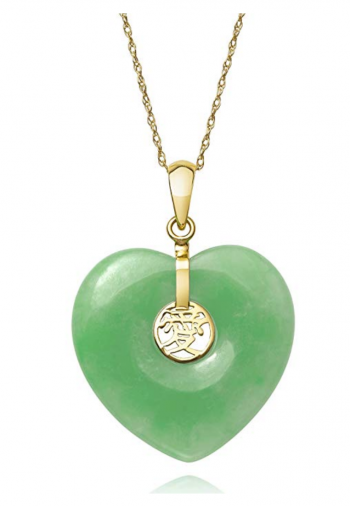 Belacqua definitely has an eye for materials. This pendant is comprised of a 14K gold chain (rolo links being the choice) and natural stone in the form of a heart pendant. Its aesthetic appeal practically upgrades any outfit you wear the pendant necklace with.
One of our favorite highlights about this jade pendant is the meaning. From the heart-shaped pendant to the Chinese words for love, the whole message is just to show how much you care for someone.
So while we would say you should buy it for your own collection, we think this would work well as a romantic gift as well. Since it comes in a deluxe gift box it's practically the perfect gift for anyone loving awesome jewelry pieces.
The final feature we want to highlight is its durability. Starting with the obvious (the pendant), the stone has a rating of 6.5-7 on the Mohs scale. Just as a quick reference, steel is recorded to be 6.5 Mohs, which isn't too far from the total score (10).
On the other hand, 14K gold, while not pure gold, is stronger than let's say, 18K gold for a simple reason. It has a higher composition of foreign metals mixed intuit makes it more durable in time.
3. Raonhazae Smiling Chubby Buddha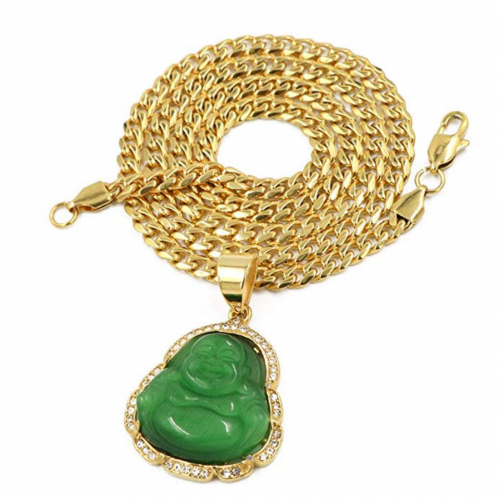 Paying attention to the right details always manages to create jewelry pieces with more pros than cons (price falling in with the former!). The accessory is made from a combination of gold-plated stainless steel (316L grade), a green jade, and CZ stones.
The Cuban-styled necklace and the bale are made from plated steel, and the bale holds the green stone while its exterior is embedded with the CZ stones.
As for the meaning behind this piece of jewelry; green jades are synonymous with peace and love, and that's why there's no better figure to symbolize this meaning than the depiction of a chubby, laughing Buddha. It's definitely a sentimental accessory, and it'll do well as a symbol of good luck in your personal collection.
Other features of this jade pendant include the lobster-claw clasp and the fact that it comes in only two (24 and 30 inches) sizes. We can only hope that the limitation in sizes won't stop you from getting this if it's caught your interest.
4. Palm Beach Jewelry Jade & Yellow Gold Charm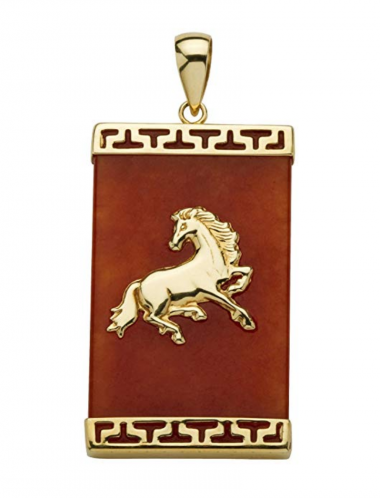 Design-wise, Palm Beach Jewelry has just made one of the best-looking pendants we've come across. Unlike other picks, this piece doesn't come with a chain; however, the pendant is a blend of pure 14K gold (the bale) which holds a beautiful red jade. At the center, there's a filigree depicting a spirited horse.
The horse is made out of gold, and it's the Chinese symbol for speed and perseverance, in addition to red stones being known for easing tension.
Additional info includes the stone's measurement (rectangular: 18.5 mm W x 2.5 mm H x 38 mm L) and size of 1.1 grams. The chain has that dainty, Oriental design to it that easily upgrades your outfit's appeal.
The only con that we found in this piece of jewelry is the fact that it's a bit expensive. Other than that, it's beautiful, symbolic, and durable (the red stone is genuine, it shares the same score of 6.5-7 Mohs as all other options on our list!).
5. Belacqua Yellow Gold Jade Buddha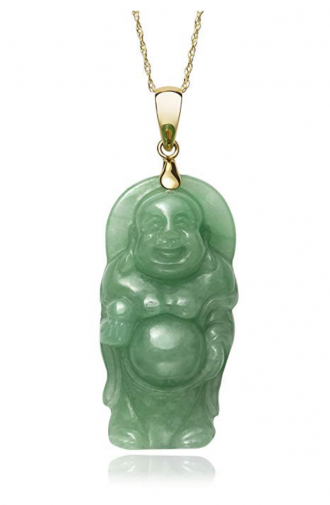 This pendant from Belacqua comes in two options; with and without a chain to hold the pendant up. We recommend you go with the latter since the chain is skinny. This was most likely done to minimize the cost since it's 14K gold we're talking about here after all. The bale of the pendant is also made from gold, with the choice in variants this time being green.
The stones depict a smiling, chubby Buddha, whose message of love and peace is only heightened by the meaning of jade itself. As for the aesthetics, this jewelry piece goes well with neutral colors like white and black.
Other highlights include the elegant gift box that it arrives in, and the size, which is 0.10 carats. The former will be helpful if you're dropping this as a gift.
Being jadeite, the hardness is a solid 7 on the Mohs scale. So it's tough enough to last indefinitely.
6. C1lint7785631 Hand Dragon Phoenix Pendant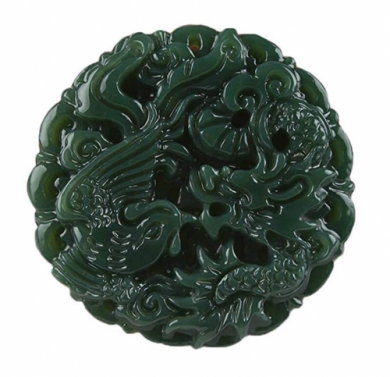 With this pendant, the choice is an Hetian jade. In other words, while it's not as strong as jadeite, it can stand toe-to-toe with steel with a score of 6.5 Mohs on the hardness scale.
That said, this jewelry piece isn't only comprised of a jade; it also comes with a beaded string that has a deceptively strong build due to the manufacturing process.
Another highlight is the design of the pendant itself. The brand's decoration is Chinese-themed with the pendant's 48 mm surface covered with illustrations of both a dragon and a phoenix.
The attention to detail is exceptional, with the artisan expertly highlighting minor bits like the scales and feathers of these mythical animals.
Combine that with jade's history of being known as a symbol of love land peace, and this accessory can rival the best out there, especially since it's also hypoallergenic (being a grade A stone) and even comes at a budget-friendly price.
7. Ross-Simons Bead with Gold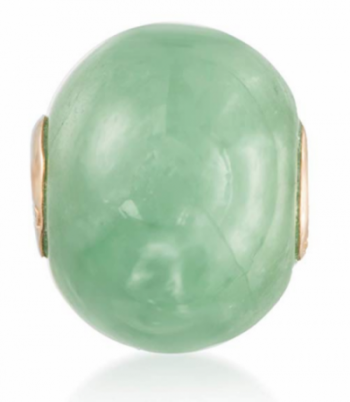 Design-wise, Ross-Simons is definitely not a slouch. With this pendant, the brand went for a minimalistic design by using a single jade bead which measures 16 mm in size. It's more dainty than imposing, so it's an easy and stylish addition to any outfit.
There's also a bit of 14K yellow gold mixed in. Know that the bead is only compatible with chains up to 2 mm. If you'd like to put your pendant on a heavier chain, you should check some of the other options on this list.
In terms of packaging, this jewelry piece comes in an elegant box which also includes a pouch. For people considering using this as a gift, we recommend you throw in a chain or beaded string. Also, there is a 30-day, 100% money-back guarantee.
8. Lux Green Elephant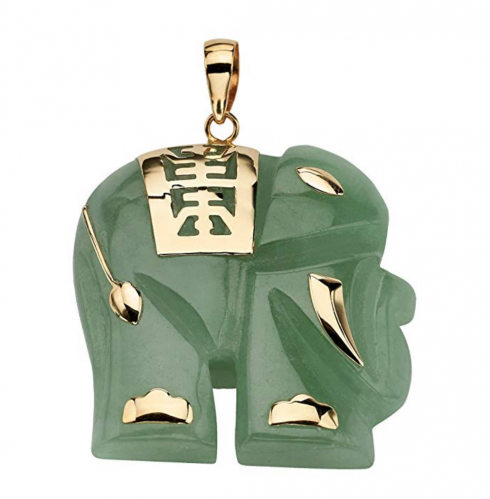 Due to jade being majorly known as a Chinese accessory, here's another pendant with Oriental design. This piece uses a figurine in the form of an elephant whose body is accented with 14K gold.
Heck, even the bale is made out of 14K gold while the highlight in the design is the Chinese symbol for good luck. The dimensions of the elephant are 23 mm W x 4 mm H x 33 mm L, and it definitely makes for a bold statement.
It's a natural, grade A stone with a unique cut in the form of good luck. The only drawback to giving this a buy is that it costs a pretty dime.
9. OVALBUY Jadeite Pendant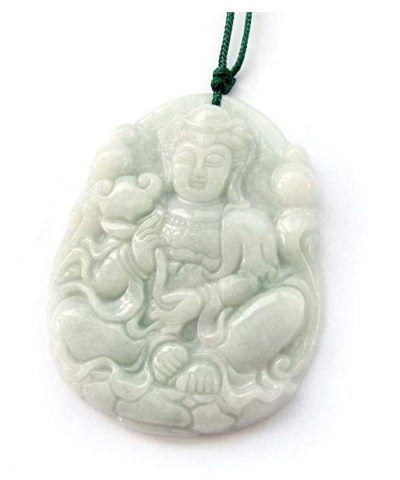 This particular pick is jadeite with a Mohs hardness scale of 7, and is totally hypoallergenic since its formation is natural. Keep in mind that this jade pendant is definitely larger than it appears on the image, band the figurine of Kwan-yin is certainly something that will draw anyone's attention to this beautiful piece of jewelry.
Kwan-yin is a Buddhist bodhisattva whose attributes are compassion and mercy.
Back to the design; the goddess' features and exotic settings are accurately and beautifully conveyed by the artisan; it certainly doesn't lack in any detail.
This jewelry piece comes in a pouch, and despite the size, it's affordable.
10. Ross-Simons Green Jadeite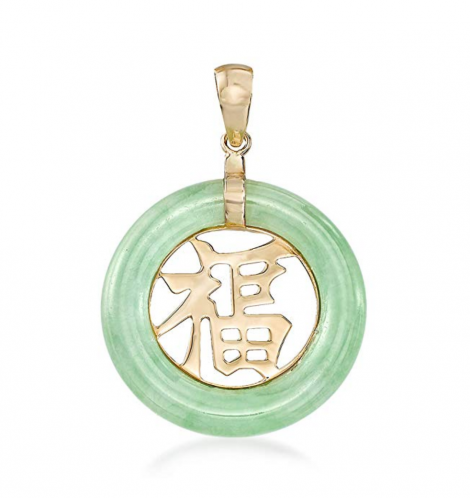 Here's another pick from Ross-Simons and this one is a bit expensive, however, worth every penny if you ask us! This piece is made up of two parts; green jadeite and 14K gold. The stone comes in the form of a 23mm band, and at the center, there's the Chinese Fu Symbol meaning "Blessing."
The symbol, as well as the bale, are made out of 14K yellow gold, with it contrasting gorgeously with the green hue of the stone. Since this is jadeite, know that it's built like a rock (stronger than steel for one).
It's not big (dainty is the right word) with it being 7/8″ wide and 1 ¼" long. Other features of the jewelry piece include the inclusion of a gift box that comes with a pouch, and a 30-day, 100% money-back guarantee.
Frequently Asked Questions
1. How to clean and care for your stones?
Cleaning jade jewelry is super easy All you need is a mixture of lukewarm water and a few drops of mild liquid soap. Polish your jewelry with a soft cloth. Don't immerse the jade pendant nor scrub any spot.
Just polish the stone with a dry fiber cloth. If you have a bottle of jewelry cleaning solution lying around, do not use it. Jewelry cleaning solutions will bleach the gemstone, hence resulting in loss of the natural, vivid hue it's known for.
Other things to avoid if you want to use it indefinitely:
✓ Don't use ultrasonic or steam cleaners
✓ Remove your jewelry before showering
2. What does it symbolize?
Generally speaking (or according to Feng Shui), the stone is a symbol of goodwill, and it can be used in a variety of ways: an amulet of peace by Buddhists to acting as a symbol of love and good luck towards yourself and others.
3. What are the types that exist?
There are two types for you to look out for: jadeite and nephrite. Even though both of these are jades, their chemical composition is different (different silicate minerals). In the case of jadeite, its chemical make-up is the silicate of calcium and magnesium. As for nephrite, the stone is a silicate of sodium and aluminum.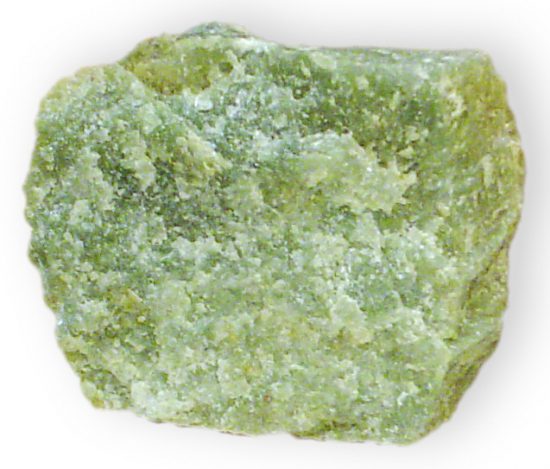 Jadeite is also the strongest type of jade you can purchase and it's the most beautiful, as well as the most expensive. For jadeite, you'll find the stone in hues such as milky green/even grass green color, blue, white, grey, lavender, yellow-orange, pink, reddish, violet, brown, and black.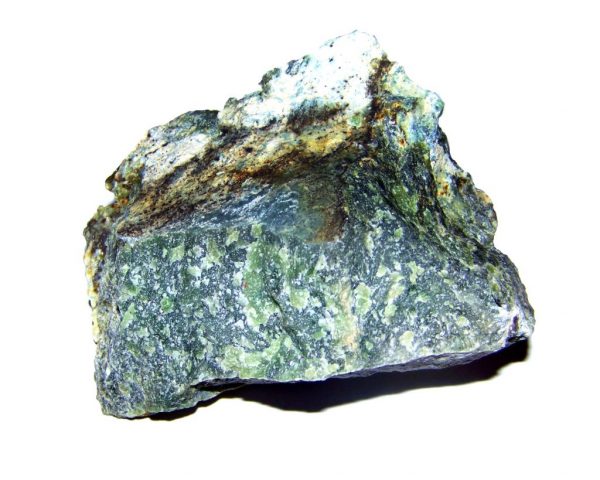 In comparison, nephrite usually comes in off-yellow, cream, standard green, black, grey, and marbled rust.
4. What are the enhancements?
Enhancements can otherwise be called types in some circles, and they refer to any enhancement the manufacturer applies to the stone. We've listed the various types below.
Type A: The stone has been treated in any way except for waxing the surface.
Type B: It involves chemically bleaching a stained piece of stone and then impregnates it with a clear polymer resin.
Type C: The gemstone has been artificially stained which leads to loss of transparency.
B+C Type: This refers to a combination of Type B and Type C enhancements.
Type D: The stone is part jade and part plastic.
5. How to tell if the jade is real?
The most popular test that we know of is the scratch test which implies scratching the stone's surface in an inconspicuous part of the stone/piece of jewelry you have. If it's real jade (jadeite specifically), you definitely won't be able to leave a scratch on it.