How to Pick the Right Black Dress Jewelry
Marianne 03 Mar 2020
16151
Every girl knows that her wardrobe has to have at least one little black dress. Why? Well, they can be worn on any occasion, and you can match them with everything. But what about the Black Dress Jewelry? Can you wear the first necklace or earrings that you grab, or are there any rules? The truth is that even though the black dress goes great with almost everything, there are some rules that should be followed in order to look gorgeous… What are those rules? Well, you will have to keep reading to find out. Don't worry, our tips are pretty simple and when you stand in front of the mirror after reading this article, you will definitely notice that they are effective as well. Let's begin.
Black Dress Jewelry – How to Pick the Perfect Jewelry Color

Before you start panicking, relax! You already know that everything goes with the black dress! When it comes to choosing the color of the jewelry for your black dress, you can let your imagination go wild! The black dress is basically like a clean canvas, waiting for you to start making an art piece. But, in order to achieve perfection, there are some small rules that need to be followed.
For example, to achieve a sophisticated look, you can choose silver or gold jewelry. This way, you will also be able to make a combination with other pieces of jewelry that are a different color. Colors like aquamarine and black.
For a more modern and daring look, pick jewelry that comes in live colors like light blue, yellow, red, orange, and emerald green. This way you will allow yourself to stand out of the crowd!
How to Match the Neckline With the Necklace

When discovering the secrets of matching your jewelry with your black dress, there is a factor that is very important to know. You need to know that the type of necklace has to be determined by the type of your black dress's neckline.
For a dress with a Turtle Neck, the best choice would be a long necklace. This type of necklace also goes great with popular halter necks, but have in mind that the necklace has to be pretty. For dresses with a 'Bateau' and Sweetheart necklines, go for a chunkier necklace.
In case your black dress comes with a V neck, you can choose a medium length necklace, but make sure that it's not too complicated, and that it comes with a pendant or a motif hanging. This way, you will highlight the shape of your dress's neckline.
For a strapless black dress, wear a chunky and rounded necklace that will give your chest a special touch.
In case that your black dress comes with a shoulder neckline, your necklace option can be a chunky necklace or a layered one. While a cowl or scoop dress, look best with fine and more classical looking necklaces.
What About Rings, Bracelets, and Earrings?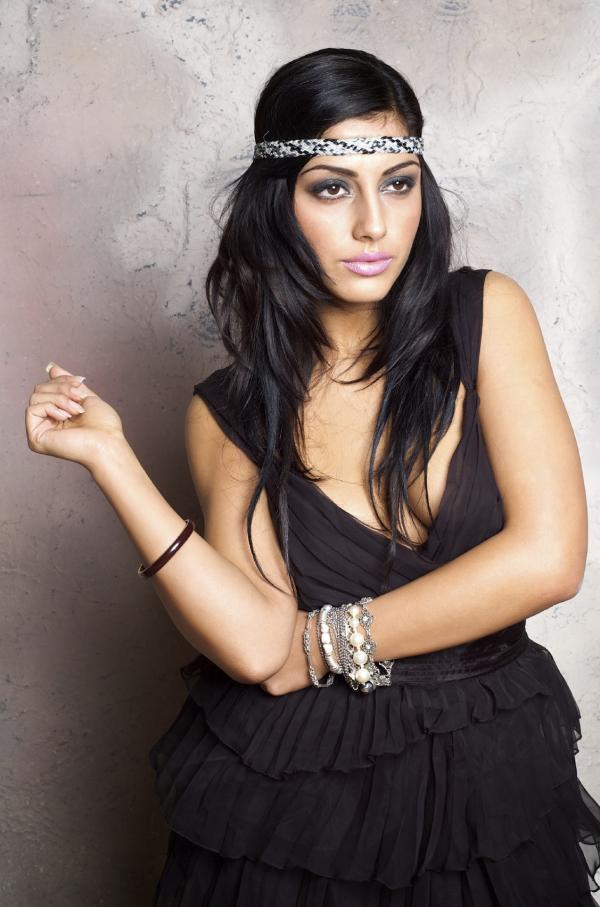 When talking about black dress jewelry, we should mention the rest of the accessories as well. However, like with everything else in life, the key is in the balance! Do NOT overdo it! To achieve the balance, you are allowed to pick just one chunky piece! For example, if you want to wear a statement piece like a ring, or breathtaking earrings, or even a set of bracelets, remember to wear more discrete jewelry on your remaining body parts.
If you choose extremely long earrings, skip the necklace. Why? It's simple! Wearing both will only make your face longer than it is, and throw your look out of balance.
You probably know that, when it comes to matching the jewelry, it's not all about color balance… You need to match the material as well. This means that all of your jewelry has to be made of the same or at least similar materials.
How to Match the Black Dress Jewelry With the Occasion?

It is very important to match your jewelry with your black dress, but it is also important to match it with the occasion.
Formal Event
To achieve an Audrey Hepburn, classic and elegant style, choose pearls. But if you don't want to be in the spotlight so much, choose fine jewelry instead. Since we are on the subject of formal events, you might also want to check out our How to Choose the Perfect Prom Night Jewelry article.
For a shiny Bling look, choose shiny jewelry. Or you can even wear diamonds! Since the black dress comes as an elegant night out option, adding some shine will definitely turn some heads!
Work
When it comes to choosing the perfect black dress jewelry for work, I suggest that you wear slimmer jewelry like a slim motif necklace, or a fine ring, or a bracelet. It might not be the best idea to look all shiny at work.
Casual Day Out 
For this type of occasion, you can add color to your black dress and let yourself be more playful. For example, you can combine the statement and chunky jewelry, and achieve that "All eyes on Me" look! You can also try wearing a thin, long necklace, in a combination with a statement bracelet. This is considered to be the most fashionable way to accessorize your little black dress!