Men / Rings
A Guy Deserves an Emerald too - Browse Our Selection of Men's Emerald Rings!
Rings are fashion accessories that have come to be accepted in our society as one of the go-to pieces for making strong statements. Men more so, adore rings because they give an impression of power and authority. Not only that, some rings represent bonding between partners, which is where the design of a ring comes in. Some rings have the same universal dreary design while some are more radiant, classy, and exude royalty. Emerald rings belong to this latter set, and although commonly worn by women, there are several options in the market designed for men too which gives them that classic royal vibe.
If you are interested in owning an emerald ring or buying for a man then, we've compiled up to 10 men's emerald rings below. In terms of design language, and even the inherent strength of the materials, these are the heavy-hitters of the market.
Why an Emerald Stone is a Good Choice for a Man
The days of men wearing plain metal rings are long gone as gemstones are getting more and more acceptable as integral parts of rings in the fashion industry. There is an extensive collection of men's rings featuring different gems on the market; though it is worthy to note that these gemstones symbolize different core values and beliefs. In the case of emerald, inner strength, peace, reflection, and balance are the definitions.
Another reason why you should choose emerald is the fact that they're some of the most colorful and scintillating stones out there. Recognized and respected by all, emeralds are almost impossible to miss when worn. The fact that they can take quite a beating, coupled with their nice resale value gives them an edge over a lot of other gem rings.
Celebrities Seen Wearing Emeralds
As with every fashion item, our celebrities are a huge fan of their looks and what they represent. So it's no wonder that emeralds have gotten a lot of love from them. From social events to displaying it on the red carpet, a lot of these stars have made a statement using the gemstone at one point. In the 2018 Golden Globes award, Debra Messing, Zoë Kravitz, and Catherine Zeta-Jones arrived on the red carpet putting on matching Emerald rings and earrings.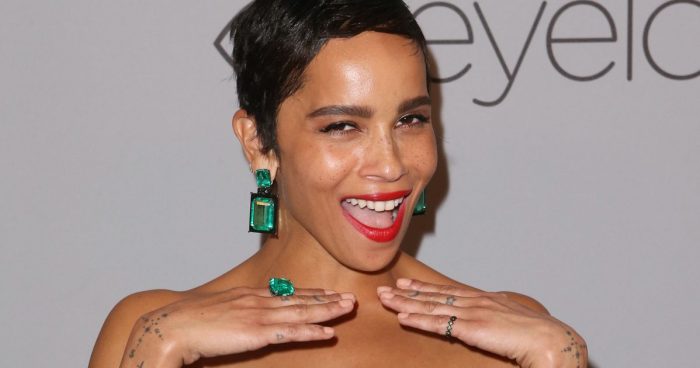 When they are not wearing it, the males are giving it out as engagement rings to symbolize love. This is seen in the case of celebrity couple Ryan Gleason and Alexa Ray Joel when he engaged her with a new emerald-cut diamond ring. However, emeralds are more popular with male Bollywood celebrities since some of them believe in gemstone therapy for success. Bollywood stars like Shah Rukh Khan, Farah Khan, Sanjay Dutt, and Salman Khan have been spotted wearing one.
10 Best Men's Emerald Rings!
1. Colombian Emerald Solid Silver Ring

This is a unique piece of jewelry that does not break the bank nor kickstart skin side effects. In-depth, we love this option because it merges both beauty and strength in the form of the Columbian emerald and the 925 sterling silver. In the case of the former, nine square emerald stones are round-cut and engraved into the metal top.
The sterling silver itself stuns with the chiseled side (handcrafted), which adds a tone of playfulness to the whole piece. Having said that, the metal comes in at 8g, while each stone comes in at 0.65 carats each. We recommend ordering your size directly since the entire ring is handcrafted.
Other info: If you're replacing a long-time wedding ring, this is one of the best mid-range priced options that you can get. Of course, it can likewise be a birthday gift that'll always remind him of you.
2. Rylos Emerald Set

Definitely one of the more fancier options on the list, this gorgeous piece is also one of the more expensive. It features an oval emerald which comes in at 0.60 carats. After, you'll immediately notice the silver-like material, which is actually white gold.
If you're gifting it to someone who prefers being inconspicuous with their dressing style, then this is a good enough choice- if you can ignore the large gem at the top!
The white gold comes in at a comfortable 3.3g, though keep in mind that polishing it too much can lead to a reduction in size.
Recommendations: If he was born in May, this is his birthstone. We only have two words for you, get it!
3. Falcon Jewelry Sterling Silver Ring

As a falcon depicts the beauty in the realm of birds, it's no wonder that the fashion world makes use of it as a design inspiration. This piece is as breathtakingly gorgeous as it's cultural and comfortable to wear as a fashion accessory. Likewise, it also makes a bold statement, in the form of the emerald set into the metal.
In-depth, the choice is 925 sterling silver, and it's crafted with a huge oval stone that commands the same attention as the detailing on the metal. Price-wise, this won't break the bank which is one advantage it has over other options on this list. We recommend this if you're shopping for a statement ring for your man.
Other info: Sizes ranges from 5-16.
4. 55 Carat Genuine Emerald Stone

This is a 55 carat manufactured emerald silver ring for men. The piece is made from a combination of 925 sterling silver (to manage the cost) and a natural, flat-top, 5-carat emerald. It's definitely one of the biggest stones on the list, and that's why our recommendation is a little bit different this time.
While it's good for weddings, Valentine's, anniversaries, Father's Day, it's a statement ring all through. So make sure your man likes his toys big and commanding, instead of inconspicuous.
Other info: Size ranges from 5-13.
5. Bonlavie Radiant-Cut Created Green Emerald

Bonlavie never lags when it comes to appealing designs. This piece features an attractive square-cut synthetic emerald, which is even prettier than all the others we've seen so far. Made of high quality 925 sterling silver, this accessory is both durable and comfortable to wear. As for the gemstone, its selling point is the fact that it shifts through different shades of green to mesmerize.
Asides the looks, other info you need to know is the silver weight which comes in at 12g, while the gemstone comes in at 6.85 carats. Surrounding the stone is a carved Celtic pattern,which brings in a sense of tradition.
Other info: Sizes vary from 6-14, and it comes with a charm ring and jewelry box for storage. A 12-month warranty is included.
6. Sterling Manufacturers Sterling Silver 925 Ring

Going for an event and want to look stunning, this is one of the best dress rings that we've seen in some time. The piece's craftsmanship is impeccable with it wrought from 925 sterling silver, and then encrusted with both cubic Zirconia (32 to be more specific) and a flat-top emerald.
This might seem over-the-top, but for dinners, romantic dates, and even vacations you guys have planned, he can surely get away with wearing this. One last highlight is the appealing price which doesn't dictate the ring be cheap-looking. Nevertheless, we recommend asking him, if he'll love something this flashy before making the order.
Other info: Sizes range is 7-14, and it features princess-cut grade AAAAA+ cubic Zirconia stones.
7. Gemsonclick Natural Stone – Square Shape

This is a handmade gemstone which is a clear favorite for vintage accessory lovers. The choice in emerald comes from India and the dusty look is a testament of its quality. That said, the stone is set into a slim band made of 925 sterling silver. This design isn't over the top which is what we consider being its charm as it's automatically tailored to a certain set of individuals.
If you prefer subtle accessories that add a touch of class to your whole look, this is the one to get. If you're using it as a gift, anniversaries is where we would personally gift this one due to the tone it sets. Weddings are a no-go since we always think that kind of occasion deserves something more flashy.
Other info: Sizes range from 5-12.
8. Gemstone Kong Oval Green Emerald

Ready to make your guy feel like a man? Get him this gorgeous piece! It's carved from 925 sterling silver and then plated with 18K yellow gold to add in that royal-like feel. Design-wise, the ring is anything but simple. In fact, the design is technically one of the best on the list due to the amount of detail you'll find on it.
The side of the band is accented with arrow-like depictions, while at the top sits the 1.65 carats emerald gem. On both sides of the gem, you'll find two 0.02 carats Cubic Zirconia which complements the look. It's not over the top, but it will stand out.
Other info: This item comes in a deluxe box ready for you to surprise your loved ones, and every order is fully insured regardless of value.
9. Jewelry On Click
Chakra Healing Jewelry

Made of 925 sterling silver, this piece from Jewelry On Click is both beautiful and durable. Not to mention the price is pocket-friendly, especially with the quality you get. The piece hosts an Indian, oval-cut stone which sports that classic, vintage look. As for the metal itself, it's slim and sexy – making it a complement to any wardrobe.
It's a perfect gift for birthdays, father's day, and anniversaries. It also comes with a velvet pouch perfect when the ring is meant as a gift as well as for storage.
Other info: Size ranges from 4-13.
10. Masop Jewelry Stainless Steel Square Stone

This is not the runt of the litter, so to speak, as it has its own charm. Masop's piece is a band carved from 316L stainless steel, encrusted with a square-shaped, synthetic gemstone, and designed with a Celtic-like imprint on either side. In this case, you can polish the ring as much as you want, and we still doubt it'll rub off.
This option is perfect for outdoor activities you have planned or as a replacement or a temporary ring that can take quite a beating. Alternatively, it's one of the better choices on the list for your son on his graduation too. The product comes wrapped in an elegant gift box and comes with a limited warranty which is great news for customers worried about the quality of jewelry bought online!
Frequently Asked Questions
How Should I Care For My Emerald Jewelry?
To take care of and maintain your jewelry, you need to be mindful of how you wear them.
If you have sporting events or you're out for a bit of fun either at the beach or somewhere else, always make sure you are not wearing your rings. You'll avoid cracks on the gemstone's surface this way.
You also should only wear your emerald stone after you have applied your lotion, hair cream, etc. because chemicals from these creams could damage the gem.
To avoid getting dirt buildup on your jewelry, make sure you visit your local jeweler to get them cleaned professionally at least once a year.
Lastly, below are some tips you should keep in mind.
✓ Do not use steam or ultrasonic cleaning machines; these will leak out the oil used in treating the gemstone resulting in damages
✓ Use a soft microfiber cloth or tissue and soapy water to remove the oil and dirt on your jewelry
✓ Clean the surface of the gemstone with a soft fiber cloth
✓ Your emerald can be easily scratched so separate them from other gemstones
How To Wear An Emerald?
There are some clothing designs and color combinations that would further bring out the presence of your emerald jewelry. Clothing with solid colors and neutral tones is your best choice for showcasing the gemstone. Still, out of the colors available, black is the most suitable color as it contrasts, and thus, complements its depth.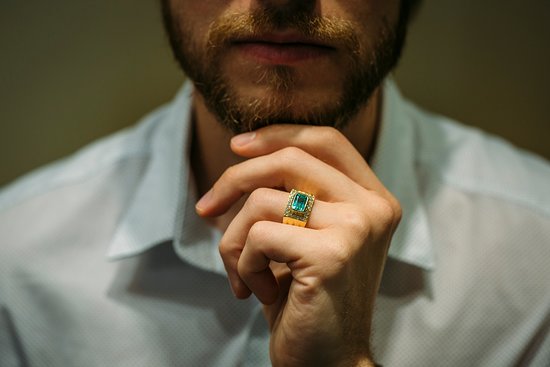 You can also wear your emerald jewelry with other accessories and fashion items, however, keep your choice of items simple and not too shiny so as not to detract from the beauty of this fantastic green gemstone.
Are Emeralds Only Green In Colour?
These stones are closely associated with the green color, but the hue comes in different variations, from deep green to pale green hues.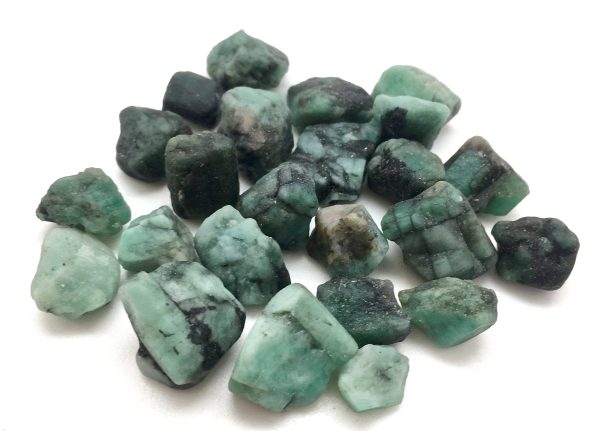 The variety of color is due to the amounts of chromium, iron, trace elements, and vanadium in the gemstone.
How To Check if an Emerald is Fake or Not?
You can spot a fake stone by first checking the hue and the color of the emerald; the original ones should be in various shades of green (light or dark tones).
Expose the stone to lighting and see if the emerald flashes colorfully at you. Natural gems give out vivid shades with minimal movement and will also not flash in all colors of the rainbow. If it does, the stone is probably fake.
Also, take a look at the metal that was used in making your jewelry and see if it is what they claimed it is.
Lastly, look closely at the facets of the gemstone. Natural stone is usually hard, and the edge of its facets is not expected to look worn.
How Are Emeralds Priced?
The value and price is determined by four characteristics. They the weight, cut, color and clarity. The more precise and intense an emerald is, the more value and price it incurs. Most expensive stones are the ones with an intense green shade with a clean and clear surface.