The Obsidian Ring Your Man Will Love
last updated:
Jun 19, 2021
Obsidian is a decadent stone filled with depth and allure. When paired with metal, it creates a striking contrast that pairs perfectly with an assortment of other accessories.
Finding an iconic obsidian ring is one of the best ways to showcase your fearless style for any occasion.
Let's delve into some of the most intricate and unique obsidian rings you can wear yourself or give as a luxurious gift.
We promise there's a style in this guide that everyone will love.
Our Top 6 Picks!
1

. Effy Sterling Silver & Obsidian Ring
Flecked obsidian
Sterling silver
Scaled band
13.28 total carat weight
This multidimensional obsidian ring is sure to impress absolutely anyone looking for a detailed accent for their fingers. With the uniquely styled obsidian combined with polished sterling silver, it's precisely what you need as a statement piece.
Read more
One of the most attractive features of this ring is the uniquely marbled obsidian centerpiece.
It features a brilliant flecked design with a smoother finish, offering an effortless glisten in the light.
The perfectly cut square stone with softened edges brings an elevated appeal to your accessories.
The silver band is unique in that it boasts detailed scaling, similar to the exotic nature of a snake.
On the interior of the ring, you'll notice the metal is perfectly smooth, making it easy to put on and take off.
Also, the higher-quality materials are designed to last several years without showing any signs of wear.
2

. Skullis Signature Gem Skull Ring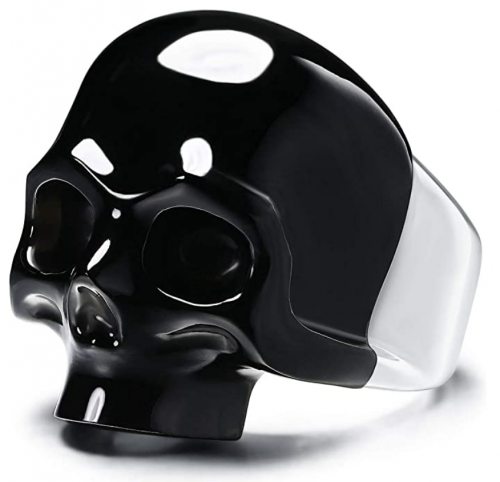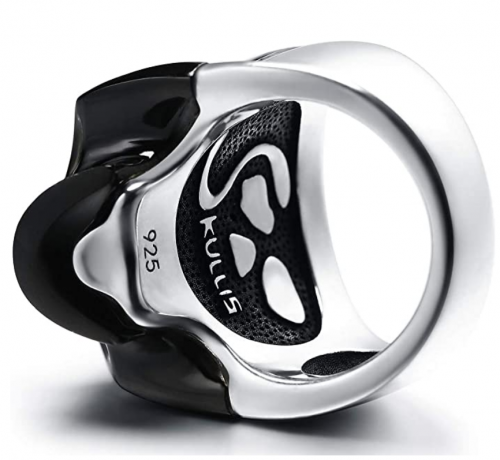 Sterling silver band
Black obsidian skull
Exclusive crystal skull design
Arrives with gift box
This ring is a significant part of your rocker-style collection. It pairs perfectly with an assortment of other pieces but also works as a standalone focal point.
Read more
The stunning deep black obsidian stone is snag-free and smoothed, preventing it from catching on your other pieces.
It also boasts a sterling silver band that offers the perfect contrast to the deep black stone.
One of the most impressive features of this piece is that it's beautifully hand-carved. Each skull accent is sculpted using a genuine and exclusive skull design that you aren't likely to find elsewhere.
Each piece is designed using a world-class jewelry designer, proving that you'll own a one-of-a-kind accessory.
You can quickly wear this slip-on accessory yourself for a rugged and punky aesthetic or gift it to a loved one.
3

. Sabrina Silver Obsidian & Malachite Ring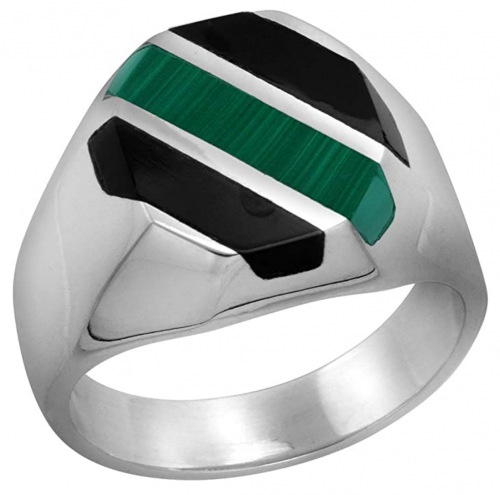 Sterling silver
Handcrafted
Malachite has healing properties
This particular pick has not one type of stone, the Obsidian, but also has Malachite! You get two times the healing properties in one piece.
Read more
Both have beautiful color and depth, but the Obsidian stone is lovely jet black. It is made from natural Obsidian and sits in a uniquely beveled, shouldered sterling silver.
This piece is not hollow on the inside, but, instead, it is solid sterling silver. The silver carries the 925 stamps of authenticity.
The band is flat on the bottom and progresses to the shouldering at the top. The stones are inlaid in silver and each one has an irregular rectangle shape.
The stones are set on a diagonal, giving it interest and form. This ring has a rich appearance and is very masculine. It may leave you feeling light, refreshed and in control.
Size is approximately 9/16 of an inch, or 14 mm. This ring comes in a size 9 to 15.
4

. Larson Obsidian Domed Ring
Tungsten carbide
Obsidian
Comfort fit
Sandblasted crystalline finish
There's no doubt that this ring would make the perfect engagement or wedding band. It could also work perfectly as a casual focal point, paired perfectly with a pair of jeans or slacks.
Read more
This option has a classic ring to it, but it also screams modernism. The stunning flair that it offers is significantly different from other traditional engagement or wedding rings.
Thanks to the sandblasted crystalline finish, it has a slightly crackled appeal, which also adds texture and depth.
It's not only comprised of obsidian but also tungsten carbide.
The entire piece is painted black, which speaks to its contemporary appeal, perfect for any wearer.
You'll fall in love with the smoothed edges of this hyper-masculine ring as well as its premium-grade materials.
Tungsten carbide is one of the most resilient materials for jewelry, as is obsidian with its deep black hue.
With the added sandblasted exterior, scratching your ring will no longer be a concern. The materials are scratch-resistant, as is the rough exterior, helping the ring last years with daily wear.
5

. DHgate Vintage Obsidian Ring
Tungsten band
Obsidian natural stone
Prong setting
Geometric details
It can be challenging to find jewelry that feels like it has a story behind it, but this ring makes it simpler. This option has a reflective rocker-style appeal that you'll fall in love with after wearing it for the first time.
Read more
At first glance, it's easy to see how this ring could be considered a precious accessory.
It features an abundance of polished and intricate details that are sure to capture your attention.
The silver-tone ring is perfect for someone searching for a smoky and mysterious piece to complement their outfit.
On the sides of the bands, you will find Greek-inspired trident engravings as well as a section of inlaid round accents.
There's a beautifully cut obsidian natural stone in the center of the ring to finish the piece.
This piece of obsidian is one of the most impressively cultivated as it's pure black without inclusions.
It's also perfectly laid within the center of the ring, held in the ideal position for stability and security.
There's no doubt that this ring is easy for absolutely anyone to wear.
6

. Sabrina Silver Black Obsidian Ring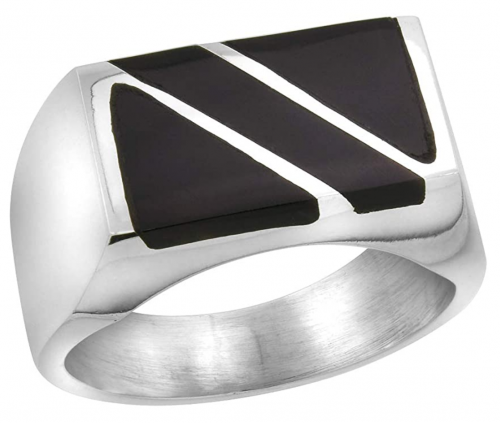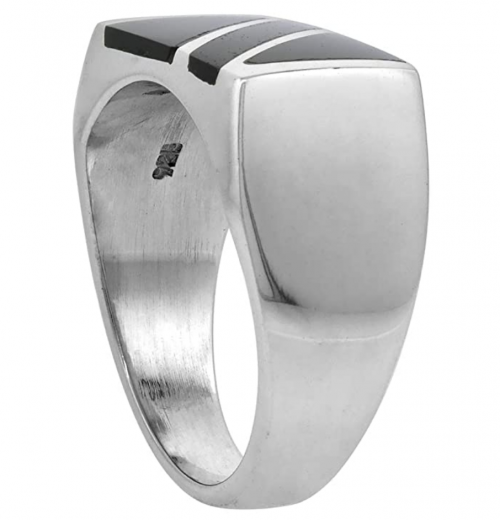 Natural obsidian
Handcrafter
Solid silver
This is a very nice guy's ring. The band has a flat profile and forms, what we call, angled shoulders. The shoulders are wide, giving this ring a formidable appearance. We think the appearance is more organic because this ring is handmade.
Read more
There are three stones of Obsidian used in this piece. Two of them are triangular-shaped and are inlaid on both sides of the piece. They are base to base but separated by another piece of Obsidian.
They are divided by, what looks like, an elongated parallelogram. Basically, a rectangle with the sides cut at an angle. The Obsidian stone is natural, volcanic glass and considered to be a healing crystal.
This ring falls in the upper-mid price range. This is a pretty hefty ring and feels really solid. It is about ½ an inch wide. That's about 12 mm.
It comes in sizes 9-13. It could only be resized by a jeweler.
Other Factors to Consider
Jewelry Metal & Gemstone Quality
When choosing our pieces we looked at a number of things. We wanted a piece that was durable. If it isn't a sturdy piece, it won't last and it's no good.
Obsidian also has healing properties. It's thought to be linked with the root chakra, the energy center that stabilizes your entire system. If it's not a quality stone, or it's a fake, none of this can happen. We tried to show you pieces made from quality stone.
Lastly, we asked ourselves about the ease of wear. An Obsidian piece should look amazing and feel just as amazing. If not, it stays in your drawer it is worthless.
Frequently Asked Questions
q:

Is Obsidian a precious stone?

a:

Technically, Obsidian is considered a rock and is most often cultivated from large pieces formed by volcanoes.

There isn't a set price for this gemstone, as with other stones like diamonds. It's also important to note that Obsidian in its natural form isn't excessively expensive but looks luxurious.

With proper cutting and polishing practices, the value of the stone can increase. However, in most instances, obsidian won't be as expensive as precious stones.
q:

What does black Obsidian do?

a:

Interestingly, black Obsidian is known to be a powerful cleanser, helping to offer optimal protection.

When used as a healing stone, it helps protect the wearer against negativity while cleansing their aura.

Some groups also believe Obsidian can assist with boosting precognition as well as giving the gift of prophecy.
q:

How can you tell fake Obsidian?

a:

The best way to tell between real and fake Obsidian is to look at the stone's development. Most natural stones have a conchoidal fracture, similar to glass.

You shouldn't see many crystals on the surface, and the rock should be smooth.
Finally...
Obsidian is formed from quickly cooled lava. It cools rapidly when exposed to rapid contact with water, or air. However it's formed, we are just glad someone found it!
Obsidian jewelry is classic and stunning and we love the healing properties it has. Our love for Obsidian is well-founded. Back in the day, 12,500 BC to be exact, people used it for pottery.
When it breaks, it has a sharp edge. It was popular in the Stone Age for this reason. Folks would use obsidian for chipped tools, sharp blades, and arrowheads. Because it has such a glossy shine when polished, it was used for mirrors as well.
How you cut off a piece of Obsidian, will give it differing appearances. If you cut it in one direction, it will be a gleaming grey color. Cut in another direction it will be a stunning jet black. If you embed it with a perlite matrix, it has a greyish-white appearance. However, you cut it we want our guys to "rock" these Obsidian rings.
Take care of your Obsidian. ring using standard jewelry procedures, but avoid using chemical cleaners. Soapy water and a soft drying cloth will do.