7 Rose Quartz Necklaces That Are Simple And Beautiful
last updated:
Jul 16, 2021
Rose quartz is a beautiful stone that exudes femininity with a shroud of mystery. The naturally cloudy crystal has a subtle pink hue that complements anything from formal dresses to more casual weekend outfits.
When paired with luxurious metals and delicate extra touches, there's no doubt these necklaces will become one of your favorites.
Let's explore some of the most stunning rose quartz necklaces you'll find for any occasion.
7 Rose Quartz Necklaces
1

. Raf Simons Rose-Quartz Necklace
Silver-tone brass
Italian design
Smoothly polished rose quartz
"R" signature logo
The Raf Simons rose-quartz necklace has an adorable uniqueness to it. You will find this intricate piece is easy to style with the latest designs that work well with modern outfits..
Read more
This piece is unique because although the crystal is the focal point, the necklace also has a beautiful charm.
The signature "R" logo from Raf Simons hangs delicately down the side of the crystal, sitting gently against the smoothed surface.
As a semi-precious stone, this piece is one of the more luxurious items that you can add to your existing collection.
The necklace is crafted from Italian brass, plated with a silver-tone that works perfectly with the pink stone.
The delicate link chain is also quite remarkable, which doesn't take away from the distinction of the necklace.
2

. Macy's Heart Shaped Rose Quartz
23x21mm rose quartz
Sterling silver chain
17.5" chain with 2" extender
Spring ring clasp
The Macy's heart-shaped rose quartz is a tremendous contribution to your jewelry collection. It takes the standard design of a rose quartz necklace and elevates it with a beautifully polished exterior heart shape.
Read more
The Macy's heart necklace is delicate with designer finishes that add to its unmistakable style.
The necklace length is 17.5", making it easy to fit various sizes, and the stone is 23x21mm in size.
If you find you need extra length added to the chain, be sure to take advantage of the included two-inch extender.
We fell in love with the sterling silver setting, which is a dependable and long-lasting material. When put against the pink-hued quartz, the silver shines effortlessly, grabbing the light from every direction.
Also, the silver withstands plenty of wear and tear, especially for people who have sensitive skin.
What makes this stone unique is its treatment before being placed in the sterling silver setting.
3

. Kendra Scott Jamie Necklace
Gold-plated brass necklace
Lobster clasp closure
18.5" chain length
Rose quartz pendant
It's easy to see why the Kendra Scott Jamie rose quartz necklace is a fabulous addition to your collection. Its unique modern style has a radiant aesthetic with prismatic features for a professional yet casual flair.
Read more
The horizontally set rose quartz is the most prominent part of the necklace, as it maintains the crystal's natural shape.
In the center, the quartz is held together by a gold-plated brass setting, complementing the pink hue effortlessly.
As for the rest of the necklace, it's also made from top-tier gold-plated brass, with varying accents along the chain's length.
It's a dramatic and stunning necklace that you can pair with an assortment of everyday outfits.
4

. CXD-GEM Raw Rose Quartz Necklace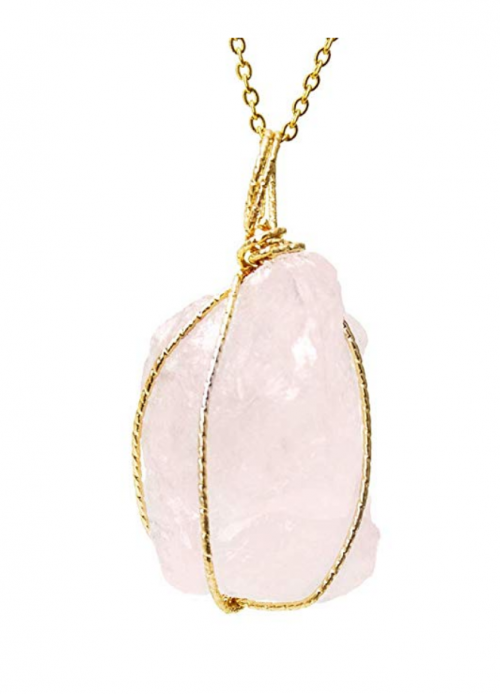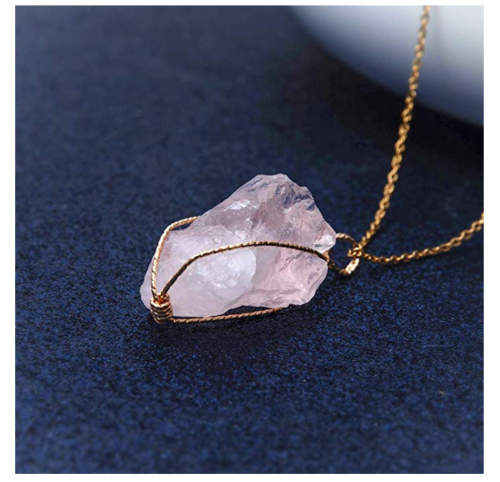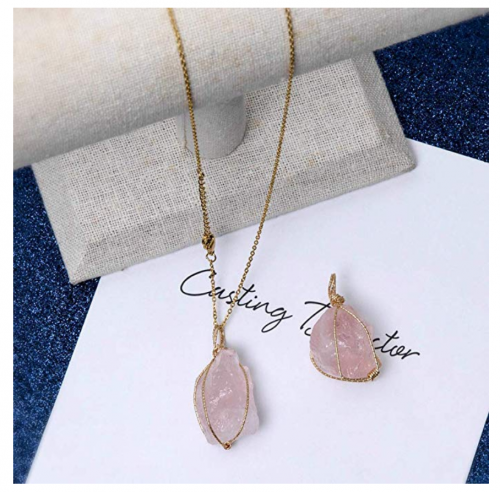 Raw stone
Adjustable
Gift pouch included
First on our list is the simplest presentation of the gorgeous stone we could find. A raw, rough-cut hunk of rose quartz hangs from a sixteen-inch chain.
Read more
About the size of a dime, the necklace is dainty and unassuming. The back is cut flat so the chunky stone still lays flat against the chest. It takes it from a hunk of rock on a chain to inspired use of raw crystal. Clever design details like this will get us every time.
This raw rose quartz charm is so charming and positively perfect for layering. It comes with sixteen inches of 14k gold-filled chain. This will hang it close to the collarbone. We actually recommend using an extender and dropping it down to eighteen or nineteen inches.
Because this is a natural stone, color and shape will certainly vary. Naturally rose quartz stays in the pink column but it can range from pale pink to a fuschia-fueled purple. No matter the stone you receive on your necklace, it will be a stunning addition to your collection.
5

. Zenergy Himalayan Heart Pendant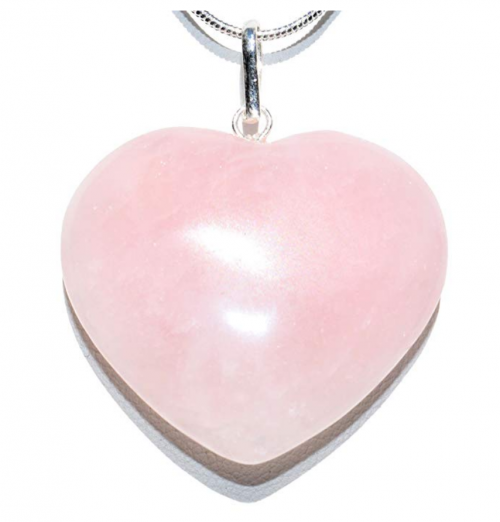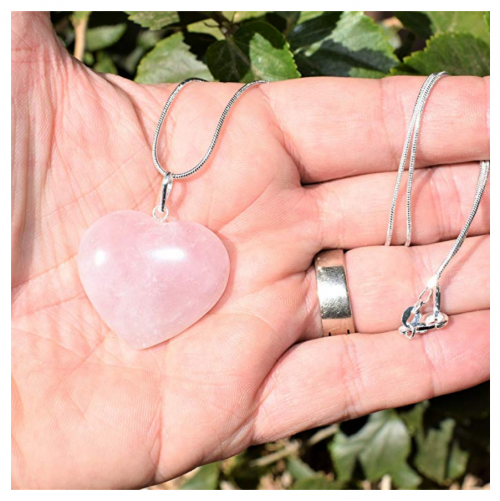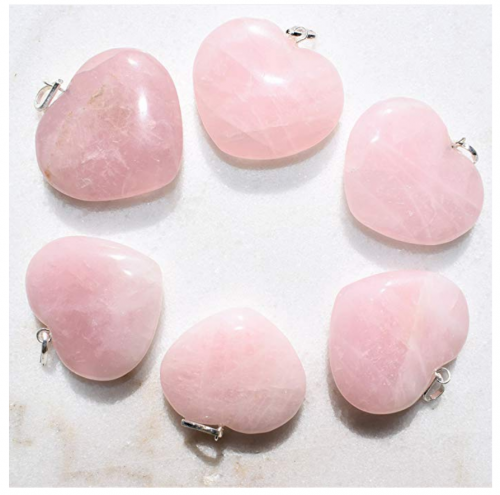 Handmade
Comes with Selenite charging station box
Money back guarantee
If rose quartz is the crystal of the heart, we believe we may have found the perfect piece for crystal healing enthusiasts.
Read more
A large piece of rose quartz is carved into a gentle heart and polished to a splendid shine. It arrives on a beautiful twenty-inch silver chain. It positions the love crystal in the perfect place to receive maximum energy if you believe in this method.
This piece of rose quartz was ethically mined from the mountains home to Mount Everest, K2, and the deadly Annapurna.
There is something particularly mystical about the Himalayas. Perhaps it is their isolation or perhaps it is the strength of the people who live on and around them, but we cannot seem to get enough items from the South Asian mountain range.
Owning this simple, puffy heart means you will own a part of the mystical mountains.
6

. Creative Club Necklace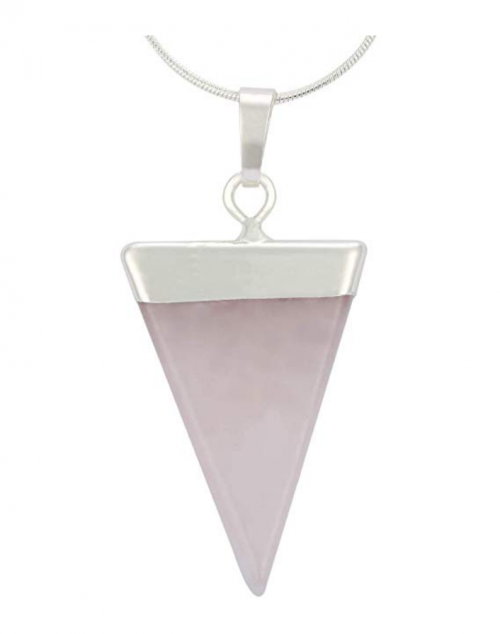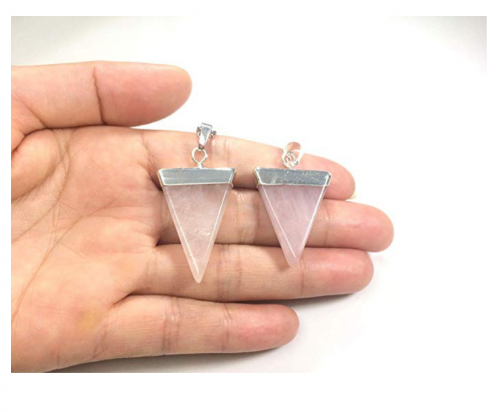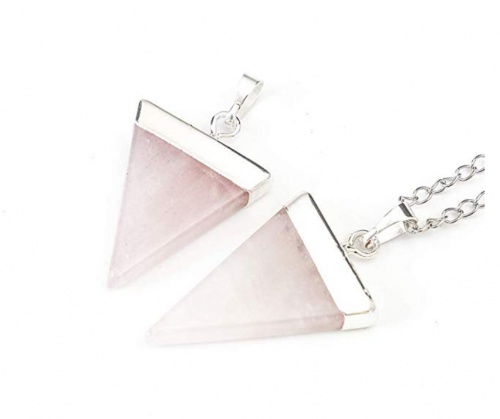 Natural rose quartz
Stainless steel chain
Limited warranty
This next piece is perfect for anyone. It is just the right combination of gentleness with strength. It comes with an eighteen-inch chain with an optional two-inch extender. This makes it the perfect height for a simple statement piece.
Read more
While the triangle may look like a simple design choice, it can also be a powerful symbol by itself. Triangles are traditionally a shape of strength.
Each bar supports the other in an endless cycle of strength and support. Traditionally triangles are also used in representations of the four elements, earth, wind, fire, and air.  
When this impressive symbolism is combined with the loving and centering qualities of the rose quartz, it creates a wonderful way to celebrate your connection with the Earth and Mother Nature's loving care of it.
7

. Rosantica Profumo Quartz Necklace
Vintage perfume bottle pendant
Crystal-embroidered fringe
Gold-tone metal
Long drop design
If you're a fan of rose quartz paired with gold but are looking for a more exotic necklace, this design is iconic.
Read more
The rose quartz is carved into a delicately designed vintage perfume bottle, making this piece something you've never seen before.
This style is elegant and eye-catching if you're on the market for a luxurious and designer-crafted necklace.
Every necklace is handmade in the Rosantica Italian atelier, speaking to the authenticity of the piece.
The stunning rose quartz crystal has a smooth and smoky appeal that works perfectly with the gold-tone metal.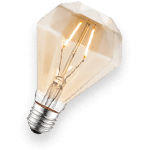 The geology behind this crystal
Rose quartz is, as its name suggests, a variant of the quartz family. Quartz is a massive term that covers a whole lot of ground in the semi-precious stone territory. Citrine, amethyst, even agate belong to the same geological organization.
Pure quartz is clear with a whitish tinge and forms the iconic six-sided crystal naturally. Rose quartz is a variant of this. However, due to various inclusions during its formation, rose quartz is never transparent like pure quartz is. It also does not naturally "grow" in the classic crystalline shape. It is often found in large, squarish chunks.
It is a hard enough stone to be carved and polished. Its color saturation is typically pretty even. However, its tone can range from a very pale pink all the way up to nearly purple.
Celebrities rocking the rosy rocks
Katy Perry is said to keep a piece of rose quartz in her pocket. Uma Thurman and Kate Hudson also carry crystals on their person.
Singer Adele clings to crystals during her performances. She tells the story that prior to the 2016 Grammy Awards she had misplaced her crystals. Describing her own performance as "...the worst, most disastrous performance I have ever done," Adele promptly loaded up on spares.  
Kim Kardashian West was turned on to crystals and their reported effects after the famous robbery in Paris. She was so inspired by the energies she felt emanating from the rocks, she used their inspiration for the bottle design for her fragrance line that debuted at the end of 2017.  
Specifically, she drew from citrine, quartz, and rose quartz when designing the now-iconic bottle for KKW Fragrance.
FAQs
q:

What is the healing power of this crystal?

a:

It is widely believed that crystals have healing powers. Rose quartz is no exception. According to crystal healing enthusiasts, rose quartz is tied to the heart chakra. It is rooted in the emotions of the heart. Love, both romantic and platonic, fondness, calmness, and centering are often tied to the presence of rose quartz.

For practitioners of mediation with crystals, rose quartz should be held in the left hand, the same side of the body as the heart. It can also be placed over the heart for the greatest impact. Hope, faith, and joy are tied to chakras, or energy centers higher than the body; the head, eye, and throat.

All of these, however, are balanced over the heart. So focusing your attention on your heart and having a love-filled life, means it is easier to find and focus those higher energies.  

Rose quartz is also believed to give off energies that physically strengthen the heart. This improves circulation and endurance. It is often a popular choice for runners and weightlifters who use crystals to focus energies.
q:

How to wear rose quartz?

a:

Seeing as placing rose quartz over the heart is recommended by followers of the system, necklaces are the absolute answers. Even shorter chains keep the helpful rock centered over the chakra.

While some crystals must apparently be used very sparingly so as not to overdue or unbalance the energies, rose quartz is a free-for-all in the practice. You simply cannot have too much love.

Rose quartz can have a positive effect over all the chakras by simply infusing them with loving energies. So wearing a rose quartz piece around your throat, even though it is a different chakra cannot hurt anything by the logic of crystallists.
q:

How to care for a quartz?

a:

Rose quartz is a fairly hearty stone that is not particularly prone to scratching. It is not ill-affected by humidity although any sterling silver or gold that accompanies them may be.

The biggest danger in storing rose quartz pieces is actually that it might scratch other pieces. As with most other materials, it is important to wipe down your crystal with a soft cloth. This removes the dirt and oils from the day.

Heavier pieces of quartz are best stored laying down, especially if they are hung from cloth or leather cord. Smaller pieces can be hung but should not share a hook so the stone does not scratch other pieces.

Be sure to follow specific information for mixed media pieces, or pieces that include other fine gems, enamel, or specialty metals. The rocks themselves will typically withstand most cleaning processes without ill-effect.
q:

What does wearing a rose quartz necklace do?

a:

When it comes to crystal healing, rose quartz is known for its power when placed close to the heart.
You'll find it is said to assist with increasing blood circulation while also warding off negativity.

Wearers are more likely to experience positive emotions and events, as well as enhanced balance and love.
q:

How can you tell if rose quartz is real?

a:

Genuine rose quartz can be distinguished based on its coloring and imperfections. Authentic stones don't have excellent transparency and are known to be hard enough to scratch steel. When exposed to light, rose quartz will fade over time, a natural property of the stone.

To determine whether your stone is natural or not, you'll want to look at the type of imperfections it has. It's far too often that manufacturers simply dye glass to make it look similar.

However, artificial rose quartz will have bubbles in the stone, proving that it's crafted from inauthentic materials.
q:

How much does real rose quartz cost?

a:

Quartz is one of the most easily sourced materials globally, and as such, its price is lower than other crystals.

On average, multiple pounds of rose quartz can cost as little as $20, while some retailers sell it for $4 per pound.
q:

Does rose quartz protect you?

a:

Rose quartz is a protective stone, thanks to its ability to ward off negative and evil energies. By wearing the stone near your heart, you can protect your life and well-being from hostile forces.

Also, it helps to encourage positive energies from entering your environment.