Inspiration / Jewelry
Tourmaline Meaning! Bonus: Our Favorite Black, Green & Pink Tourmaline Jewelry!
We all know about the common gemstones like diamonds, sapphires, or emeralds (just to name a few!) but in reality, there is such a long list of gorgeous gemstones that you should definitely consider when buying new pieces for your jewelry collection. Today we want to focus on one such gemstone, tourmaline! 
Have you heard of tourmaline before? It is a lesser known gemstone, so don't feel bad if you haven't. However, by the end of this article, it may just be one of your new favorite gemstones!
Not only does it have an interesting history and variety of meanings, the stone itself also has a variety of colors, mainly black, green, and pink.
If you are in search of a new unique piece of jewelry, something with tourmaline may be just the thing for you.
Whether you want a more delicate or feminine pink tourmaline piece, a regal green piece, or a more edgy black tourmaline piece, you can find something to fit your personality and style.   
What is Tourmaline? 
So, before we get into the history of the stone and tourmaline meaning, what is the stone itself? Tourmaline is considered a semi-precious stone that can be found in a variety of colors.
While it is a naturally occurring stone, it's a combination of various minerals that comprises the gemstone itself.
Slight differences in mineral compositions explain why this gemstone can be found in such a wide variety of colors. Some pieces of tourmaline are actually multiple colors!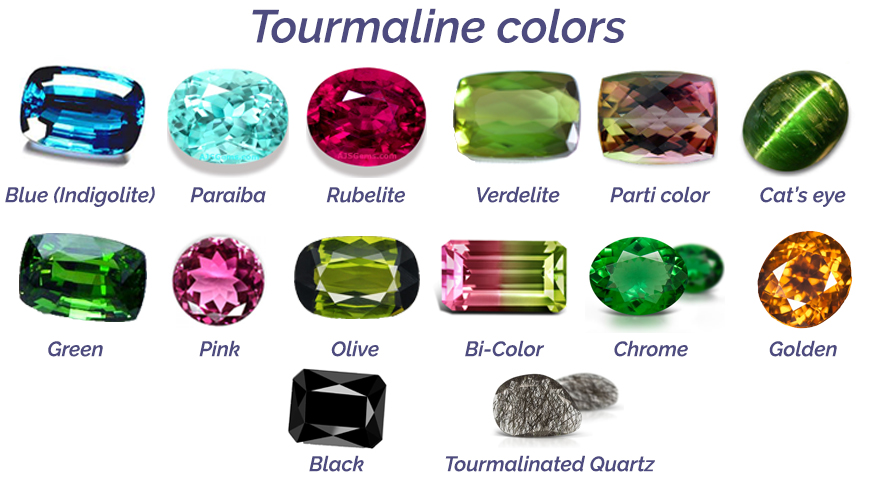 The main colors you can find tourmaline in are pink, red, green, black, and multicolored. This is what makes it one of our favorite gemstones because there is such variety.
In addition to having a lot of color options, you'll be happy to know that tourmaline is also a pretty durable gemstone, making it a great option for jewelry that will last for a long time.
On the Mohs hardness scale, it is given a score of 7-7.5. For reference, diamonds score a 10 and are considered the hardest gemstones in the world. 
Did you know that tourmaline is also considered the secondary birthstone for October? The main birthstone is of course the opal, but tourmaline is considered a birthstone for this month as well.
If you were born in October, or know someone who is, this makes this gemstone an even better option if you are looking for something unique!
Tourmaline Meaning & History

There is a pretty long and interesting history when it comes to tourmaline meaning, as well as various meanings associated with the stone across various cultures.
It is believed that the first tourmaline gemstone was found back in the 1500s in Brazil by a Spanish conquistador. He found a green variety and thought he had found an emerald.
It wasn't until centuries later, during the 1800s, when scientists investigated this type of gemstone further and gave it its own name. 
The name itself actually also deals with the common confusion associated with the gemstone. The name tourmaline comes from the Sinhalese word toramalli, which means "mixed gems."
Through the years various tourmaline gemstones have been mistaken for emeralds, rubies, sapphires, and more. The term is honestly a perfect fit for the tricky gemstone! 
Today, there are several meanings associated with tourmaline, especially when you look at its different colors. Here are some of the most common meanings associated with some of the more common colors of tourmaline:
Pink tourmaline: This shade is commonly associated with love, sympathy, and compassion. People who are healers or therapists may find it comforting to help them on their journey with helping others.
Anyone who is looking to enhance their love or compassion for friends, family, or romantic partnerships may wish to invest in pink tourmaline.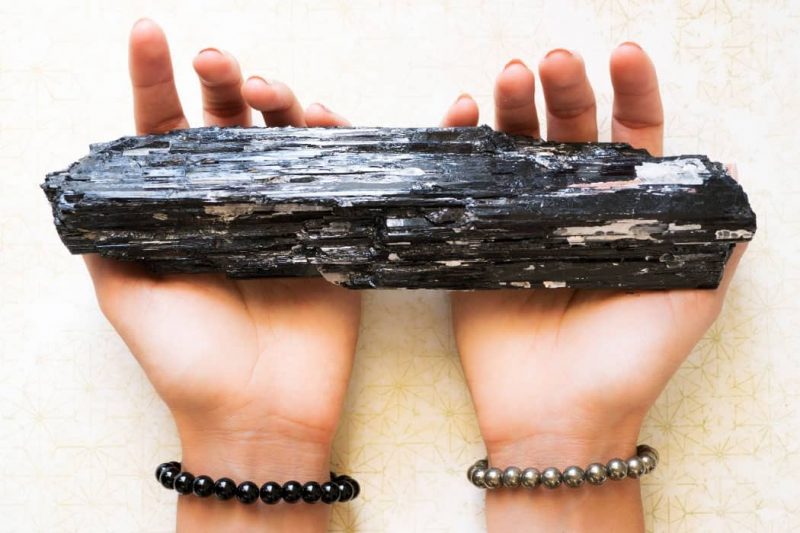 Black tourmaline: It's known for its ability to protect and energize the body. It can also help to cleanse the body, helping you to rid your mind of any negative thoughts.
Think of it as a stone that can protect you both from physical danger and emotional danger in the form of negative thoughts. 
Green tourmaline: this shade is all about healing. It also helps promote growth and strength, making it a great stone for anyone looking to heal and move forward in life, making great strides to become a better person. 
Cost and Availability
Now that you've learned a good bit about tourmaline, you probably want to get to the most important facts: how much does it cost, and where can you find it?
While there is definitely a wide range, you'll be happy to know that plenty of these gemstones are very affordable, as they are more widely available.
This largely has to do with the color of the gemstone. Some tourmaline stones, like Paraíba stones (which can be bright blue or green in color), can cost a ton of money because they are less common.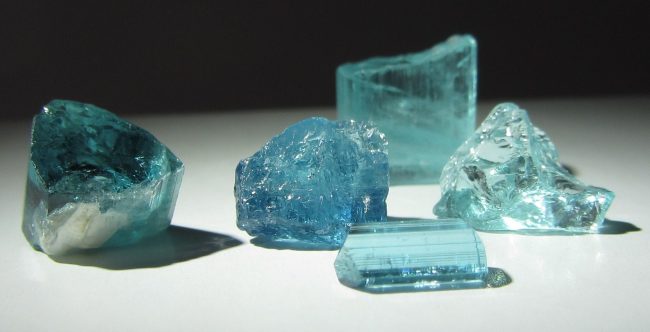 If you are in search of more common shades of tourmaline, like pink, green, or black versions, you will easily be able to do so, and for a great price as well.
The wide variety of color options make this one of the most exciting and accessible gemstones available. 
Shop Tourmaline 
Want to invest in some tourmaline pieces for yourself (or for a friend or family member, say a loved one born in October)? We don't blame you!
Here are some of our favorite pieces in a range of colors, including black, green, and pink tourmaline stones. 
Black Tourmaline Jewelry
First up- here are some excellent black tourmaline jewelry pieces! We love how unique these pieces look. There is something so cool about a black gemstone.
If you want something edgy and completely different, check these pieces out. 
1.Shop LC 925 Sterling Silver Black Tourmaline Ring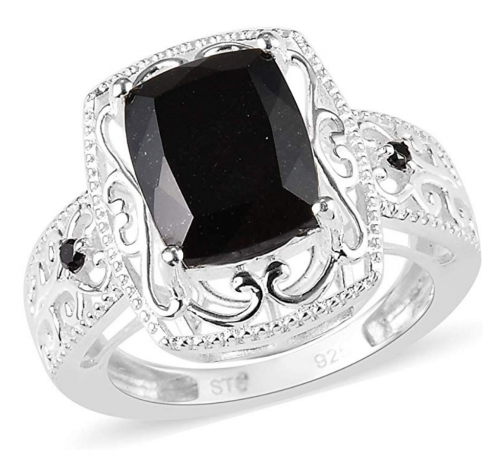 This ring is one of our favorite pieces because it perfectly balances really delicate, feminine details with the black tourmaline gemstone.
The gorgeous scrollwork on the ring gives it the perfect feminine touch, and the tourmaline stone makes it completely pop and stand out from any other piece you likely own.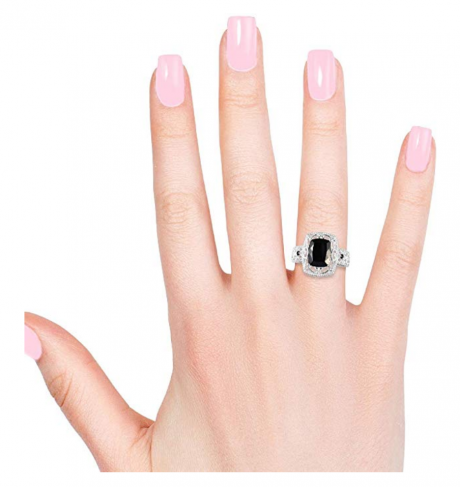 This makes for a great right hand ring and is the perfect accessory for a night out. 
2. Shop LC Black Tourmaline Onyx 925 Sterling Silver Necklace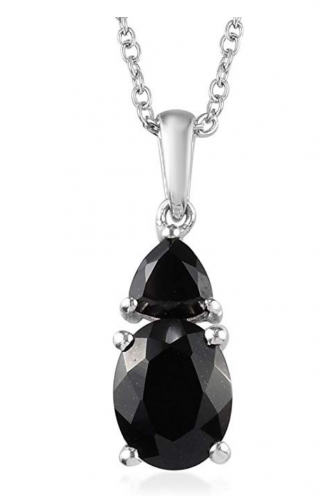 If you are looking for something a bit more subtle, this gorgeous pendant necklace features a two stone 'tear drop' design that is really unique.
The gemstones themselves are not large, making it a great necklace that you could easily wear every day. You can also dress this necklace up or down, wear it with a simple white button down shirt at work, or pair it with a lower cut black dress for a night out.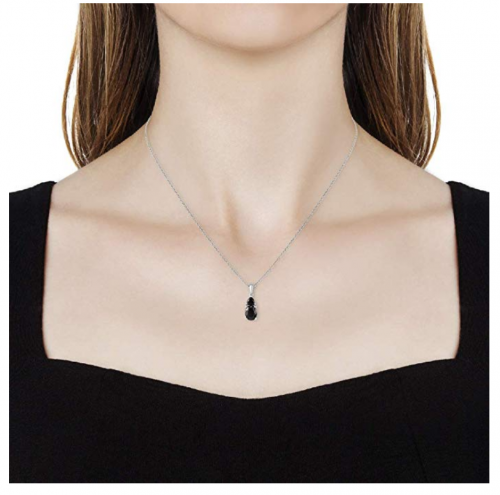 This is a versatile necklace that is simple, yet eye catching. 
3. M'VIR Raw Black Tourmaline Necklace
We love the raw cut jewelry trend. There's nothing wrong with wanting something polished and shiny, but sometimes you want something a little different, and a raw cut stone is the perfect mix up to the classic gemstone look.
This raw black, heart-shaped necklace is totally unique and gives off that chic 'cool girl' vibe. Because the chain it is on is 16 inches, this is a shorter necklace that will fall more at collar bone length.
Shorter necklaces are definitely trending right now, and this is a great way to wear the trend while still being unique! 
Green Tourmaline Jewelry
Something about green gemstones is just so regal! If you want something different than an emerald, you should definitely check out green tourmaline.
From lighter and brighter shades, to more traditional deep green shades, there is a lot of variation with green tourmaline which makes it so fun to shop for! 
1. Ruby & Oscar Tourmaline & CZ Paraiba Octagon Ring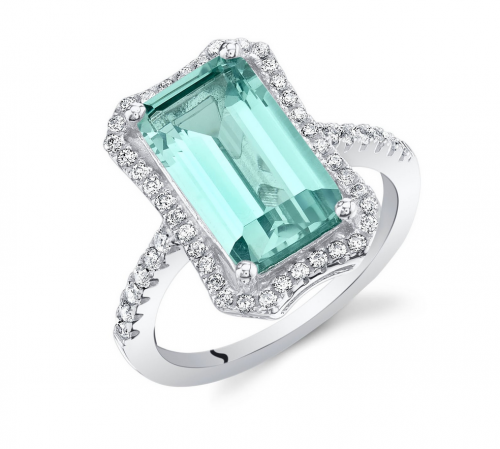 Remember earlier when we said that Paraiba tourmaline is some of the most expensive? If you were intrigued by the bright stone but don't want to spend the money, a great way to cut costs is to get a lab created stone, like this one.
We absolutely love this bright blue green color and think it is so eye catching and different from most other gemstones out there.
This makes for a great right hand ring, or for the right couple, even an engagement ring! If you are looking for an alternative to the typical engagement ring, this is a great option.
The cut and style of the ring is still very traditional, but the tourmaline stone makes it stand out in such a beautiful way. 
2. Ruby & Oscar Tourmaline & CZ Paraiba Tear Drop Earrings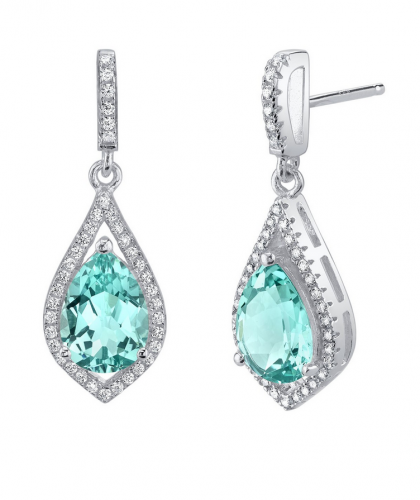 You can't go wrong with these tear drop earrings. The crystal light color is gorgeous, and a truly timeless shade that will never go out of style.
If you are looking for a pair of earrings that are more than a stud, but not quick as intricate or detailed as a chandelier earring, this is a great option.
These are perfect for your next date night or other special occasion. Be sure to wear your hair up so you can show off these earrings! 
3. Camille Jewelry Luna Ring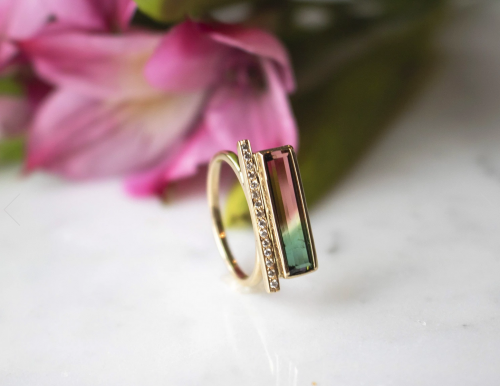 This watermellon tourmaline ring is beautiful and we love the combination of the diamonds, the green-pink tourmaline, and the yellow gold band.
They all work together beautifully and the result is a really eye catching ring that looks stunning. If you don't want a huge gemstone, but definitely want something unique, this is a great option.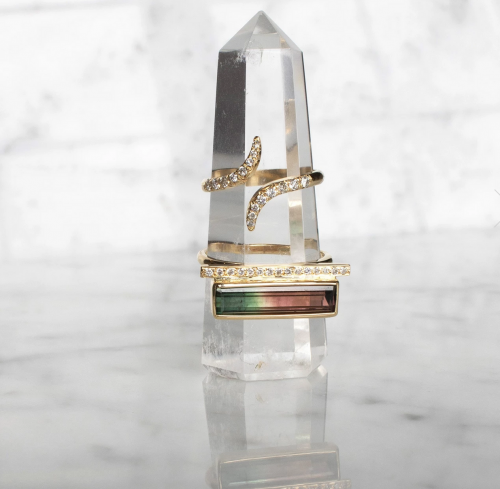 You can wear this ring alone, or you could combine it with some simple stacking rings if you wanted. 
Pink Tourmaline Jewelry 
For classic, feminine looking jewelry pieces, you can't go wrong with pink tourmaline. These are great pieces to give as gifts, especially for something romantic like Valentine's Day or an anniversary present.
1. Camille Jewelry Pink Tourmaline Necklace
We've never seen a pink pendant quite like this one! We love this simple, elegant design that ends with the gorgeous pink tourmaline stone.
This is a great necklace and perfect for anyone who doesn't like anything too flashy, but wants something more than a simple basic pendant.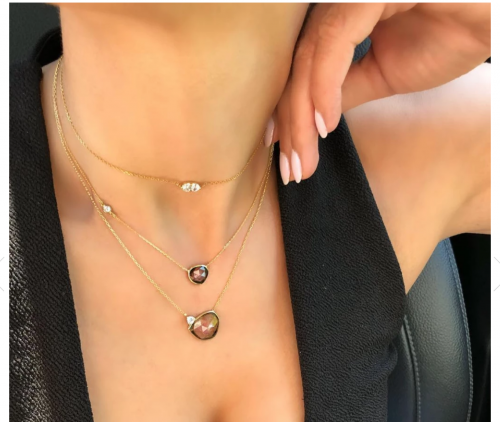 Don't miss the small diamond on the chain! It gives this necklace that perfect touch of sparkle without being too much.
2. Black bow Jewelry & Co Sterling Silver Stackable Double Heart Ring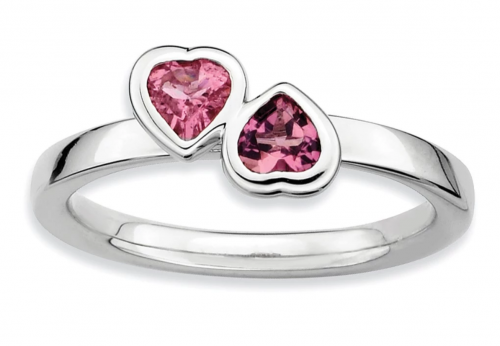 If you are looking for a romantic piece of jewelry, it doesn't get better than this pink tourmaline heart-shaped ring. The hearts are beautifully encircled with silver, giving it the perfect amount of sparkle.
This is a gorgeous right hand ring, perfect for the romantic, feminine woman who loves all things pink and sparkly. It doesn't get better than this! 
3. Black bow Jewerly & Co Heart Stud Earrings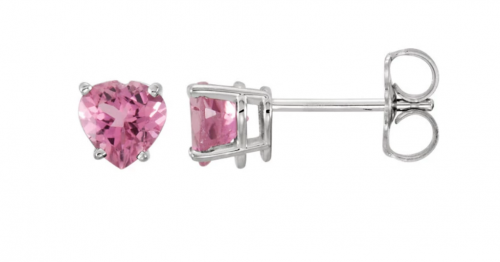 For a more simple, yet equally romantic piece of jewelry, these classic studs are a great option. In the shape of small hearts, these earrings are romantic without being too much.
If you are looking for a pair of sparkly stud earrings you can easily wear every day, this is a perfect option. You can never go wrong with a stud earring, and the pink tourmaline makes this pair totally unique. 
4. Kardy Birthstone Ring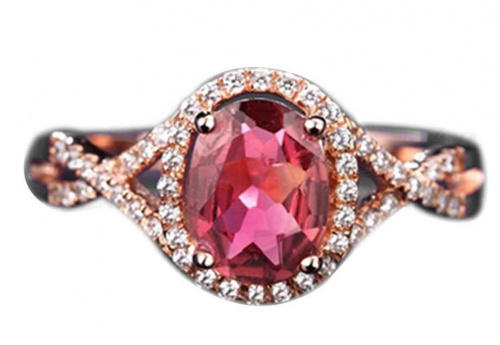 Finally, if you are looking for a seriously 'wow' ring that could serve easily as an engagement ring, or as a right hand ring, this rose gold ring is the one.
We love the combination of the pink tourmaline gemstone with the rose gold band. This makes for a warm, totally romantic ring that is perfect for anyone searching for something out of th eordinary.

The white diamonds help give it just enough contrast that the center stone doesn't blend in with the band. We love the scrollwork design of the band, it gives the ring a nice vintage appearance that we totally love. 
Wrapping Up
We hope you are loving tourmaline gemstones now as much as we do! From their unique history, to the wide variety of colors, and overall affordability and durability, they are practically the perfect gemstone!
Whether you want to get a special birthstone piece of jewelry for someone born in October, or if you simply want a unique piece for yourself, you've got plenty of options when it comes to tourmaline. 
What is your favorite shade of this gemstone? Do you prefer something more feminine, like the pink or green stones, or are you loving the edgy quality of black tourmaline? Let us know!