Buying Tips / Jewelry
What is Gold Vermeil & How Much is it Worth?
We've heard of gold and we have heard of silver but, what is gold vermeil? If you have never heard of it, then we are here to help.
Gilding is another word for gold vermeil and it's important to know what it means. You can also gild with silver and bronze. But, for our purposes, we are going to stick to gold.
You can gild a piece of jewelry, or another collectible object to obtain the appearance of gold for just a portion of the cost. It will look just like a solid gold object.
But why do it and how is it done? The why is easy. If you have a solid surface that you want to look like gold but it is made of wood, stone, or another metal, then you can use gold leaf to apply the gilding and this makes the piece affordable.
Gold Vermeil Formation
To create gold vermeil jewelry, first, you must begin with a sterling silver piece. This is extremely important,because this will give your peace authenticity and durability. The sterling silver piece is covered in gold by the process we currently use called electrolysis.
In the past, they used fire to gild the gold. However, this was very dangerous and the mercury in the gold was found to cause blindness. When electrolysis is done correctly, it will produce a quality of gold vermeil that will last for many many years.
Jewelers sometimes use a mechanical process known as mechanical gilding. In this process, the gold leaf is prepared and is attached to surfaces mechanically.
There are various techniques used and some of them are oil gilding, water gilding and burnishing. Gilding is an ancient method and the quality of it, in ancient days, was much better than it is today. In the ancient days, the gilding was about ten times thicker that the gild we have today.
As we have progressed through the ages, amounts used for gilding has declined. It seems that penny-pinching has been and still is a budgetary process in society.
Various Gold Vermeil Grades and Colors
If the price of a gold vermeil piece you are considering seems too good to be true, it probably is. Make sure the color is good and the level of purity and thickness are appropriate.
Always check for the .925 stamp on the item you are going to purchase. Always purchase from a person you trust. Verify the various grades and colors of gold vermeil. Anything higher than 18 karat gold is too soft and will also be the wrong color.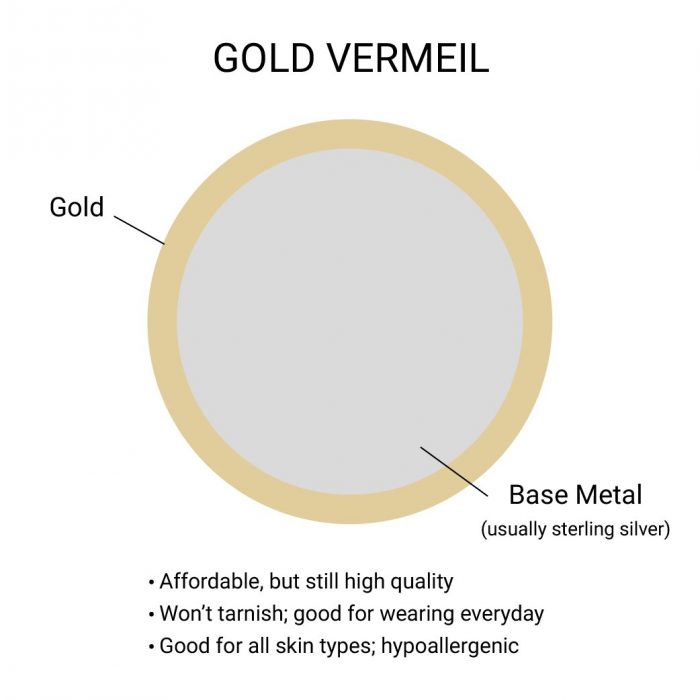 If you have an allergic reaction while wearing your gold vermeil piece, you have a less than the quality item. Sometimes sellers will mix nickel and lead in the jewelry, which will cheapen the material and lessen the quality of the gold vermeil.
You should never have an allergic reaction with gold vermeil composed of quality ingredients.
How Much is Gold Vermeil Worth?
That depends; Gold vermeil can be inexpensive and it can also be very expensive. If you think about the saying, "You get what you pay for" you aren't far off.
If you have a cheap piece covered in gold vermeil you may be getting inexpensive jewelry, but a piece that is also worth noting. It may look nice, but have only a very thin coating of vermeil.
However, if you spend a little more, you may get a quality gold vermeil that is worth more than just sentimental value.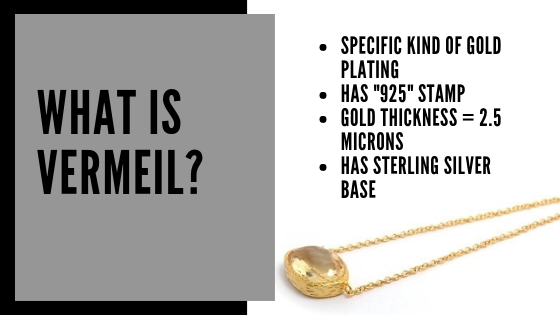 The value of gold vermeil is directly tied to both the ingredients and metals in the gold used for the process and the thickness of the gilding.
The worth of a gold vermeil piece is directly related to the thickness of the gilding. If you have a thin gild the piece is worthless. If you have a thick gild, the value is more.
Then again, you may find a piece at an estate sale or an auction and purchase it for a real steal. There are always exceptions to the rule.
We cannot say it enough, if you have any doubts about the quality of the piece you are looking at, consult a professional jeweler. Find someone you can trust and ask them to help discern the quality of your piece.
Caring for Gold Vermeil
Basically, caring for gold vermeil jewelry is the same as caring for any other precious piece. Gold vermeil does, however, require a few extra steps; it's necessary to do a few more things to keep your piece looking spectacular.
✓ When you are not using your jewelry, store it in an airtight container. This will prevent oxidation.
✓ Always make sure to take off your pieces before you apply any type of cologne, lotion, or perfume. A good rule of thumb is to put on your jewelry the last thing in the morning and take it off the 1st thing at night.
✓ Never wear your jewelry swimming. The chlorine will permanently damage or discolor your piece.
✓ We recommend you never use chemical cleaners on gold vermeil. It will strip the finish.
✓ Sometimes, gold vermeil will tarnish with time. If you enjoy that look and the character it brings, then leave it be. But if not, gently buff it with a soft, dry, cotton cloth.
✓ Basically, that's all you need to do to take care of your precious gold vermeil jewelry. It's as easy as pie!
Who Wears Gold Vermeil (Fun Facts!)
The White House does. The Vermeil Room or the Gold Room at the White House is decked out with gold vermeil.
You will find a wine cooler and tableware made of vermeil. The fixtures and furniture also contain vermeil.
It is also used for a lot of sports trophies, including baseball's Commissioner's Trophy. All the Olympic Gold Medals are made of .925 silver and covered with 6 grams of gold vermeil.
The USA isn't the only one with a corner on the market for it. The Rohan Family (1733-1816) of Strasbourg, France, has a toilette set in the museum there.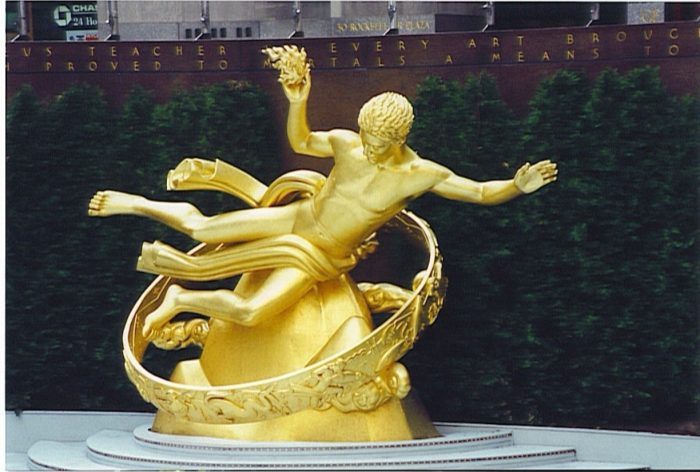 The pages of books can often be covered with vermeil which gives them a rich and elegant appearance.
The statue of Prometheus is also gold vermeil gilded.
The Power and Properties of Gold Vermeil
Many metals are worn because of their healing properties. Gold is no exception. It is thought to contain physical, emotional and spiritual healing properties. Since gold vermeil is a coating of gold, these properties would seem to apply to it as well.
Physically, gold is touted as the "master healer". It is superb for purification of the physical body. It may help to improve digestion,  breathing and circulation, arthritis, pneumonia, skin cancer, blood disorders, heart disease, eye problems, spinal problems, tuberculosis, rheumatism, and vascular diseases. If it can do all of this, we would label it the granddaddy of healing minerals!
If you need more, gold vermeil also has emotional healing properties; it just may give your psyche a boost. It may balance your energy fields and eradicate ego conflicts. It's also known to fight feelings of depression and inferiority.
If you love the look of gold, the sense of power and wealth that it brings, but you can't afford it, gold vermeil will do the trick. It is a perfect choice if you love gold but the price is too steep for you.
There are also purported spiritual healing properties of gold. For eons, it has been sought after for ornamental uses. It has been coveted as a status symbol in society, both as money and to strengthen confidence as well.
In China, India, and Persia, the power of gold has an established and prominent place in the culture. They believe it can bring both peace and happiness to the wearer.
Gold Vermeil Jewelry
The name vermeil comes from the French word for silver. For a piece of jewelry to be considered vermeil, it has to meet some strict standards.
First, the base metal must be sterling silver. Second, the purity of the gold has to be at least 10 carats and third, the gold coating has to be at least 2.5 microns thick.
Gold vermeil is a viable option when choosing your gold jewelry. It looks fancy but doesn't have the fancy price tag to go with it. You may be able to afford a piece using gold vermeil but not one made from solid gold.
Now, you can get a beautiful gold piece without using expensive solid Gold. Gold vermeil jewelry is more hypoallergenic and is much more budget-friendly than solid gold!
Some of Our Favorite Gold Vermeil Jewelry Picks!
Timeless 18-Karat Gold Vermeil Chokers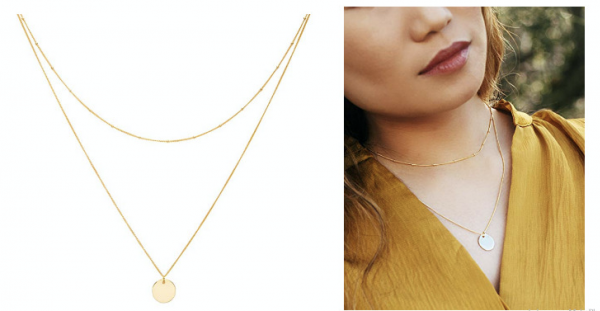 This gold vermeil piece isn't just one, but two layers. We love the fact that it looks as though you are wearing two different necklaces. Layered necklaces are very trendy right now and this piece follows that trend perfectly.
The smaller choker chain is beautifully detailed with small gold beads that are intermittently spaced along the chain. Both chains are a variety of Singapore chain and are very pretty.
The choker necklace is 15 inches and the longer chain is about 24 inches. There is a disc pendant that hangs from the longer chain. We would even like to see a jeweler put an initial on it. This piece is great to add elegance and style to any style.
If you want more layers, go ahead and add them. This necklace pairs well with any of our other picks and you can wear this with any outfit, at any time of day or night.
This is also 100% nickel free making it hypoallergenic.
For such a versatile piece that's made with gold vermeil, you can expect to pay a little more.
Nature Leaf Shaped Craved Two Tone Curved Stud Earrings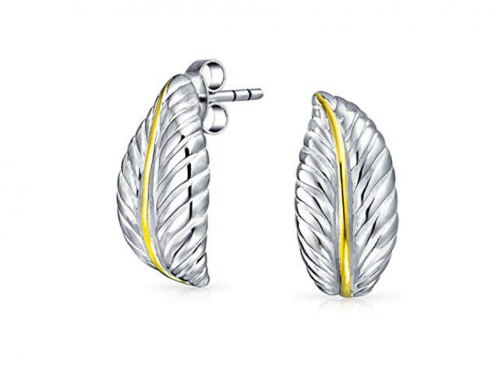 We adore these two-tone leaf stud earrings. The leaves are made of sterling silver and have a gold vermeil vein that runs down the center. The mix of metals gives this set a character of its own and we love it.
The detailing on each leaf is exquisite and pronounced. It looks just like a real leaf except for the fact that it is sterling silver. The leaves have a slight curvature, which gives them an even more dazzling effect. It almost appears as though the leaves are going to continue to the back of your ear lobe.
If you have pierced ears, this is the set for you. Each leaf is approximately ¾ of an inch long and 0.39 inches wide. They weigh 4.9 grams, 0.17 ounces. They won't feel heavy on your ear lobes.
The leaves are on a post and have friction, or push, back. They are very durable and will stay put securely.
You can pair these earrings spectacularly with the Timeless Choker set.
You might expect to pay a fortune for these earrings, because of how pretty they are, but don't worry. This set is at an affordable price level that will make you very happy.
Zoe Lev Jewelry Engraved Nameplate Bracelet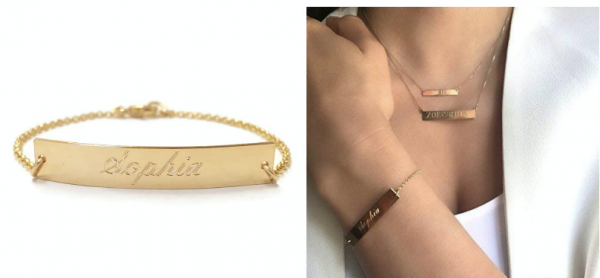 We really like this gold vermeil bracelet with the ability to have your name engraved on it.
The plate is 1.3 inches x 0.3 inches and is attached to a chain by jump rings. The bracelet is an adjustable 6.5 inches to 7 inches. This piece is stamped .925 giving it credibility and durability. It is covered with 14k gold vermeil.
The chain is a cable chain and the clasp is a spring clasp.
If you want something made in the USA, this piece is it. Because of the price, the bracelet would make a perfect Mother's Day gift, or maybe a graduation gift. This is a beautiful piece and can be paired with any of the other picks on our list!
4. Sterling Forever Initial Pendant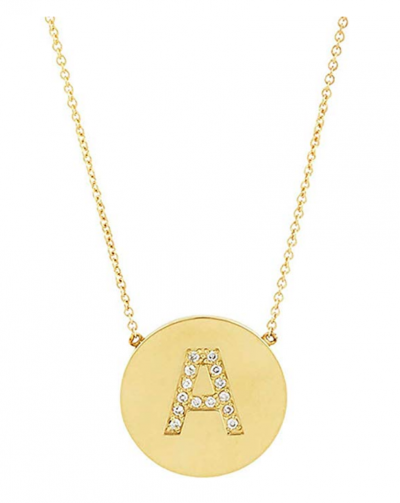 We have seen a few celebrities wearing a round initial necklace just like this one. You will have a style all your own when you get the initial that's just as unique as you are.
This piece is lightweight, very pretty and the stones shine. The pendant features an engraved initial that's filled with synthetic cubic zirconia stones. It hangs from a 15-inch rolo chain.
The closure, on this piece, is a sturdy lobster clasp. At 15 inches in length, it's a choker necklace. However, there is a surprise! It comes with a 3-inch extender chain making the total length of this necklace 18 inches. Because of this, you can wear this piece with a wider variety of outfits.
As you might expect, it's slightly pricey, however, very much worth it!
Get one for yourself because you want to celebrate your individuality.
JOSCO 1.1mm 8 Sided Snake Vermeil Anklet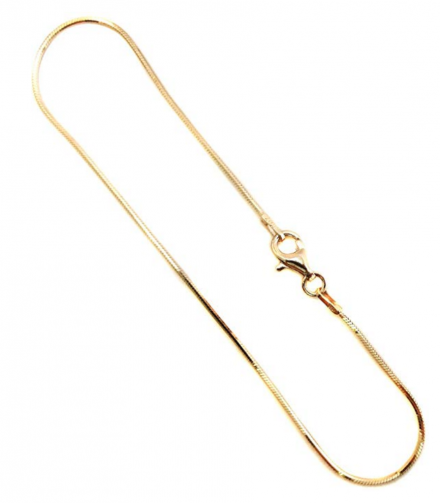 Because of its beauty and it's price, this may just be our favorite pick on the list. That, however, isn't the only thing we love about it; it is available in whole sizes from 7 inches to 11 inches.
We are getting ahead of ourselves, though. We need to talk about a few of the characteristics of this vermeil ankle bracelet.
This piece is stamped .925 for authenticity and covered with gold vermeil. It's an 8 sided snake chain and is 1.1 mm, or 0.043 inches thick.
The closure for this piece is a lobster claw clasp. This piece can also be worn as a bracelet. It's a sturdy, comfortable, flexible chain and we recommend it.
We also recommend purchasing more than one because of the affordable price.
A Charmed Impression Little Gold Bee Necklace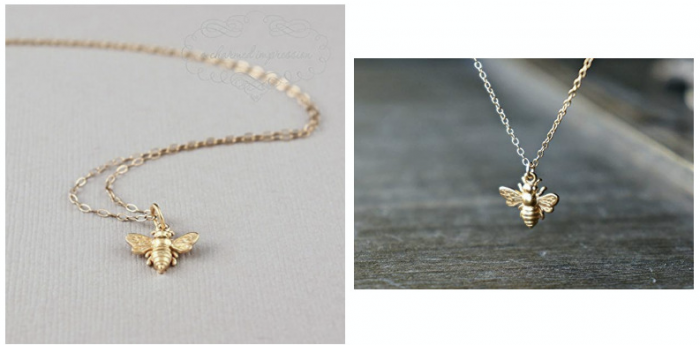 This pretty piece is just adorable! It has a tiny bee charm measuring just over ½ an inch that hangs from a rolo chain.
At the mouth of the bee, there is a space where a jump ring has been inserted so it can attach to the chain. The chain measures 18 inches and the bee will "fly" at just about the collarbone. The closure, for this piece, is a mini lobster claw clasp.
The bee has a gorgeous satin finish of 24 karat gold vermeil. It's not too shiny and not at all dull. It's practically perfect.
The piece is designed and made by an artist in Franklin, Texas. This pretty little necklace has a slightly bigger price tag. While it's not in the cheap range, it's not hugely expensive either.
That Sums it Up
The addition of gold vermeil into society has not changed the way humans perceive the value of gold. When solid gold wasn't available because it was either too expensive or not practical, gold vermeil was and still is a viable option.
Let's not make any mistake, gold vermeil jewelry is not solid gold. It is sterling silver covered with a layer (or layers) of gold and is a great alternative to solid gold pieces.
Gold vermeil is the perfect balance between quality and value because it's less expensive than a piece of solid gold jewelry while achieving the look of solid gold.
Remember that the gold part must be 10 carats or more to be considered authentic. Some pieces, however, are 24, 18, and 14 karats depending on the thickness of the jewelry.
Whether you want gold for it's healing properties, or if you are only looking for high-quality jewelry without a high price tag, then gold vermeil is the way to go.
Treating your gold vermeil with care will keep it looking spectacular for a very long time. It's sure to give you lifelong wear and happiness.
Oh, and don't forget to mix and match all of our pick pieces for your own individual style. You can even combine some of our picks with things you may already have at home!