Necklaces / Women
Angel Wing Necklace: We Bet You Won't Resist Buying At Least One On Our List!
The symbol of an angel wing is very special because it is known for representing protection, harmony, and affection. It is meant to provide the wearer of an angel wing necklace with happiness and hope, making it a lovely item to wear on a daily basis and have as a keep safe item.
If you decide to buy an angel wing necklace for someone as a gift it's a lovely piece of jewelry that can hold lots of sentimental value. It is often thought that by giving someone an angel wing, it acts as a gesture that someone is protecting and looking over them. If you're buying the necklace for yourself you're bound to have a special connection to the piece when selecting the item.
The reason why we love the angel wing necklace so much is that it's very girly and delicate and carries lots of meaning on a deeper level, for example, love, protectiveness, and compassion.
So giving an angel wing necklace to your nearest and dearest like your girlfriend, wife, mother, sister, daughter or friend would make a fantastic gift. Everyone should have this piece of jewelry in their jewelry box!
Our 10 Favorite Angel Wing Necklace Picks!
1. Pink Angel 18K Swarovski Necklace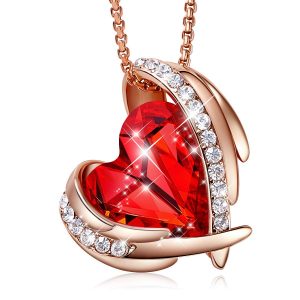 This necklace is a very striking piece!
The angel wing necklace has been designed with a red heart-shaped crystal in the center of the angel wings. Rose gold colored wings are wrapped around the stunning diamond.
What's interesting about this piece is that the texture of the rose gold casing actually replicates an angel wing. White diamonds which are featured on the angel wings outline the shape and give the piece an extra bit of sparkle. If you like some shimmer you'll love this pendant.
The gorgeous heart shaped crystal has been designed and made by Swarovski crystal jewelry. This crystal has been made with a long-lasting layer of protection which means it will have minimal scratches and will be tarnish resistant. The small circular shaped diamonds that decorate the wings are also made by Swarovski.
When it comes to the wings these have been crafted from an 18k rose gold plated zinc alloy. This material is very durable and easy to shape into the angel wing shape. The zinc alloy is also nickel and lead-free and has passed the Swiss SGS Inspection Standard which means there's no harm to your health.
The incorporation of angel wings makes this piece of jewelry bang on trend with the latest fashion. The piece can also be worn with a simple pair of rose gold or red earrings or even a matching pair of heart and angel wing earrings. This gorgeous pendant is definitely suitable to wear on any occasion.
On a deeper note, this stunning red heart and angel wing pendant represents the love you have for someone. This is why we think it would make a wonderful gift for a special lady in your life, whether it's your girlfriend or wife.
This pretty piece would really make a lovely anniversary or Valentine's Day present because it oozes the unconditional love that you have for someone.
This piece of jewelry is being sold by CDE for a low price. Interestingly, CDC became a Business partner of Swarovski in 2012. This jeweler has a particular focus on creating trendy pieces that feature a unique sparkle.
CDC pride themselves in making high-quality products that exceed customers desires and expectations. To them, each piece of jewelry is a precious piece of artwork.
What's great about this jeweler is that they give advice on a variety of ways to keep your pendant looking gorgeous. They suggest keeping your pendant in its own CDE box when you're not wearing it. The jewelry advises not to spray any perfume onto the piece or immerse it into any liquid.
After wearing your pendant, CDE suggestions wiping the piece with a soft flannel before putting it away and they say that any minor tarnish can actually be lightly buffed off with a jewelry polishing cloth. A cloth comes free in your gift box which is fantastic news. This jeweler has thought of everything!
2. Swarovski Piece with Heart of Ocean Stud Earrings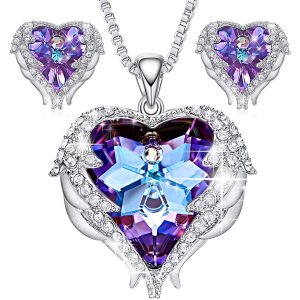 This is another angel wing style necklace which is made by CDC that we just new had to be featured in our top ten list of the best angel wing necklaces!
This gorgeous piece has been designed with a heart-shaped crystal pendant that is colored in a purple-blue color. The heart crystal is then framed with what looks like a silver angel wing positioned either side of the heart.
White diamonds also decorate the edge of the heart giving it an unforgettable shine. This pendant is very special and the designers at CDE have once again done a fantastic job in creating this lovely piece.
The purple-blue heart positioned in the center of the pendant has been crafted from a Swarovski crystal. This is then wrapped in platinum plated angel wings giving the piece a truly magical feel.
To add that extra bit of sparkle the jeweler has decided to add additional white diamonds that frame the entire heart-shaped crystal. What's great about this pendant is that the Swarovski crystals used are extremely durable and hard wearing.
What's interesting about the heart shape crystal is that it was originally violet but the designer added a blue color to create a lovely purple and blue color. When reflected in the light this jewel gives off a mixture of colors depending on which direction you're looking at the pendant. This heart-shaped crystal could even be described as a crystal ocean because it's so beautiful.
The angel wings have been created using a platinum plated alloy. What's brilliant about this material is that it's strong, durable and very shiny, making it a lovely material to use. It also goes with anything and looks lovely alongside white circular diamonds.
This lovely pendant comes with a high-quality durable chain that can be easily extended from 16 inches to 18 inches. This is great if you're not 100% sure on what size chain you would best prefer. This way you can adapt the length depending on your mood.
We think this would make a lovely birthday gift for someone special in your life whether it be your wife, girlfriend, mum or daughter. This piece of jewelry is pretty special because it actually represents the symbol of forever love. This gorgeous pendant will arrive in a stunning jewelry box, all packaged and ready to give as a gift.
As mentioned earlier this beautiful necklace has been crafted and sold by CDE who first went into partnership with Swarovski back in 2012. They strive to deliver exquisite craftsmanship and have an exceptionally high level of detail in every piece they make. We love this piece of jewelry and so should you!
3. Guardian Angel Wing Necklace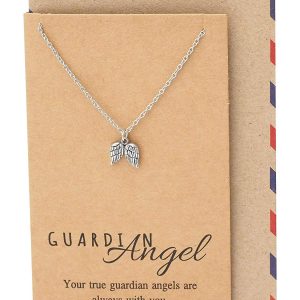 If you've been looking for a more minimalist necklace that still represents the gorgeous angel wings then this necklace may be exactly what you've been looking for!
The stunning necklace is very delicate in comparison to our previous necklaces. This particular piece has been created with a small chain which contains a simple angel wing pendant.
You'll notice that the wings have been created using jewelrlovely stainless steel material. This is a fantastic choice of material to use because it's extremely durable and also doesn't rust. The piece will also be very sturdy and long lasting.
You'll notice from the style of this necklace that it has been carefully handmade to a very high quality. The chain that accompanies this angel wing pendant is also stainless steel so they both complement each other very well.
What makes this piece unique is that it will actually arrive positioned on a blank greetings card that is approximately 2.75 inches by 4.62 inches. This means that you can easily write a personalized message to the receiver of this necklace, making it a very special gift.
We think that this piece would make a fantastic birthday present for something special in your life because the necklace itself and the message on the card, along with your personal message carries a lot of sentimental value with it.
If you take a closer look at the image you'll notice the lovely message on the front of the card saying "Guardian Angel – Your true guardian angels are always with you". You definitely won't need to worry about someone giving the same gift as you because this necklace and card are very special and unique!
This dainty necklace is being sold by Quan Jewelry for a low price. All of their items have been handmade and include cards with inspiring and sentimental messages within them. We like this jeweler and think you should take a look at their collection.
4. PLATO H Drop Pendant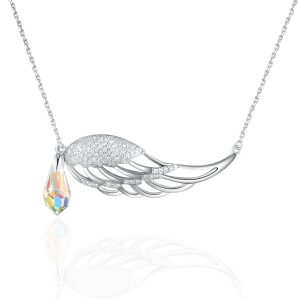 We chose this angel wing themed necklace because we felt it represented a unique design that would make it stand out when comparing it to some of our other pieces.
This stunning necklace has been designed with a guardian angel wing drop pendant. The beautiful pendant features quite a bit of sparkle that shimmers in the light. The piece also includes a Swarovski crystal that hangs effortlessly from the pendant.
This piece of jewelry would make a perfect addition to anyone's jewelry box. The unique design has been crafted using a rhodium plated alloy material. This has been decorated with 100% genuine Swarovski crystals which look absolutely stunning.
To give you an idea of the size of this piece the angel wing pendant is approximately 0.79 inches high by 1.57 inches wide. It also comes with a chain that is approximately 16 inches that offers an extendable 2 inches in case you require a long chain.
This angel wing necklace will arrive in a lovely sealed gift box which makes it a beautiful gift if you'd like to give it as a birthday gift. What's special about this piece is that the unique angel wing design is meant to protect the wearer. This is another reason why this necklace would make a fantastic gift for someone!
This stunning piece is being sold by PLATO H for a low price. This is a jewelry brand that is known for being a partner of Swarovski. This is a fantastic jeweler that produces beautiful pieces. Take a look at their collection today.
5. Sterling Silver Cubic Zirconia Pendant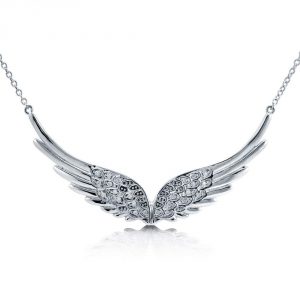 This angel wing piece sold by BERRICLE really does capture a set of wings beautifully!
The jeweler has cleverly created the angel wings by using a rhodium plated silver material. Looking at this necklace you'll see the lovely attention to detail put into these wings. We also love how the wings actually make up the necklace and that they're not a separate pendant like the other necklaces we've reviewed.
You'll notice that these wings are made out of the rhodium plated silver and they have a high polished finish which gives them a lovely shine. The material is nickel free which makes them suitable for people to wear who have sensitive skin.
To give you an idea of the size of angel wings they're approximately 1inch in length by 2 inches wide. The chain is also 14.5 inches long and offers an additional 2 inches if you require an extendable chain. The chain has a spring ring clasp which makes it easy to attach and remove from your neck.
If you like sparkle this angel wing necklace offers plenty. The jeweler has chosen to feature some white cubic zirconia diamonds that add lots of sparkle to this piece. The diamonds are approximately 0.12 carats and are cut to approximately 1mm.
These clear diamonds are positioned securely in a prong setting along with the wings. From afar you won't notice the shimmer but as you look closer at this piece you'll see the stunning display of diamonds. It really is something very pretty to see.
This gorgeous necklace is being sold by BERRICLE for a medium price and will arrive in a stylish red jewelry box. They strive in offering the highest quality jewelry in the most elegant styles.
The company founded in 2011 and have become one of the most sought after jewelry brands who design pieces using sterling silver and cubic zirconia jewels. They pride themselves in delivering the highest quality craftsmanship.
They have a passion for delivering trendy fashion pieces into women's lives. This really is a talented jeweler who brings a vast variety of stunning pieces of jewelry. If you like the sound of this jeweler take a look at their collection.
6. Glitz Design Diamond Pendant Necklace with 14K Gold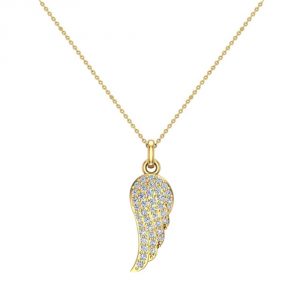 If you like gold you'll love this glitzy gold angel wing diamond necklace!
This beautiful necklace features a breathtaking pendant that will really grab everyone's attention when you walk in the room wearing this piece of jewelry. This gorgeous pendant has been crafted into an angel wing shape using 14k yellow gold.
To add a touch of glamour to the piece, round shaped diamonds have been added to the wing to give it a wonderful shimmer. These are natural diamonds that have been cut into a round shape.
Approximately 41 diamonds have been positioned in a prong setting to decorate this stunning piece of jewelry. It's important to point out that these are conflict-free diamonds that are genuine, natural and Earth-mined.
To give you an idea of the size of the pendant it is approximately 8.78mm wide by 26.27mm long and would be best suited to be worn with a link style chain. It's important to make you aware that this pendant doesn't come with a chain so this would have to be purchased separately.
The piece will arrive in a cute little black jewelry box, keeping it safe from any damages. The pendant will also arrive with a useful maintenance card with a Micro-Fibro Cleaning cloth.
This lovely pendant is being sold by Glitz Design for a very high price. Made using yellow gold, this pendant is also available to purchase in white gold if you prefer this color. Designed and crafted by Glitz Design, they produce fine jewelry that has been crafted in the USA.
They love to create symbolic necklaces which feature diamonds that have been handpicked by their experts. All of their pieces have been crafted to a high finish and contain an eye-catching sparkle. The jeweler really does make statement pieces. We love this pendant and so will you!
7. J.NINA Sweater Chain Necklace with Color-Combination Design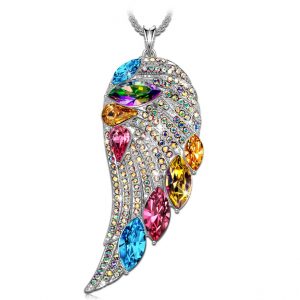 If it's a bit of color you're after then take a look at this colorful angel wing pendant full of colorful crystals.
This angel wing pendant has been crafted using an alloy base which has been cleverly decorated using dozens of crystals from Swarovski. The crystals not only vary in shape and size but also color, these include colors like fuchsia, amethyst, aquamarine, rose and light rose.
The combination of all these colors featured in different shaped crystals looks very pretty. These Swarovski crystals have also been cut into a marquise shape and are positioned in a designer setting.
To give you an idea of the size of the pendant it is approximately 1.88 inches wide by 0.95 inches high. The angel wing pendant comes on a rhodium-plated chain which is nickel and lead-free.
This is fantastic news because the choice of rhodium means that this necklace is safe for people to wear who may have sensitive skin. This gorgeous pendant will also arrive in a pretty gift box offering you somewhere safe to store it when it's not being worn.
A gift box is also perfect if you're going to give this necklace as a birthday present so you won't have to worry about wrapping the necklace because the jeweler does it for you. If you're not 100% satisfied with your purchase the jeweler will offer you money back guarantee with this item which is great news.
This angel wing pendant is being sold by J NINA for a low price. All of their pieces feature breathtaking crystals from Swarovski. Buying one of the pieces will definitely show the person how much they mean to you.
The pendant and pretty gift box will also come with a useful cleaning cloth allowing you to keep your precious necklace looking lovely and shiny all day, every day!
8. GemsChest Sterling Silver Pendant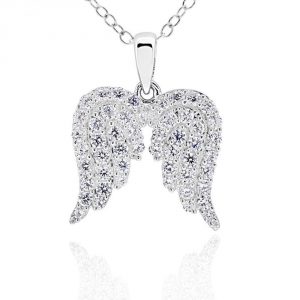 Here we've chosen a slightly different angel wing pendant, mainly down to its beautiful sparkle.
The pendant has been shaped into two angel wings using a sterling silver rhodium plated material. What's great about this material is that it's extremely durable, strong and shiny which means your necklace will last for years and years to come. It also won't tarnish.
The pendant's size is approximately 19.8mm by 14.7mm giving you a decent size. The pendant has been placed onto an 18-inch sterling silver rhodium plated rose chain, making it once again very durable.
One of the first things you'll notice about this necklace is the striking display of diamonds featured on this piece. These diamonds are actually cubic zirconia stones that are white and have been cut to a round shape. There are approximately 51 diamonds that have been positioned in a pave setting on the angel wings.
This lovely piece of jewelry will arrive in a cute black jewelry gift box, keeping it safe from any damages. The pendant is being sold by GemsChest for a low price. If you take a look at this jewelers' extensive collection online you'll notice that they simply love gems and diamonds, their jewelry is full of them. If you like the sound of this then take a look on their website!
9. LaFenne Personalized Necklace with Birth Month Crystal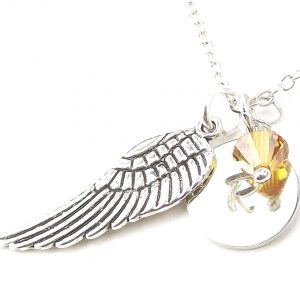 We like a bit of statement when it comes to jewelry and this jeweler, Lafenne has designed a necklace that consists of angel wings, sparkle, and personalization! We like the sound of this combo!
This necklace consists of a silver plated base that has been shaped in an angel wing shape. The necklace also consists of a half circle charm which can be stamped with an initial of your choice in an upper case front.
The necklace also allows space for you to include a Swarovski crystal, giving you a lovely collection of items that complement one another. These three items are then attached to an 18-inch long cable chain which features a lobster claw clasp.
This pretty piece of jewelry is being sold by LaFenne for a low price and will arrive in a cute little jewelry box.
10. Les Bohémiens Asymmetric Wing Pendant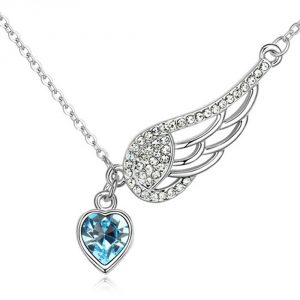 To finish off our top ten list of the angel wing necklaces you won't be able to resist this stunning necklace!
The necklace has been designed with an angel wing that has been incorporated into the actual necklace. This has been designed to represent an angel's wing and features a hanging blue heart stone that adds an extra touch of sparkle to this piece.
The necklace has been created using a rhodium plated alloy material. It also features Australian and Swarovski crystals within the piece. These include white circular diamonds that have been used to decorate the angel's wings. A blue crystal cut into a heart shape also hangs from the necklace.
To give you an idea of the length of this necklace the chain is approximately 17 inches long and it has an extendable 2 inches giving you some extra length if required.
When it comes to this necklace we've chosen the necklace with the blue aquamarine crystal because we love it so much however it is available to purchase in a rose pink color if you prefer.
This gorgeous piece of jewelry is being sold by Les Bohemiens for a low price. This would make a lovely birthday or anniversary present for your girlfriend, wife, sister, mother or daughter. It also arrives in a lovely box with a card and envelope so it can be given as a gift to something special.