7 Kate Spade Bracelets We Think are Beautiful!
last updated:
Jun 30, 2021
Any Kate Space bracelet can add a cute and extrinsic accessory to your everyday outfits. With a ton of brilliantly designed products, the fashion house is one of the most sought-after young and mature adults.
Whether you're in the market for a modern buckle bracelet or a dainty gold chain, their accessories are sure to spark inspiration.
Let's take a look at some of the most brilliant Kate Spade bracelets that pair wonderfully with other pieces or work perfectly alone.
Top 7 Picks
7.5" length
Gold-tone mixed metal
Know The Ropes collection
Toggle closure
The Kate Spade New York Gold-Tone Snake bracelet is a stunning fixture that accentuates your chic style. With modern elements combined with classic styling, it's an intricately designed bracelet with artisan-quality finishes.
Read more
The flexibility and versatility of this bracelet make it incredible. You'll find it's comfortable for any size wrist, especially as the bracelet is designed to move with you and stretch.
In fact, it's a staple in the Know The Ropes collection, which means there are other similarly designed accessories to go with it.
The stunning gold-tone mixed metal sparkles brilliantly with a casual yet luxurious appeal for every jewelry lover.
You will fall in love with the chunky thickness of the bracelet paired with the toggle closure.
2

. Colored Leather Cord Bracelet
Black leather cord
Gold-toned mixed metal
Wrap design
Lobster clasp closure
One thing is guaranteed when you wear Kate Spade jewelry - the insignia is recognizable worldwide.
This subdued bracelet is the perfect option for more minimalistic jewelry lovers searching for casual accessories.
Read more
The most notable feature of this leather cord bracelet is its durable design. Instead of glistening with metals and jewels, this relaxed bracelet is comfortable, chic, and simple.
With that said, the bracelet doesn't afford luxurious materials entirely, as it features gold-tone mixed metal paired with leather.
Leather bracelets have shot into popularity, especially during the fall and winter, as they pair perfectly with thick and luxurious fabrics.
The bracelet is 15" long when unraveled, which is more than long enough for double wrapping.
3

. Heartful Leather Wrap Bracelet
Buckle closure
Gold-tone metal fixtures
Leather bracelet
Slim wrap design
At first glance, it's easy to see how the Kate Spade Heartful bracelet is ideal for bold jewelry lovers.
With style you aren't likely to find elsewhere, this bracelet features everything we love about early 2000s fashion.
Read more
You will fall in love with the bright color variations you can choose from, including Crushed Watermelon, Yucca, and Parchment.
The thickness of the bracelet is thinner than it appears in the photos, making it more comfortable to wear.
Also, the more often you wear the bracelet, the softer the leather gets, which only adds to its comfort.
Like other Kate Spade leather bracelets, this design is also wrapped, making it great for customization.
With an added belt buckle design, you can choose the perfect thickness for your specific wrist size.
4

. My Medallion Charm Bracelet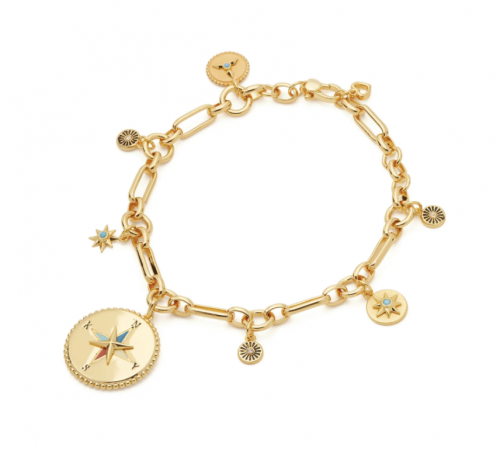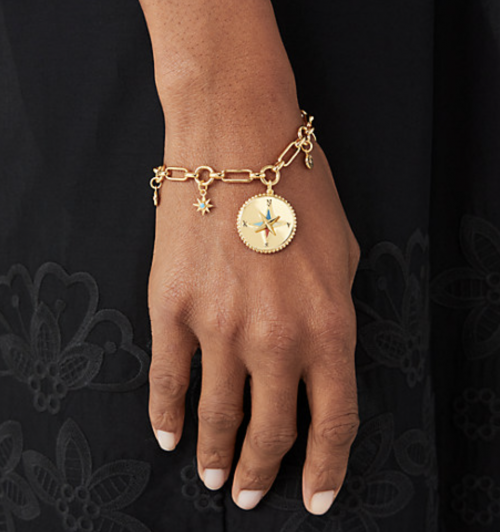 Charm bracelet
8.5" inner circumference
Gold-toned metal
Compass medallion
No matter what type of jewelry you love, you certainly can't go wrong with a charm bracelet. Charm bracelets answer all of your dainty jewelry needs combined with flawlessly designed embellishments for added flair.
Read more
The Kate Spade My Medallion bracelet is one of the more expensive-looking pieces from the Medallion collection.
Like the rope bracelet we mentioned earlier, this piece has an authentic nautical design that works with various elements.
The unique styling of the charms makes it iconic to wear alone and works well with thinner bangles and lobster-clasp bracelets.
The most notable element of the piece is the exceptional compass pendant that always points north.
On each pendant, you'll either find black, turquoise, or red details that bring the gold-toned metal together.
5

. Say Yes Sidekick Bracelet
We all have that particular person in our lives that will be there for us through thick and thin. Showing them how much they mean to you is effortless with the Kate Spade Say Yes Sidekick bracelet.
Read more
The thing we love the most about this bracelet is that it's incredibly versatile for several occasions.
It's stunning as a gift for a best friend but could also be a heartfelt gift for your Mom to tell her you appreciate her being by your side.
You will love the thin plated metal link bracelet, but the most outstanding feature is the "Sidekick" embellishment.
There are individually set clear cubic zirconia within the writing, which glistens beautifully as your hand moves.
6

. Spot The Spade Bangle Bracelet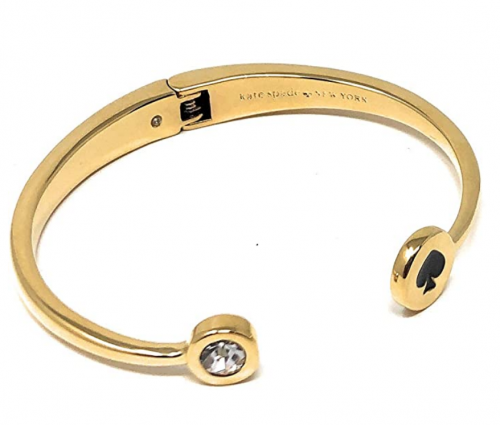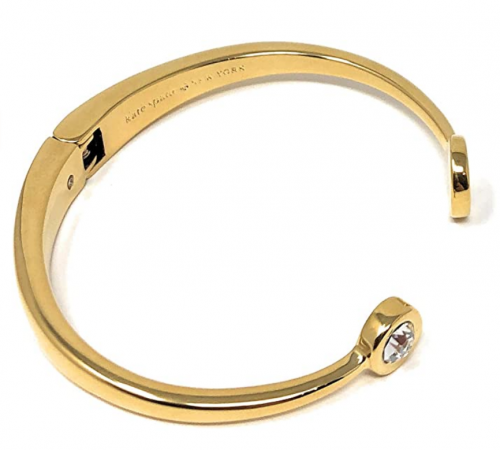 Rhodium plated
Glass crystal
Adjustable
If you are a big fan of the card game, then you know the meaning of the ace. The card basically stands for transformation, unconditional love, and faith.
Read more
Made from rhodium plated base metal, this is the first thing that is so great about this bracelet. You can trust it for your skin's health and is also very durable.
The product is also designed with a round glass crystal at one end and the Spade shows up at the other end.
You won't need to worry about the ease of locking and unlocking it, as it has a hinge to make the process smooth.
With such a simple but stunning style, you can keep your wrist all dolled up without going out of your way.
Finally, there is the beautiful Kate Spade's signature right inside the band of the bracelet, so redefine your style with 'spot the Spade bracelet' and become the cynosure of your world.
7

. Heart of Gold Idiom Bangle
Plated metal
"heart of gold" inscription
Comfortable fit
This Kate Spades bracelet is pretty special; it can be quite adorable when you see it. It was made with a 14k metal and plated with a gold-tone base.
Read more
You can slip it right onto your wrist without locking or unlocking any clasp. The 2.75-inches diameter makes it right for a lot of people and the size is simple with its 0.19-inch width
One unique feature that the bracelet has is the engraving on its inner ring. It spells 'heart of gold'.
You can easily stack the bracelet with other matching sets that you have or just take advantage of the simplicity and wear it alone.
There's nothing better than having a comfortable, beautiful and quality bracelet sold for a great price.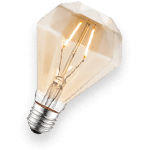 Kate Spade: Interesting Facts
✓ Kate Spade actually created her own bags because she didn't find what she wanted on the shelf of fashion stores.
✓ She got her journalism degree in 1985 and worked for a while at the Mademoiselle magazine.
✓ Frances Valentine, a brand of jewelry, is also co-owned by Kate and Andy Spade. They make phone accessories and purses with the Minnie mouse theme.
✓ As of 2018, Kate Spades is worth about $150 million to $200 million.
✓Actor and comedian, David Spade is the brother of Andy Spade.
✓ Behind the glamour and smiles, Kate Spade threw at the camera. She was battling with her own problems and she eventually succumbed to it as her death was announced in June of 2018.